6 Best Free Alternatives to PowerPoint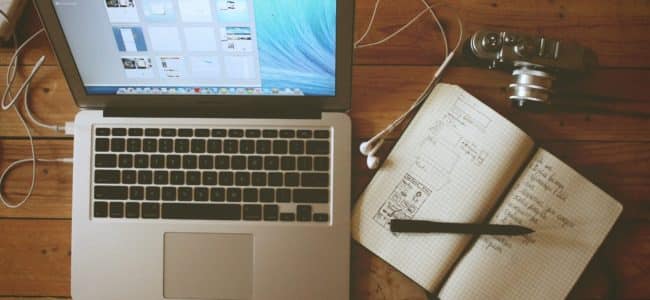 Not long ago Microsoft PowerPoint was the only software people used to create presentations. Designs offered in PowerPoint were limited which inevitably led to the same slide styles, backgrounds and transitions rotating over and over again, passing from one presentation to another, finally making up a phenomenon called Death by PowerPoint.
However, the good news is that today we are lucky to have a bunch of various PowerPoint alternatives available at our disposal. The great news is that we can use some of these products for no cost at all. Here's our list of the PowerPoint alternatives that will not leave you out of money:
1. Animatron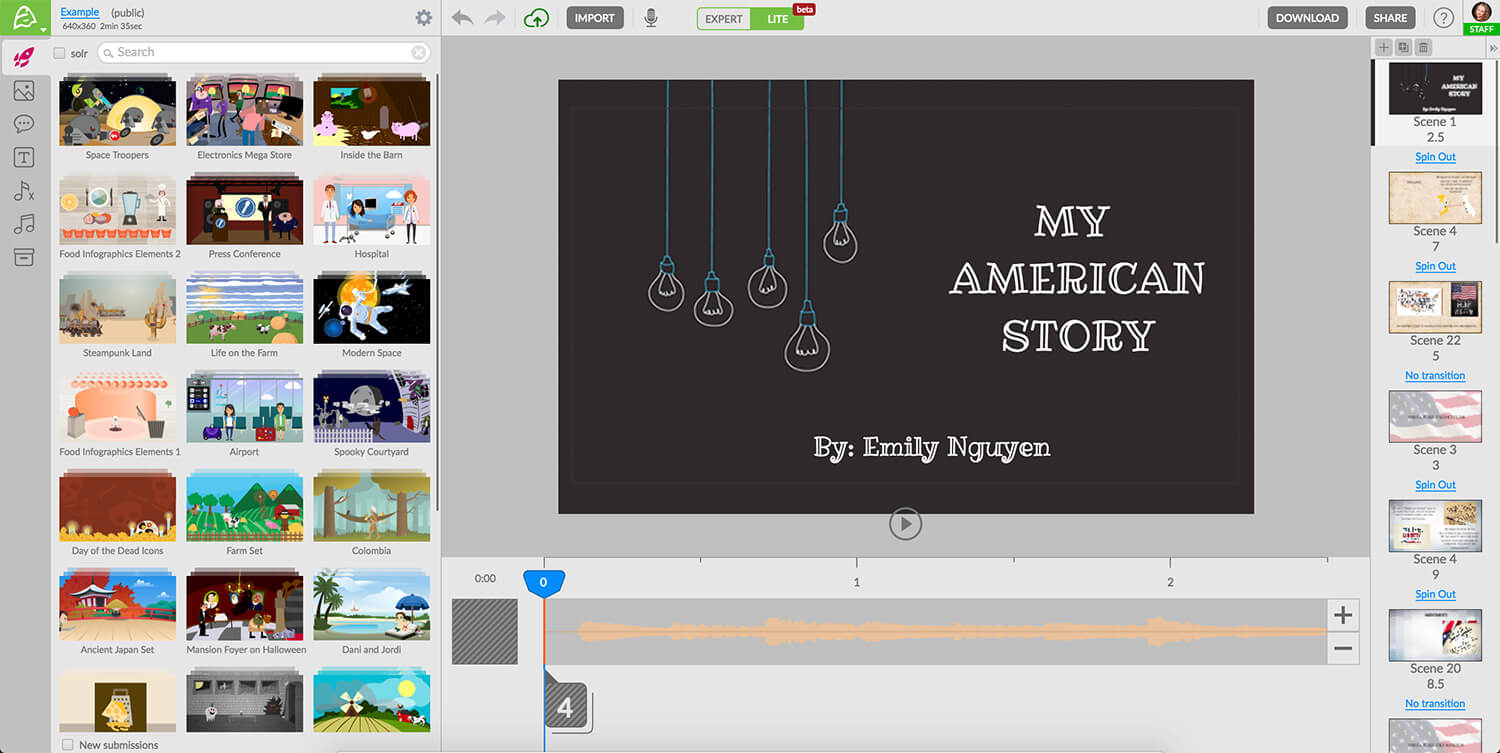 I would be bluffing if I didn't name Animatron among the top free alternatives to PowerPoint. Animatron is there at your service to help create stunning animated presentations in minutes, online, for free. You can choose from hundreds of pre-animated objects and backgrounds, customize them to fit your beat, or create your own to tell your story.
Animation makes your presentations stand out, and helps communicate with your audience on a more engaging level. Animatron also offers a popular whiteboard animation turning simple presentations into compelling stories.
[bctt tweet="With animation, you communicate with your audience on a more engaging level."]
One of the most useful features in Animatron is real-time collaboration, which lets a few users work on the same presentation at the same time, even if they are from different parts of the world, which saves time and streamlines workflow immensely. Animatron offers a free plan which allows you to create, save, download and share your projects.
2. Microsoft Office Sway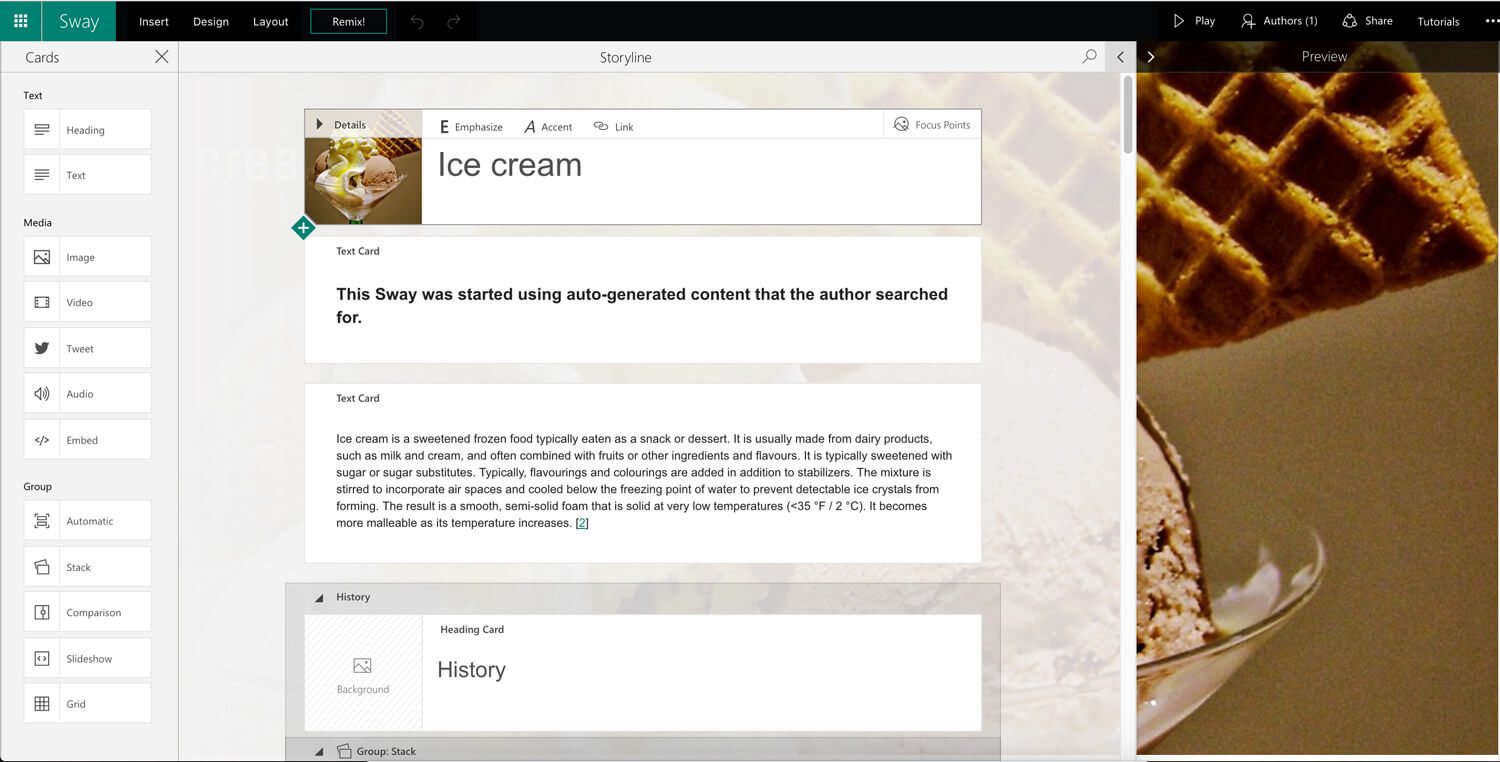 No, you did not misread. We have included another Microsoft presentation software as an alternative to PowerPoint simply because it's a different product that has very little in common with its kin (only that Microsoft prefix). One of the outstanding features of Sway, compared to its ancestor, includes the opportunity to use content directly from the web (Bing, Facebook, OneDrive, YouTube, Twitter, etc.)
Sway also has a built-in design engine that takes care of design and formatting, or allows you to customize the design to create your own if you don't like the one suggested by Sway. The software is available through Windows 10 desktop app, a free mobile app, and online. Sway is free with a Microsoft account.
3. Google Slides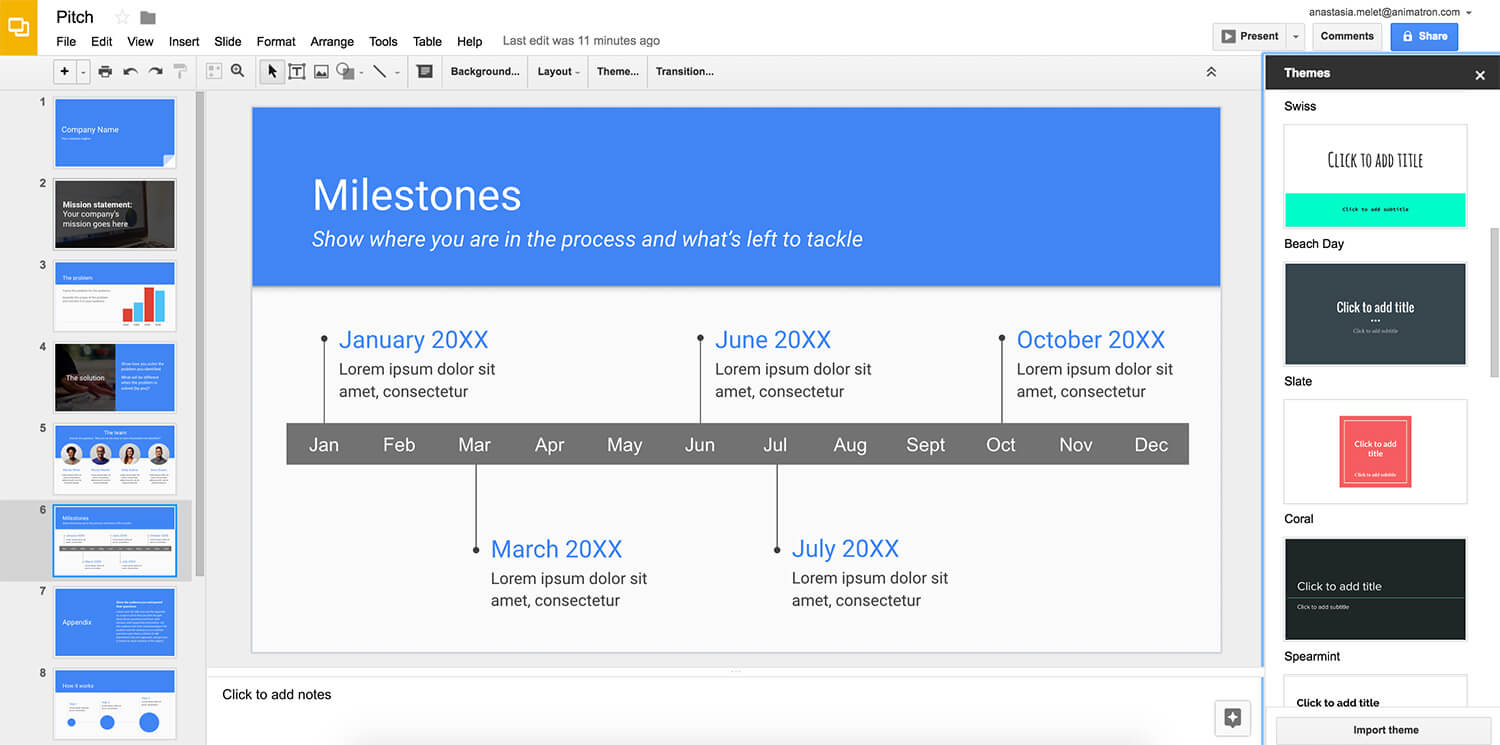 Google Slides is self-explanatory – it's a conventional presentation maker that offers pre-designed slide decks and allows you create your own. The template collection includes various scenarios for education, work, and personal: report, project, pitch, proposal, etc.
The feature that Slides is most often chosen for is the real-time editing and commenting which as I mentioned above, is a priceless capability. Google Slides is offered separately or as a part of G Suite from Google Cloud (formerly Google Apps), a package of Google apps for business. Google Slides is also available as an app that provides an always-on access to your projects. Google Slides is free with your Google account.
4. DesignBold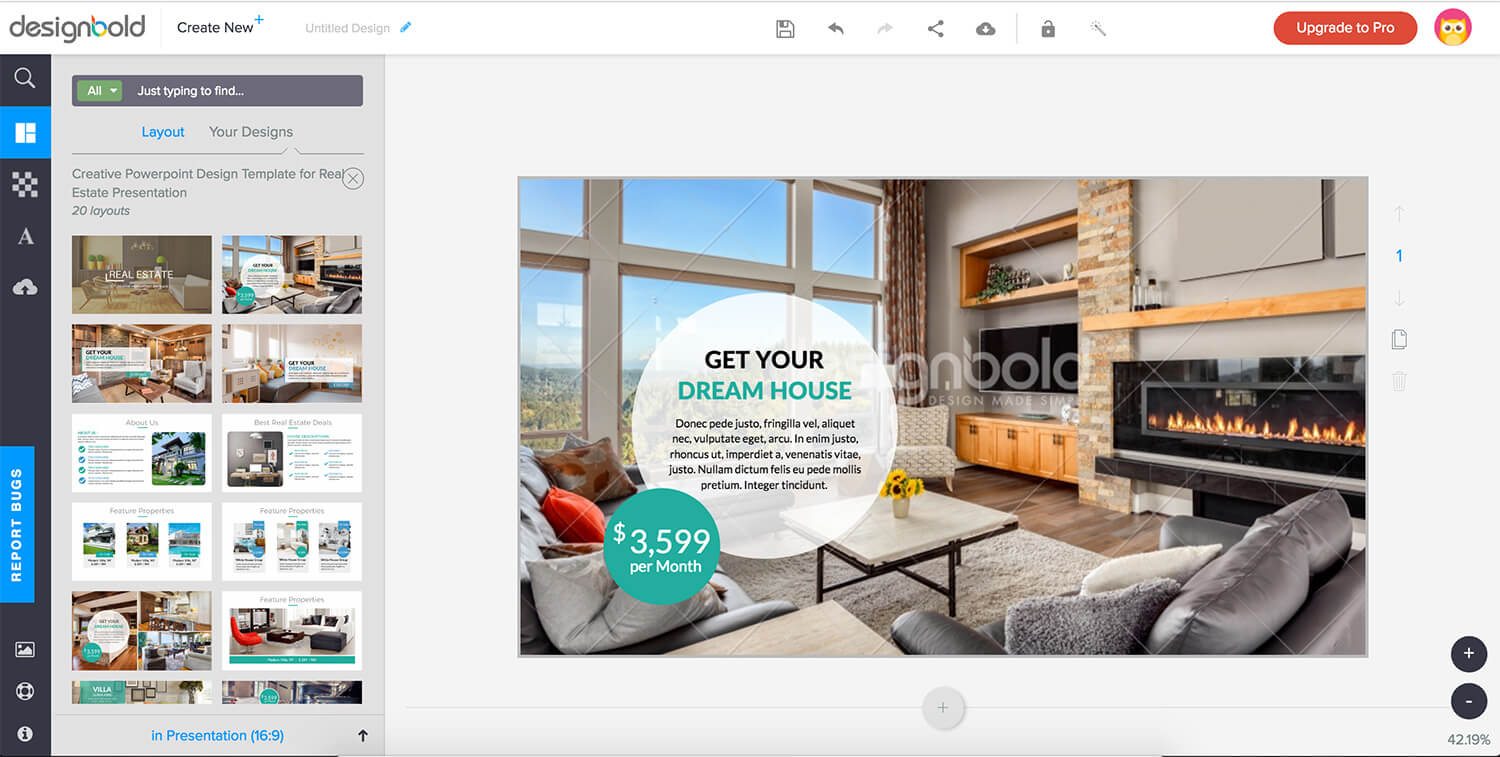 DesignBold is a web app that does not particularly focus on presentations, but offers a very wide range of collaterals to use: templates for social media, invites, letters, infographic, ebooks, ads – these are just a few ready-to-use designs available for free. Speaking about presentations, DesignBold provides a great opportunity to choose and add royalty-free images from a library within the app, saving time searching for the right visual on the web.
The software would be specifically interesting to those who spend a lot of time creating different materials (marketing professionals, for example) because they will find almost everything they need in just one product. DesignBold is available for free.
5. Apple Keynote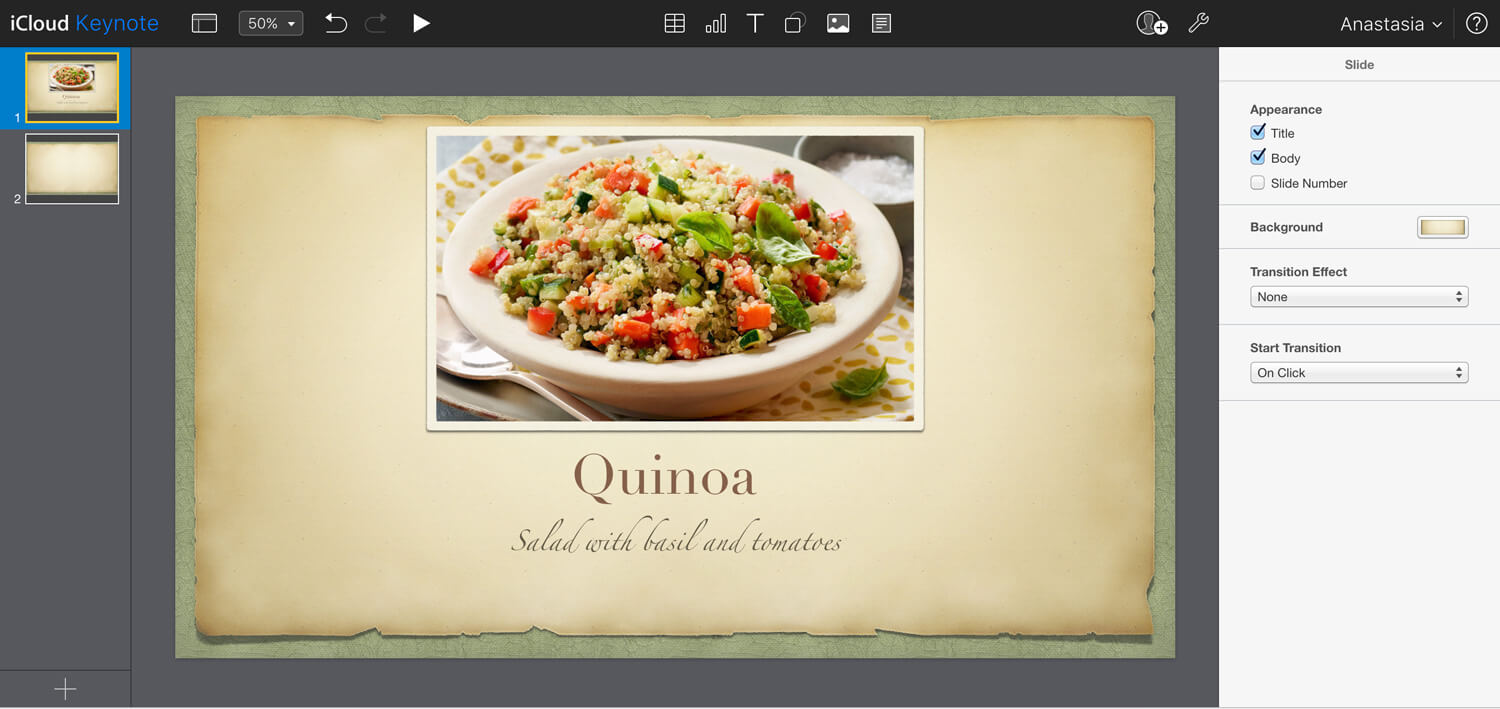 Probably every Apple user is familiar with Keynote – a presentation software within an office application suite for macOS and iOS, called iWorks. Keynote offers slide templates, special transitions, export into different formats, including export to PowerPoint.
The obvious advantage of the software is the opportunity to reach to your Mac presentations on-the-go through iPhone or iPad. Keynote Remote also allows you to control Keynote presentations from iPhone, iPad or iPod Touch. Keynote for iCloud has made Keynote even more available – it lets users create and edit slides through a web browser on a Mac or Windows computer. Keynote for iCloud is free with an Apple ID, Keynote app is free for Apple devices purchased on or after October 1, 2013.
6. Prezi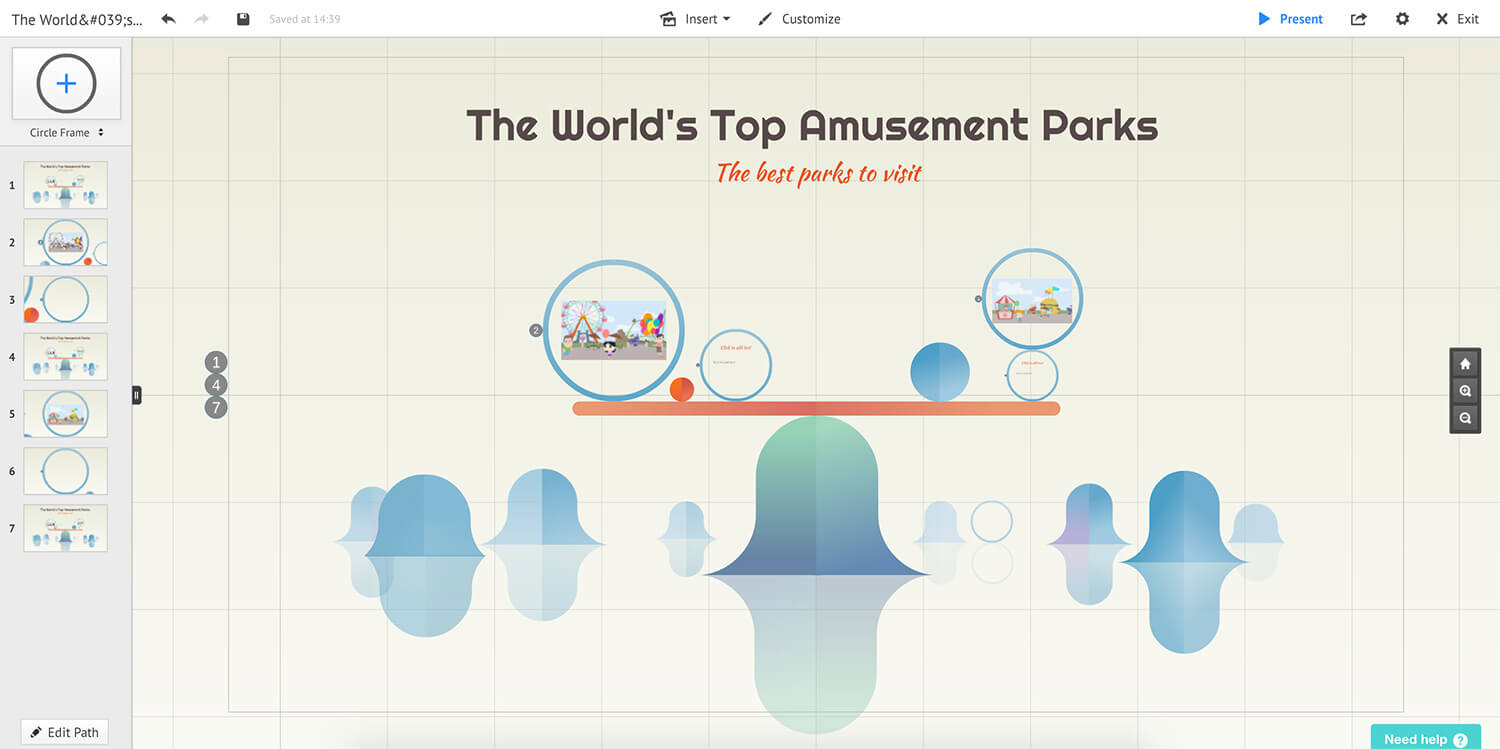 Prezi is a presentation software positioned as an "alternative to boxed-in slides". The idea behind it is that Prezi provides a zoomable canvas that acts like a map on which you can place pieces of information (or rather, a story) you want to tell, and move across the canvas and zoom it to elaborate on a piece.
As you can see, Prezi is different from traditional presentation software, and it is definitely worth checking if it fits your style of creating presentations. Prezi Viewer is an app that allows users to use presentations created online on their Android devices, as well as on iPads and iPhones, and also to present remotely from the devices (remember Keynote Remote?) Prezi online is available for free, as well as the Prezi Viewer app.
Bonus tip: Check out this guide if you are interested in PowerPoint Alternatives for small business owners.
It's Time To Put On Your Creative Hat
Making great presentations has never been easier than today. And we'd rather start calling presentations 'stories' because they tend to become more than just slides thanks to all creative effects today's software provides. Presentations are not time-consuming tedious slide decks anymore, but a way to blow away your audience with compelling stories and make your message remembered.
Start creating your slides story right now to see how easy it is!