Meet Wave.video Button: an open API integration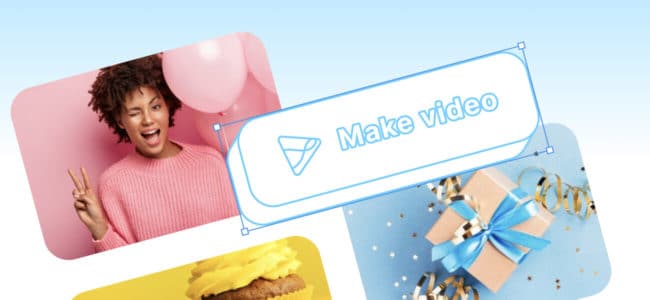 In the digital world, video is what's going to drive the business forward, increase engagement, and bring results. People want to be creating more videos, be it for social media channels or landing pages. It's even more rightfully so as all major social media platforms now support native video.
This means that in order to be successful across the web, businesses must embrace video content.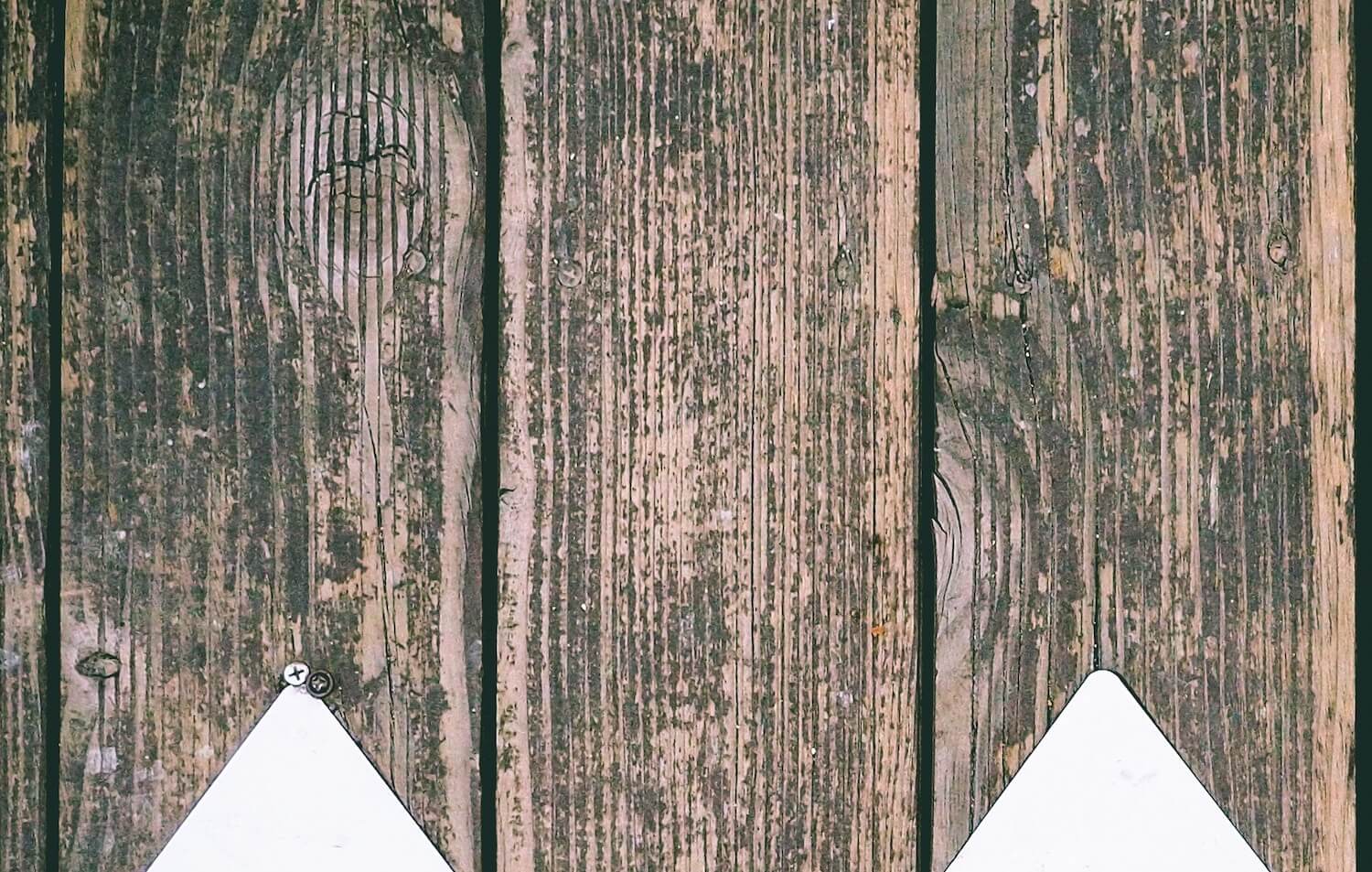 By 2022, online videos will make up more than 82% of all consumer internet traffic (Cisco).
That's why it's important to give regular users all the tools to empower them to create videos. One of such tools is Wave.video, a video making platform. And with the new open API, it's going to revolutionize the way software services work.
Meet Wave.video Button.
What is Wave.video Button?
Wave.video Button is an open API that allows you to add the video maker to your own product or service. Just a few lines of code added to your platform, and your users will be able to create videos without leaving your website. The videos will then be published back on your platform.
You can set up the way Wave.video Button looks like on your platform. You can customize the button using your own style so that it matches your brand.
Another option is to use our predefined styles. Each button can be customized with data attributes. You can learn more about the technical side of the integration here.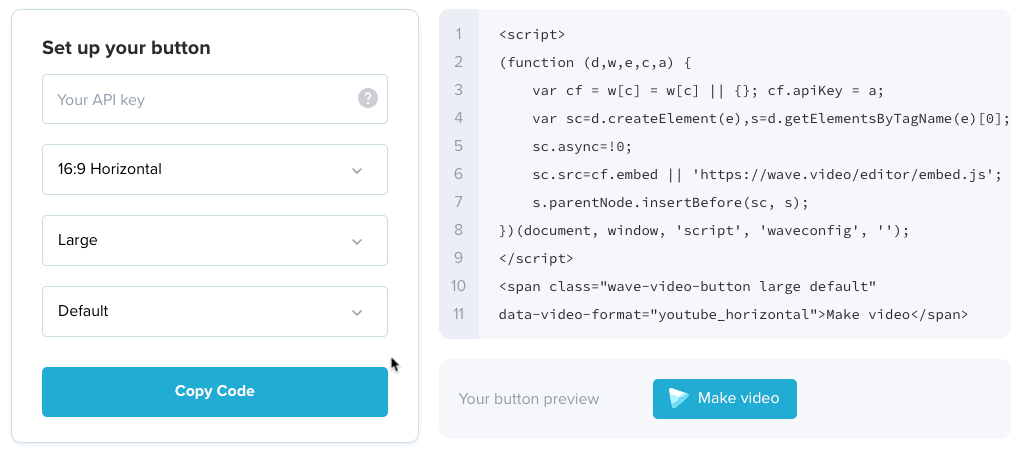 The beauty of it is that with Wave.video Button, the video maker opens in iframe right on your website. Once the users finish creating their videos, they don't need to wait or download anything. The video is published on your platform right away.
How is Wave.video Button different from other video makers?
Wave.video Button changes the approach to video creation. While all the other video makers force you to download the video first and only then upload it back to the service, with Wave.video, the video is pushed back to the platform without the necessity to download it first.
In addition to that, Wave.video Button offers all the benefits of the Wave.video editor. This includes:
the built-in stock footage library of 300 million assets (including video clips, images, and audio files)
automatic video resize to 30+ video formats (including Facebook cover, Instagram Stories, square, vertical, and landscape formats)
24+ animated text effects
color filters for videos
animated GIFs and stickers that can be added on top of the video
Who will benefit from using Wave.video Button?
We built Wave.video Button with other SaaS platforms in mind. As we envision it, here are the most common use cases for the Button.
Social media management tools
Video performs great on social media platforms. Video marketing statistics prove that video yields more engagement than any other type of content.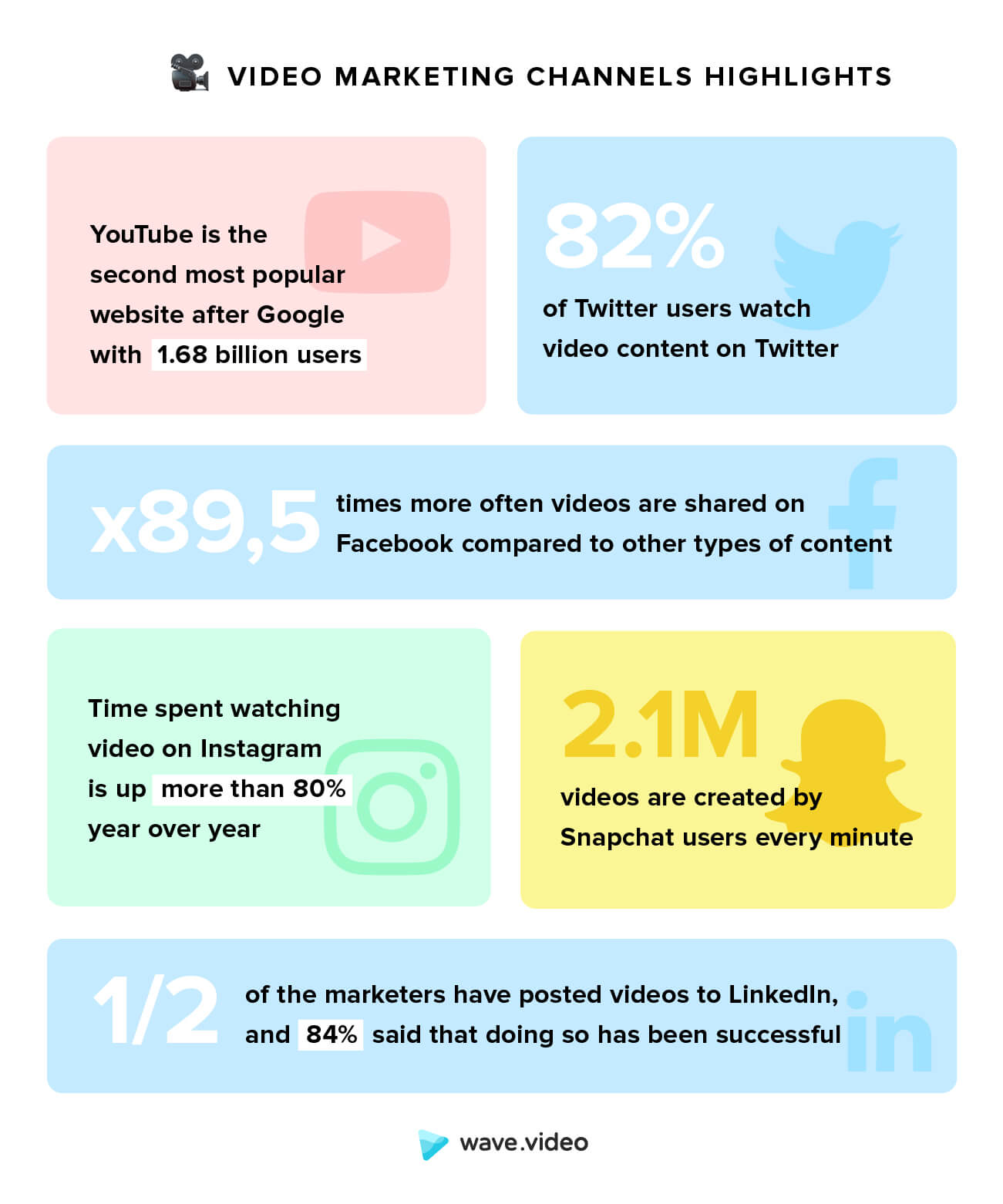 If you are a product manager for a social media management tool, give your users the ability to accompany their social media posts with video. Add Wave.video Button to your service so that they can create and schedule videos without leaving your platform.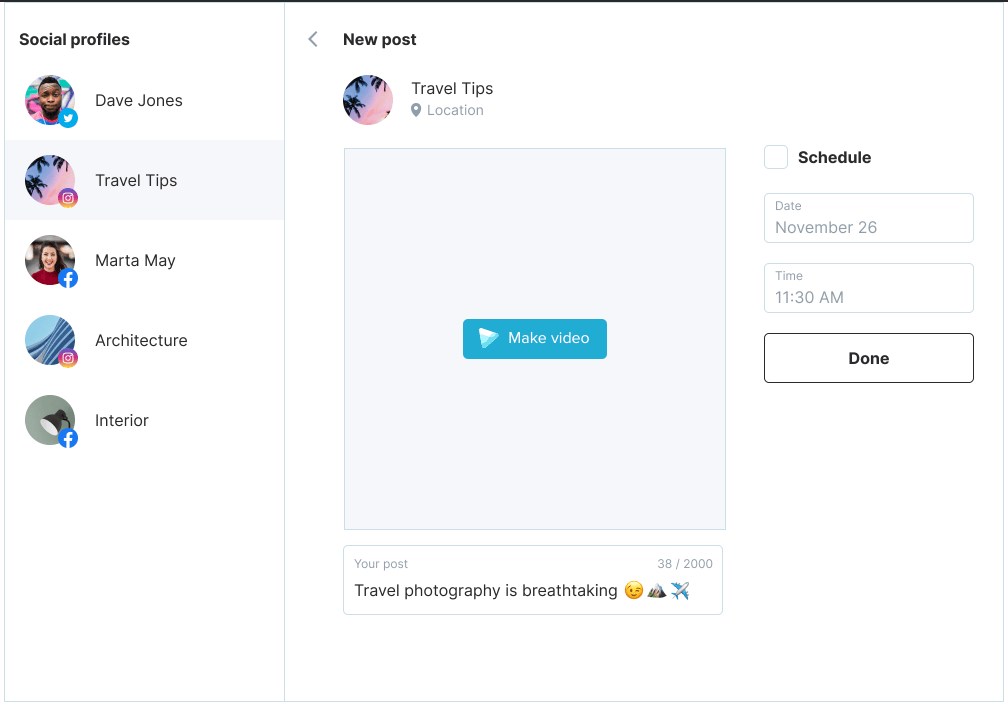 Here are just a few examples when your users might want to accompany their social posts with a video:
to promote a blog post
to make an announcement
to share more information than a post fits
Here's an example of using a video on Twitter. Empower your users to do the same!
To create an #ExplainerVideo about your product you need to script it first.

No worries! You don't have to master the complicated screenplay language. 🤯

Use our simplified two-column explainer #VideoScript template instead. 😏

Get a copy from here 👉https://t.co/jPuM3CPAFB pic.twitter.com/HtYoJozvWQ

— Wave.video (@wave_video) December 3, 2019
Turn your users into social media marketing superstars with Wave.video Button.
Blogging CMS
Video boosts SEO, making people come back for new content and stay on a web page longer. According to the latest stats, video drives a 157% increase in organic traffic from SERPs. Just think about it: a page with an embedded video is 53 times more likely to reach the front page of Google.
If you are developing a blogging platform like WordPress, Wix, or Medium, adding Wave.video Button to your website will empower your users to create videos and embed them in their articles.
With the help of Wave.video Button, your users will be able to create explainer and how-to videos, short demos, and video presentations. No need to download the video and search for a suitable hosting solution. The hosting is on us.
Landing page builders
Video can enhance any landing page and help with signups and conversions. For website builders like Tilda, Weebly, Wix, or Squarespace, giving users the opportunity to create videos is essential.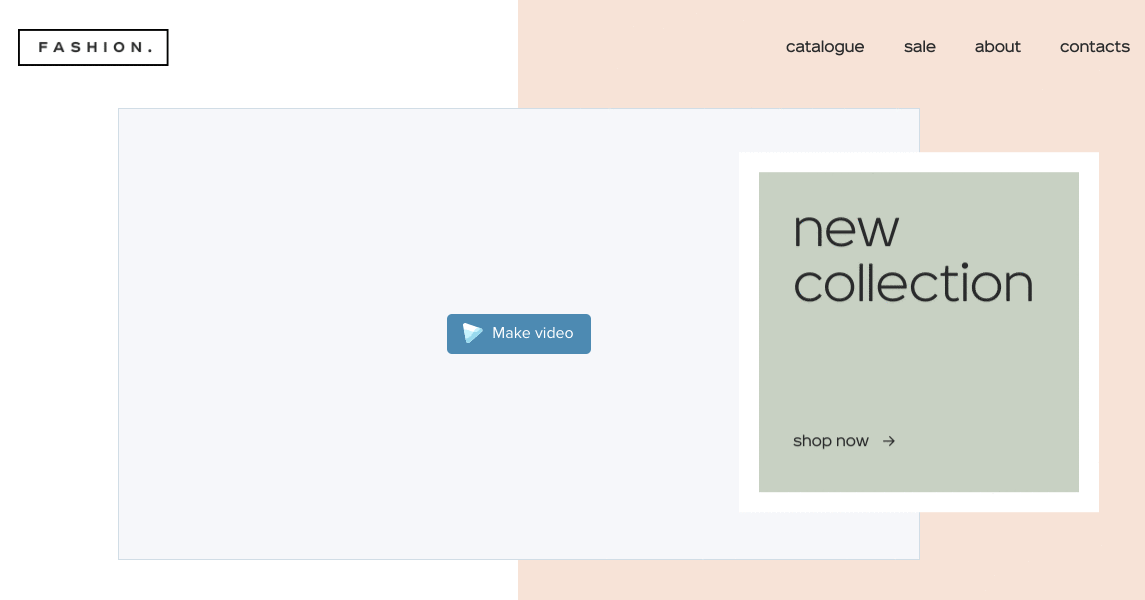 With the help of Wave.video Button, your users will be able to create new videos and update existing ones. This integration opens up vast opportunities for both your website building platform and users.
For instance, users can create videos for different occasions, A/B test various versions of the same page to see which one performs best – with or without video.
They can also update their existing landing pages and websites according to the season, when running a promotion, etc.
Real estate websites
More than 5.3 million houses were sold last year in the US alone. This makes real estate a very competitive market. Getting a listing noticed might take a lot of effort.
Videos can help make the listing stand out. If you run a real estate website, help your users to market their properties better with video.
Other use cases
Wave.video Button will be a great addition to any content management system or service. In addition to social media management tools and blogging platforms, this might include eCommerce platforms and online advertising solutions. Video can enhance any aspect of an online business, making it easy to explain difficult concepts and demonstrating complex ideas.
Wave.video Button in action: integration with eClincher
eClincher, a social media management platform, is among the early adopters of Wave.video Button. Now, you can create and schedule social media videos right within eClincher, without leaving the platform. Here's what Oded Sagee, VP of Marketing at eClincher, says about the integration:
This innovative integration between eClincher and Wave Video leverages social reach with creativity, allowing businesses and marketers alike to deliver rich content on the most relevant channels which translates to the greatest ROI.
The Wave.video + eClincher integration opens vast marketing opportunities. Now, there is no need to switch back and forth between the accounts. Users can manage all of their content in one place.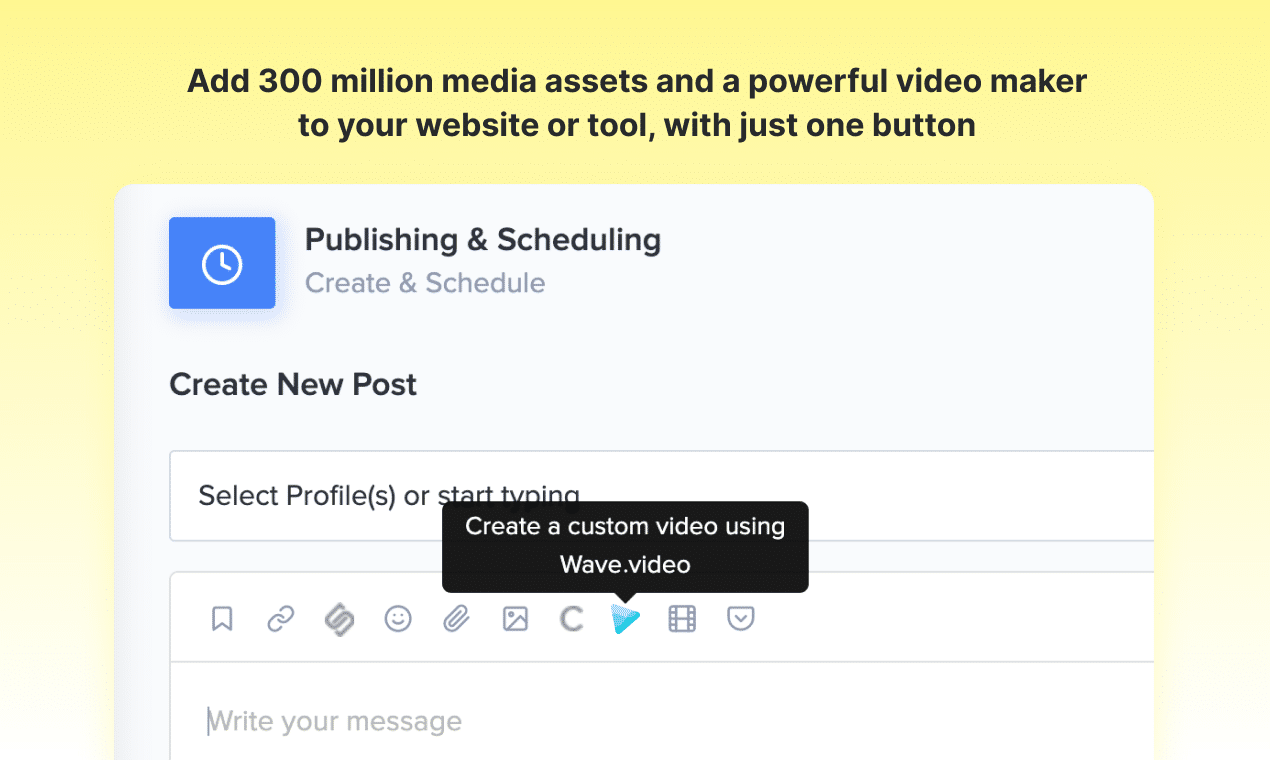 Furthermore, when it comes to growing the audience, increasing likes and shares on social media, video is way ahead of any other media types, including images and text. Promote content with video, and you are guaranteed to see your engagement soar.
Over to you
What product do you want to add Wave.video to? Share in the comments below!