Make Your Video Content Accessible: 12 Best Sites For Captioning Videos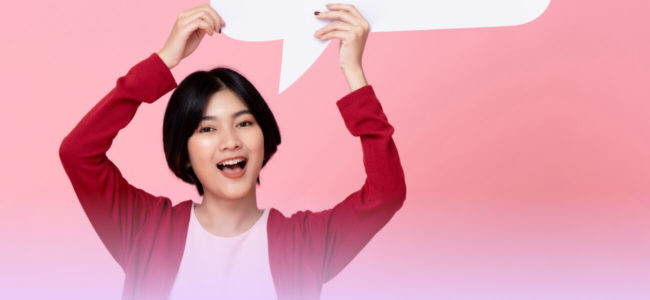 It's not too hard to see why captioning videos is a big deal. 
Not only do you need video captions to comply with the Americans with Disabilities Act for increased accessibility, but they also enable your viewers to watch videos in noisy or quiet environments or while they're multitasking.
This would be why 80% of people using captions aren't deaf or hard of hearing.
With most people watching videos with sound-off, video captions provide an easy-to-digest format to grab information better.
With most people watching videos with sound-off, video captions provide an easy-to-digest format to grab information better.
If you think of it, most of your experience with captioning might have come while waiting in a queue or when you were in a public setting and didn't have earbuds or headphones to watch videos.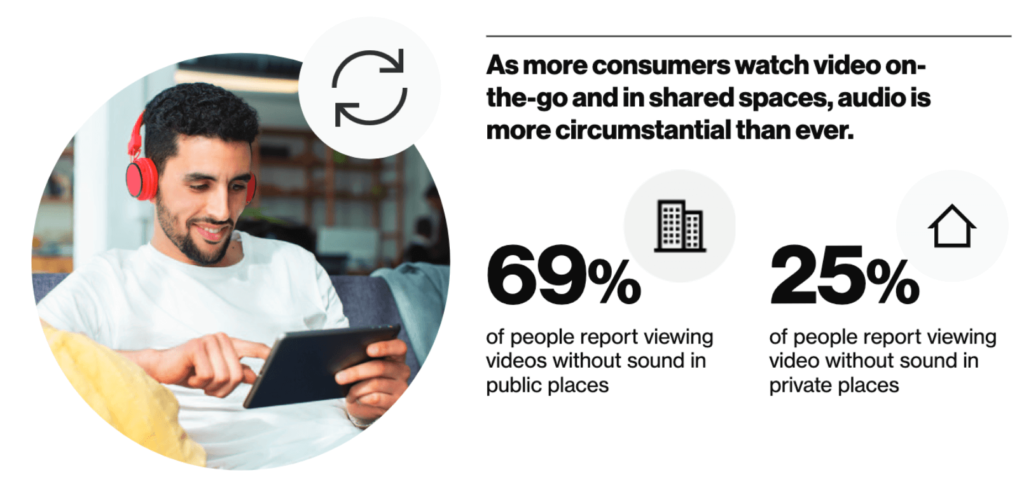 Source: Verizon Media and Publicis Media Relationship of Video, Sound and Captions Insights Study
Whatever the reason, if most videos are watched with sound off, and your videos have dialogues that are needed to be heard, then video captions are the only way to convey your message to your audience.
Not to be dramatic, but data shows that you can't and shouldn't ignore captions if your aim is successful video marketing. 
Video captions can't and shouldn't be ignored if your aim is successful video marketing.
With 29% of people preferring to continue watching a video with sound off, they help improve the understanding of a video for sure.
And they aren't just useful when the sound is off. Captions help spike interest to turn the sound on as well. 
But what's in for a digital marketer? 
We know that modern marketers expect more from every tool or tactic. That's why it's worth noting that captioning improves indexing too. By making your content more discoverable amidst a sea of content, captions are a great way to improve your search engine rankings.
The benefits of adding video captions are many. But the process can be a bit complex. 
That's where a captioning site may help. Here are our top picks when it comes to the best sites for captioning video.
1. Wave.video
With its slick and modern design that lets you add captions to your video directly, Wave.video tops this list for a good reason. And it's also amazingly generous for free users. 
Apart from giving access to a massive library of video clips and images and 600+ professionally designed templates, it enables voiceover recording too.
So, how do you add captions to videos using Wave.video?
It's easy to get started. Just go to the My Videos page and select a video you want to put captions on or click on 'New Video' to 'Upload a video' or choose one of the 'Templates'. You can also explore 'Stock videos & images' to add one and start creating your video. 
Once you're on the video editing page, click on 'Captions'.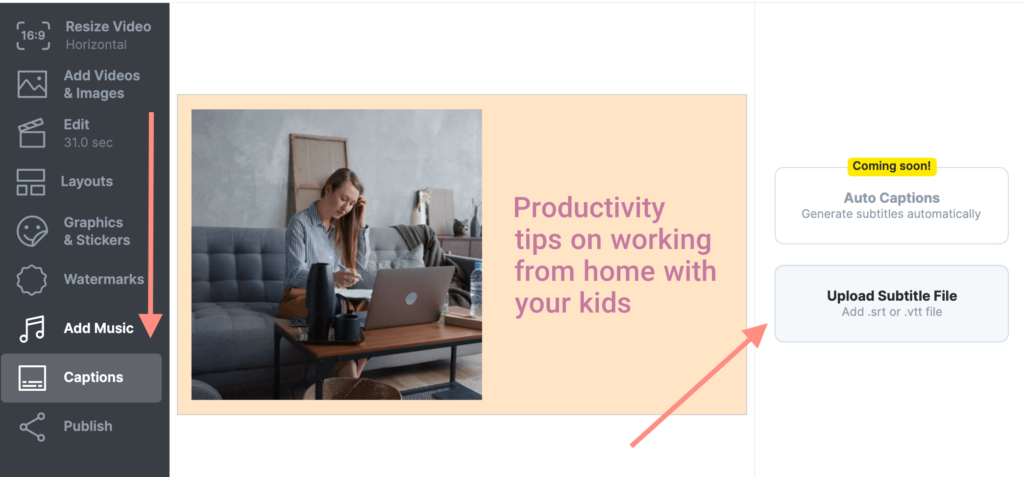 On the right, you will find two options. 
Although the 'Auto Captions' feature for generating automatic subtitles is a work in progress, you can always choose the 'Upload Subtitle File' as the first step to take your video content to a larger audience. 
After uploading the subtitle file, you will be able to see them on the screen.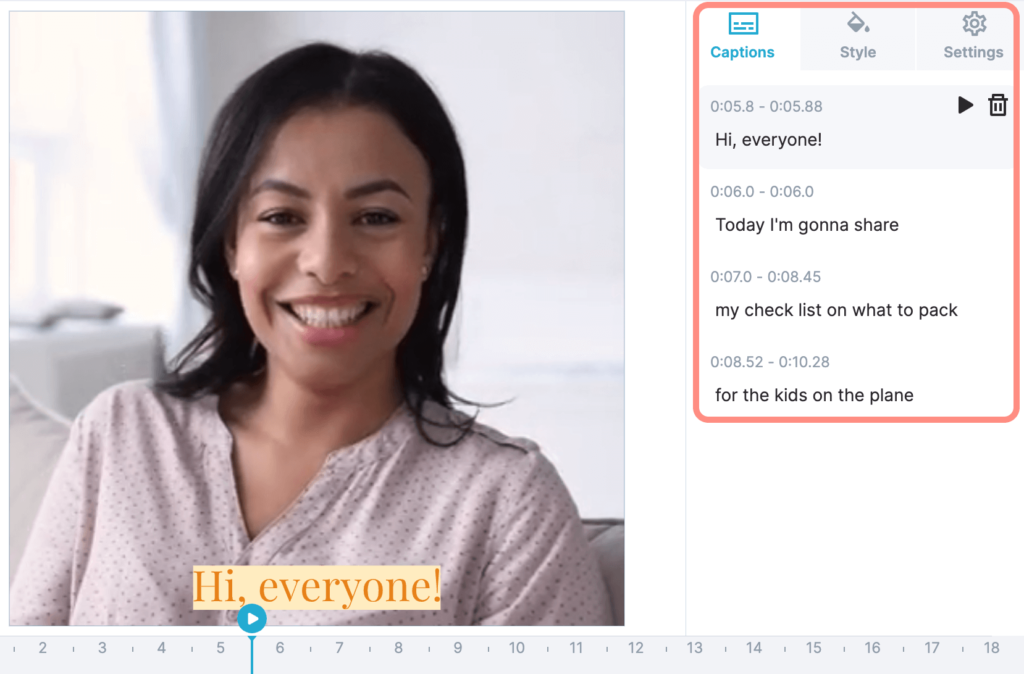 Now, you're free to make edits as needed.
Use the 'Style' option to change font, size, color, and style of the subtitles. You can also change the background behind the video captions. 
Under the 'Settings' tab, you can find the option to burn the captions into the video.
That's it, captioning your videos with Wave.video is fairly straightforward. And the results are awesome.
With its easy-to-use interface, Wave.video gives the utmost freedom to video creators for making their videos all the more accessible and compelling. Go ahead and experience it.
2. YouTube
Okay, coming to one of the most-watched video platforms – YouTube.
With a built-in transcription tool, adding captions to your YouTube videos is easy as a breeze.
But that's also its downside – you can 'only' add captions for videos that are uploaded to YouTube. 
You can either add captions manually or make use of the 'transcribe and auto-sync' feature. But the latter will have no time code information, so expect putting in some efforts there to set the timing that syncs with your video. 
The accuracy isn't 100% on point with the automatic sync, and the transcript should be in a language supported by YouTube's speech recognition technology. Presently, YouTube automatic captioning is available in English, Dutch, French, German, Italian, Japanese, Korean, Portuguese, Russian, and Spanish.
It's a great choice if you want to translate videos and add captions to YouTube videos for free and are okay with reviewing and editing automatic captions if you choose that option.
3. Otter.ai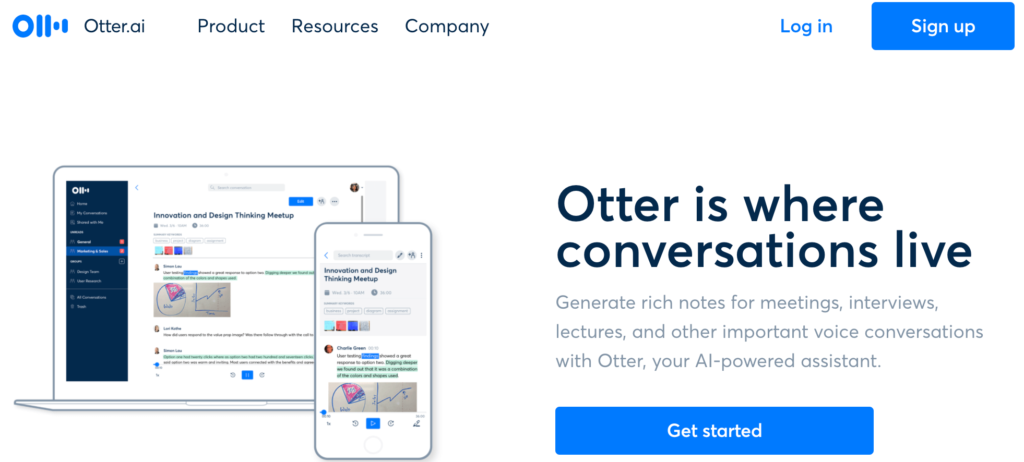 Otter.ai is a machine-transcription tool that lets you transcribe your videos online. One of the pros of using this site is its excellent voice recognition and the ability to weed out background noises.
With the 'Free' plan, you get 600 minutes of transcription per month. You can upgrade to the 'Premium' plan for 6,000 minutes and 'Teams' plan for 6,000 minutes per user every month. The sign up is pretty easy, and you can upload a video in a jiffy to get started with the machine transcription. Plus, the accuracy is impressive too. 
4. 3Play Media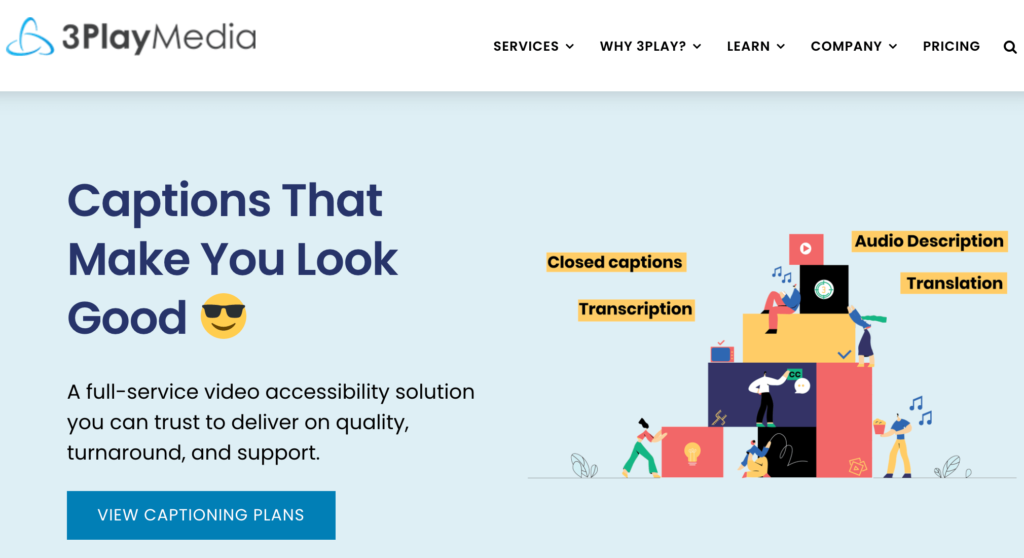 Next up is 3Play Media, a trusted tool for anything captions. With its premium services for closed captioning, transcription, audio description, and translation, you get interactive, time-synchronized transcripts without any hassles. 
You can create closed captions and subtitles in several formats and languages. 
But what makes it different from the rest? Well, for one, it can be accessed through flexible APIs, simple plugins, a simple-to-use online account system, or a number of integrations with video players and platforms. 
Then, it's perfect for adding live automatic captions with live streaming video and meeting platforms such as YouTube, Zoom, and JW Player.
Also, 3Play Media offers scalable features for its 'Enterprise' account. Nice, right?
5. Facebook
When it comes to your Facebook videos, you don't have to struggle to create your own text overlay with a different video editing software, Facebook's auto-captioning tool does a pretty great job.
You can make your Facebook videos more watchable with captions that are automatically generated by Facebook's system and make edits as deemed fit. In fact, you can add them manually as well.
Note that the feature is available in English only.
You also get the options to delete, share, or download the captions to your computer — everything for free. But as with any automated audio transcription, accuracy here may go south. So, be watchful.
For the uninitiated, here are Facebook's instructions to add captions to video or slideshow ad.
6. Subtitle Horse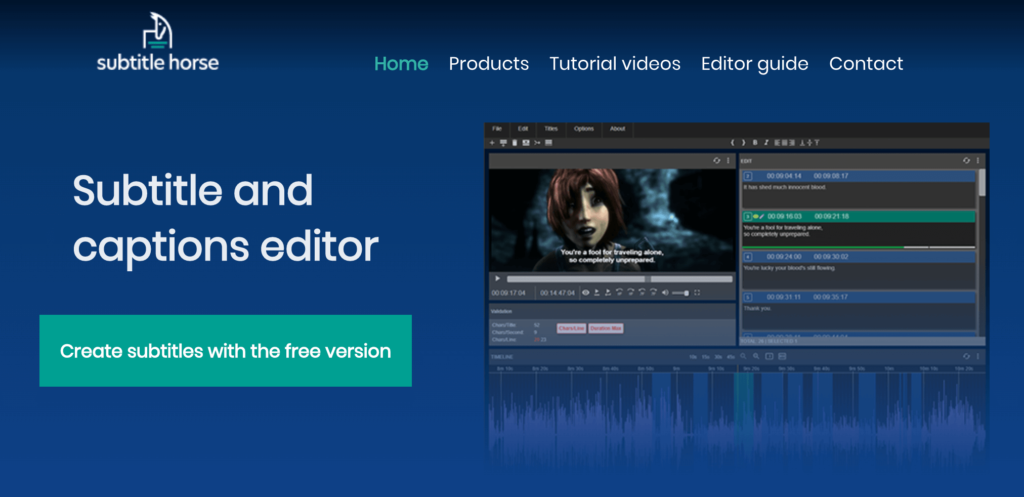 Need a free, browser-based caption editor that doesn't even require a login? Try Subtitle Horse. 
You can export subtitles as a text file in the supported formats, including SRT, TimedText, and WebVTT.
No matter whether your videos are online or on your hard disc or any web platform like YouTube, Dropbox, etc., you can use Subtitle Horse to add captions to video easily. 
While the interface seems a bit archaic, you get plenty of features like zoomable timeline, real-time subtitle validation, subtitles export, video playback options, and more.
7. Amara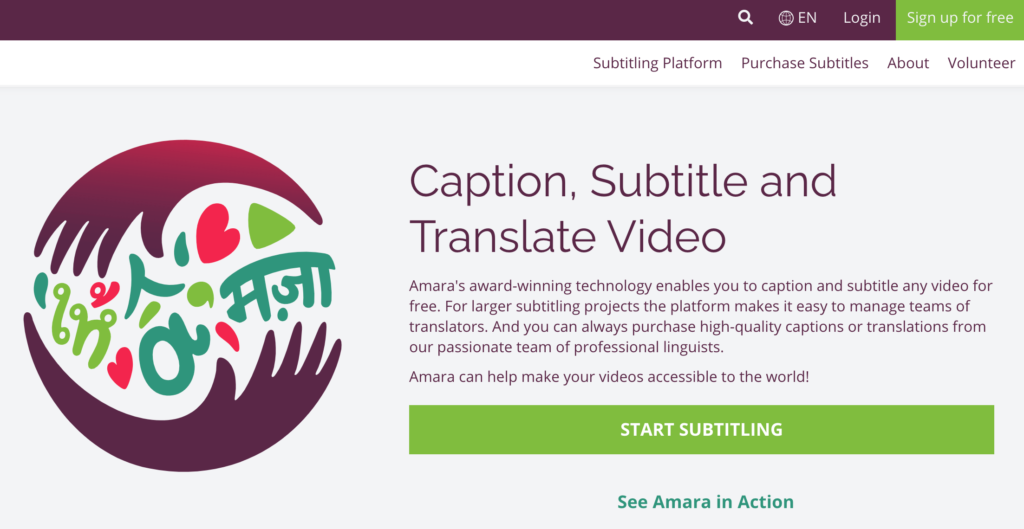 Amara is an award-winning tool for adding subtitles and captions. With this free and easy-to-use site, you can create captions from scratch. And with a host of keyboard shortcuts, you can save a lot of time while syncing subtitles to your videos.
A reason for Amara's massive popularity is the flexibility it offers to translate your videos in more than one language once you are done captioning. And to make things easier, it comes with different playback modes for beginners and experts. So, you get to choose the speed you are comfortable with. 
The free version 'Amara Public' is perfect for crowd-based open subtitle creation. But if you are looking to create subtitle files in a private workspace, you can upgrade to 'Amara Plus', 'Amara Pro', or 'Amara Enterprise' starting at $24 per month for two users.
8. Quicc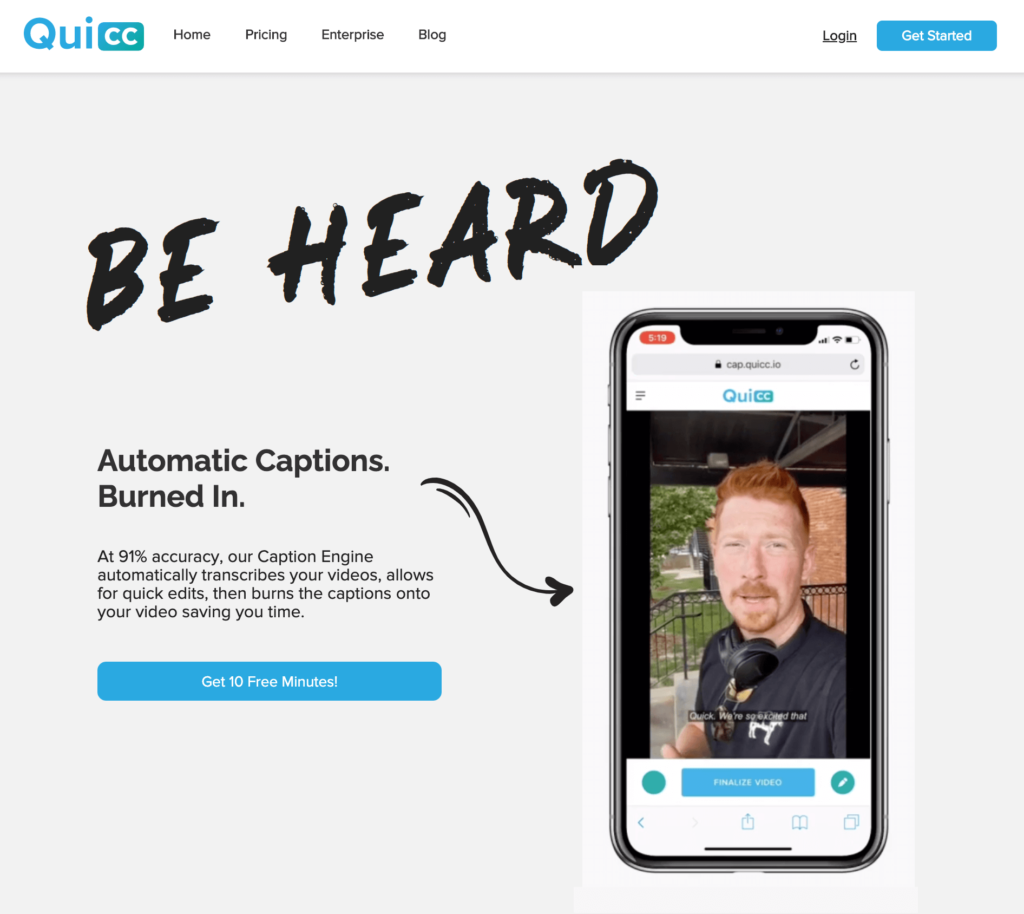 If you're looking for an online captioning tool that runs cross-platform for captioning videos on the go, Quicc is your best bet. The brand claims a 91% accuracy rate, which is pretty good for an automatic transcription tool. And it also lets you embed your captions directly into your videos. 
All its plans include features like custom fonts styles and colors, automatic burnt-in captions, 11 language profiles, .SRT file export, and more.
But just with any excellent online tool, its free version comes with a limitation too. With the free plan, you get only 2 minutes per month, and you are able to buy more minutes at $1.50/min. However, you can reduce this cost by upgrading to one of the premium plans, as per your requirements. 
9. Kapwing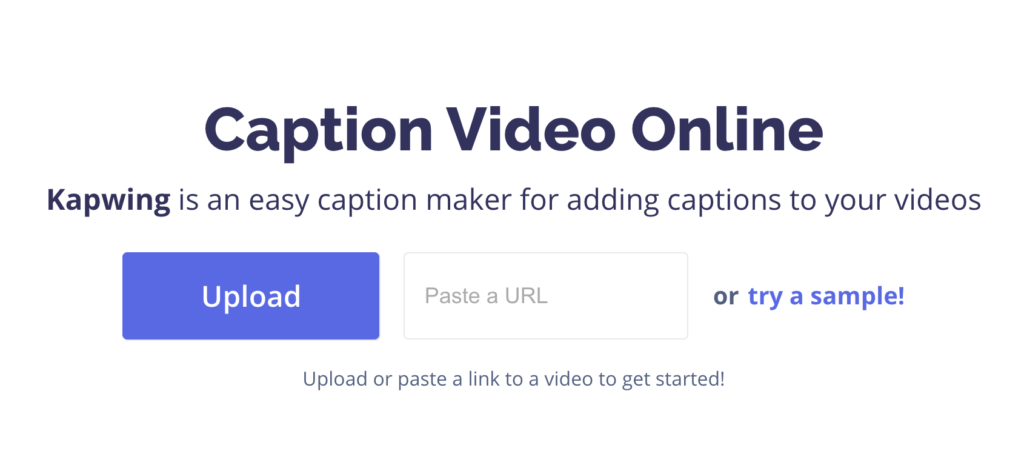 With no fancy add-ons and simple pricing featuring only two, 'Free' and 'Pro' plans, Kapwing is a boon for captioning beginners. 
All it takes is a few clicks to upload your video or paste a URL if it's already on the web, transcribe and space your captions with the editor. And that's all. Your captioned video will be ready to share.
Whether you want closed video captions or open, Kapwing is excellent for both. While the Free plan users can add the subtitle text directly into the MP4 for as long as they want, they can publish videos up to 7 minutes and up to only 3 hours of video per month. They can upgrade to the Pro plan by paying $20 per month.
10. Descript
A rather new tool in the world of video captioning, Descript features an interface that's fresh and intuitive. With built-in recording tools, it's the perfect site to record, edit, mix and transcribe audios and videos like a pro.
A free account gives you three hours of transcription, and you can upgrade to 'Creator', 'Pro', or 'Enterprise' plans to make the most of this efficient captioning site. 
Whether it is Descript's drag and drop functionality, its timeline editor, or multitrack recording, this feature-rich tool is a must-try. It provides excellent accuracy with both automatic and human-powered transcription and makes collaboration effortless too. 
11. Substital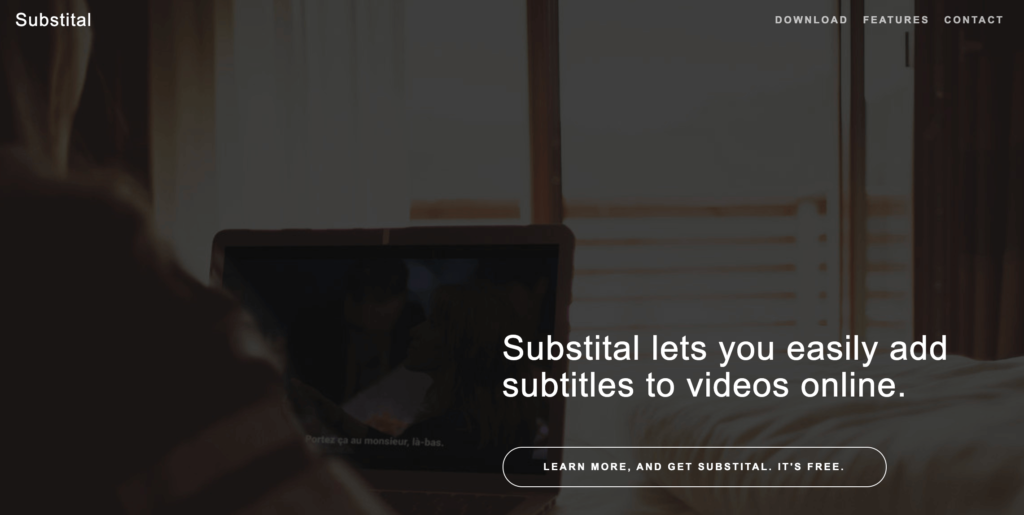 For those searching for a browser extension that lets them add subtitles or closed-captions to their videos, Substital is a great tool. Available for Google Chrome and Mozilla Firefox so far, it comes with automatic character encoding detection to help you caption videos in all languages.
You can also synchronize subtitles with this add-on. And it integrates with major video platforms like YouTube, Dailymotion, and Vimeo too.
As long as you know how to make the most of subtitles and captions, this plugin may be your go-to tool for smoother video captioning.
12. VEED

More than an interesting name, VEED is one of the best sites for captioning videos, thanks to its simple online editor. 
You can either add manual subtitles or generate them automatically with VEED's auto-generated subtitle tool and add them to your videos. There's also an option to upload a subtitle file. 
By helping you make changes to the fonts, colors, and positioning of your video captions, VEED offers excellent editing flexibility too. The way this site works is pretty simple, and it lets you export the subtitles as an SRT file or even burn them into the editor if you want.
With the 'Free' & 'Basic' plans, you get access to just the auto subtitles functionality. If you want features like SRT subtitle downloads or translation, you'll have to upgrade to the 'Pro' plan, which starts at $24 per user every month.
Convey Your Message Right With Captions
With 37% of video viewers saying that captions make videos more interesting and encourage them to turn the sound on, you don't have to second guess the importance of video captions.
Besides making your video content available to those with hearing disabilities, captions are also highly beneficial in helping your videos reach millions who speak a language different than yours. Thanks to the long list of video captioning sites, you can easily transcend language barriers.
So, what's your take? 
Which site has worked the best for you when it comes to adding video captions? Which other tools can help make videos more accessible? Let us know in the comments section.