MultiStreaming Platform —
Robust & Easy-to-Use
with Video Editor, Media Library and Templates
The brand-new easy way to multistream pro-level live videos. Go on air fast, stream to multiple channels simultaneously, invite guests and amaze your audience with authentic branded broadcasts.

Integrated video editing tools and stock libraries to record, host, edit in one place.
Stream to multiple destinations
Facebook page
Facebook group
Facebook profile
Instagram
Youtube
Twitch
Linkedin profile
Linkedin page
Amazon Live
Custom RTMP
Uniquely styled live streams
Everything you need to broadcast extraordinary memorable live videos
Unique-looking broadcasts

Set up your live streams like never before. Create your own scene layouts: drag, drop and rotate on-screen elements. Save presets to reuse them across many of your live events.

Multiple cameras and screen shares

Stream video content from several cameras at once. Let your audience see you from different angles to enrich the watching experience and boost engagement. Create not just live events, but professional live shows.

Adjustable chat box

Keep eye contact with the audience and stay on track with the comments. You can detach the chat box and place it wherever you want on your screen.
Live streaming made easy
Powerful and feature-rich live streaming software with no OBS complicity. Smooth broadcasting experience, for both hosts and producers.
Easy setup and custom design
Ultimate customization and branding capabilities. Stream overlays, themes and templates.
Multi-channel streaming
The power of simultaneous broadcasting to several distribution platforms. Outstanding reach to broad audiences at once.
Full-scope customization for high-quality broadcasts
Branded broadcasts
Integrate your branding to boost recognition. Add custom stream overlays, set up your own theme, upload backdrop images and more.
Invite many guests
You can have multiple on-screen participants at once. Decide on the roles and grant the rights for the best cooperation.
Custom live stream flow
Design live streaming scenes like you would do with OBS. Change the screen set up in a click, change backgrounds and add graphics.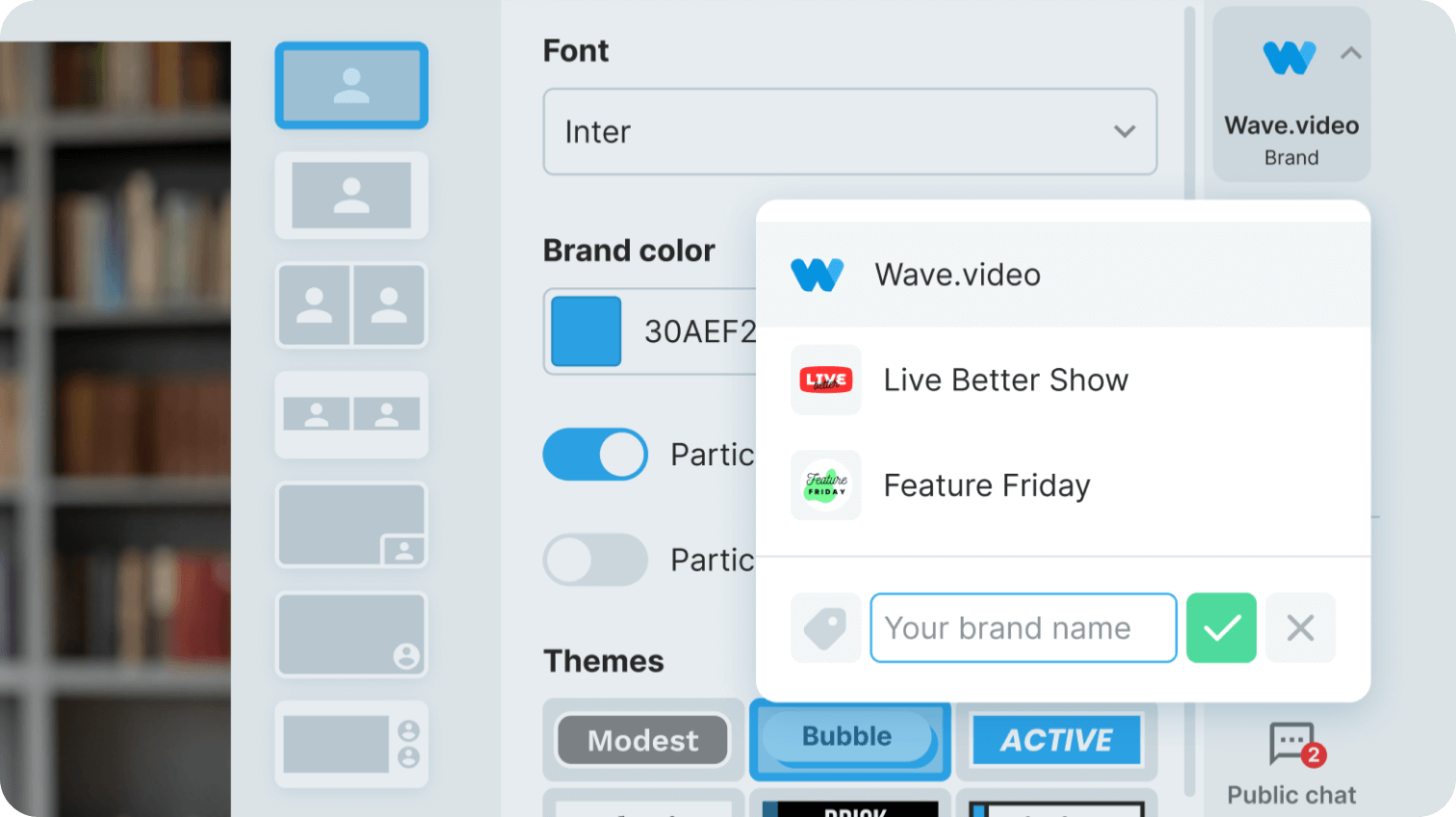 Why does your business need
Wave.video Live Streaming Platform?
High-quality and stable live streams

Live stream in Full HD 1080i with 30fps. Stable web-based streaming software that is simple to set up.

Easy setup and scheduling

Relish the intuitive interface of the live streaming platform: toggle your social accounts, connect the gear and schedule your broadcast in a matter of minutes.

Ultimate design flexibility

Create unforgettable live video events with wide-ranging design and branding capabilities.

Multistreaming capabilities

Stream to several channels at once. Connect your Facebook and YouTube accounts and multiply the outreach.

Stream pre-recorded videos

Record high-quality videos without going live. You can also upload any video to the Wave.video platform and stream it to multiple channels.

Cross-channel live stream chat

Engage with your audience in real-time with the instant live stream chat. Get comments from all channels and keep the conversation going.

Record and edit in one place

Save your broadcast recordings and instantly get them ready to be fine-tuned with the powerful Wave.video Editor.

Host and share your live videos

No need for a third-party service to host your live video recordings. Wave.video provides its hosting service along with the tools for content sharing and repurposing.
Sign up free →
Frequently Asked Questions
What channels can I stream to simultaneously?
For now, you can stream to YouTube, Facebook groups, pages and profiles, LinkedIn pages and profiles, Twitch and RTMP at the same time. We are to support more channels soon.
Can I get comments and reply during the broadcast?
During the live broadcast, you have two separate chat boxes. The first one is to get comments from all the channels you stream to. The second one is for your private chat with co-hosts, teammates and guests.
Can I record my live videos?
Yes, you can record your broadcasts. All recordings will be automatically hosted on the Wave.video platform.
Can I stream pre-recorded videos?
Yes, you can upload any video to the Wave.video platform and stream it.
Can I set up custom graphics, logos, fonts?
Yes, you can brand your live streams using all the elements like colors, watermarks, fonts, frames, overlays and other stream graphics.
Can I use multiple cameras?
Yes. You can add additional cameras to enhance the watching experience and make your live stream more engaging.
How many co-hosts can I invite?
Depending on the subscription plan, you can invite up to 9 guests to your live streams.