Live stream chat for seamless conversation
Enjoy the fussless two-way communication! Set your stream chat box the way you want. Create not just a broadcast, but a full-scaled interaction with your audience. Leverage the private chat to talk to the team behind the curtains.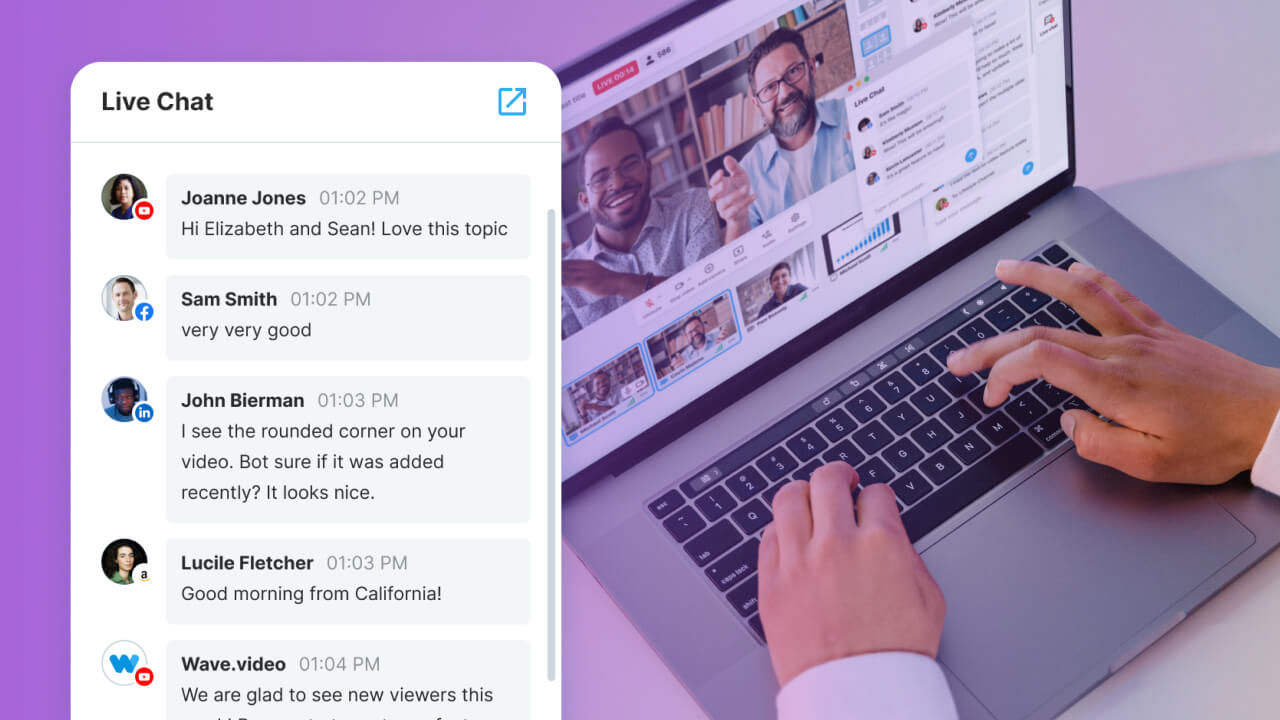 Stream to multiple destinations
Facebook page
Facebook group
Facebook profile
Instagram
Youtube
Twitch
Linkedin profile
Linkedin page
Amazon Live
Custom RTMP
Stream chat for real-time conversation
Comments, reactions and questions are an inseparable part of any live broadcast. Wave.video stream chat provides all you need to keep the conversation going.
Convenient UI to get, see and reply to the comments
Leverage the pop-out mode. Store comments and your private chat in separate tabs to drag them around the screen and drop wherever you want.
Graphics and animations for more engagement
Pick any comment from the feed to display it atop the stream. Set the style for your banners – choose the colors, fonts and effects.
Live stream chat features for full-scaled interaction with your audience
Comments come instantly from all channels

Get comments and questions from all the channels you broadcast to. They all are stored in one place, displayed instantly, and are easy to manage.

Customizable chat box

Add questions and comments from the chat to your live stream. Enjoy the variety of custom options to highlight the message with beautiful banners and animations.

Private team chat for organizational matters

Chat with your co-hosts and teammates behind the curtains. No one from your watcherswill see the conversation in a separate private chat box.

Pop-out windows for easy reference

Organize your live stream elements the way you like. Make pop-out windows and easily lay them out on your screen(s).
Frequently Asked Questions
Will I get comments from YouTube and Facebook in real-time?
Yes, the stream chat is real-time. You'll see the comments and questions in the chat box as soon as they are posted.
Can I add comments from the chat to my live stream?
You can pick any comment from the feed and add it as a banner atop your live stream.
Can I drag and drop the chat boxes?
Yes. You can use the pop-out mode for both incoming comments and your private chat team to organize them the way you want on the screen.