Free Online Video Conferencing & Meetings
Connect, collaborate, and communicate effortlessly with our free online video conferencing platform. Host or join web meetings, share screens, and engage with teams and clients worldwide. Experience seamless virtual communication today!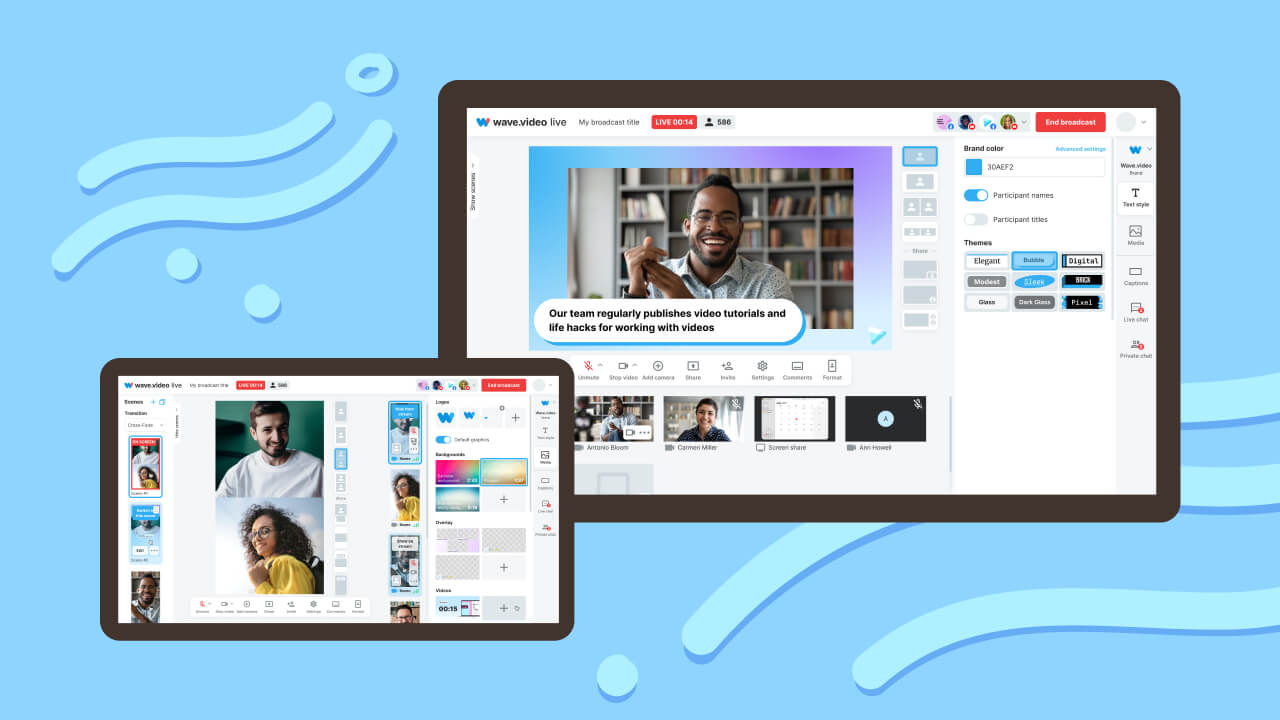 Seamless video conferencing
Wave.video provides a smooth and reliable web video conferencing experience. With high-quality video and audio capabilities, participants can engage in meetings without interruptions, ensuring clear communication and collaboration regardless of geographical location.
Customizable branding
Our free web meeting software allows businesses to maintain a consistent brand identity during online video conferencing. Users can customize their meeting backgrounds, logos, and overlays to reflect their company's branding, creating a professional and cohesive visual experience.
User-friendly interface
Wave.video prioritizes user experience with its intuitive and easy-to-navigate interface. Setting up and joining free online video meetings is effortless, requiring minimal technical expertise. With Wave.video, participants can focus on the meeting content rather than struggling with complex software.
Setting up a video conference or
online meeting with Wave.video
First, sign up to Wave.video if you don't have an account yet — no worries, registration is free and only takes a few minutes to complete.

Sign up Free

Once you're logged in, go to your streams & recordings page and click on the "Open Studio" button.

Inside the Studio, you can add logos, custom overlays, backgrounds, audio, etc., to enhance your video conference. To invite guests to your online video meeting, click on the corresponding button on the panel.
Frequently Asked Questions
What is online video conferencing?
Online video conferencing is a technology that allows people to have live meetings and discussions over the internet. It uses webcams and microphones to see and hear each other in real-time, regardless of where they are located. With online video conferencing, you can have face-to-face interactions, collaborate on projects, and communicate effectively, even when you can't be physically present in the same location.
Which online platform is best for video conferencing?
While there are several online platforms available for video conferencing, Wave.video stands out as a top-notch choice. The platform offers a comprehensive video conferencing solution that combines seamless communication with advanced features for a superior online meeting experience. With its reliable video and audio capabilities, interactive collaboration tools, branding options, and user-friendly interface, Wave.video's free web meeting software empowers users to conduct productive and engaging video conferences.
What is the difference between an online meeting and video conference?
Online meetings typically refer to virtual gatherings where participants connect via audio or video to discuss and exchange information. These meetings may involve screen sharing, file sharing, and chat features, but the emphasis is often on verbal discussions and presentations.
On the other hand, video conferences place a stronger emphasis on visual interactions. They involve real-time video feeds of participants, enabling face-to-face communication as if all parties were in the same room. Video conferences often offer additional features such as screen sharing, virtual whiteboards, and breakout rooms for smaller group discussions.