Revolutionary web-based streaming software
Wave.video is pushing the limits of how you can broadcast videos. Easy-to-use and powerful streaming software that suits both seasoned and novice broadcasters. Stress-less and joyful multistreaming available right from your browser.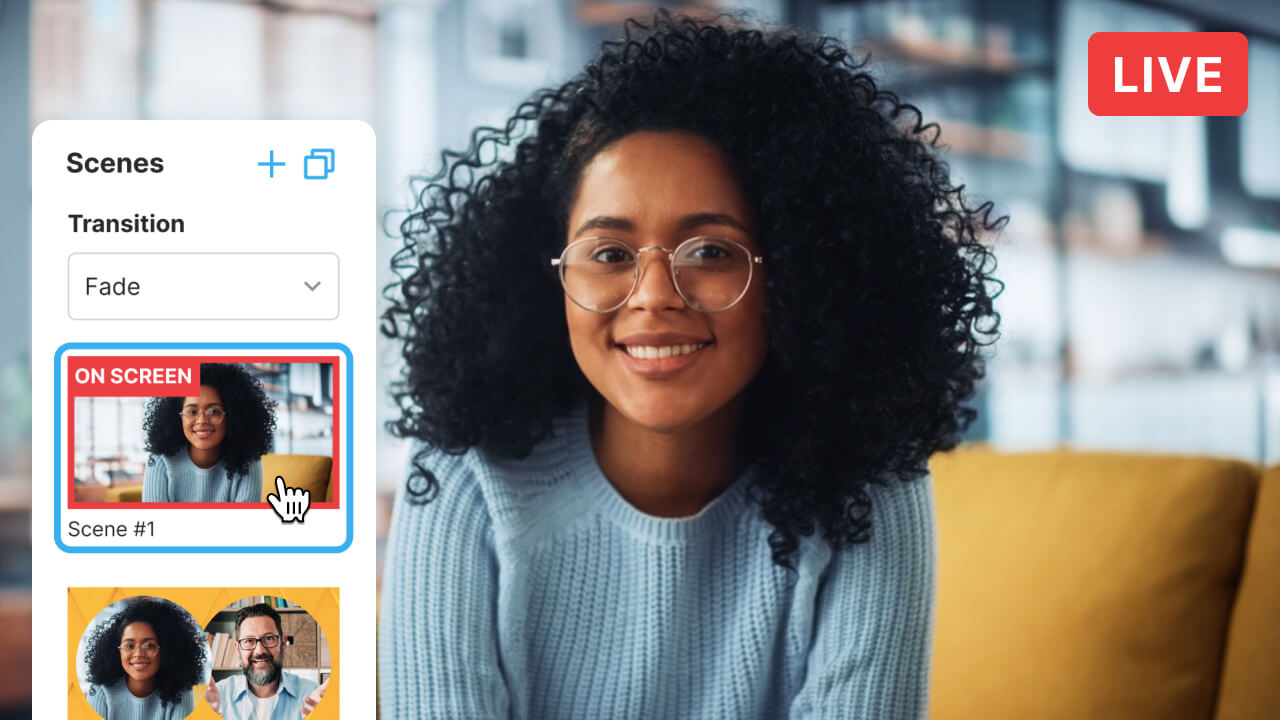 Stream to multiple destinations
Facebook page
Facebook group
Facebook profile
Instagram
Youtube
Twitch
Linkedin profile
Linkedin page
Amazon Live
Custom RTMP
Live streaming software made easy
No need to download and install
Wave.video is a web-based streaming app. Connect to the Internet, check your mic and camera and you're ready to rock the air.
Learn more →
Immense visual customization
Unique live streams with customizable scenes, your own branded media and flexible layouts.
Learn more →
Multistreaming capabilities
Connect several channels and broadcast to multiple channels at once. Multiply the outreach with Wave.video streaming software.
Learn more →
Streaming software designed for your convenience
Custom scenes and layouts
Leverage pre-staging design for the groundbreaking outlook of your live streams
Shortcuts for mouse-free control
Seamlessly change visuals and sounds with keyboard shortcuts
Seamless collaboration
Assign roles to your co-hosts and guests to create pro-level live videos together
Integrated video hosting and editing
All your recordings are hosted on the unified platform and available for editing and distribution right away
Frequently Asked Questions
How do I get Wave.video streaming software to work on my computer?
Wave.video live streaming works right in your browser. You don't need to download or install any software on your computer.
How many guests can I invite to join my live streams?
Depending on your subscription plan, you can have up to 12 broadcast participants.
Does Wave.video support multistreaming?
Yes. With our streaming software you can simultaneously broadcast to several destinations (YouTube, Facebook Pages and Facebook Groups). We'll add more channels soon.
What customization options does Wave.video streaming software provide?
Wave.video offers vast customization features to make unique branded live streams. You can set up your own scenes, create and upload stream graphics, add logos and animated elements, display banners, use audio files, change layouts, and more.
Can I broadcast from mobile?
For now, Wave.video live streaming software works on desktops only. But we're working to enable streaming from smartphones soon.