Instagram Story Video: How to Get Started Fuss-Free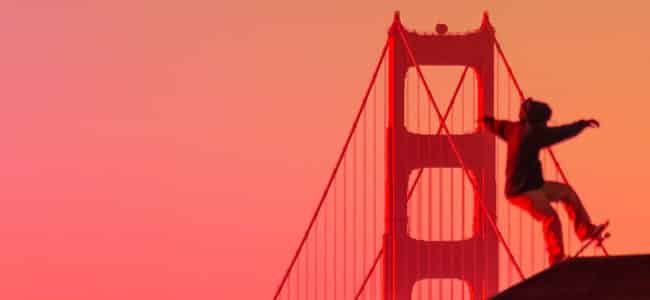 For a global platform with over 500 million daily active users, Instagram sure knows how to keep its user engaged and entertained. It introduced Instagram Stories in 2016 to compete with Snapchat – which it once tried to buy by the way. Reels is its latest addition to the platform in 2020, and it offers more ways to create and share your Instagram Story video.
What is an Instagram Story Video?
Instagram Story videos let you share video snippets of moments in your day with your followers. Brands have also taken advantage of Instagram Story videos as a more interactive extension of their Instagram Feed.
It has quickly become a vital part of the social media marketing strategies of businesses that want to reach new audiences with video, the most engaging type of content.
Why Instagram Story Video?
Ever since it was rolled out, the Instagram Story video feature has been wildly popular among the platform users. As of November 2017, Instagram Stories had over 300 million daily users. This is an audience a business simply can't afford to ignore!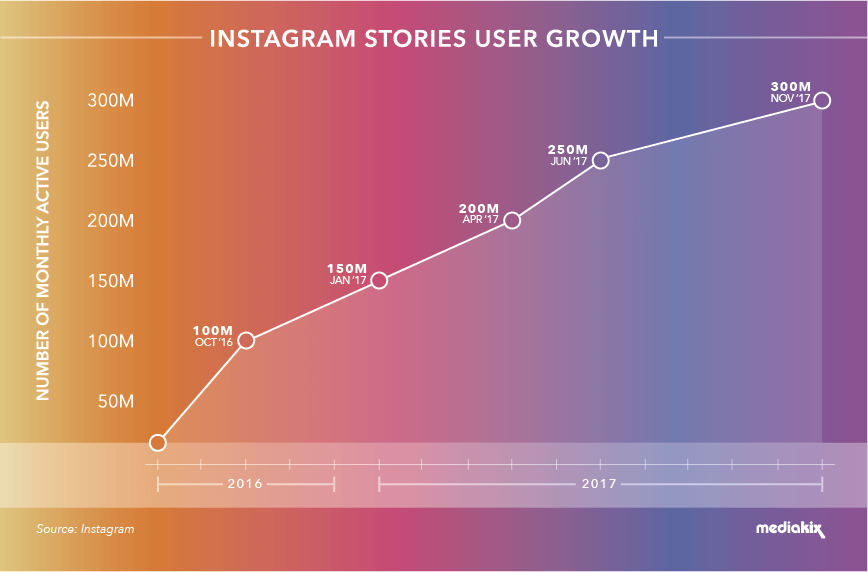 Source: Mediakix
How can a business like yours benefit from Instagram Stories to grow user engagement? There's one thing you might want to start doing, if not already — video.
Here are some reasons why you should consider using Instagram Story videos for your business:
Instagram Stories are not limited to your followers alone. They will be shown to users that may be interested in your brand. Instagram wants you to post more stories, so they prioritize accounts that do. Instagram Story videos are a win-win approach to reach more audiences organically.
Being current with videos that are either shot live or visible for just 24 hours allows you to stay fresh in the consumer's mind. Instead of competing for a spot on your potential customer's feed, use Story videos to book a spot right at the top.
Share User-Generated Content
People tend to trust this type of non-sponsored content more than your typical talking head videos. It feels authentic and is more likely to get clicks, or swipes in this case. Stories are a great way to let your satisfied customers win you more customers.
Without distracting the user, you can insert your ads between users' stories. Join companies like Airbnb that use Instagram Story video ads to double their ad recall and create buzz around its products.
IG Stories give your brand personality and offer a humanizing factor to your company. They don't have to be the most perfectly edited videos to be impactful, giving you more freedom to experiment and be fun.
If you have some videos that performed well or other platforms, you can share them on your Stories. It should be pretty since there's no need to maintain a high editing standard. Also, you can share videos from an ongoing live event and generate feedback in real-time.
Instagram Story Video: How to Get Started | Video Marketing How to
Instagram story video is a great instrument for all kinds of business. In this video, Olga will share how to get started and succeed with Instagram Story video.
Instagram Story Video: Things to Know
In order to succeed with IG stories, there are some things one needs to know, both on the technical and content sides.
Instagram Story Video Length
There are several reasons why videos work great on Instagram Stories. First, it's the length.
The maximum length of an Instagram Story video is 15 seconds, as opposed to just 7 seconds for a photo.
Even though each story can be up to 15 seconds long, Instagram allows adding what seems to be an unlimited number of stories in a row.
I ran an experiment and added 70 (!) Instagram Stories. Instagram didn't show any warnings, so I assumed I could continue adding them. If only I had more things to post!?
But even though Instagram does allow for an unlimited number of stories, creating 10+ quality videos for Instagram Stories might be a daunting task. Besides, your audience might simply get tired of watching and swipe to the next account.
Pro tip: If your video is longer than 15 seconds, use tools like CutStory or Storeo to cut it into perfect 15-second chunks.
Instagram Story Video Size
The Instagram story dimensions are 1080 by 1920. This means your video or photo will have to be 1080 pixels wide and 1920 pixels in height.
The size of an Instagram Story is a full portrait, with the dimension 9:16. This format is best for Instagram Story as it occupies the whole screen on the phone.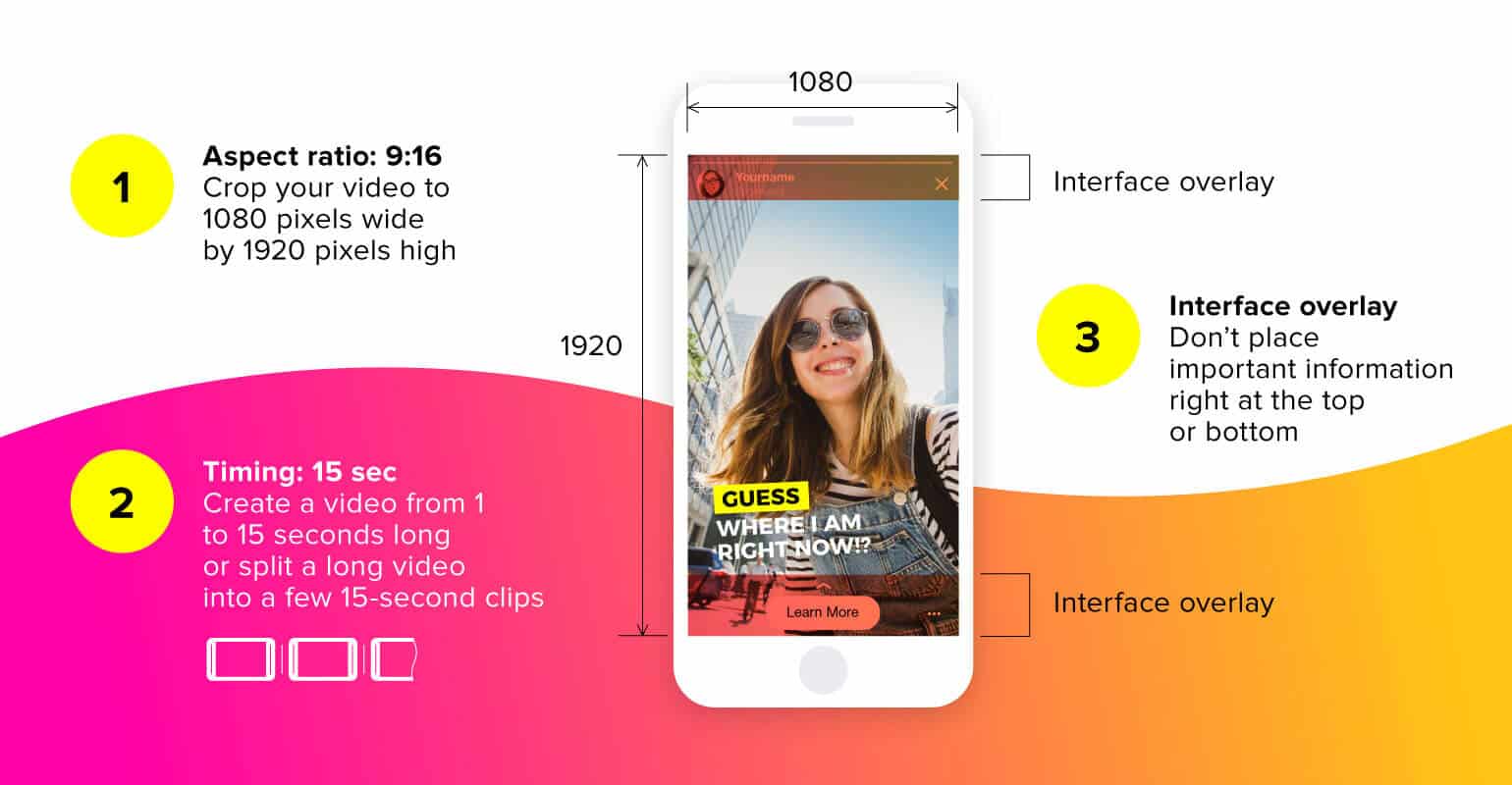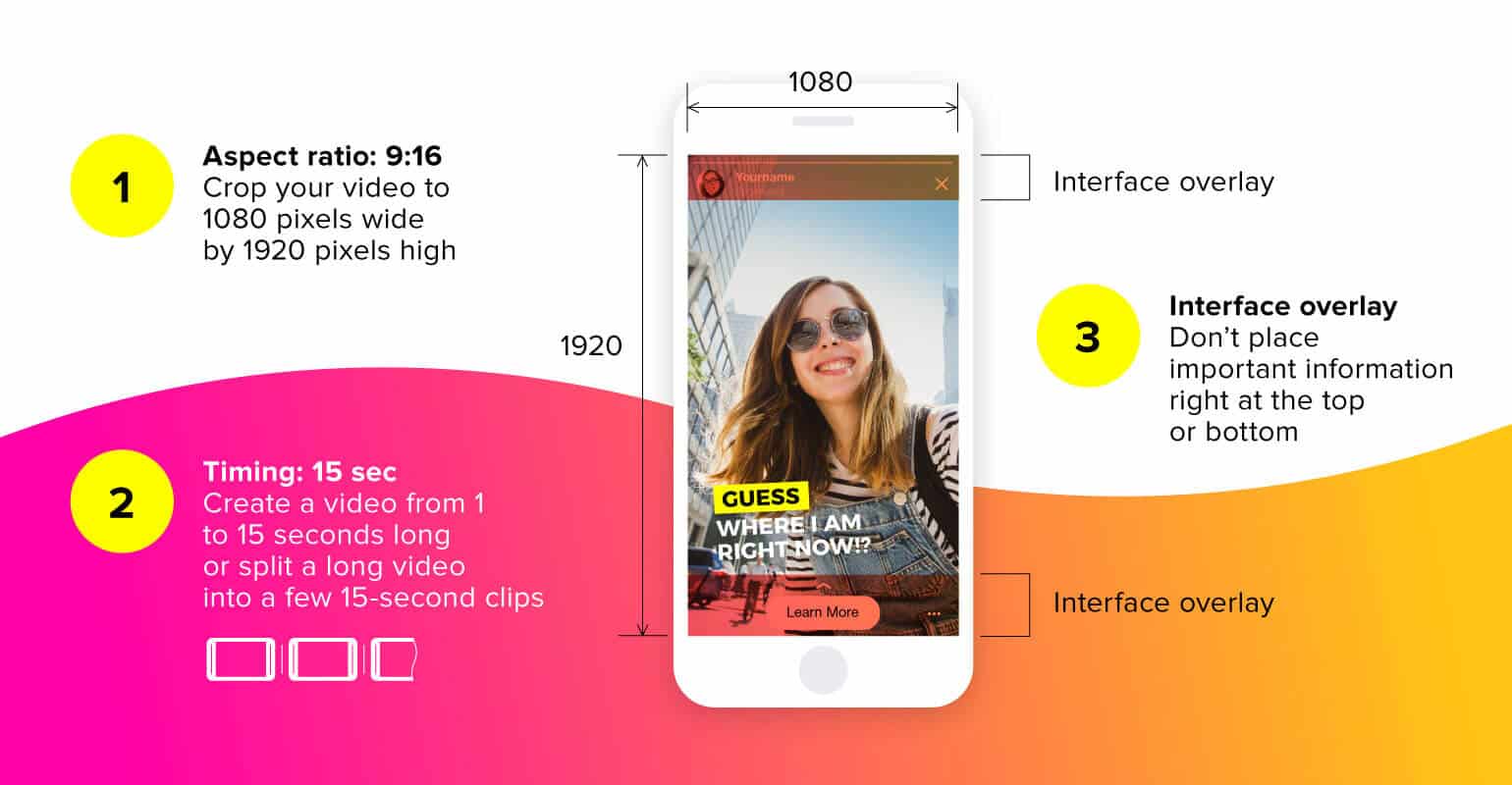 However, recently Instagram introduced a feature that allows you to fit horizontal videos and images into the screen. If you upload a horizontal video as an Instagram Story, the platform will automatically suggest fitting it to the screen.
It will also add a background of matching colors. These margins at the top and bottom are a great place to add text, stickers, tagging people, or adding a call to action.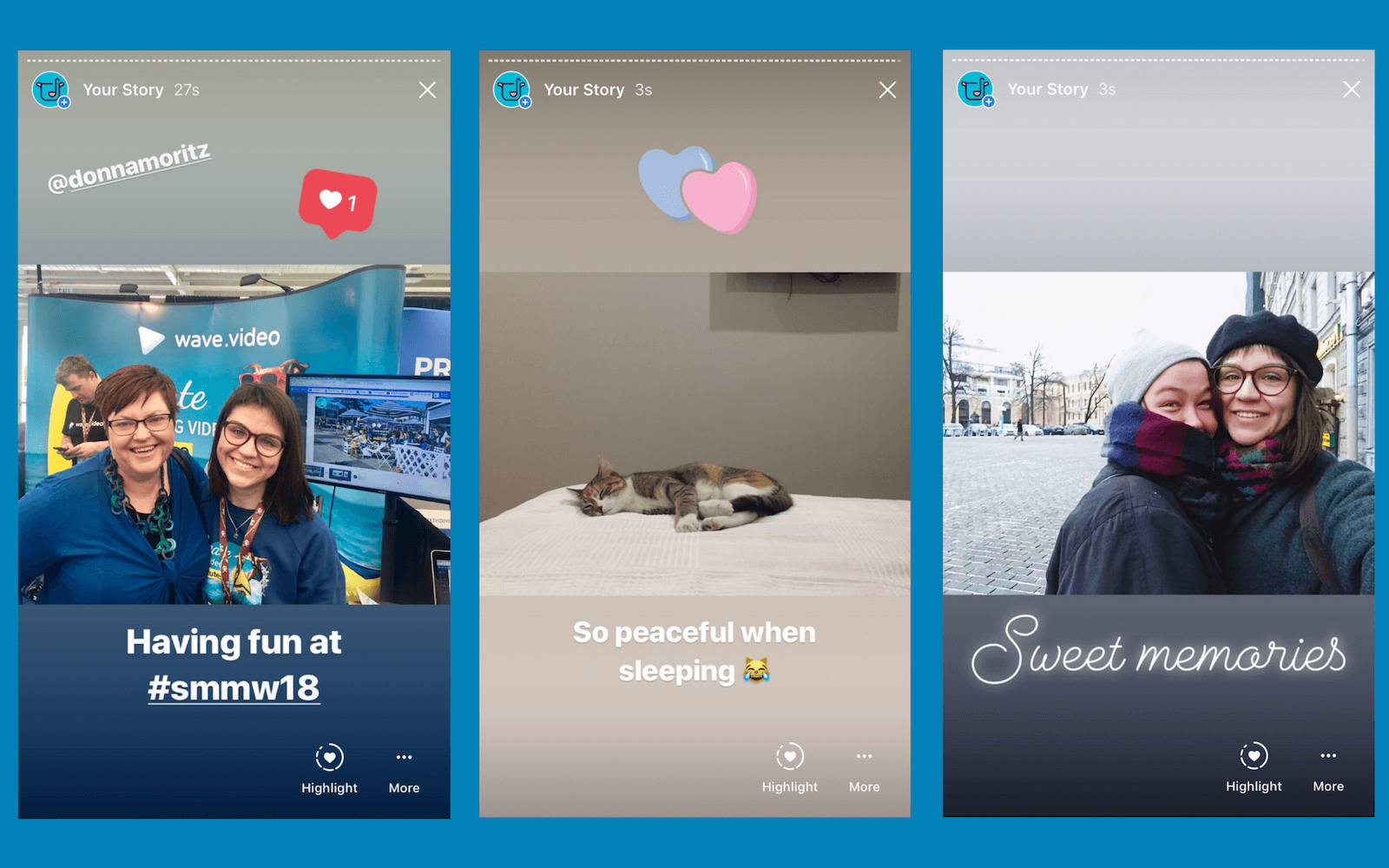 How to Create an Instagram Story Video
There are different ways to create a video for Instagram Stories. First, you can make a video using Instagram itself. In order to do it, switch to the Stories mode by tapping on the camera sign or your avatar with the "plus" sign located in the upper left corner.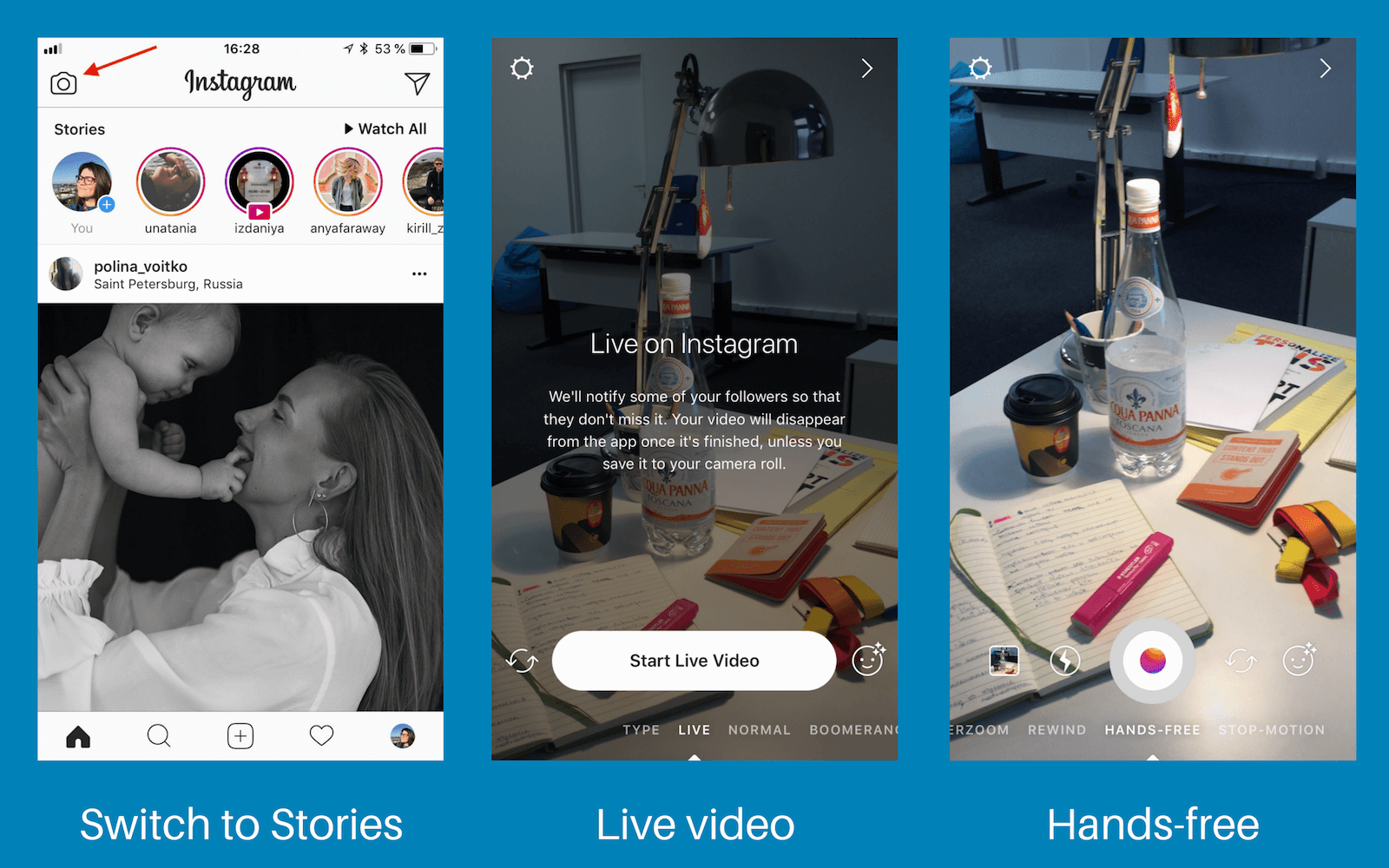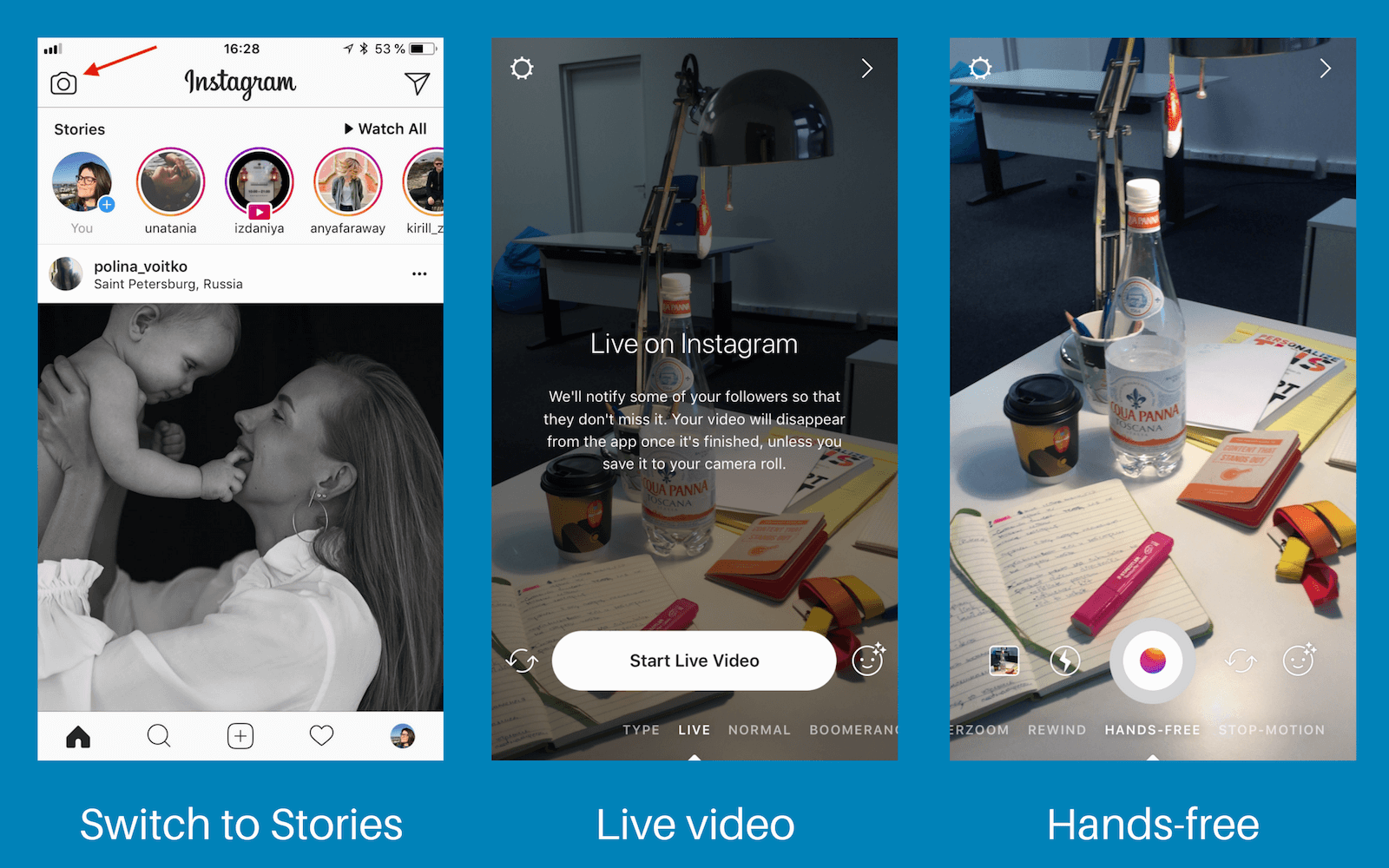 Video options in Instagram Stories include:
Live video. If you want to start live streaming right this second. All your subscribers will be notified that you just started a live video. After you finish live streaming, the video will be available in IG Stories for 24 hours. If you want to learn more about this feature, the guys from Sked Social came up with a comprehensive guide on Instagram Live. Worth checking out!
Boomerang. It creates this funny looping effect that you've probably seen in other IG stories. The secret to creating a great boomerang video is not to move too fast! Otherwise, it's going to look too fuzzy.
Pro tip: There's actually a separate app developed by Instagram that makes boomerang videos. Oddly enough, it's called "Boomerang."" 🙂
Superzoom. It makes a short video with what I call a party hard visual effect. It comes in especially handy when you want to draw your audience's attention to a specific object.
Hands-free. This mode is used for making regular videos for Instagram Stories with just one tap. You can record your videos without having to press and hold.
Reels. Instagram Reels is a new mode in the Stories camera menu. Similar to TikTok, you can record short videos set to popular music and pick from a range of filters and effects. Instagram has redesigned its Explore page to accommodate Reel videos, and now might be a good time to give it a try.
Pros and Cons of Adding Video via the Native Instagram App
Adding video via the native Instagram app is the quickest and easiest way to upload videos to your Instagram story.
However, this is really how it was designed for personal profiles. When you are using Instagram Stories for business, this method is very limited. You don't have control over the quality of the video.
How to Make an Instagram Story Video with Wave.video
Wave.video allows you to create more sophisticated videos for Instagram Stories. For instance, you can add a catchy text effect, combine several video clips into one 15-second video, or add your logo to the video. Here's how to do it in minutes.
How to Make Instagram Stories in Wave.video
In this video, we'll show you how to make Instagram Stories on desktop in a few minutes.
Step 1. Select the IG Story format
In Wave.video, choose the format "9:16 Instagram Story". The selected format will appear in one of the tabs at the top.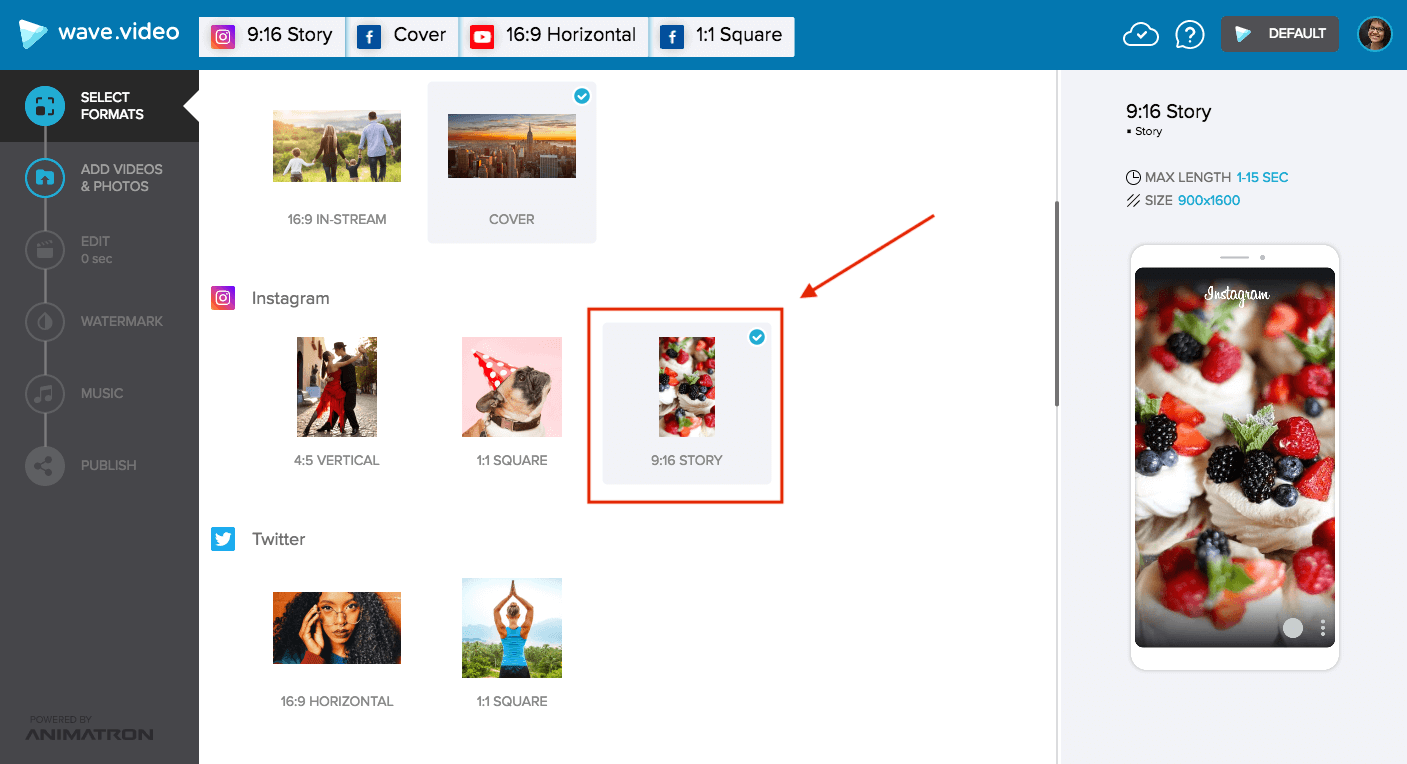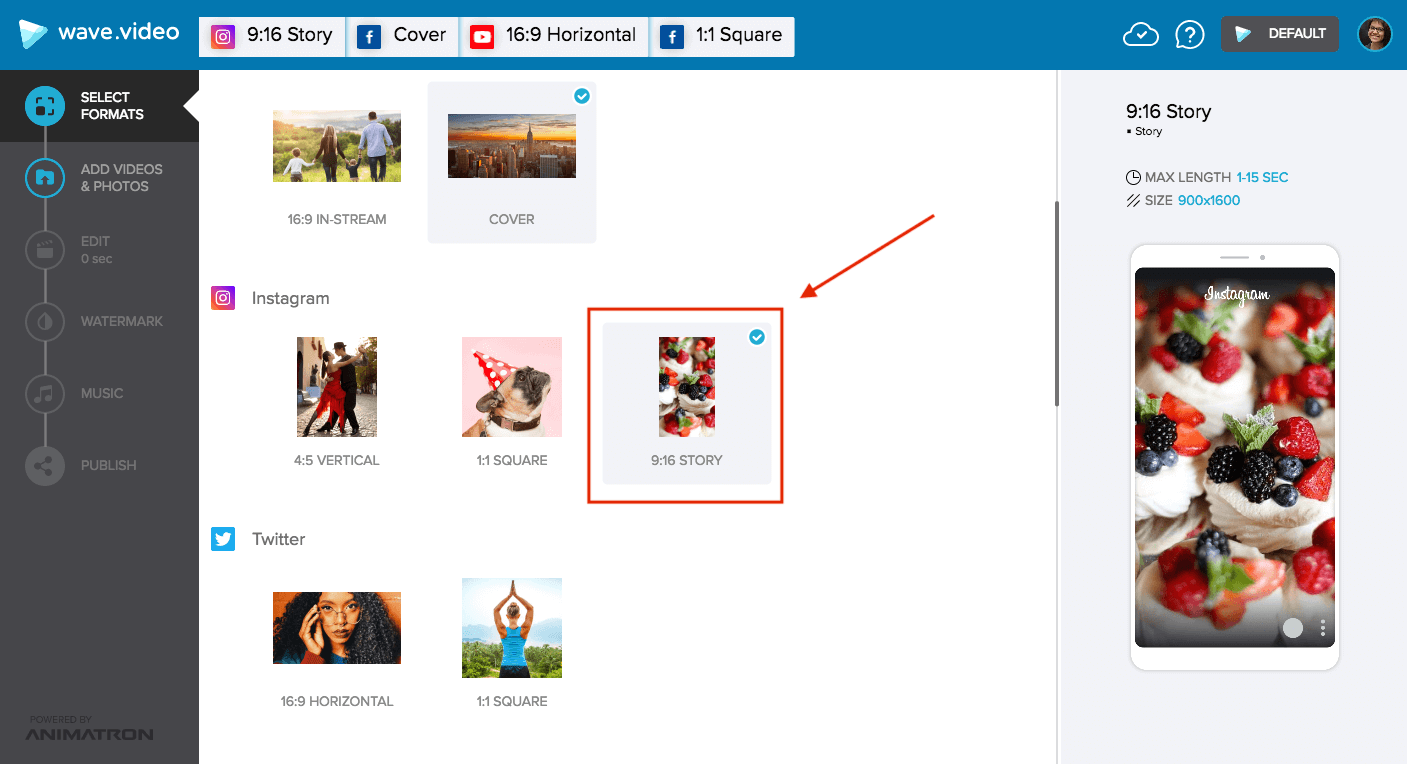 Step 2. Choose a video from the library or import your own
Head over to the step "Add videos & photos," switch to the tab "Upload" and choose the files you want to use for your Instagram Story video. If you don't have your own footage, no worries: Wave.video comes with the 200 million stock video library. So there's definitely something for you, too!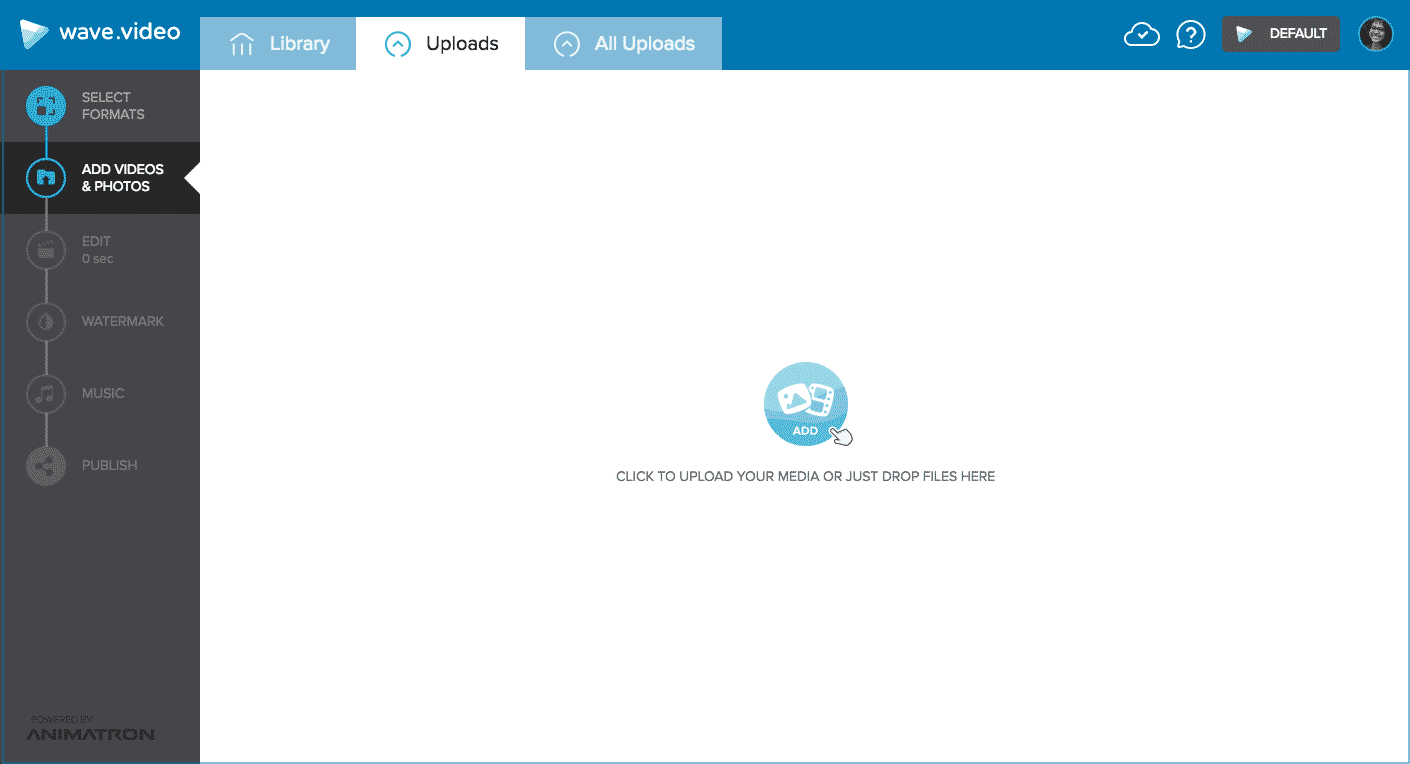 Step 3. Add your message to the video
Instagram comes with the functionality to add text in different fonts to stories. However, if you want to get more creative and make your video stand out, use text effects for your message. Here's how to add text to video in Wave.video:
Step 4. Add music to your video
70% of Instagram Stories are watched with the sound on. This gives you as a business an unprecedented opportunity to talk to your audience that is eager to listen.
Wave.video comes with 300,000 royalty-free audio tracks. Simply search for the most suitable one and add it to your video.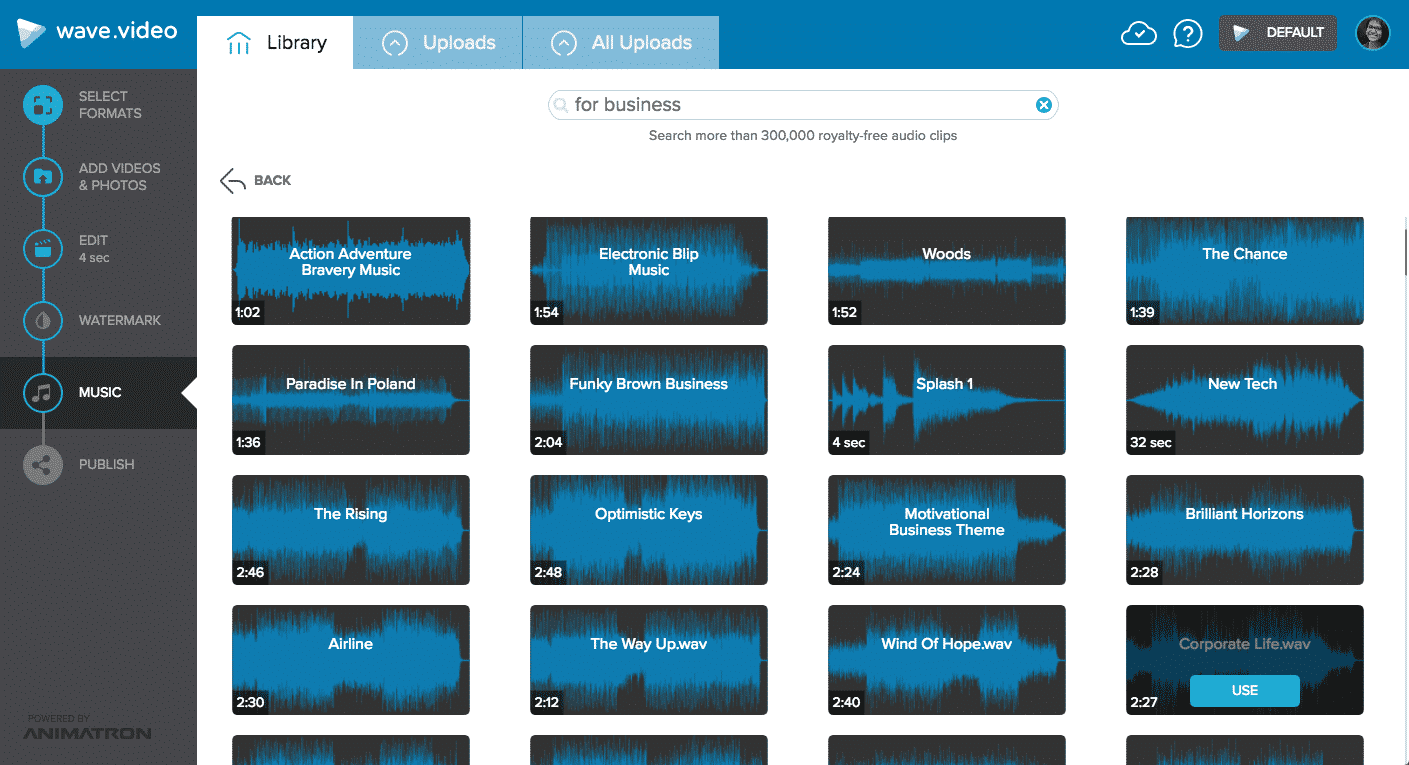 How to Add Video to Your Instagram Story
Here we'll go over how to post videos on your Instagram story. There are multiple ways to upload a video to Instagram, each has its benefits and drawbacks, let's dive in!
Option 1. Post directly from your mobile device
With this option, you can either shoot the video instantaneously or select a video from your camera roll (see the section "How to create a video for Instagram Stories).
Option 2. Use a 3rd Party Mobile App
There are 3rd party mobile apps that you can use to create and upload videos to your Instagram story. For instance, Continual is a popular app that allows you to create videos, edit them, and save to your camera roll directly.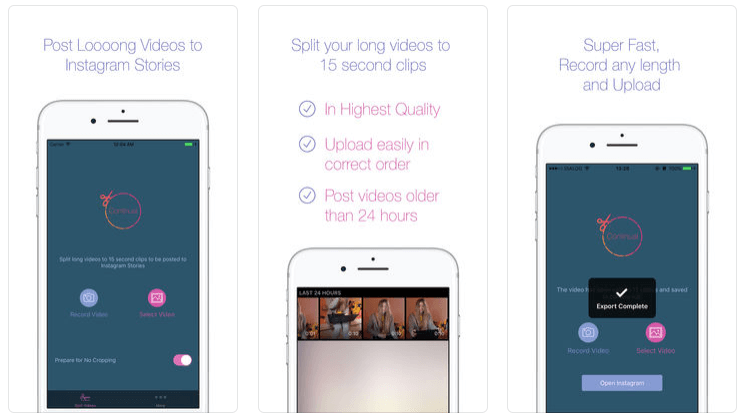 Pros: You have more creative freedom with a 3rd party app than you do using Instagram alone. Continual allows you to output videos in high quality and cuts longer videos into 15-second segments. Also, this method allows you to jump to Instagram quickly as most of these apps are integrated into your camera roll or Instagram itself.
Cons: Not all 3rd party apps are free, Continual has $7.99 price tag. Even though you have more options than you do with just Instagram, it is still limiting to work on the small screen of a mobile device.
Option 3. Upload a Video from Your Computer
When using a video editing software on the computer, such as Wave.video, you need to save the file and get it to your phone in order to post. The transfer isn't cumbersome, but the transfer method depends on the size of the files. Here are several options for how you can share your video on Instagram:
Transfer it to your phone directly via a cord
Email the video to yourself and download from an email client on the mobile phone
Use file exchange services like Dropbox or Google Drive (this one's my favorite)
Pros: With desktop software and apps the sky's the limit as far as creativity is concerned. You can really make videos that are content-rich and unique.
Cons: Using software on your computer obviously adds a step with the transfer of files. Also if you use editing software such as After Effects or Premiere Pro, it can often be difficult to make sure the video is optimally sized for Instagram.
How to Download a Video from Your Instagram Story
If you are uploading videos straight to your Instagram story (for instance, you are recording at an event in more of a live-streaming fashion), they will be gone within 24 hours. If you have valuable footage that you want to save and use later, you are in luck. You can download the video directly from your IG Story.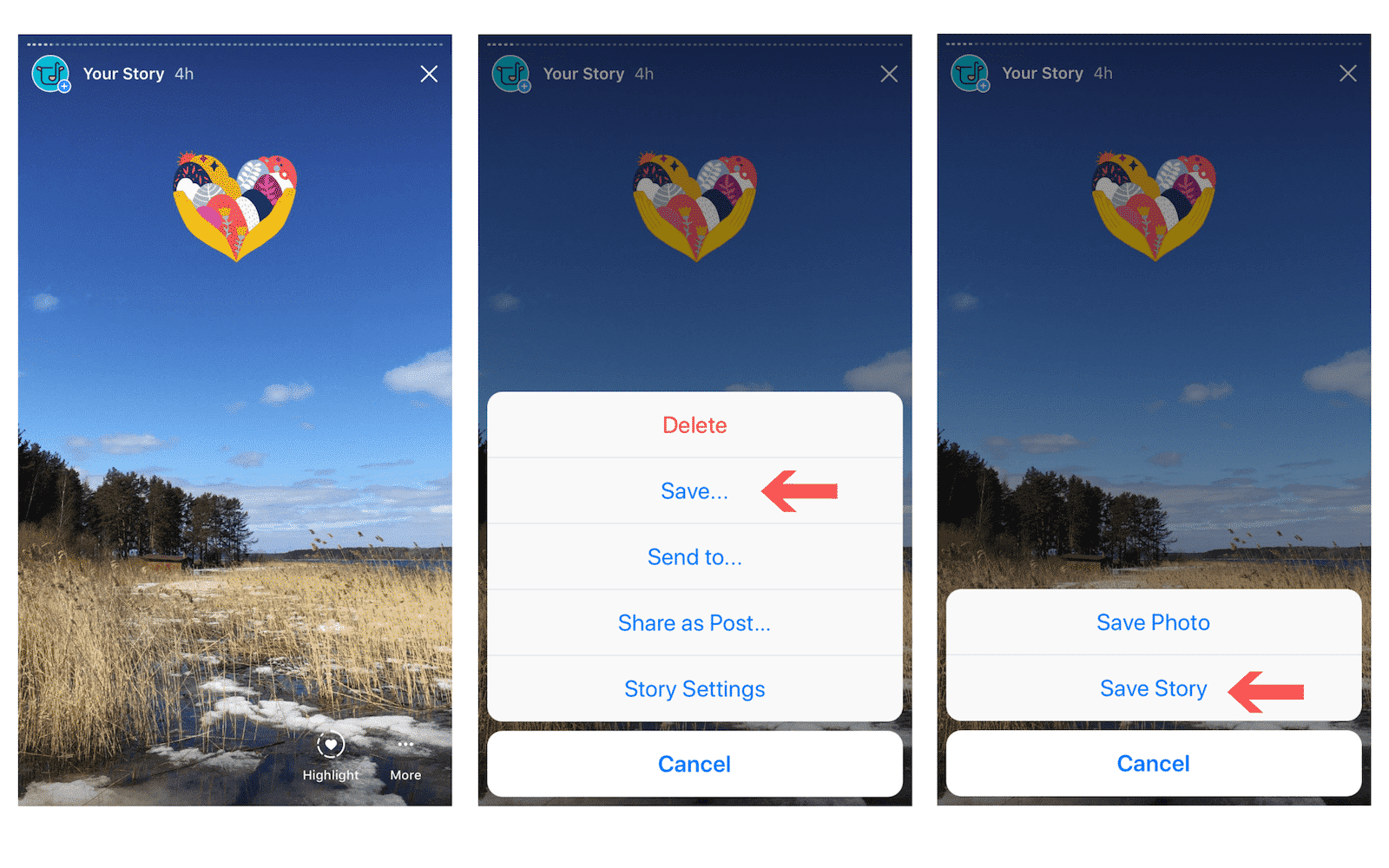 Just go to the video in your story, select the menu option (three dots on the left-hand corner). Here you choose to save the video directly to your camera roll. There is an option of saving individual videos or the entire story.
Saving videos means you can later repurpose that content. You can upload videos to YouTube or write a blog post with the material, as well as do a dozen other things.
Archived Instagram Stories
Recently, Instagram introduced Stories archives. Now, every Instagram user can find all the stories in his or her account at any time. You can download these stories to your phone and repurpose as you see fit.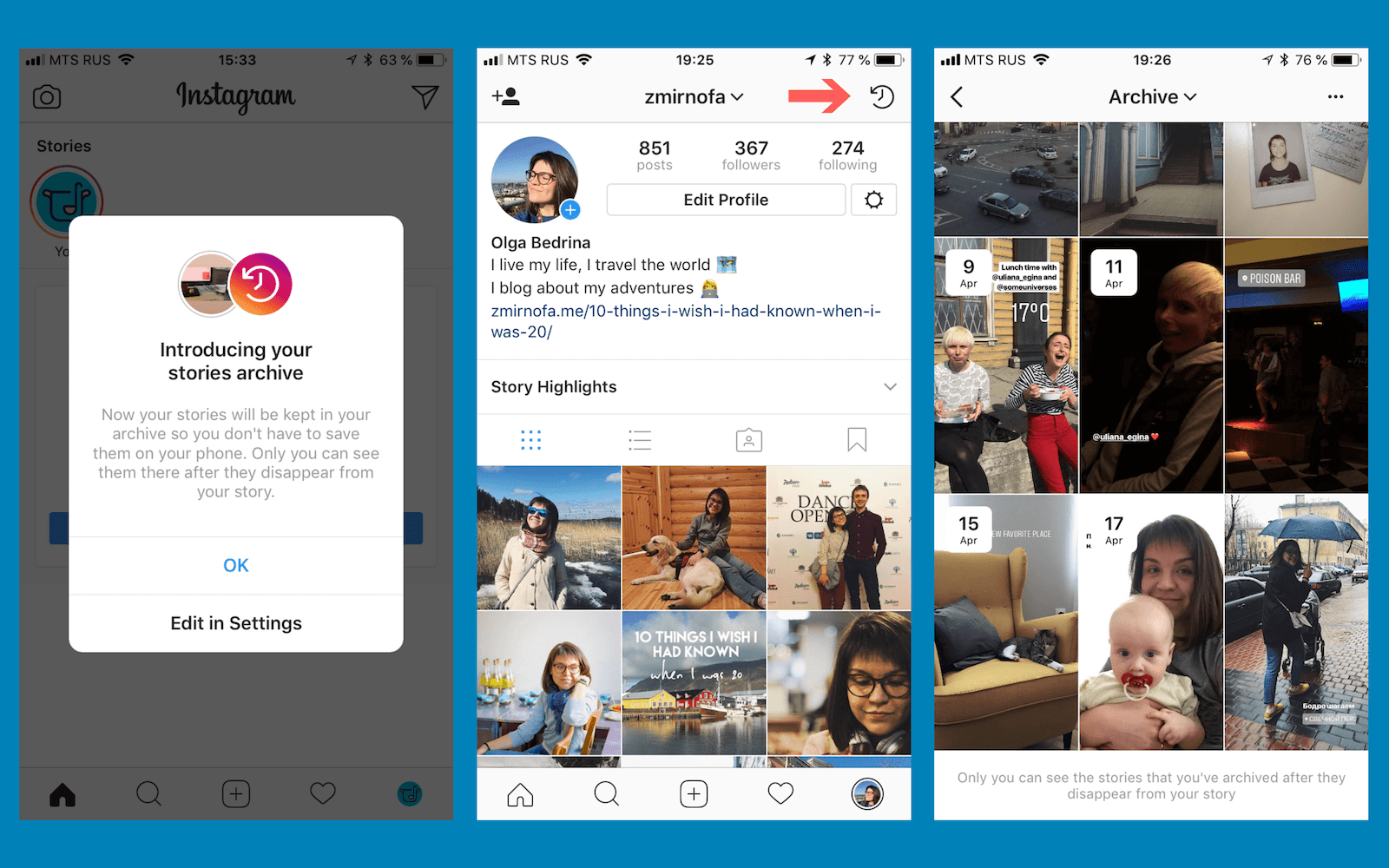 You can also highlight a story so that it's always available to your account visitors. Read this great post on Later to learn more about IG Stories highlights.
Best Instagram Story Video Examples for Inspiration
Travel + Leisure
Originally started as just a travel magazine, it is now a multimedia company devoted to all things travel. Their Instagram story is used to highlight their new content, with a swipe up CTA for the viewer to access articles.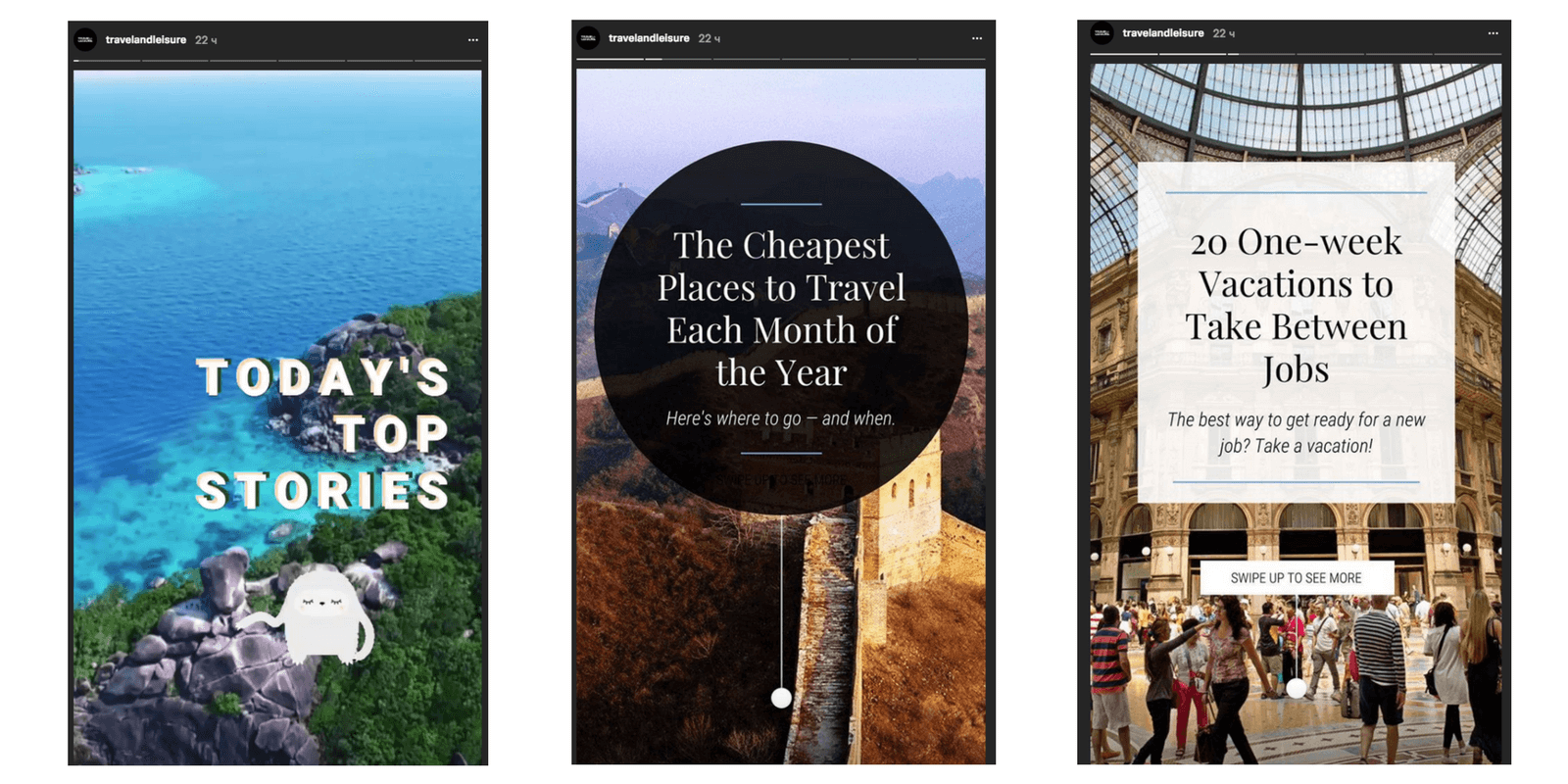 Travel+Leisure cleverly uses videos to make animated ads for that day's content, or a photo montage video for the listicle "7 Dream Trips to book right now." Last year, to celebrate one year on Instagram stories, they ran campaigns where they both asked viewers to guess where photos/videos were taken, as well as submit their own IG stories using the campaign hashtag.
These campaigns were not only engaging their viewers, but they were then able to repurpose that campaign data into a blog post about where the most popular destinations were based on the submissions.
Converse
Converse has been a shoe company for more than a century, and they are a fantastic example of a brand that stays relevant. They really bring it to the next level with their IG stories, promoting their brand, street style, and connecting with the appropriate audience.
Instagram story videos are an optimal format for interviews. Converse rotates between a graphic with a question and a quick video with the answer.
Here they are interviewing rapper, Thutmose aka badboythut. Notice how the colors of the graphics match the color of the sneaker; it is not an accident.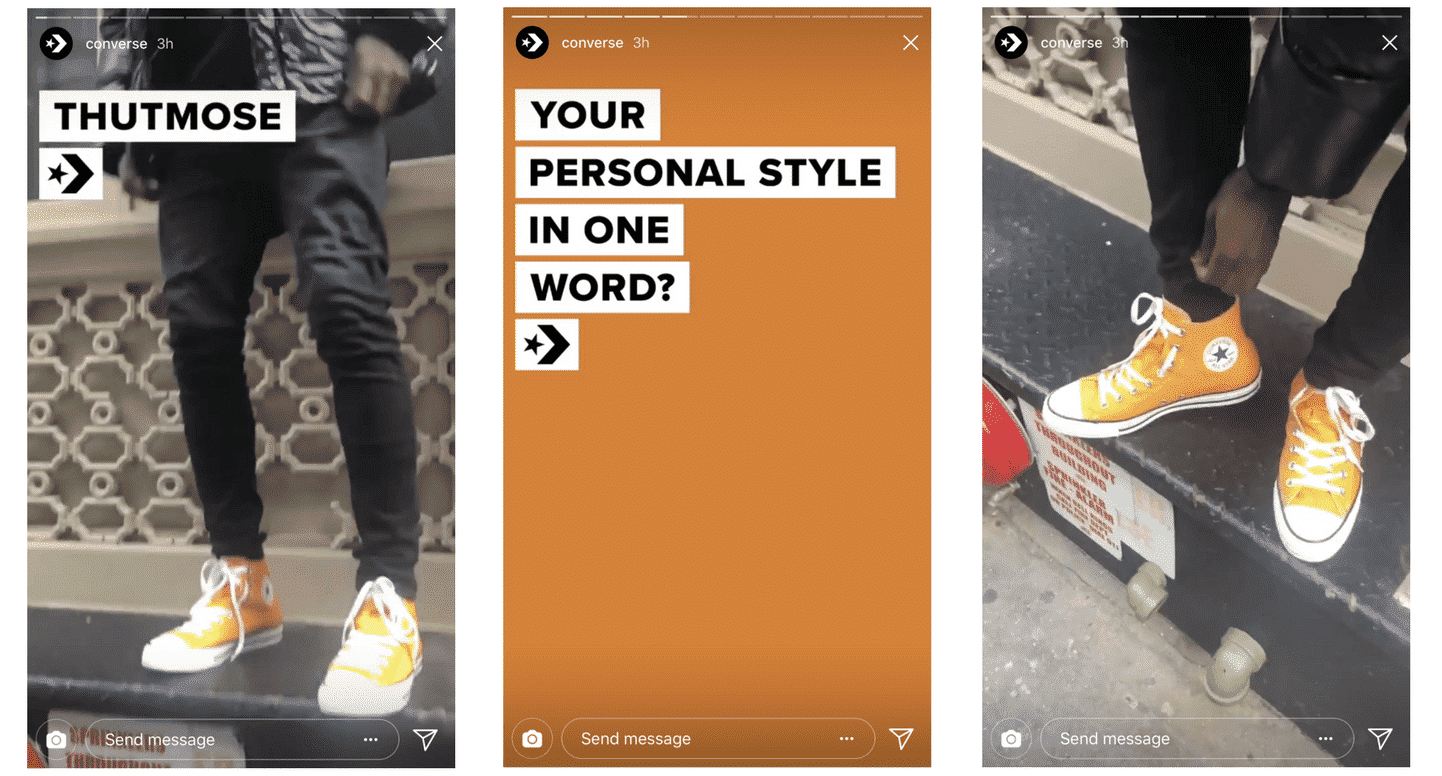 Also, this rapper hasn't 'blown up yet', the interview takes place in Brooklyn. They are playing to their millennial audience by picking an up-and-coming star, not a mainstream influencer, all a part of their carefully planned brand strategy.
NASA
When you think about marketing, NASA wouldn't be the first entity to come to mind. However, the national space organization really is adapting to current social media trends.
While it seems almost cliché to say, 'They make science fun!' they really do add frivolity and lightness to their content that is surely targeted towards the social-media-driven Gen Z.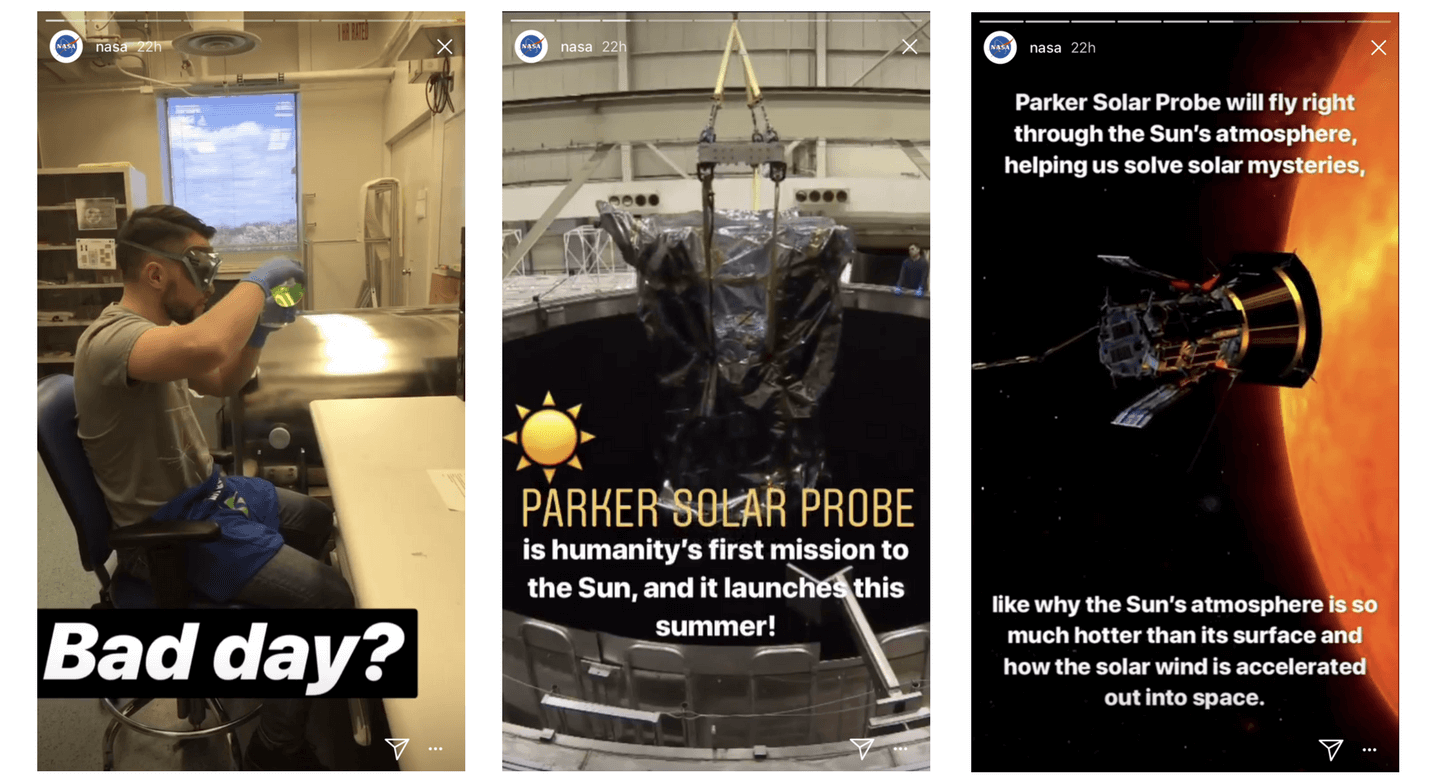 In their IG story, they posted a scientist's video, poking fun at a bad chemical reaction, making experiments and science seem more approachable. They also use epic space image videos, but again make it more social media-friendly with text overlays and emojis, all while promoting their latest news and programs!
Instagram Story Video FAQs
Instagram Story Video vs. Highlights?
Instagram Story Highlights are essentially Instagram Stories that you have on your profile in the past, but you want to keep permanently on your profile. You can view Highlight videos and images as a regular Instagram Story video and image, but there won't be a list of viewers.
Can I add Instagram Story Video to Highlights?
Yes, the Instagram Story videos must have stayed up to twenty-four hours on your profile, and Archive should be enabled.
Can I edit Instagram Story Videos?
No, you cannot edit the caption, video, or photo that you've added to your story once it is live. However, you can adjust the privacy settings on the Story, and you can delete each photo or video from the slide.
Who can see my Instagram Story?
If your account is set to private, only your followers can see your stories. But if your account is public, anyone can see your Instagram Stories.
Instagram stories vs. posts?
Instagram Stories offer more features than posts to promote engagement, such as polls, questions, and quizzes. Stories allow you to post multiple videos and photos without messing up your feed.
Over to you
Instagram Story video is a great feature that can help your engage with your audience and help grow your business. What is the first video you are going to post in IG Stories?