Wave.video vs. Promo vs. Animoto: Top Online Video Makers Comparison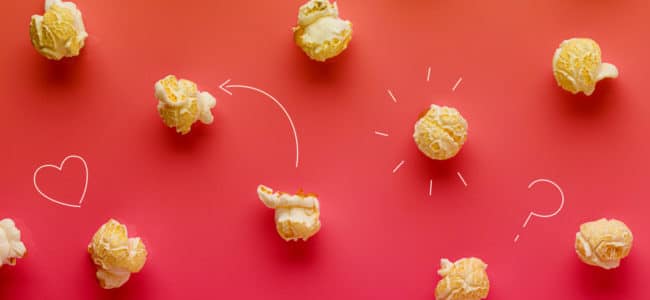 Every day this modern and competitive world offers people an enormous choice of almost everything forcing them to constantly make dozens of decisions, big and small.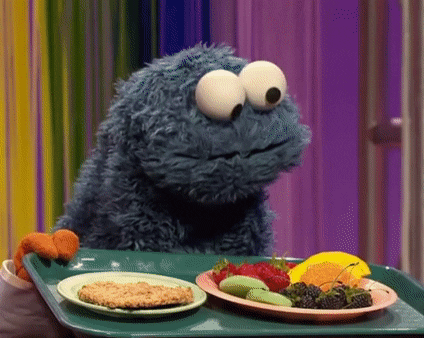 The same goes for the tools we use for work in order to perform daily tasks better and achieve the goals quicker. Hence, we always look for the most reliable, user-friendly and cost-efficient solutions.
With video marketing being in its prime, fellow marketers might wonder what services are capable of helping them with quick and efficient video content production. As usual, the market has a lot to offer: there is a range of online video makers in place today. And the variety can cause confusion.
To facilitate your decision making, we took a closer look at three alternative online video makers – Wave.video, Promo and Animoto – to give a candid assessment of their setup, user experience, features, and value for money.
Overview
The overall idea of all online video making platforms is similar: to arm their users with tools and assets for non-professional creation of quality video content. Though the concept is the same, each service targets slightly different audiences and offers a different set of features.
Wave.video serves solo entrepreneurs, bloggers, small businesses and agencies willing to create branded video content and share it across multiple platforms with ease. This tool is cut out for prompt creation of short clips and (re)using them across all social media channels.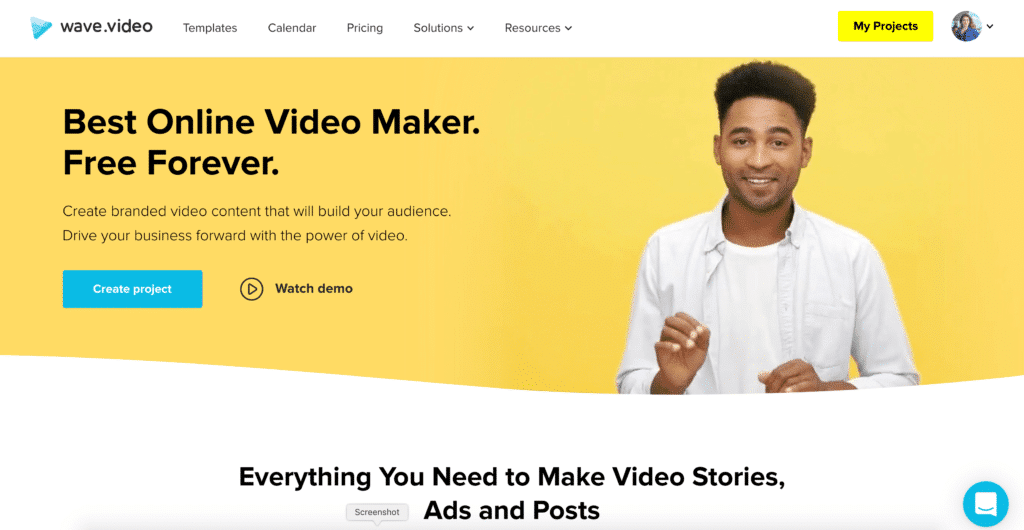 Promo first appeared on the market as a slideshow company (Slidely) but then transformed into a video editor in 2016. As evident from its name, it specializes in making promotional videos of any kind.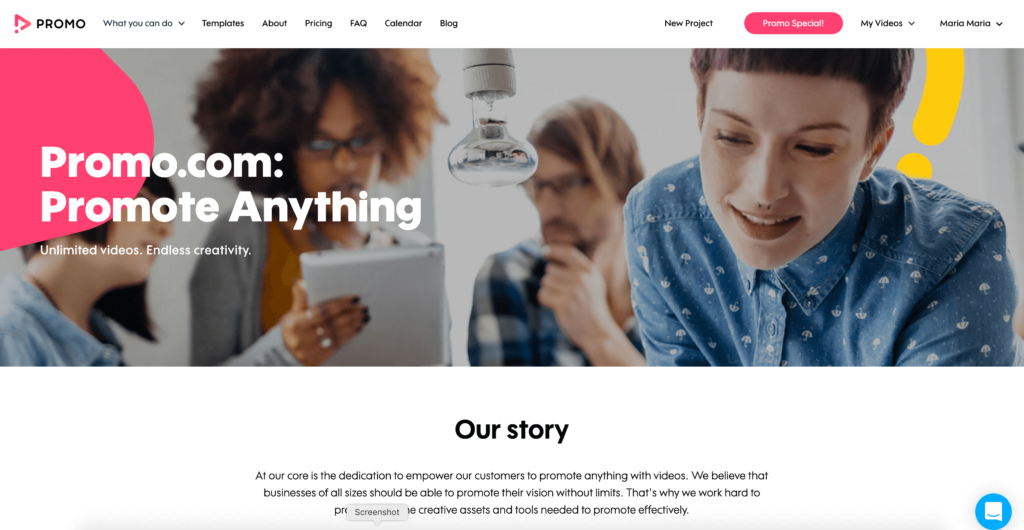 Animoto positions itself as a video making tool to help with both business-related and personal matters. For instance, it puts special emphasis on making animated slideshows to keep family memories. Also, it has a separate niche offering for photographers who seek to craft their portfolios nicely.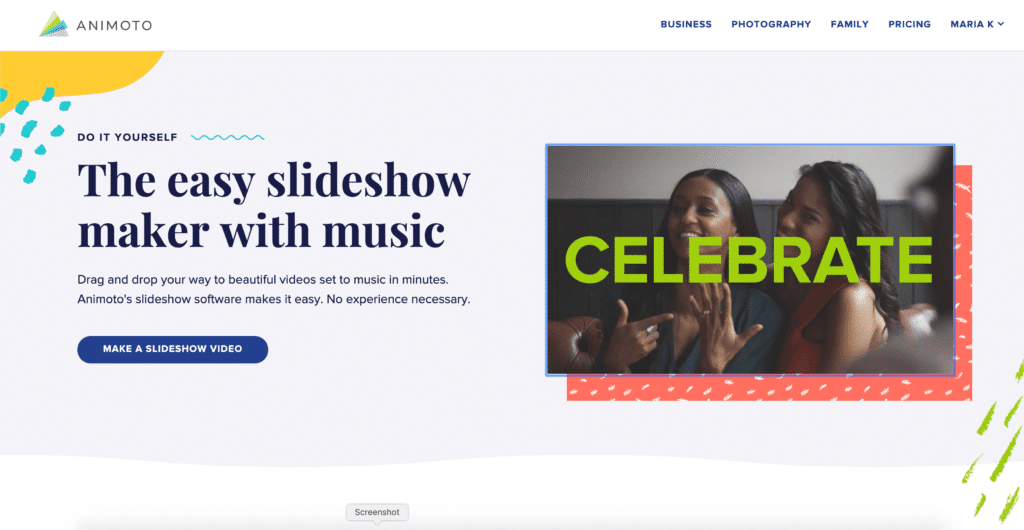 How are they similar, how do they differ?
Free trials and first takes 
In the SaaSSaaSSoftware as a Service world, it's common to give the user a free demo version of the tool to test it before making any commitments. Wave.Video, Promo and Animoto offer free access to some of the features to give a first glimpse of what they are capable of. To get in, all three require registering, but none of them will ask you for the credit card details.  
Wave.video has not a trial version but a free plan. Why does it matter? Because you don't need to rush or be worried about the number of test projects left. You can create as many videos as you want and they will be clean from any watermarks.
What's limited with the free plan is the length of the clips: the maximum duration is 15 seconds.
Seems too short? Actually, you can make an event announcement, promote a special deal, share an encouraging video quote and even tell a story in a 15-second video. For example:
Hence, with Wave.video's free plan you get an opportunity to immediately start sharing videos with the world on YouTube, Facebook and Twitter. 
Promo's free demo includes 5 video projects that you can draft using all libraries and features. But you won't be able to download or publish your videos without purchasing a subscription package. What you can do is send a sharable link via messenger or publish this link on your social channels. Not that much, really.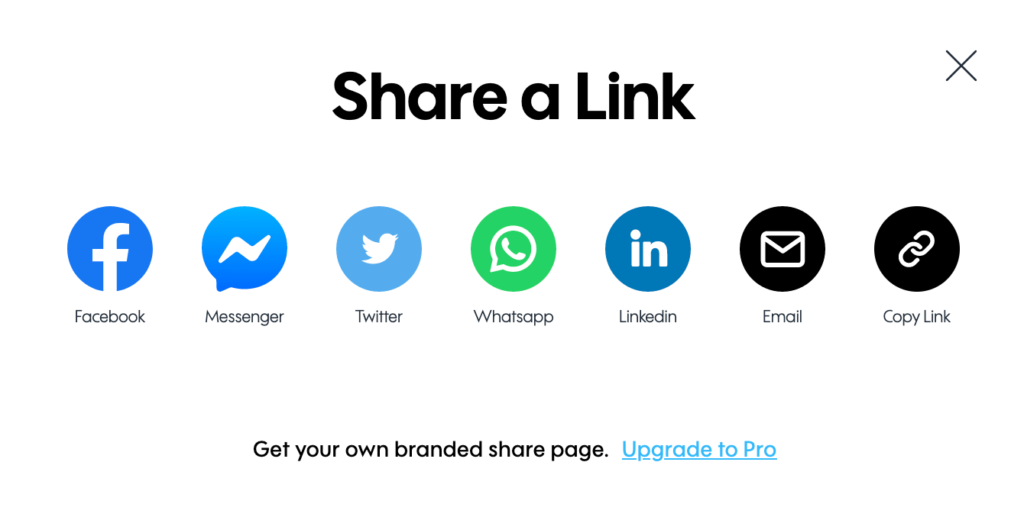 Animoto allows you to create as many videos as you want within the testing process. You can even download them in high quality or post directly on social platforms, but (actually it is a big BUT) they are watermarked with "Animoto Trial" lines. Something that you probably don't want to see on your published video content.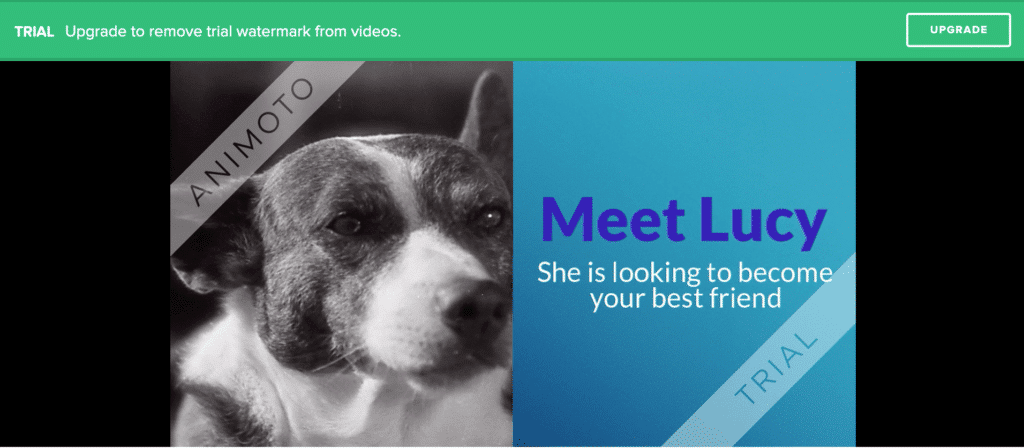 Interim findings
Of course, limited functionality is something that you expect from any free trial. But we find it very valuable to get something real out of the testing process and be able to apply it right away. In this sense, Wave.video's free plan is advantageous compared to Promo and Animoto. 
Editing and customization features
As said earlier, all three services provide the user with tools and materials to craft good-looking videos with no special designing skills required. 
Let's see what each of them has to offer. To make the comparison fair, we picked up the paid plans from each vendor, more or less similar in price.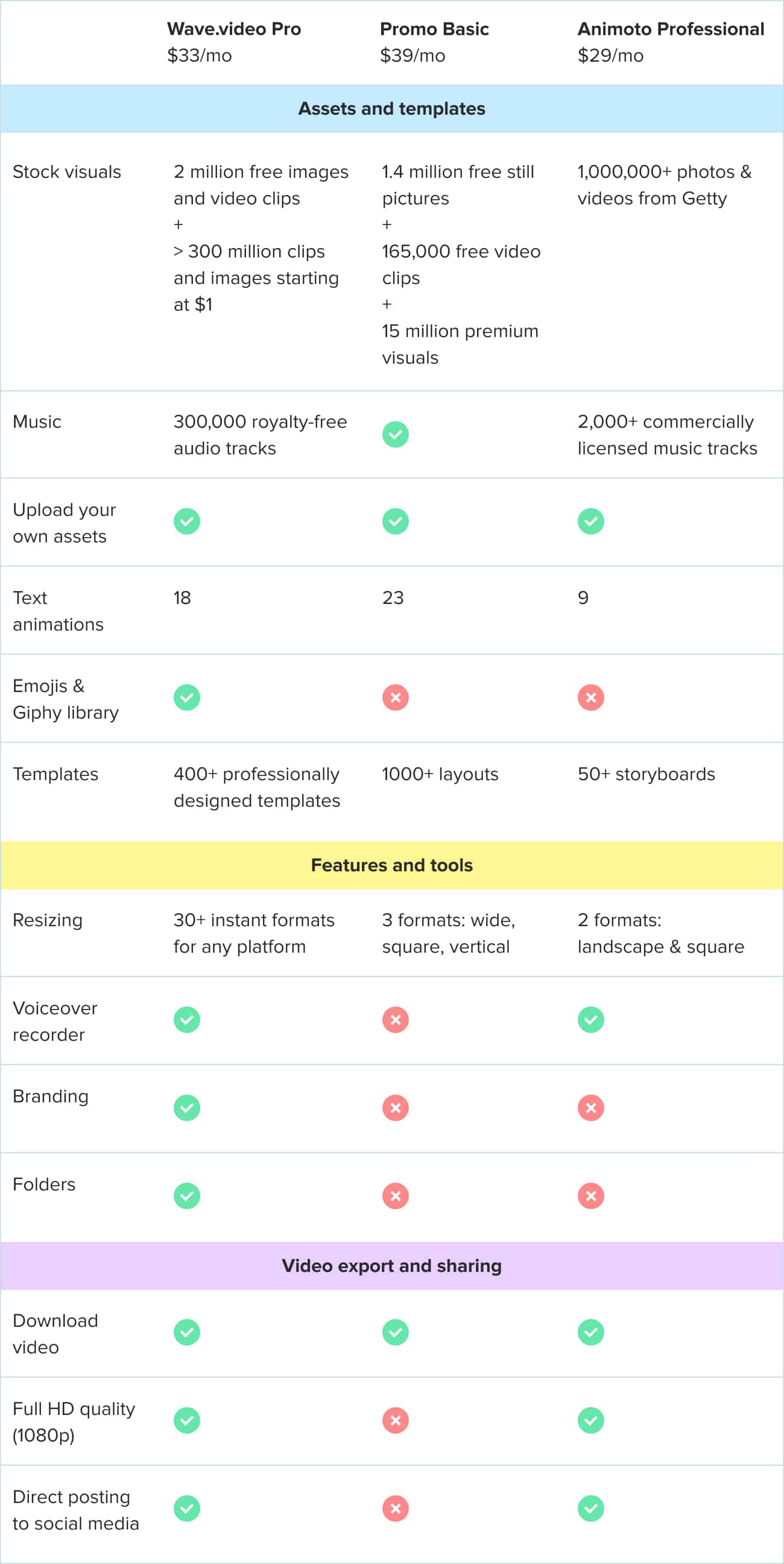 Stock footage, images and music 
The core principle of all three video editors is to enable a flexible process of making unique clips by mix-and-matching various elements such as images, footage, captions, animations, and audio files. 
From the table above, you can see what's available in each video editor in numbers. 
Wave.video seems to have the most generous collection of free assets and a vast selection of purchasable visuals and audio tracks. 
What makes Wave.video different from Promo and Animoto is its built-in library of stickers and GIFs that can make your videos more engaging and fun!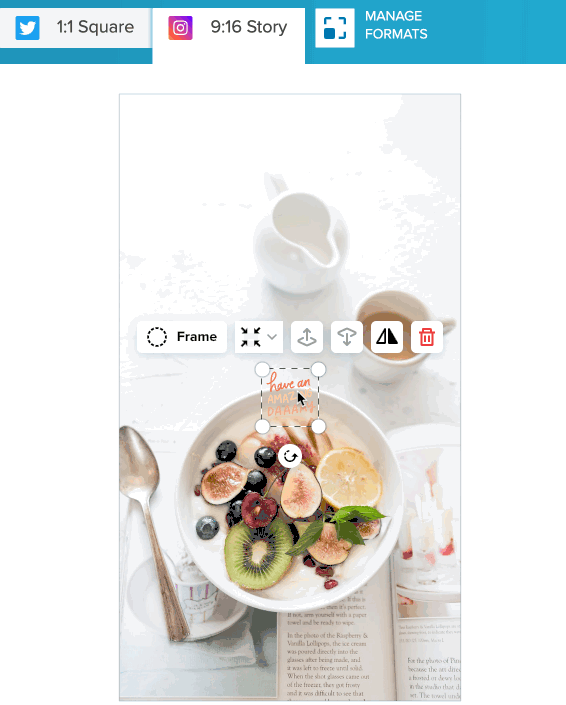 Templates
Far not every marketer has designing skills up the sleeve, and it is absolutely fine. For this case, Wave.video, Promo and Animoto created a similar concept of ready-made customizable layouts to start a project with. However, the implementation differs in the three editors.
Wave.video comes with over 400 professionally designed templates that fall into 3 categories for convenience's sake: 
Holidays and Occasions 

Industry 

Use Case
Themed templates comprise thought-out footage sequences, inspirational texts, smooth animations, and nicely matching soundtracks. You can move, resize and replace all ingredients to customize the templates to your liking.
Promo has a very similar setup, but they segment templates a bit differently:
By platform 

By industry 

By occasion or season. 
What's really worthwhile in Promo is the ability to search the best matching templates by keywords.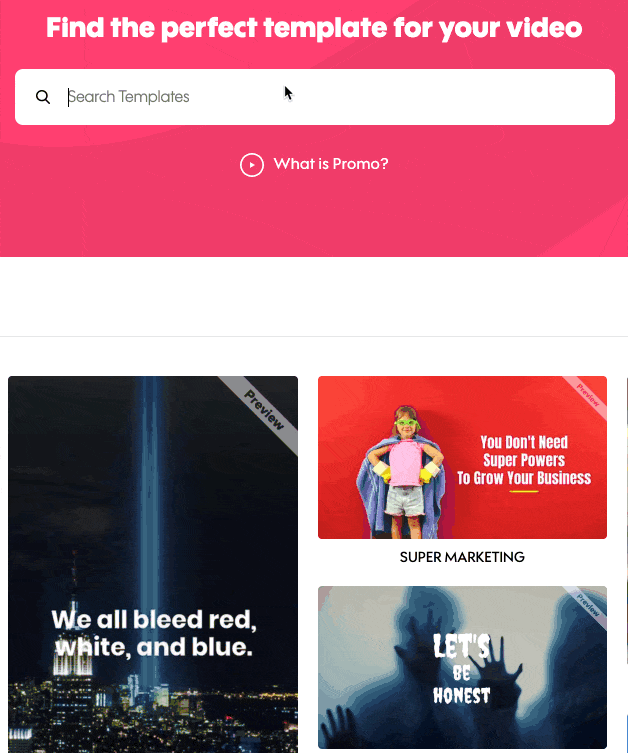 Animoto Professional also has a set of pre-designed layouts to use as a starting point: 50+ storyboards come in 2 formats each – wide and square. In order to exploit one, you have to replace all footage with either your own clips or something from the stock.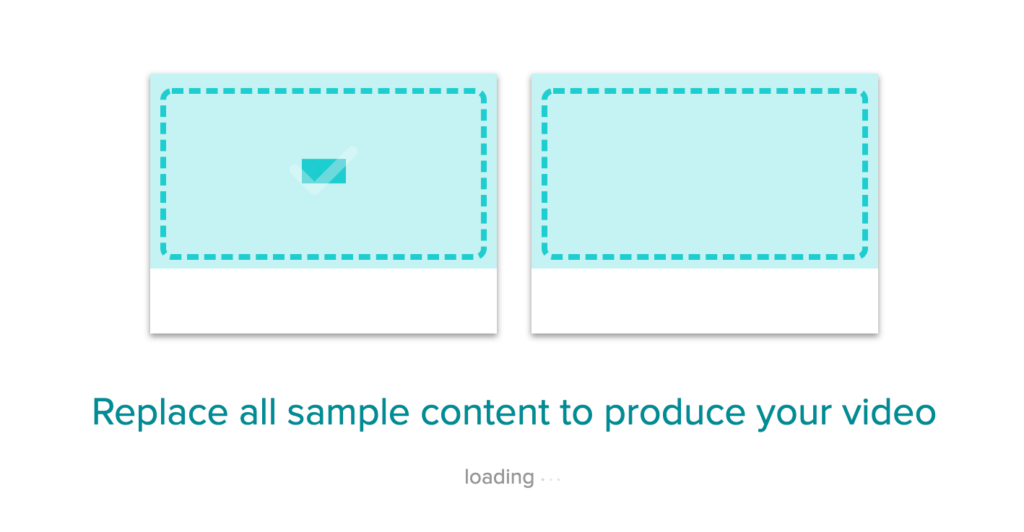 Customization is limited, too. You have no control over transitions or text animations – they are pre-defined by one of 9 styles that you have to choose for the project, even if you want to start from scratch.
Interim findings
All three video makers offer extensive stock libraries of footage, images and music. However, Wave.video features the best selection of free assets along with emojis, stickers and GIFs which are not present in two other services.
As for the templates, Wave.video and Promo have a similar setup with numerous themed layouts while Animoto doesn't allow for the same flexibility with its storyboards and styles.
Video resizing
All seasoned marketers know the beauty of content repurposing and how time-saving and ROI-bringing it can be. Resizing videos to multiple formats is a must-do thing if you want to get the most out of your video marketing efforts.
Each social media platform has multiple options for video placement, and each requires a different format. For instance, Facebook alone has a whole list of specs for video ads: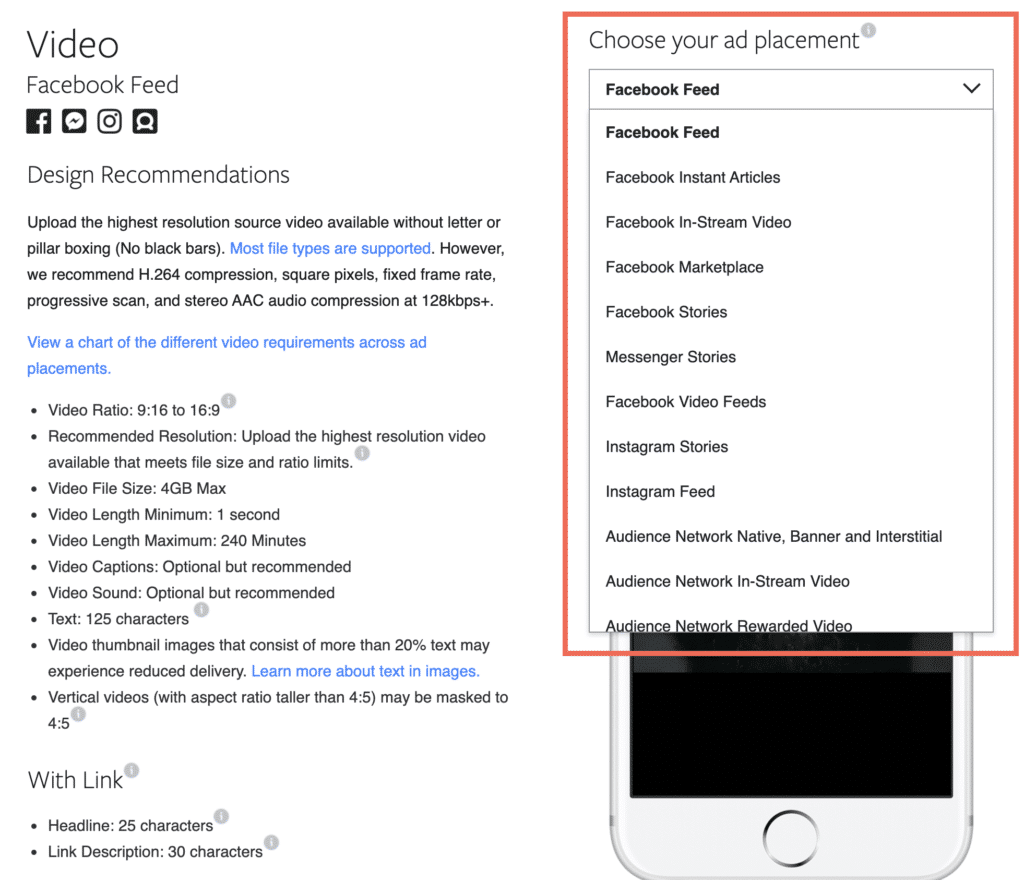 It is quite hard to keep track of ever-changing requirements and remember what asset needs what ratio.
Wave.video comprises a built-in resizer that lets you get your video in all needed formats in a few clicks.
Going to create a clip and share it on Facebook, Twitter and Insta stories? No need to ask Google about the dimensions! You can simply tick the formats you need and your video will be produced accordingly.
The best thing about Wave.video's templates and its resizing tool is that you don't need to spend time adapting captions for each format. It happens automatically.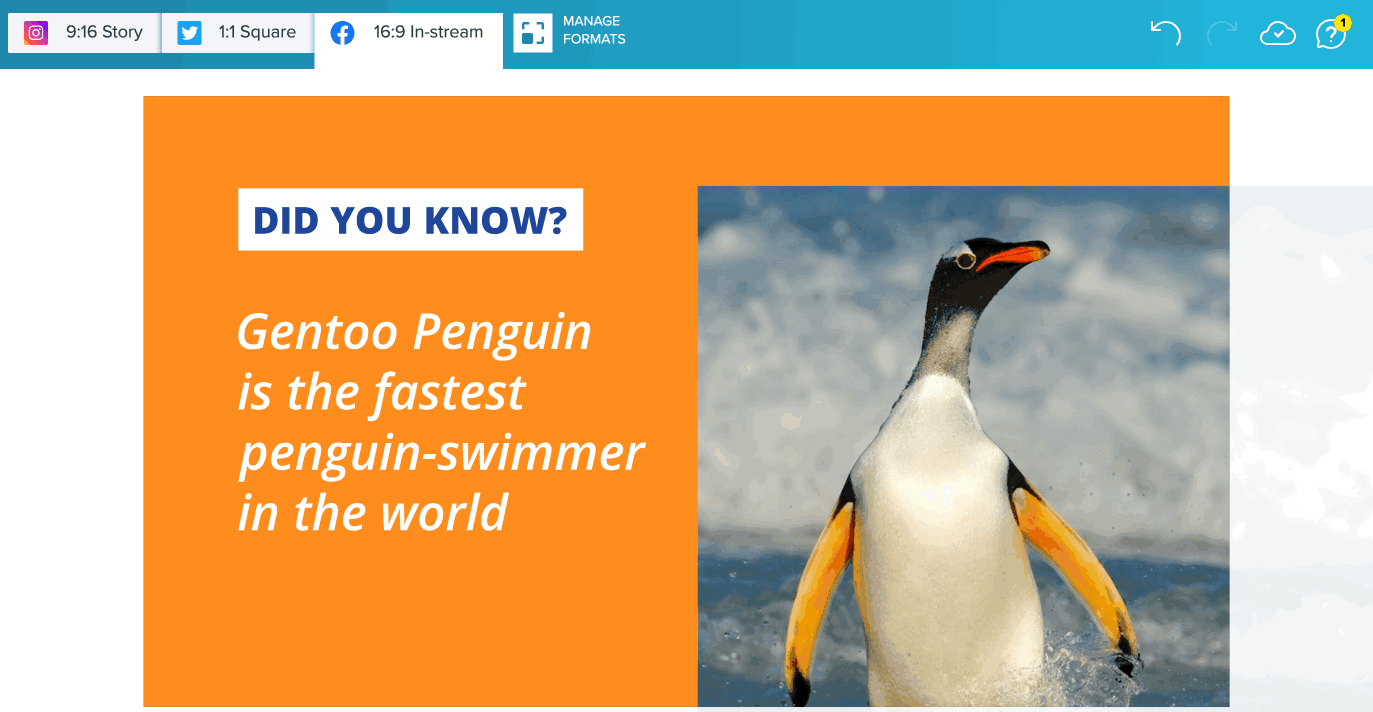 Promo offers a set of the three most popular formats:
wide (16:9),

square (1:1),

vertical (9:16).
It might be enough to create videos for social media, but you always need to keep in mind what video goes where. 
And if you go for one of the templates, be ready for some hassle with text alignment as the visual part and captions don't adjust to the new format automatically.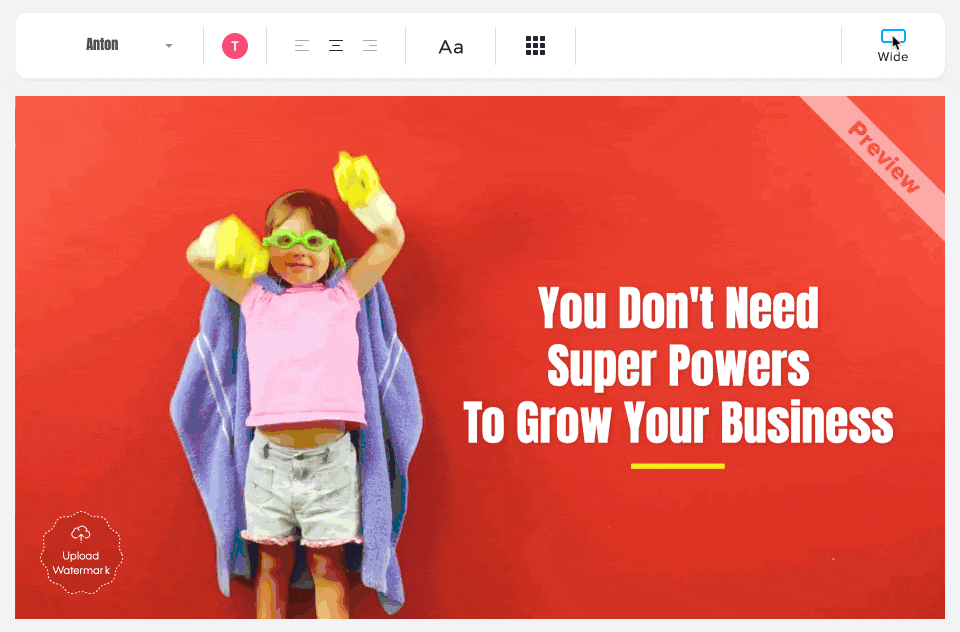 Animoto offers Styles and Storyboards in 2 formats only:
landscape (16:9)

and square (1:1)
This peculiarity is somewhat limiting an opportunity to create vertical videos that are in high demand today.

Interim findings
Resizing videos offers opportunities for convenient content repurposing. With Wave.video it is a matter of simple ticking as many target platforms as needed. Promo lets the user create videos in 3 popular formats though the 4:5 vertical aspect ratio is missing. Animoto doesn't serve the demand for vertical videos at all.
Logos, watermarks and branding 
To create a video that highlights product unicity and brand image, you definitely want to add your logo to your clip. It's what makes you stand out and helps the audience recognize you in the informational avalanche.
Wave.video grants full freedom in regard to the logo usage. You can add it as a watermark to make it visible during the whole video and/or use it in the call-to-action block. It is possible to resize and replace the logo, choose the background color, apply an animation effect and combine it with the text.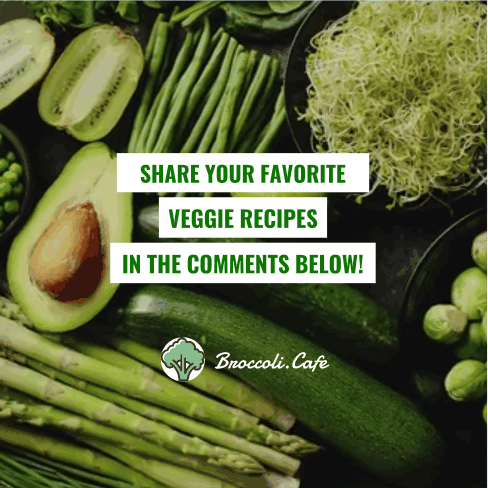 Also, with Wave.video you can create a set of custom colors, fonts, and logos and apply it for all your projects to make them look neat and consistent. This feature is called Branding and comes with the Pro plan.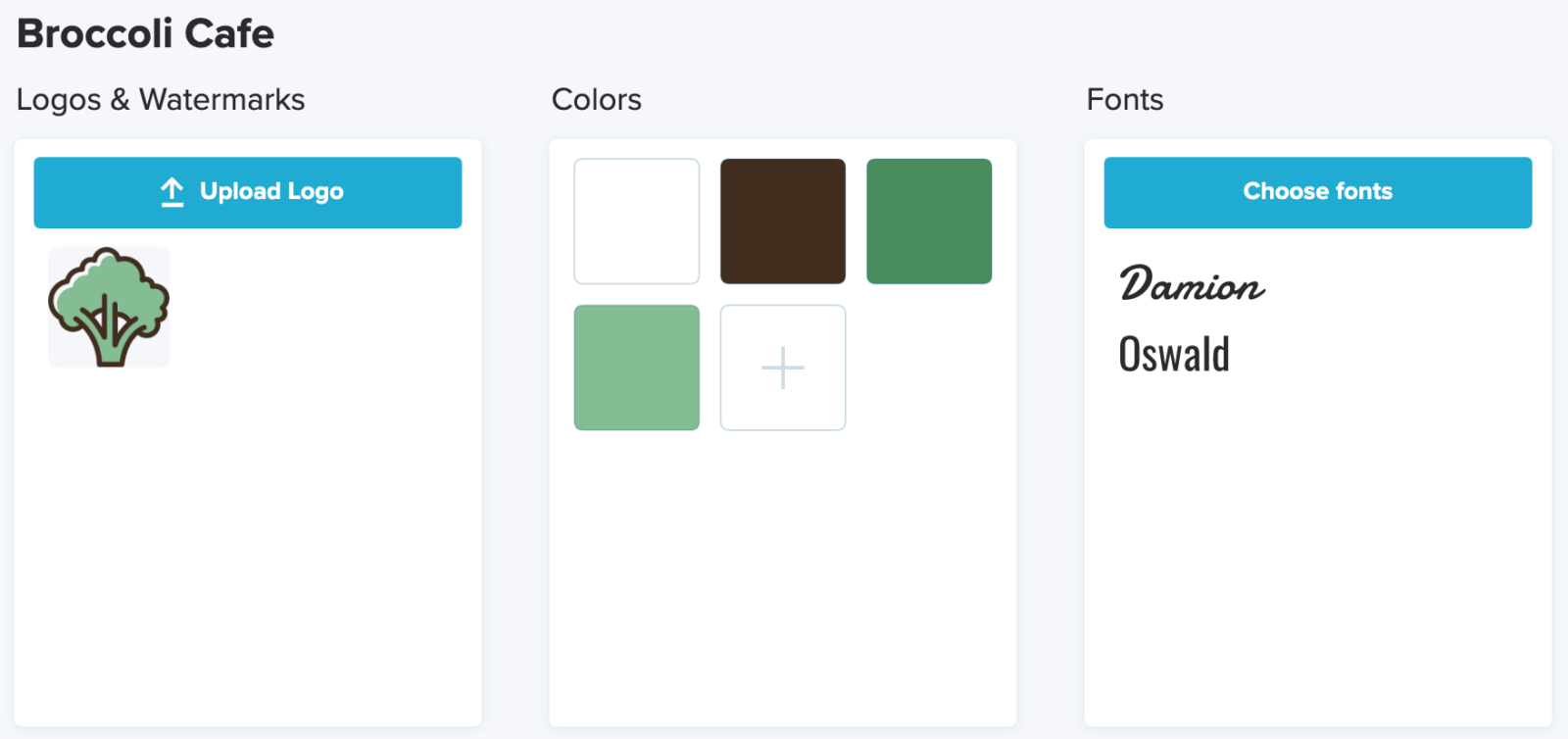 With Promo's Basic, you can add your logo to the end of the video, but if you want to watermark the entire clip you need to upgrade your subscription and get the Standard plan ($69/mo). 
A cool thing to do with your logo in Promo is to customize the way it appears in the outro.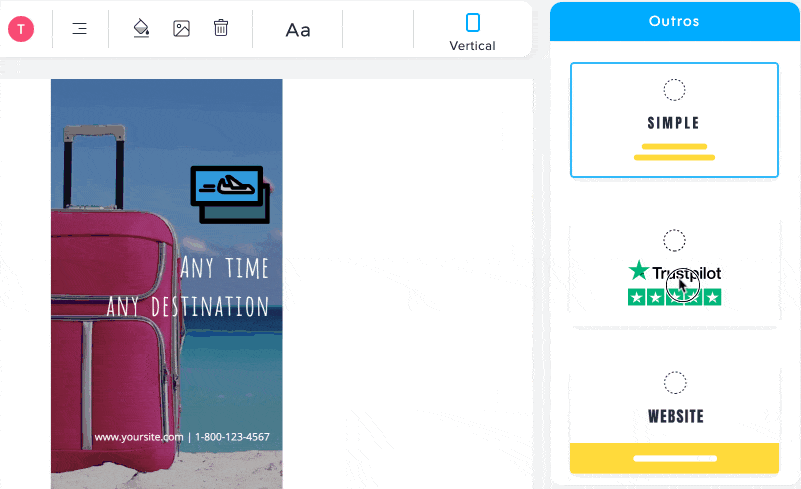 In Animoto you can add a special animated logo+text block to start/end the video with your branding. Also, the service lets you place your logo as a watermark to the corner of the clip in one of the 3 sizes and make it transparent.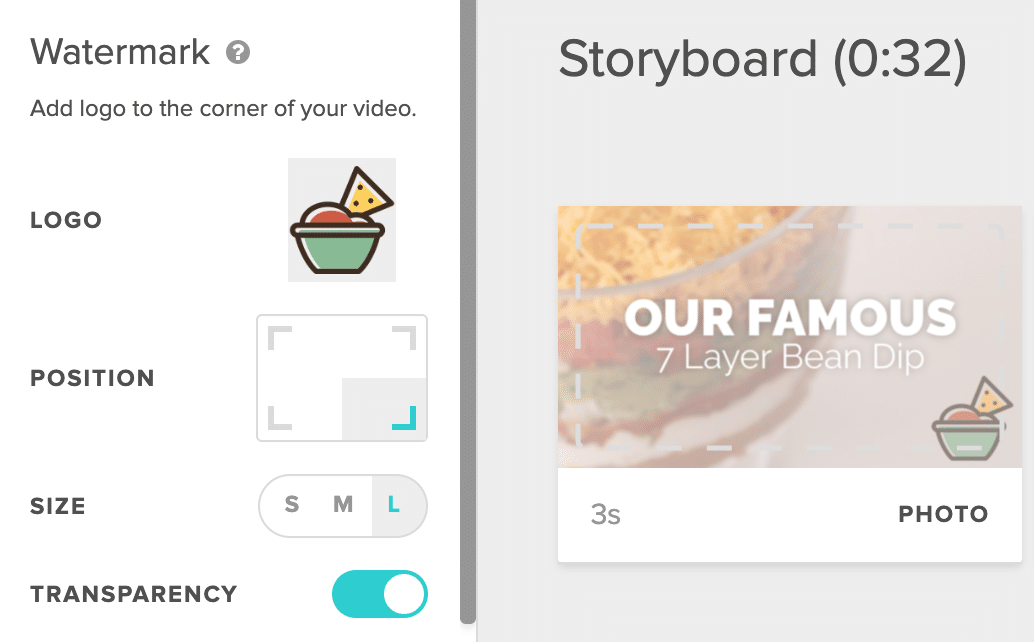 Interim findings
All services make it possible to brand videos with logos and watermarks in some way. While Promo Basic has limitations on watermarking, Wave.Video and Animoto have this option in their toolkits. With any of the three video makers, you can create a nice animated closing block with a logo.
In Wave.video, you can also create a sort of brand kit to keep your fave elements in one place and reuse these settings for all projects.
Video export and sharing
Once you finalize your video story, you obviously want to show it to your followers and website visitors. Let's see how export and sharing options look like in different video makers.
Video export
Wave.video allows users to download videos as mp4 files starting from the cheapest Creator plan ($8.25/mo). Full HD quality 1080p is available with Pro and Agency packages.
Promo Basic doesn't support exporting videos in HD quality. Again, to get videos of the superior quality you need to switch to the Standard plan which is significantly more expensive. 
Animoto Professional users can download their creatives in full HD 1080p quality.
Direct sharing to social media 
Any of Wave.video subscriptions, even the free one, features direct posting to YouTube, Facebook and Twitter. Thanks to numerous integrations, all paying users can also upload videos to Wistia, Vimeo, Dropbox, HubSpot, and Google Drive right from Wave.video.
Promo doesn't have direct posting to any social media channel. To publish it, you have to download your video first and then upload it to all your target platforms separately. 
As for Animoto, all plans include extensive sharing and publishing opportunities including 'code embed' option and integration with WordPress.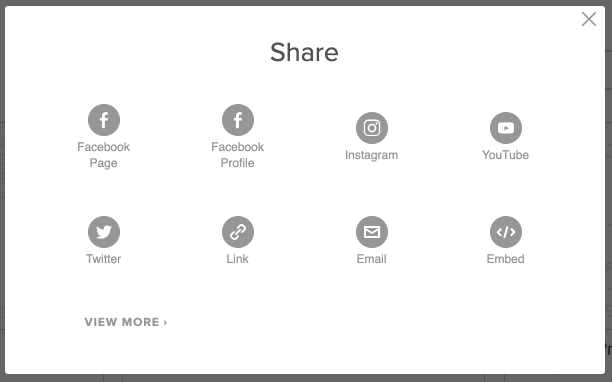 Interim findings
Wave.video has all the most popular sharing features in the toolbox and allows you to download videos starting from the cheapest plan. With Promo's similar subscription level, you can't neither post nor download high-definition videos. Animoto offers the most convenient publishing process with no need to compromise the quality.
Bottom line
While the overall concept of all three services considered in this article is similar, their fortes and weaknesses vary. The key takeaways are:
Promo comprises powerful tools and rich libraries for video making, though its pricing policy is not amiable as many useful features require an upgrade.
Animoto is cheaper but it lacks some of the valuable custom options and offers far fewer assets to use in the video.
Wave.video is marked by the best price-quality ratio offering the most sought after features, extensive collections of assets and convenient post-production functionality at a reasonable cost.
We hope this comparative study will help you make the right choice!