Best YouTube Alternatives for Businesses, or Keep Your Options Open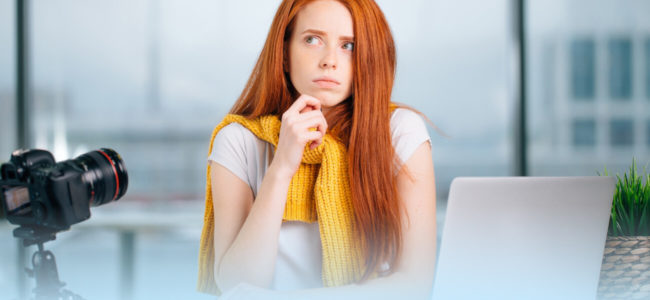 TIf you've heard the phrase that content is king, you should also know that now it's not just about any content – it's all about the video. 
So, even if you're a small business, you should certainly place your bets there. Here're some hard stats to completely overwhelm you with the overarching presence of video in our marketing efforts – because at the end of the day, as a business, you want any content you produce to play out in your marketing strategy.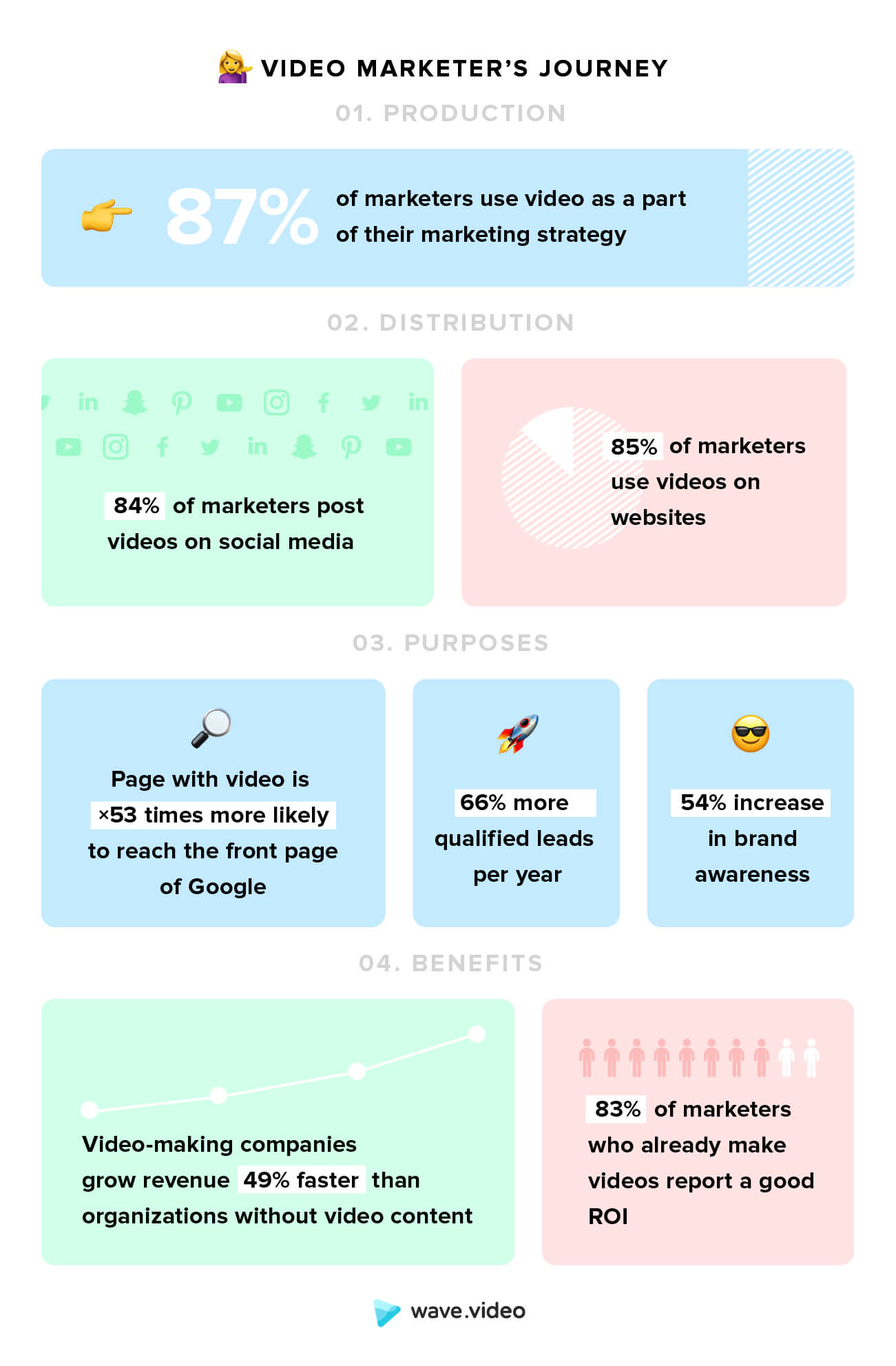 Now, you must be super pumped to roll up your sleeves and start creating video content for your business. But…before you get your head into the game, the first thing to consider is a video platform for your creatives. Though YouTube, of course, is the first platform to come to mind, in this article, we'll list the reasons of why to look for YouTube alternatives and what the best options are. 
Isn't YouTube the best place in town?
YouTube indeed opens up a vast array of opportunities. After all, YouTube is the second most visited site in the world (as of 2019), just after Google. But there are plenty of other options out there you might not have thought of. Why look at YouTube alternatives, then?
One thing you have to understand about YouTube is that it's a great spot for content discovery. So, if the goal is to rely on entertainment, good SEO, ad budgets, suggested videos, and pure luck to attract some new audience to your business channel, YouTube is the way to go.
It is getting harder and harder to break through all the digital noise on YouTube.
But there's a catch here – it is getting harder and harder to break through all the digital noise on YouTube. Thus, a professional video platform for business will ensure that you are not competing for attention with the unboxing bloggers, Vogue's interviews with fashion models and Joe Rogan.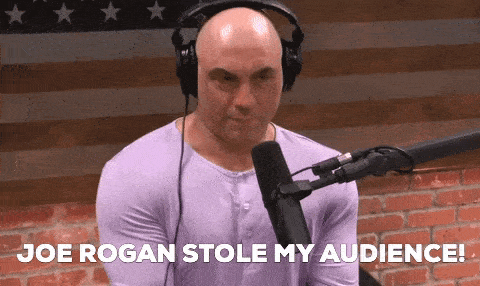 So, What's a Video Platform, and Why Does Your Business Need One?
As we read from this brief guide on video platforms, a "video platform is a solution designed to act as something of a "one-stop-shop" for all of your content creation, publication, and tracking efforts". 
YouTube offers a few tools that help you upload a video and share it with your audience. You can embed a video to your blog, or share it on your social media channels. This is what video hosting implies, while a video platform (that's why we are considering YouTube alternatives here) offers you a broader functionality with a more comprehensive toolkit. 
Here's what a video platform (unlike YouTube) can do for your business
Amplify your branding strategy
How? By offering full customization – from changing the player color to determining precisely how the video plays.
Create a smooth user experience
While guiding your audience through your customer journey, you have to make sure that ads, suggested videos and other distracting content are not a part of that experience.
Enhance your analytics and tracking efforts
Likes and dislikes won't cut it here – you need some actionable data that you can turn into real insights for your marketing teams and ROI measurement.
Provide a secure space via access control
A video platform should make it easy to create a smooth limited access experience for everyone who shows up on your video platform.
Again, Why Consider Alternatives to YouTube? 
With over 30 billion monthly visitors, YouTube may still seem like the place to be – your eyes get wide open when you see the potential exposure to such an audience.
But, the pitfalls for YouTube when we talk about it from a business standpoint may outweigh that potential. After all, YouTube is built for a wide range of audiences and not for businesses per se. 
YouTube is built for a wide range of audiences and not for businesses per se.
5 reasons to consider alternatives to YouTube
#1. Distracting and annoying ads
YouTube displays a growing volume of ads right next to your video content. These ads may showcase your competitors, so your audience might never get to that great dealbreaker part of your video.
#2. Suggested videos
What can be more distracting than ads? YouTube has the answer – suggested videos.
Here's a shortlist of how suggested videos can affect the watching experience:
distract the audience 

from your content

put it in the wrong context
show your rivals

exactly where you don't need them.
#3. No branding opportunities
What's more, YouTube customization options are somewhat limited. Channel colors, video player branding, and even the video size cannot be tweaked to your favor.
Your video content and the smallest branding efforts will simply get overpowered by that YouTube red.
Your video content and the smallest branding efforts will simply get overpowered by that YouTube red.
#4. Limited tracking options
YouTube will showcase your likes and dislikes, it will even show some demographic or watch time data. But that's not enough to track your video content strategy efforts.
As a business, you need a video platform that supports integration with your CRM systems and can track your video's engagement when it gets shared across social media.
#5. Unsecure environment
YouTube offers limited security. You cannot password-protect your videos or give access to them with a single sign-on.
So, if you want to avoid any of these pitfalls and bring some real exposure to your videos (thanks to lower noise and competition), it's best to consider alternatives to YouTube.
Best Alternatives to YouTube
You can't go on a journey unless you know your destination, so equip yourself with some knowledge on great YouTube alternatives that businesses and marketers can turn to.
YouTube alternatives: the not-so-obvious yet surprisingly great options
Known predominantly as great video creation and video editing platform, Wave.video has rolled out hosting capabilities as well. So, if you're looking for an all-in-one solution to create, edit, and host your videos, this is the place to be. Wave.video is especially handy for small/medium businesses that do not have large design and video marketing teams, and need one toolkit for amplifying their video content efforts. 
Pros: If you just want the main perks YouTube doesn't provide, Wave.video should cut it for you.
No ads and no suggested videos from wedding-crashers is the first thing to mention when discussing Wave.video as an alternative to YouTube.
The platform also offers a fully tailor-made video player that plays along with your branding strategy – from a customizable player color to your choice of controls to white-label options. 
You can also easily embed your videos to emails by adding a thumbnail or a GIF that will lead back to your primary video.
What's important, you'll also get to password-protect your videos, so that you can easily share exclusive content (without any breaches) and provide access to it for particular segments of your audience.
And the most exciting feature is that each video you create or render in Wave.video will get a separate video landing page (with a title and description). So, hail to personalized landing pages that can play a vital.
Cons: Although well-known for its powerful non-video-hosting features (like video creation and editing), Wave.video is the youngest entry into the video hosting industry and has a large room for adding more sophisticated features. As a video hosting platform, it covers all the essentials that other pricier platforms offer for way more. 
Also, Wave.video is expected to keep enhancing its video platform with features like adding your logo and creating a call-to-action coming soon!
Sproutvideo is a video platform for those who are not very tech-savvy yet want to start with a more professional touch. 
Pros: SproutVideo offers some of the perks the more expensive platforms do – from adding a call to action to videos, email collection forms, to heatmaps and detailed analytics.
It has built-in SEO analytics features, so you can optimize your video content and ensure top-notch performance. The most unique features, though, are the "shareable" player (fully customizable, by the way) and a video microsite that can get you to publish your video to a microsite.
Cons: SproutVideo's a bit tricky for first-time users, as it takes some time to read its dashboard.
And if you're planning to publish large volumes of content, you're likely to run out of storage pretty quickly – all plans include 500 GB of bandwidth and storage, but you will have to pay once that limit is reached (and the storage does not reset every month), and the lower your plan is, the higher you'll have to pay for each additional GB.
Wix video is a perfect platform for those who want to monetize their video creation efforts. So, it's not really a platform for those who use videos in their marketing efforts, it's for those for whom video is the end-product. 
Pros: You can make money off your video-making efforts – the videos are available for purchase with a one-time payment or on a monthly subscription, while YouTube only allows one-time sales for movies and TV shows. Other than that, it is a budget-friendly video platform that supports ad-free videos and even mobile optimization.
Cons: You have to upgrade to a premium plan (starting at $9/month) to publish a 30-minute-plus-video. The biggest catch is that you can only use Wix Video if your site is created through the Wix site builder.
Dacast is one of the few platforms specifically built for businesses that are more into live streaming. 
Pros: The greatest feature is that Dacast is a SaaS video platform so you can access it and upload videos from mobile, web, and desktop in real-time. It integrates with your Google Analytics account to track some more advanced analytics for your video. Other features include adding in-video CTAs, capture emails, SEO settings, and a customizable video player.
Cons: Dacast does allow customization but only through API, which makes it a bit tricky for teams to embrace an on-brand viewing experience. There's quite a steep learning curve to find your way around the platform, as its UI adds a certain level of complexity to user experience.
And if Dacast's basic features available at $19/month aren't cutting it for your business (chances are, they're not), there's quite a leap between paying $19 a month (you can only be billed annually, monthly payments start at $165) and jumping up to $125/month for the next upgrade.
YouTube alternatives: social media as video platforms
5. IGTV
The Facebook-owned IGTV, or Instagram TV, can also be considered to be a video platform that gives you access to over 1 billion monthly users. 
Pros: The biggest advantage of IGTV is that you may get exposure to its large and ever-growing audience. Moreover, big brands have been pretty hesitant to dip their feet into the new platform, so you have a real chance here to find a low-competition alternative to YouTube. 
Cons: IGTV can only handle vertical videos (it's the default standard). So, if you already have some extensive video collection (or plans to make some), you will have to film with two different devices and won't be able to move your existing content to IGTV straight away.  Moreover, IGTV is very limited in its analytics power.
6. Facebook Playlists
If you feel like you definitely want to find an alternative to YouTube in the social media realm, Facebook is the most straightforward option, of course. However, with Facebook and its huge emphasis on video marketing, you will find similar pitfalls like the ones we discussed for YouTube. So, yes, you definitely can just go on with your Facebook marketing strategy – but if you do, make sure you make use of Facebook playlists. 
They are similar to YouTube playlists. Basically, they will help you organize the videos on your Facebook business page in a more coherent way so that your viewers won't have to scroll through your entire video library in search of relevant information. Because if you truly want to use video for business and do it on Facebook, anything you do make your audience's viewing experience more smooth will play out in your favor.
YouTube alternatives: the obvious & pricey options
After Dailymotion, or YouTube's shadier brother you probably don't want your business to be associated with, the second obvious YouTube alternatives are video platforms like Vimeo, Wistia, and Vidyard. We won't go into much detail when discussing them, as, unless you're from the creative crowd (Vimeo is the place to be, then) or some huge company with some big coin in your pockets (Wistia and Vidyard are the priciest options out there), you will probably want to skip these giants.
Final thoughts
To put it simply, the days when YouTube was the only game in town for the general audience, businesses and marketers are long gone. While it's still the blue-chip giant, there are some great YouTube alternatives out there.
It all really comes down to why and how your business wants to exploit video content and benefit from it – is it about the higher reach thanks to lower competition (Vimeo), or about the boosted visibility via exposure to the widest possible audience (IGTV)? Or, maybe you want a user-friendly all-in-one solution for your overall video content efforts (Wave.video).
Regardless of your goal, though, the underlying theme is clear: there are some great alternatives to YouTube if you know where to look.