What's New in Wave.video: Video Hosting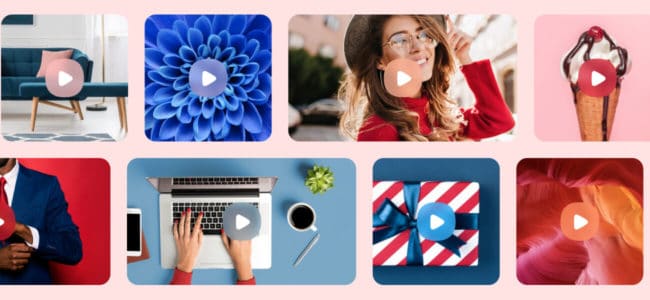 In the digital world of 2020, video is not a one-time thing. You can't just "set it and forget it". For your business to be successful, you have to be making more videos on a regular basis.
This doesn't only include sharing videos on social media. Your email marketing, SEO, and even support communications can be enhanced with video.
To help you incorporate video into all of the stages of your customer journey, we're adding a new feature to the Wave.video marketing suite – video hosting.
Here's what's new.
Video hosting
Now you can host every video that you create in or upload to the Wave.video editor.
What exactly is hosting?
When you "host" a video, you can not only download it to your computer in the .mp4 format or share it on social media. You can also embed the video on your website, e.g. add it to landing pages or blog posts. This way, people that come to your website will be able to read the text AND watch the video on the page.
Some of the most common video hosting platforms include YouTube and Vimeo. You can upload videos to these platforms and then embed them back on your website. Like this: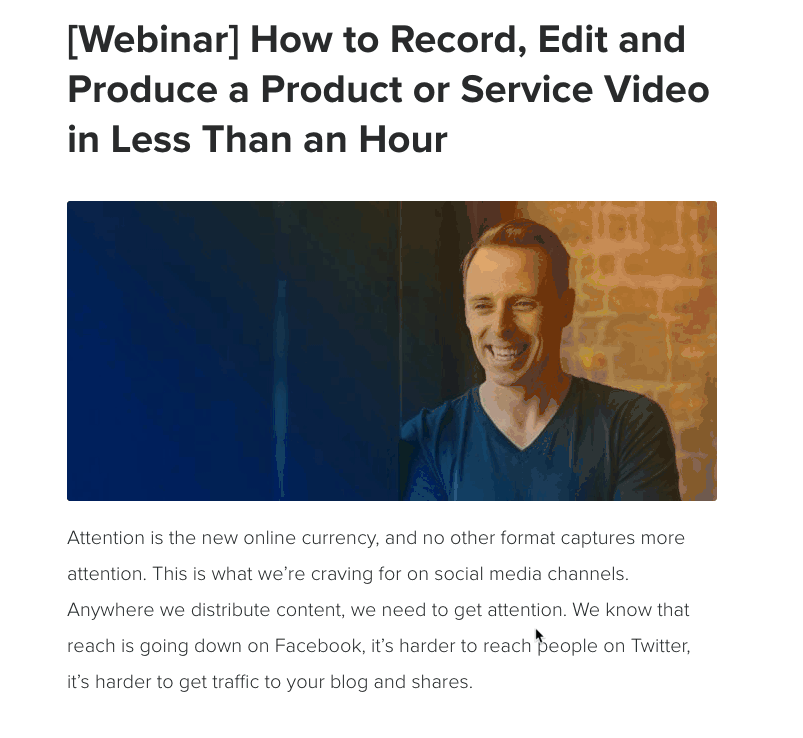 Common problems with free video hosting sites
The main problem with free video hosting sites is that you can't control the way your video looks. When you embed a video from YouTube, you are not only marketing your own brand. You are marketing YouTube as well.
Videos hosted on free platforms also impose the problem of unwanted and uncontrolled video ads or suggested videos that can appear when your own video is or has just stopped playing.
The problem with free video hosting sites is that you have no way of controlling the way your video looks.
Neither can you upload videos of irregular aspect ratios (like square or vertical) when you use basic standard free hosting platforms. Normally, the platforms add black or white sidebars that don't look too good when embedded (on desktop). Here's an example:
With the new Wave.video hosting, you can create videos and host them right here on the Wave.video platform. You can then embed them on landing pages, blog posts, or share directly via a link.
Here's how video hosting works.
Embedding your videos
Step 1. If you want to upload a video and host, embed, or share it without any editing, you can do that by simply clicking the button "Upload Video" on My Videos page.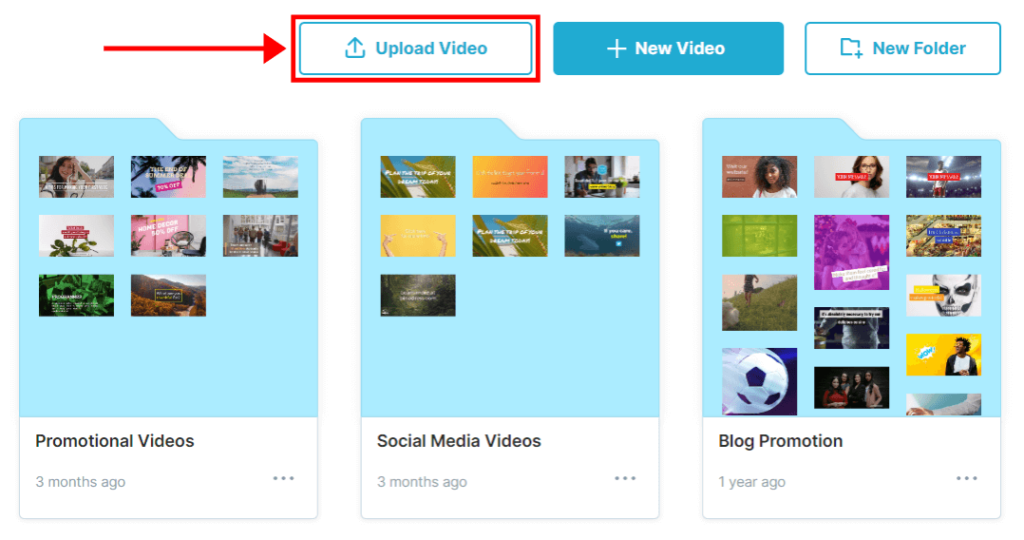 If the video that you want to host has been created or edited in Wave.video editor, it first needs to be published. In order to do that, simply open the video and head over to the step "Publish". Here, you'll need to render your video.
If you see the sign "Draft" on the video preview, it means that the video hasn't been rendered yet. You'll need to render it first.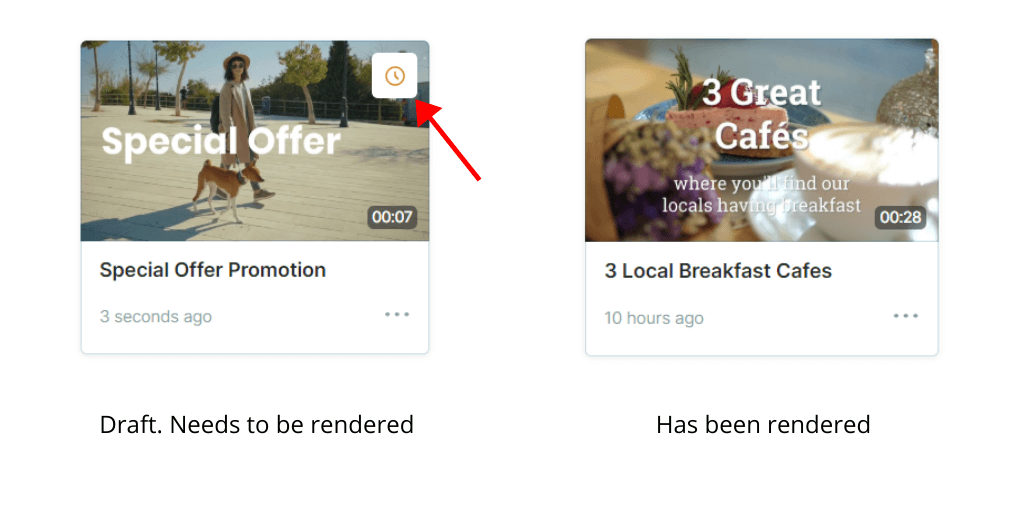 Step 2. Once you upload or render the video, go to My Videos and hover over the video preview. Click on the button "Customize", and it will open the customization page for video hosting.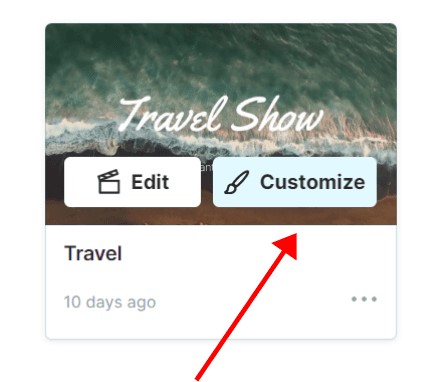 Step 3. On the customization page, you'll first need to make the video embeddable. This means that you'll need to toggle on this switch:

Once you embed the video, you will see this sign indicating that the video has been embedded. What this really means is that the "Embed this video" link has been toggled on.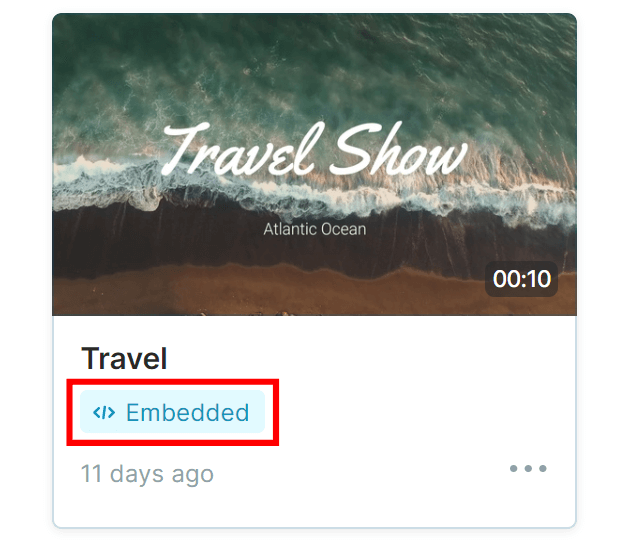 Wave.video will generate an embed code for the video. You can then copy the code and add it to landing pages, blog posts, and anywhere else you want your viewers to watch the video.
Learn more about embedding videos in this Knowledge Base article.
How is the new feature helpful?
Video hosting from Wave.video opens a variety of marketing opportunities.
Now you can not only share your videos directly on social media but also add them to your blog posts, landing pages, or even emails. Here are just a few examples.
Embed video on a landing page
Videos on landing pages can help you to explain complex concepts or demonstrate a product. A website is 53 times more likely to reach the front page of Google if it includes video (source).
Make your landing page stand out and keep visitors on your website longer by embedding a video.
Add a video to an article
When you create a new blog post, try adding a quick video to it. It can be as simple as the summary of the article or just an intro. Most people prefer watching a video to reading longer texts. Make sure you serve both audiences.
Add a video to your emails
While you can't technically embed videos into emails (email clients simply won't let you), there are a number of ways how you can enhance your email marketing with video. For instance, add a video thumbnail or a GIF that will link back to the original video. 
Customizable player
With this release, you can also customize the video player the way you want it. You can change the player color, define what controls are shown (if any), and choose whether you want the Wave.video logo to show on the player.
Here are the main features.
Choose a custom thumbnail
A thumbnail is the first thing your viewers see when they come across your video and decide whether they want to watch it or not. Think of the thumbnail as a cover for your video. The more enticing the video thumbnail is, the more chances that your viewers will click on in and watch the video.
With Wave.video hosting, you can select the best thumbnail to show for your video. You can either choose a frame to be used as a thumbnail or upload your own custom thumbnail.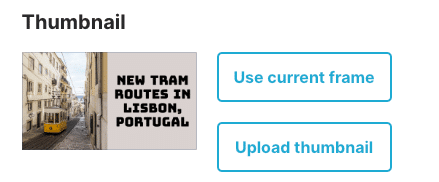 Customize the embed settings
You can also control how exactly the video player looks like on the page. You can choose what controls to show or remove all of them entirely. This will help your viewers to focus on watching experience without any distractions.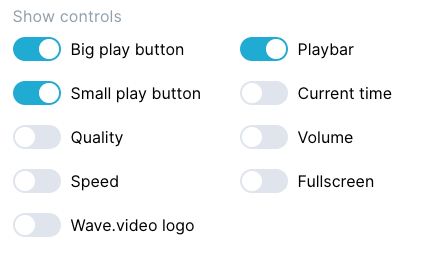 You can also change the color of the video player. When it comes to building brand awareness, this is one of the most powerful and visual features. Simply choose your brand color for the video player, and the video becomes branded just like that.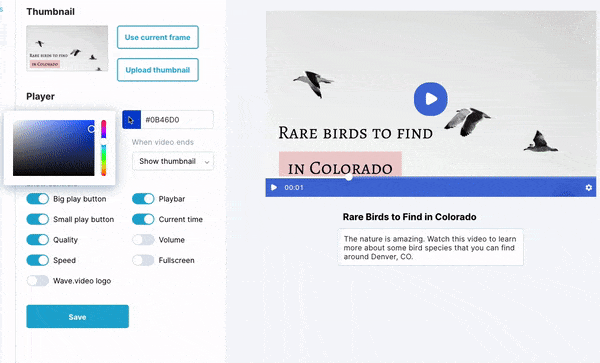 To learn more about branding your videos, read this post: How to Brand Videos: 4 Must Do's for Businesses.
Password protection
Now you can also protect your videos with a password. This feature comes in handy when you want to distribute exclusive content or only give access to a certain group of people.
Add a custom message and create a password for your videos.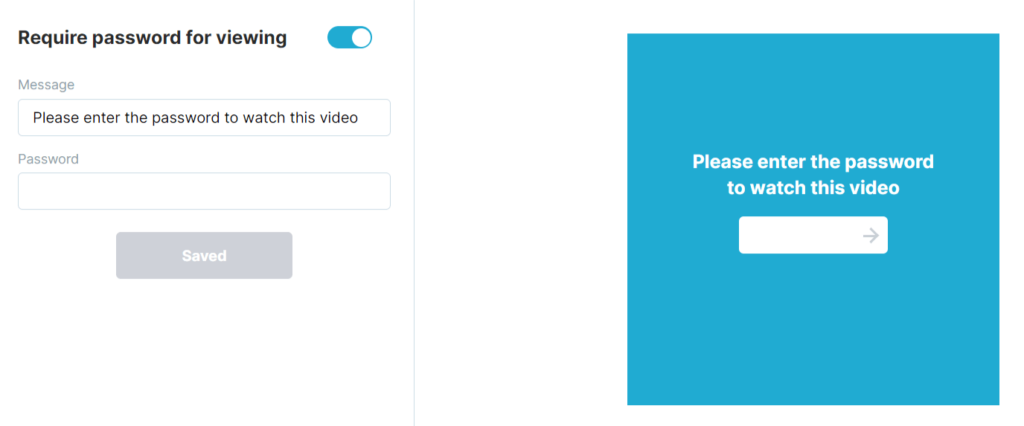 Video landing pages
Every video that you render in Wave.video now gets its own video landing page. This concept supports the idea of video funnels and helps you to incorporate video on every step of your customer journey.
Now you can create personalized landing pages for your customers, share a special offer deal, or link to the landing page from an email. Learn how to create and customize video landing pages in this Knowledge Base article.
Video landing pages in Wave.video have a video title, description, the video itself, and a clickable CTA button. Here's an example of a video landing page created in Wave.video: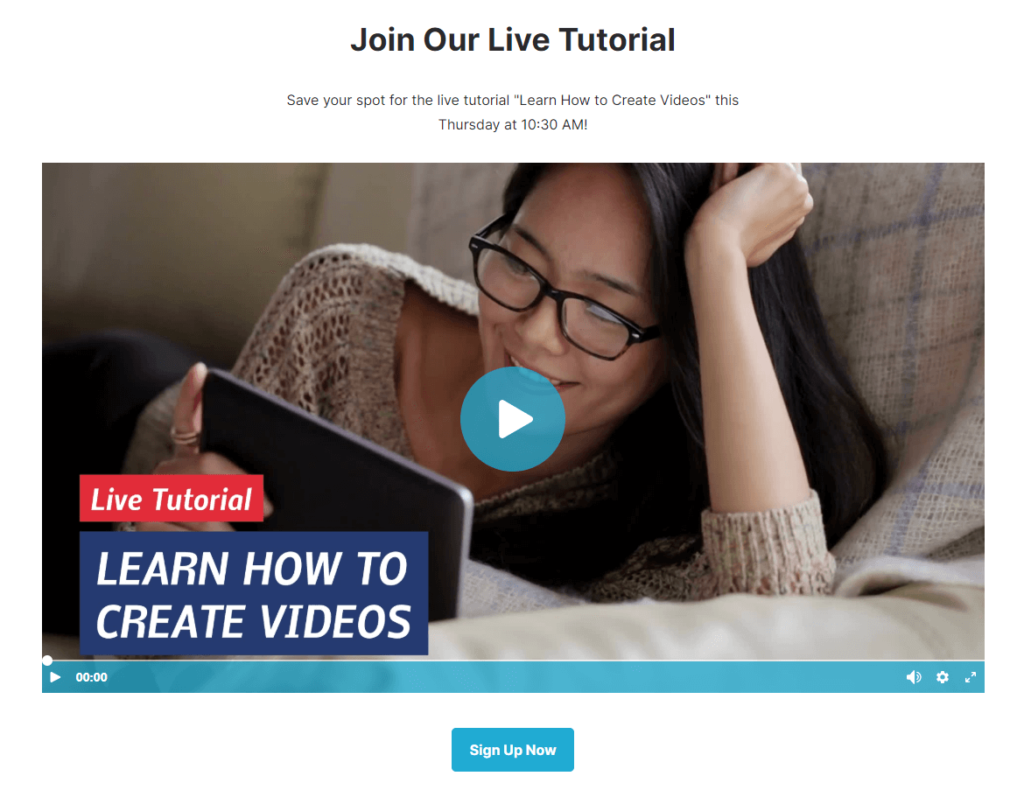 More free assets in the media library (for Pro and Business plans)
With this release, we are significantly increasing the number of assets for Pro and Business plans. The updated library now offers 10+ million images and videos that are available to these plans for free. More creative freedom for your brand with fewer constraints!
Just as a reminder, you can filter by free or paid assets in the media library in Wave.video. To check out the new free library, simply filter out the paid options.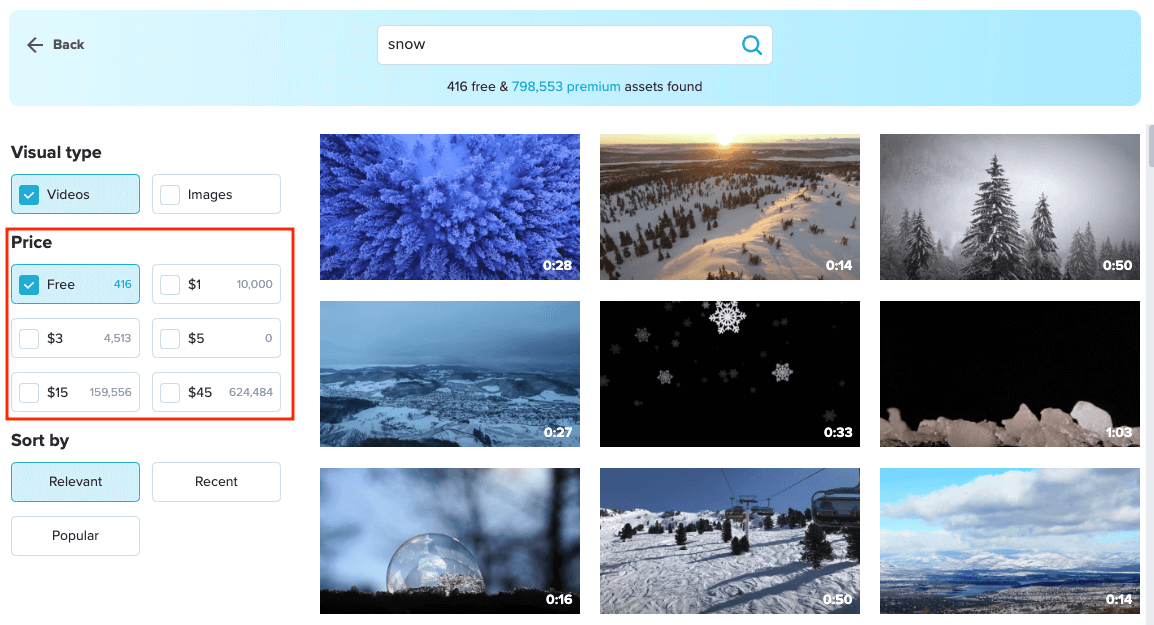 Over to you
Do you embed videos on your website or blog? We would love to hear what you think about the new features! Share your ideas in the comments to this post.