2019 Video Marketing Statistics [+Infographic]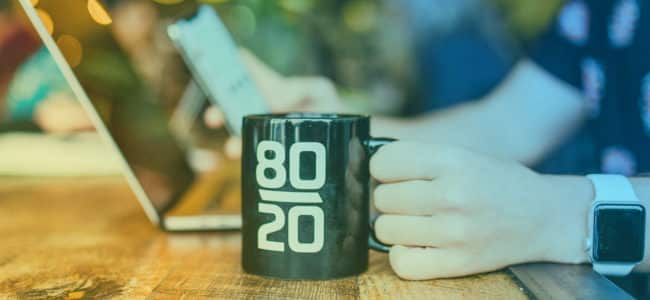 For years, marketers have been saying that video marketing is the wave of the future, and they were right. The future is now, and video marketing has exploded. 
A lot of research has been done around this topic looking at it from multiple angles. In this article, we did our best to gather the most recent video marketing statistics.
Not only do we want to highlight that video marketing is in the bloom, but also to observe it from two interlinked perspectives: production and consumption. Also, we picked out the most trending aspects of video creation to hand some data-proven tips over to you.
The Now and the Future of Video Marketing
Here is a short eye-opening dataset that makes it clear: video is not going anywhere. Hence, it's time to roll up the sleeves and get cracking on with that.
If you haven't yet tapped into this type of content creation for your business, chances are you're lagging behind the competition.
Whether it's because you're not sure how to get started, you're not comfortable in front of (or behind) the camera, you don't think you have the budget, or something else we're here to tell you: it's worth making an extra effort to figure it out. Because it's simply everywhere. 
Video Marketing Channels
According to the research we have recently conducted at Wave.video, the most popular platforms to create videos for are Facebook, Instagram, YouTube, LinkedIn, Twitter and Snapchat (Wave.Video report).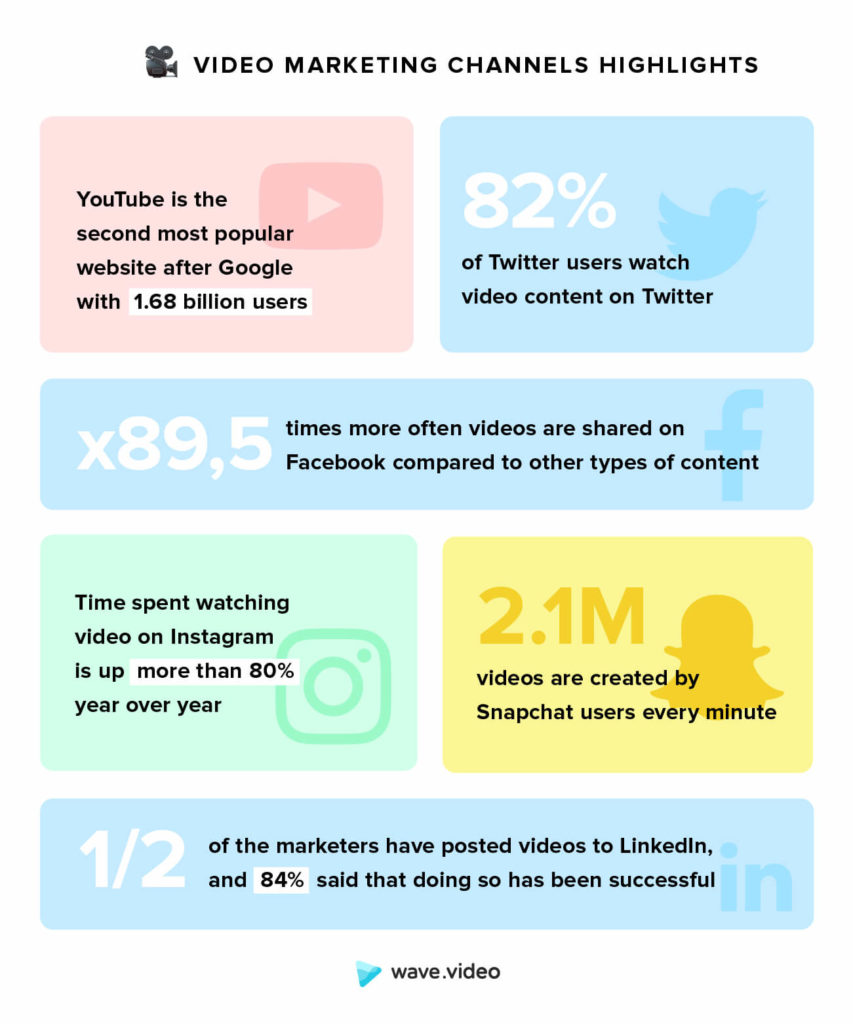 On Either Side of The Screen
There are always two sides of the coin screen: some people produce videos and some watch them. The best thing about video marketing is that it is a win-win process:
watchers happily consume videos as a source of entertainment and education;

businesses reap the rewards in a form of customer loyalty and good ROI. 
Let's first take a look at some video marketing stats that refer to those who film, mount and publish videos. 
Video Makers
For sure, marketers are #1 filmmakers who use this media in all possible forms on different platforms to achieve various goals. Today, more and more businesses discover video to be a powerful communication and promotional tool and integrate it into their content strategy. 
Why Videos?
Visual content (with video ruling it all) is very easy to consume – brain processes it 60,000x faster than it does with pure text. So, not surprisingly, the results from video marketing activities come much faster, too. 
Reason #1. It is multifunctional
Video is probably the most powerful way to showcase a product or promote an event. It is also an effective means of helping the prospects to discover your business and learn more about it. Plus, it is indispensable for raising engagement on social media channels and growing the audience. 
Reason #2. It is good for SEO
The video format is beloved by Google, especially when the engine can properly crawl the information provided along with the clip. Smart publishing of a video on a webpage can facilitate your SEO efforts and bring you higher in the search results. 
Reason #3.

It brings in ROI 
As a result, a good mixture of video marketing activities across different channels boosts up ROI and improves the wellbeing of the business. 
Video makers grow company revenue 49% faster year-over-year than organizations without video (

Vidyard

) 

83% of those who already make videos for marketing say that it gives them a good ROI (

Wyzowl

)

Enjoyment of video advertising increases purchase intent by 97% and brand association by 139% (

LemonLight

)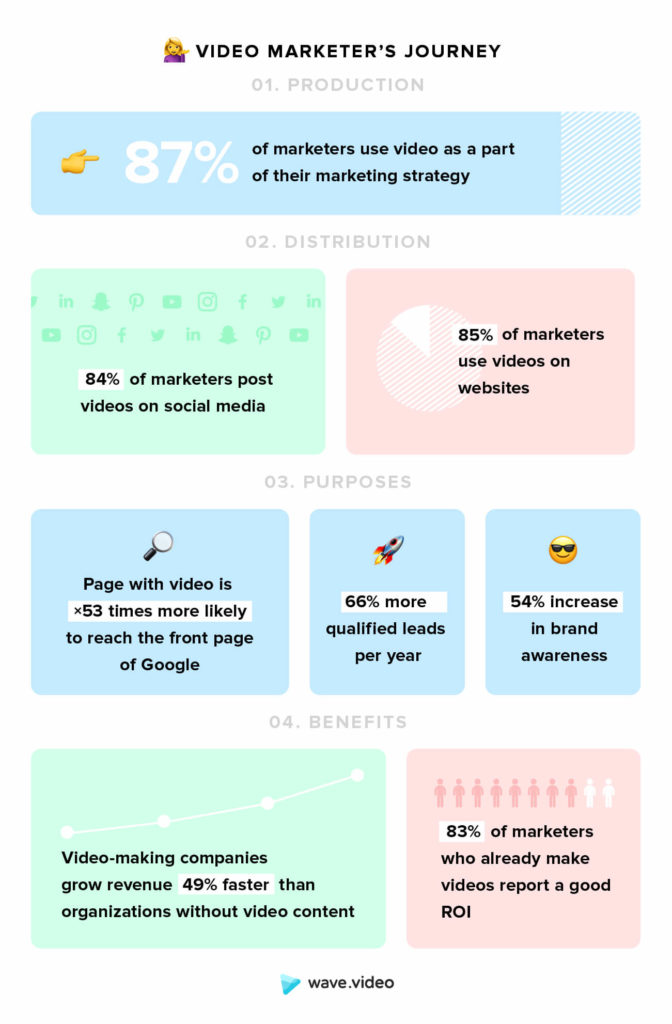 Video Watchers
Now let's turn to those who press the Play button. According to the video marketing statistics, watching video content makes up 1/3 of the overall online activity (Wordstream) where 10 minutes of every hour go for watching live streams. (App Annie).
Why do people watch videos?
Evidently, people love video format and appreciate the effort marketers put in video production. Aside from pure entertainment, they find videos to be useful on all steps of their interaction with the brand. 
How do they watch?
Statistical data helps to distill a number of trends in the video consumption process. If we look at the video marketing stats below, we can say that most of the interaction happens on mobile devices and via social media channels.
Video Marketing Best Practices and Helpful Tips
Well, video marketing is undeniably big and powerful today and will be growing further. But don't get scared by its scale.
Luckily, it's been a while since it first appeared in the marketers' toolkit so some data-proven observations are available now. A simple analysis of some video marketing stats can help you orient at the start of the video journey. 
Like everything else in marketing, every video should fit the requirements of the audience, channel, format, platform, and your goals. It is vital to consider watching habits of your audience and adapt your creatives to make them convenient for interaction. 
The Length Matters
The length of the video is dependant on the platform, type of the video and its goals.
For example, product review on YouTube is usually longer than a video ad on FaceBook.
You always can test what best works for your audience on a certain channel. Anyways, here are some numbers to keep in mind:
Videos under two minutes long get the most engagement (

Wistia

)

The average portion of viewers remaining by the end of a video is 46% (

Impact

)

30-second ads have a 30% higher view-through rate (VTR) than 15-second ads (

Think with Google

)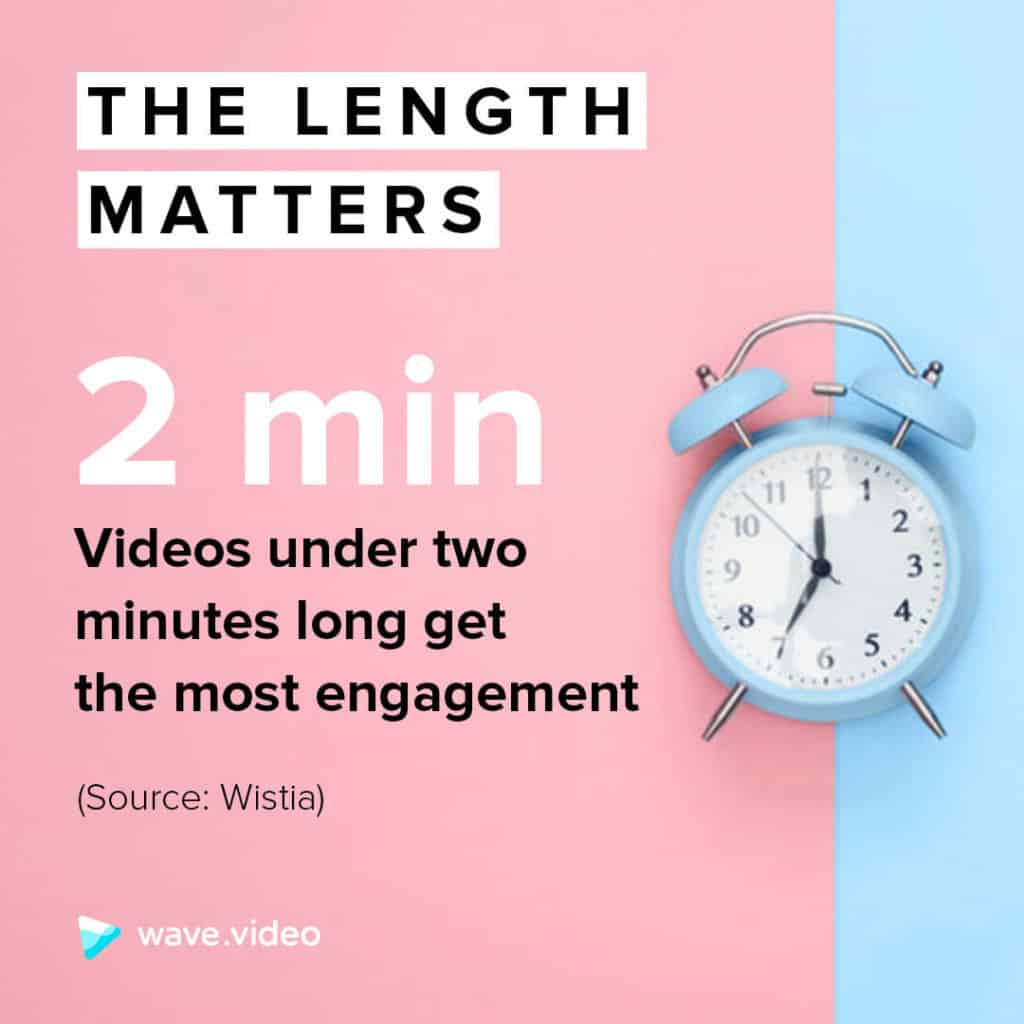 Mobile World
It's not news that everything that is 'digital' is almost equal to 'mobile' today. And videos are not an exception here, for sure.
Consumers spend more than 5 hours a day glued to their smartphones (

AdWeek

) 

69% of video makers do optimize their video ads for mobile (

Wave.video report

)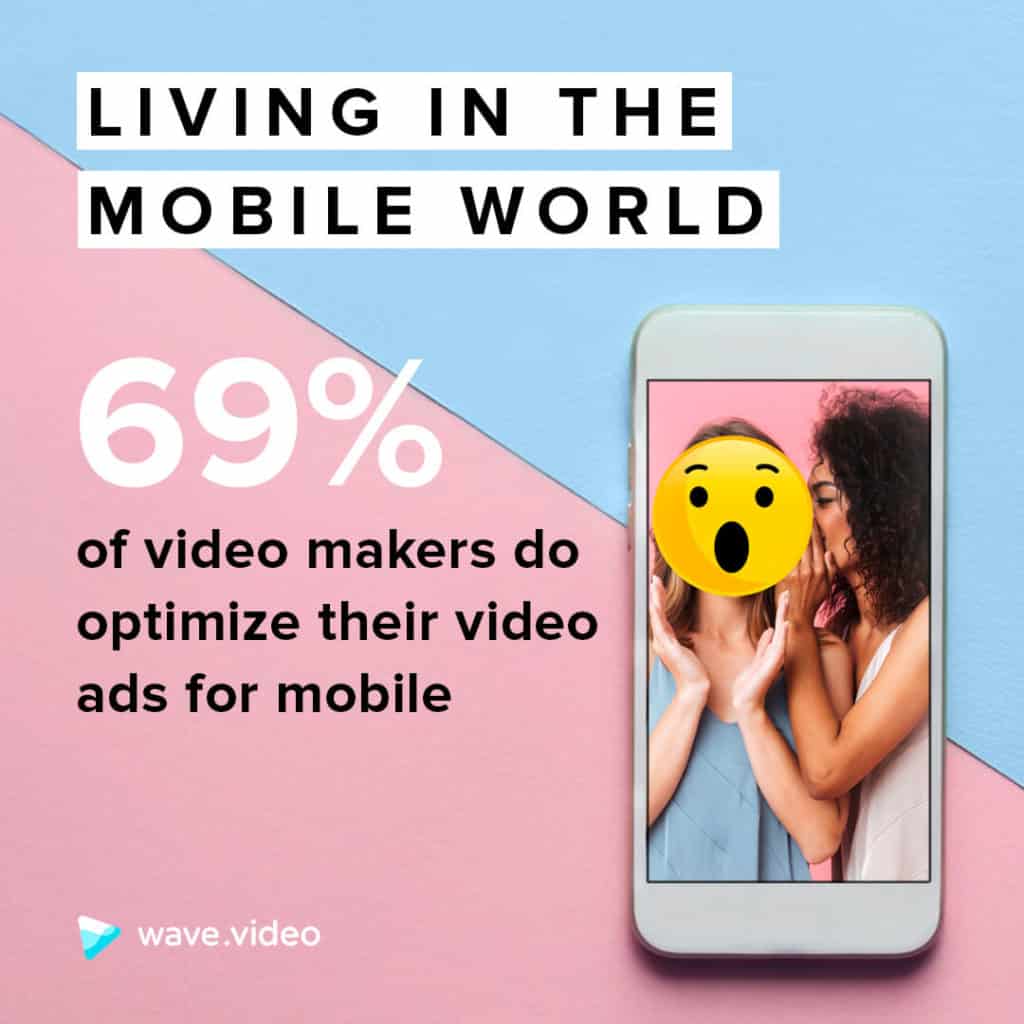 Silence is Golden
Living on rocket pace forces people manage multiple tasks at once. They can do things like eating, chatting and watching on the go. Remember that your watchers are normally out of the ideal conditions to consume your video with the sound on. So be thoughtful and help them get your message even on mute.
85% of Facebook videos are watched without sound, while 60% of Instagram Stories are watched with the sound on (

Business.Instagram

)

81% of consumers mute video ads (

OptinMonster

)

91% of videos with subtitles are watched to completion, compared to 66% of videos without captions (

Uscreen

)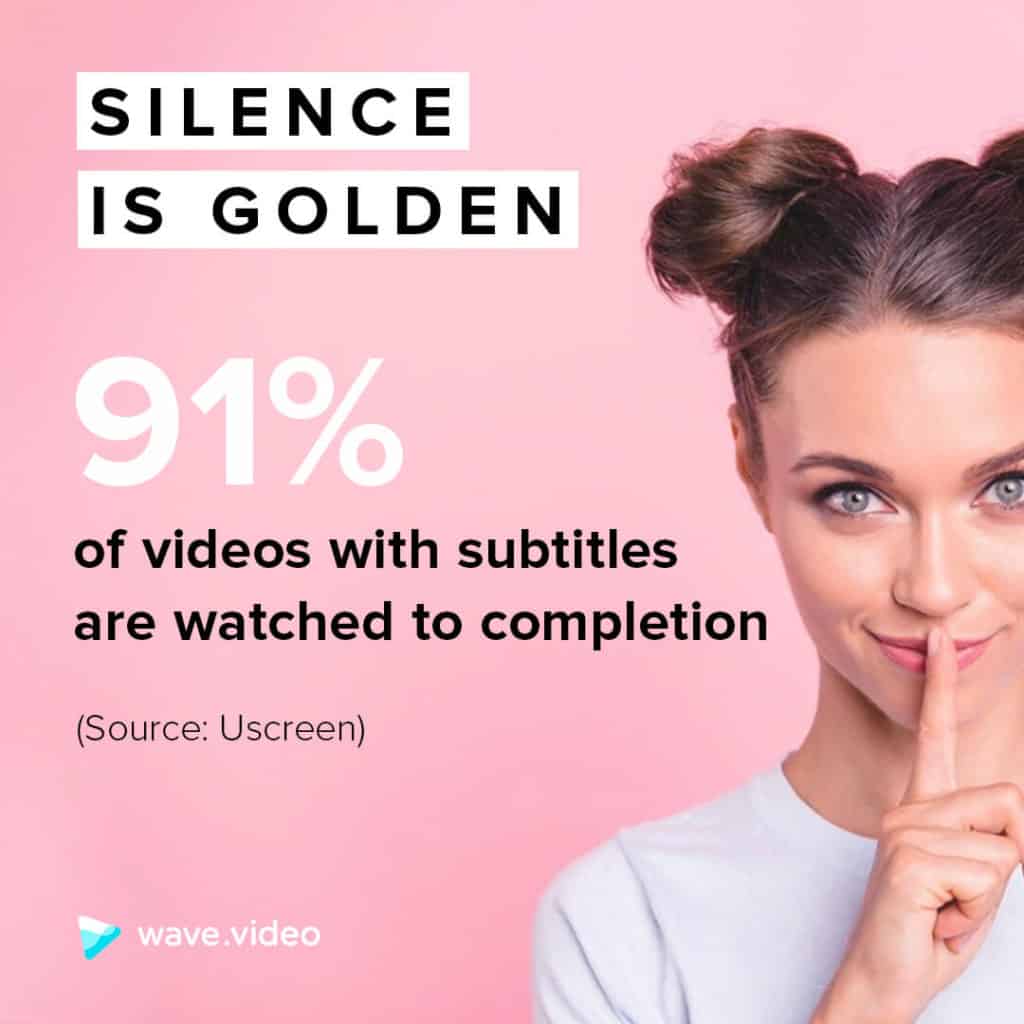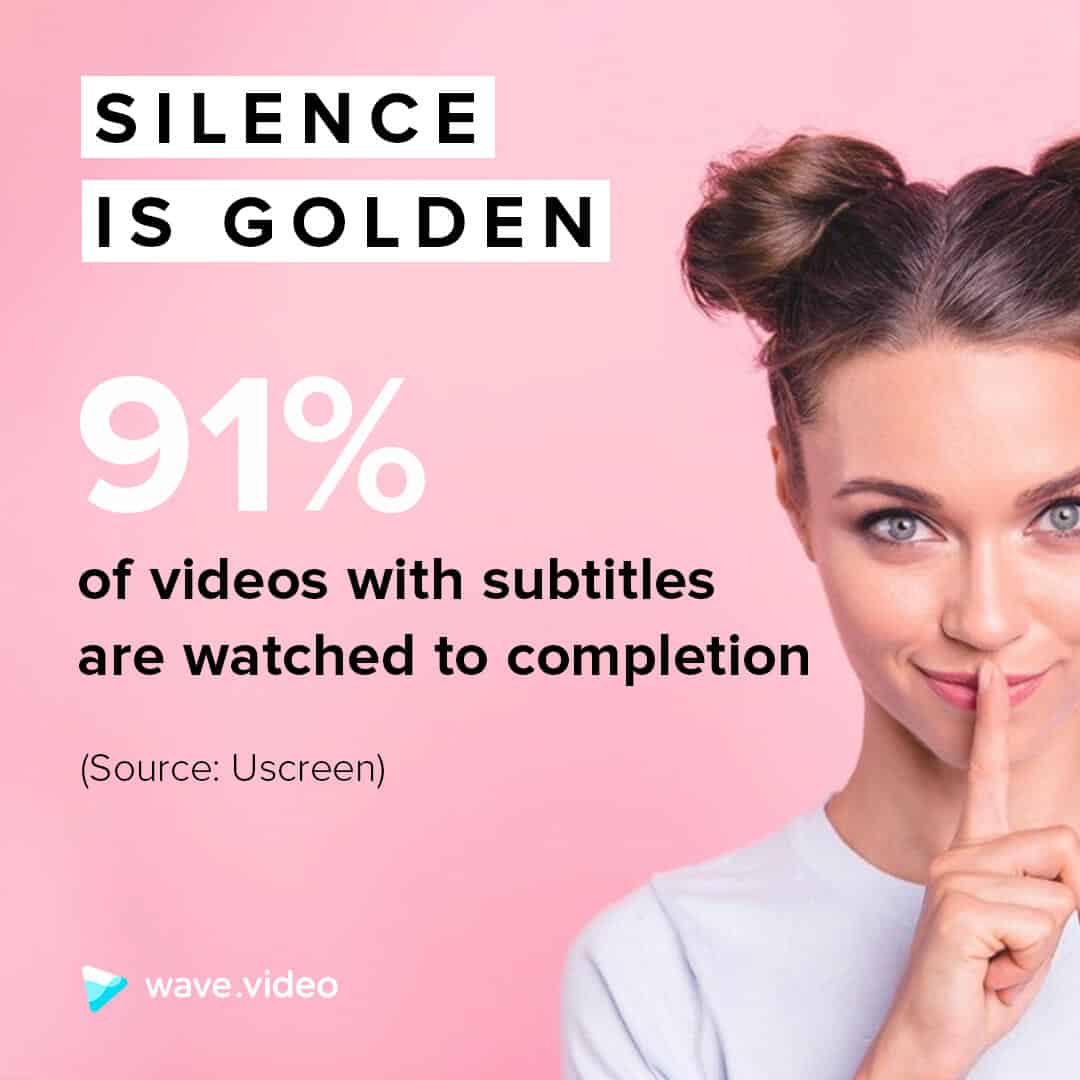 Call to Action
Video can be placed at any point of the customer journey but you need to facilitate the move from one step to the next one. Assist your audience in finding their way to the next level by telling them what to do. 
23% of people (30% of Millennials) want a video to be accompanied by a link that allows them to directly purchase a product, showing that product videos and shoppable content offer a lot of opportunities (

SmartInsights

)

75% of video creators use CTA in their video ads (

Wave.video report

)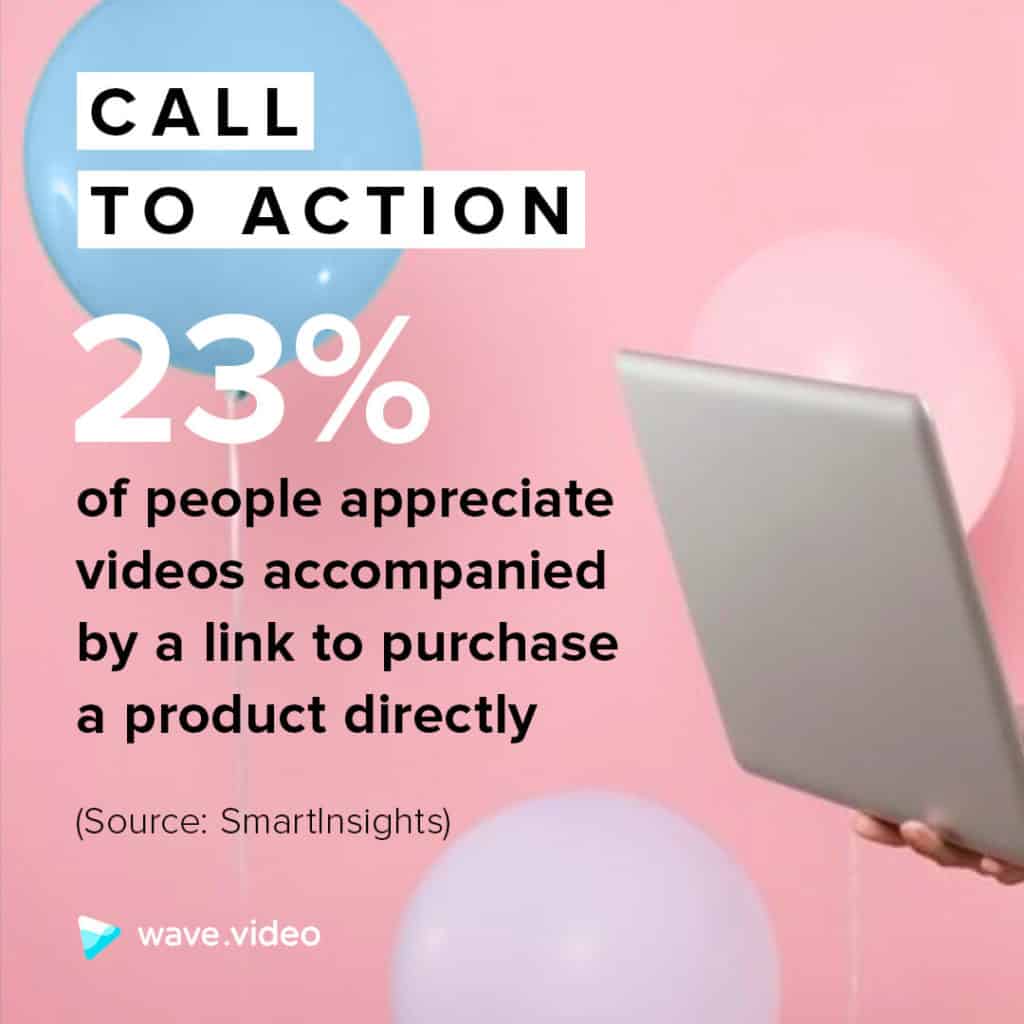 Conclusion
Hopefully, by now you've come to realize the importance of video in your marketing plan, and you have some solid ideas and advice to get you started!
As long as you follow the guidelines for optimized videos, most users will be very receptive to video marketing. You don't have to have a ton of time or a huge budget in order to produce a successful marketing video; all you need is an audience, a creative idea, a steady hand, and the right platform!
Reach out to your audience and see what they'd like to see videos of; if you're giving consumers content they want to see, they're going to be happy.