Why Marketers Fail at Video: Top 10 Video Marketing Challenges and How to Fix Them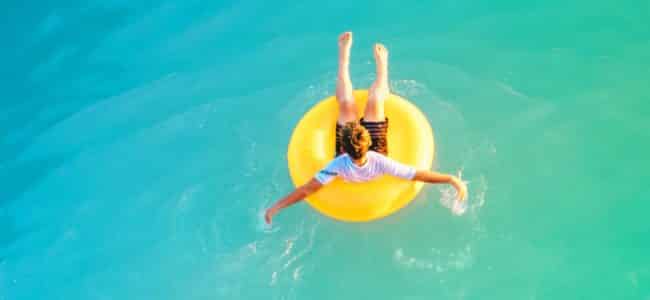 In one of his recent newsletters, Michael Stelzner of Social Media Examiner pointed out the trend that has been relevant for the digital marketing industry for a while now. People are reading much less and watching much more video.
People are reading much less and watching much more video. – Mike Stelzner
Mike is in good company here. Many industry experts emphasize overall video growth as one of the leading trends in video marketing.
As hard as it is to believe, we actually expect to see MORE video created this year, particularly live video broadcasts.
On the other hand, marketers realize the importance of adding video to their marketing strategy. They see social media platforms reducing organic reach and introducing native and live video instead. They know they need to be doing something about it.
Nevertheless, while some of us fearlessly embrace the brave new world of video marketing, there are thousands of marketers who still struggle with the whole idea of video.
In our recent study, we analyzed the top 10 reasons why marketers fail at video marketing, together with some solid recommendations on how to fix them. If you also need to give your video marketing efforts a kickstart, here's how.
Top 10 video marketing challenges, analyzed
We asked 1,000 marketers who are just getting started with videos what their #1 challenge with their video marketing efforts was. They could give an open answer.
Even though the participants could give any answer and in any form they wanted, we noticed 17 major reasons that prevented them from making videos or doing it more effectively.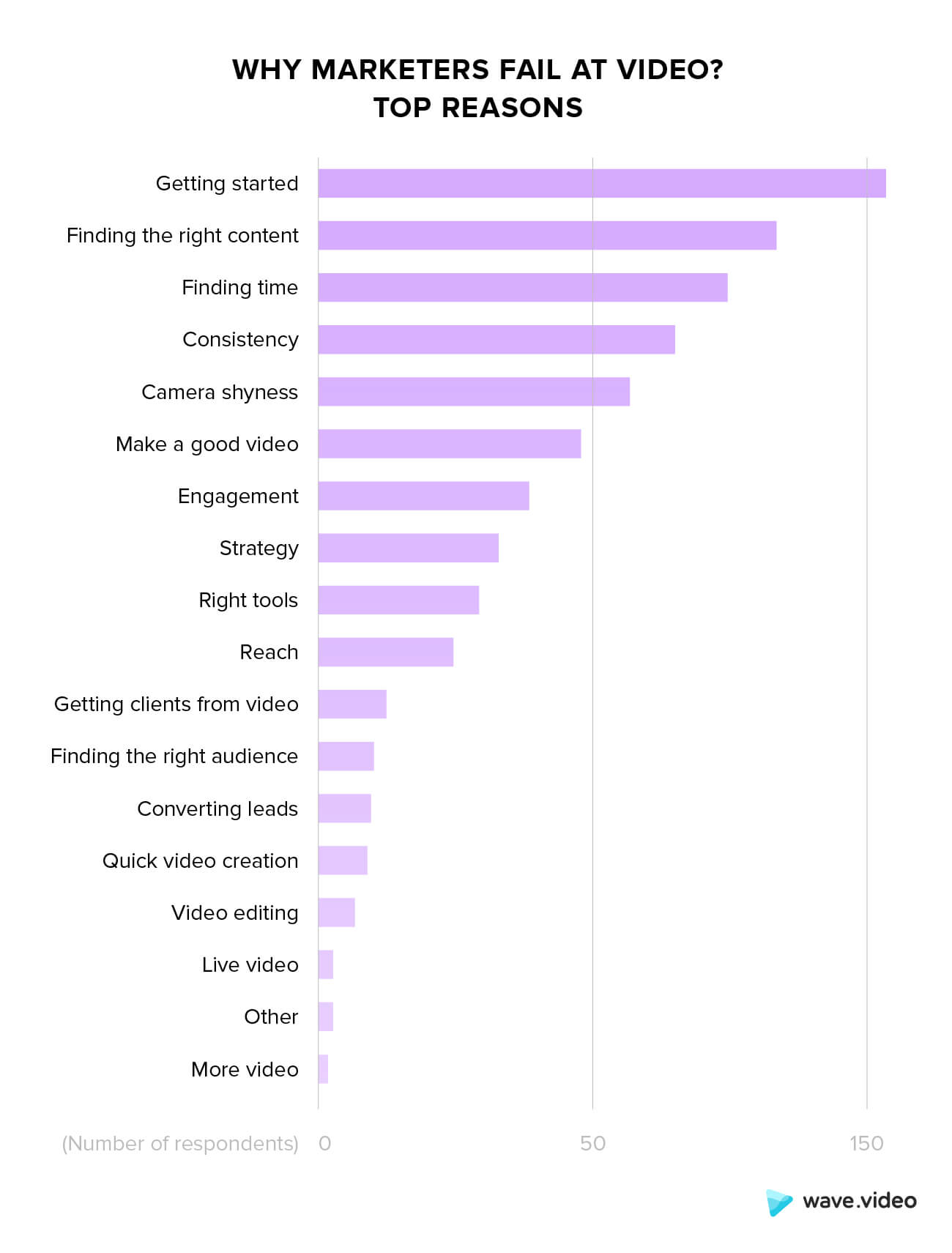 It wasn't the question of "why I need video" or "who else does it".
The number one question was – How do I get started?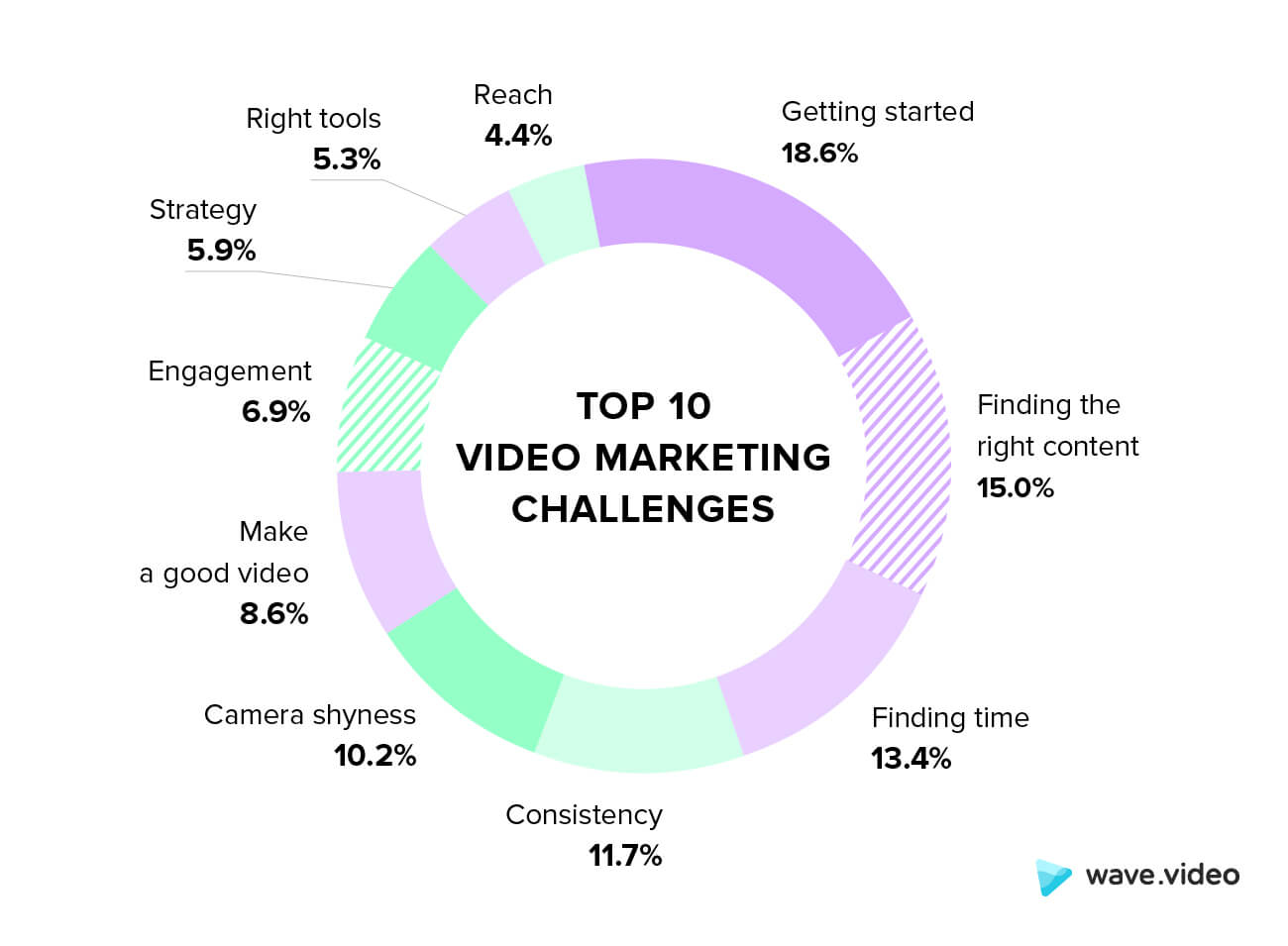 Video marketing challenge #1. Not knowing where to start.
Starting something new is always difficult, and video marketing is no exception. In fact, 18.6% of respondents said getting started with video was their #1 video marketing struggle.
The responses that we got were:
"I am new and I don't know how to go about creating the video."
"I'm just starting out, signed up today. Everything is a challenge right now!"
"I am new to video marketing. I need to get started but am a little intimidated."
Indeed, video marketing in general and video production in particular sound like a very broad topic. How does one get started with video marketing? What do you need to focus on first of all?
Here's the plan we recommend that you follow:
1. Define your video marketing goals.
Whatever marketing task you work on, it should always start with a goal. Figuring out your end objective is a key part of goal-setting. When you know why you're making videos, you'll have something to aim for.
2. Decide what type of video content you want to make.
The next step is to decide what type of video content you actually want to or are able to make. There are different kinds of video to choose from.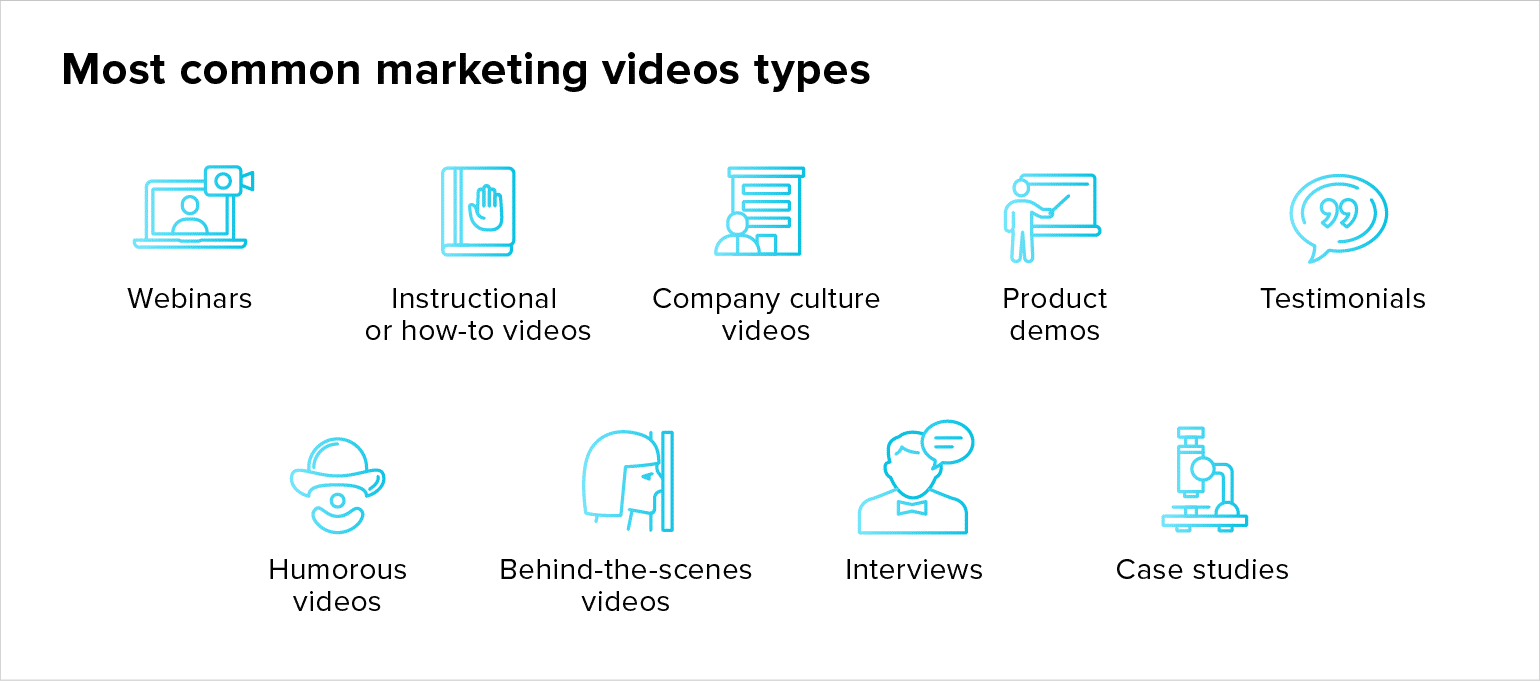 To decide what types of video are best for your video marketing strategy, look for areas of overlap between your audience's needs and your company's goals (so-called "sweet spot").
3. Think of video production.
Once you've decided on the types of video you are going to create, you can then move on to the actual video production. Think of the following questions:
Who is going to produce videos? You, a dedicated team member or perhaps a 3rd party?
How often are you going to publish your videos?
Do you want to heavily edit your videos or go with a more "natural" look?
What equipment will you need for video production?
Answering these questions will help you streamline your video marketing process and help you get started with videos.
4. Define video promotion techniques.
Once you created that video, the job is only half done. Now it's time to promote it.
Think of the different channels where your customers would be delighted to see the video. Is it social media? Or perhaps email?

5. Define how you are going to measure your success.
To be able to understand how you are doing with video marketing, it's important to set measurable goals for yourself. What are the key metrics that are important for your business?
Some of the main things you want to start tracking for your video are: unique views, impressions, total watch time, CTR.

Reason #2. Finding the right content.
Finding the right content to create videos on is another reason why marketers fail at video marketing. What topics should you start with? What content is your audience going to be interested in?
This is where I encourage you to start with your audience research first. You are not making the video just for yourself: you want other people to watch it. What are their pain points? What do you want to share about yourself or your business?
Here are some helpful resources that might get you started:
If creating a video from scratch seems overwhelming, you might want to repurpose some of your existing content first. You might already have tons of content that is worth resharing. 
For instance, take a blog post that you've created and turn it into a quick social video. I'll speak about it in more detail later in this article.
Reason #3. Finding time to create videos.
When you are juggling many marketing tasks at once, it's hard to find the time and prioritize what should be done first. In this regard, video is oftentimes left aside as one of the least important tasks. Besides, seems like it takes forever to create, and with so much on your plate, you'd rather focus on something else that is (probably) going to bring more immediate results.
Sounds familiar?
The truth is, you don't need an eternity to create videos. Once you know what your video is going to be about, creating it is the easier part. Focus on your core content first and then repurpose your video into smaller pieces of content that you can share on social.
How to Record, Edit and Produce a Product or Service Video in Less Than an Hour
Video is continuing to grow in popularity but one of the challenges is being able to produce and edit videos quickly. But luckily the phone typically has good video capability and you can use Wave.video to edit it.
Reason #4. Being consistent with videos.
This video marketing challenge goes hand in hand with finding time to create videos. Here's what the respondents said their biggest marketing challenge was:
Not knowing what to post on my page leads to inconsistency.
Creating a system to easily and consistently create and promote videos.
If you are not sure what to post on each social channel or can't find time to produce videos on a regular basis, this will only lead to inconsistency with your overall video marketing efforts.
In this regard, I encourage you not to try and cover all the channels at once. Instead, start small and expand your efforts once you get a grasp of what's working and what isn't.
For instance, here's what we post across different social media channels:
YouTube – longer educational videos, tutorials
Instagram – short snappy entertaining videos
View this post on Instagram
Twitter – mostly short promotional videos (to promote blog posts)
Facebook – live videos (for better engagement)
Make it a rule to, say, create a short video for every blog post that you post on your blog. Or go live every Thursday. Then build upon the schedule that you established.
Reason #5. Being camera shy (or so you think)
Camera shyness is one of the main reasons why marketers postpone creating videos or decide not to pursue this technique altogether. We think we're not good on camera, we don't know what to talk about, we think others are going to judge us for our appearance, etc.
Is that about right?
If this sounded like you, fret not: you're in good company. When we first started shooting talking head videos, it took me forever to get the words right. Every time we turned the camera on, I would completely forget what to say. The only thing I would think about is the camera staring at me.
How to Level Up Your Impact & Authority with Video
Tune into this webinar with Ian Anderson Gray, Live Video Confidence expert, and learn how to overcome one of the biggest video marketing challenges - being on camera
In reality, no one is born with a natural camera look and attitude. The good news is that there are special techniques that can help you relax and get camera-ready. Watch this webinar from Ian Anderson Gray to learn how👆
Reason #6. Not knowing how to make a great video
I want my video to look as ugly as possible.
Said no one ever.
When creating videos for whatever purpose, you definitely want them to look good.
But what does "good" mean, anyway?
Last year, we asked 48 experts what their #1 tip for making great marketing videos was. Here's what they said.
1. Start with a storyboard.
Creating a storyboard before getting down to the actual video production might seem like an extra step but it's well worth the time and effort. It helps you organize your thoughts and plan your video more effectively.
My favorite tip for making a great marketing video is this: decide goals for the campaign, choose metrics for the campaign and always stick to a storyboard.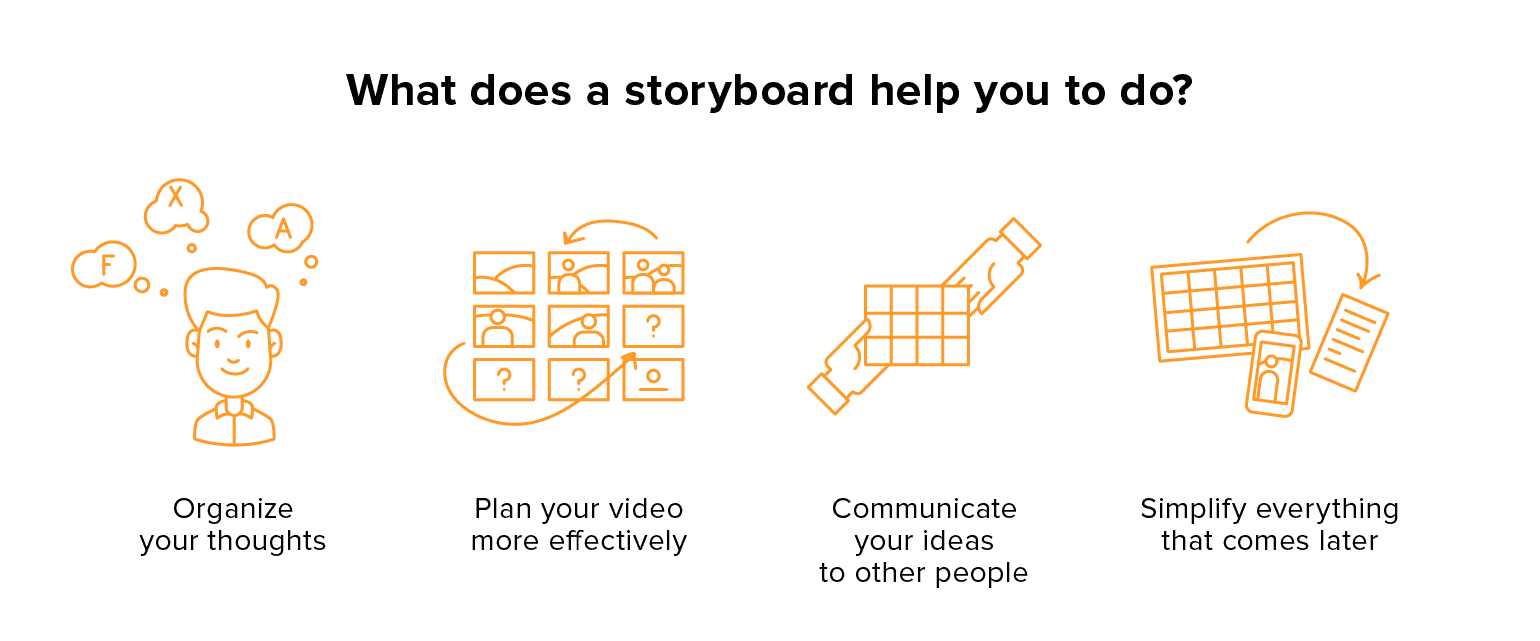 2. Make the first few seconds of your video count.
With so much video content being shared out there on the Internet, you want your video to catch the viewers' attention right away. Start your video with a burning question, interesting fact, or snappy image.
The first few seconds are vital. For one, it's important that the beginning catches peoples' attention immediately, otherwise they will close the video within moments.
3. Tell a story with your video.
Everyone loves a good story. And you don't need hours to tell one; even 15 seconds is enough.
How to tell a story in a 15-second video
Video creators and marketers usually don't have too much time to tell a story. We already know that the human attention span is relatively short, so if your video is not catchy enough or takes too long, people will instantly lose interest and skip it.
Make sure you transmit one message at a time, think through the structure of your video (hello, storyboarding!), apply creativity, and add a sprinkle of emotions.
4. Show, don't tell.
If you are making a marketing video, introduce your product or service early on. Own the video. 
Also, make sure your branding is consistent in all the videos you create. This might include: adding your logo, using the same fonts and color scheme, preparing thumbnails.
5. Add text overlay.
Lots of videos these days are watched with the sound off. Make sure your audience are not missing out on anything in your video by adding a text overlay.
Reason #7. Not enough engagement on one's videos.
Declining reach on organic posts on social is a common problem for all social networks. Engagement is one of the things that affect the algorithm, i.e. define who exactly sees your post.
But how do you make your video more engaging?
Here are the top 5 ways, coming directly from Mari Smith, the renowned social media expert:
Include a CTA to your videos. Ask yourself: what actions do you want your audience to take after they watch the video?
Ask questions. See how you can inspire and encourage your fans to talk to one another in a discussion or debate in the comments of your video.
Do more Live broadcasts. On Facebook, live videos get 6 times more engagement than regular video. You can also pre-record your video and live stream using third party software such as Ecamm Live (Macs only), Wirecast or vMix.
Host a contest. This can be as simple as asking your audience to comment in order to enter your sweepstakes.
Integrate a Messenger chatbot. Send an automated message to your audience when they comment on your posts.
Reason #8. Lack of video marketing strategy
Video marketing strategy is so many things. And the truth is, they all might seem intimidating. Here are some of the video marketing challenges marketers experience with strategy:
knowing what to share
focus and goals
where to market
knowing what to do
being intentional with what I'm posting and when
My advice is: take it one step at a time, measure results, then build upon what you have achieved.
For instance, this is how we started with video. First, we started creating videos for blog posts. We would share the videos on our social channels.
17 Awesome Video Effects You Want to Try in Your Next Video:

✔️Sepia effect
✔️Newspaper titles
✔️Neon light text
✔️Add a frame around your text
✔️Letterbox effect

Find more awesome video effects in our blog post
👉https://t.co/0pvmDjrr7R pic.twitter.com/t2ZsrqfCSo

— Wave.video (@wave_video) July 12, 2019
Then, we started analyzing what blog posts performed particularly well. For those "unicorns", we would create talking head videos that we then:
posted on our YouTube channel
embedded back in the article, to drive traffic, improve our SEO and grow our YouTube channel
7 Simple Tips to Write the Best Instagram Bios | Instagram Marketing How To
Writing an Instagram bio might seem easy to many: it's just a couple of lines, after all. However, it's not that simple.
An example of how we repurposed one of our blog posts into a video.
To find the articles that work best on your blog, head over to Google Analytics, then switch to Behavior > Site Content > Landing Pages and filter by "blog". This will give you an overview of the top pages that users land on.
Reason #9. Finding the right tools to make a video
Once you have come up with your first video marketing vision, what video making tools should you be using for actual video creation? It seems there is so much technology out there these days. But mastering it is a whole another story.
If you want to start with live video first, all you need is your phone, really. Some of the videos that went viral on social were only shot with a smartphone. The result: a fun and snappy video that was very well received on LinkedIn.
In this video, Ian Cleary of RazorSocial made some footage with his phone, then edited it with Wave.video by adding captions and putting several video clips together.
If you are too shy to be on camera, you can even start with some stock footage. Also, make sure to check out our list of 10 best online video makers.
Reason #10. Reaching more people with videos.
"I want to increase my reach"
"Not enough people are seeing my content"
"I create these cool videos and only a few people get to see them"
Can you relate?
It might be distressful to create a fabulous video and only see a few people watch it. Luckily, there are great methods to increase your organic video reach that won't cost you anything:
Post more native video. You will get much more organic reach on your social posts if you favor video over all other types of content.
Use Facebook Live regularly. Facebook is giving priority to video content, including live broadcasts. In addition to that, your subscribers will get a notification when you go live.
Experiment with posting outside business hours. For example, test between 9-11pm in your time zone and throughout the weekend. A lot of users are on Facebook for personal reasons and might have more time to notice your content.
Reduce your publishing frequency. Publishing more often can actually hurt your reach. Try publishing about one or two times a day at most.
Set up crossposting relationships. This feature allows you to automatically access videos from mutually approved pages and publish as a fresh post, but the video views are aggregated.
In addition to that, try boosting your posts to dramatically increase your results. Promoted wall posts, ad breaks, and story ads are just a few examples of video ads on Facebook.
What is the #1 challenge that you encounter with your video marketing efforts? Share in the comments below!