How to Turn Your Text Content Into Videos to Capture More Marketing Opportunities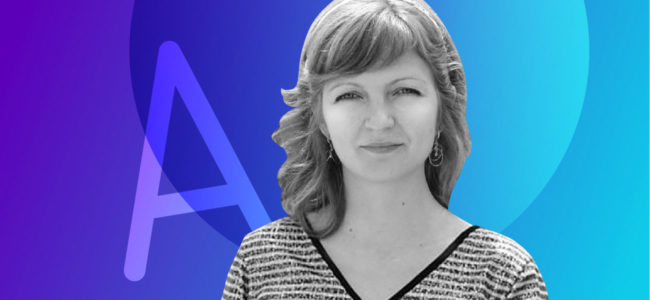 Hubspot conducted some research on video marketing this year. They found that in 2018, videos are being used by businesses as a marketing tool at around 81%. That is up by almost 20% from 2017. They also found that people surveyed watch an average of an hour and a half of Internet-based video content per day.
Youtube has a lot to do with the ever-growing popularity of online video content. It has become the must-have destination for any video content. Even established celebrities, like Andy Samberg, judge their success by Youtube votes:
A sign now of success with a certain audience when you do a short comedy piece, anywhere, is that it gets on YouTube and gets around. It's always something you're thinking about unconsciously.
But Youtube is not the only video marketing platform we have at our disposal these days. Facebook videos are getting as much popular and spread even easier, given the powerful boosting feature. Then there are Twitter short videos as well as live streaming platforms like Periscope and Vimeo Live.
With such a variety of video marketing platforms, we have a lot to experiment with.
If you are considering diving into video brand campaigns, or you want to improve the ones you already have, you aren't alone. Video is becoming one of the top forms of marketing available, with many brands entirely built around visual content.
Here is what you need to know to turn your content into videos for your business.
1. Look Back at Your Existing Content
The great thing about embracing a new content format is the ability to re-use your old articles and bring them back to life. If you have been investing time and effort into your on-site content and off-site guest posts, now is a great time that you come up with your first video assets using that content and research you once spent time on.
Search your archives, Google, and notes for the long-form content you did in the past
Create a spreadsheet of topics that you covered in much detail previously
Add important engagement metrics into your spreadsheet: Number of shares, comments and Google rankings
Think if there's a video opportunity there: Remember that you want to focus on your most successful pieces first to capitalize on your text content success and start your Youtube channel with a bang
Here's an example of me working on a video series (which was later turned into an email course) based on the old content I had written:

In the process of structuring your old content in order to turn it into videos you may discover "gaps", subtopics you still to cover to create a well-rounded video series. These can also be both articles (first) and then videos. This way, working on your videos will help you discover more topics to cover in text too.
The two content marketing campaigns (i.e. text and video content) inform, structure and power each other.
To keep things organized and connect the two campaigns together, use collaboration productivity platforms like Trello, Google Drive or others. I use Cyfe (Disclaimer: This is my content client) because it's so flexible and allows me to keep a lot of things in one place as well as effortlessly monitor my progress (subscribers, likes, traffic) from one place:
You can embed your Google Spreadsheet into your dashboard

You can add your to-do list

You can add Youtube widgets to monitor each and every of your videos

You can add Google Analytics widgets to monitor pages where you embed your videos, etc.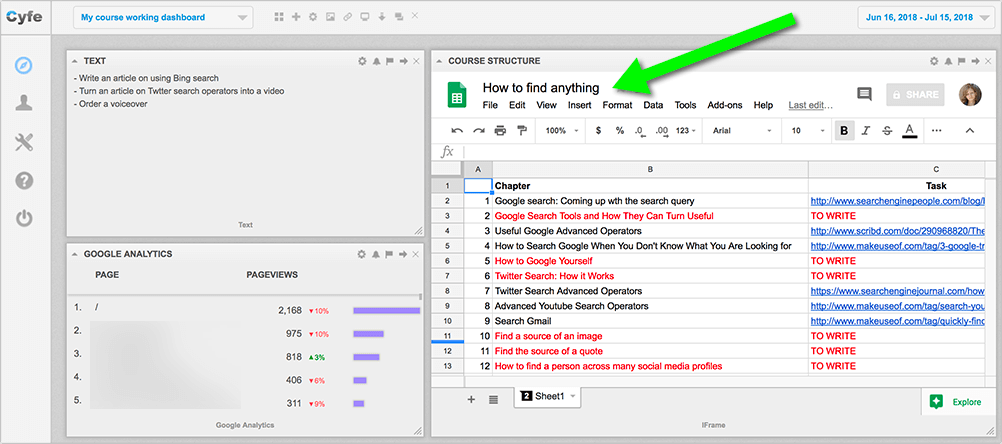 2. Consider Future Videos From the Beginning
This isn't going to help you with your existing content, but it is good to keep in mind for the future. Each time you plan out a blog post, infographic or any other content, think of how it would work in a video format.
How do you do that? Start with the easiest part, which is considering the topic carefully. Some topics just don't lend themselves to a video format. You want to make sure anything you write would be interesting if you made it more visual. Even if you are only going to talk about the topic, ensure that:
it is interesting enough to hold its own when you discuss it

it can be broken down in a way that people won't get bored as you go through it.
Next, think of how it can be expanded. Why make one video when you can make an entire series of videos using the same idea? Making a series is an incredible way to keep people coming back while using a more complex or varied topic that can't be simply expressed in a single block of time. Not only is it great for videos, but other content is awesome in a series form.
Finally, make your blog in a similar way as you would a script. Pace it well, add in blocks, create smaller chunks of information.
To better illustrate the idea: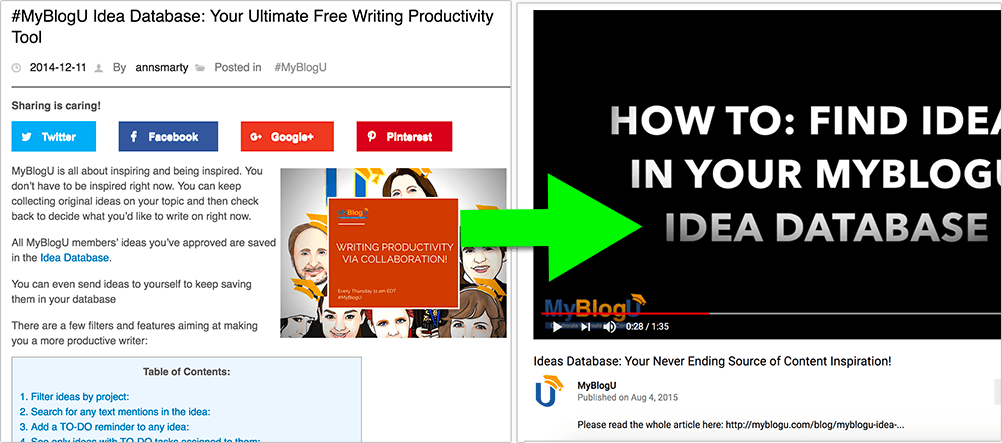 3. Think SEO and Google Ranking
Videos are good for more than just attracting a certain audience. It is also great for establishing dominance in Google's search engine rankings. There are two ways to focus on this aim:
3.1 Control More Search Engine Results
Use videos to rank your assets in more than one position (this is especially important for brand-focused queries where you want to control the whole first page of search engine result pages).
A critical part of keyword research is to investigate all your brand queries (those where a person is typing your company/product name in combination with other words). Videos are a perfect medium to rank for those queries and control the overall sentiment. More on this here: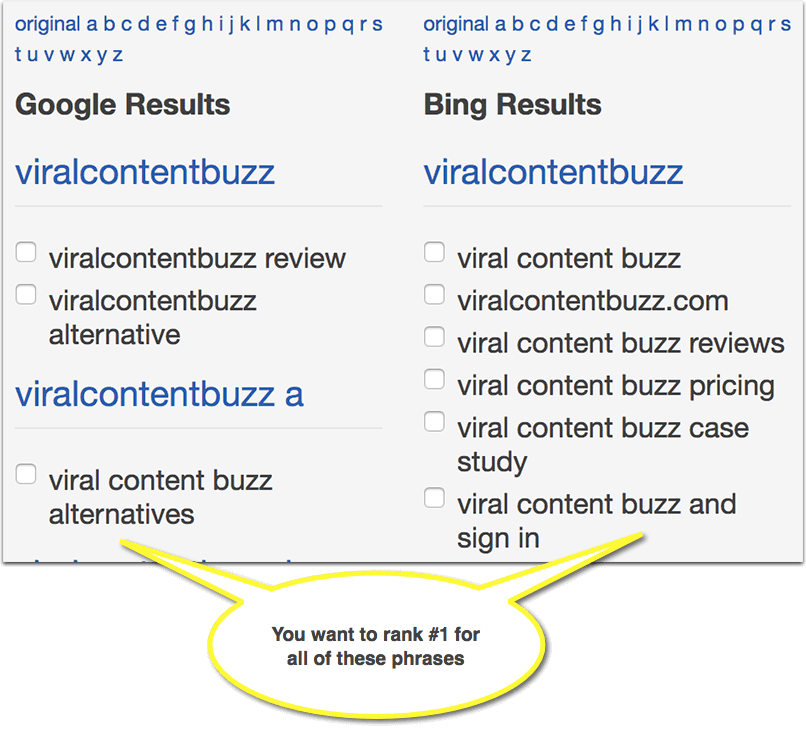 3.2. Go for Featured and Rich Snippets
Videos tend to get a special treatment in Google's search:
Rich snippets

, i.e. Google's listing is showing the video thumbnail and author

Featured snippets

which are Google's way of giving priority to certain, high ranking content without relying on its old first-page ranking system. It gives users answers to questions and previews of related information right from the front page. To learn more about featured snippets, head over to this

great overview of featured snippets here

.
When it comes to video URLs, Google would show a "video-only" featured snippet: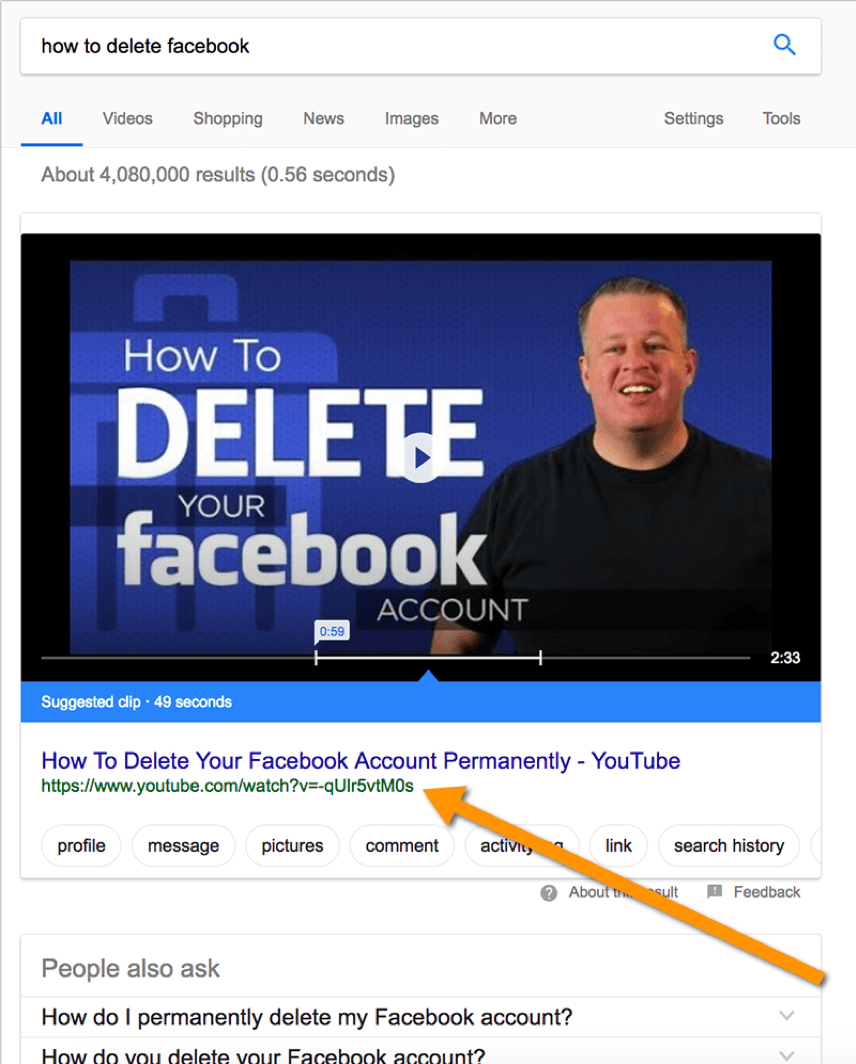 Featured Snippet Optimization tool will help you identify all featured opportunities for your brand. Simply run your (or your competitor's) domain and it will show you featured snippet opportunities. Alternatively, you can run a URL of a video that ranks high for a number of queries to see if there are any missing featured opportunities for it.
On top of that, the tool generates a list of popular niche questions (based on Google's "People Also Ask" results) giving you a huge list of popular content and video ideas: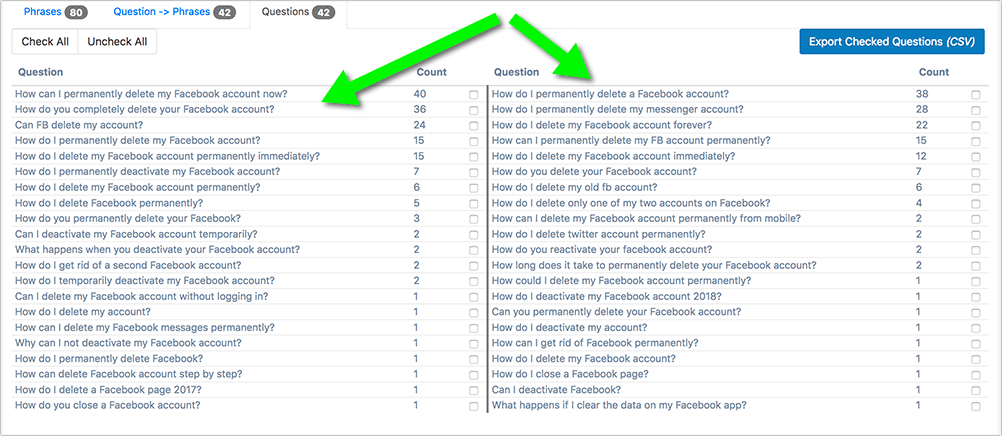 4. Create a Video Course for Authority Boosting
One of the fastest and most efficient ways of getting authority is to show people you deserve it. Video courses are perfect for this goal, as you are putting together a network of students eager to learn from you and look forward to your updates.
It also works as a means of monetizing your brand. Given how hard it can be to make passive income, it is worth the investment.
Select a good platform with plenty of users, such as Udemy, Skillshare or Coursera (or all of those). And/Or host it on your own site, such as through a live (and then recorded) webinar.
Course planning takes a bit more time and research. You need to make sure your topic has a good deal of demand, research competitors, and structure your course in a logical way. I use Serpstat any time I need to plan a long-form content asset. Serpstat's clustering feature gives a bird's-eye view of the niche and helps you structure your future content into sections and chapters: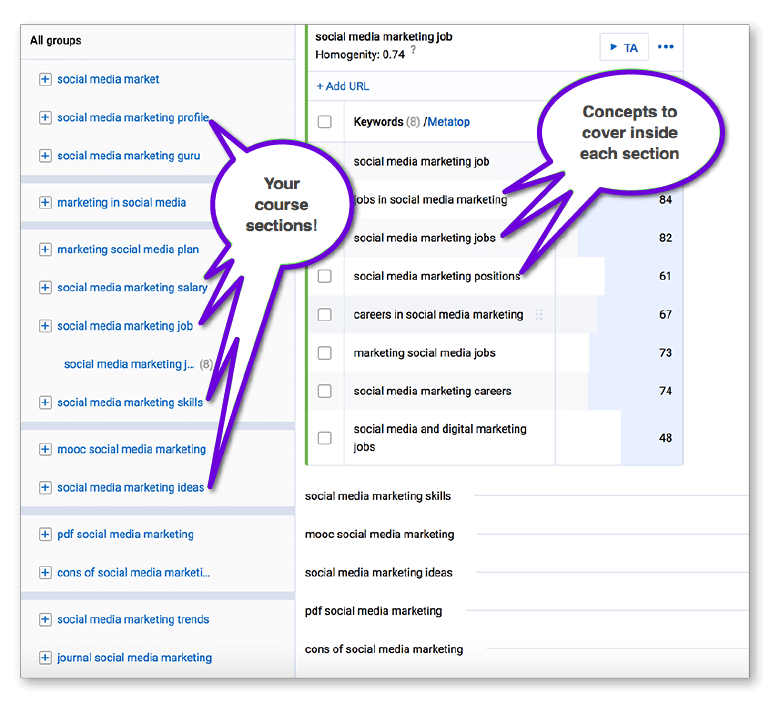 5. Diversify Video Types
Now you know a bit of how and why. So, what kind of videos should you be making to cater to the demands of more visually minded viewers? You have your share of options: All of these work well for turning text content into video format:
5.1. Vlogs
A simple form of video where you speak directly to the camera. Many blog-converted videos take this form, as it allows the maker to connect one on one with their audience without a lot of special features that take time or cost money to edit in.
How to use this video type for turning text content into a video? It can be as simple as reading your blog post aloud and the using a video editing app (I am using iMovie) to add in titles, screenshots from your article and quotes to make it more entertaining.
5.2. Interviews
Probably one of the most popular options, interviews are an amazing way to connect with influencers and give viewers the benefit of their expertise.
How to use this video type for turning text content into a video? Go ahead and invite a blogging friend to discuss the topic you previously covered. Use your existing article to source research, questions and takeaways from it.
You can also live-stream your conversation to up your social media engagement. Rather than give a recap of an event, such as a convention, why not live stream it? It can be watched in real time and also recorded for people to go back and watch later on.
There are a couple of solutions that let you love-stream to several popular social media platforms at a time:
Crowdcast Multistreams

Vimeo Live

Cost
$89/mo
$75/mo
Live-stream to…

Youtube Live, Facebook Live, Periscope

Facebook & YouTube

Extra Pros

+ webinar hosting features

+ collaboration, analytics, video hosting, etc.
5.3. Video Tutorials
So many blog posts are step by step tutorials. You can provide that same instruction, with easier to follow visual instructions, with a tutorial video. These especially make sense if you include one or more web-based tools and you can use your screenshots and screencasts within your video tutorial.
iMovie is an easy video editor you can use to put these together. For voice-over, you can read yourself or use a more professional voice actor from Fiverr. You can also use these sites to find free video footage.
5.4. Animations
Just like you can simply read your article out loud to record a video, you can use an animation to do the same. With Animatron Studio you can use the pre-built animations to create an animated version of your blog post: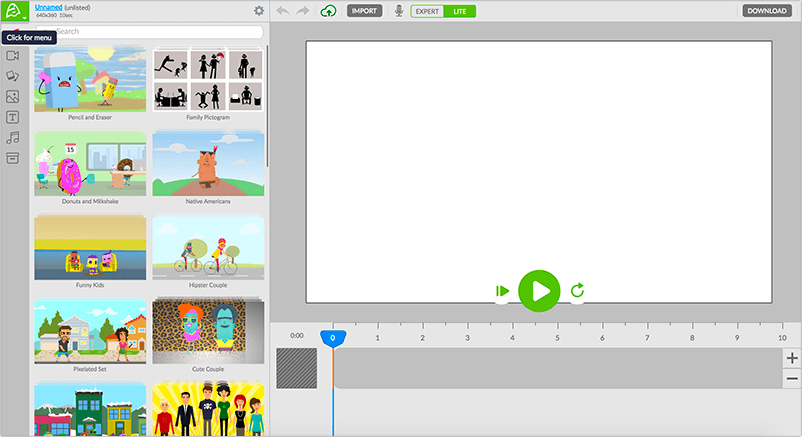 5.5. Product Reviews
Remember #3.1 I mentioned above: Videos are great for controlling more search results for brand-focused queries, including your product names. So put together more video reviews around your offering, including re-using text content you are already using to explain your products to your future customer.
Product reviews, movie reviews, music reviews, game reviews… these are among the most watched content on Youtube for a reason.
Think about grabbing your testimonials or Facebook reviews and putting them into a quick video? With tools like Wave.video it will take you a few minutes to make a fun video like that!
6. Do Your Research Before, During and After
Above nearly anything above, it is crucial that you research during every stage of the process. Know what is out there and is getting attention, good and bad. Research keywords and know what you are going to corner. See what content you already have that can be converted.
By following the research you will be optimizing every video you produce and all the content you make that will be turned into a video later on. Getting the most out of your videos every time will save you a lot of hassle moving forward.
Do you have a tip for turning content into video opportunities for your business? Let us know in the comments.
About the author: Ann Smarty is the Brand and Community manager at InternetMarketingNinjas.com as well as the founder of Viral Content Bee. Ann has been into Internet Marketing for over a decade, she is the former Editor-in-Chief of Search Engine Journal and contributor to prominent search and social blogs including Small Biz Trends and Mashable.
Ann is also the frequent speaker at Pubcon and the host of a weekly Twitter chat #vcbuzz.