The Art of Building Relationships with Live Videos for Small Businesses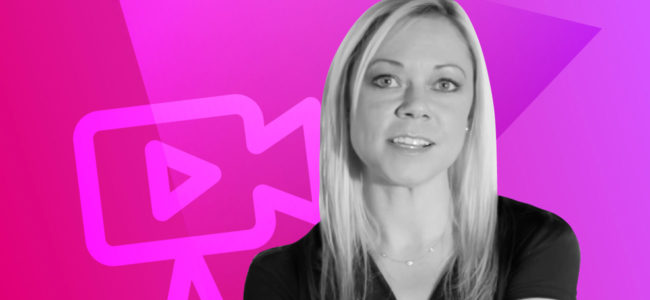 The numbers don't lie, videos have become one of the most influential parts of marketing strategies.
Videos shared on social media receive 1200% more shares than text posts or images combined. That's a lot of people engaging with videos, and that's exactly why marketers are pushing to include more.
And even more notable is the increasing popularity of live streaming on social media. Live video on Facebook, Instagram, and Snapchat is growing, and businesses are quickly adopting it as part of their marketing strategies.
Why Live Videos?
The power of live video is undeniable. Viewers are 10 times more likely to comment on a live video than one that was previously recorded.

Now, anyone who has a smartphone can broadcast with the simple click of a button. This simple tool is proving to be a powerful way for businesses to connect and build relationships with followers.
But if you own a small business, you might be wondering if live videos can really help your company grow. Will anyone want to watch? There's a good chance the answer to that is yes. No matter what industry you're in, live video can play a huge part in a successful content marketing strategy.
Remember, people are more likely to share and engage with video than any other form of content on social media. If you have video content that clicks with your audience, then you have an extremely effective way of connecting with them.
That's because social media is all about being in the now. There's no better way to be in the moment than to show them exactly what's happening, as it happens.
This format gives customers an intimate peek into what's going on in your world, adding transparency and building trust. It also encourages interaction with viewers, since people have an intrinsic desire to be part of what's happening.
And going live can be scary! Being raw and unedited means that there's a chance you're going to make a mistake for the entire world to see. But that's a huge part of why it's so appealing to your audience – messing up is human. Being vulnerable creates a connection that you just can't get with polished, edited content.
Being vulnerable creates a connection that you just can't get with polished, edited content.
What Exactly Is Live Streaming?
A video live stream is exactly what it sounds like – a video that's broadcasted live to an internet audience. Social media platforms like Instagram, Facebook, Twitter, and Periscope all allow users to record footage and show it to viewers as it happens.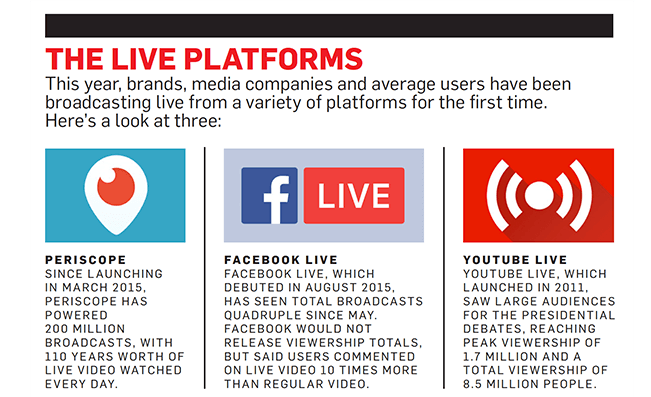 On one hand, creating a live stream is just as easy as it sounds. Audiences love live video because it's raw and unfiltered. But that doesn't mean you should take it on without a strategy. Mastering live video is an art form that takes time to perfect.
Before You Go Live
As with all marketing, planning your live video strategy out in advance will get you the best results. Each one of your videos should have a clear goal. Spontaneity and fun are a big part of it, but you should always remain aware of your goals and the needs of your audience.
You don't need to stick to a strict script as part of your plan. If it feels too rehearsed, you'll risk ruining the casual and unfiltered feel of a live video. But you should take the time to outline any key points that you want to hit. This will stop your video from becoming a meandering mess. If your audience doesn't feel like the video is leading somewhere interesting, they'll stop watching and probably won't be excited about future videos.
The occasional improvisational video can be great too! If you're witnessing something inspiring or unexpected that you think your audience would also love to see – don't be afraid to share it with them.
And definitely, don't assume that live streaming should only be targeted at millennials. A lot of companies out there are successfully doing live videos aimed at an older audience. Take a look at Experian. They hold regular live chats on Periscope to discuss topics like student loans, debt, credit scores, and financial health. Viewers are encouraged to ask any questions they might have and join in the conversation with the hashtag #creditchat.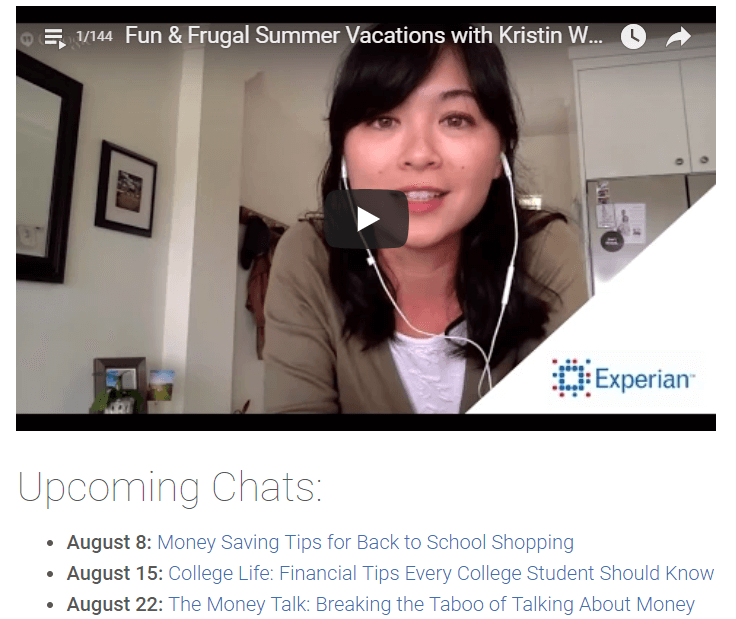 Once you've decided to go live, you'll want to post a teaser status to let people know when you'll be live. Don't gamble on your followers being in the right place at the right time. You can even encourage people to sign up in advance so they'll be alerted when you start. And when you do start making live videos, it's best to stick to a weekly or daily schedule so your viewers know what to expect.
When you start your live stream, don't leave any dead space at the beginning. Some adopt this strategy to allow people to tune in before the show starts. But in reality? Most people don't like waiting around. Be lively and get things going as soon as you go live. If someone missed the beginning of the video they can always watch it on a replay later on.
Don't Be Boring!
You don't want to broadcast the same thing over and over again. If your content starts to feel stale, your audience isn't going to keep watching. Here are a few popular video formats that viewers love to see.
Q&A – People love to ask the experts for answers. Give them a chance to bounce questions off of you and use the opportunity to position yourself as an industry expert. Google Partners Ask an Expert series is a great example of experts addressing questions live.
How-To Video – Video tutorial content is massively popular. With 91% of all smartphone users searching for "how-to" style video content, it's clear that viewers are eager to learn. Showing customers how to use your product or solve a problem live gives them the chance to ask questions and stay engaged. Make this an opportunity to present your brand as a knowledge resource. Think about how you can help your audience and then provide that value. What kinds of problems might your viewers be facing? How can you help them solve those problems? There's a lot of opportunities here to build trust and respect with your audience.
Live Testimonial – Do you have customers who have nothing but nice things to say about you? Did your brand help someone succeed or have an impact in the community? If you did, make this an opportunity to feature a quick testimonial. These are more engaging and fun for viewers than reading a case study or product reviews.
How Is It Made? – Giving customers an intimate look at how your products come to be is one of the best ways to get them excited about your product. Allowing your company to come across as personable and accessible is an easy way to strengthen the relationship with your audience. Dunkin Donuts gave viewers a look into their test kitchen and showed everyone how a donut cake was made. Over 36,000 people tuned in live to watch and they used the event to promote a new Valentine's Day donut.
Showcase Events – Does your business host events? Live videos are a great way to show viewers all the fun they could be having if they were attending. If your brand is attending an event like a conference, give your audience a chance to see what you're up to. Let them know why you're there and how it will help your company provide better services in the future.
Go Behind the Scenes – Give people a chance to see what they usually don't. Show them around the office or what goes on before you open. People love to feel like they have access. The Today Show often goes live during breaks or after the show to give viewers a peek at what goes on when the cameras stop rolling.
Product Launches – A live video is a perfect way to get people excited about your new product or service. GM did this in 2016 when they used Facebook to live stream the big reveal of the new Chevy Volt. Throughout the reveal, they responded to comments from viewers.
Keep Them Interested
Once you know what kind of video you'll be creating, you'll want to have a few tricks up your sleeve to keep everyone interested. Attention spans on the internet are short, so keep these strategies in mind to boost your viewer retention rates.
Use Incentives – Thank your viewers for tuning in by giving them exclusive access to a deal. This should be something that can only be obtained by tuning in to your live stream. Handing out a discount code or freebie at the end of your video will encourage viewers to stick around and turn them into paying customers. It will also give them a reason to keep coming back to future live streams.
Start Asking Questions – People want to be a part of the show. Asking a simple question gives them a reason to participate and stay attentive. It doesn't have to be anything groundbreaking – a simple, "Where is everyone watching from today?" will do the trick. And once people start to answer, pick out a few answers to acknowledge in your stream. This is one of the easiest ways to get some quick comments – and the higher your audience engagement, the more Facebook will show the video to other viewers.
Turn Up the Volume – Or rather, tell your audience to. It may sound silly, but up to 85% of people watching video on social media actually watch it without the sound on. Your audience won't want to watch a silent video of someone talking, so encouraging them to turn up the volume can help them stick around.
Avoid Information Overload – Don't try to shove too much info into a single live stream. Videos should be focused.
Ask Your Audience to Share – There's nothing wrong with asking your audience to share what they're enjoying with their friends. If more people are sharing and joining in the conversation, more people will be happy to stick around. Plus, it's easy promotion for you!
Stay True to Your Brand – Your live videos need to keep your audience and their needs in mind. Don't go off brand. While live videos are a great place to show another side of your brand, it should still be promoting your message and contributing to your goals. If you usually have a fun and relaxed brand, you wouldn't want a video that comes across as stuffy. If you have a more professional and serious tone, make sure your live video reflects that too.
Don't Turn Every Video into a Sales Pitch – Avoid making your live videos too salesy. While it can be a great place to encourage customers to come out to a store for a sale or act on a limited time offer, these pitches should be few and far between. Remember – this is all about building brand awareness and strengthening relationships with your audience.
Repurpose Your Live Videos
Your live video can be used more than once. In fact, most of the views your video gets will come from later replays. So make the most of it – download the video, upload it to other platforms, and embed it on your blog.
This gives all your followers a chance to watch your video and hear your message. If they like what they see, they just might tune in live the next time.
Making It All Come Together
Live streaming definitely isn't going anywhere. It's more in demand than just every other social media format out there. But it's a unique art to perfect.
And just like any other art form, it can take time to work out the nuances and master it. Once you do, you'll have one of the most powerful marketing tools at your disposal to set yourself apart from the rest.
About the author:  Tabitha Jean Naylor is the founder of Successful Startup 101, the owner of TabithaNaylor.com, and a certified Inbound Marketing Consultant with over a decade of experience in both B2B and B2C markets.
A self-described digital marketing machine, she prides herself in her ability to craft text that generates action. Her intimate knowledge of how sales and marketing go hand-in-hand has resulted in a variety of successful campaigns for start-ups through NASDAQ traded companies.