How to Make a Video with Stock Footage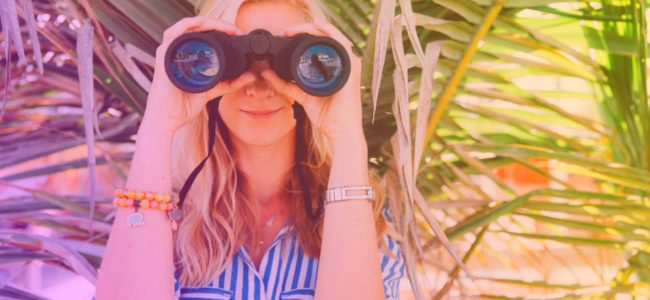 In collaboration with Shutterstock.
Using royalty-free footage is an easy way to create stunning videos without a film crew. But how can you find the perfect video clips in the least amount of time? And most importantly, how can you customize this stock footage to make it truly yours?
Video marketing has dominated conversations over the last two years for good reason. Research shows that:
While videos offer a range of benefits, they've traditionally been difficult for businesses to create because video production requires specialized training and equipment. However, more businesses can reap the rewards of studio quality videos without the associated costs with easy-to-use video creation tools equipped with robust asset libraries.
Here are the seven tips from Shutterstock on choosing the perfect royalty-free video clips to help you create impactful videos in less time. In the second part of the article, I will discuss how to make a video with stock footage so that it looks unique and aligned with your brand.
How to Choose the Best Stock Footage
This part was originally published on the Shutterstock blog.
First things first: before you jump into making a video with stock footage, you need to find the best video clips out there. By "the best" I mean the ones that look great, match your brand's voice, and raise emotions in your audience. Here are a few tips from our friends at Shutterstock on how to do just that.
Tip 1. Shift from literal to aspirational
Powerful marketing begins with the audience, and video marketing is no different. Before typing keywords into a search bar, we recommend that you take some time to think about the type of imagery that inspires your audience.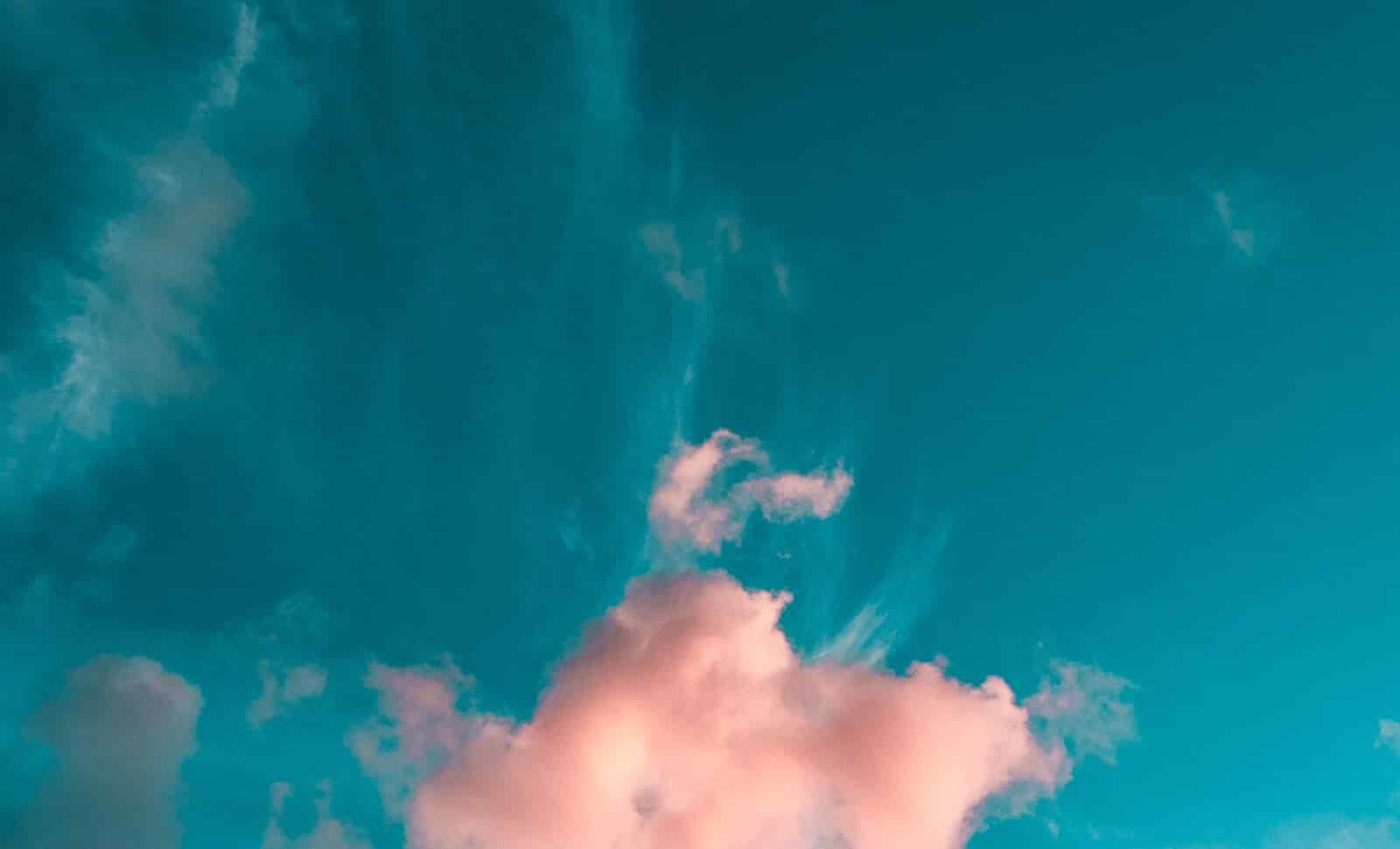 Before typing keywords into a search bar, think about the type of imagery that inspires your audience.
Would your audience feel inspired by a clip of a craftsman at work? What about a panorama of mountains or cities at sunrise? Or would it be a shot of a car with canoes or bikes strapped on top?
If all SaaS companies used literal representations of their product we'd have a ton of videos with laptops and computer screens. The trick is to pivot from a literal to an aspirational approach to find content that evokes the right feeling about your brand while keeping people's attention.
Tip 2. Be exact in your search
Casting a wide net seems like a good idea but it may return more results than you need. Instead, we recommend conducting targeted searches because the specificity will help reduce the time it takes to make a selection.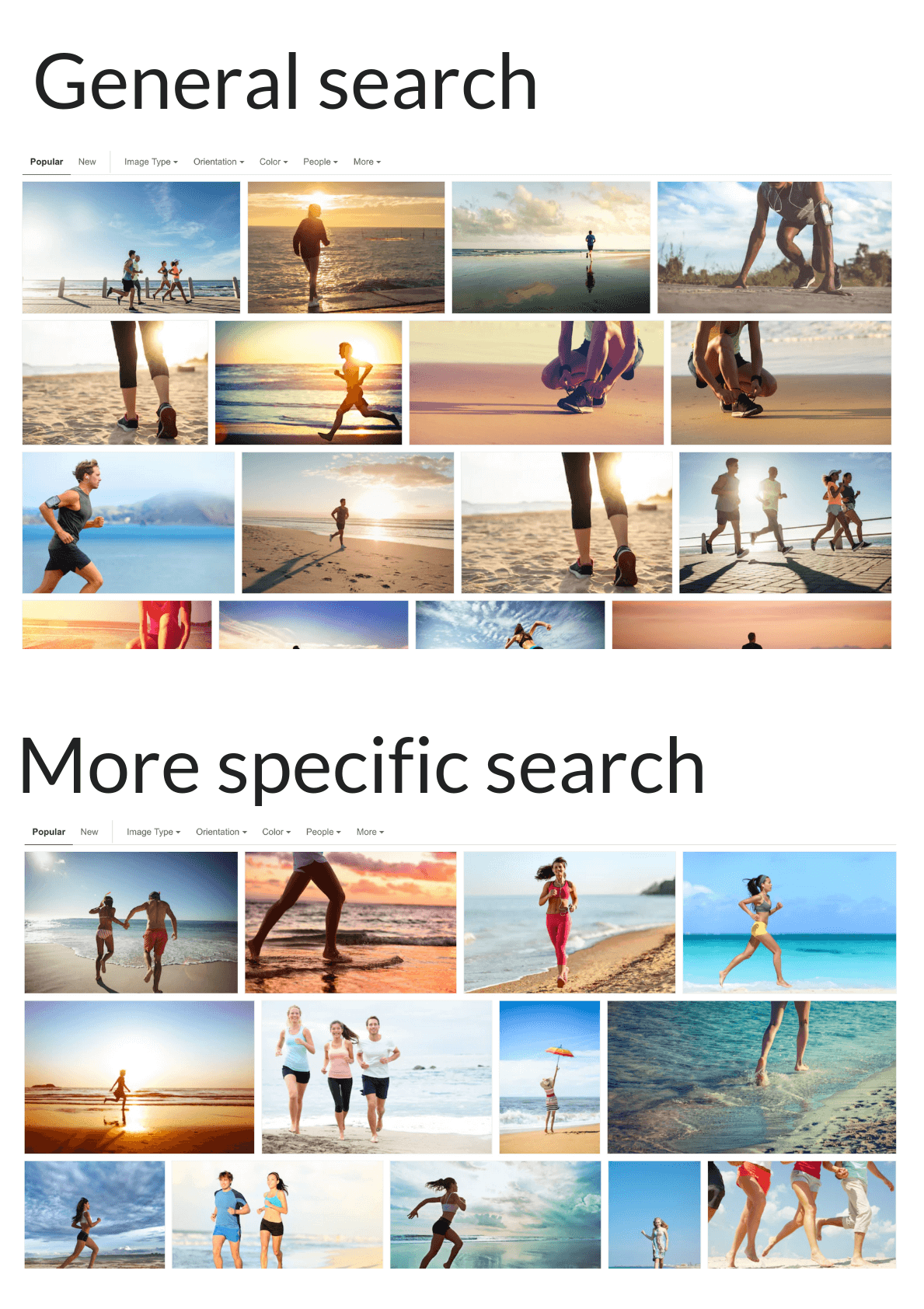 For example, you can search "young woman running on beach barefoot" instead of "beach runner" to narrow down your choices. Or if you want a shot of a skyline, you can search for "Berlin skyline panorama" or even "Los Angeles skyline sunset" to find unique clips with the added benefit of content localization.
Tip 3. Use the power of allegory and metaphor
A common issue people face is the challenge of expressing abstract ideas. Fortunately, we can draw inspiration from a group of people who have wrestled with this problem for millenia…writers.
Two common strategies writers use to convey intangible feelings and ideas are allegories and metaphors. Allegories use symbols to express generalizations and metaphors are words and phrases that stand in place of another object or idea.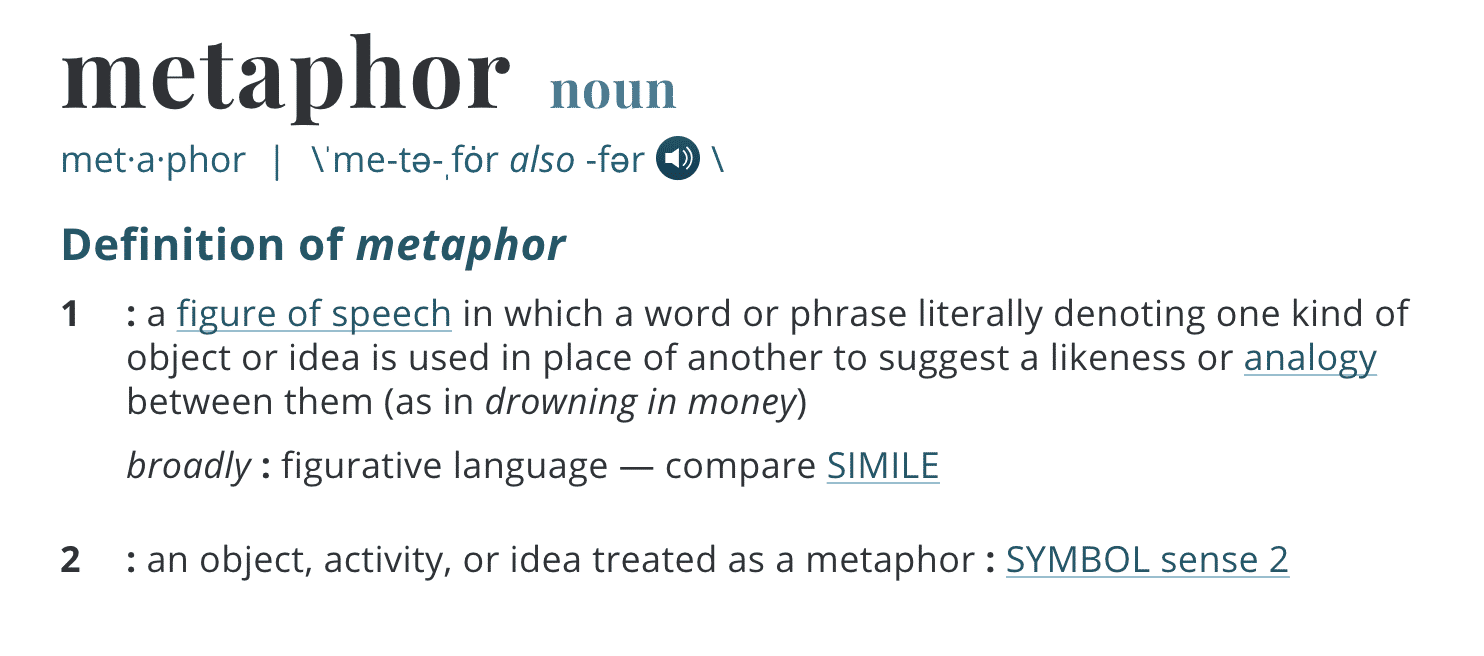 If you're looking for video clips that show universal concepts like love or peace, you can think allegorically and conduct a search for "hearts" and "doves" respectively.
If you are looking for video clips that show universtal concepts like love or peace, think allegorically and search for "heart" and "doves".
On the other hand, metaphors are useful for concretizing abstract ideas. So if you want to make a video about building a website, you may want to search for timber or a crane to express the idea of building. Likewise, scaling a business can be represented with footage of someone climbing or scaling a mountain.
Tip 4. Apply filters in your search
Just like adding details to keywords refines search results by content, using filters refines results by its technical requirements. Together these two strategies act as a sieve that sifts out irrelevant results to deliver the best results.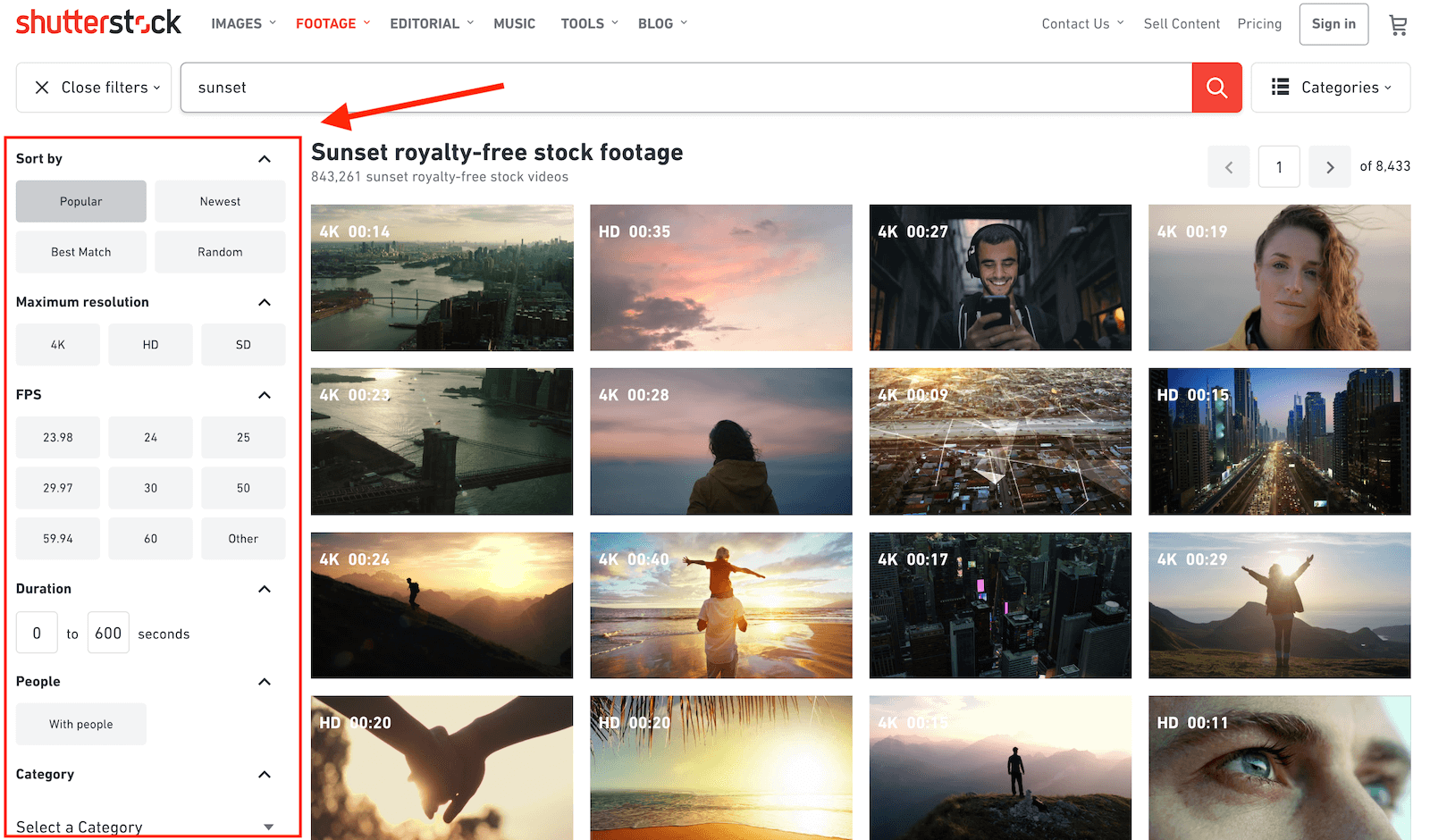 Shutterstock offers advanced search filters for video clips. These include filtering by maximum resolution, frames per second, people, categories (such as Animals/Wildlife, Industrial, and Technology), and more.
Tip 5. Look for clips in the same video series
If you've found a video clip you like, it's a good idea to look to explore the portfolio of the videographer who created it. Chances are, the videographer has other video clips from the same shoot. These related clips may be shot from different angles or with different lighting but will often feature the same setting and people.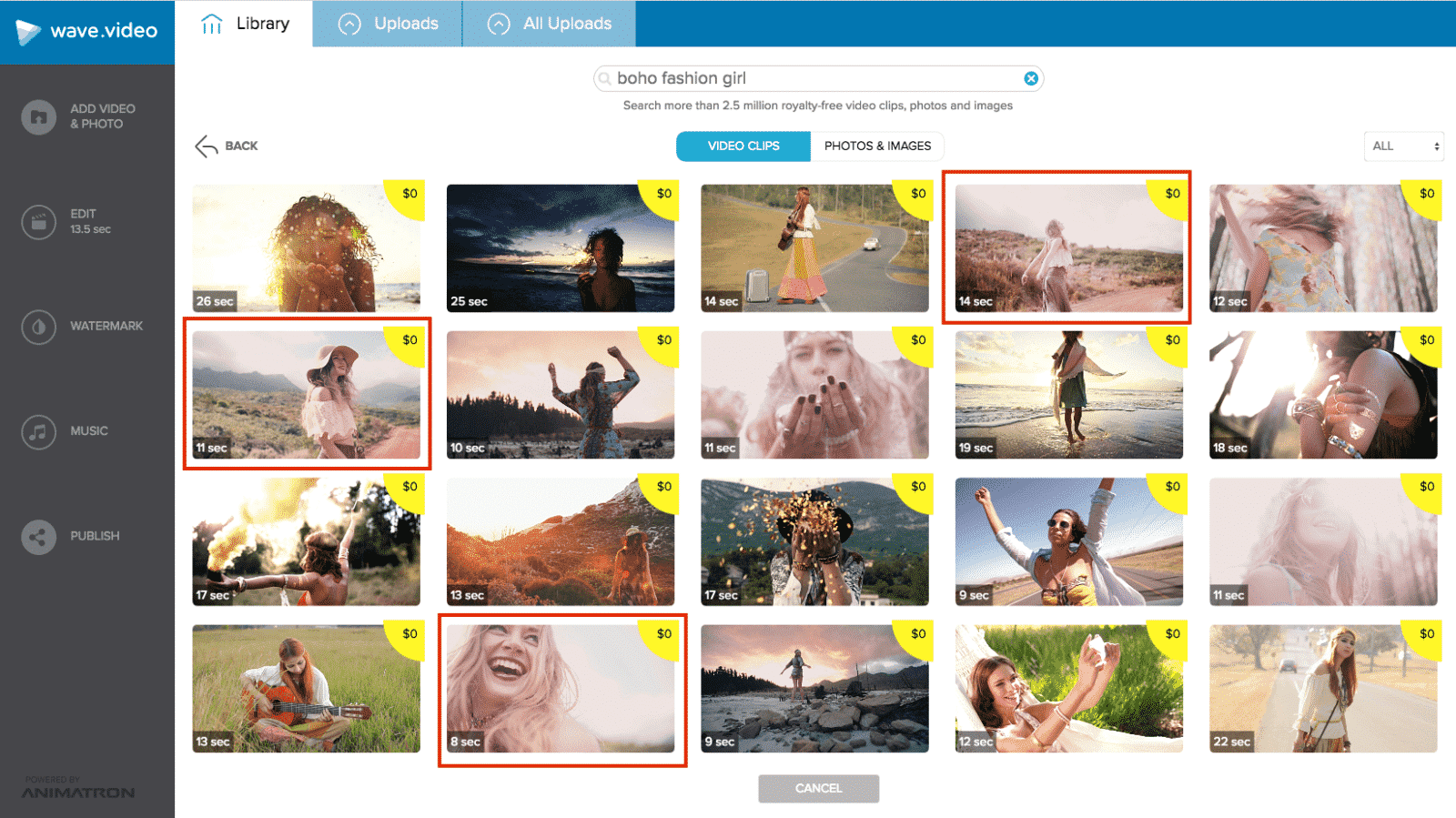 Not only will this maximize returns for your search efforts, using footage from the same video series is useful for telling a coherent story since the visual elements are consistent from scene to scene.
Tip 6. Start with inspiration
There's something about blank canvases that can wipe brains clean of ideas. That's why instead of starting from scratch, it's a good idea to look for inspiration from commercials, to YouTube videos, or films that have caught your eye.
Many creative platforms have built-in mechanisms, such as pre-made templates, to help users overcome the Blank Canvas Syndrome. For example, Wave.video offers both pre-made video templates and a Social Calendar complete with ready-to-share videos and daily content inspiration.
Tip 7. Words to jumpstart your search
Search phrases to help you search for the best stock footage
How to find the best stock footage on Wave.video? Check out the keywords that can help you select the best assets for your marketing videos!
To help pinpoint the perfect royalty-free video clips for your next project, here are some keywords to jumpstart your search:
Mood adjectives: "rustic", "modern", "fresh", "bright", "gloomy", "attractive"
Aesthetic descriptions: "Renaissance", "postmodern", "abstract", "retro"
Technical descriptions:
• "Steadicam": to find smooth shots of people, objects, and scenes in motion
• "Pre-keyed" or "Chromakeyed" or "green screen": to search for videos with areas that you can remove and customize with – your own logo and/or images
• "Slow motion": to find slow-motion clips that disrupt the habitual sense of motion to create a feeling of immersion in a scene
How to Make a Video from Stock Footage
Now that you've found a perfect clip for your video, it's time to make it yours. How do you make a video with stock footage without looking just like other 10,000 companies out there?
Here are some of my favorite techniques.
1. Add text to your stock footage
A lot of people out there watch videos on social with the sound off. We are not sure what the reasons behind it are: whether they don't wont to be distracted by the noise or simply prefer watching videos at a place where it's inconvenient to listen to the audio. 
What this means is that if you want to make a video, you might want to optimize for sound off. One of the best ways to do it is to add text to your video.
With tools like Wave.video or iMovie, you can accompany your stock footage with a nice text message. This way, your viewers can watch the video at their own pace and follow along even with no sound. If your video editing software is a little more advanced, it might allow you to add fancy text effects, too, to make your video even more engaging.
2. Apply video filters
One of the easiest ways to customize stock footage and make sure it matches your branding is to apply a video filter.
What is a video filter anyway?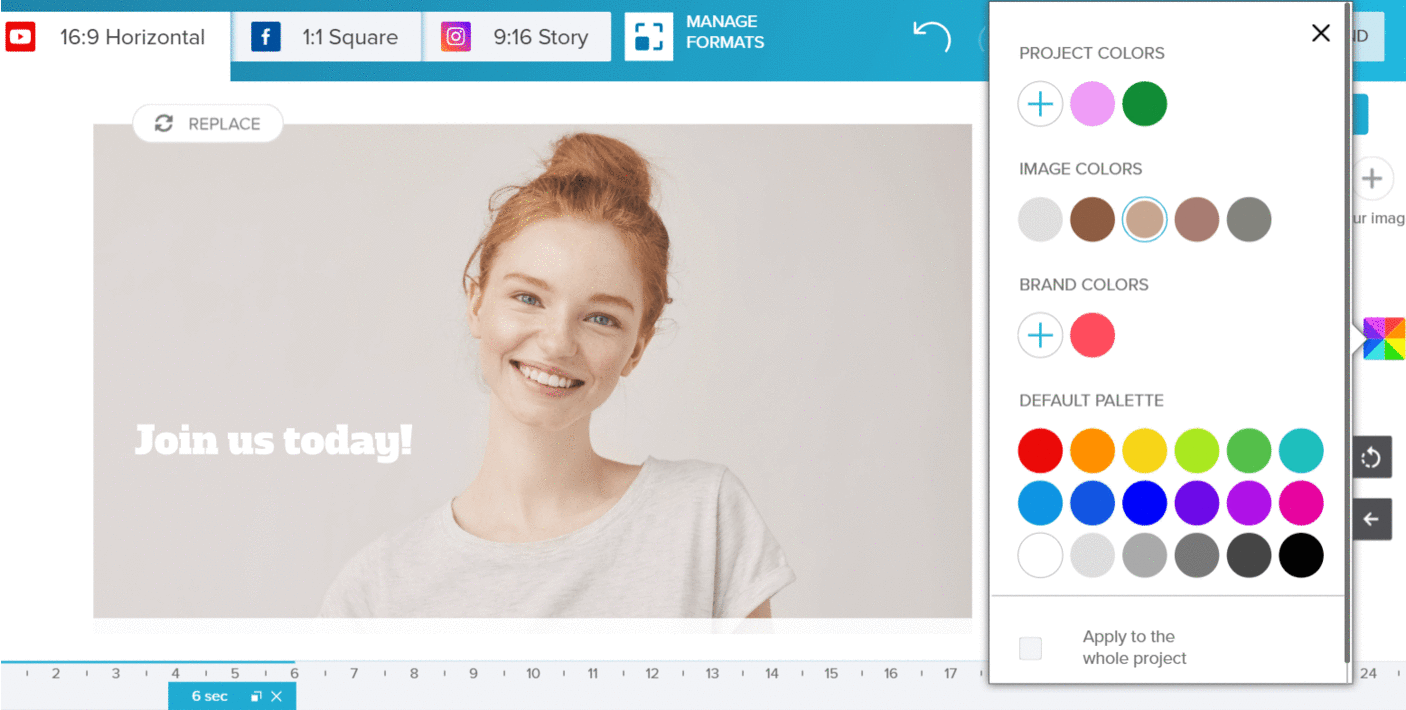 Basically, it's an overlay that you add to your video clips. Overlays of different colors can help you give your videos a branded look, create "a mood" for your video or highlight a text message. I like to think of video overlays as Instagram filters.
So, even if the stock footage that you chose doesn't look "glued" together, you can still apply a video filter to the whole footage series, thus tying it into one branded story.
3. Add stickers and graphic
With the introduction of Snapchat and Instagram Stories, the audience on social got used to conveying emotions with stickers, animated GIFs and emojis. If you get to think about it, a static image or even a video with an expressive sticker can explain a message so much better than even just text.
Add stickers to your video
Engage with your audience on a whole new level by adding stickers and animated GIFs to your videos.
By adding stickers and GIFs to your videos you can not only make your video unique but also universalize your message, as people around the globe often use similar emojis, stickers, and GIFs to express themselves.
4. Add your logo
To make a video that will truly stand out on social as "yours", you don't necessarily have to walk an extra mile. One of the most effective techniques to customize stock footage is simply to add your logo to the video.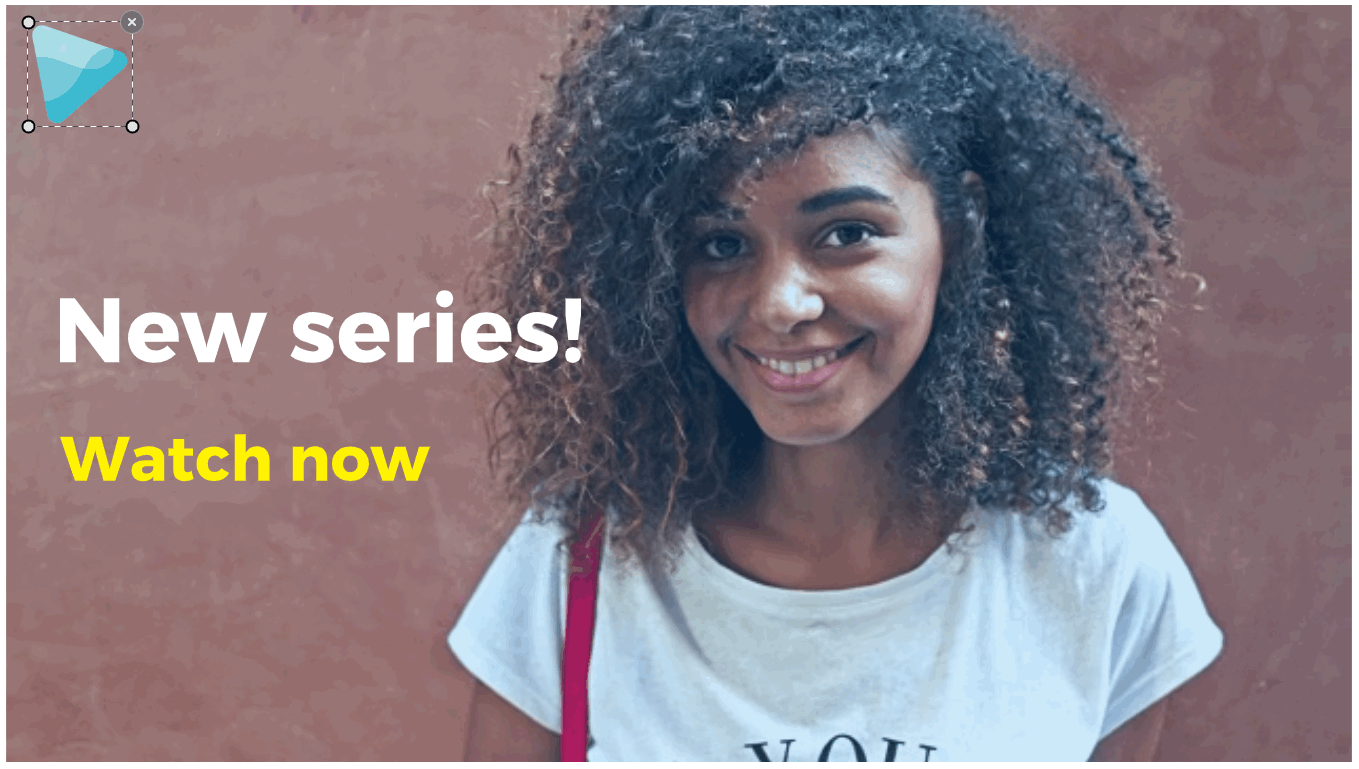 You can even watermark your video so that your logo plays throughout the whole piece. This way, anyone who watches it will know right away whose video it is, which helps to build brand awareness.
5. Adjust the video format
If you post on different social platforms, chances are, you are already using different video formats when you make your video. That is, square videos for Facebook and Twitter, landscape for YouTube, vertical 9:16 for Instagram Stories.
Cropping video in Wave.video
In fact, adjusting your video to various formats is yet another powerful technique that will help you make your video unique. Even if you make a video from stock footage, select a piece of the video that suits your story best. This way, no one will ever be able to tell the video comes from stock!
Cropping your video will also help you emphasize any specific details and highlight the best visual parts.
Over to you
When used right, stock footage can ease the video creation process and take your video marketing to the next level. Do you use stock footage to make your videos? How do you customize it? Share in the comments below!