Video Marketing Ideas: What Videos to Post at Every Step of the Funnel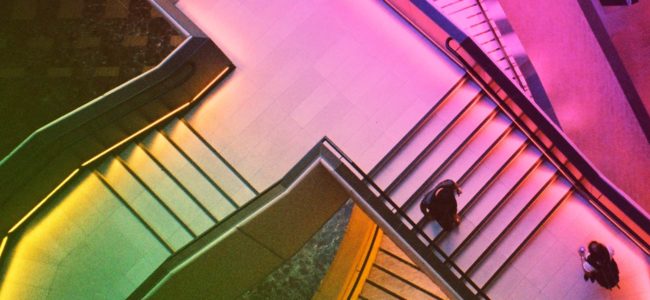 First published on Nov 30, 2017. Updated on Dec 6, 2018.
Video is shaking up the world of content marketing. It's no longer enough to just write great email newsletters and maintain a blog – if you want to stay on your leads' radar, connecting with them through video is the way to go.
If you're ready to start marketing with video, or if you want to take your strategy to the next level, here's how you can win over leads with great video marketing ideas at every stage of the sales funnel.
First Things First. Why Do You Need Video Marketing?
Video marketing might be a big trend, but is it really worth investing in long-term?
Don't take our word for it – take a look at the numbers instead. According to Cisco, video accounted for 73% of all IP traffic in 2016, and by 2021, that number will climb to 82%. And with more than half of marketers reporting that video provides a higher ROI than any other type of content, it's clear that video marketing has the potential to be great for your business.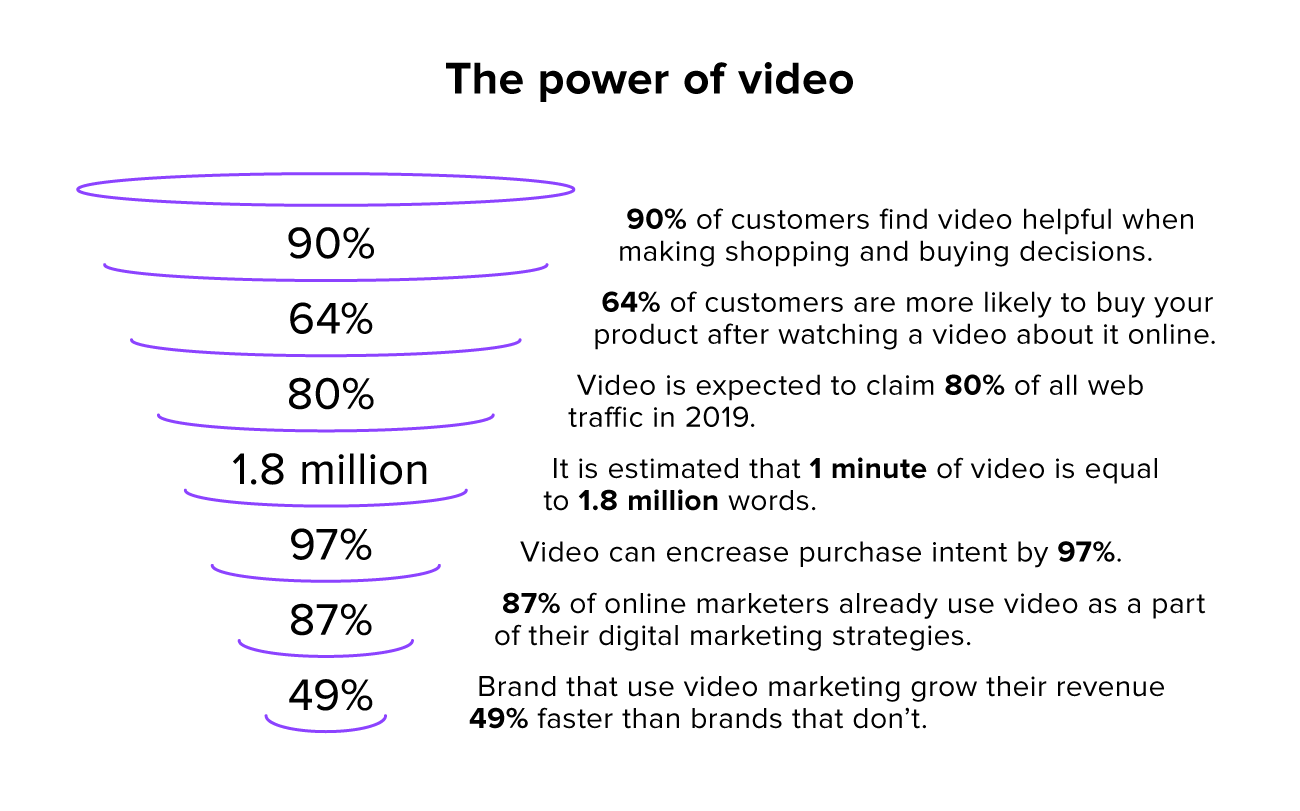 So what is it that makes video so compelling?
The first reason is simple: video is both attention-grabbing and easy to consume. To some people, reading a page of text is a chore, but many of those same people will happily hit play on a video. Because video is such a "sticky" type of content, it can keep visitors on your website longer and even increase your email open rate.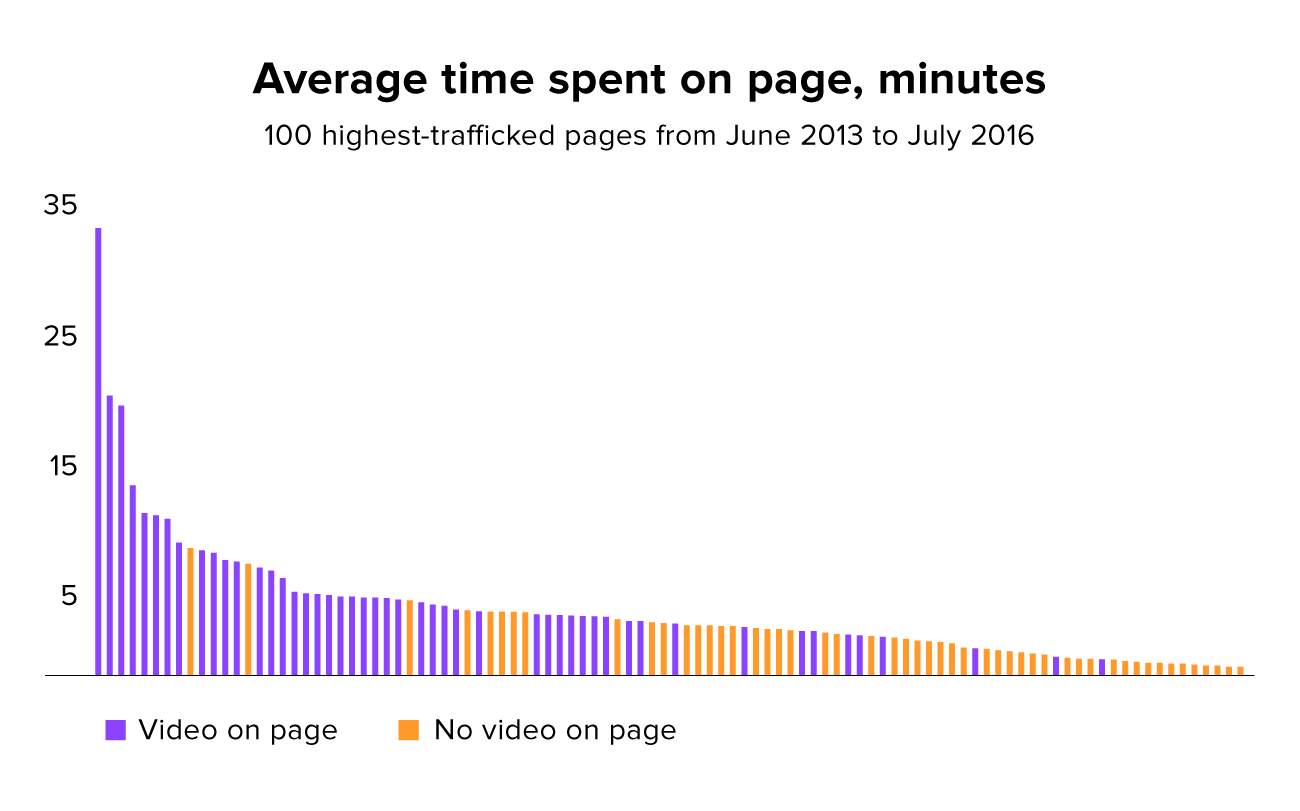 Wistia found that their visitors spent 2.6 times longer on pages with videos than pages without videos. Source.
Video is also a great way to showcase and explain your product or service. If you sell a physical product, videos can help customers imagine what it's like to hold and use the item in person. If you sell a service, videos are an appealing way to explain the ins and outs of what you do. A video breakdown of a complex service or solution is often easier to understand than an article about the same topic.
Thanks to their highly-shareable nature, videos can also help you get found by more people. Videos on social media get an amazing 1200% more shares than both text and still images – put together! And if you add videos to your site, it could help you climb the ranks in search engines, too. Google uses video as a ranking signal because having video content is a good sign that a site provides a high-quality user experience.
The Sales Funnel
Before we talk about how video marketing can impact your sales funnel and what video marketing ideas you can benefit from, let's take a minute to review the sales funnel itself.
The sales funnel is a simplified model of a customer's journey, from the time they become aware of a problem to the time they make a purchase.
The sales funnel is an effective model for understanding how prospective customers find you and decide to make a purchase from you.
Different industries and different businesses may have slightly different sales funnels, and many customers won't pass through the funnel in a linear way. But in general, the sales funnel is an effective model for understanding how prospective customers find you and decide to make (or not to make) a purchase from you.
A basic sales funnel has three main stages (picture it like an actual funnel). It starts off wide at the top, where you have lots of casual leads, and narrows near the bottom, when your prospects get close to converting.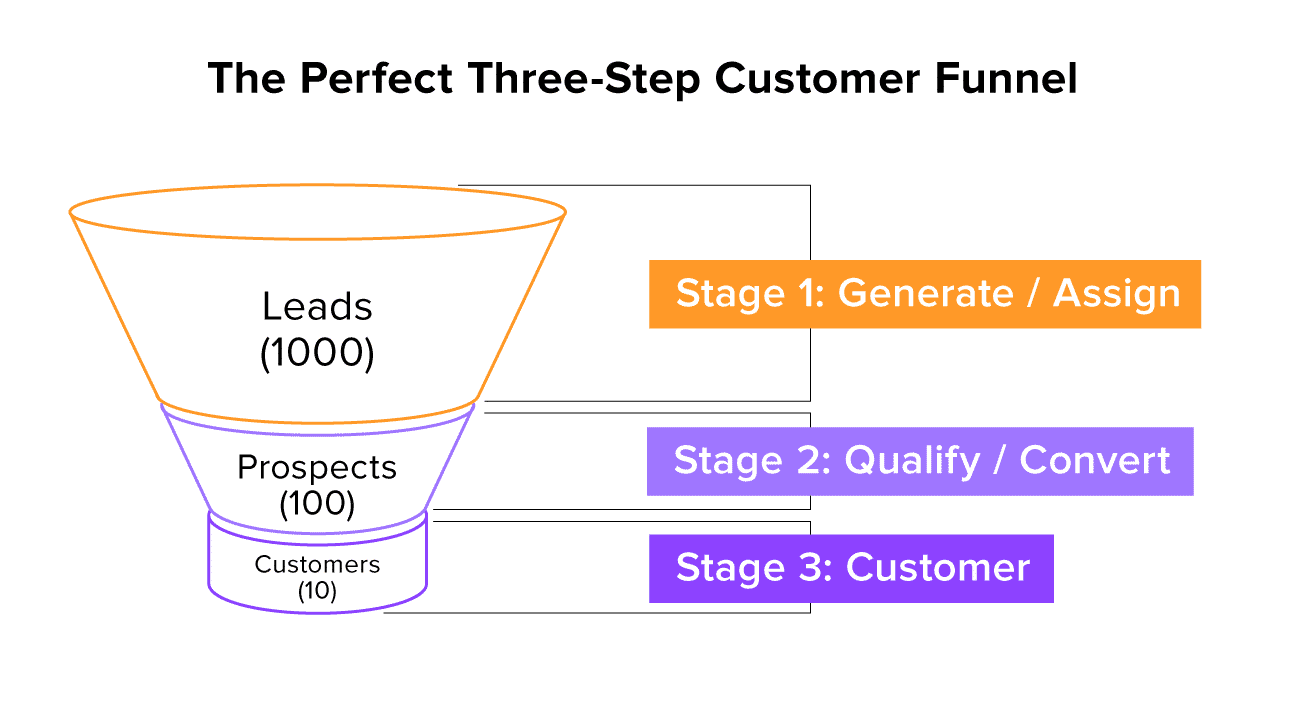 This is what a basic sales funnel look like.
The First Stage of the Sales Funnel
The first stage of the sales funnel is awareness. At this point, your prospective customer recognizes that they have a problem of some kind, and they've started looking for solutions. They've discovered your business through a Google search, word of mouth, or some other kind of advertising. They know you're out there, and they may even have scrolled through your website, but they're still doing research and aren't seriously considering making any purchases at that particular time.
Your goal with early leads should be to make a good impression. Be professional and informative.
Your goal with these early leads should be to make a good impression. Be professional, up-front, and informative. If you can make your business stick in a lead's memory, they'll be likely to travel further down the funnel.
Consider also to start using a video-friendly sales funnel builder that will make it easier for your leads to navigate through the funnel.
The Second Stage of the Sales Funnel
The second stage of the sales funnel is consideration. Leads at this stage of the funnel have done something to demonstrate their interest in your business – maybe they've asked some questions, signed up for your email list, or visited your blog a few times.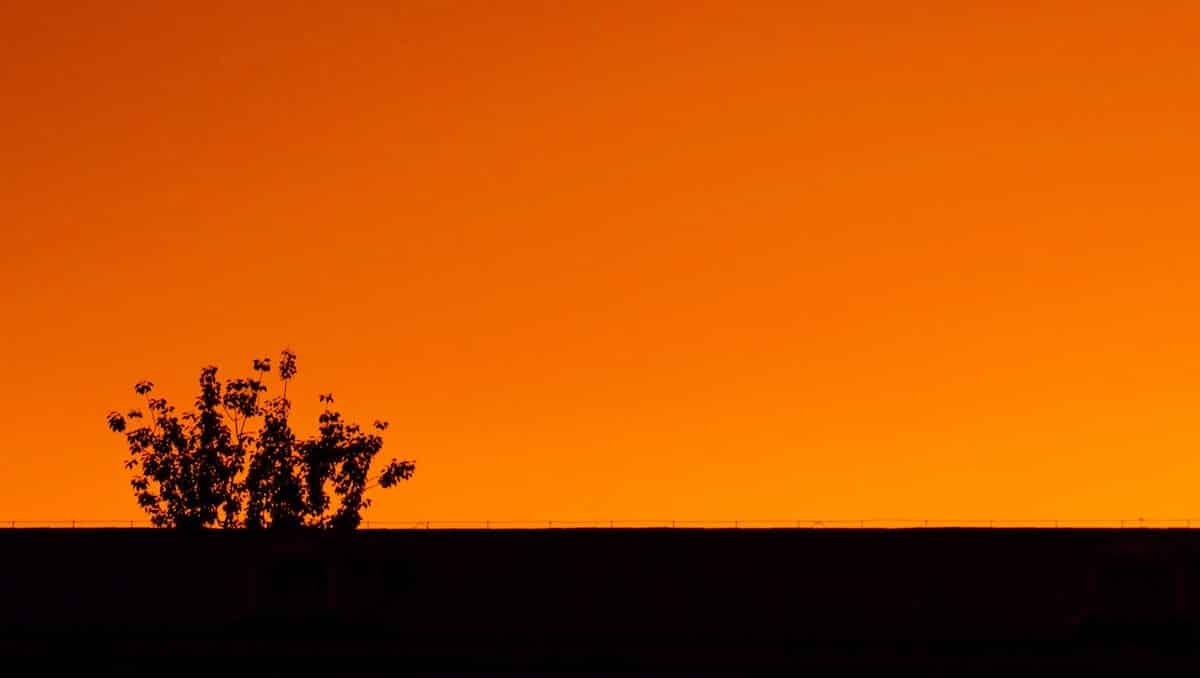 On the consideration stage, leads have done some research but are still not quite ready to buy. Nurture these leads: explain why your business is the best choice for them.
They're still not ready to make a purchase, though. More than likely, they're comparison shopping between you and a few other businesses that have caught their attention. At this point, your job is to nurture these leads, feeding them information not only about your product or service but also about why your business is the best choice for them.
The Final Stage of the Sales Funnel
The final stage of the sales funnel is decision-making. The prospect has done extensive research by now, and they're getting ready to make a final decision. At this point, your goal is to get them to purchase from you instead of from a competitor.
Note: Sales funnels can be much larger than just three stages. These are the basic stages, but depending on your company you may identify others that can help you refine your marketing even further.
How to Boost Your Sales Funnel with Video
We've already seen how effective video marketing can be – it can help you attract new prospects, educate leads on the value you provide and achieve more conversions. But for your video marketing ideas to be effective, you've got to demonstrate them to the right leads at the right time. Understanding the different stages of the sales funnel will help you devise a video marketing strategy that turns prospects into customers.
Top of the Funnel
At the top of the sales funnel, leads are just getting to know you. They haven't done any in-depth research on your business yet, and they may not even be certain about what kind of solution they need. The videos you use at this stage should be geared towards making a connection with these newcomers. Save the technical stuff for later.
Why?
Because at this stage of the funnel, your main goal is to be memorable in a positive way. The simplest way to do that is to create emotional messages that resonate with your audience.
If you can come up with some videos that create a feeling of shared values with your audience, or that are simply funny or interesting, people will be more likely to want to learn more about your product or service.
Specific video marketing ideas that tend to work well on top-of-the-funnel prospects include:
Unique or entertaining commercials.


Star Wars Inspired Video Ad: Not So Long Time Ago...

If The Star Wars Characters Were Marketers, What Video Ads Could They Create?

Simple explainer videos that introduce your product or service. Consider creating animated videos – they're appealing to watch and simple to make with tools like Animatron Studio.
Videos that introduce your brand's values, mission, or aesthetic.
Product demo videos that showcase what it's like to actually use your product.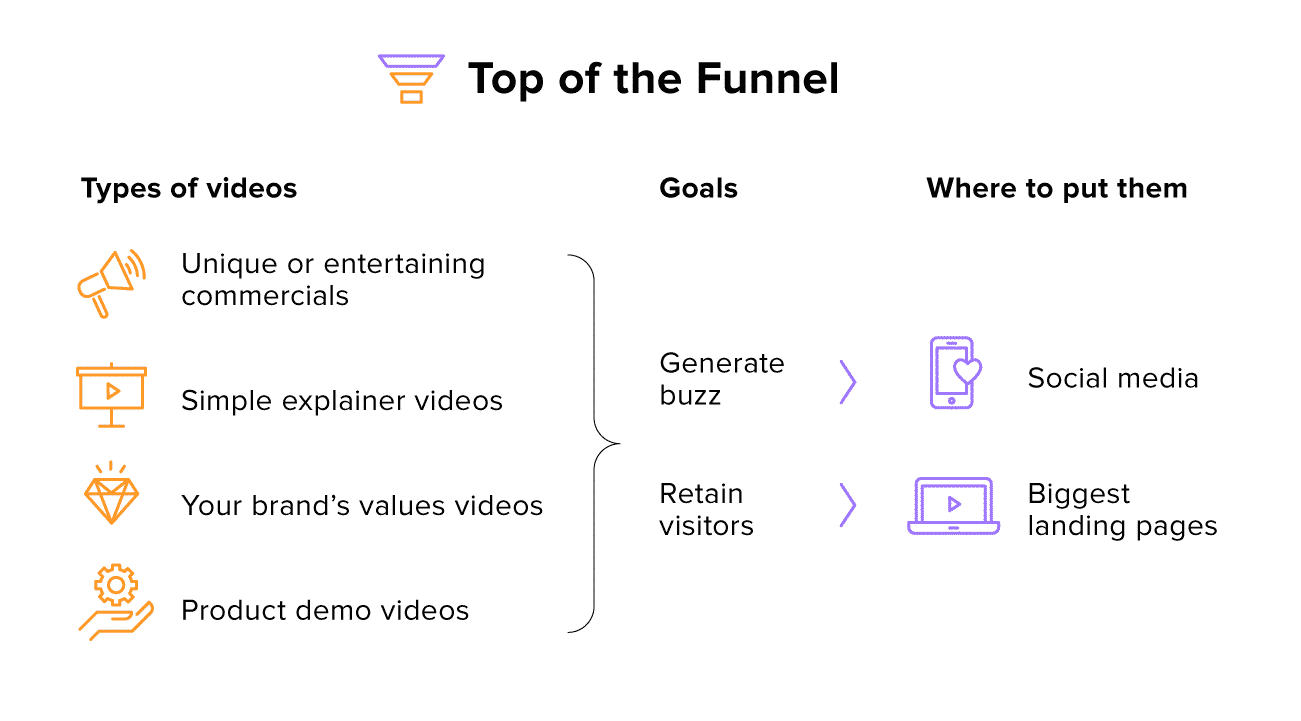 Where should you put these top-of-the-funnel videos? Try social media and your biggest landing pages. Social shares can generate a lot of buzz for well-made commercials and brand videos. Having simple, informative videos on your landing pages can help you retain visitors that arrive from search engines.
Post top-of-the-funnel videos on social and your biggest landing pages.
Middle of the Funnel
Some of the leads at the top of your sales funnel will forget about your business or decide they want a different kind of solution. Others, however, will be interested and will continue looking into what you do. These middle-of-the-funnel leads aren't in a hurry to spend any money, though – they're most likely checking out your competitors and weighing their options. At this point, your job is to nurture leads without overwhelming them.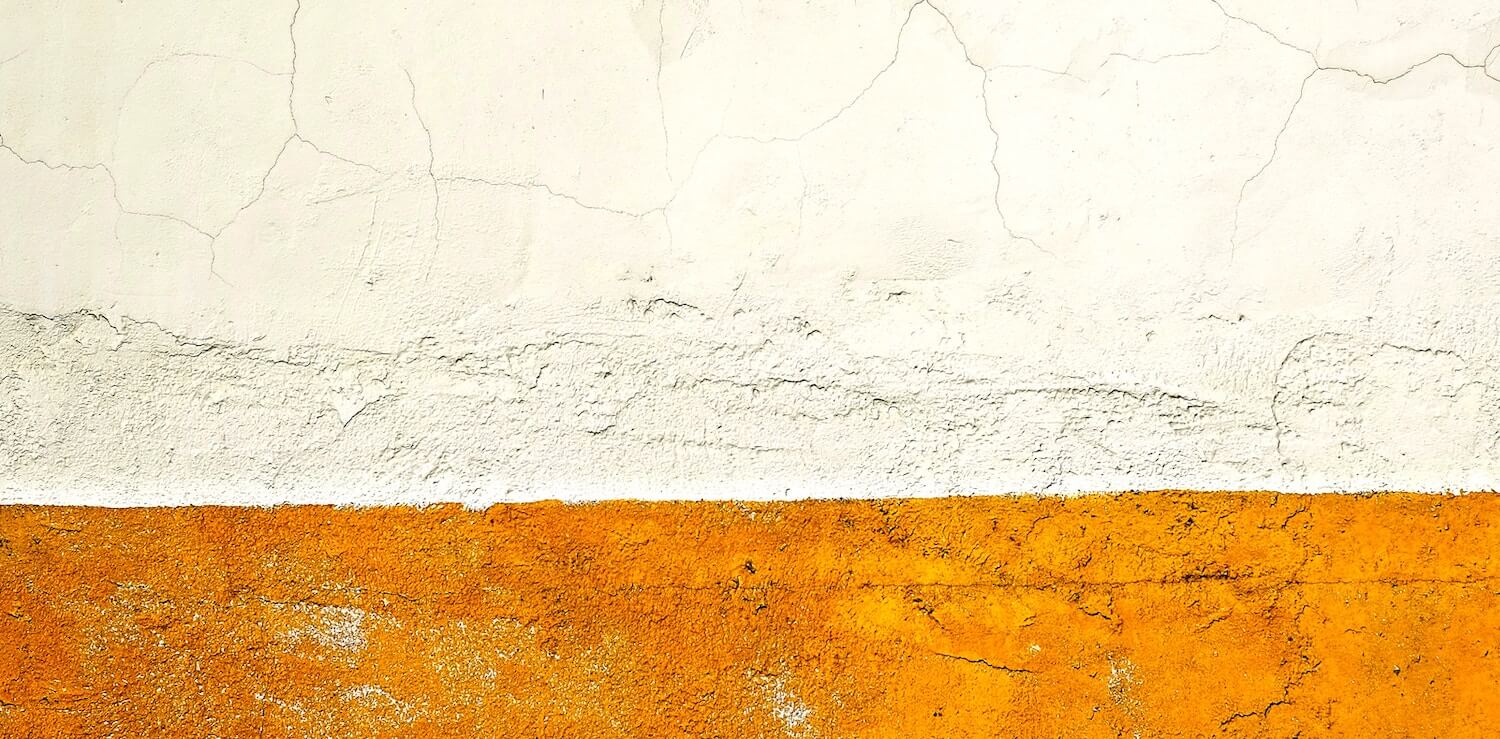 Prospects in the middle of the sales funnel want to make an informed decision about which product or service to choose.
Prospects in the middle of the sales funnel want to make an informed decision about which product or service to choose. You can help them out by providing lots of information about what your business does and how you help your customers.
The best middle-of-the-funnel marketing strategy doesn't just inform, though – it also builds trust. Aim for a combination of practical content and content that displays social proof at this stage of the funnel.
Try these video marketing ideas in the middle of the funnel:
In-depth explainer videos on different aspects of your product or service. These should be longer and more detailed than your introductory videos.


How to Make Instagram Stories in Wave.video | Tutorial

In this video, we'll show you how to make Instagram Stories on desktop in a few minutes. You can use videos or images from our stock library or upload your own.


An educational tutorial or webinar might be a great fit for the middle of the sales funnel.
Videos that let prospects get to know your business. "About us" or "meet the team" videos can work well. If your brand has an interesting story or company culture, consider creating a short documentary about it.
Case studies and testimonials.
Live videos on social media.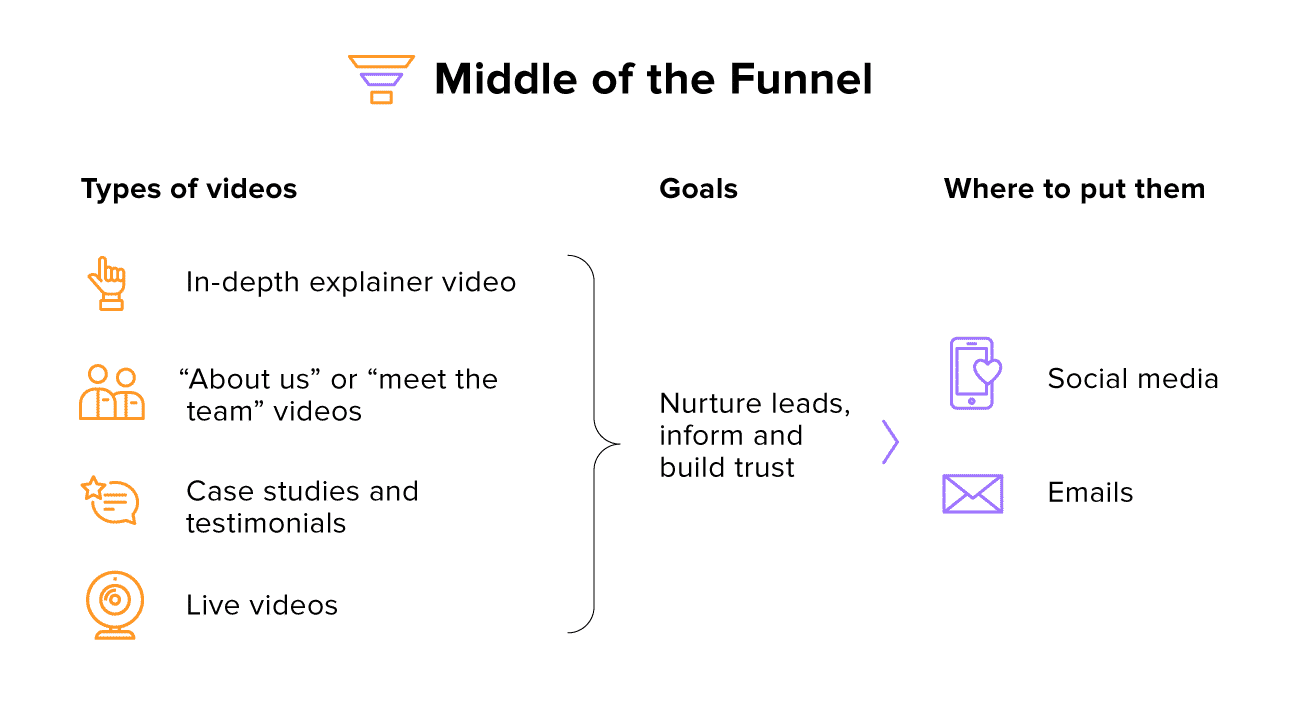 Email is a particularly good medium for sending videos to prospects in the consideration stage. Segment your email list based on how your prospects have interacted with you in the past, and send out videos that are relevant to each segment's questions and needs. Don't forget to put [VIDEO] in your subject line to boost your open rate.
Bottom of the Funnel
At this point, your prospects know what they're looking for, they've narrowed down their options, and they're ready to buy. If you can impress them with one final marketing push now, your odds of winning their business will go up dramatically.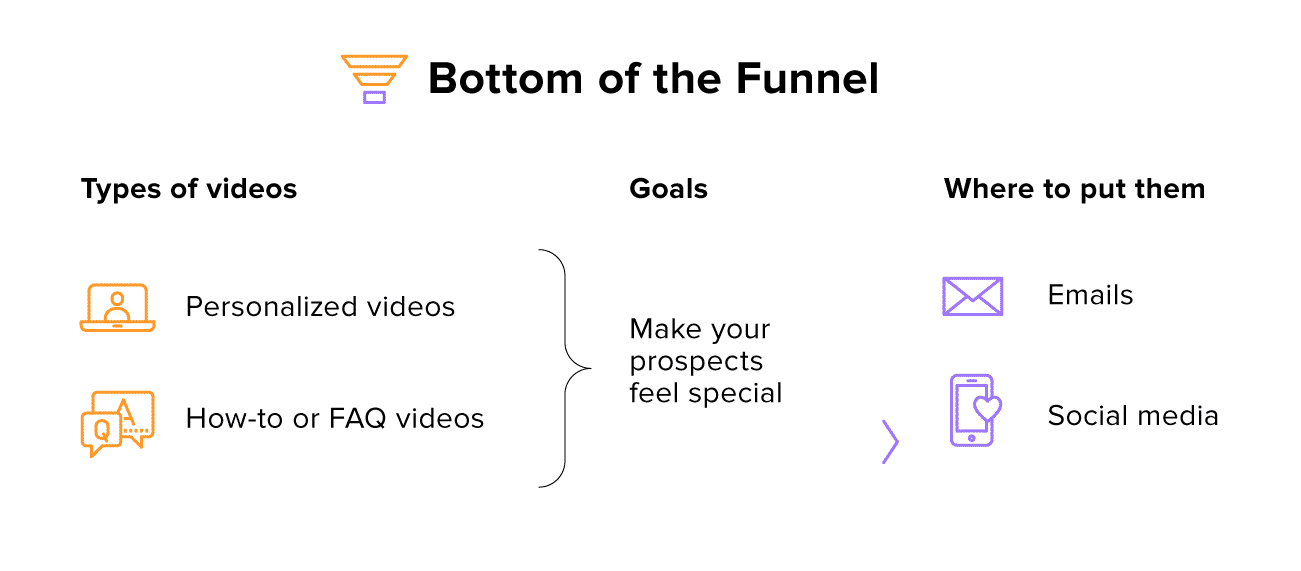 Your best bet is to make your prospects feel special at this stage. If you go out of your way to connect with them, it will give you an edge over competitors who don't do anything notable for bottom-of-the-funnel prospects. It's also a good idea to address any potential last-minute concerns or questions that people might have about your product or service. Try creating these video marketing ideas:
Personalized videos. Personalization is always an effective marketing tactic, but it's especially powerful when a prospect is poised to make a purchase.
How-to or FAQ videos. Make sure everything about your product or service is clear.
Email is a good way to get these videos, especially personalized videos, in front of your prospects. It's efficient, personal, and gives the customer a sense that you've built a relationship with them.

Video content and the marketing funnel. Source: OneProductions
Tips for Incorporating Video into Your Sales Funnel
Need some more guidelines for starting to use video in your sales funnel?
Whether you're just getting started with video marketing or you want to improve your strategy, these tips will help you maximize your video ROI.
The best first step, especially if you have little or no experience creating video content, is to stop being intimidated by video. You don't need to be (or hire) an expert to start making attractive, professional-looking videos and bring your video marketing ideas to life. Tools like Wave.video can help you create videos for any medium. Start small or get fancy with animation throughout.
Once you're feeling confident about your ability to create great videos your audience will love, think about which parts of your sales funnel could benefit the most from video.
You don't have to launch straight into using video at all three stages. Instead, identify any trouble spots you have. For instance, do you have trouble retaining organic search traffic? Or do prospects tend to disappear on you at the last minute without making a purchase? Video can help patch these holes in your funnel.
Keep users in mind as you create your videos.
Keep user experience in mind as you create your videos. Think about the types of videos you like to watch – they probably have a few things in common. Your own experience and perception might be a great source of video marketing ideas, too.
Good marketing videos:
Are brief. It's no secret that people have short attention spans on the internet. Keep your videos under two minutes to avoid viewer abandonment. You can break this rule for certain kinds of videos at the middle or bottom of your sales funnel, like in-depth tutorials, but don't make those videos longer than they need to be either.
Are optimized for mobile. If you have videos on your site, use responsive video players. You might want to consider making square videos, so that mobile users won't have to tilt their screen to watch.
Have captions. 85% of Facebook videos are watched with the sound off, so make sure your videos can be understood with or without sound. Use a big, clear font for your mobile watchers.
Contain a call to action. Don't get so caught up in all the other details of your video that you forget to include a CTA – it can make a big difference in how many leads move on to the next stage of your sales funnel.
10 Calls to Action That Are Guaranteed to Work
Perfect examples of using CTAs for your videos! Find the best solution to attract more customers.
Wrapping Up
Video is an effective marketing tactic at every stage of the sales funnel. It can help you retain new prospects, educate leads, build trust, and make sales. If your sales funnel isn't functioning the way you want it to, or if you want to make your funnel even more effective than it is now, come up with some video marketing ideas and create videos – it might make a big difference.
How do you integrate your video strategy into your sales funnel? Let us know in the comments below!