Videos on Landing Pages: Best Practices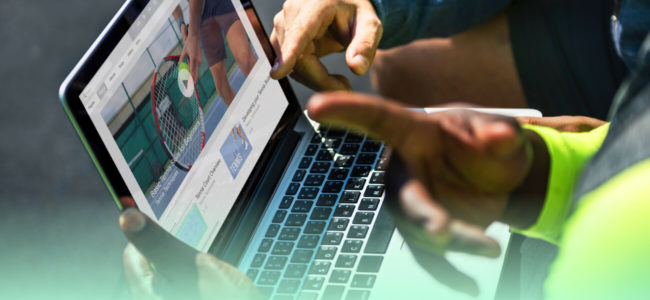 Originally published on August 21, 2018. Update on May 8, 2020
2020 is a year of videos. They've become omnipresent on all channels, platforms and devices. So why not start using them on your landing pages?
With tons of stats about their engagement power, why do we have so few landings with them? If you doubt the effectiveness of videos and think they don't increase conversion rate, continue reading – you won't think so after finishing this post.
In this article will talk about:
Landing pages in a nutshell and their key elements
What are video landing pages and why they're beneficial for your business
23 tips to create a high-performing video landing page
How to build a neat video landing page in minutes with Wave.video
What is a Landing Page?
Before we dive into the video landing pages topic, let's remind ourselves what a landing page is.
Landing page is a standalone page of your website, designed specifically for achieving conversions.
Ideally, landing pages should be focused on the offer: no website navigation or links to website pages. Nothing that distracts visitors from converting.
The most common use of landing page is to drive traffic on it from online ads. Ideally, landing pages should be focused on the offer: no website navigation or links to website pages. Nothing that distracts visitors from converting.
Because ads leading to landing pages are targeted, and landing pages are created for specific segments, they have higher conversion rates than regular pages of the website. All mentioned above factors also contribute: CTAs, simplicity, offer-oriented character.
What are the types of Landing pages?
There are 2 main types of landing pages based on their purposes:
Lead generation pages


On these pages clients leave their contacts in the form on the landing page. It can be a request of a telephone number, an email or leaving a request to call. This enables companies to further market products to "warmed" clients.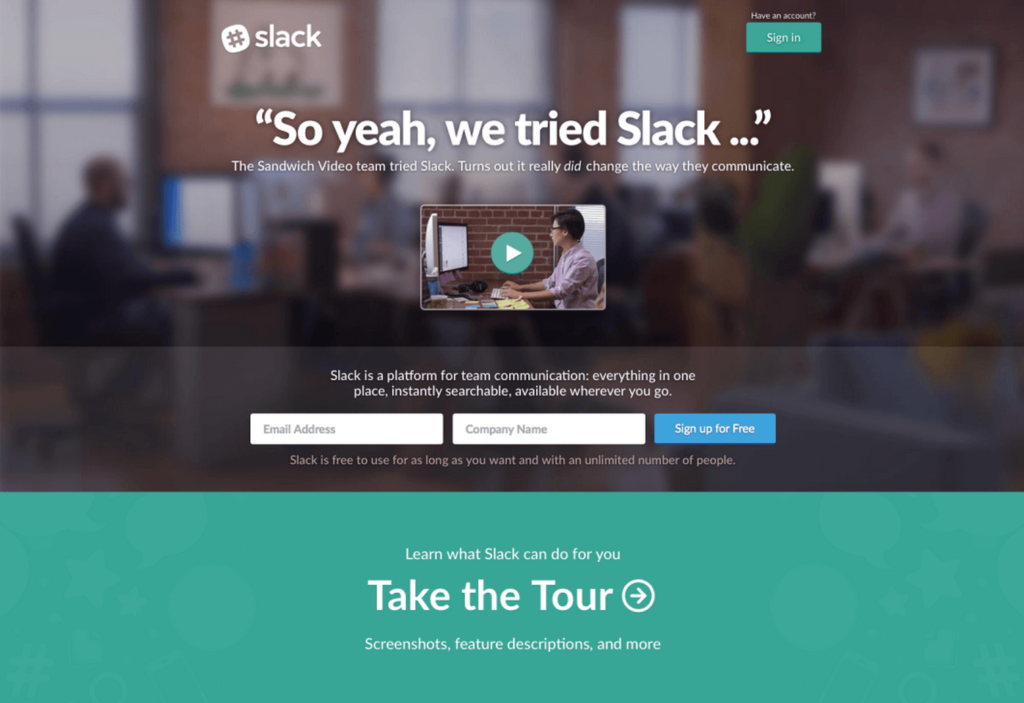 Lead generation landing page by Slack
Click-through pages


Help potential customers to make their choice and purchase the product or service. They require placing compelling headlines, informative descriptions and attractive CTAs.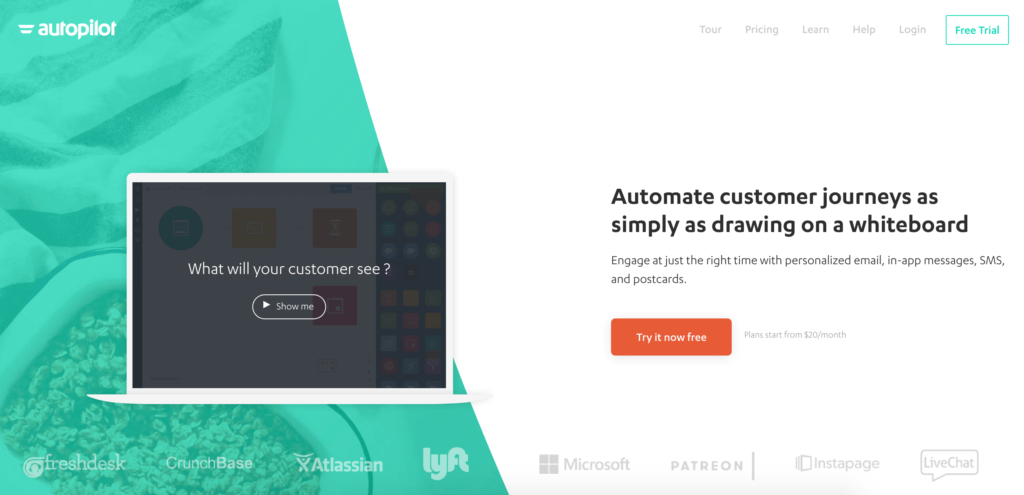 Click-through page by Autopilot
What makes a good Landing page?
Good landing pages have low bounce rate and high conversion rate. They are effective in terms of leads or conversions. Let's dive more into key success factors:
Minimalism


Clear interface, only necessary information, attractive, but no fussy visuals. Exclude pop-ups and anything that can distract visitors from clicking CTA button or leaving their contacts.

Fast loading speed


The longer the page load time, the higher the bounce rate. Keep in mind that most of your potential clients won't wait more than 10 seconds for the page to load.

Attractive headlines


Headlines set the context and purpose of the page. Moreover, properly compiled headlines allow you to capture attention and lead visitors to conversion.

Short forms


If you have Lead generation landing page with forms, make sure they are not too long. Long forms cause friction and bounce.

Single CTA


Do not distract visitors by trying to offer them everything you can. Concentrate on one offer and convince people that it will help them solve their problem.

Segmenting


You will have higher conversion rate, if different audiences see special content that fits their needs completely. Choose a segment and create a landing page only for this group of people.
What is a Video Landing Page?
A Video Landing Page is a synthesis of two most effective digital marketing pillars: videos and landing pages.
A Video Landing page is a synthesis of two most effective digital marketing pillars: videos and landing pages.
Typically it is a page with a video embedded from YouTube or some alternative video platform. This video can describe the value of the product, explain how it works or just make visitors feel excited about your product.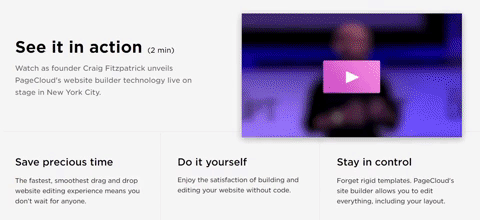 Video landing page by PageCloud
Videos become more and more popular. To be more precise, 69% of all traffic is now spent on video. That is an impressive number. Add to it high performance of landing pages and you get the revenue-ripper starter pack!
Benefits of Video Landing Pages
Yes, they do look great, but it's not the key point! Why should you use videos and what is their impact on conversion rate? How effective are they for landing pages? Let's look more closely at all advantages.
1. Help to describe how complex products work
People seeing a complex product are more likely to lose interest, if they don't see any clue on how to use it.
If you have a really complex product, and your clients should spend time in order to understand how it works, videos are a great way to help them to do it faster. Videos will handle this task more efficiently, than text.
You can place an explainer video that illustrates available functions, as well as provide people with info about the benefits and distinct features of the product or service.
2. Deliver a message faster
By clicking on your ad, a person has already invested his or her energy into getting to know your product. Don't make him or her to spend more on reading large text blocks.
Give all the information in a video, as it is a perfect way to say a lot in a shorter period of time.
3. Make information more comprehensible
People perceive information differently.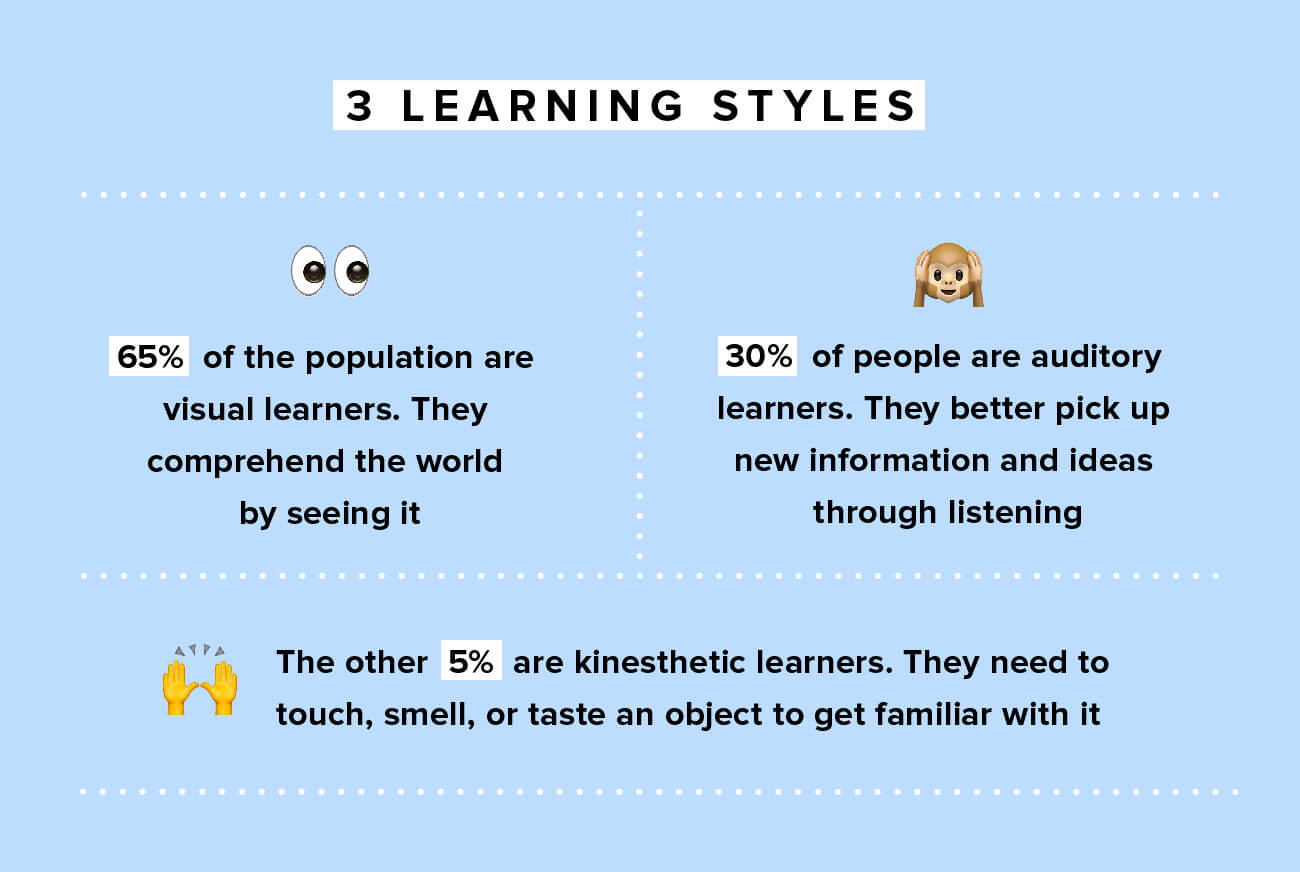 Some people process text faster, while others are better with images. It doesn't work completely exclusive: people do not process only one type of information, but rather some information they process better than the other.
By using video, you'll definitely "cover" all sides, as you can add captions and/or voiceover to your visuals.
4. Can be shared
It is not a widespread practice to share landing pages with your social network, right? With videos everything is different. Besides the fact that videos are the most engaging pieces of content, they get shared 1200% more than text and links combined!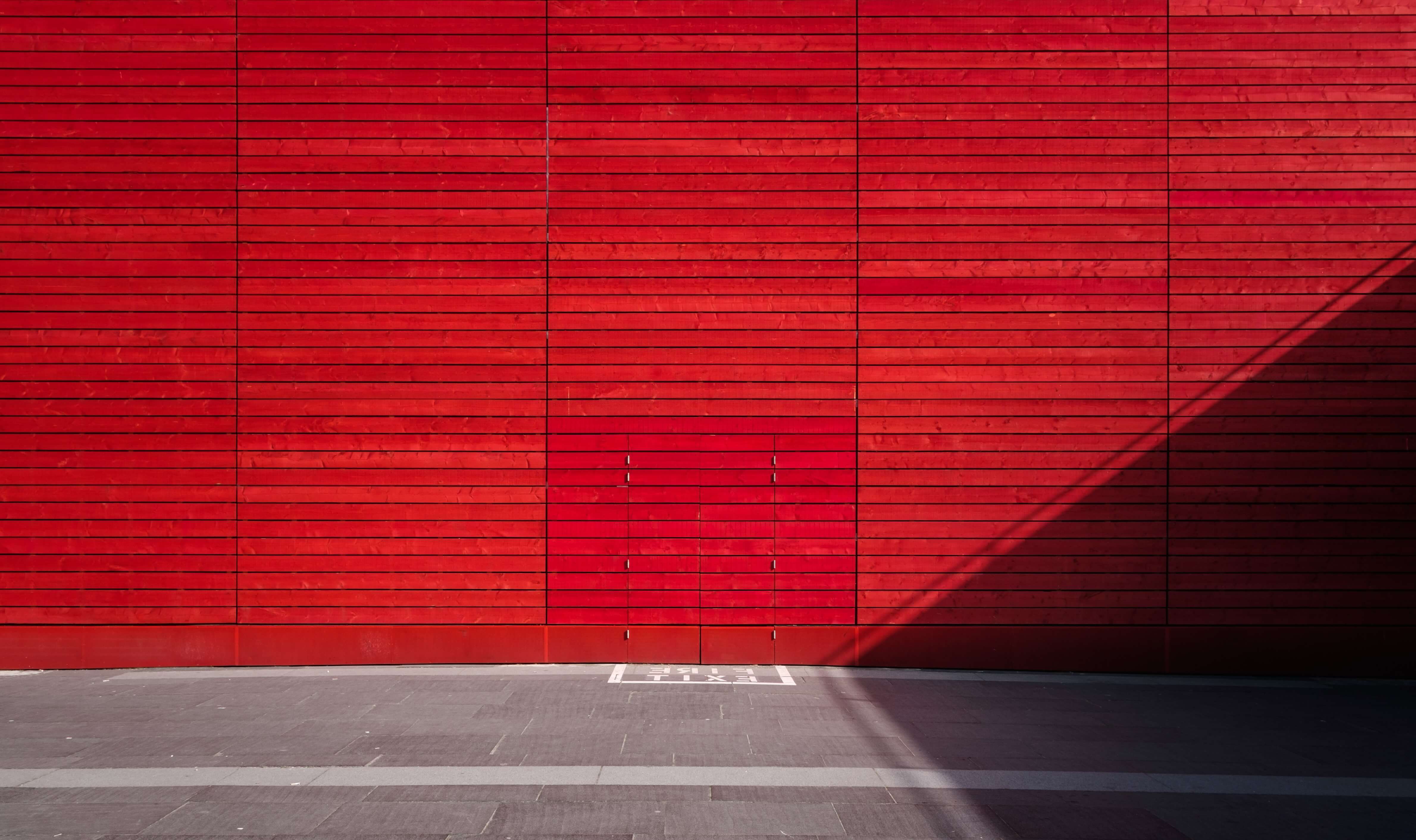 Social video generates 1200% more shares than text and images combined.
Shareable content of your page with social buttons to ease the sharing process for users can increase the engagement of your landing page. More people will visit your page, have more time to get to know your brand and realize the benefits of the offer.
5. Can become viral
We'll go further and say that your video can not only be shared, but also go viral!
But you will have to create a high-quality and engaging video. Yes, it's hard, but there is an opportunity to be advertised for free on social media, just because your video is cool.
6. Build trust
First-time visitors don't know the company and because of this they don't have reasons to trust you and buy your product. Trust is one of the most important things for conversions, especially online.
The good news is, you can increase it by featuring your video with real people (e.g., employees of the company) to show landing page visitors your human face. Now that users got acquainted with you, they are more likely to consider your company reliable and convert.
7. Persuade
Videos influence hugely buying decisions of people. 90% of people say that seeing a product in the video was persuasive, while 81% of consumers, according to research, were persuaded to purchase a product after watching a video.
Even executives in far 2010, when videos were not so marketable, were convinced by videos: 65% of them visited vendor's website after watching a product-related video, and 42% of executives made a business-related purchase. Nice thing to take note for B2B businesses!
What Businesses Will Benefit from Video Landing Pages?
In fact, high-quality video with attractive content will be of advantage to any industry and company, but let's take look at some businesses that can have a boost of engagement with videos.
Daily goods industries
You can think that it's impossible to make extraordinary videos about toothpaste or shampoos, but the thing is that videos about day-to-day activities can make people become engaged heavily!
Just incorporate some humor and make people recognize themselves in this video, and you will have a warmed audience ready to buy your product.
'Tedious' industries
Let's be honest – some industries bore us, although they are necessary for our well-being. Insurance, nuts and bolts, legal advisory are hard to promote creatively.
Videos open new horizons for creativity, so you can make some new twist to your branding and upgrade your landing pages.
Culinary industries
Culinary businesses face problems with delivering all edges of experience people have with food: smell, taste, appearance.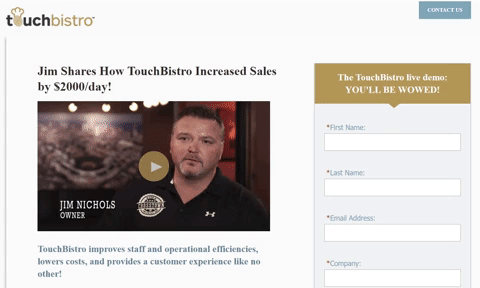 Video landing page by TouchBistro
While images can show the visual part, insufficiently though, text is absolutely powerless. That's where videos come in. Videos create atmosphere, build deep associations and arouse strong feelings.
'Exciting' industries
What is the best way to present a theme park or go-karting? By showing it!
Video will help you describe the whole experience in dynamic form and impress your potential customers so that they will convert.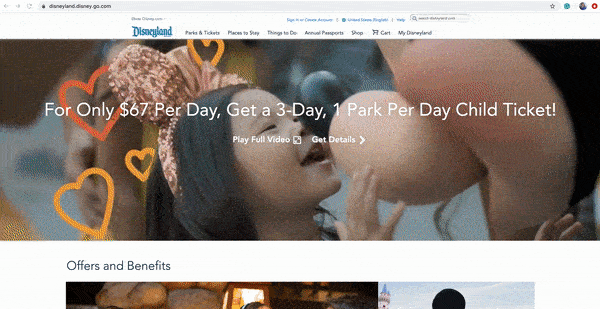 Video landing page by Disneyland 
Video Landing Page Rules to Make it Effective
By now we know the benefits of videos on landing pages and their impact on conversions, but how to generate leads through video? What are the things to consider? Here are 23 rules of successful landing page with video:
1. Use a good thumbnail
People should be attracted by the cover image they see to click on the video.
Make sure you've created a thumbnail that builds interest, but doesn't exaggerate the content of the video. In the same time, try to create something very unusual that tempts people to click.
2. Make short videos
Be quick to capture prospects' attention. As our attention spans decrease virtually every 1-2 years, your video should be short and informative. Videos with length up to 60 seconds will work good. Mention only the most important points. Add all the other information in textual form.
To avoid users skipping the video, try to start straight from the beginning: don't make long introductions or openings with your logo.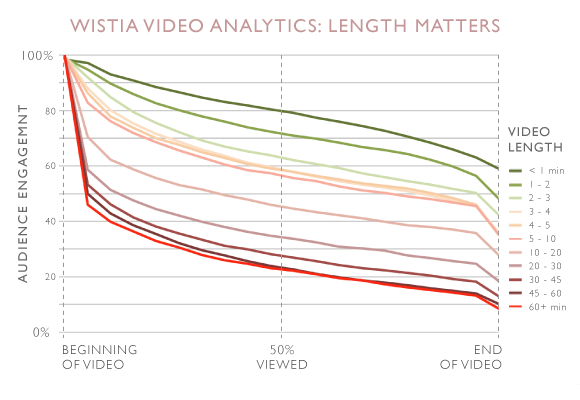 Source: Wistia
3. Mention video length
This will tell your potential clients that you value their time and that your video is worth watching. They won't expect to spend a lot of time on watching it and are more likely to play it.
4. Include CTA
Your video should persuade visitors to perform some action, as the landing page does, so placing CTA in your video is a must.
5. Educate with your videos on landing pages
Show your prospects how to use your products and what are the benefits, make how-to video, present your brand – tell them a valuable and instructive story. They will engage and remember your brand and products.
6. Tell a story
How can storytelling increase engagement and lead visitors to conversion? The secret is in pain points and problem-solving.
With this approach, you should understand the pain points of your audience, their emotions and compile both in your video. Explain how your product will help solve their problems and how clicking CTA button will bring them closer to the solution.
7. Personalize your videos
As the purpose of your video is to sell, and people are used to seeing salespeople doing it, your video should be personable and lively.
Reading cold unemotional text won't convince people to buy your product or service, but watching video with a human voice and emotional intonations likely will.
8. Make videos with one goal
As landing page itself, your video should have one goal: whether it's buying, subscribing or signing up – a landing page target action should match the target action of your video.
Hence, the messages of both video and landing page should also be the same.
9. Make your videos specific, but not too narrow
Your goal is to make your video interesting enough for the whole target audience, but at the same time to make it specific enough for each individual. This balance is hard, but just make sure that your content is not too watery and fits the needs of a group of people.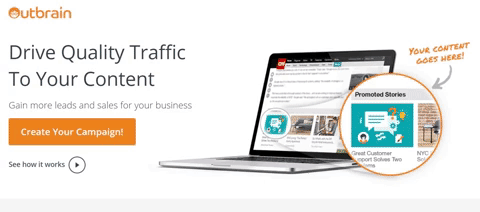 Video landing page by Outbrain
10. Script your video
In order to make more informative and structured video and to accomplish a hard task of the #9 rule, make a script. It will help you to outline the main points to tell and key message to deliver.
Also, describe in it your target segments in order to understand their preferences and present your product properly.
11. Make captions
Text on videos is a necessary thing in video marketing nowadays.
It allows you to communicate your message fully, as some people can mute your video, and in some platforms videos are muted by default. Don't let these things steal your potentially happy client!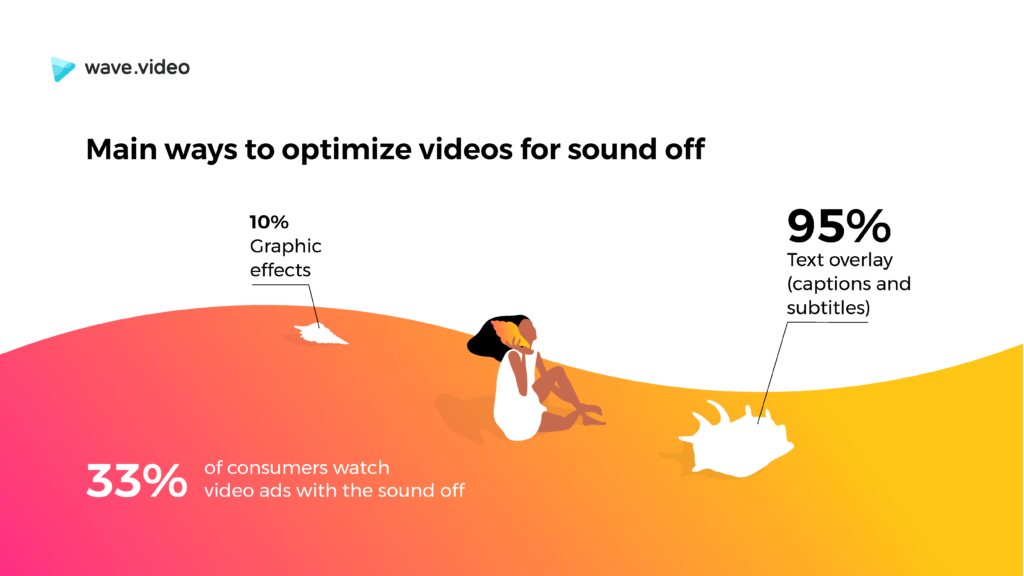 12. Create videos specifically for your marketing campaign
Your video should correlate with your marketing campaign. Don't insert videos unrelated to it: general video about the company won't work.
13. Customize player colors
Your brand identity should be preserved to the last pixel.
Don't forget to customize player color to match the overall landing page style. It is important for brand awareness and trust in your brand.
With Wave.video hosting, you can change the way the player looks for any of your videos. By changing the colors and display of the player, you truly make the video your own.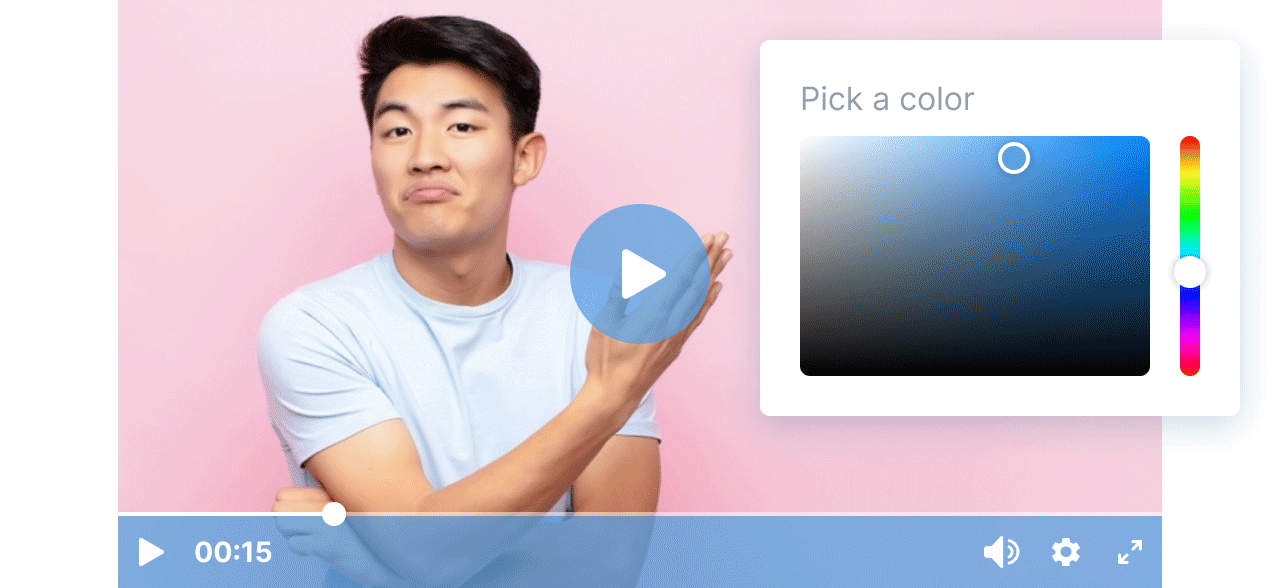 14. Fit the style to your audience preferences
Take time to understand your audience and research their preferences to make video they will perceive the best. For example, clients of a luxury watches shop won't appreciate the abundance of jokes in video, while symbols of confidence and elitism are likely to make them purchase.
Another useful thing to do is to research your competitors and see what videos they add. Chances are, you will grab some inspiration!
15. Touch people's hearts
People like things that make them emotional. Instead of just selling your product, try to create really touching videos. It doesn't matter whether they are lyric or humorous. The point is in building an emotional connection, which will help you to build strong relationships with your customers.
If a person has once felt that your brand understands his or her feelings, he or she is likely to stay with your brand for a long time. Video is a perfect way to resonate with feelings of your prospects: it depicts emotions naturally and closely to real life.
Heartfelt ad of Gmail by Google
16. Tell about your unique value propositions
What makes you stand out from your competitors? Why not mention this in your video?
Make people understand why they should buy your product or service and choose your brand. Video landing pages are not only about cool animations and effects but also about translating your value in an interactive and clear form.
Video landing pages are not only about cool animations and effects but also about translating your value in an interactive and clear form.
17. Include testimonials
Prove that your value propositions are not the empty rhetoric by adding to your video reviews of your real clients. Feature them in your video and ask them what they think of your product, what impact has it made on them. This will prove your credibility in the eyes of your landing page visitors.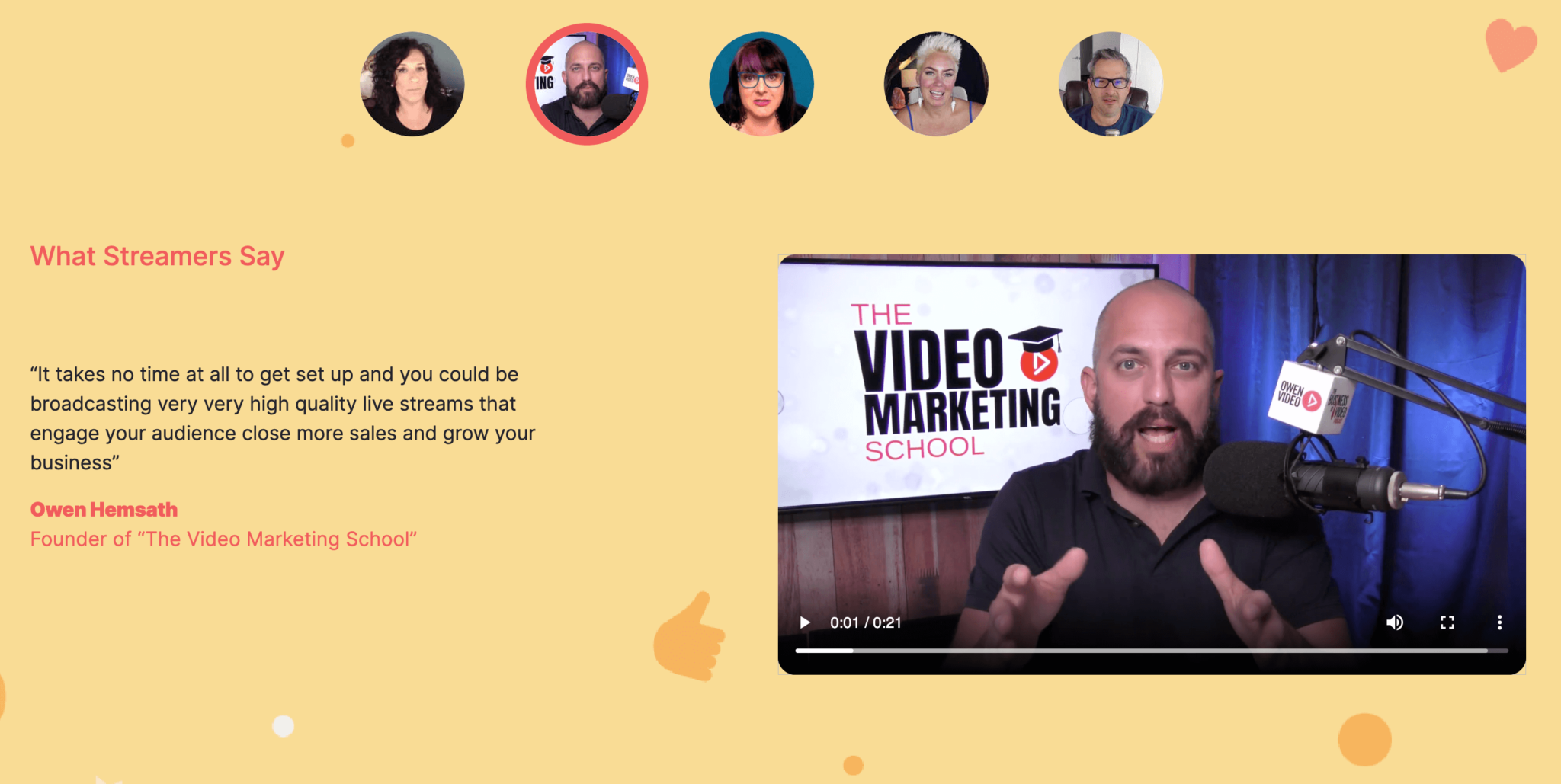 18. Place video above the fold
Put your video on the first screen of the landing page, so that it would be seen in full size without scroll. Why hide it?
19. Put an emphasis on video
As now you know, videos engage and are good for your landing page, so be confident to place it in the center and provide all additional text below the video. Attract attention to your video by creating some engaging animations, for example. But don't try too hard, of course!
20. Don't let video perform solo
Other forms of content should be present on the page as well. Remember we talked about different information perceptions among people?
Some people will want to watch video, while others would like to read a text. Someone will want to do both. Each piece of content should be of high-quality, not only the video.
21. Limit the number of videos on the landing page
The number of videos depends on the context. On the one hand, placing the only video on top of the page is a safe bet: you don't overload page with a lot of video content and, at the same time, give your visitors all necessary information. For businesses that are not connected to the video industry or some other niche that has to show a lot of tutorials, for example, placing one video above the fold is optimal.
On the other hand, if you face a need to show more videos because of specific character of your business, then do it. There is no prescription on the number of videos on landing pages. In the end, everything can be tested..and that leads us to the next tip!
22. Test it
Conduct A/B testing not only when you are in doubt, but also when you want to improve results. State a hypothesis, create two versions of the page and track the results. You can check the effectiveness of the video thumbnail, placement of the video itself, experiment with the length and the size.
Conduct A/B testing not only when you are in doubt, but also when you want to improve results.
Landing pages benefit the most from tests, don't miss a chance to improve their performance.
23. Use analytics
Always measure your performance. Use analytics tools not only for your landing page, but also for your videos. Here are 5 most common metrics for your video :
View count

Play rate

Watch rate

Click-through rate

Conversion rate for the landing page
You need to define key metrics that fit your campaign, so you may need to track some other performance indicators.
How to Create a Video Landing Page with Wave.video
In March 2020, we launched Wave.video 4.0 that made it possible to host, manage and repurpose every video you create, all in one place.
The Video Landing Page Generator is one of the coolest tools that were introduced within the new release.
How it works
For every video hosted on Wave.video, you automatically get a stylish video landing page that you can customize according to your campaign purposes.
Upload a new video or choose any from your existing one

Go to the Dashboard and hop on to the Landing page tab 
Add a headline, body text, and a call-to-action
Include the link to where you want to lead your audience next
Insert your Google tracking ID to see how your page performs
Hit Save
Your video landing page is ready! Now you can send it via a direct link, link to it from an email, share on social media, and more.
Video Landing Pages FAQ
Let's look at some most common questions about video landing pages.
Should my video autoplay?
We advise you not to autoplay your video. It often annoys people, and they may leave your landing page because of that.
What is the optimal length of the video?
As we said earlier, try to create videos no more than 1 minute length. The best case is video with up to 30 seconds length.
The shorter the better, but we understand that it is not always possible! Just make sure that you don't include in your video unnecessary things. You can also test it. Create several versions of your video, look at the performance and stay with the most effective option.
Should I include an animated video on my landing page?
In this case there is no "should" or "shouldn't". You choose yourself which video to include: a film with real people or an animated video.
Many companies prefer to use animated videos because it is faster, easier and cheaper to make than real videos. Good news is that animated ones work almost as good as real videos. Here is a good example from Ahrefs:
How big should my video be?

It depends on the "role" of your video. If it is the main video placed above the fold, then it should occupy the whole screen to become eye-catching. If it is a video located lower on the page, than the size shouldn't be as big as of the main video.
Always look at the context. Videos with key info should have the biggest focus.
Don't forget to check how your video looks on different devices. Maybe you will find out that your video size should be optimized for mobile phones.
Do users actually click videos on landing pages?
Yes, videos are the most engaging content on any platform and page, and landing pages are not an exception. People not only actively watch your videos, but also convert better: video content can increase conversion by up to 80%!
Are you ready for your video landing page?
We hope that we managed to convince you to use videos on your landing pages. Don't forget to use our rules to achieve superb results!
And remember: the most effective videos are short, informative and touching people's hearts.