The Anatomy of a Successful Video Ad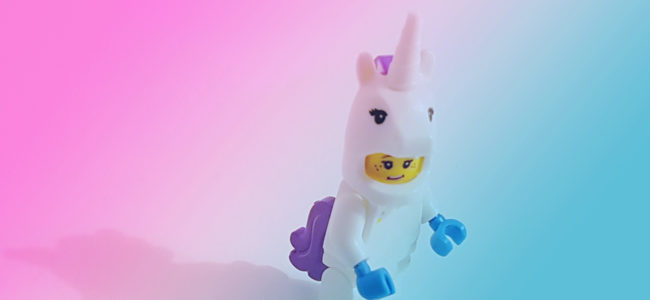 Long gone are the days of search and display ads. Video dominates today's world of online advertising. According to Wave.video's recent research on the State of Social Video Ads for 2018, businesses use video ads to drive traffic to their website, promote new content and boost website conversions.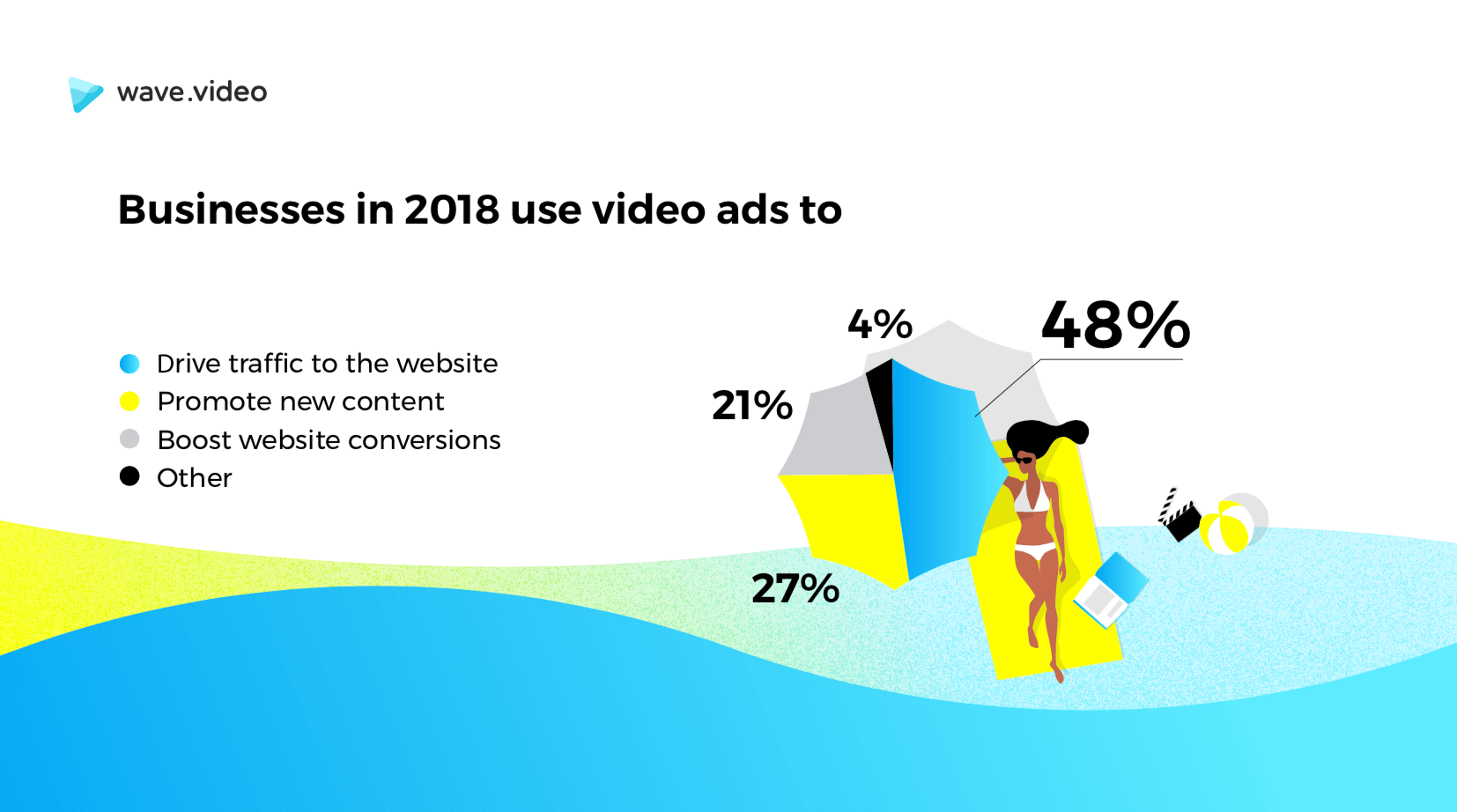 Marketers spend more of their budget on video than ever before. In 2017, social video spending leaped 130% compared to the previous year and even more advertisers are planning to start using video in their marketing campaigns in 2018.
In this blog post, I'll cover the anatomy of a successful video ad and share my favorite tips on optimizing your video creatives for better results.
Hook The Viewer Straight Away
Are you likely to watch a film or a TV series that takes too long to get to the actual plot? I bet the answer is no.
Just like a good film, a good video ad grabs and sustains the viewer's interest from the very first seconds.
Yet another proof: the top 5% of videos retain an average of 77% of viewers to the last second.
The same is true for social media video ads and how people consume them. At the very beginning of 2018, Facebook published a research on the viewing habits of an average social network's user: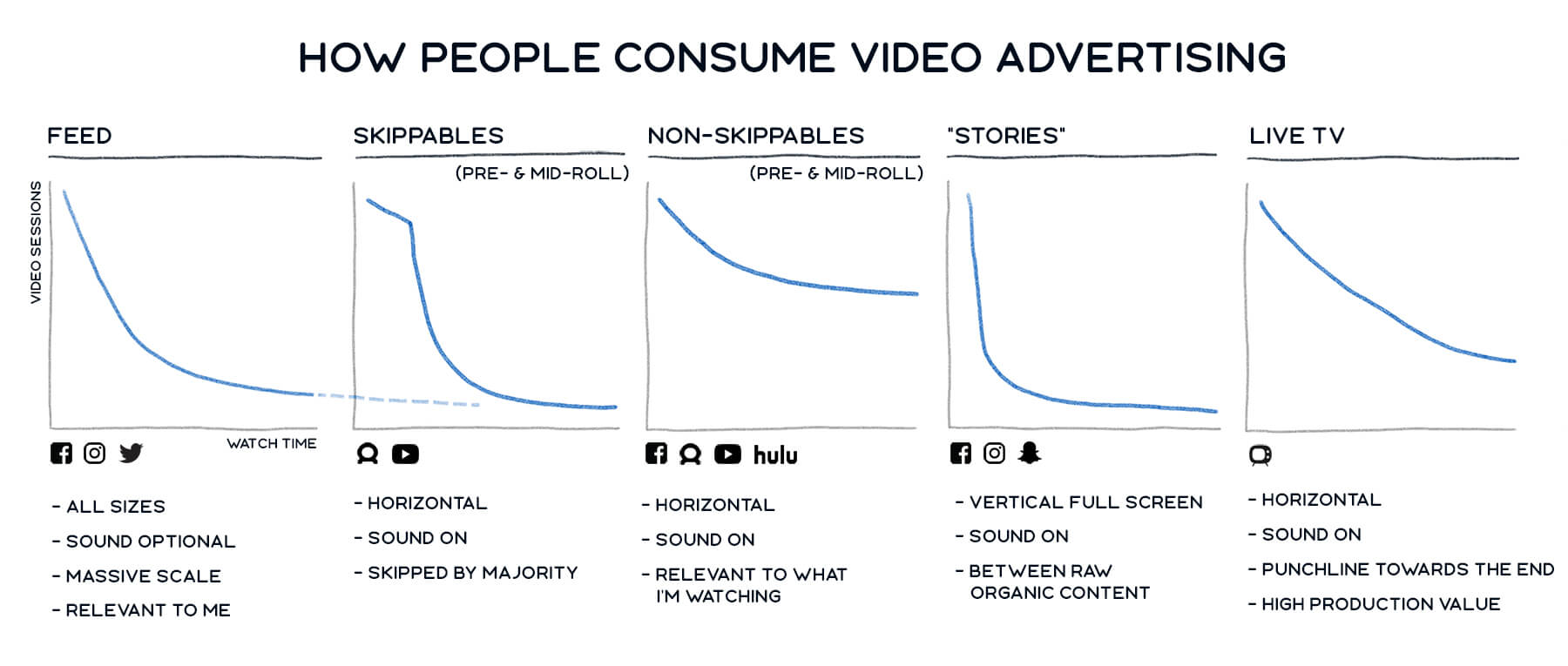 As you can see, people lose interest very fast when it comes to in-feed ads. It's clear from the graph that as a video progresses, more and more people are dropping off. This means that as an advertiser, you might not have a second chance to deliver the message, so you'd better capture the user's attention fast.
Pro tip: While you'd want to deliver relevant insights early on, keep the info about your brand, logo, and CTA for just a bit later. 63% of advertisers have found that the best time to mention a brand is after the first 3 seconds of your video ad.
Tell Your Story in Under 30 Seconds
If so many viewers close your ad so quickly, what is the best length for the video ad to drive results and communicate the message?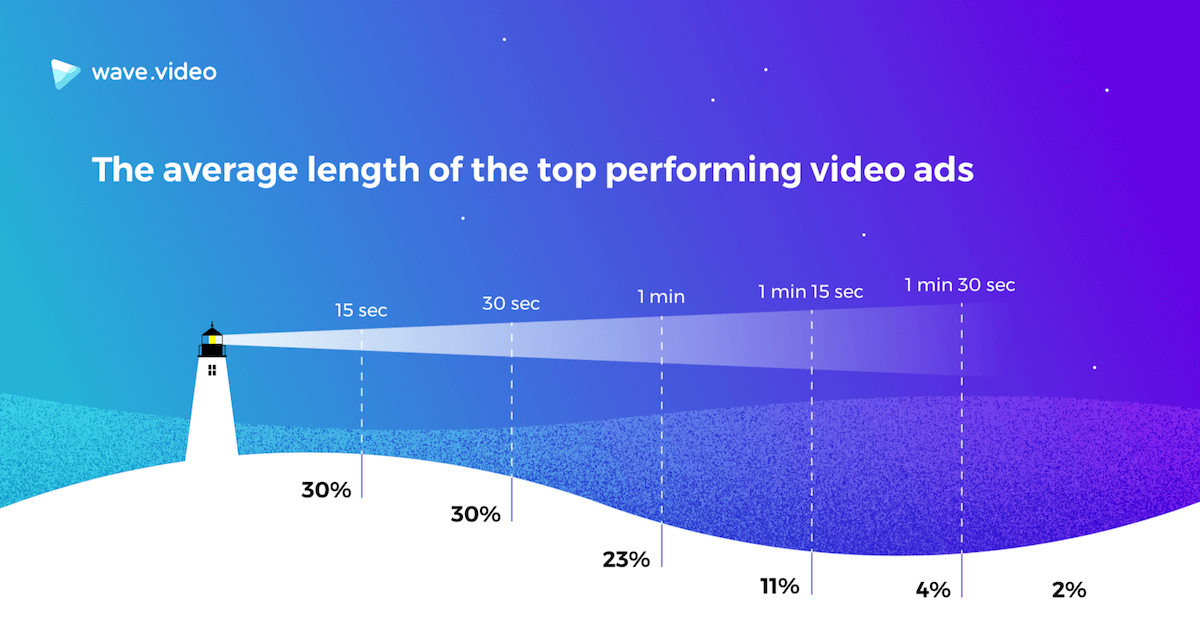 Our recent study revealed that there is indeed a direct correlation between an ad's performance and its duration. Shorter videos, 15 to 30 seconds long, achieve better click-through rate and receive a higher engagement than longer-form videos.
Bring Value to The Customer
You only have 30 seconds, so you want to use the time wisely and efficiently. Make sure that your ad is highly relevant to the viewers and addresses their specific needs. Here are some video ad ideas that can help you convert a viewer to a paying customer by delivering a relevant and valuable message:
Provide a solution to their pain point;

Entertain the viewer or evoke positive emotion

Educate your audience: share some curious facts, the latest industry stats, or useful tips related to your product or service.

Visual imagery plays a pivotal role in your ads' success too. The choice of colors and imagery depends on the mood you want to set and the feeling you want to evoke in customers.
As a rule, ads featuring animals and people show better performance because we empathize with living beings more than inanimate objects or abstract graphics — it's our biological imperative.
Ads featuring animals and people show better performance because we empathize with living beings more than inanimate objects or abstract graphics.
Except for the Story format, most social media video ads consist of a video creative, headline, text and in some cases a CTA. Each of these elements should be engaging and informative, telling the viewers what they can expect to see.
Optimise the Title and Description
To add more, social media algorithms use video ad title and description to target the right audience, which is why you should always include keywords relevant to your ad's topic.
Not only do you want the headline to be relevant, but also to stick out in the news feed. What kind of headlines draws more attention? I find that the following types of headlines work best with my Facebook campaigns:
Lists with numbers: 11 Headline Copywriting Tips to Boost Your Marketing;
Headlines that use negative words rather than positive ones: Worst Headline Copywriting Mistakes You Never Want to Make;
Questions: What Is The Highest Converting Headline on Facebook?
Packed with power words: Ridiculous Ad Headlines to Guarantee Failure;
Clear, precise headlines that simply do their job: Headline Copywriting Guide: Free Download;
Pro Tip: Think of a word that best describes your audience based on their profession, city, background or interests and include it in your ad copy.
Marketers, New Yorkers, avid runners, millennials – these are examples of different words you can mention in the headline to make your ad more personal.
Drive Action with The Right CTA
Call to action (CTA) is another crucial element of any ad. I'd recommend you to stick to one CTA per video ad. CTAs usually come at the very end of the video, but if you want to give it more weight and reinforce the desired action, you can repeat it a few times throughout the ad. This guarantees that your leads and customers know exactly what they need to do and are more likely to take action.
Sign Up, Visit Our Website, Shop Now, Learn More, Download – these are standard examples of different CTAs you can use depending on whether your goal is to generate leads, drive sales, boost traffic or increase brand awareness.
Sign Up, Visit Our Website, Shop Now, Learn More, Download – these are standard examples of different CTAs
Small details are really important here as they can make all the difference between a bounce and a conversion. Here's a brief example to illustrate what I mean. Would you rather click a button that says "Get 50% OFF" or "Grab 50% Off Now", "Sign Up" or "Sign Me Up!"?
Of course, the CTA also depends on how far down the funnel your audience is, so keep the calls to action that require a higher level of commitment for the lower funnel customers.
Go Vertical
We now spend most of our time online on mobile devices. Which means it's more important than ever to focus on the vertical format.
According to Facebook, almost 80% of video consumers find vertical video more engaging and are more likely to watch a vertical video than a landscape one. It's hard to deny that portrait orientation videos look more prominent on smartphones because they take more real estate than any other format.
Almost 80% of video consumers find vertical video more engaging.
You might think that making videos in the vertical space is harder, but it's not. You don't even need to have vertical footage in the first place. With tools like Wave.video, you can easily export stock assets or any videos you already have into more than 30 formats, including square (1:1), vertical (4:5) and full portrait (9:16).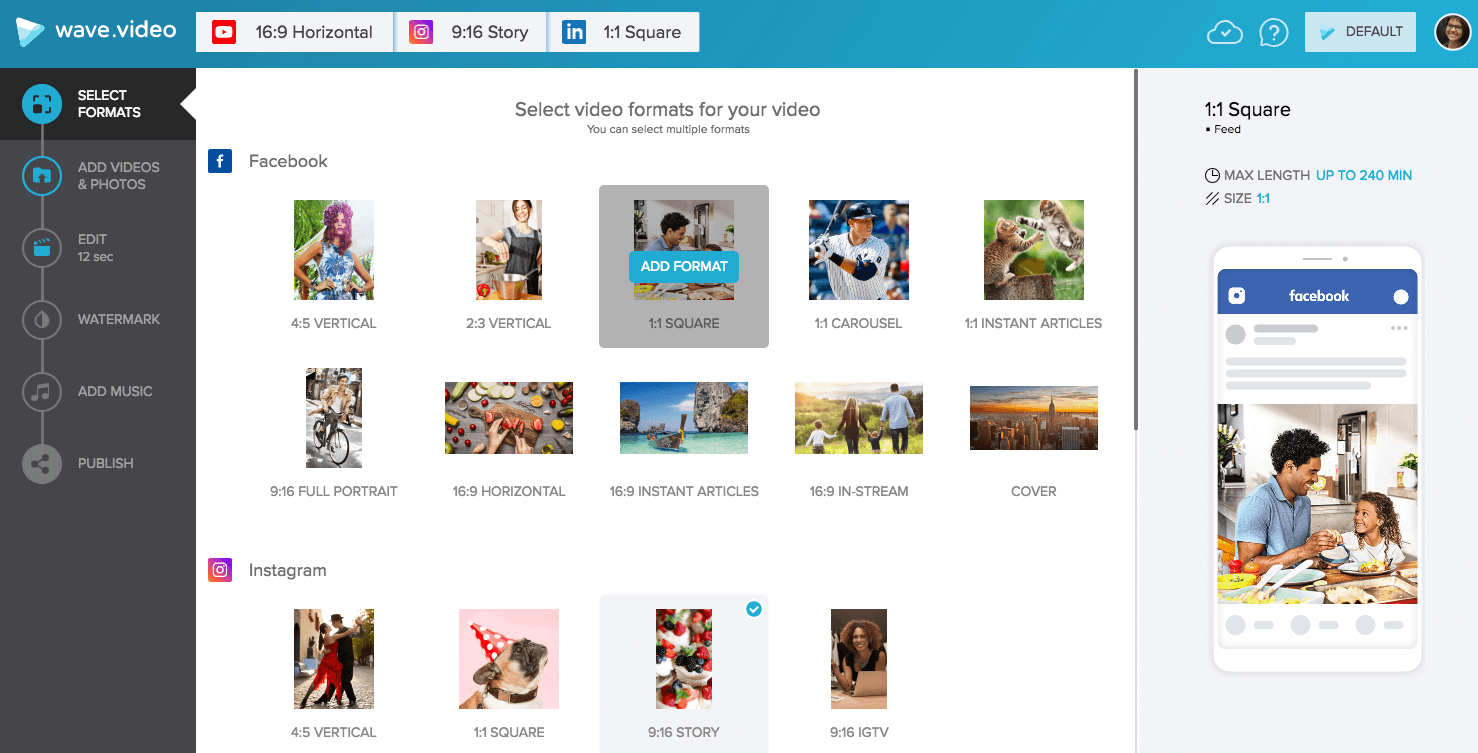 Design for Sound Off
You definitely know that most videos on social media are consumed with sound off. Both Instagram and Twitter autoplay in-feed video with no sound.
Facebook has recently switched to automatically playing videos with sound on, but even though it gives you the option to easily turn auto sound off by disabling this feature in the app settings. Moreover, autoplay sound on doesn't apply to the users whose devices are on silent or vibrate modes.
Therefore, it makes sense to follow Facebook's advice on creating ads that engage viewers and communicate their message clear enough without sound.
One of the best ways to achieve this is by putting text on video. Tools like Wave.video or Legend allow you to add text to video and apply text animations easily.
If your ad is a talking head type, add captions to show what the person in your video is saying. A test carried out by Facebook has indicated that the average view time for captioned video ads is 12% longer than for non-captioned ones. You can either use Facebook's automatic caption generator or add captions to your video ad with Wave.video.
I'd personally recommend you the latter because Facebook's automated captions are often inaccurate and thus require proofreading. Another disadvantage is you can't customize them to match your video's style. Not to mention there is no way to save the captioned video if you want to repurpose it across other social networks.
Example of text on video
All in all, high-quality sound is important, but you shouldn't rely on it exclusively to get your message through.
Just Go and Make Your Video Ad
Now that you know the basic components of a successful video ad, you are ready to explore the exciting realm of video marketing. Start by creating a simple video ad that incorporates all the elements I've just covered. See how it performs for your business and then tweak the creative based on the results you get until you find the perfect formula that works for your business.
Already found your go-to video ad recipe? Please share in the comments, I'm dying to know!