11 Clever Ways to Use Video in E-Commerce Marketing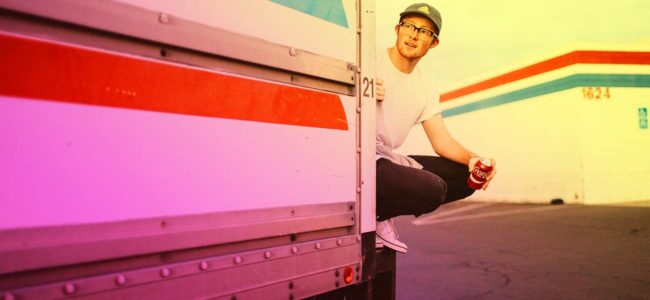 If you're an e-commerce store owner, then you may be considering using video to generate more sales. 
And with the growing number of e-commerce competitors, getting into video now might not be a bad idea. According to a study by Brightcove, 46% of consumers revealed that they have purchased an item due to watching a video.
Looking for ideas for using video to grow your e-commerce business? In this article, I'll share 11 creative ways for e-commerce businesses to market their products with videos. Let's get started.
1. Product Close-Ups
One of the simplest ways to boost sales is to use video for product demonstrations or to showcase products more clearly. Videos that show products from multiple angles and close-ups can give people a better understanding of what they are buying, which can increase sales conversions.
According to a survey conducted by Wyzowl, 80% of people stated that product videos gave them more confidence when purchasing a product online.
Here's an example of a product video featuring the Tiffany Legacy Diamond Engagement Ring:
The video gives customers a better understanding of what the ring looks like by showing it from different angles and providing a close-up view. The sparkles also add to the item's perceived beauty and likely increase the odds that someone will buy it.
2. Tutorial: Show How to Use Product
Some products are innovative and showing people how to use them can allow people to understand the value of the product.
The Infantino Flip 4-in-1 Convertible Carrier uses video to show parents how to use their product and highlight its unique features.
The 3-minute video demonstrates the following:
4 carrying positions for different baby sizes.

How easy it is to wear and adjust the carrier using the buckles and belt straps

How to insert your baby into the carrier

Product features, including contoured padded strap and adjustable seat
Another good example of a product demonstration video is the Biolite Portable Grill.
This video starts by showing how the item looks in its original packaging and what's included. It then shows the viewer how quick and easy it is to set up, how to cook on it and how to pack it up again when you are done. The video further demonstrates that the product is easy to clean and portable.
These features would be difficult to showcase using only static images and text. But a short video can quickly and effectively let customers understand what the product does and how to use it.
3. Tell a Story that Evokes Emotion
Good storytelling and filmmaking can arouse emotion in people and people often share emotional content. It can also be a great way to create a powerful brand image.
In fact, a Google study revealed that women ages 18-34 were twice as likely to think positively of a brand that showed empowering ads. They are also 80% more likely to like, comment and share such ads after viewing them.
Pantene came up an ad campaign called Chrysalis which featured a deaf girl who dreamed of playing the violin. After being bullied and ridiculed by one of her peers, she almost gives up on her dream. But then she befriends a skilled street musician who is also deaf and encourages her to keep playing. The girl faces adversities along the way but remains persistent. She beats the odds and triumphs in the end, surprising everyone including the person who almost convinced her to give up.
The advertisement won a short film award at the New York Festival (NYF) in 2009 and continues to accumulate views.
Thai Insurance is famous worldwide for creating commercials like these. Their "Unsung Hero" video has accumulated over 35 million views:
Telling a story that inspires or evokes emotion can be a powerful way to get a lot of brand exposure. People share these videos like crazy because they contain a powerful message and provide a lot of entertainment value.
4. Entertaining Videos
People love being entertained, so using entertainment can allow e-commerce videos to get shared and sometimes go viral.
One of the most well-known examples of using entertainment to grow a brand is Blendtec's "Will It Blend" video series. In 2005, Blendtec had a great product but weak brand awareness. Blendtec's CEO and research team tested their blender by blending wood boards to test the durability of their product. George Wright, Blendtec's marketing director, had the idea of videotaping the operation and posting the videos online. 
Starting with just a $100 investment, Blendtec posted YouTube videos of their blender blending up items including a garden rake, marbles, and a rotisserie chicken. The videos generated over 6 million views in just 5 days. The Blendtec campaign was an innovative way to showcase the power of their product while entertaining anyone who watched their videos.
Blendtec continued to produce these videos and in 2006, their sales increased by 700% resulting in their company revenues reaching around $40 million for the year.
Creating an entertaining video requires some creativity, but it can be a great way to boost awareness of your brand and ultimately generate more sales.
5. Message from The CEO
Having the CEO or a high level executive create video can be a great way to personalize a brand and develop a deeper connection with the community. Videos featuring executives can build trust and rapport with the audience as they get to know the people behind the company.
In fact, an analysis by Ace Metrix showed that ads featuring a company's CEO perform better than ads that don't on average.
Here are a couple of examples…
Raspberry Pi is a small computer that people can use to learn computer programming. In this video, CEO Eben Upton introduces the Pi Zero:
The video was a great way to introduce the product and let people get to know the CEO. It comes across as a genuine communication from Raspberry Pi rather than a commercial.
Ben Brode worked for Blizzard Entertainment and was the lead designer for Hearthstone, one of the most popular online card games. Asides from working on game design, he also played an important role in marketing the game by appearing in videos for new expansion launches.
These videos created hype for new card releases and one of his most popular videos was the Ben Brode rap, which generated over 1 million views:
Videos like these allowed the community to form a more personal connection to Ben and his team. Reddit posts like this one show how much the Hearthstone community really grew to love Ben Brode.
Note that not all ads with a CEO in it performed well. A few keys to making CEO ads work well include:
People must feel like the CEO is genuine and authentic.

The CEO should be committed to this strategy for the long term. A consistent ad campaign will generally work better than a one-off ad.

The CEO should be a good communicator and charismatic. Not all CEO's will have the right personality to attract an audience through video.
6. Show People Using or Getting Results from the Product
Another great way to use video to sell products is to show people using the product or getting results from it.
The Solo Stove Campfire is a portable outdoor stove for campers and backpackers. Their promo video shows how easy it is for people to use the product. It also shows people enjoying tasty food:
A friend of mine wanted to get better at salsa dancing and bought the "Hot Moves for the Salsa Addict" video series after watching the promo videos:
The videos don't explain how to do the moves, but instead show some of the intricate patterns that you'll be able to do after watching the video. Watching the instructor's impressive dance moves also gives him a lot of credibility.
7. Interactive Video Ads
As video marketing becomes more competitive, making videos interactive can be a great way to stand out. According to a study by Magma media group, interactive video ads resulted in a 47% increase in engagement versus non-interactive ads and also increased purchase intent by as much as 9x.
Interactive video ads are fairly new, so you may not have seen many around. But as more businesses become aware of their effectiveness, they will likely continue to grow in popularity.
Here are a few examples of interactive video ads…
Twitch is a popular platform for gamers that want to stream popular video games and one of the ways they make money is to allow viewers to buy "bits" so that can cheer for their favorite Esports team. However, they also allow viewers to earn "bits" for free by watching interactive video ads.
For example, visit this Twitch channel and click on the bits icon in chat and then the "Get Bits" button. Then click the "Watch Ad" button.
The ads will require you to click on something within the ad and watch the ad for at least 30 seconds to get credit. You can watch a few ads to get some ideas on how businesses are adding interactivity to their videos.
Another neat example of an interactive video is the Boursin Sensorium 360 Virtual Reality Experience. This fun ad allows you to rotate the camera angle is the video takes you on a tour of the refrigerator.
Adding interactivity into a video can also have practical applications. Ted Baker is a men's fashion e-commerce retailer and in this interactive ad, they insert clickable links that take viewers to their website to make purchases.
Interactive video can be a great way to stand out from competitors and provide a more engaging experience for your target audience.
8. Influencer Endorsement
Businesses can partner with influencers through video to target niche audiences. Because influencers have already built credibility and trust with their followers, influencer collaborations can be a quick and effective way to reach potential customers.
Here are a couple of examples…
Andrew Skurka is a well-known backpacker, adventurer, and author who has been featured in National Geographic and Backpacker magazine. In 2016, he collaborated with Sierra Designs to design the High Route Tent 1FL.
In this video, Andrew shows the features of the product:
As an experienced outdoorsman, Andrew's endorsement and expertise help sell the product. His promotion of the product to his followers also helps Sierra Designs reach the right target audience.
NatureBox sells a subscription box containing healthy snacks delivered directly to your home. They collaborated with YouTube influencers to record the experience of ordering from their website and trying out their products.
With just 9 videos, they achieved 775k views and got an average click-through rate of over 6% on their offer.
9. Collaborate with Charity
Collaborating with charities can be a good way to increase brand awareness for both your e-commerce business and charity.
Rescue Chocolate sells vegan chocolates and donates profits to animal rescue organizations.
In 2016, the city of Montreal passed a bill to ban pit bull ownership, which would have resulted in a lot of pit bulls being euthanized. Rescue Chocolate created a Facebook video to spread awareness of the issue.
The video got shared by other animal lovers and accumulated over 1 million views.
If you or your business support certain causes, then partnering with a relevant charity could be a great way to increase brand awareness while creating a positive impact on your community.
10. Leverage Controversy
Creating controversy may seem risky, but it can be an effective way to generate publicity and sales.
Former NFL quarterback Colin Kaepernick became a controversial figure when he decided to protest racial inequality by kneeling during the national anthem rather than standing. Some people viewed his actions as disrespectful and unpatriotic.
Nike later collaborated with Kaepernick to produce an advertisement to share the message that people should stand for what they believe in and strive to be the best they can be. Nike received a good deal of criticism for partnering with such a controversial figure and some people even uploaded YouTube videos of themselves burning their Nike shoes.
Despite the controversy, Nike still generated a strong 31% surge in sales, almost double what it did in the previous year. Nike wasn't trying to sell to people over 40, but their message resonated with their target audience (teens and young adults).
When taking a controversial approach, think about if your approach will allow you to reach your target customers and how the controversy will affect your overall brand image.
While not everyone will agree with your message, the controversy may be an approach to consider if you want your videos to go viral.
11. Video Content Marketing
Video doesn't have to be used exclusively for advertising to be effective. Video content marketing can be another way to use video to build your brand awareness.
Jane Lu founded ShowPo in 2010 and used social media marketing to grow her women's fashion business to over $30 million in sales by 2017.
Asides from promoting her brand on Instagram and Facebook, Jane also uses YouTube to do video content marketing.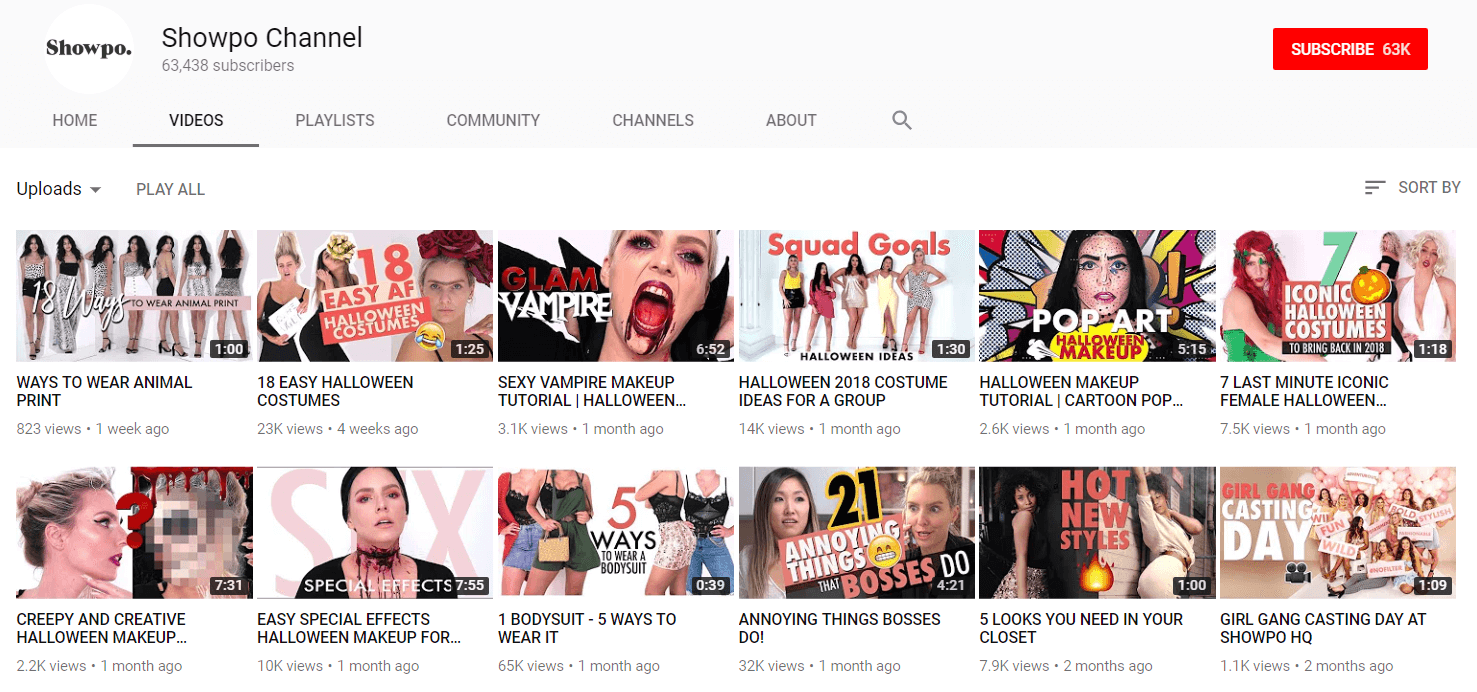 While some videos do showcase ShowPo products, most of the videos on the ShowPo channel focus on creating useful or fun content for their target audience, sharing business tips and showing viewers the people behind the company.
With over 11 million video views, ShowPo has successfully built a fun brand image catered towards young women by using YouTube to let viewers get to know the people behind the company.
YouTube vs Other Video Platforms
Although many e-commerce businesses use YouTube for their videos, you don't have to use YouTube. Many other options exist for hosting and presenting e-commerce video.

The advantage of using YouTube is that you can host your videos for free and also tap into YouTube's built-in audience. Hosting videos on YouTube can help if you are using videos for marketing and want to expand your reach.

However, other video tools that were created specifically for e-commerce businesses may be preferable if your goals are to boost conversion rates.  Tools like Wirewax can allow store owners to create interactive videos with shoppable links. Vzaar allows video creators to insert social sharing buttons, add end screen text and even capture email addresses from their videos.

Before selecting a video tool, decide on your goals and do a little research to find the right video platform for your needs.
Summing Up
Business can produce high-quality video inexpensively and a good video can increase sales, website traffic, and brand awareness. There are so many ways to use video to grow a business!
You can use video to demonstrate a product's features. Or to show how easy it is to use. You can use it to share a message or entertain your audience to get more brand exposure. And you can also use video to form a genuine connection with your audience and humanize your brand.
How would you use video to grow your e-commerce business? Let me know in the comments below!
About the author: Emil Kristensen is the CMO and co-founder of Sleeknote: a company that helps e-commerce brands engage their site visitors—without hurting the user experience.