Instagram Video Ideas: 6 Types of Videos to Amaze Your Followers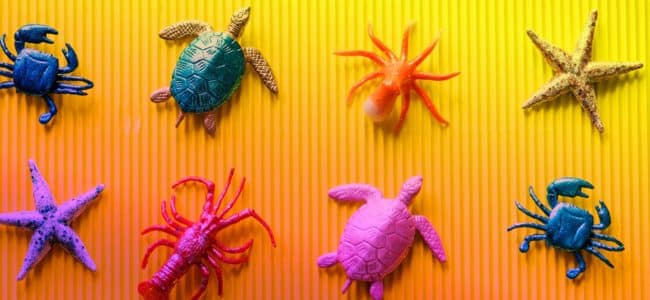 Instagram as a marketing tool needs no introduction. In the recent couple of years, it has grown beyond anyone's expectations, and the demographics of Instagram's audience makes it attractive to businesses of all verticals.
In fact, it's so popular to build an Instagram presence that there are now over 100 million posts uploaded daily.
When Instagram introduced videos as regular posts, creativity on the platform exploded. Even with that, though, videos are still largely underrepresented compared to the number of images: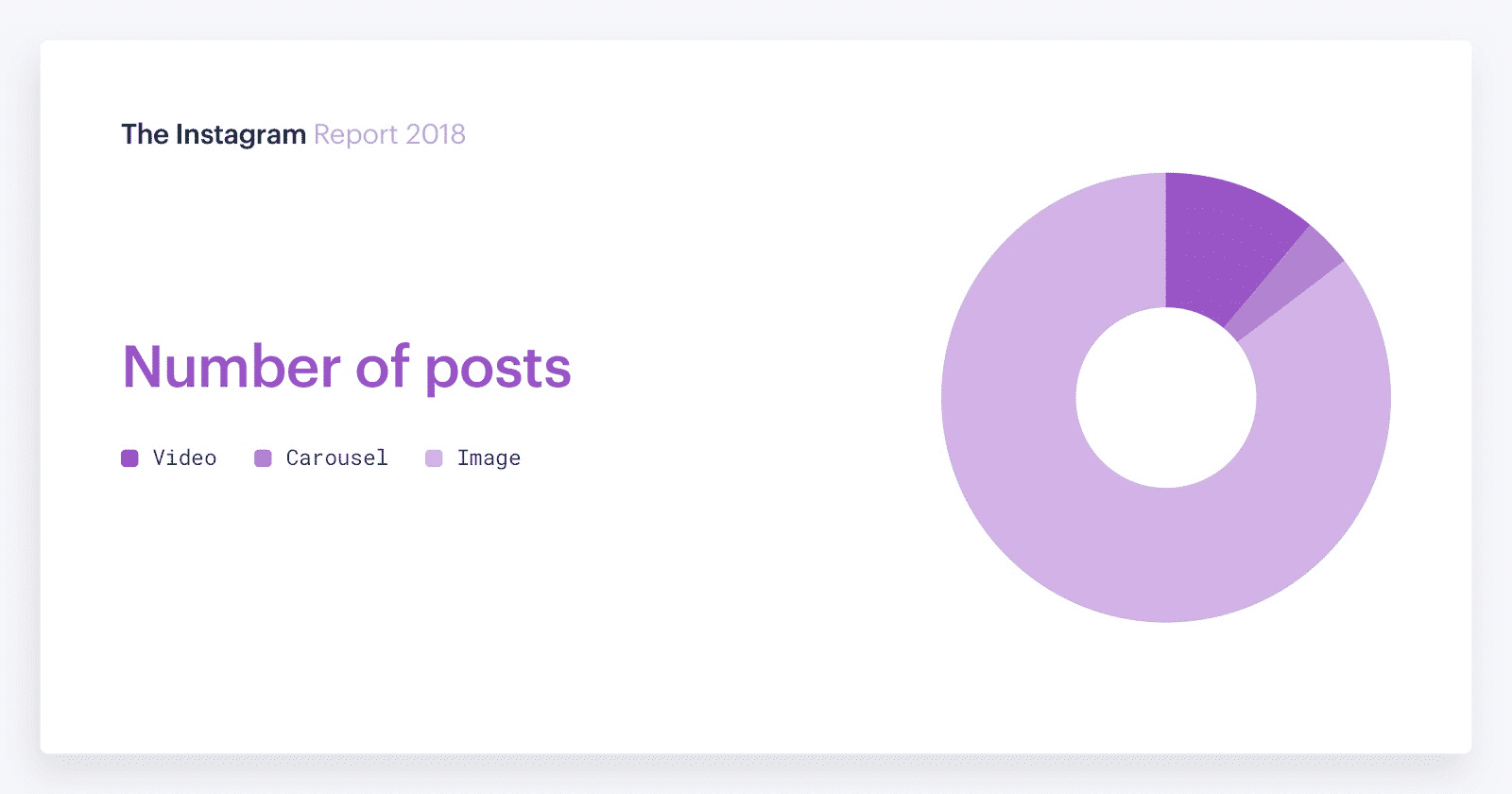 This means that despite the popularity of Instagram for all businesses (and those include your competitors), there's still plenty of room to stand out from the crowd with engaging, scroll-stopping videos.
Videos differ from photos because they require a different type of viewer engagement. Some tests have shown that videos actually don't generate more likes than photos, which might be the reason why they aren't as leveraged as photos.
However, they generate more comments than photos do. In other words, they create meaningful, more personal engagement compared to photos.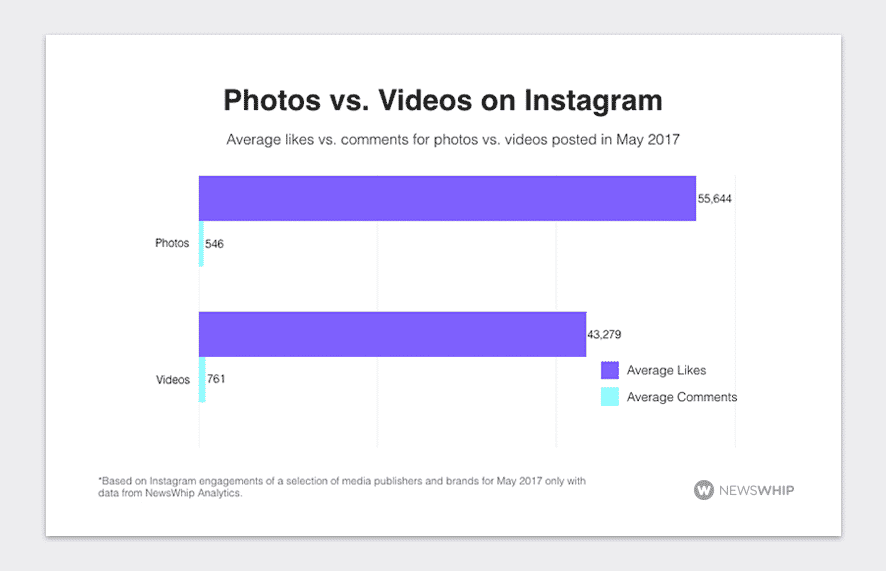 The reason behind this might be the fact that receiving the message of a video, compared to a photo, takes longer, so many people don't watch until the end and therefore don't like the post.
However, those that do watch until the end feel more compelled to share their thoughts, answer a question or tag their friends.
With this in mind, Instagram videos are the perfect tool to reach people highly interested in what you have to say and build deep connections and a tight-knit community on Instagram.
Here's some more good news: videos don't need to be hard to create, and you don't ever need to run out of Instagram video ideas.
Video formats that Instagram offers
Not only can you share any message you want to with a well thought-out Instagram video strategy—you can also do it in more than just one place and repurpose your creativity and ideas.
Instagram feed videos
Of course, you can make the most out of posting your video directly to your feed. Your video must be a minimum of 3 seconds long and can go up to a minute in length.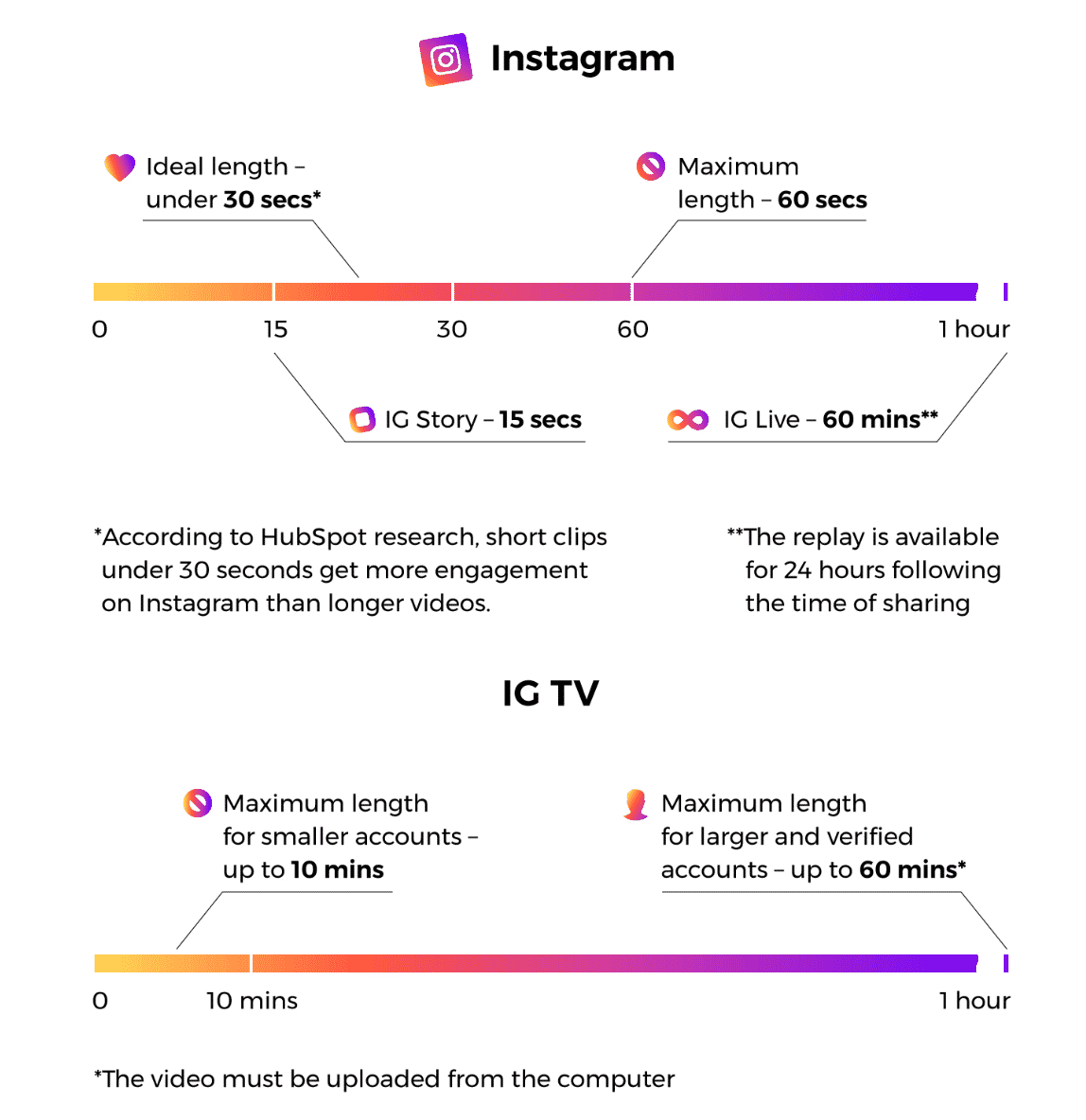 This length is perfect to test out various Instagram video ideas to find what your followers like the most.
The aspect ratio of the video on your feed should be between 1:1 (standard Instagram square) to 4:5 (vertical) to take up the most screen real estate and keep the viewers for longer.
Videos on your Instagram feed can gain a lot of momentum because it seems that Instagram's Explore page shows more videos to people who seem to watch and interact with videos already.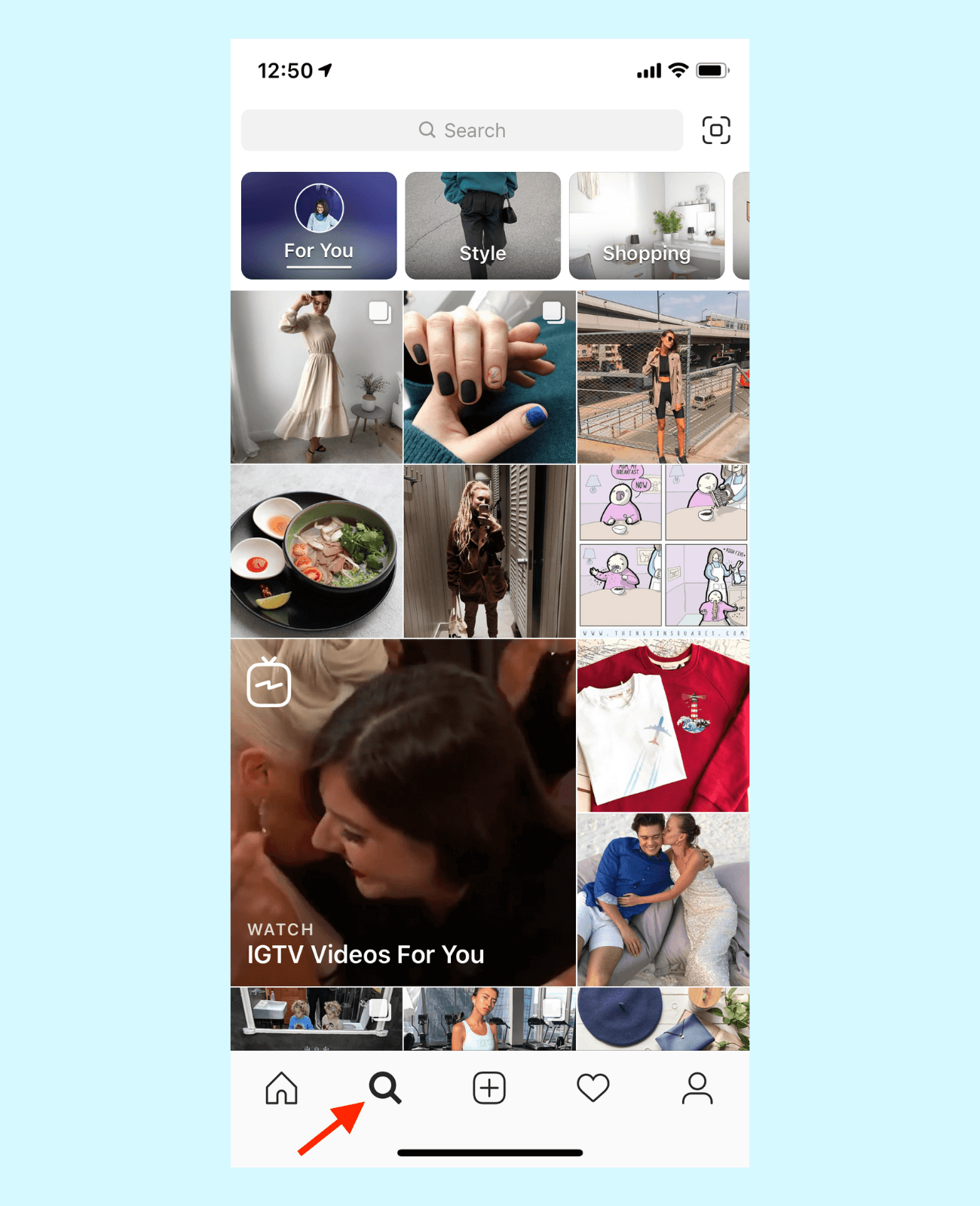 This means that the more focused and topical your videos are, the more chances for your Instagram video success!
Instagram stories
We might sound like a broken record, but Instagram stories are addictive and Instagram story videos carry an incredible humanizing, personality-driven factor. It helps you connect with your followers as if you're simply talking to them on Facetime.
No other social platforms offer that.
Each Instagram story video can be up to 15 seconds long and it's best when it's vertical so your followers don't need to turn their phone sideways.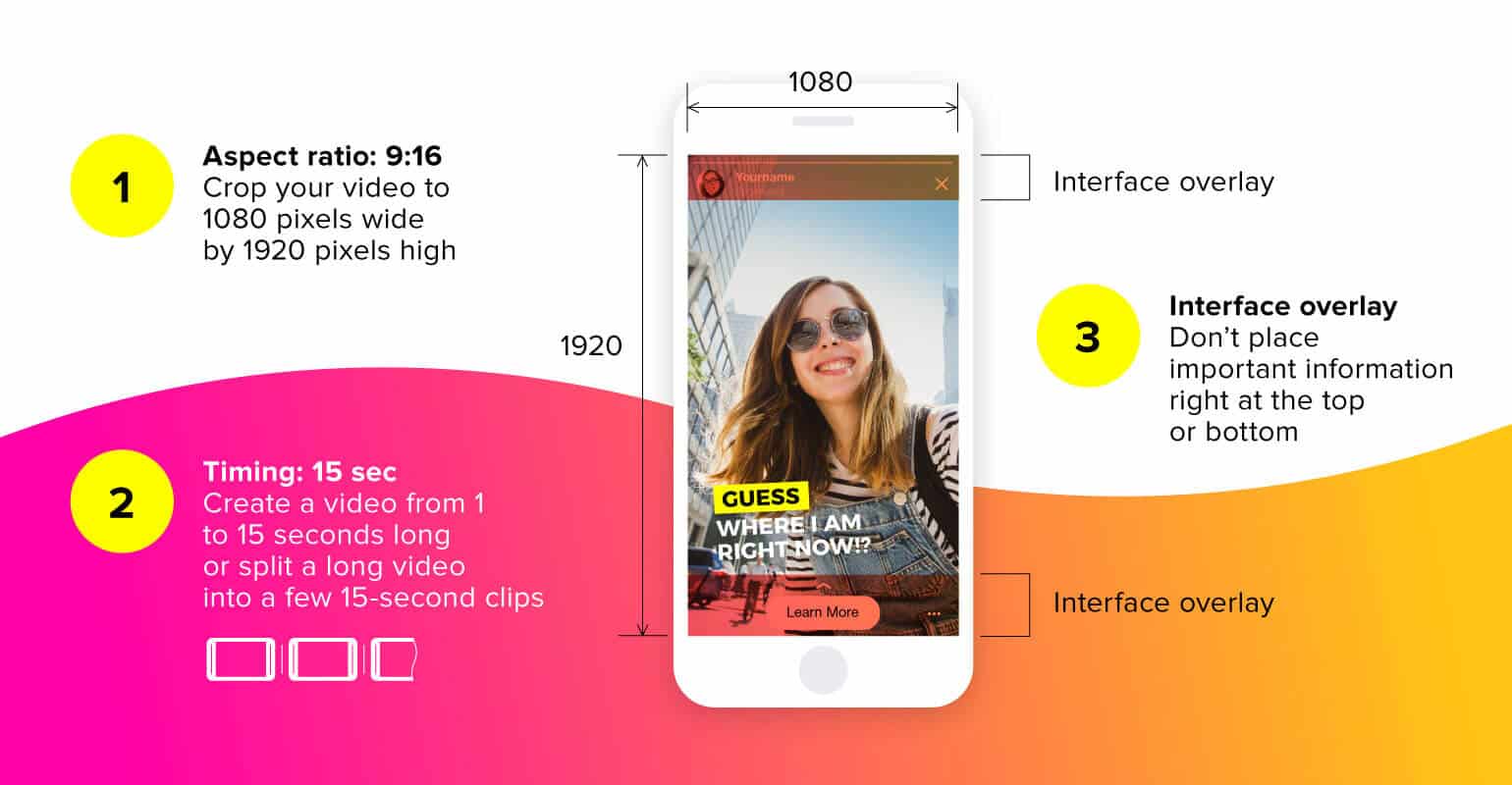 There are virtually no limits when it comes to the number of stories you can add. And even though stories expire after 24 hours from posting, you can intentionally add your best and most relevant ones to your profile highlights, thus further building your brand's personality and clarifying your focus.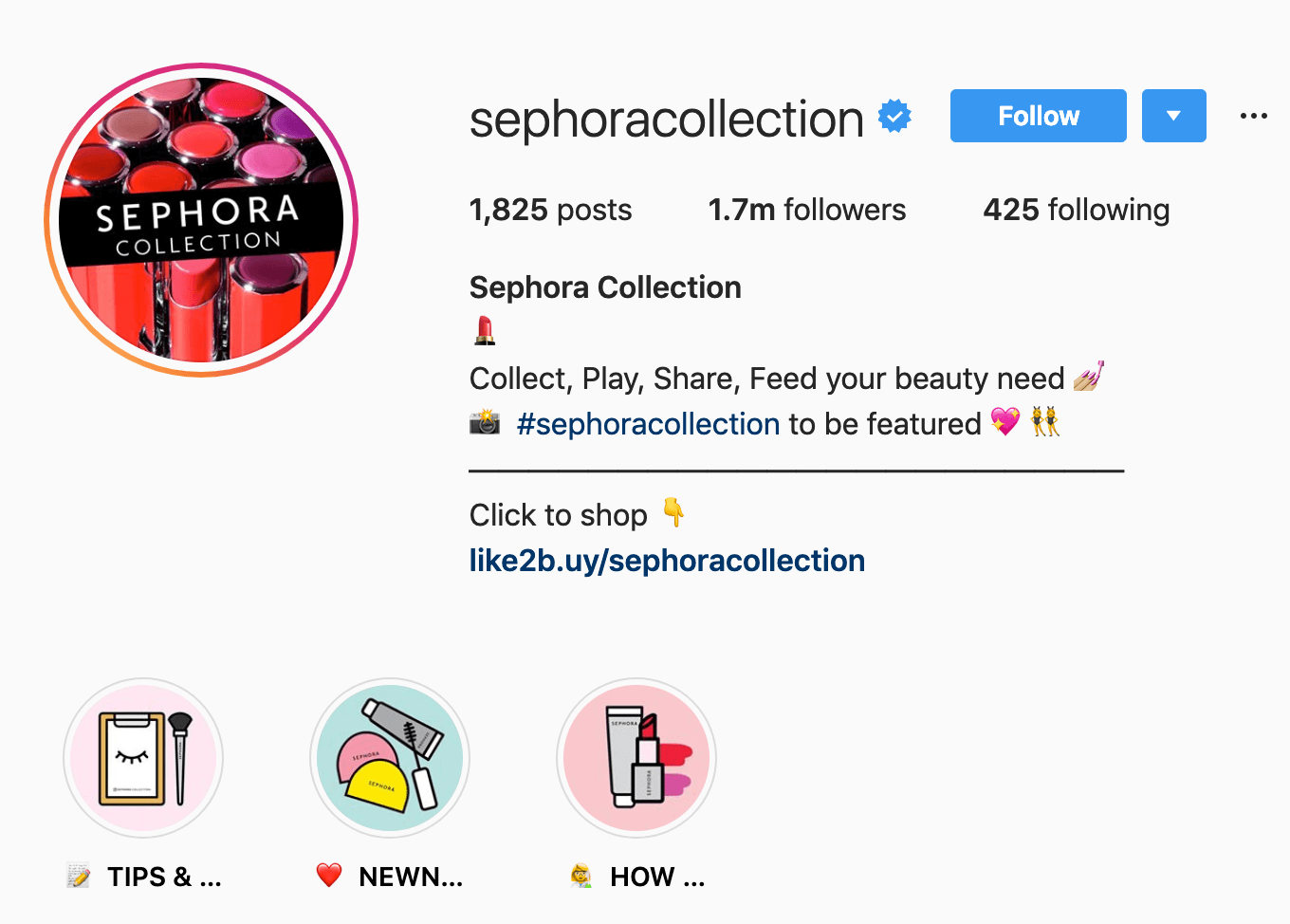 IGTV
Instagram TV is like a mix between the Instagram story vertical format and the depth of YouTube videos. This means you can serve your already-built audience with longer videos without switching platforms and starting from scratch.
IGTV videos must be between 15 seconds and 10 minutes long (with up to 60 minutes for larger and verified accounts).
With these three formats in mind, a bank of video ideas, and the right tools, you can win with Instagram video in no time.
Instagram video ideas you can steal right now
Okay, you're convinced—you should make the most of video on Instagram. But how to come up with video topics that your audience will love, interact with, and keep coming back for?
Let's go over 6 Instagram video ideas that will boost your topic brainstorming every single time. The best thing about these ideas is that they all easily fit into Instagram's 60-second requirement. However, you can expand them into longer videos for IGTV or several shorter ones for stories, too.
1. Teaser videos: promote your content and offers
Teaser videos are exactly what it says in the name: they exist to promote the content you've created, an upcoming live session, or a current offer, by sharing a sneak peek into the most compelling part of it.
Teaser videos can take any of the following shapes:
Listing key takeaways or features with on-screen text
Showcase a final result of using a product you're teasing, or the outcome of the process you share in the content you're promoting
Talking to the camera to announce an event or offer
You can see the last Instagram video idea mentioned in the recent promotion of our webinar with Salma Jafri:
To make the most out of this concept, always keep a list of your upcoming content, marketing campaigns, and product launches and turn them into a teaser video.
2. Time-lapse videos: take your viewers behind the scenes
Taking your audience behind the scenes is arguably among the best ways to build trust, showcase a less polished (and more human) side of your business, and nurture a relationship with your customers.
Many businesses still don't show much of their behind-the-scenes, which is understandable because there's always a risk of showing too much and having your ideas stolen.
Many businesses don't show much of their behind-the-scenes, as there is always a risk of having your ideas stolen.
This is where time-lapse videos work like a charm. Instead of thinking up an elaborate way to showcase your processes without revealing too much, you can take a much simpler approach and show a small portion of what you do behind the curtains by speeding it up.
Some time-lapse Instagram video ideas include:
Show a time-lapse of setting up your event's venue, instead of vlogging the entire day and talking about details
Show a time-lapse of packaging up products that are being shipped to your customers, instead of talking about the actual sales
Show a time-lapse of brainstorming a product or a piece of content (e.g. on a whiteboard), instead of going in-depth into the matter
Time-lapse videos are easy to create with native capabilities of both iPhone and Android smartphone cameras. These videos will help you share a process that's important to you while saving you time and effort of going in lots of detail.
You have the freedom to keep your timelapse as it is or edit your video to make it effective and fast-moving.
3. Stop-motion videos: showcase a process or tell a story
They say a picture is worth a thousand words. That makes stop-motion videos worth a lot more than that!
Stop-motion video is essentially a video made up of still images that, once put together, tell a story or take the viewer through a simple process.
With stop-motion video, you can turn a simple event into a fun experience and keep the viewer glued to the video until it reaches the end and uncovers the outcome. Another benefit of this Instagram video idea is that you can assemble items and props in a more interesting way than you ever could with regular video or a single image.
You can use stop-motion videos for anything from placing your products in fun environments to showing the steps that go into your product or service. The latter is exactly what we did in our social calendar promotion video:
Another great example comes from Jamie Oliver's video:
4. Explainer videos: feature your products
Are you afraid to talk about your products in the fear of coming across as too promotional?
We're right there with you. However, research has shown that as much as 65% of top-performing Instagram posts feature products, and video should be no exception.
Remember, people start following you on social media because they are genuinely interested in what you have to say. This isn't limited to just educational or fun content—they know you're a business and see you as an expert when it comes to the purpose of your products.
So don't waste an opportunity to occasionally feature your products in your feed with video. Here are a couple of ideas what your Instagram videos can be:
A short conversation with a customer on how they use the product
A demo video on how to make the most of the product
Showcasing the product out in the real world
Check out this short and stylish video from the guys from Over:
5. User-generated videos: build your credibility
Nothing builds trust from a new audience like seeing their peers enjoy what you do. Whether it's your events, products, or educational content, if people have something good to say about it, make the most out of it.
User-generated content has a 4.5% higher conversion rate, so it's a great way to add more variety to your Instagram strategy and make sure you reach your goals.
User-generated content has a 4.5% higher conversion rate.
Best user-generated videos are those coming from people who have bought from you in the past and can share real-life experiences based on it.
Boucleme, a company that creates products for curly hair, shares their customer's endorsements in a clever way by not only featuring the positive testimonials, but also the best practices and tutorials—loud and proud:
View this post on Instagram
6. Talking head videos: (re)introduce yourself
Our final Instagram video idea is also one of the easiest ones to ever do. Talk about who you are!
No matter if you're a one-person business or a growing brand, people want to know who stands behind a company name. They want to connect with a human being, not a faceless organization.
This is why sharing regular, talking-to-the-camera videos work so well. You can share the most interesting and attention-grabbing facts about who you are and what you stand for. This has the potential to spark comments, tagging, and genuine conversations more than anything else you post.
These introduction videos are awesome because you can adjust them to whatever fits your particular preferences, personality, and current goals.
And they're ridiculously easy to get started with. You can start off with a topic such as "Top 5 reasons why I got into [industry]" or even use some of the popular hashtags to increase your reach, such as #FillInTheBlankFriday or #ThursdayThoughs.
Check out our video templates gallery for more inspiration.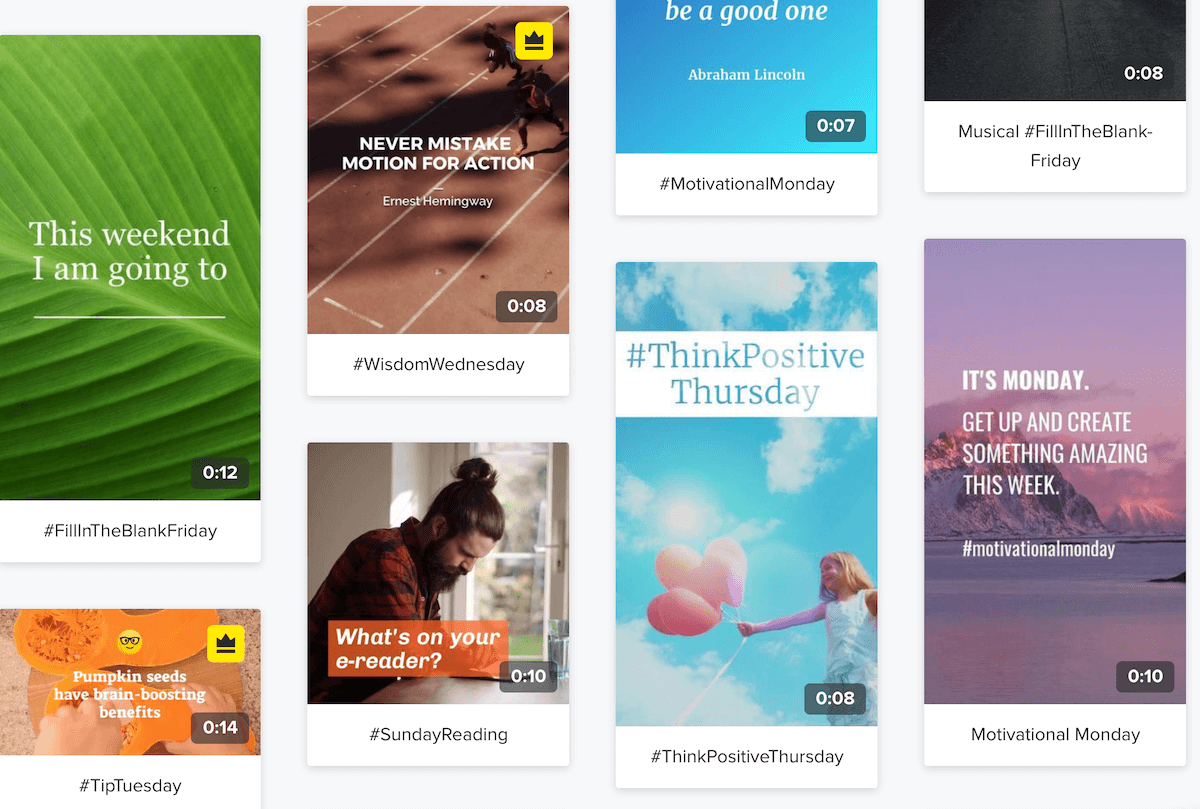 What's stopping you from creating outstanding Instagram videos?
One of the easiest excuses for not getting started with Instagram video is lack of ideas along with lack of tools to make something happen. In this blog posts, we tried to cover some easy Instagram video ideas that you can apply to your account today.
Have you started creating videos for Instagram? Share in the comments below!