How to Create Great Videos for IGTV [+Free Templates]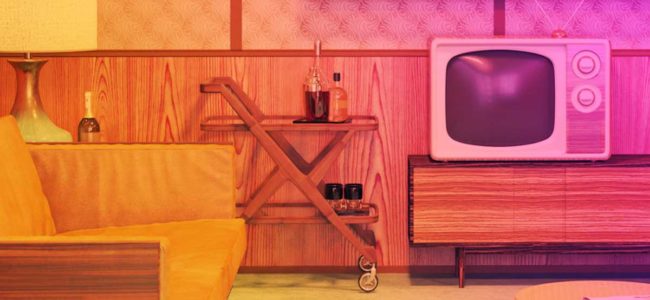 The social world is raving about the new feature that Instagram just introduced at an event in San Francisco last week. The feature is called IGTV (Instagram TV), and it will change the way you think of Instagram video.
I mean, if Cosmopolitan has already covered this piece of news, we should all probably be paying attention.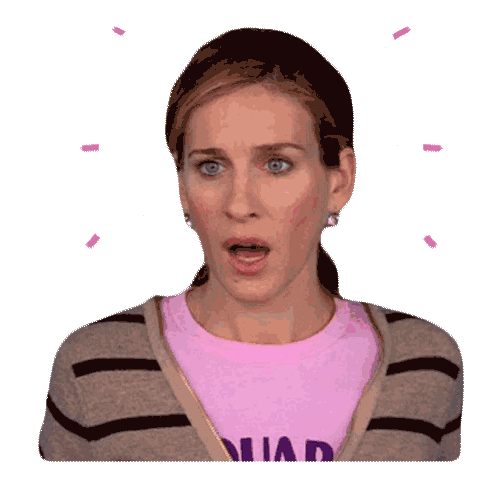 What is IGTV?
IGTV is a new app for watching long-form, vertical videos. It's specifically designed for watching videos in the vertical mode. You don't have to flip your phone to watch a video in the full screen.
In IGTV, you will see the videos from the Instagrammers you are subscribed to. It also helps you to discover new content based on your subscriptions and engagement with other content.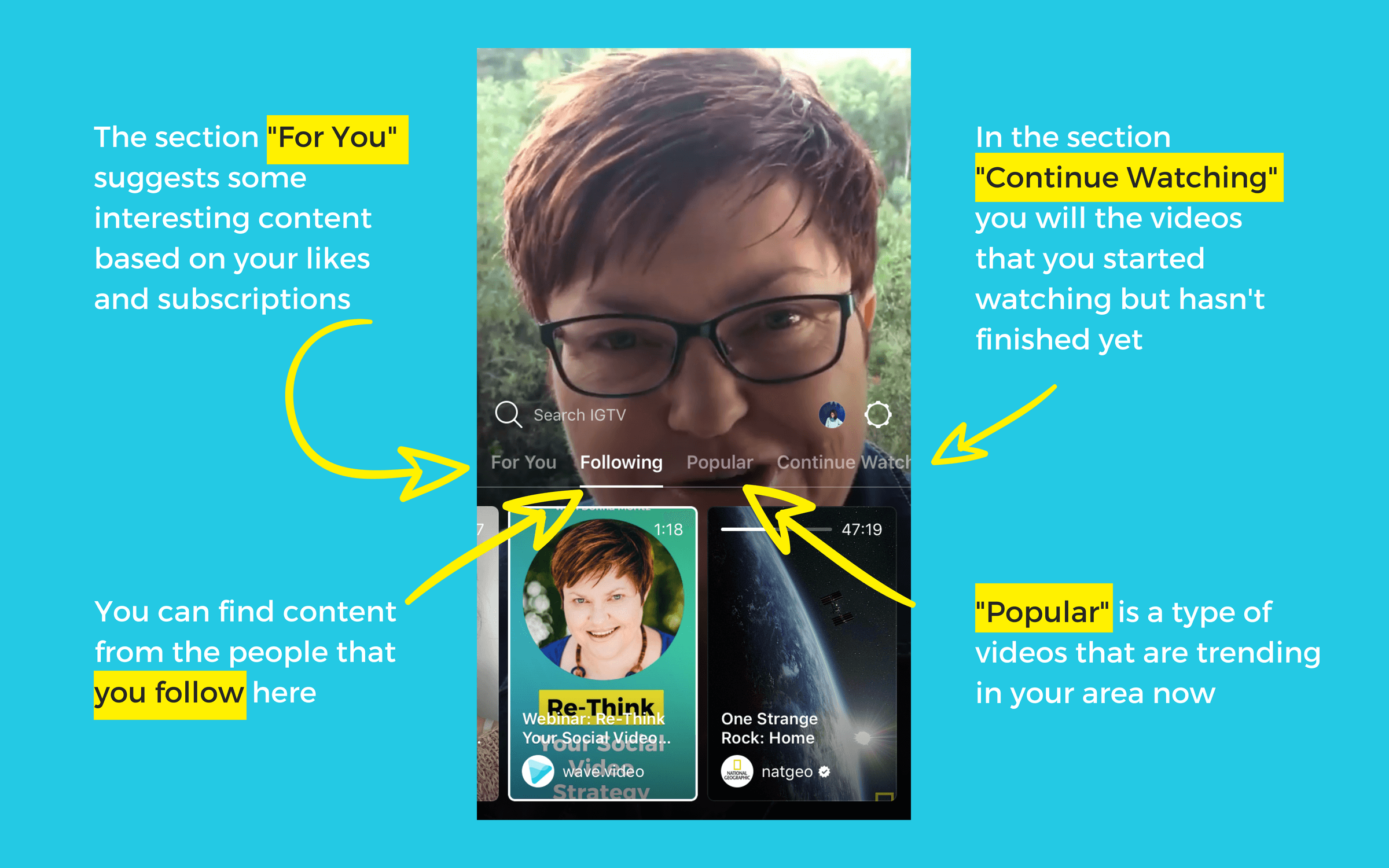 Think of it as YouTube for vertical videos. While there is content from the channels you are subscribed to, the platform also keeps you entertained by suggesting new videos that you might be interested in.
What do you need to know about IGTV?
When it comes to specifications, IGTV is similar to Instagram Stories. However, there are some significant differences that you might want to pay attention to.
aspect ratio is 9:16. That is, you might want to crop your videos to 1080 pixels wide and 1920 pixels high
There is a restriction for the minimum length of IGTV videos – 15 seconds.  The maximum video length for smaller accounts is 10 minutes.
This is a huge increase from 15 seconds that is available for IG Stories and even from 60 seconds for in-feed videos.
for bigger (from 10,000 followers) and verified accounts, you can upload videos up to 60 minutes long. In this case, you will need to upload the video from your computer, though.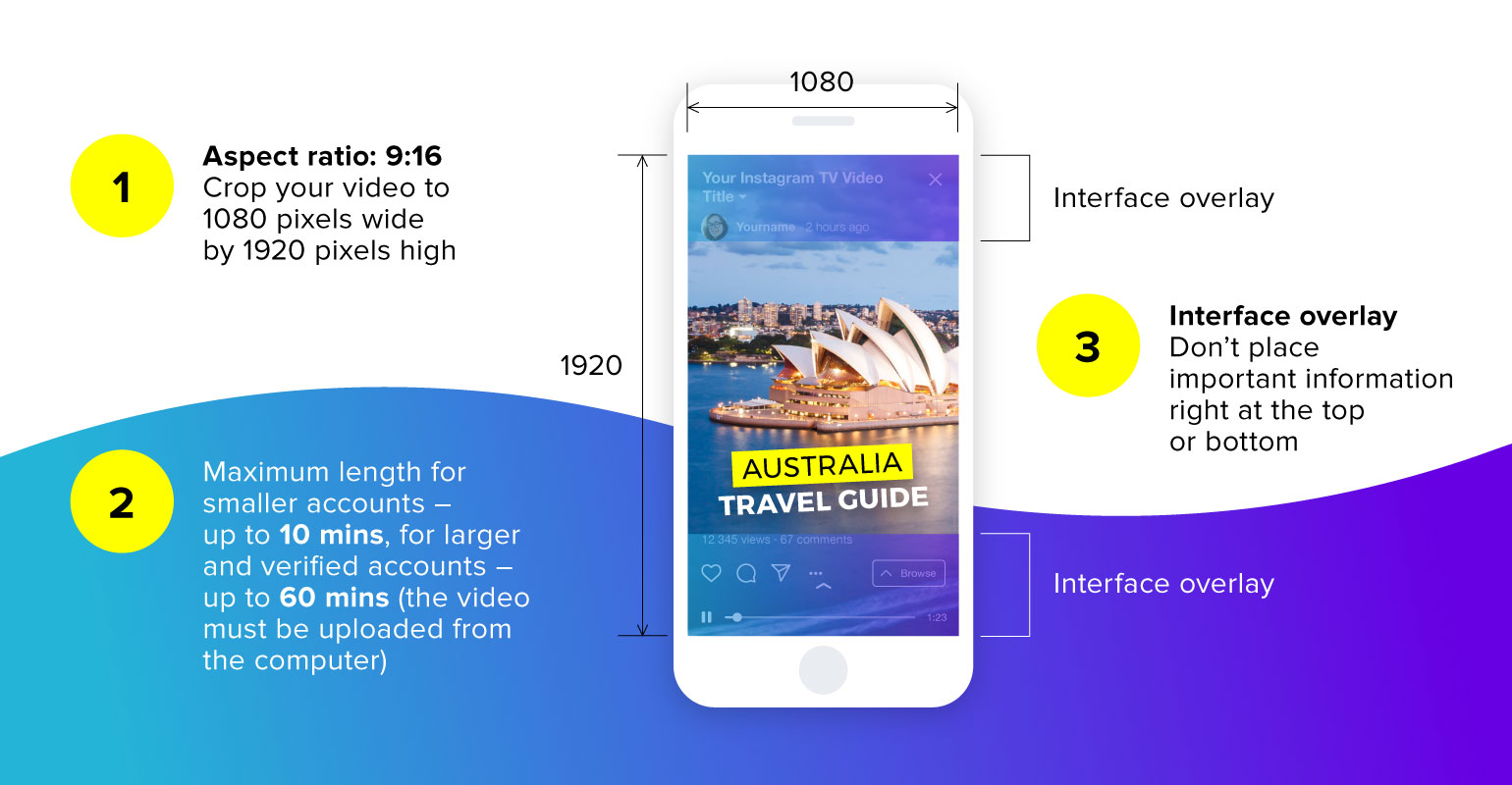 What makes a great IGTV video?
IGTV brings new awesome opportunities for content creators to share their video content with the audience. From what I notice in my feed, Instagrammers jumped right at the opportunity of posting longer videos.
However, just like any other social platform, IGTV brings its own rules to the table. I asked our Wave.video designers what makes a great IGTV video and what creators should keep in mind.
Here's what they said.
Give your viewers enough time to read the title
It's a good idea to add an intro to your IGTV video. This way, your viewers will know right away what the video is about.
So, if you add an intro to your IGTV video, and this intro has text, make sure you give your viewers enough time to read it.
Make sure your text is not covered by the interface
IGTV videos are full-screen, but there's still the app interface that overlays the video. If you want to make sure your viewers don't miss out on any important points, make sure the text is not covered by the interface. Or that it is at least possible to read it clearly.
Use matching colors if you are adding a background or captions
Instagram is a visual platform where color plays a huge role. IGTV videos are no exception. If you are editing IGTV videos by adding text or background to them, make sure you use matching colors and fonts.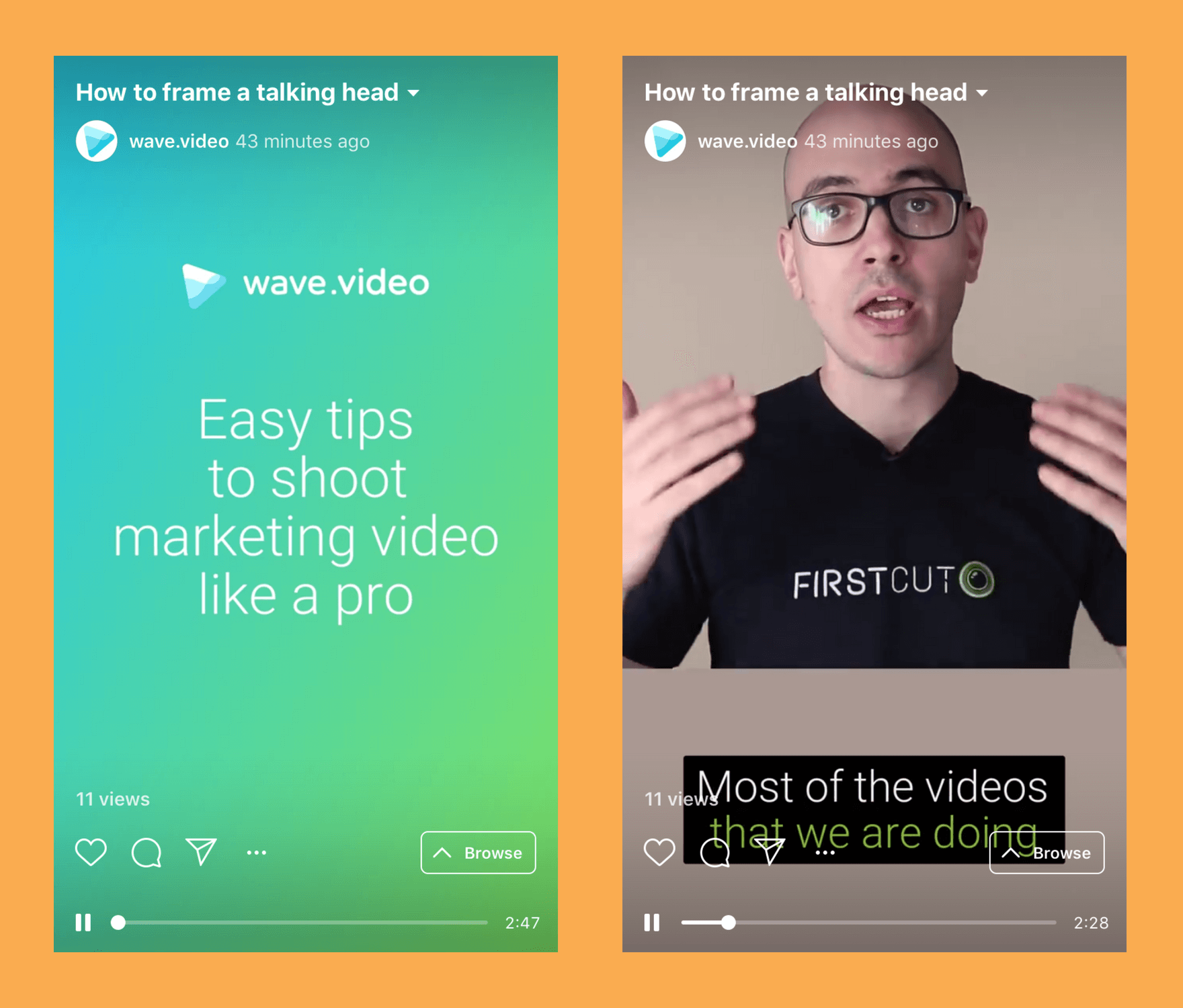 Don't make your intro too long
It's too easy to swipe to the next video. So make sure you don't give your viewers an incentive to do it with an overwhelmingly long intro. Get to the point quickly.
Make sure your video is vertical
I know I might sound like Captain Obvious. But you will be surprised to discover that even though IGTV was specifically designed for vertical full-screen videos, people still manage to upload landscape videos to it.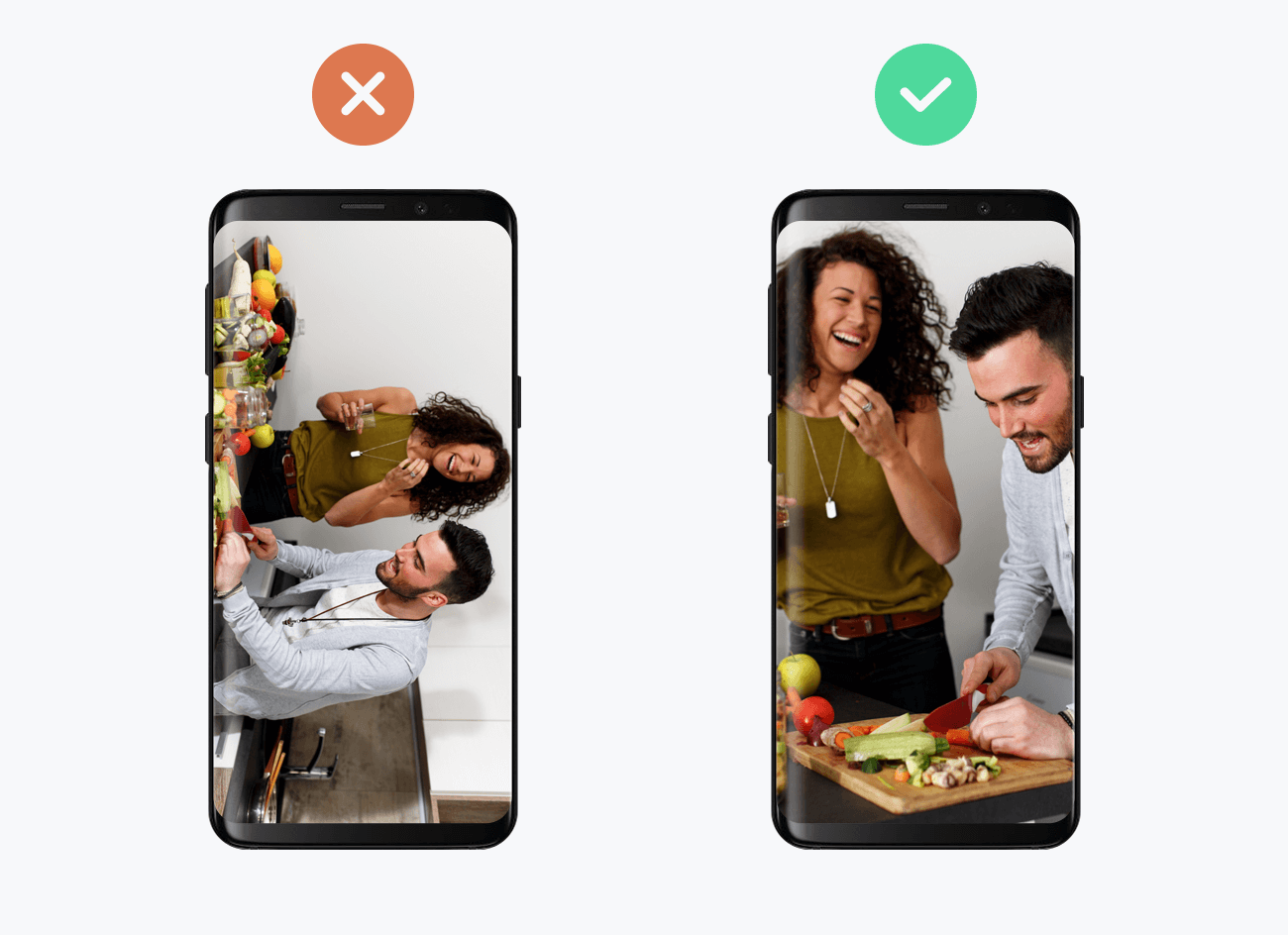 Pro tip: If you do want to upload a landscape video, it's best to add a solid background with captions to it. This way, the format will match the platform better.
Pay attention to the phone resolution
It's stated that IGTV videos have the 9:16 aspect ratio. However, some popular phone models have a slightly different aspect ratio. For instance, it is 9:19.5 for iPhone X and 9:18.5 for Samsung 9. Since Instagram stretches the video to take up the whole screen, some parts of the video might be cropped.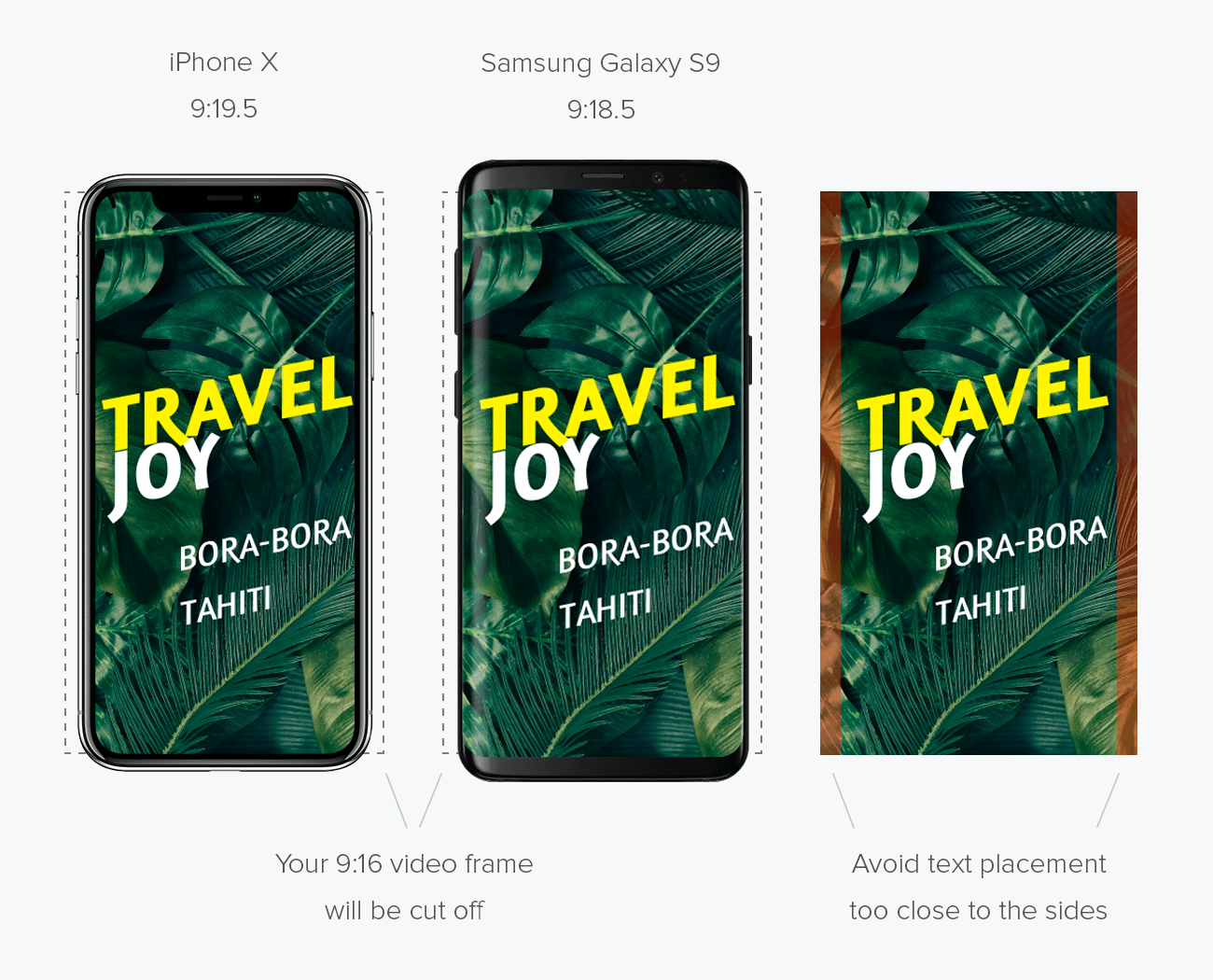 Pro tip: If you put text on video and want to avoid it being cropped, make sure you center the text and don't put it too close to the sides.
If you are looking for ways to grow your IGTV, the guys from Hello Social put together a comprehensive guide on how to do just that. Make sure to check it out!
How to make a video for IGTV with Wave.video?
If you want to create an amazing IGTV video, here's a step-by-step guide on how to do it in Wave.video, an online video maker.
[Tutorial] How to create a video for IGTV from any video in 1 minute!
In the video you will find how to make video for IGTV from any horizontal video. IGTV is a new platform for watching long-form, vertical videos
IGTV video templates
IGTV is a great platform for many. Whether you want to promote a webinar, share a helpful tutorial with your audience, or announce the latest article on your blog, IGTV comes in handy.
We have put together some great video templates for your IGTV channel. You can edit them the way you like by simply clicking the Customize template button.
Travel show IGTV video template
If you are in the travel industry, this template is a great way to brand your next travel video series. It's also a great way to tell your audience about a destination or accommodation options, too.
Webinar announcement IGTV template
This colorful IGTV video template is great for sharing your webinar on this platform. A solid background gives you an opportunity to add important highlights as text to your video. Use matching colors and stylish fonts to make your IGTV video truly outstanding.
Makeup tutorial for IGTV
Create a stunning IGTV makeup tutorial with this catchy template. Make the text bigger so that it stands out. Play with the font and background color to create a professional and stylish look.
Similarly, this template can be adapted to any other tutorials, how-to or instructional videos that IGTV is perfect for.
IGTV Talk Show Template
Announce your new fabulous talk show with this bright IGTV video template. Don't be afraid to play with colors: the brighter, the better!
15-minute Workout IGTV Template
IGTV is a perfect platform for uploading your instructional or training videos. If you are in the health and beauty industry, this template might help you share your fitness videos on IGTV.
5 Yoga Asanas for Concentration
Listicles work great on IGTV, especially since with this new platform, you can make them longer. Add text explaining what is shown on the screen. If you need to add another item, just copy the previous scene.
Over to you
What new videos are you going to post on IGTV? Share in the comments below.