How to Edit Videos for Instagram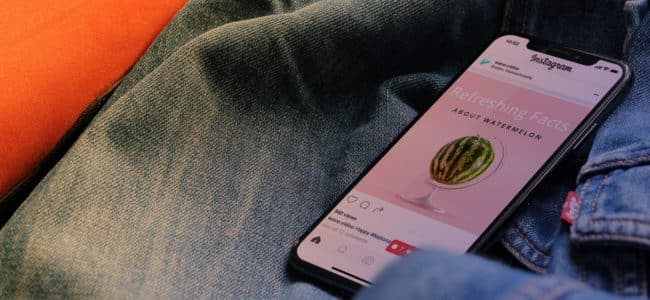 First published on Aug 17, 2017. Updated on November 15, 2018.
Remember when Instagram was simply a photo-sharing app?
Now, an incredible 1 billion monthly active users later, Instagram has become the go-to platform for everyone to keep up with their friends, favorite brands, and celebrities.
This means that Instagram is now a place for brands to become content powerhouses and create their own immersive visual channel and a memorable viewing experience.
Video has definitely been a catalyst to this process: as much as 40% of all Instagram users watch Instagram stories daily.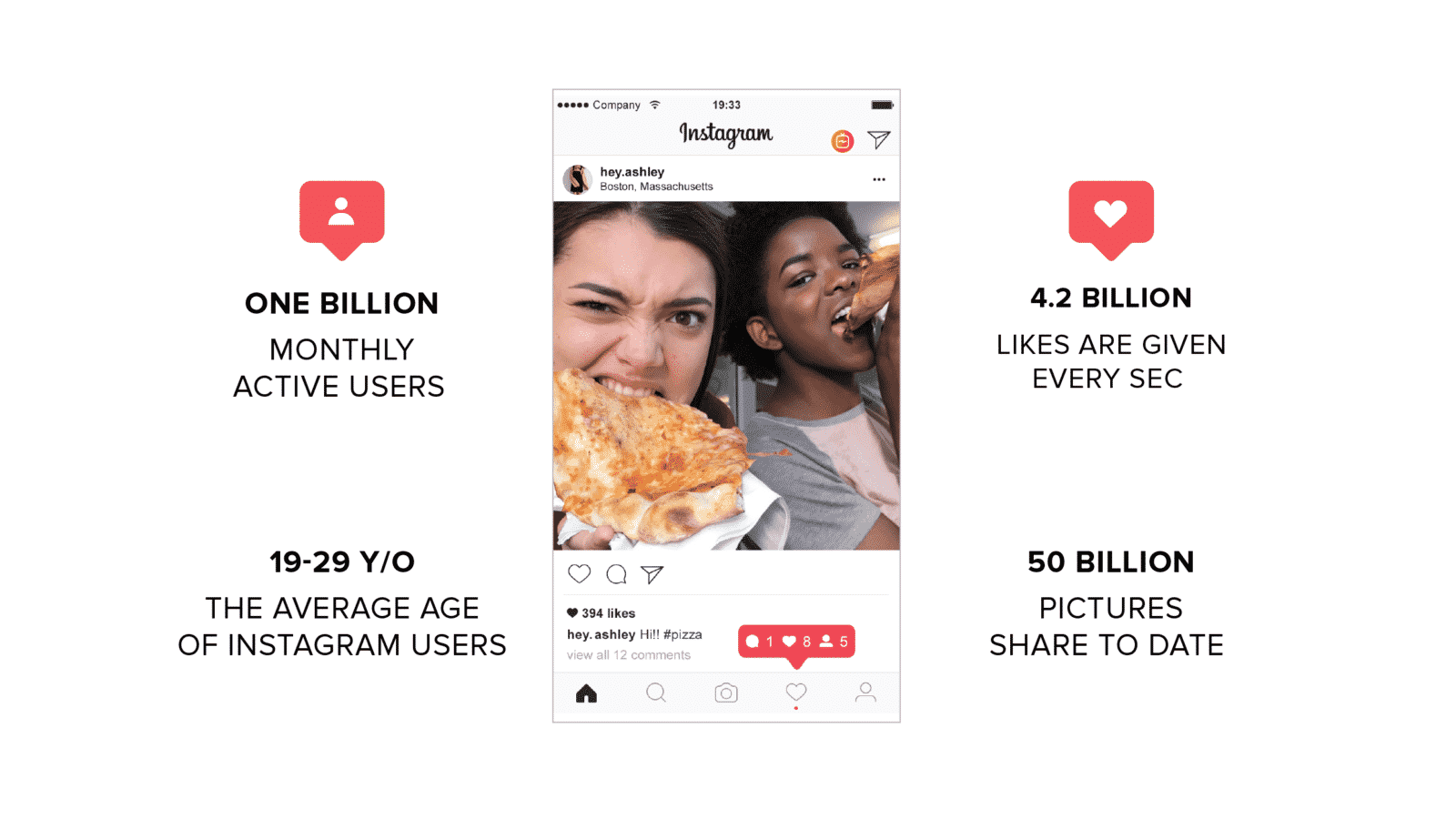 Instagram video has clearly become a way for brands to connect with their audience on a deeper level. Because even though it's reported that photos tend to drive more likes per post for the top publishers, videos drive more comments on average.
This might be because video entices users to pause and take the time to experience it. This presents a larger window of opportunity for engagements compared to simple scrolling and double-tapping photos.
Videos drive more comments on Instagram.
Furthermore, the addition of stories feature drove the time spent on Instagram by users up nearly 28 minutes.
However, the platform itself is only as effective as the way you use it. Instagram videos can be incredibly effective, but navigating so many options can be quite a daunting task.
If you really want to learn how to edit videos for Instagram to guarantee the results you're after, here are the formats, tips, and editing strategies you'll want to keep in mind.
Instagram videos can be incredibly powerful, but only if you create and publish them in the right way. If you really want to learn how to edit videos for Instagram to guarantee the results you're after, there are a few key things you'll want to keep in mind.
Instagram Video Specifications
Before we get into the video editing, let's first look into available video formats on Instagram and the specifications and technical recommendations for each.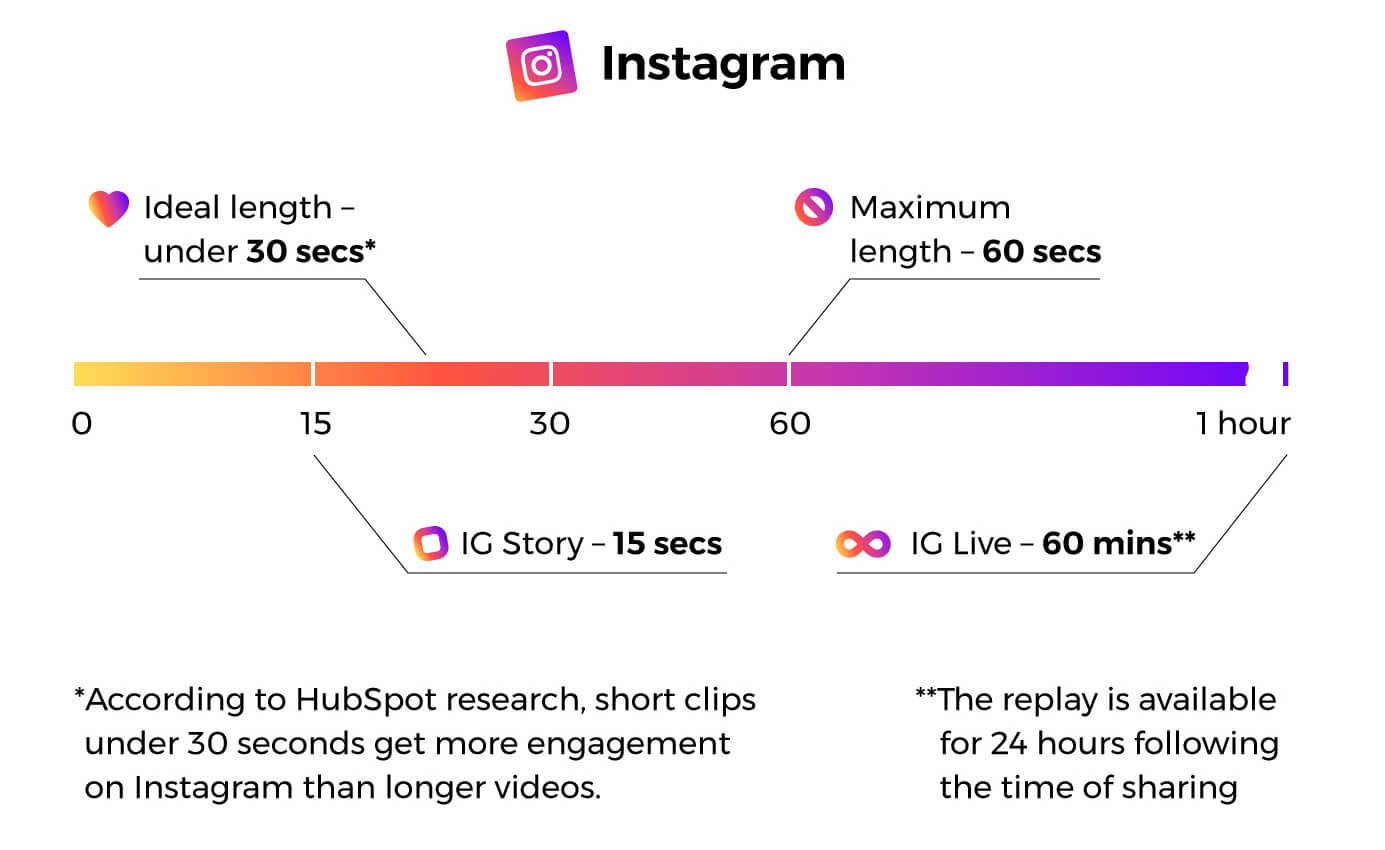 Instagram currently allows brands and creators to publish video in 4 ways:
In-feed video post
Instagram story
Instagram TV (IGTV)
Live video
As live video is by definition unedited, we'll focus on the first three video formats.
In-feed Instagram video post specifications
A standard video in your Instagram feed can be up to 60 seconds long.
As for dimensions, you can go one of three ways:
Square video: 600 by 600 pixels (1:1 aspect ratio)
Horizontal video: 600 by 315 pixels (1.9:1 aspect ratio)
Vertical video: 600 by 750 pixels (4:5 aspect ratio)
Your video file should be in the .MP4 or .MOV format with the maximum file size of 4GB and the maximum frame rate of 30fps.
If you're looking for even more technical requirements when learning how to edit videos for Instagram, the platform has the same recommendations for video as Facebook. Make sure to upload the highest resolution video possible that fits file size and ratio limits, along with H.264 compression, square pixels, fixed frame rate, progressive scan, and stereo AAC audio compression at 128kbps+.
You can easily add a video to your feed from your phone through the + button at the bottom of your Instagram app.
Instagram story video specifications
Individual Instagram story videos can be up to 15 seconds long. 
Since they take up the entire screen, the ideal dimensions for your story video is 1080 x 1920 (9:16 aspect ratio). If you upload a video in any other aspect ratio or that isn't vertical at all, it might get skewed by Instagram, which will ultimately provide a poor experience for the viewer.
The video file format should again be .MP4 or .MOV with the maximum video size of 4GB and a resolution minimum of 720p.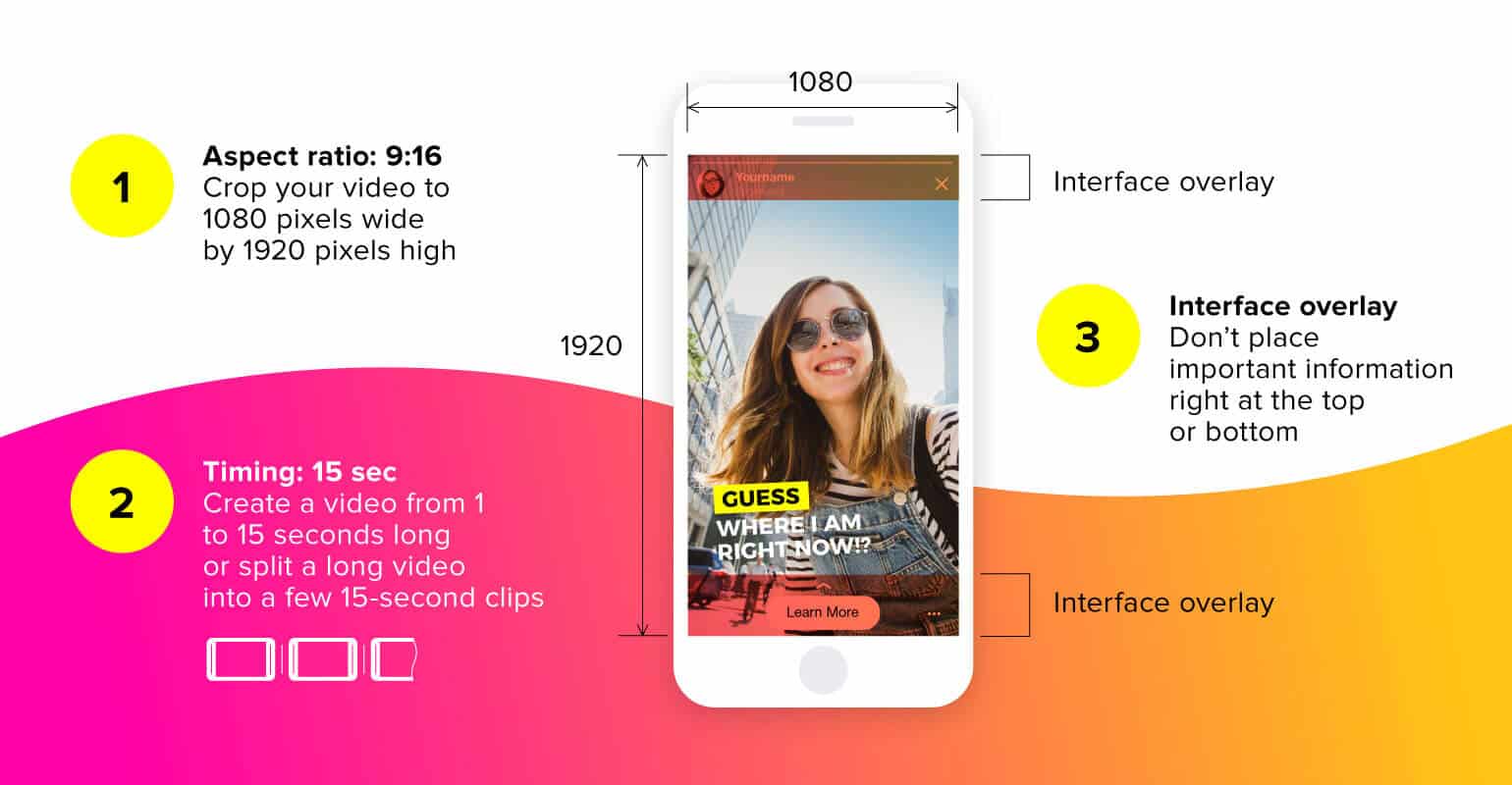 Another element to keep in mind when editing videos for Instagram is the sound of your Instagram stories. According to Social Media Week, around 70% of Instagram stories videos are watched with the sound on. It's crucial that you add sound to your stories, to create a more engaging experience for viewers.
A simple way to add a video from your smartphone by swiping up in the story creation mode and select the video you want to upload.
Instagram TV (IGTV) video specifications
One of Instagram's biggest releases in 2018 was definitely IGTV—their own version of YouTube-like long-form video platform.
On IGTV, videos must be between 15 seconds and 10 minutes long. Larger accounts and verified accounts can upload videos up to 60 minutes long.
Just like with stories, IGTV videos should be vertical (taking up the entire smartphone screen) with an aspect ratio of 9:16. This provides an immersive, attention-grabbing experience for the viewer.
IGTV videos must be in MP4 file format. They should have a minimum frame rate of 30fps and a minimum resolution of 720p.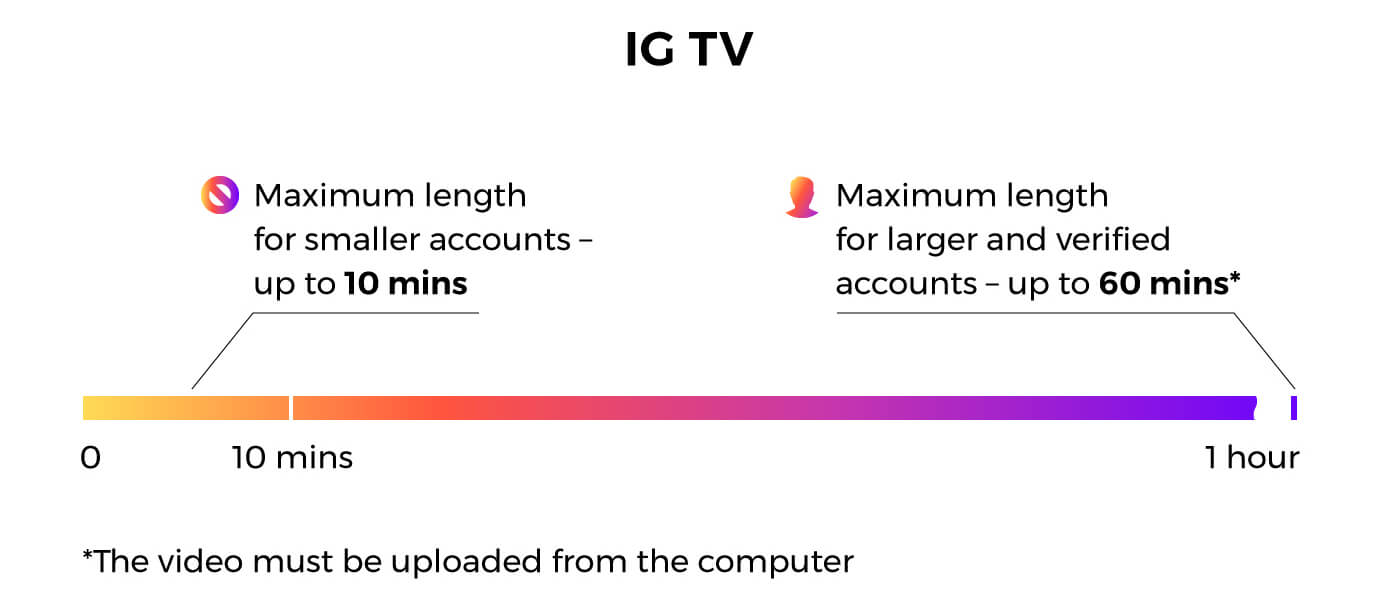 The maximum file size is:
650MB for videos that are 10 minutes or less
3.6 GB for videos up to 60 minutes
IGTV videos also require a cover photo. The recommended size for cover photos is 420 x 654px, which translates into a 1:1.55 ratio.
It's easy to upload and publish IGTV videos. Open the IGTV section of the Instagram app at the top right corner, tap on your profile within it, and tap the + sign, after which you can select the video from your gallery.
Creating and Editing a Video Inside the Instagram App
One of the best things about Instagram video is that the platform makes it easy to start creating videos without a steep learning curve or editing skills to learn.
In-feed video post editing
Video is perfect to take your viewers and followers behind the scenes of your business, and in-app video creation makes that super easy to do.
Instead of filming video clips with your camera app and taping them together in a separate app, you can simplify the process by doing everything with the options available inside the Instagram app.
To get started, tap the + sign at the bottom of the Instagram screen and select Video.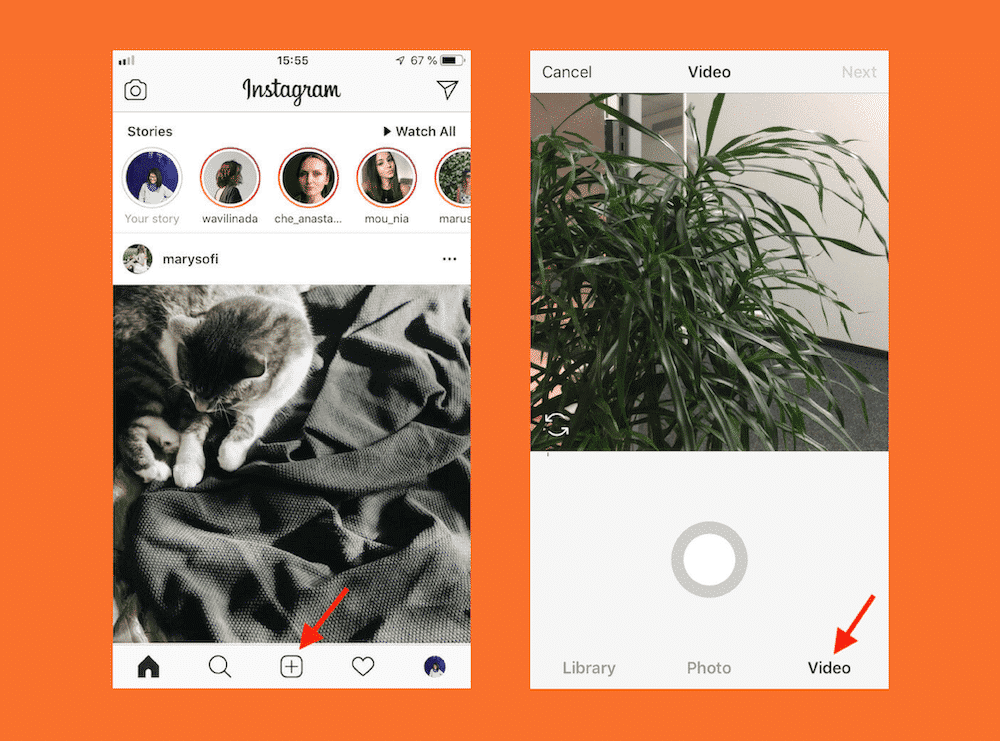 Then, all you need to do is press and hold to record a clip, and release to stop recording. You can then record more clips, all of which will be merged together in the order you recorded them in, and you can do this until you reach 1 minute in length.
Once you're happy with the finished result, you can choose whether you want image stabilization and sound options on or off.
You can then select one of the 24 filter options, and decide which frame of your video you want to act as your video cover.
And that's it! Your video is ready for a caption, hashtags, location tagging, and publishing.
Instagram story editing
Instagram stories are arguably one of the fastest growing features on the Instagram app. Capabilities for creating stories and editing videos for Instagram can be sorted into two parts:
1. Filming the video clip:
Normal: You can tap and hold the record button to take a regular video clip. When you release the button, it stops recording.
Boomerang: When you press and hold the record button, you can take a two-second video that then plays forwards and backwards in a loop. Boomerang is great for capturing a moving scene (a speaker on stage or a runner, for example).
Superzoom: This option zooms into the object you're recording and adds a frame and even sound to add a sentiment to your video, such as fire, drama, beats, and more. There are currently 10 superzoom options.
Rewind: Like the name says, this option plays the video you take backwards.
Hands-free: This is a great option for talking head videos because you're not limited to holding the phone in your hand. Additionally, if you tap and hold the record button, you can add a 3-second buffer before the recording starts.
Face filters: All these options with the exception of superzoom have the ability to add a face filter, such as sunglasses, animal faces, sunlight beams, and more.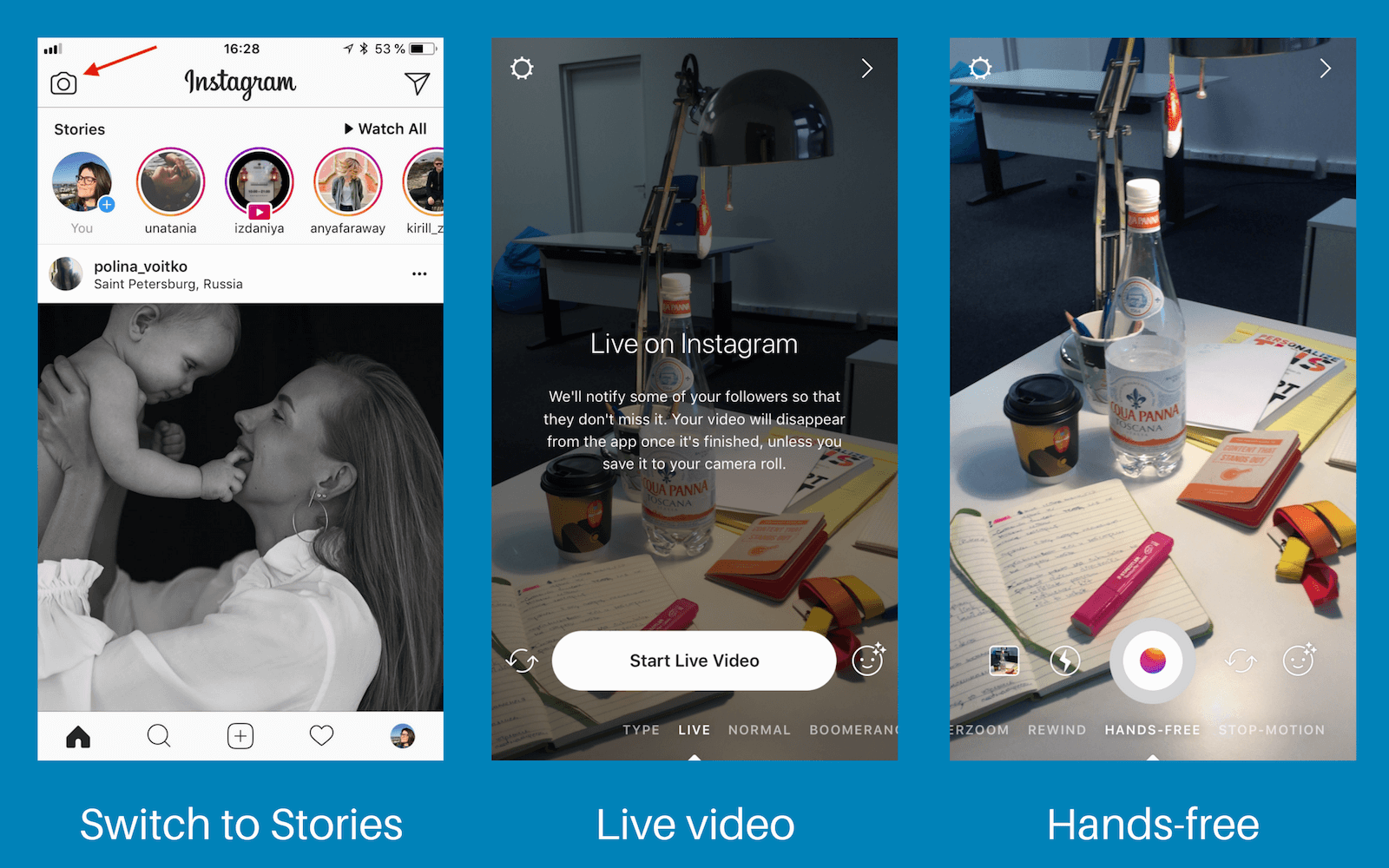 2. Editing videos in Instagram after you've recorded the clip:
Filters: You can swipe left or right on your video to add one of 10+ filter options to your video, including black & white, color overlays, and more
Stickers: By tapping the sticker icon or by swiping up, you can access stickers such as location, mention, hashtag, GIFs, time, poll, questions, weather, and more. These are great to add more discoverability to your story videos.
Pens: Choose between three types of pens and highlighters to add handwritten text or drawings to your video. These are great for adding visual consistency to your videos.
Text: Choose between five fonts to add text to your video. You can change colors and sizes and with three of them, you can also add a background.
Instagram stories may not have advanced editing features, but they sure have the capability to turn a single video clip into a message that grabs the attention of your perfect audience.
Make sure to try out all the capabilities and see how they fit together with your brand and your standard visuals.
Taking Your Instagram Video a Step Further With Editing Apps
Once you've mastered the in-app editing options, you might want some more creative freedom by making your editing more advanced.
For this, you'll need some additional tools—luckily, they are all really easy to navigate! Let's get started.
Play to the strengths of the format
Because of how powerful video is, you can often see in-feed videos repurposed for stories, YouTube videos turned into IGTV videos, and more.
This is actually a super smart tactic to use because it saves you time by repurposing your existing content. However, a horizontal YouTube video that is turned sideways for vertical IGTV layout isn't the greatest viewing experience.
In other words, Instagram video formats will make the most positive impact on the viewer when they're leveraged for their strengths. For example:
Stories are best for bite-sized videos that are easy to consume and take action on
IGTV videos are ideal for slightly longer messages thanks to the lack of distractions and they aren't as easy to skip as stories
In-feed, square videos are perfect for adding context with captions
You can make the most out of a single video by adjusting it to the format you'll use it for with Wave.video's capability to adjust the video content to each of the formats.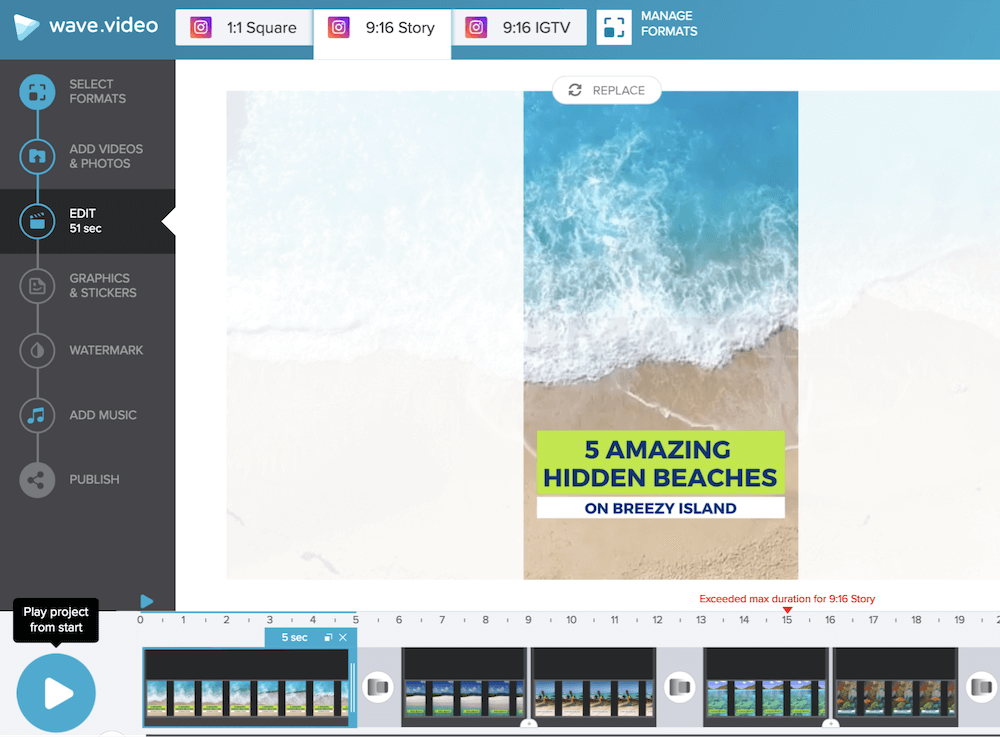 Filters, Filters, Filters
When you want to edit videos for Instagram, one of the most popular aspects by far are the filters that users can add to their content. The same is true of the video content you create, and to really sell that "Instagram feeling," you should be experimenting with filters, too.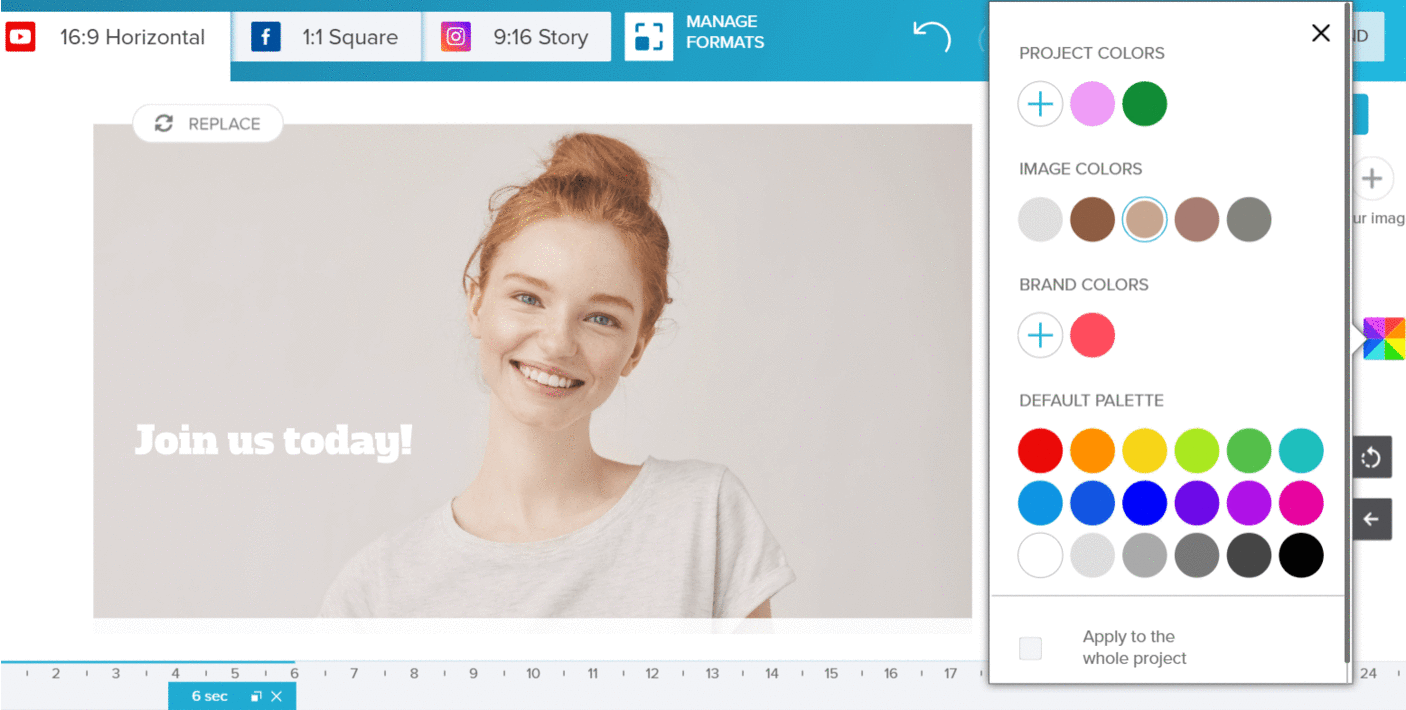 This will help you create that visual repetition and help your viewers to recognize your content without even looking at the profile it's from. Achieving this can do wonders for your branding and overall awareness.
Of course, Instagram gives you native options but if you want to add them to your video BEFORE uploading it to Instagram, try an option like iMovie. Available as a free download for MacOS and iPhone users, iMovie is a powerful editing suite that puts the options you need right at your fingertips.
Don't Forget About Animated Text
Adding animated text over top of your video is another great way to play to the strengths of this particular social media channel. It's a great way to instantly capture your viewer's attention as soon as you possibly can.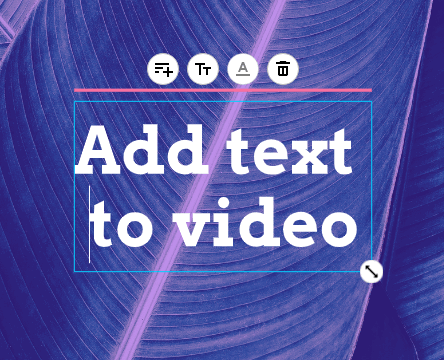 Tools like Wave.video or Vont are great for adding these types of stylistic elements to your content before publishing. When used properly, they're a great way to take something out of the realm of "just another video" and into the arena of "a legitimate extension of your larger marketing campaign." Edit videos for Instagram like a pro 😎
Music to Your Ears
Finally, when figuring out how to edit videos for Instagram, don't forget to add music! Adding music to your video is a great way to generate emotion and increase engagement with your content. Think about your favorite scene from your favorite movie – now, think about it without that heart-pumping score behind the action. The scene probably plays a bit differently without music, doesn't it? Absolutely – which is a large part of why music is so important.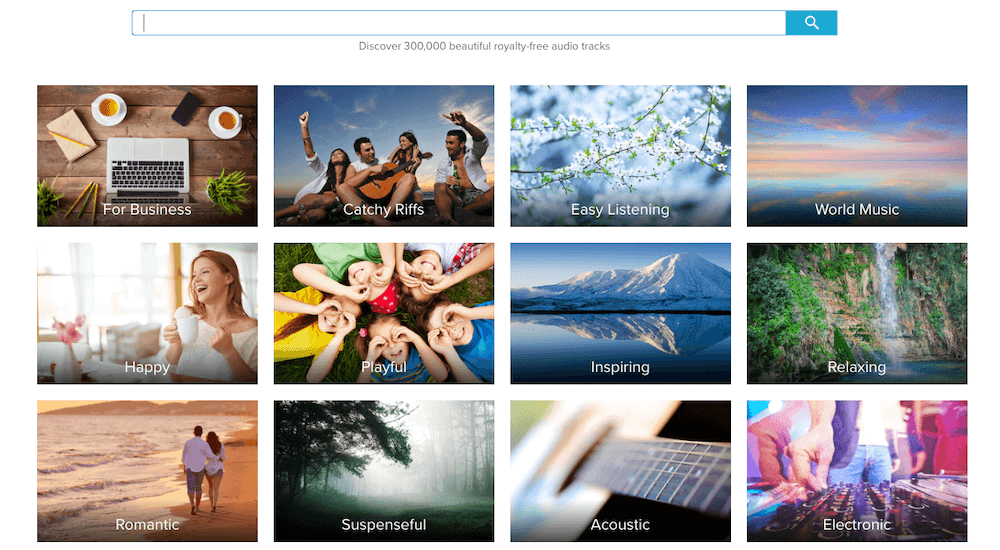 In tools like Wave.video, there is a full library of royalty-free audio files that you can drop into your video content as needed. If you happen to be an iMovie user, you can also enjoy built-in access to iTunes and the hundreds of thousands of songs that are available there, too.