How to Promote Your Instagram In-Feed Video Posts by Sharing Them to Stories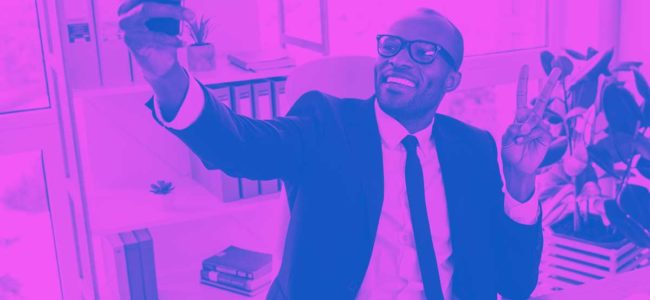 Recently, Instagram has introduced a new feature. Now, Instagram users can share any public in-feed post as a sticker to their stories.
Here's what Instagram says about the new feature:
When you come across something in feed that inspires you, you can now quickly share that post as a sticker to your story for your friends and followers to see.
It is fairly simple to share an in-feed post to Instagram Stories. Here's how to do it, step by step.
1. Under the feed post, tap the paper plane symbol. You are only going to be able to see it if the post is public.
2. In the sharing dialog, select the option "Add Post to Your Story".
3. The post will be added to your story as a sticker with a customized background that matches the sticker. Unfortunately, there doesn't seem to be any option to change the color of the background.
You can still add text, GIFs or any other overlays to the story. However, they are going to be added behind the sticker, on the background.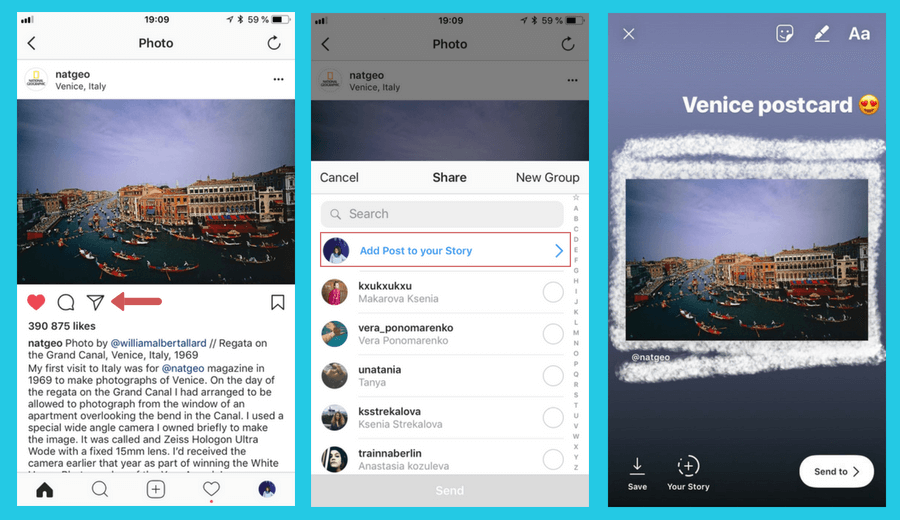 If you share a post to a story, the sticker is going to have a link back to the original post. When tapping on the sticker, viewers will be able to get back to the content you shared, i.e. the original in-feed post.
How can creators use this new Instagram feature to promote their content?
This update brings new opportunities for brands to get their content in front of the audience. In particular, it is an easy way to re-share a post to stories and reach out to those who might have missed it in the feed.
This is also an excellent chance to draw your subscribers' attention to the video posts you share on Instagram. The process is the same, with just slight variations.
We played with the new feature to see how we can use it to share our content to stories. Here's what we did and the results we got.
Step 1. Choose a post you want to promote.
There are many ways why anyone would want to repost anything to stories. If it's one's own personal profile, a person might want to share something exciting she encountered in her feed with friends and followers.
Brands might want to repurpose some of their content for a bigger audience reach. We chose to try the new feature with our latest video post — a webinar promotion.
Step 2. Customize your post
With our posts on social media, we normally use a distinct style: certain language, pictures, and emojis. For instance, this is what our promo tweet for the webinar looked like:
Ready to Go Live? 📽
Join the webinar with @jessikaphillips "How (and Why) to Do Live Video"
📆Thursday May 31 at 11AM ET
Register 👉https://t.co/FW9qwdu7jj pic.twitter.com/oav1jN5tfz

— Wave.video (@wave_video) May 24, 2018
Instagram has some great customization options for stories. You can add text and emojis, change the text color and font, add GIFs and whatnot.
So, we added some text and emoji to the story to match our style. Notice that the video is shared as a static sticker. But since the sticker is tappable, you can still lead people to the original post so that they would watch your video.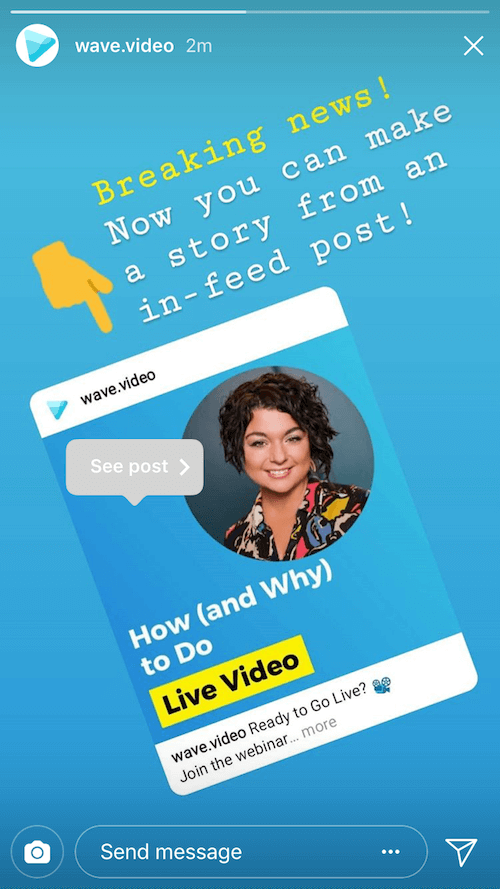 Step 3. Share your post to stories
The results were fascinating. With the story, we were able to gather 209 additional views for our post!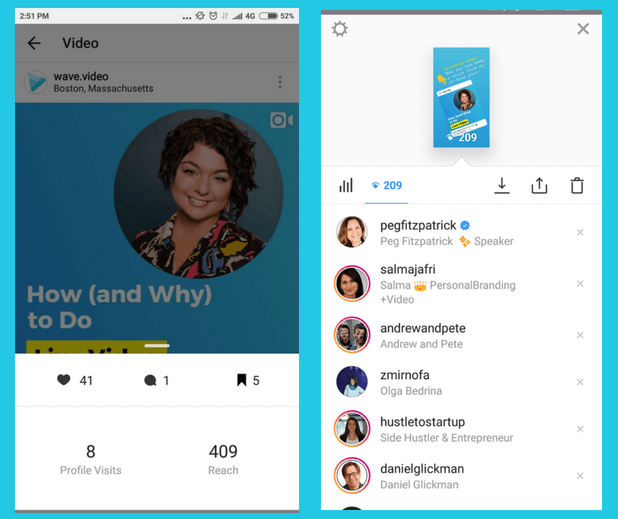 We believe we could have done even better with the story. Since we were just trying the feature out, we missed on adding a clear call to action to the text. My guess is that the users just didn't realize they can actually tap on the sticker to view the in-feed post.
This feature seems to be yet another way to better connect your feed and stories for a better content promotion.
It's a powerful feature to make your catchy images and videos to be discovered again. Just choose the most viewed or likeable content in your profile, turn it into Stories by adding some text or a funny sticker to it. What would be easier to repurpose your content on Instagram than that?
Have you tried this new feature by Instagram? How are you planning to use it for your business? Share in the comments below!