12 Best Video Hosting Sites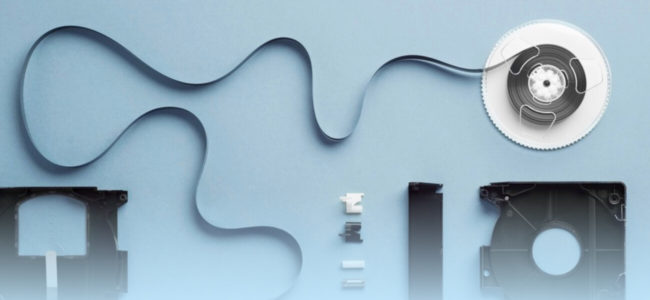 Great videos need an equally great hosting site. Choosing a video hosting website might seem like an afterthought compared to the hard work of actually making videos, but it is a key consideration if you want your videos to perform well and be seen by as many people as possible.
Why do you need to choose a video hosting site to begin with?
Can't you just host your videos on your own site?
Technically, yes, but this is a bad idea for a couple of reasons. Storing a video file usually takes up a lot of space, which is something you won't have to worry about when using a hosting site. If numerous people try to watch a self-hosted video at once, the requests may also be too much for the site's bandwidth to handle, resulting in a video that loads slowly or freezes. To ensure that your viewers have a good experience watching your videos, it's best to leave hosting to the pros.
If too many people try to watch a self-hosted video at once, the requests may be too much for the site's bandwidth to handle.
You have plenty of options when it comes to hosting, from the biggest and most popular video hosting sites to more specialized and business-friendly options. The best choice for you will depend on what you want to achieve with your videos.
For instance, social videos will likely do best on large hosting sites with a big audience. If you're making business videos, you may prefer to look for a hosting site that has an analytics dashboard you like. Here are 10 of the most popular video hosting websites you might want to consider using.
Here's a list of our favorite video hosting websites:
Wave.video
YouTube
Vimeo
Wistia
Cincopa
Vidyard
Brightcove
Dailymotion
TwentyThree
SproutVideo
JWPlayer
Vzaar
Now let's take a look at why you should choose this or that platform.
1. Wave.video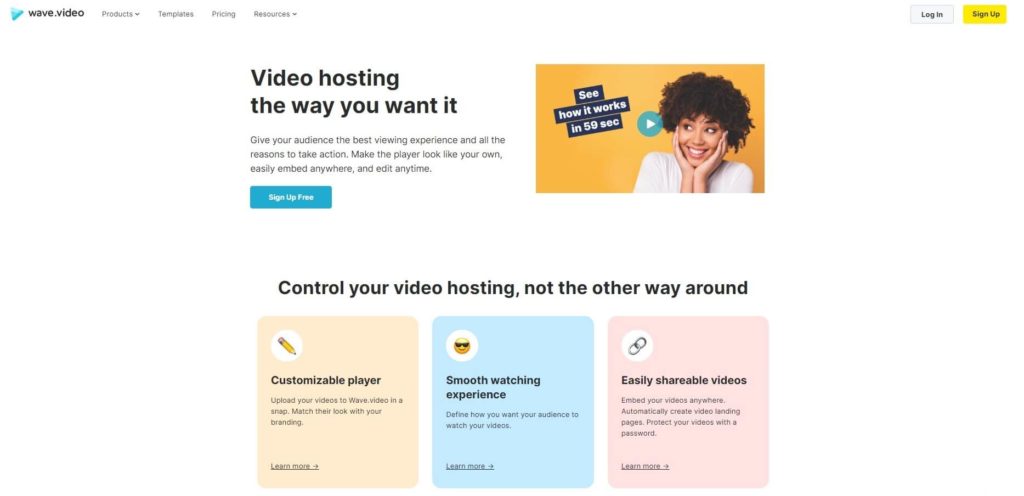 Wave.video is one of the most robust video hosting solutions out there. Wave.video users can host videos and embed them on landing pages, blog posts, or share directly via a link.
Why should you host your videos on Wave.video?
Here are just a few advantages of Wave.video hosting.
Fully customizable player
With Wave.video hosting, you have full control over the video player's appearance. Wave.video users can easily change the player color, choose a custom thumbnail for their video, and define what controls are shown (if any).
Wave.video provides the option to set a password for your videos in order to control the access to your video content. This way, you'll be able to restrict who exactly can watch your videos and limit the views if the video is confidential.
Wave.video automatically creates a landing page for every hosted video. You can add a heading, description, and clickable button to a video landing page and share it with your audience.
Unlike free video hosting sites like YouTube, Wave.video doesn't allow random ads and suggested videos to pop up over your content.
2. YouTube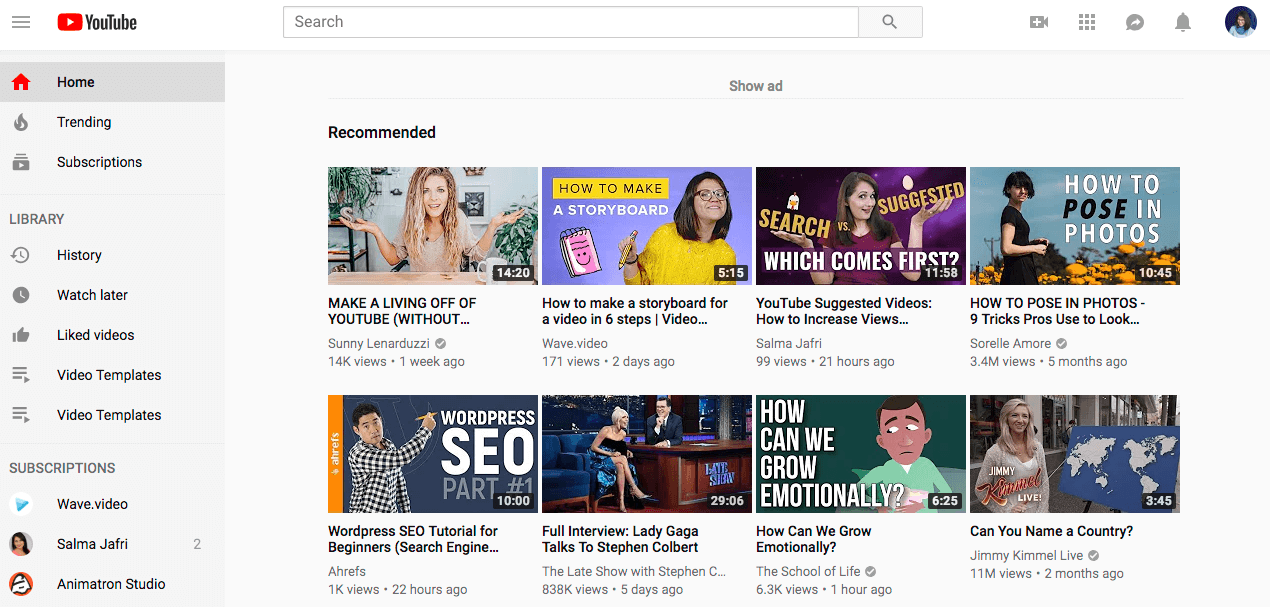 Everybody knows and watches YouTube, which makes the site a natural place to start if you're searching for video hosting online. In fact, even if you prefer using other video hosting services, it's hard to completely avoid using YouTube because the site is just so big. (To give you an idea of its size, 300 hours of video content are uploaded to YouTube every minute.)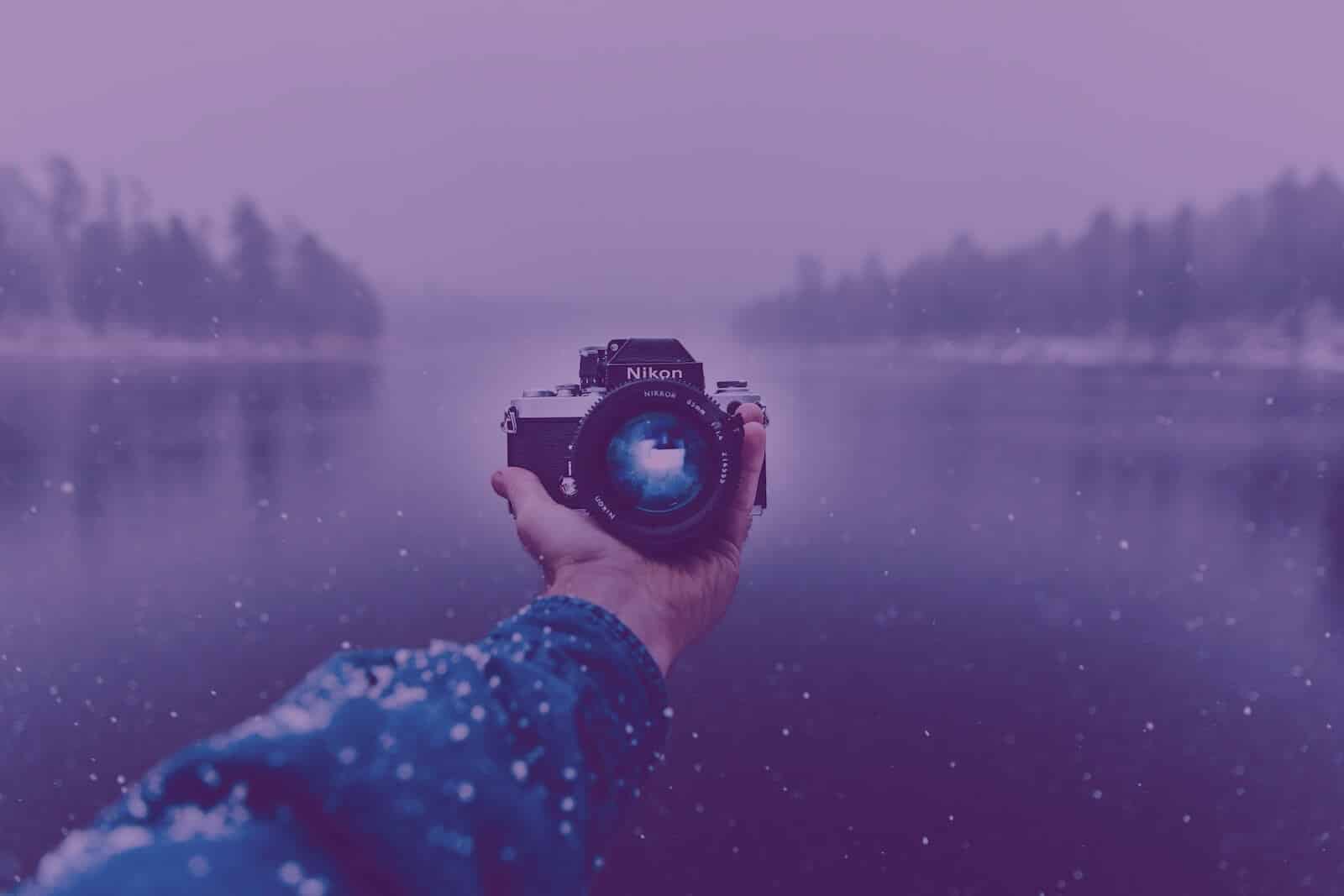 300 hours of videos are uploaded to YouTube every minute.
Why should you host your videos on YouTube?
Here is why YouTube might be a good choice for a video hosting platform.
YouTube is simple, accessible, and free
There are lots of tutorials on the Internet that can teach you how to use the platform, which makes it especially good for beginners.
YouTube's straightforward interface doesn't mean it's lacking in functionality. The site lets you view reports on three aspects of your channel's performance: earnings, watch-time stats, and viewer interactions. YouTube also gives you options for targeting your video ads to different audiences.
YouTube also has a major social aspect that most other video hosting sites don't, and since Google owns YouTube, uploading your videos to the platform may give your content's search engine visibility a boost.
What are the drawbacks of hosting videos on YouTube?
There are a couple of drawbacks to hosting your videos on YouTube, especially for businesses.
First, YouTube doesn't always present the most professional appearance. Many people associate YouTube with entertainment, so a buttoned-down business video may not quite hit the mark there, either for YouTube's audience or your own.
YouTube also doesn't give you as many options for customizing your videos' appearance as many of the other hosting sites on this list. For instance, if you embed one of your videos elsewhere on the internet, the YouTube logo will show up in it.
Despite these disadvantages, though, YouTube still dwarfs every other site on this list, and many businesses find it a practical option for that reason alone.
3. Vimeo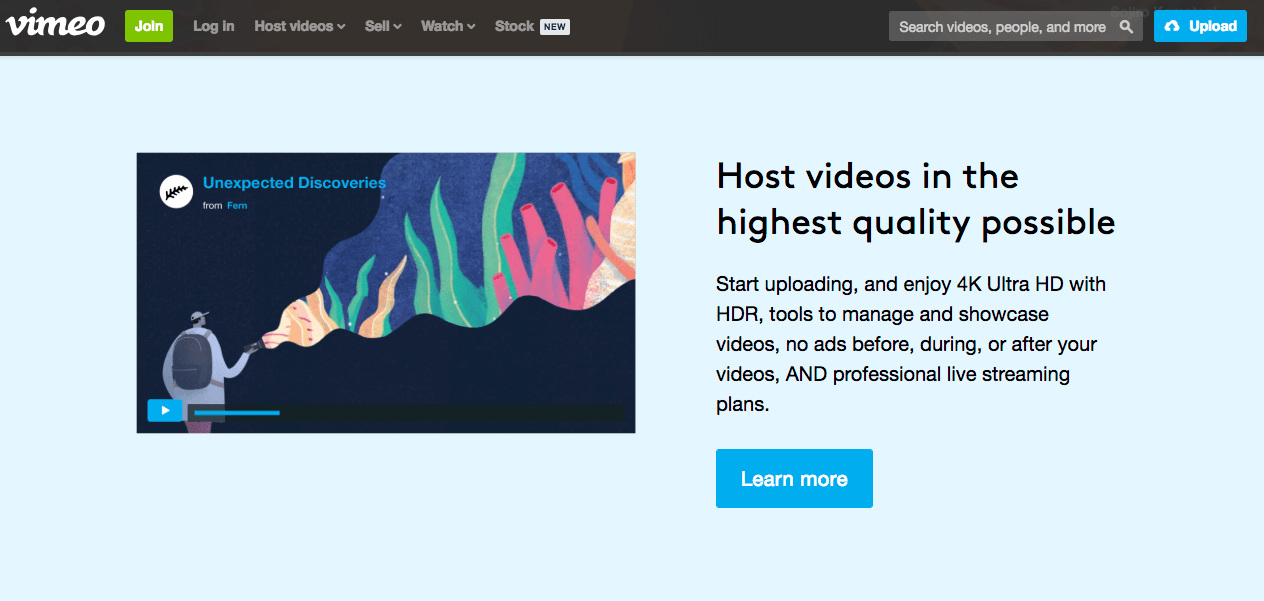 Vimeo, a popular alternative to YouTube, is known as a hub for creative videos and documentaries. While it doesn't offer the same traffic and visibility as its larger competitor, Vimeo isn't exactly small either, with 240 million viewers every month. And what Vimeo lacks in traffic, it makes up for in quality, at least according to its users. Filmmakers and other creatives tend to flock to Vimeo because of its clean interface and strong sense of community.
Why should you host your videos on Vimeo?
Vimeo offers a cleaner-looking video player than YouTube.
It gives you more customization options for the player, such as changing the color of the buttons.
It also doesn't allow ads to play before videos.
What are the drawbacks of using Vimeo as your video hosting site?
However, you'll have to pay if you want to unlock the full functionality of the platform. While Vimeo does offer a free basic plan for users who just want to test the waters, they also offer four paid plans that increase your storage space and give you access to more advanced analytics and customization options. These plans range in cost from $7 to $75 per month.
4. Wistia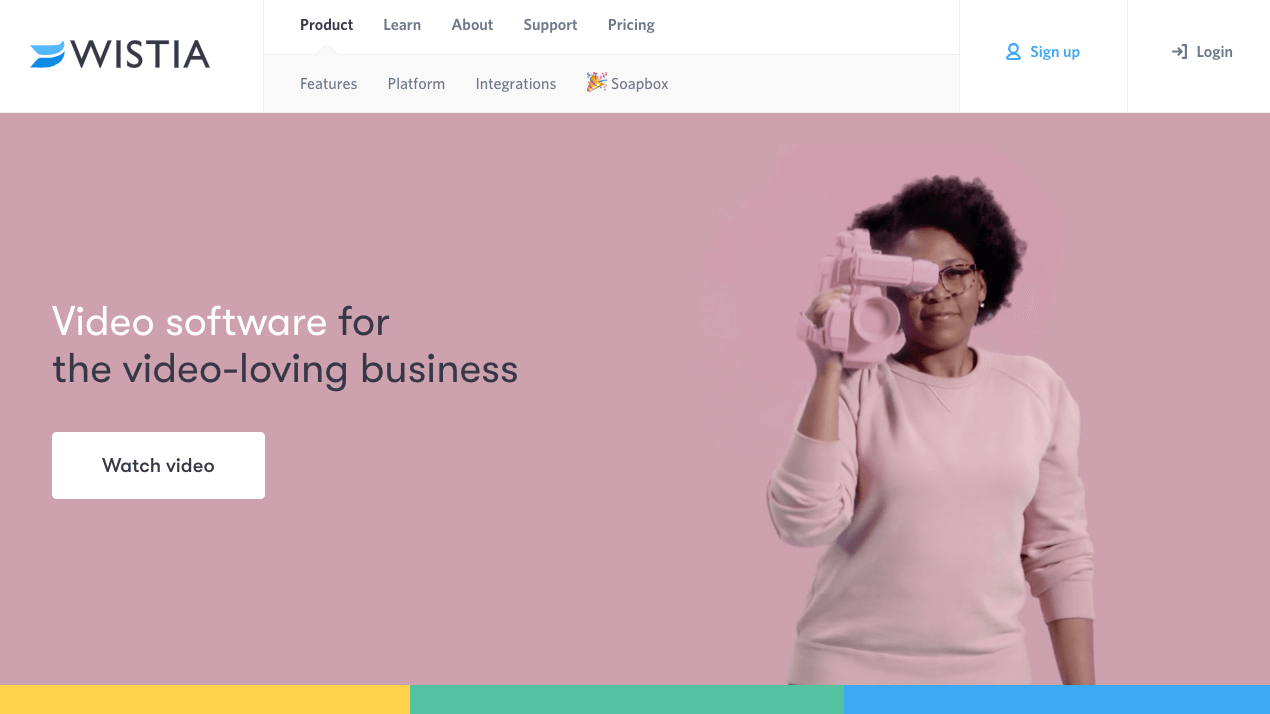 Wistia is a popular and powerful video hosting website for businesses.
Why should you host your videos on Wistia?
Along with YouTube and Vimeo, Wistia rounds out the "big three" of video hosting.
Unlike the first two, Wistia is specifically designed with business' needs in mind, so if you need a home for your marketing videos, Wistia might be a good fit.
Features include a simple and customizable video player, the ability to choose any thumbnail (or even upload a new image to use as your thumbnail), and the ability to include interactive elements like forms and CTA buttons in your videos.
Wistia also gives users access to detailed, business-friendly analytics, such as heatmaps of your videos' views.
Wistia starts at $99 per month. You can make a free account to try out the service before committing to a plan, though — this lets you upload up to three videos and gives you access to all of Wistia's regular features.
5. Cincopa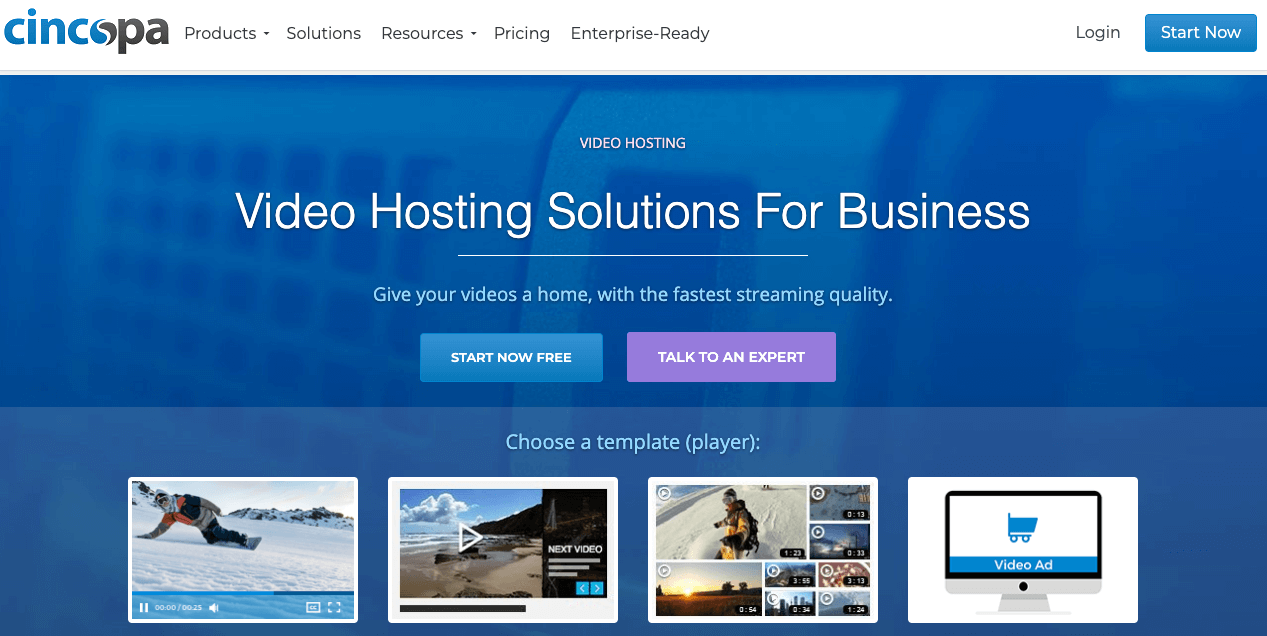 Cincopa is a one-stop solution for all your media needs. Whether you want to increase visibility and engagement, personalize your messaging, or power your branding, Cincopa got you covered.
Why should you host your videos with Cincopa?
Cincopa comes with SEO-friendly embed code standard
You can add gated video content to capture more email leads
Marketing automation for video. You can nurture your leads based on viewing data and engagement level
Embed videos in your emails
The pricing plans start at $25/mo. Bigger plans (up to Enterprise) are also available.
6. Vidyard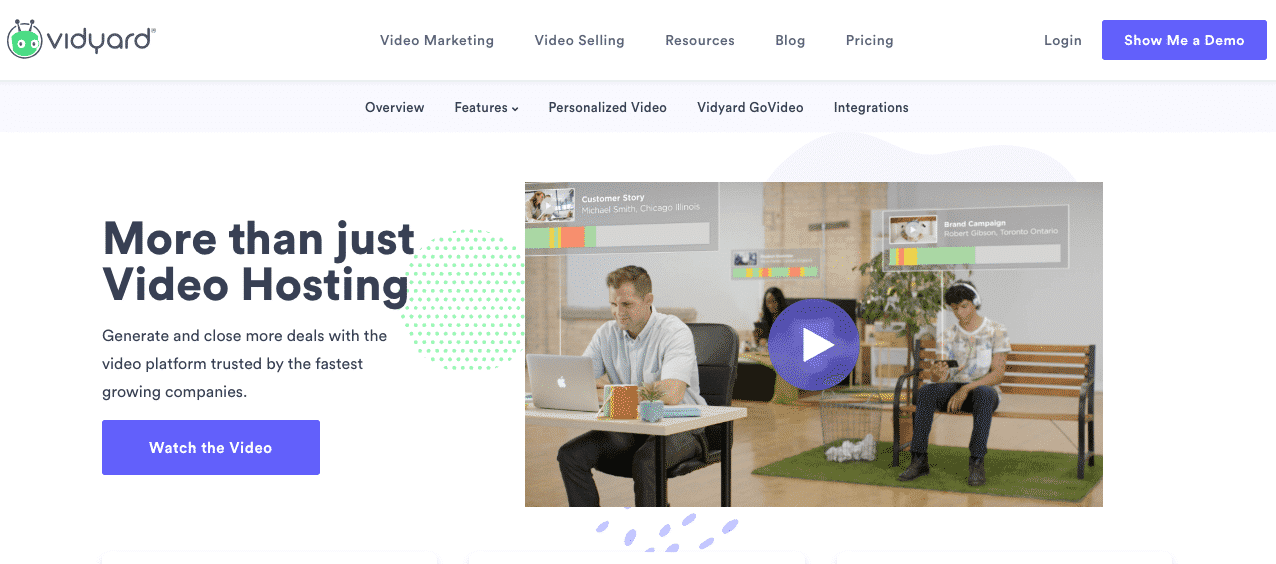 For businesses that rely heavily on video, Vidyard may be the perfect hosting solution.
Why should you choose Vidyard as your video hosting website?
Does Vidyard really have "the most powerful online video player for business," like their website claims?
Their impressive list of features indicates that they might. Here's a list of features Vidyard offers:
hands-free SEO support
A/B video testing
Video personalization
They support high-definition and 360-degree videos. So if maintaining video quality is a big concern for you, Vidyard won't disappoint.
They also offer detailed analytics, and you can create your own channel, or "video hub," to keep your videos all in one place.
Vidyard is an enterprise solution, and it's priced accordingly. Prices are not listed on the site — you'll need to contact their sales team for a quote. External sources report that Vidyard tends to cost around $1,500 per month.
7. Brightcove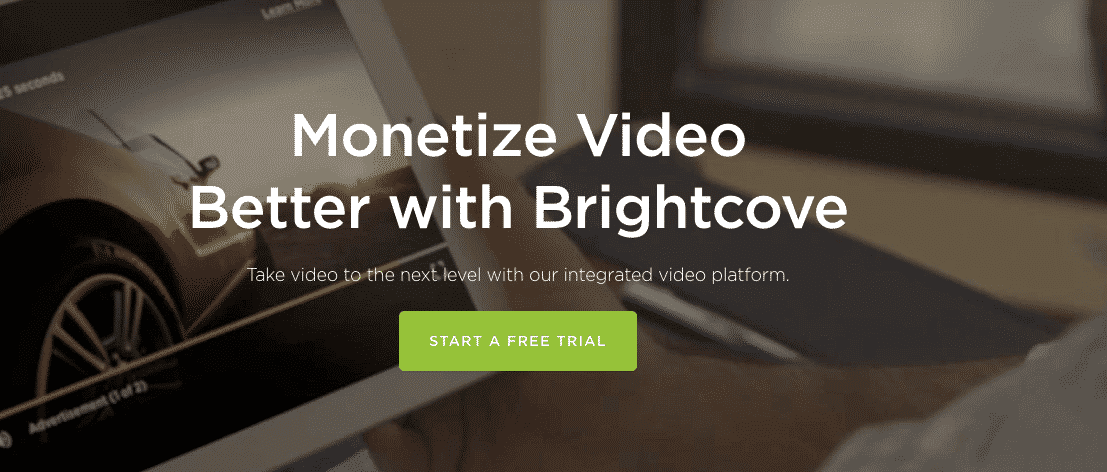 Brightcove is another video hosting website that gives you tons of functionality beyond just hosting. If you're already a video pro and you want to take your strategy to the next level, it might be a good choice for you.
Why host your videos with Brightcove?
A few of the features that make Brightcove stand out include:
their fast and flexible HTML5 video player
dynamic ad insertion
options to integrate the tool with other tools or content management systems you're using, such as WordPress, Drupal, and Marketo.
When it comes to social video, Brightcove has you covered there, too — you can publish videos to social media from within the platform, and all your social video analytics will appear in your Brightcove dashboard.
Brightcove offers a free 30-day trial and three pricing tiers. You can opt for a package geared toward marketers, which starts at $199 per month, or one put together for teams, which starts at $499 per month. If those packages aren't what you're looking for, you can contact the company's sales team for a custom plan and a quote.
8. Dailymotion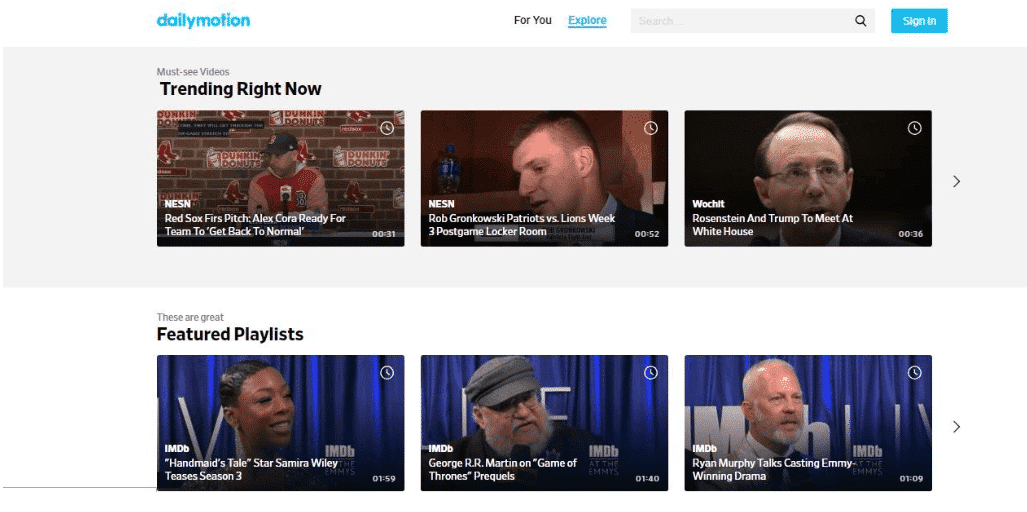 Dailymotion is similar to YouTube in its function and layout.
Why choose Dailymotion as your video hosting site?
Dailymotion isn't as flashy as many of the other video hosting websites on this list. However, this France-based site can still be a useful tool for getting your videos out into the world, especially if you're on a budget.
Dailymotion is similar to Youtube, but smaller, with only 300 million total users. Anyone can upload and watch videos on the platform for free.
The site's content skews towards news and entertainment, but you can host any type of video on Dailymotion as long as it complies with the site's rules.
The downside: if you are planning on using Dailymotion, you'll probably want to double up with at least one more of the hosting sites on this list to ensure your videos get enough visibility.
To host your videos on Dailymotion, you'll need to create a partner account. Once you're a partner, you will have the option to monetize your videos, and you'll get access to an analytics dashboard. Users are limited to posting a maximum of two hours of video every day.
9. TwentyThree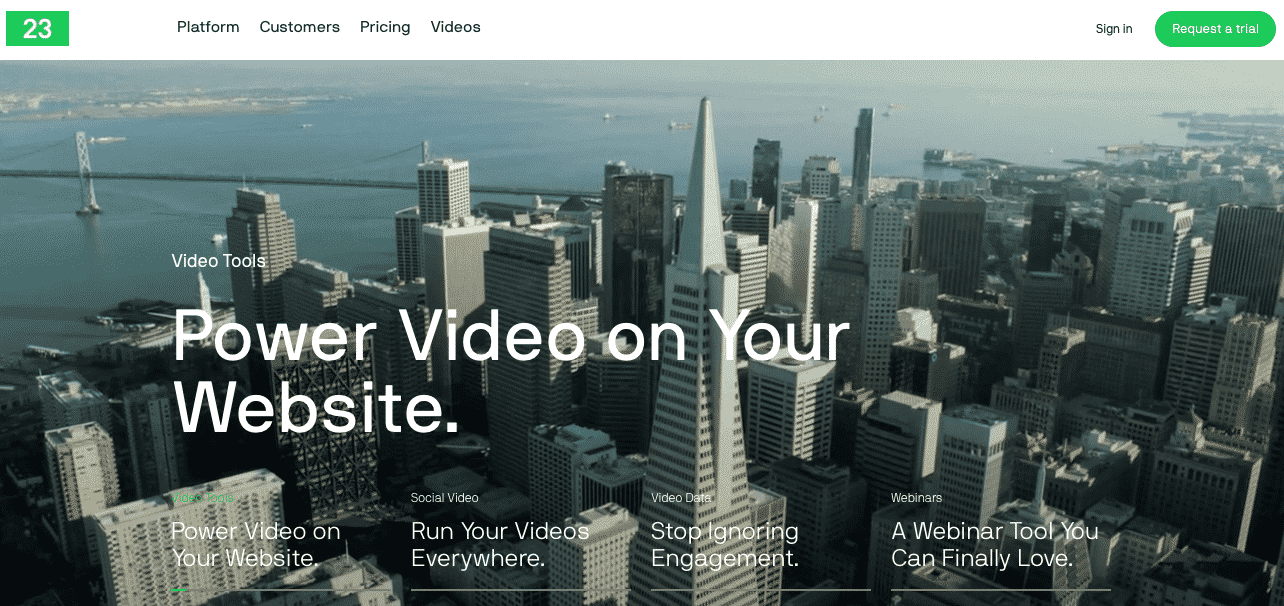 Why choose TwentyThree as your video hosting platform?
TwentyThree is a premium video marketing platform.
It's not a third-party site where you upload your videos — TwentyThree actually allows you to host videos on your own site without worrying about slow load times and other problems that typically go along with self-hosting.
The platform can also help you create attractive landing pages for your videos, and it comes with an array of analytics tools and social video distribution options at your fingertips.
One of TwentyThree's most unique features is its webinar tool, which gives you everything you need to run a successful webinar, from registration forms to live video and chat features, in a single place.
TwentyThree is not cheap — costs start at $199 per month for the webinar tool alone, while the webinar and video package will set you back $699 per month. Enterprise plans start at $2500. But if video is a big part of your business' marketing strategy, and especially if you host webinars frequently, you might find this platform well worth the cost.
10. SproutVideo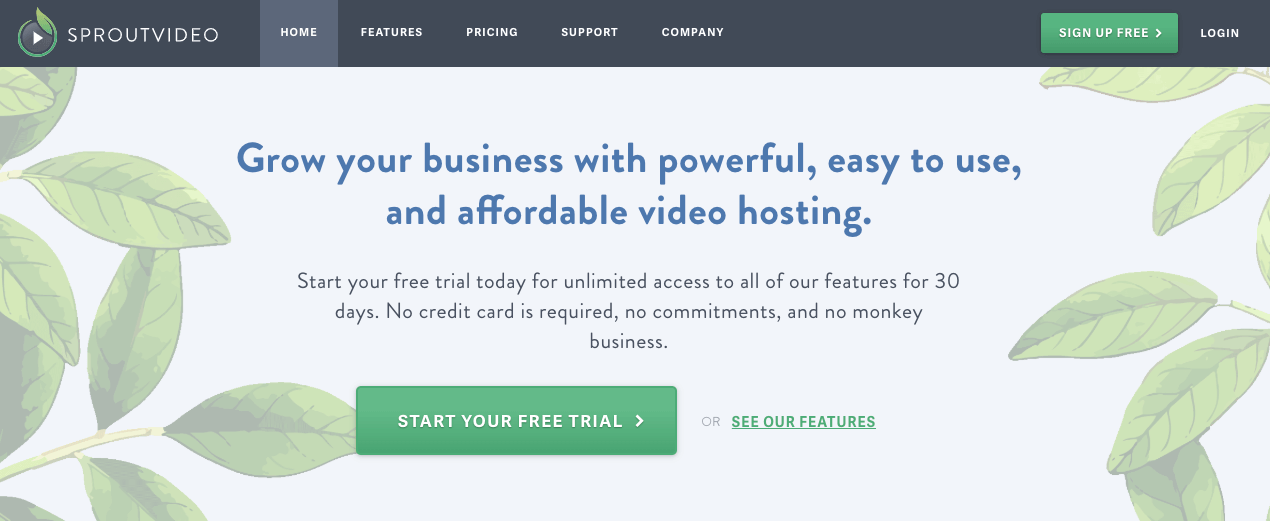 SproutVideo is a good hosting option if you want to keep your videos secure.
Why host your videos with SproutVideo?
SproutVideo is an all-purpose video hosting website for businesses that comes with an impressive toolbox of marketing features and extra functionality.
With its clean, simple, and totally customizable video player, you won't have to worry about any design issues or logos distracting viewers from the content of your videos.
SproutVideo also has some of the best security technology of any video hosting site, so if you need to protect sensitive information or restrict who is able to watch your videos, this platform might be a good choice for you.
SproutVideo offers a 30-day trial period for free, even if you sign up for one of their plans right away. Basic plans start at $59.99 per month, and prices for large teams go up to $499.99 per month.
Also, on a personal note, I really like the colors of their website 💚
11. JWPlayer

JWPlayer is a simple, fast, and effective platform for your videos.
Why trust JWPlayer to host your videos?
JWPlayer's speedy HTML5 video player has a clean, simple, unobtrusive look that keeps your videos themselves at center stage. The rest of the platform is similarly streamlined.
If you're working with a team, JWPlayer's dashboard allows for easy collaboration. Business and enterprise accounts can also use JWPlayer to stream events live and see analytics in real time.
JWPlayer is one of the more budget-friendly paid options on this list, with individual plans available at $5 per month and business plans available at $50 per month. If you're interested in an enterprise plan, contact the sales team for a quote.
12. Vzaar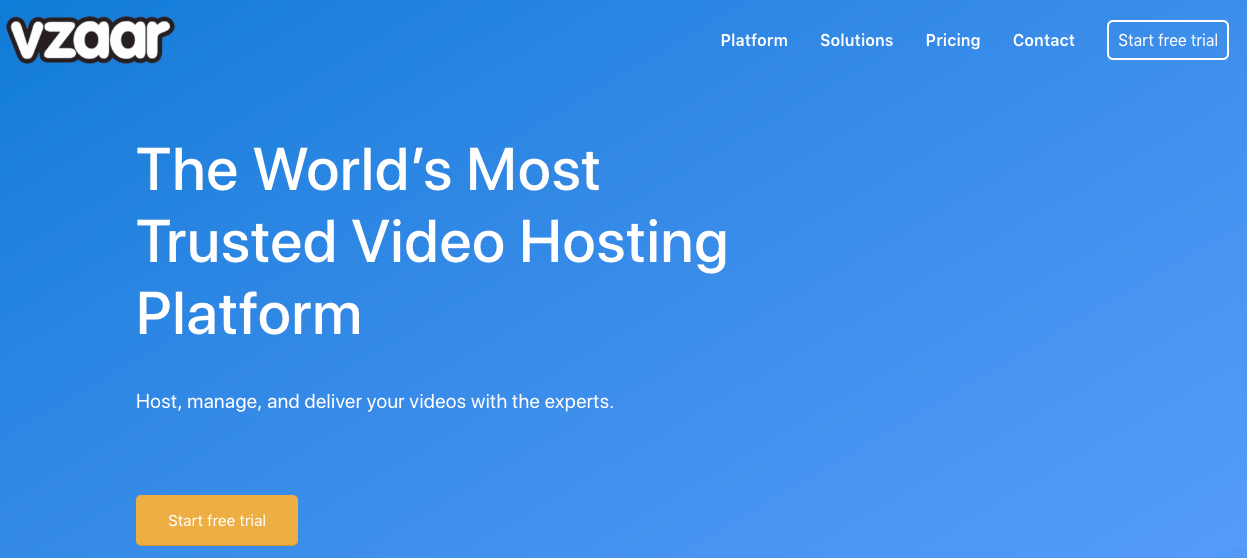 Vzaar makes uploading your videos a snap.
Why Vzaar as your video hosting site?
Vzaar makes it incredibly easy to upload and manage your videos. The drag-and-drop uploader tool can process numerous video files at the same time, even if they're different file types.
Interested in switching to Vzaar from another video hosting site? The platform will automatically migrate your video library so you don't have to do it manually.
On the analytics side of things, Vzaar integrates with Google Analytics to generate custom reports on how your videos are performing.
Vzaar starts at $209 per month for 1000 GB of monthly bandwidth and 1000 GB of storage. Upgraded plans are available if you need more storage and functionality.
Wrapping Up
Which video hosting website will make the best home for your videos?
This is an important decision, so even if you're not ready to upload a video to the internet yet, you may want to start considering your options. Whether you're going for a professional image or a fun one with your videos, the platform you use will affect the way people think of your content, and it will also affect how you can manage your videos once they're posted.
Pick a hosting site that fits your goals and needs, and you might find that it makes your videos look and perform even better than before.