How to Create Awesome Marketing Videos on a Budget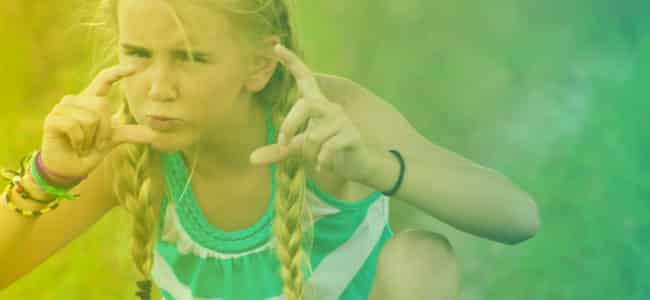 Creating a video can be an expensive proposition, but it doesn't have to be. Over the years, video-making tools have become more and more accessible to the average marketer and small business owner, and now just about anybody can launch their own video marketing campaign.
An inexpensive video doesn't have to look like a budget option, either – plenty of cheap videos look as professional and polished as their more expensive counterparts.
Ready to get started? Whether you're looking to spend nothing but time on your video, or you've got a couple hundred dollars at your disposal, here's how you can create great marketing videos that fit your budget.
The Problem with Traditional Video-Making Techniques
Compared to other mediums like writing, video is tricky and time-intensive to produce. Even today, it takes a lot of specialized knowledge and equipment to create certain types of marketing videos, especially when on a budget.
What is the "traditional" route?
If a company wants to take the "traditional" route towards making a marketing video, they'll need to find a scriptwriter, hire actors and camera crews, and then pay for professional video editing. That's a lot of cost and hassle. In the past, this made marketing videos prohibitively expensive for businesses with smaller budgets.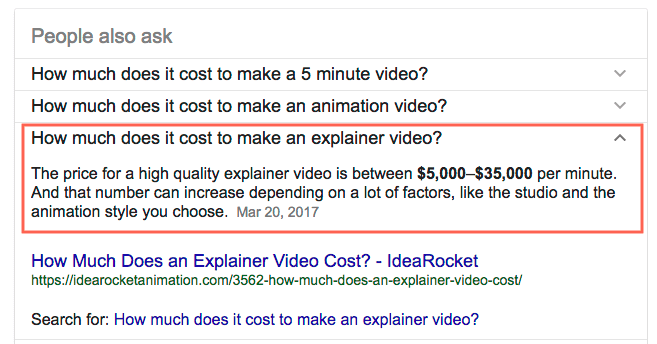 Luckily, that's changing. Technology is making marketing videos on a budget easier and easier for the average person. Sure, you can still rent expensive equipment and hire professionals to make your video, but that's far from your only option anymore. And much of the time, low-budget videos can look just as good as more expensive videos.
Low budget videos can look just as good as more expensive videos.
There are lots of reasons the costs of video creation have gone down. Cameras have improved a great deal – in fact, if you have a smartphone, there's a video-quality camera sitting in your pocket right now. This makes recording footage quicker and simpler than ever before. And you aren't limited to live-action videos anymore, either.
With the help of free or low-cost tools online, you can create your own animated video with varying levels of customization, even if you don't have any prior knowledge of animation or video editing.
In short, making a marketing video on a budget is completely within your grasp if you're willing to get creative and invest a little time into the process. Here's what you need to know before you jump into video creation.
Before You Start
Whether your marketing video budget is $5 or $500, it's smart to minimize or eliminate unnecessary costs wherever you can. These guidelines will help you save money where it makes sense, so you can spend more on the details that take your video to the next level.
Plan, plan, plan. You might want to jump straight into recording or playing with animation tools – but don't let your creative enthusiasm carry you away. Your video will come together most quickly and easily if you spend plenty of time on the planning stage. By the time you start executing your ideas, you should have a clear idea of what the finished product will look like. This will help you avoid wasting time and money on ideas that don't pan out. 
A good first step in the planning process is to decide on the purpose of your video. Every marketing video (even if you're on a budget) needs a reason to exist, whether you're trying to educate your audience on your service or you'd like to reach more people on social media. Think about who your intended audience is, what you want them to do after watching your video, and how you'll measure the success of your video.
Step one: decide on the purpose of your video
Next, nail down the specifics of your marketing video by writing a script and making a storyboard. Your script is a written summary of everything that happens in your video, like dialogue, voice-overs, scenes, action, and transitions.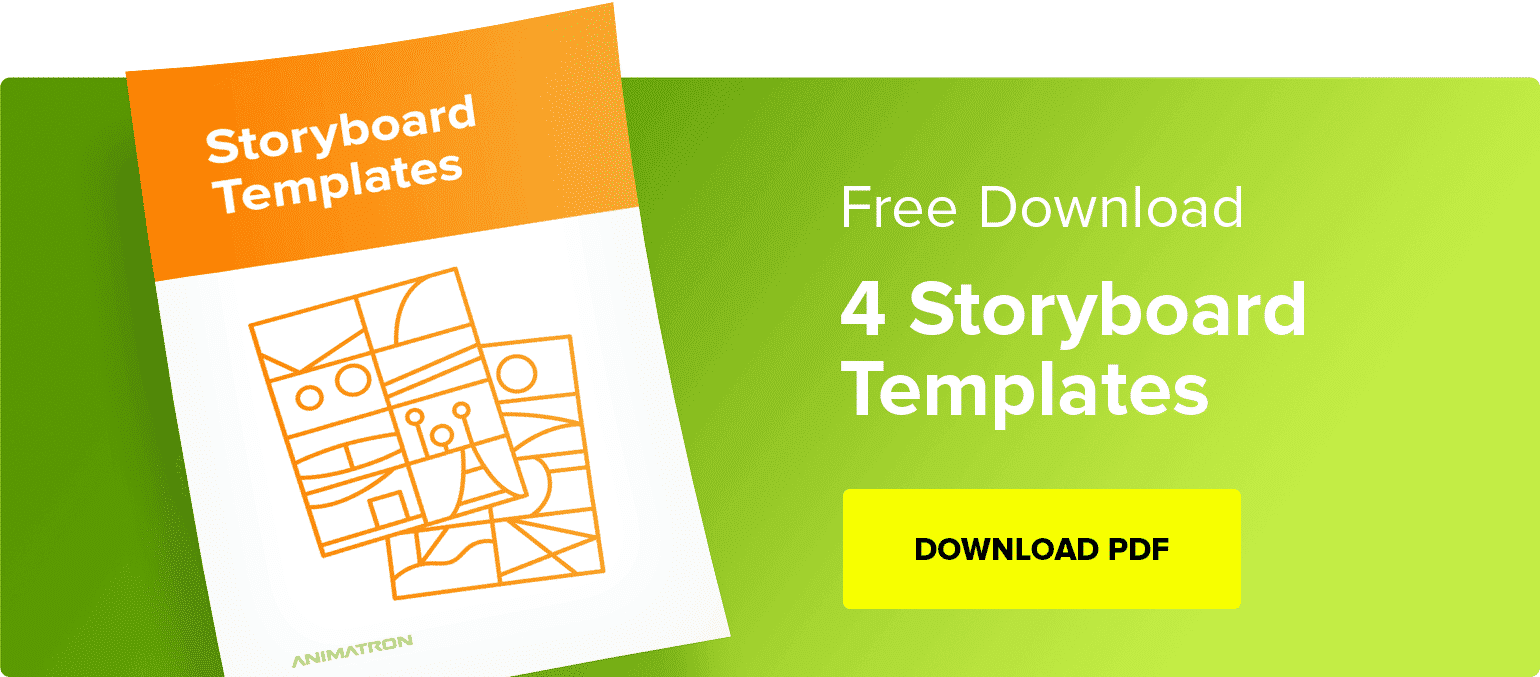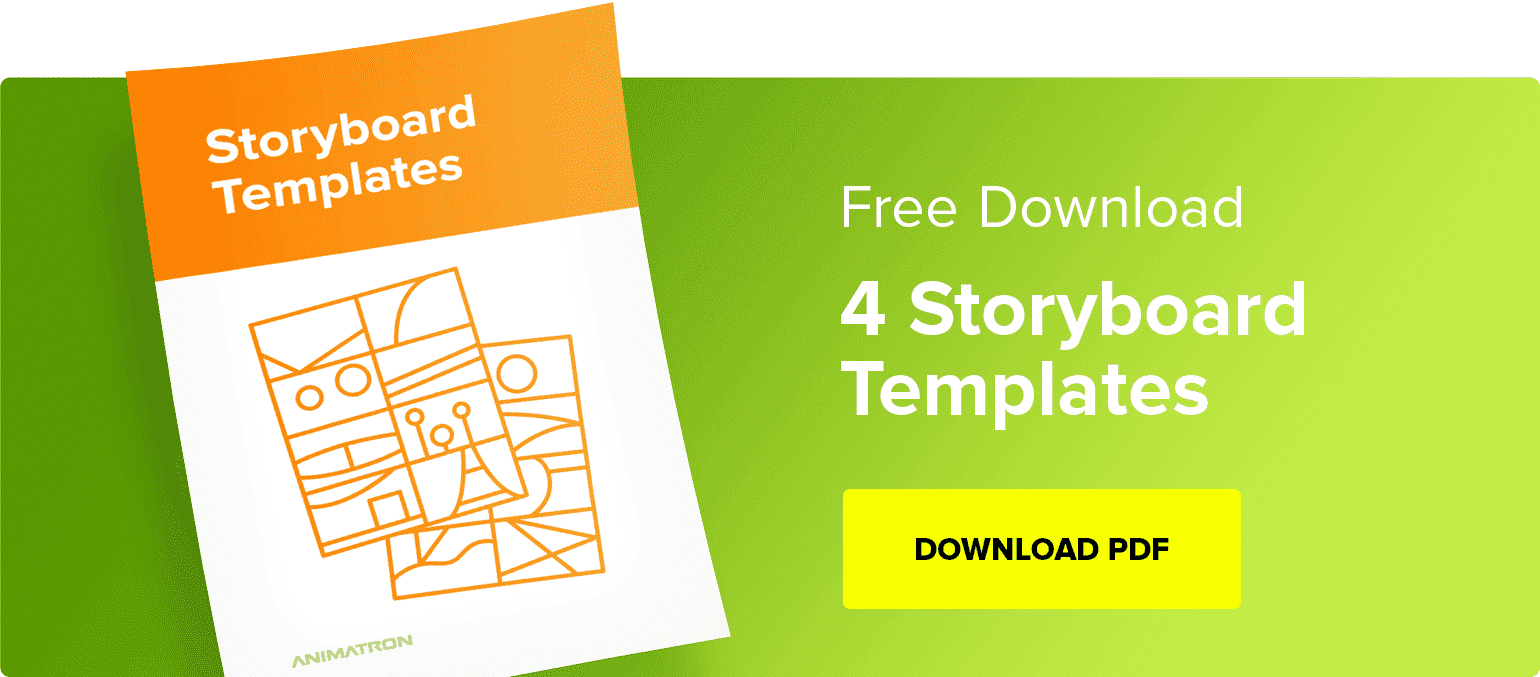 Your storyboard is a visual aid that lays out the action of your video, one frame at a time. Together, these tools help you and other people visualize your video and make any necessary changes before you start creating the actual video.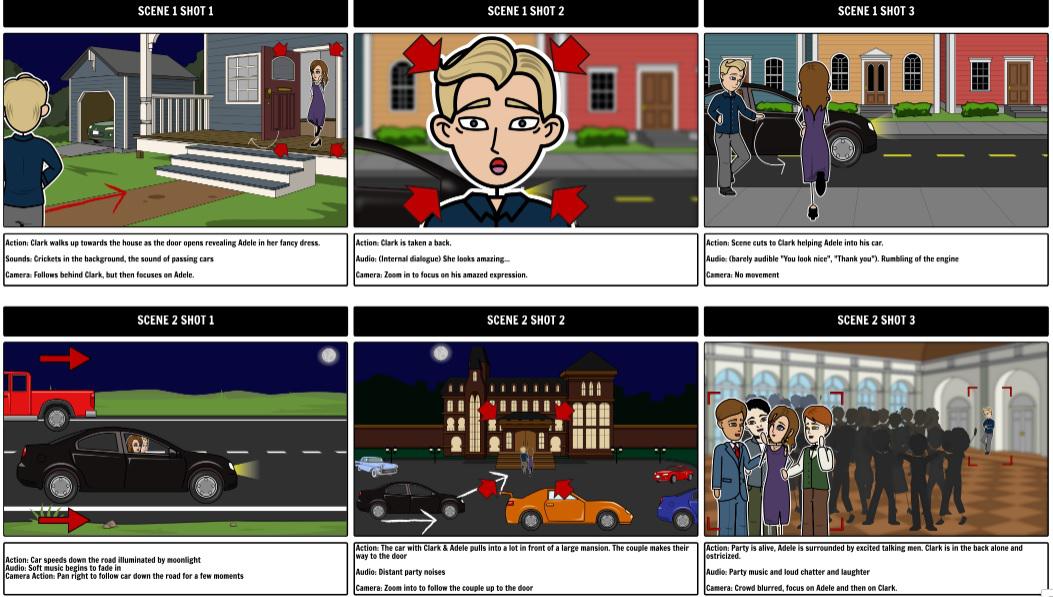 A storyboard resembles a comic strip and helps you visualize your video before you create it. Source
Think about what you can do yourself. Adopting a creative, DIY attitude can save you a lot of money when it comes to making a marketing video on a budget. For instance, is someone on your team a talented writer? Maybe they can be in charge of writing the script for your video. Or maybe you'd like to try recording your own voice-overs instead of hiring a voice actor to do it. Be open to the idea of teaching yourself some new skills, since that will help you keep more of your video creation in-house.
When we were creating a promo video for Animatron Studio, we thought it would be great to personalize our video somehow; make it look unique. So what we did is we made a short video of myself sitting at the table and then added animated characters as a video overlay.
The result was stunning: people loved it greatly. Whether it was thanks to the cute donut jumping at the table or other great animations, we never found out. But the fact is that we paid $0 for this video, as we did everything by ourselves.
Think carefully about making live-action videos. Live-action videos give you a ton of creative freedom. However, they can also be difficult to make, and they're likely to come off as amateurish if they're not done well. If you don't have prior experience, be prepared to spend some extra time researching the process of creating good live-action videos.
Live-action videos usually require multiple takes, plenty of footage, and in-depth editing. You'll also need to find people to appear in your videos. One way to save money is to feature yourself or your employees instead of hiring actors. You don't necessarily need acting skills to get in front of the camera – for instance, you could do employee interviews or virtual office tours.
One company who does live-action videos exceptionally well is Wistia. I just looove their blog as they always shoot great videos for their blog posts. They also provide helpful tips on how to shoot one's own videos, too.
How to Make a Great Presentation Video with Soapbox | Wistia Blog
If the logistics of live-action videos are proving tough for you, try skipping this type of video entirely, at least for now. Focus on making animated videos instead. A high-quality animated video is worth far more than a lower-quality live-action video.
Hire strategically. If you've got a little money to spend on your marketing video, don't hesitate to bring in outside help when you really need it. Just think carefully about how you can best spend your money. For instance, if good editing is important to you, consider shooting your own footage and hiring a professional video editor to put it together. Or if you need to hire an actor, look for an acting or film student instead of a full-time professional.
Keep your videos short. It's cheaper to create a two-minute marketing video on a budget than a ten-minute one. Short videos also hold people's attention better than longer ones do. The ideal length for your video will depend on its type and the platform where you intend to publish it, but in general, it's not a bad idea to aim for two minutes or less. 

Budget: $0
No budget? No problem. You can make a great marketing video without spending any money at all, though your options will be a little limited. Here are a few ways you can make a video that's completely free.
Make a video in PowerPoint. If you can put together a PowerPoint presentation, you can turn it into a video. You might even have an old presentation sitting around on your hard drive that you can repurpose!
Start by creating or reviewing your slides. Then record any narration you want to include in the video. When you're ready to put everything together, click File > Export > Create a video.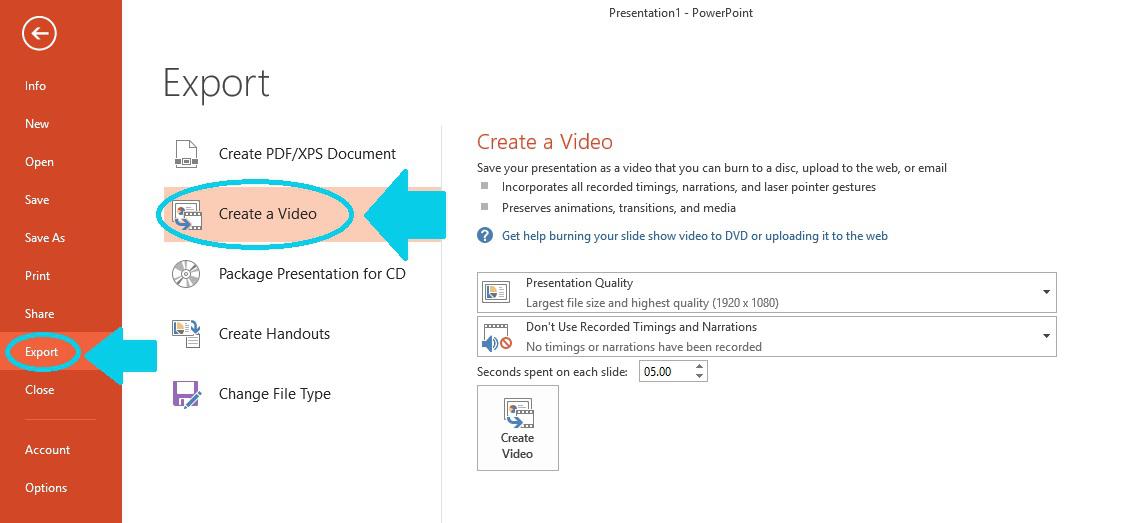 Creating a video in PowerPoint 2013.
If you're using pre-recorded narration, select "Use Recorded Timings and Narrations" in the drop-down menu. This is also where you'll find the option to record a new narration.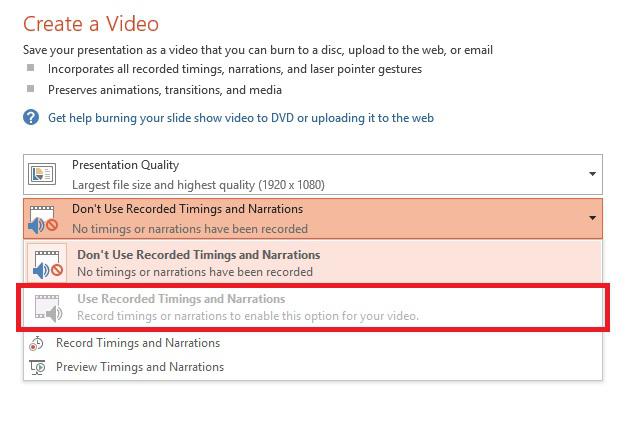 The menu where you'll find the option to record and use narration in your video.
Once you've saved your presentation as a video file, you can upload it to any platform you want. Your audience doesn't need to have PowerPoint to watch it.
An example of the video created in PowerPoint. I know, it's hard to believe that PowerPoint is capable of such wonders, right?!
While PowerPoint videos are a handy and accessible way to get some of your ideas out in the world, the downside is that you're pretty limited in what you can do. This type of marketing video on a budget is more of an animated presentation than a true marketing video. Still, if you're just getting started, this can be a good way to get your feet wet and create some explainer-type videos.
Use a smartphone and natural light to record a video. Live-action videos don't necessarily require fancy lighting setups and cameras. If you have a smartphone and an area with good natural lighting, you've got everything you need to make a simple video. Just make sure to set your camera on a sturdy surface so the finished product doesn't come out looking shaky. 
This method is best for short, casual videos – it won't work so well if you want to take a lot of footage or include different angles in your video. Stick to this approach for videos like interviews, AMAs, and product demos that don't require a lot of editing.
Use free animation tools. Animated videos can be very inexpensive, or even free, to make. If you don't have the budget to hire an animator or spend a lot of money on software, tools like Animatron Studio can be good solutions. You don't need any experience to use these tools – they come with built-in templates to guide you through the video creation process. The end result, while not incredibly unique, is polished and professional-looking.
Be aware that animation tools do have a bit of a learning curve, despite their simplicity. While you don't need video expertise to use them, you will need to invest some time in learning to navigate the software itself.
Besides that, the free versions of animation tools don't usually offer the same range of options as their paid counterparts, so you might find yourself a little limited in the types of videos you can make.
Budget: $20
If you've got $20 to spend on a video, you don't necessarily have to make your own video at all. A simple, inexpensive option is to purchase a video from a site like VideoHive. VideoHive sells royalty-free footage that you can use for anything you want – buying video from them is like buying a stock photo. Once you buy the footage, you can edit it however you want.
VideoHive offers inexpensive stock footage that you can use to create your own videos.
Buying a video can be a quick and frugal option if you don't want to worry about creating your own footage. In most cases, though, it's not a completely hands-off solution. 
You'll need to edit your footage in a program like Adobe After Effects, which can be difficult if you've never used editing tools before. And your footage won't be customizable, so if you have a specific vision for your video, you're probably better off shooting your own footage.
Budget: $50
If you've got $50 to spend, you can start checking out more sophisticated and powerful tools to get your video made. Wave.video is one good option. It's designed to be easy to use, even for people with no video experience, and it gives you a lot of flexibility and creative control over the finished product. You can upload your own footage, use stock footage from an extensive library, and add logos or text to your videos. You can even change your video's aspect ratio for different social media platforms with a single click.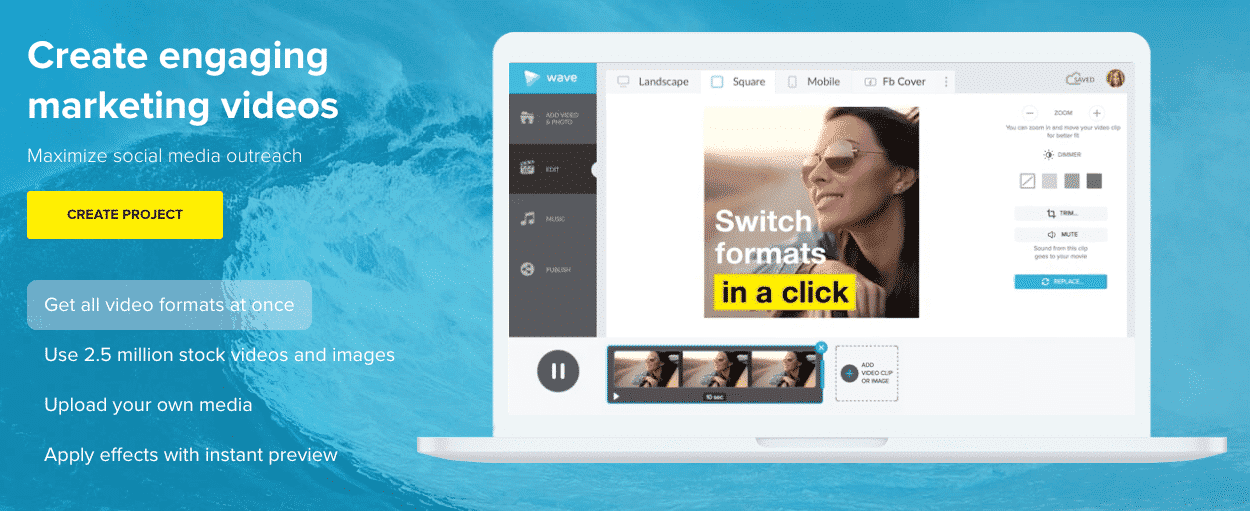 Wave.video is a versatile tool designed to help you make great marketing videos on your own.
A high-quality video-making tool like wave.video gives you a lot of bang for your buck, but like the less expensive options on this list, you'll still have to put time into actually creating the video. This can be inconvenient if you've already got a lot of tasks on your plate. The upside, though, is that you'll eventually be able to make videos faster as you become more familiar with your tool of choice.
Budget: $200
If you have a couple hundred dollars to spend on a video, you're in good shape. A $200 budget is enough to make a great video on your own – or just outsource the work to somebody else. Here's how you can make the most of a budget in this range.
Hire a video maker on Fiverr. If you're busy (or just not in love with the idea of making your own video), hiring someone else to do it for you can be fairly affordable. Find a professional to do the job by searching an online marketplace like Fiverr or posting an ad on Upwork. A quick search on Fiverr for something like "animated video" will turn up dozens of offers for you to choose from.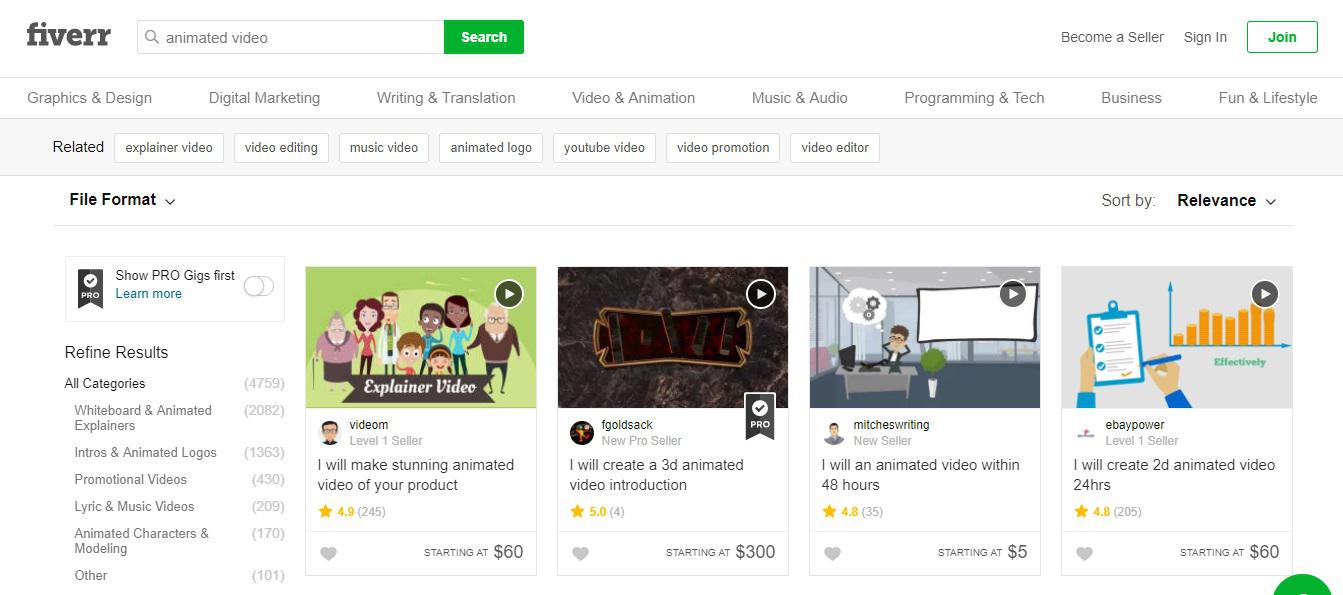 Freelancers sell their services at a variety of price points on Fiverr.
Outsourcing your video creation will save you time and trouble. Your finished video is also more likely to look professional when it's created by an expert. But there are some drawbacks to buying a finished video, too.
So, what are the drawbacks?
Many sellers, especially Fiverr sellers, use the same animation software to create all their videos, so your video will probably feature the same characters and props as many other videos out there on the web. The cheaper a seller's services are, the more likely they are to be using such software. In general, if you want to go this route, steer clear of anyone offering custom videos for under $50.
Buy a high-quality microphone and a tripod. Quick, what's the most important piece of video-making equipment you can own? You might be surprised to learn that it's not a camera.
Your microphone actually makes the biggest impact on how people perceive your videos. It's hard for most viewers to tell the difference between a great camera and a good-enough camera. Fuzzy audio, on the other hand, will immediately make your video seem low-quality. So if you're planning to invest in some video equipment, start by looking at microphones. A tripod to prevent shaky camera syndrome is also a good choice.
The Takeaway
These days, anyone can make a marketing video, so don't let a tight budget hold you back. Better, cheaper tools and software have made it easier than ever for small businesses and entrepreneurs to compete with large companies in the video marketing world. You don't need prior experience to use many of the tools available to you. And while a bigger budget gives you more options, you don't even have to spend a cent to create and launch your next marketing video.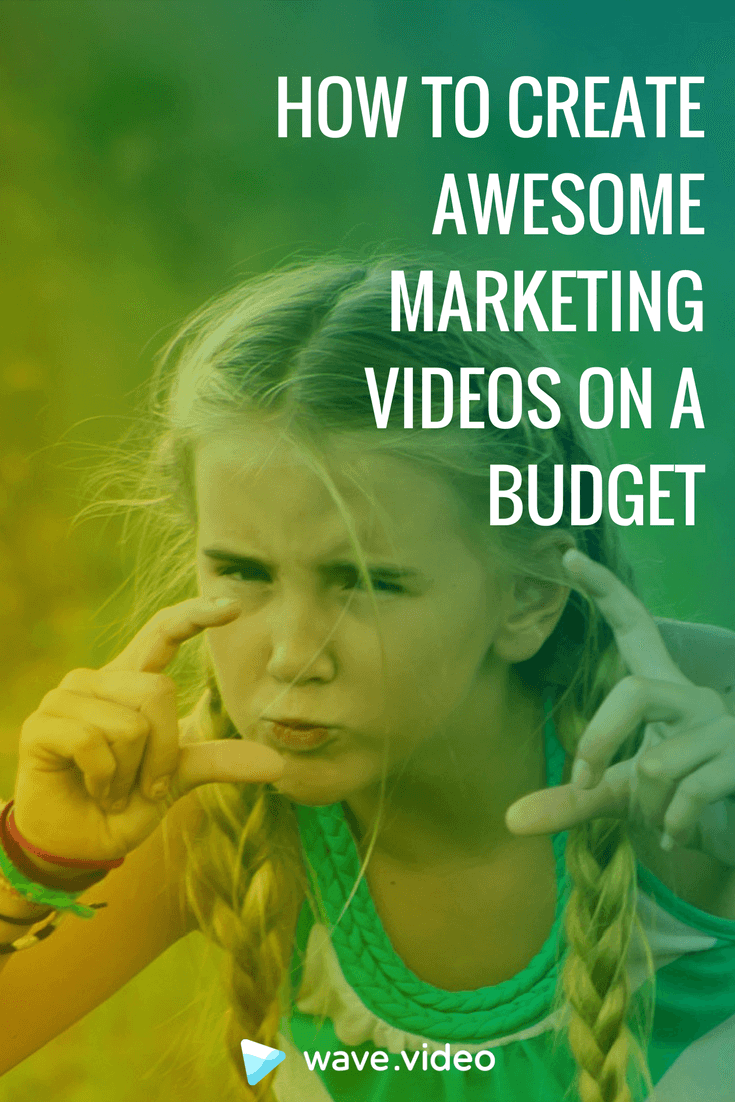 Do you have a favorite tool for creating great marketing videos on a budget? Share your ideas in the comments below!