Embed Video in Email: Why, How, and When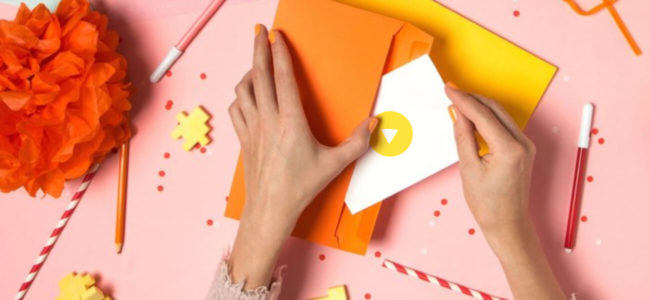 First published on July 8, 2019. Updated on May 14, 2020
We talk about the advantages of video a lot around here.
You probably already know the drill: one report after another proves that video sparks social media engagement and increases sales and ROI. No matter your industry, video will be beneficial to you.
Video sparks social media engagement and increases sales and ROI. No matter your industry, video will be beneficial to you.
YouTube, the largest video platform there is, gets 1.8 billion logged-in viewers each month. All main social platforms support native video, too, allowing their audiences to share their message in an efficient, attention-grabbing way.
We couldn't help but ask ourselves: Which other platforms could be used to share powerful stories through video?
Which channel can reach more people than any other?
With almost 4 billion users worldwide, email is the answer we were looking for. Email can amplify the reach and impact of each video you create for your target audience.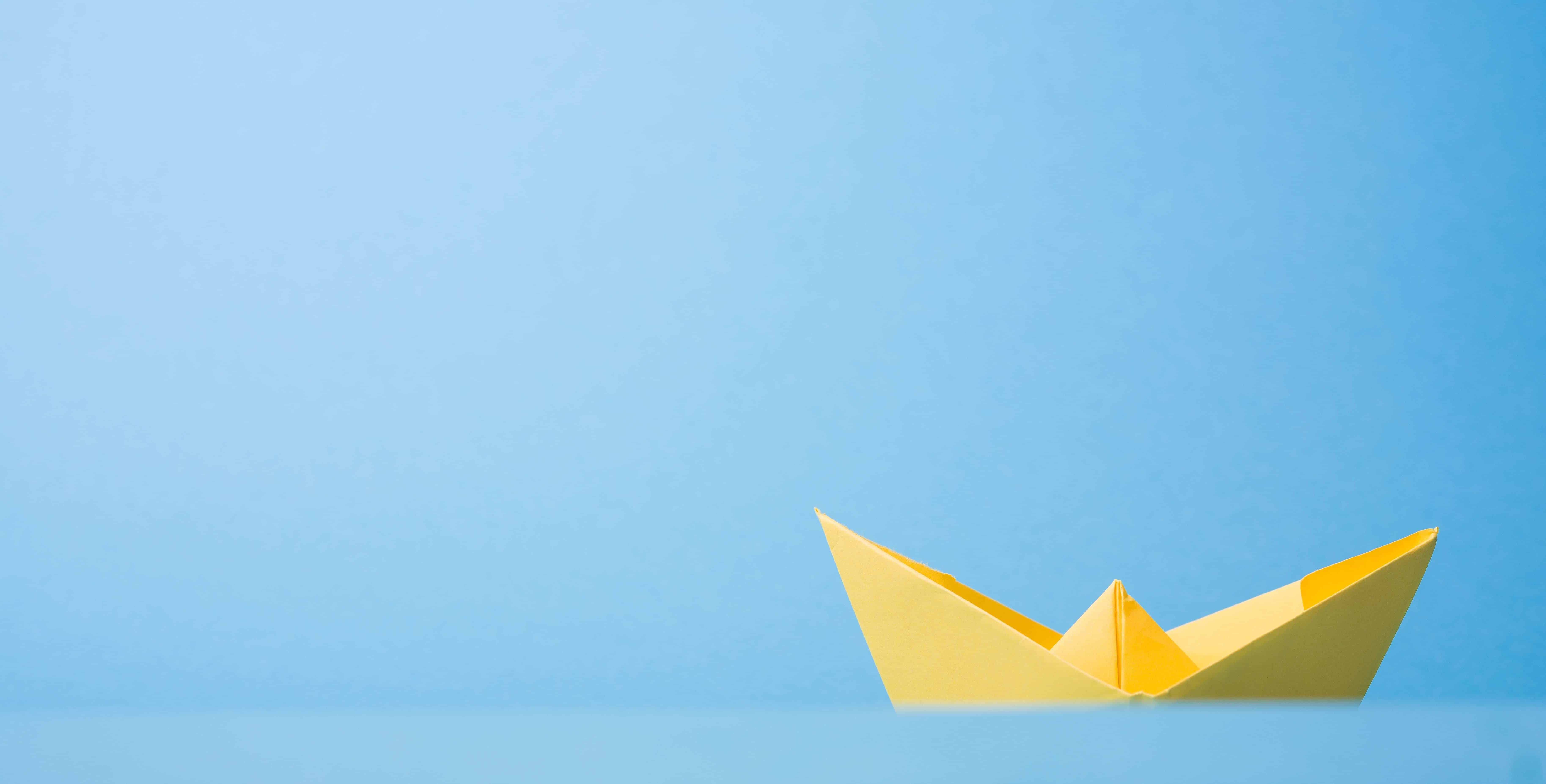 With almost 4 billion users worldwide, email can amplify the reach and impact of each video you create for your target audience. 
Embedding video in email brings advantages beyond just its reach. In this guide, we'll break them down, along with all the tips and guidance you'll need to get started.
Why Video in Email Works
Think of all the platforms you're currently using to share your message as a business.
Some of them, like Facebook, have been around for over a decade. Instagram truly took off around 2015, a few years after Facebook acquired it, and crossed a billion users in 2018. 
The first email, however, was sent in 1971 — almost half a century ago! It preceded the first website, domain name, instant message, video call, and pretty much anything else that we're now using the internet for.
Email isn't going away, but because office workers receive an average of 121 emails each day, your audience needs more motivation to open your emails and engage with what you have to say.
Your audience needs more motivation to open your emails and engage with what you have to say.
This is where video comes in—here are the benefits of embedding video in your emails.
#1. Email has a ridiculously high ROI
A profitable marketing strategy is the dream of any marketer, regardless of the channel they're focusing on.
How high do you want your marketing return on investment (ROI) to be?
If you focus on Facebook ads, Social Media Examiner says that a 3X return on ad spend (ROAS) is good, and a 7X ROAS is great. In other words, you can spend $1,000 on your Facebook ad campaign, and if you generate $7,000 in revenue, your ads did great.
Now consider this: for every $1 you spend on email marketing, you can expect an average ROI of $32. No marketing channel can compare with a 32X return!
#2. Email marketing offers a low bar to get started
There are no high expenses for software or talent; you can start small and build up over time, so the risk is low.
Plus, creating videos for your email marketing efforts doesn't have to be expensive either.
With the right approach to video and a great video editing tool, you can create high-performing videos without pricey agencies or equipment.
#3.
Embedding video in email increases open rates
Once you decide to focus on email marketing, you want those emails opened, right?
As it turns out, by using video, that's exactly what you can accomplish.
Some reports have shown that:
Whichever statistic you choose to believe, they're both too good to not test the impact of video on the performance of your emails.
#4. Embedding video in email increases 
click-through rates
It's not enough for an email to simply be opened and bring you a high return on your investment.
It should also get people to take meaningful action. This action can be anything that brings results that matter to you—completing a purchase, reading more, sharing content.
Whatever that meaningful action is for you, though, it involves getting the reader to click on an important link in your email that leads to that action.
According to multiple reports, video in email increases your chances of getting that click:
To top that off, it seems that video in email can also reduce unsubscribes.
More click-throughs and less people leaving your email list—what else could you wish for?
#5. Email brings you closer to the mobile audience
Mobile traffic is at an all-time high: more than half of all web pages served are visited from a smartphone, and 78% of all social media visits in the US come from mobile.
As you already know, that doesn't mean you should post your videos and other content to social media and call it a day. Your content is a small part of an infinite feed of information that your target customer is consuming.
If you embed your video in email and promote it this way, you gain access to a mobile audience. Why? Because 49% of all emails are opened on mobile devices.
1/2 of emails are opened on mobile devices.
In other words, instead of drowning your video in an endless stream of social media posts, you can win your audience's undivided attention with email.
#6. Email and video work well for personalization
Personalization is easily the strongest advantage of email marketing. The data doesn't lie: personalized emails increase open rates, click-throughs, customer engagement, revenue, and retention.
Embedding video can amplify these benefits in two directions.
First, you can use different videos for various segments of your email subscribers or customers. You can tailor the experience with different videos for potential customers, brand new customers, and long-term customers.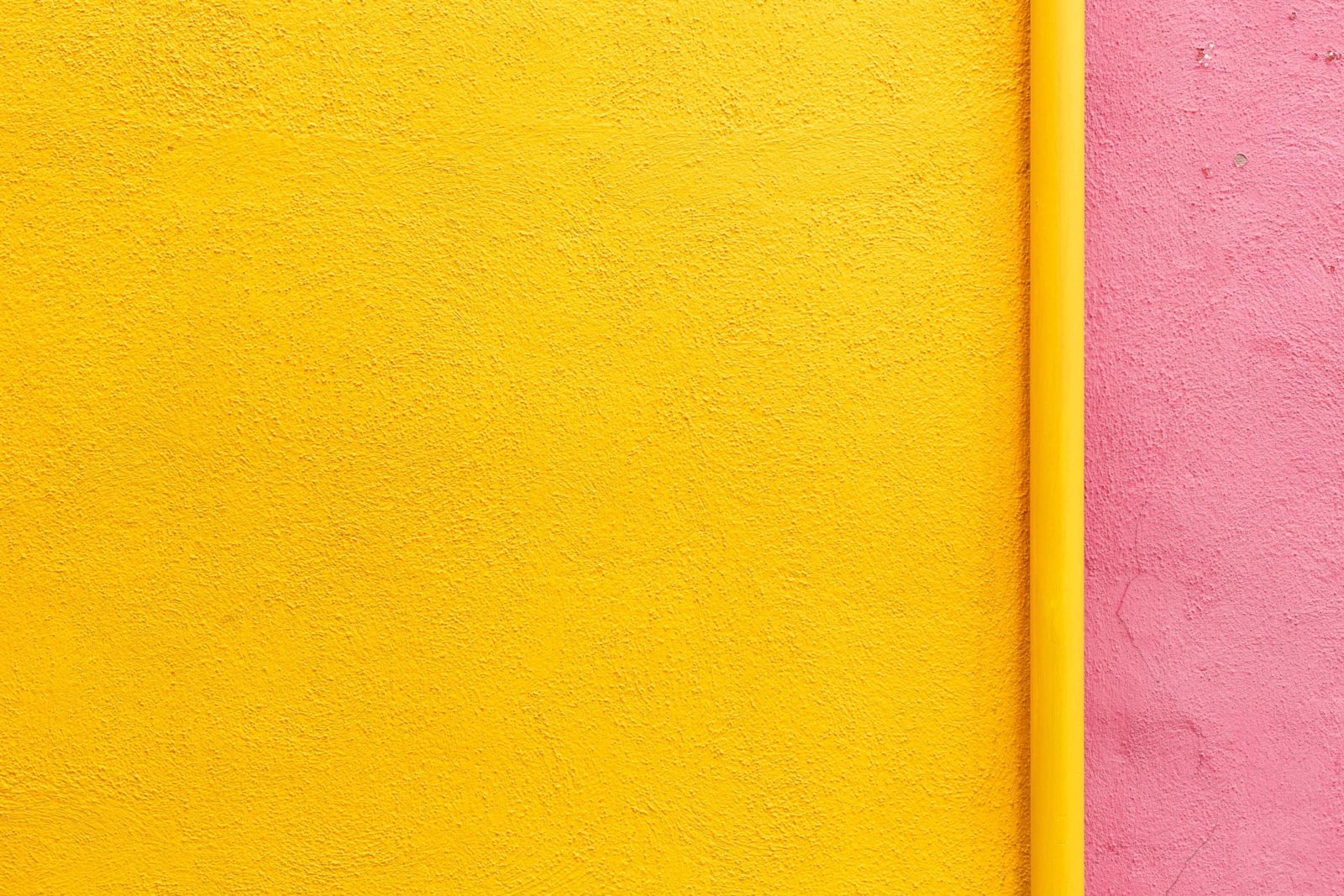 Bonus tip
Creating each of the tailored videos doesn't have to be hard! You can adapt a single video for many stages of the customer journey without lots of extra work. In this guide, we show you exactly how.
2. You can use your recipients' behaviors after receiving your videos in their inbox to segment your list if you haven't already done so.
By tracking clicks in your email marketing software, you can tag your subscribers by interests in topics, products, and more based on the video they clicked on.
#7. Embed video in email to make complex topics simple
Finally, videos are a faster, simpler way to convey a complex message.
Even for technical topics, all you need is a few minutes of video to break it down and make it easy for your email subscribers to 'get it'. Watching an embedded video resembles a face-to-face interaction.
It allows for information to stick easily because of the undivided attention videos ask for. That's why short promo videos work incredibly well, too!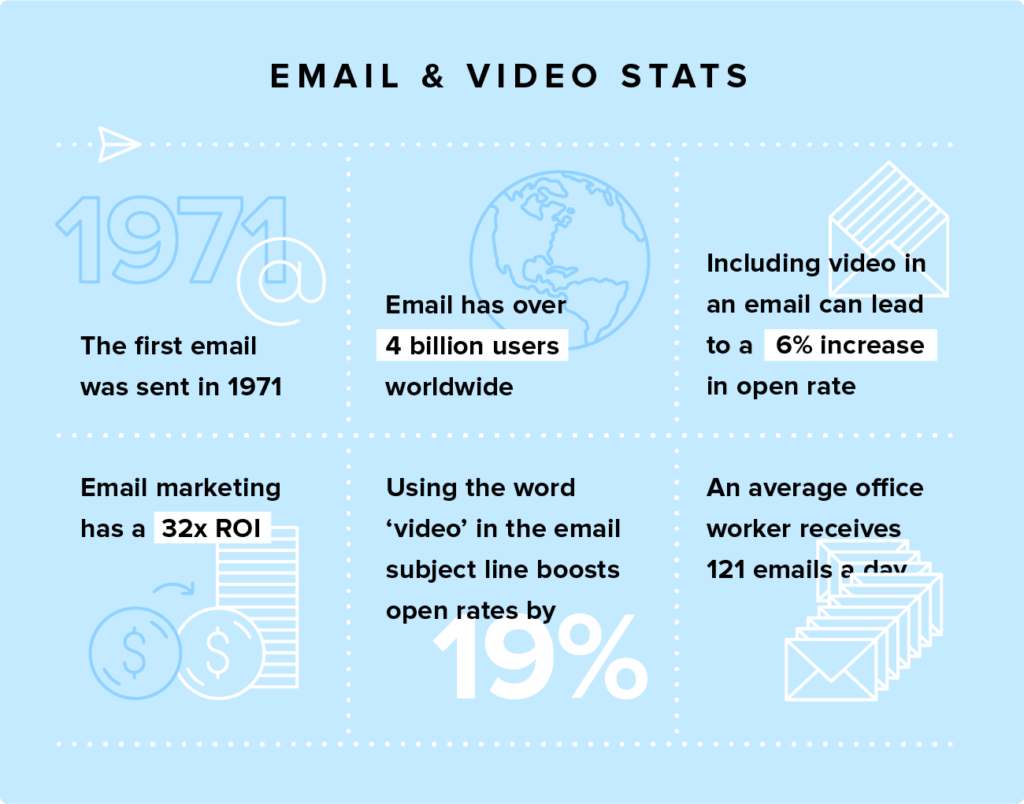 How to Embed Video in Email
Pro tip before we begin
Whatever way you decide to embed video in email, it's important to stick to the brilliant email design. The guys at Moosend came up with a great guide: The Best Email Newsletter Design Formula for 2020. Make sure to check it out.
Method #1, and why HTML5 is not a good idea
We already mentioned how email has the advantage of focused attention on just one message at a time (compared to social media feeds). Hence, you may want to embed your video to play directly inside of your email instead of getting your subscriber to click through and watch elsewhere.
In theory, this can be done using HTML5 solution. In practice, very few email clients can actually display such video and provide a good experience.
In theory, this can be done using HTML5 solution. In practice, very few email clients can actually display such video and provide a good experience.
According to Email on Acid, only Apple Mail, Outlook for Mac, iOS 10+ native client, Samsung Galaxy native mobile app, and Thunderbird will allow your recipients to play the video within the email itself.
Anything else you can think of, including massively popular Android devices, Gmail, Outlook.com, and more, shows a fallback image instead of the video.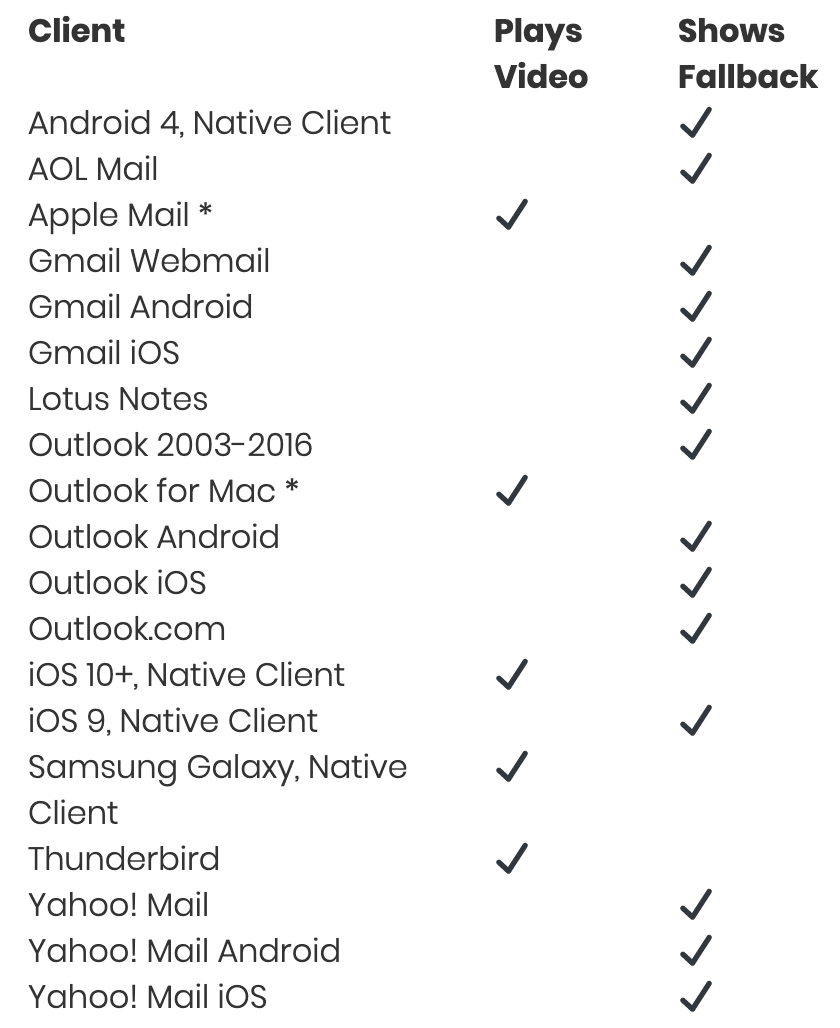 Source: Email on Acid
If your data shows that the majority of your audience uses the earlier listed email clients and apps that support in-email viewing, we say: go for it! Look into your email provider's support of HTML5 and refer to this article for more guidance.
For instance, here is a snippet from a Mailchimp report showing that for the major share of our email subscribers the video won't play inside the email.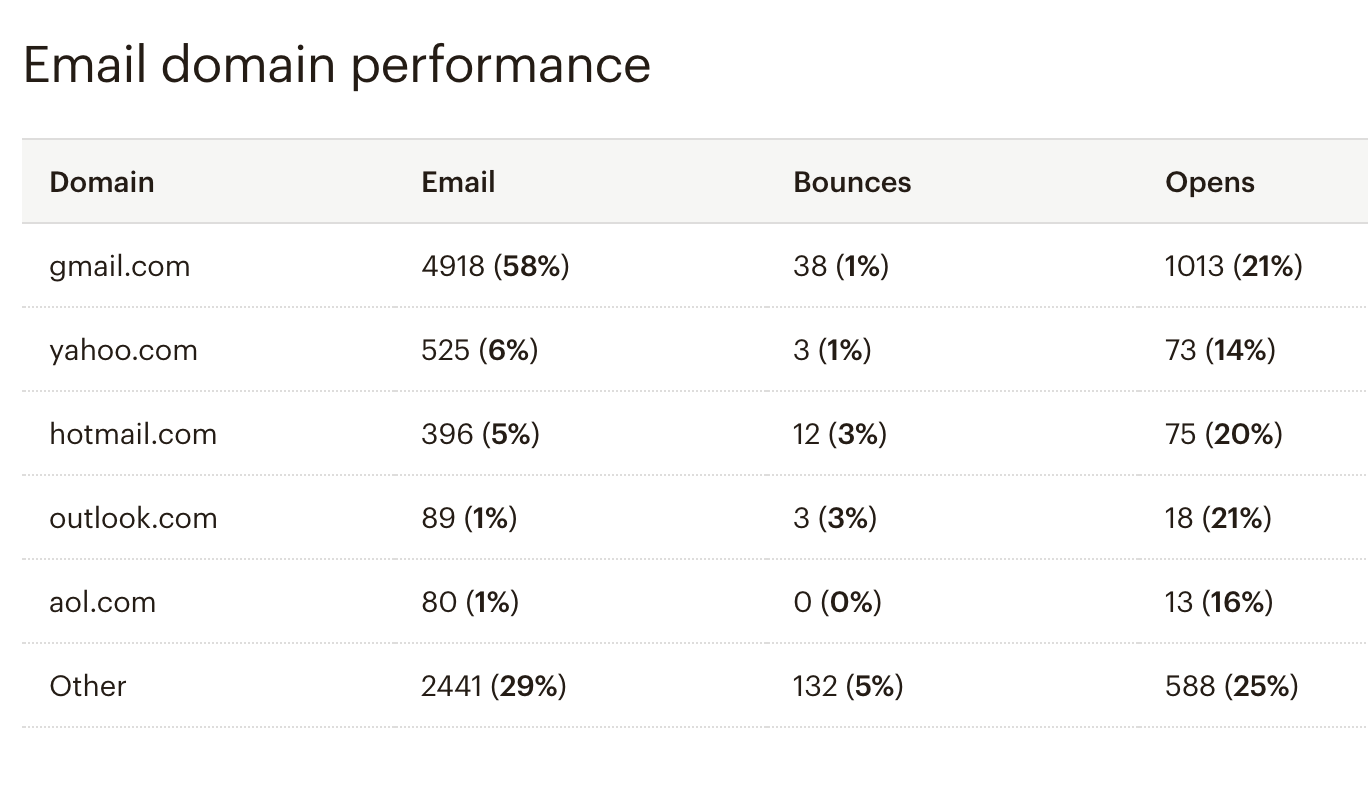 Thus, we have more recommendations that give you control over the way your video is received in email. 
Method 2, and how to manually embed a video in your email
Since email providers don't support embedding a video in the email per se, the workaround is to email your users a link to the original video.
To make it more click-worthy, you need an appealing video-stylized visual.
Here you have two options to get creative about:
an animated GIF
static image
Let's see what you can do to make a clickable video preview.
1. Make a GIF from your video
One of the best ways to showcase your video without getting it to natively play in the email is a video scene turned into a GIF. 
It only lasts for a couple of seconds, but it can be enough to spark interest because it shows the dynamics of a video.
Just recently, I used this GIF-style to promote our cool blog post about Zoom video backgrounds.  
I use the Ezgif toolkit to make a GIF from a piece of video and then apply a play button .png as an overlay on top. It only takes a few clicks!
2. Add a play button to a static image
Another way to use a static image and make it engaging without animation: adding a static play button to it.
It's a simple and powerful way to draw attention to your embedded video in email without adding lots of extra work to your plate.
Here's another example from our own experience with blending videos in the emails: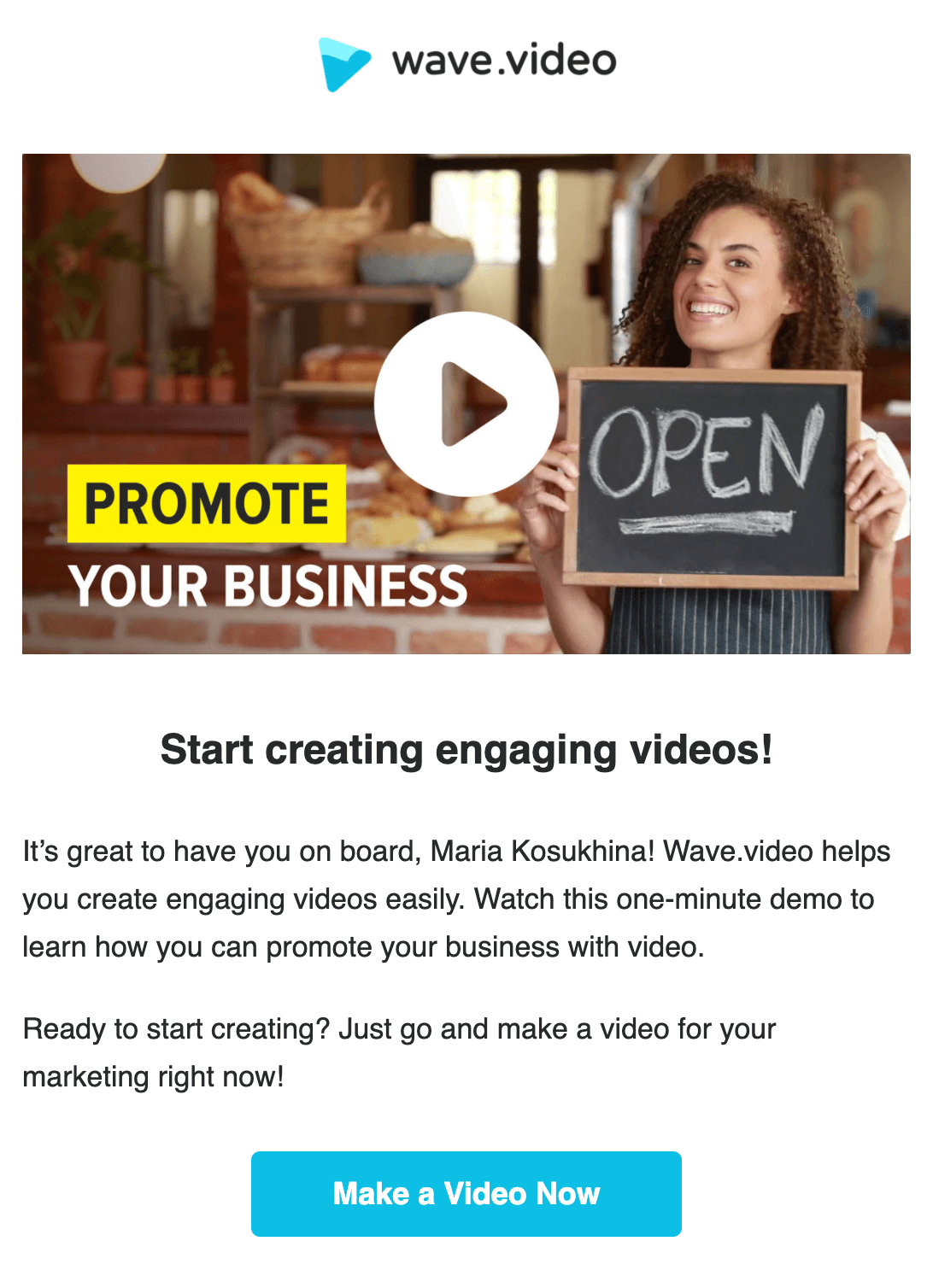 You can add a static button in a simple and free tool like Canva that gives you a library full of icons and shapes, including a play button.
Additionally, you could incorporate a static image with a play button into your email footer. According to recent research, 48% of professionals use their email signatures to drive traffic to their websites or social networks. Tools like MySignature or Newoldstamp can help you incorporate clickable images into your business sign-offs.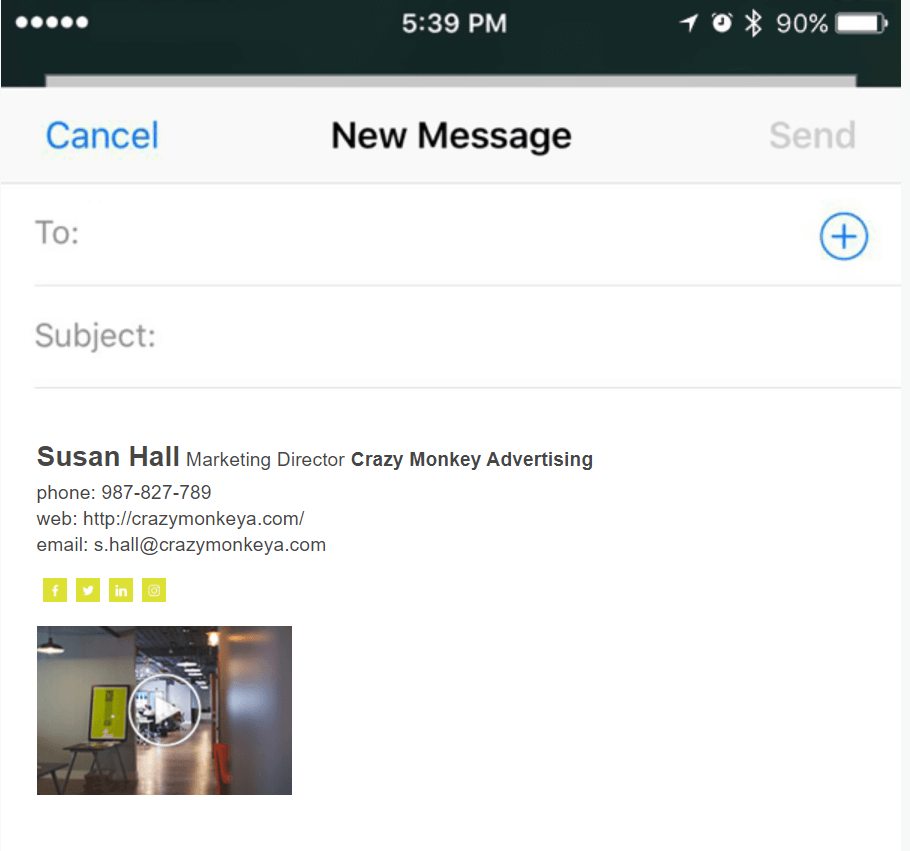 3. Capture a screenshot of your video playing 
By far the fastest method to embed your video in an email is by grabbing a screenshot of it that displays the progress bar on it.
You can take this screenshot wherever your video lives, including YouTube, Facebook, Wave.video hosting and more.
Here's an example of an email by Cloud App, a screen recording tool that I use a lot.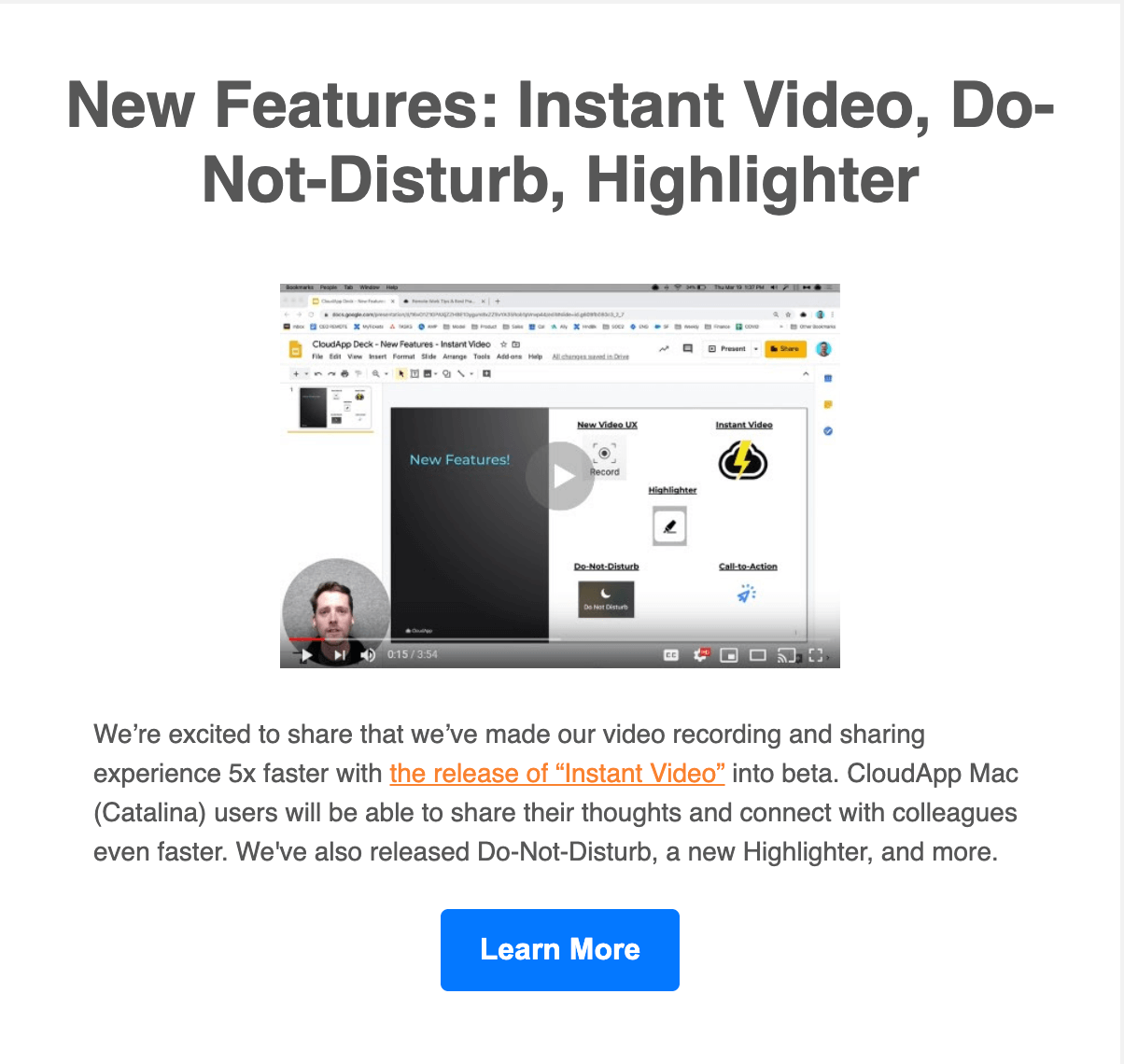 This image has the benefit of conveying the topic, length, and feel of the video right away.
4. Insert your video thumbnail 
Your video's thumbnail is something you're probably already creating, so why not use it in your email, too? 
If you're following the best practices for your thumbnails, it means they're already doing a great job at communicating what your video is about and why it's worth your viewer's attention.
So take it a step further and add it to your email.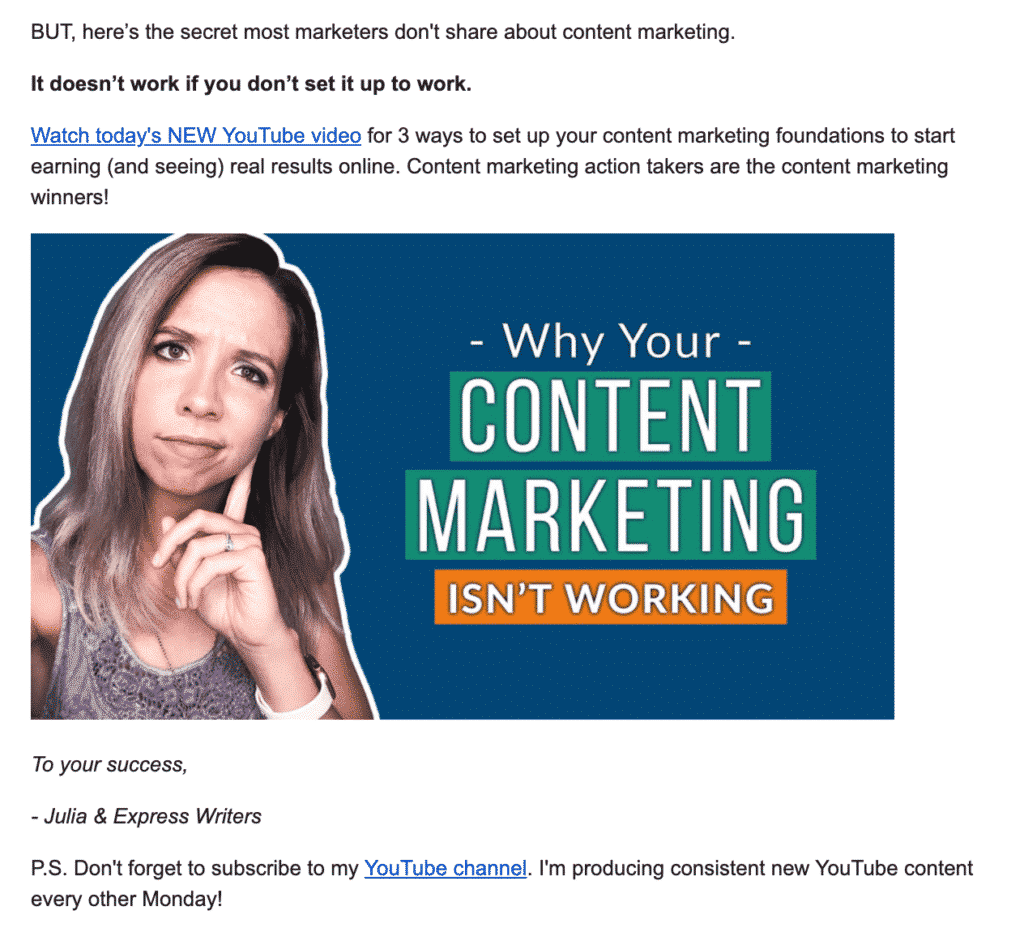 Method #3: automatically embed videos in emails with Wave.video
No methods are bad methods, but some require less work. At Wave.video we are super-excited about our new feature that takes away all the manual work.
Wave.video's new feature Email Campaigns takes away all the manual work
How does it work?
1. Upload or create a video and don't forget to publish it
2. Open video dashboard. You can find it by hovering on the video preview.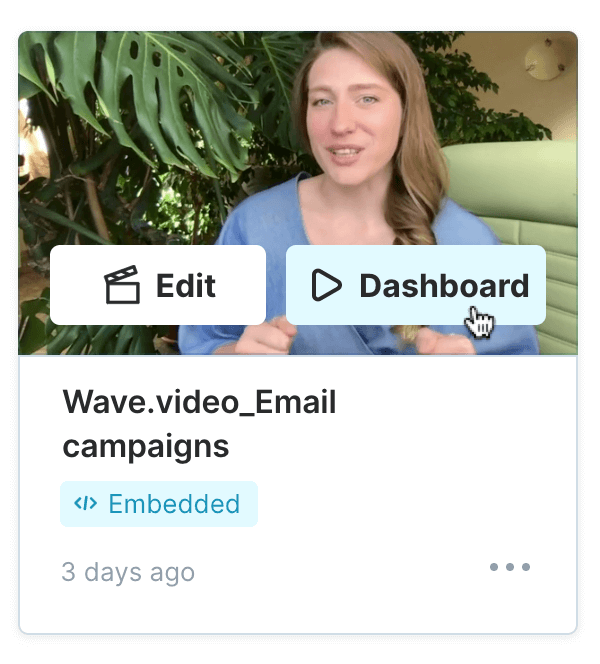 3. In the Player customization panel set controls, select the color of your player and choose a thumbnail for your video.
You can either select a frame from the video itself or upload an image from your computer.
4.  From the menu on the left, select and click the Email Campaign tab and see the toolkit.
5. Work on the thumbnail
Set the thumbnail size. If you have a template that you use for your emails, consider checking what image size looks the best when inserted.
Add a play button to give it a video-like look
You can also download your thumbnail to use it for other purposes.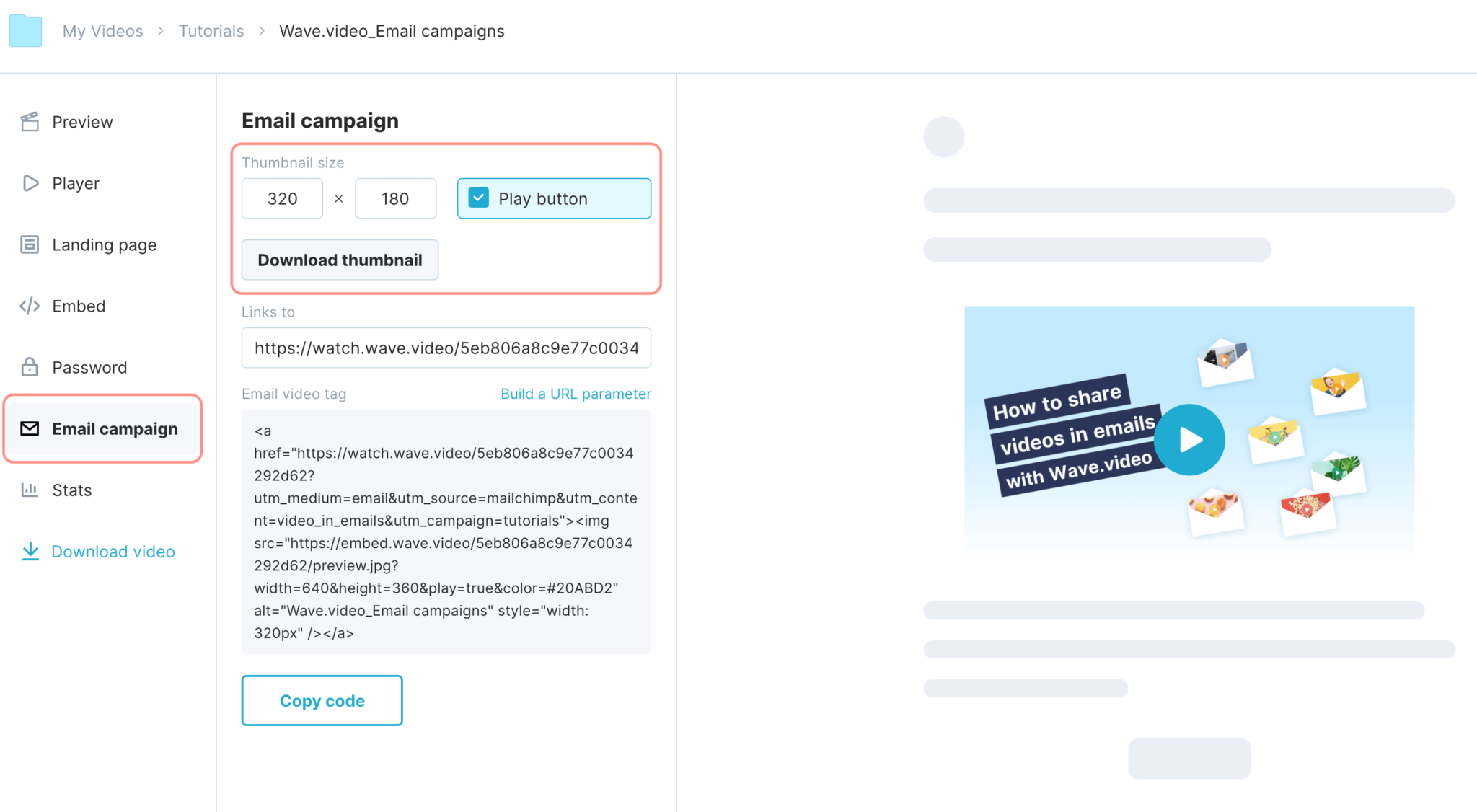 6. Set the link
Define the target link where you want your readers to land next.
By default, the thumbnail gets linked to the video landing page that is automatically generated for each video and becomes a part of your video campaign. You can change it to any link depending on your campaign goals.
Hit Build a URL parameter to add all tags and enable tracking the performance of your campaign in Google Analytics.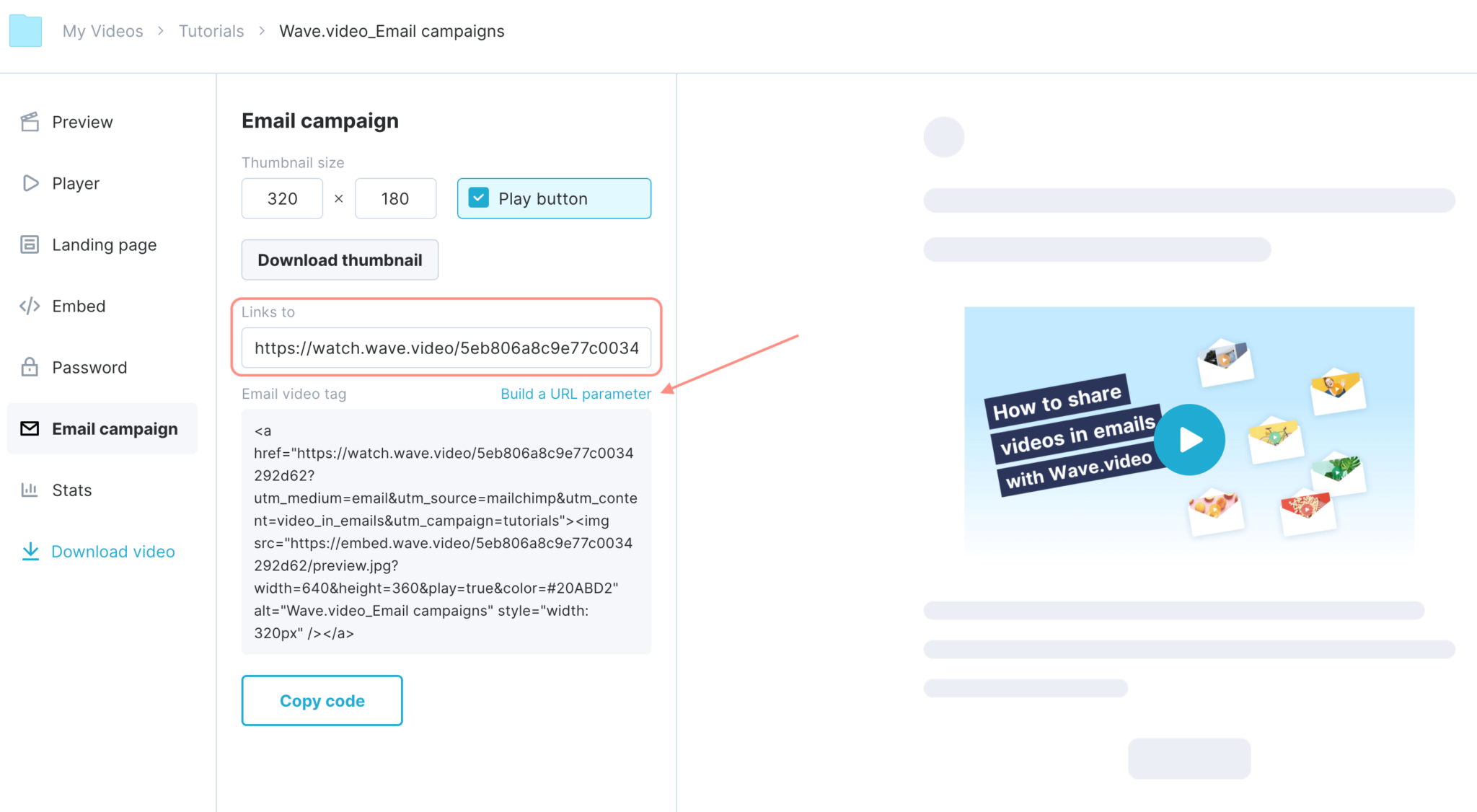 7. Copy the email video tag
All your settings got reflected in the generated code snippet that you can copy and paste in your email code.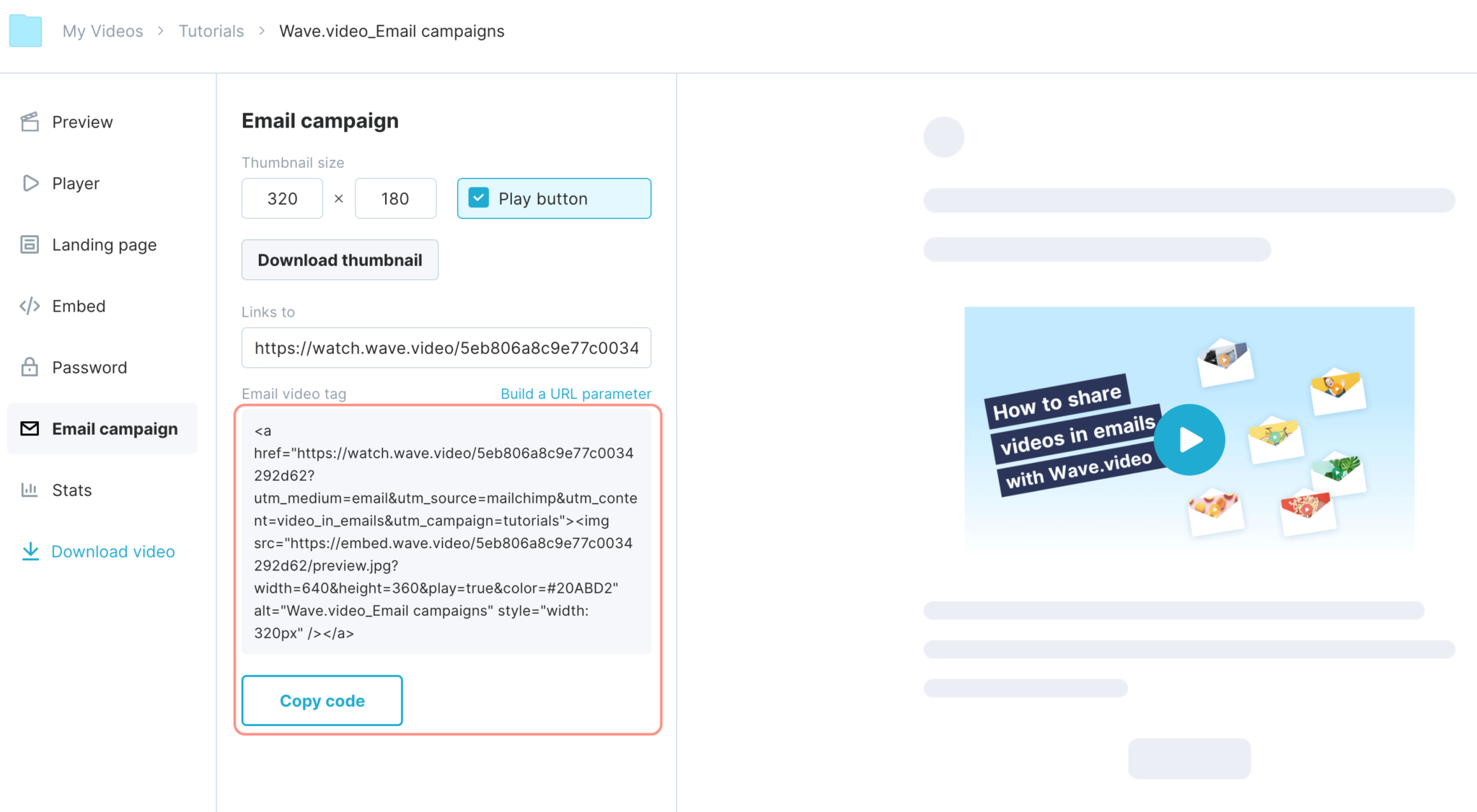 8. Embed video in your email
Now go to your email marketing platform and add a code snippet to your email.
Watch the full video tutorial about how to use Wave.video's Email Campaign feature
Bonus method: Add the video to your email signature
In all of the above examples and methods, you're linking to your video from the GIF, image, and text you're using.
There's another method you can use: email signature that links to your video.
In this case, you won't be using a dedicated email campaign to promote a video. Instead, you'll add a link or a thumbnail to your video in the signature of all emails you personally send to people you communicate with.
To do this, head to your email settings (for example, Settings > General in Gmail), and below the name and other details of your signatures, add one of the following:
Text such as 'Watch my latest video on [topic]' that links to that video

Your video thumbnail at a reduced size that links to your video
By doing this, you'll subtly promote your newest videos with every email you send without making it a focal point and coming across as too spammy.
Final Tips on How to Embed Video in Email
Your video is added to your next email campaign.
The key question now is how to make it more effective and get people to click through to watch it? Here are some main things to keep in mind.
Make sure your video aligns with the goal of your email campaign
If you're adding video to your emails just because it may increase your open rate or click-through rate—you're in it for the wrong reasons.
Why is video the best way to convey the message you're sending? How is it better than text-only email? Answer these questions every time you embed video in your emails, and you're on the right track to reaching and tracking the right goals.
Make your video the endpoint of your goal
What is the role of your video in the email you're sending?
If your email subscriber opens the email, excitedly clicks through and watches the video, only to have to return and do three other things to reach the point of your email… They'll hit 'delete' fast.
Want them to consume more information or take action such as a purchase? Make it possible on the page they landed on when they clicked on the video, not back in the email.
Test various subject line formats and methods of embedding the video
How will anyone know there's a video in the email? Add it to your subject line by using formats such as:
[VIDEO] Three ways to solve [problem]…

[New video] How you can achieve [goal]…

X major [industry] trends for 2019 (video inside)
Essentially, you can play around with phrasing and placement of a video announcement in your email subject line.
In the email itself, make sure you're testing various methods we mentioned earlier and see which one brings you the best results when it comes to click-through rates, video watch time, and actions taken after watching the video.
Surround your video with hyper-focused, compelling copy
Ensure that everything you include in the text of the email itself is closely related to the video and that it increases the chances for the reader to go and watch it.
If you add too much extra text, it may dilute the key message behind your video and email, and it might miss its goal.
Enrich Your Next Email Marketing Campaign With Video
The relationship between video and email goes both ways.
Email gives your videos a better reach and a more focused audience. Video, on the other hand, makes your emails more compelling and helps drive their message home.
If you have yet to create videos that help you reach your business goals, Wave.video can help, and you can get started easily, within minutes, and for free.
Once you have your videos, select one of the methods of embedding them into emails, and start sending them to your email audience. Then, as always, test, rinse, and repeat!