Your Guide to Vertical Video: the Techniques, Examples, and Ideas to Get Started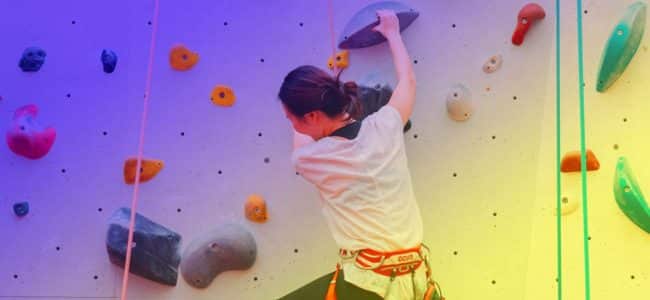 Vertical video is one of the marketing trends that happened thanks to the popularity of smartphones.
We're all used to horizontal video from many years of exposure to TV, computer, and cinema screens. It's also a natural replication of the way we see the world; we absorb visual information horizontally.
Yet vertical video and the social platforms that support it have exploded.
It all started in mid-2012…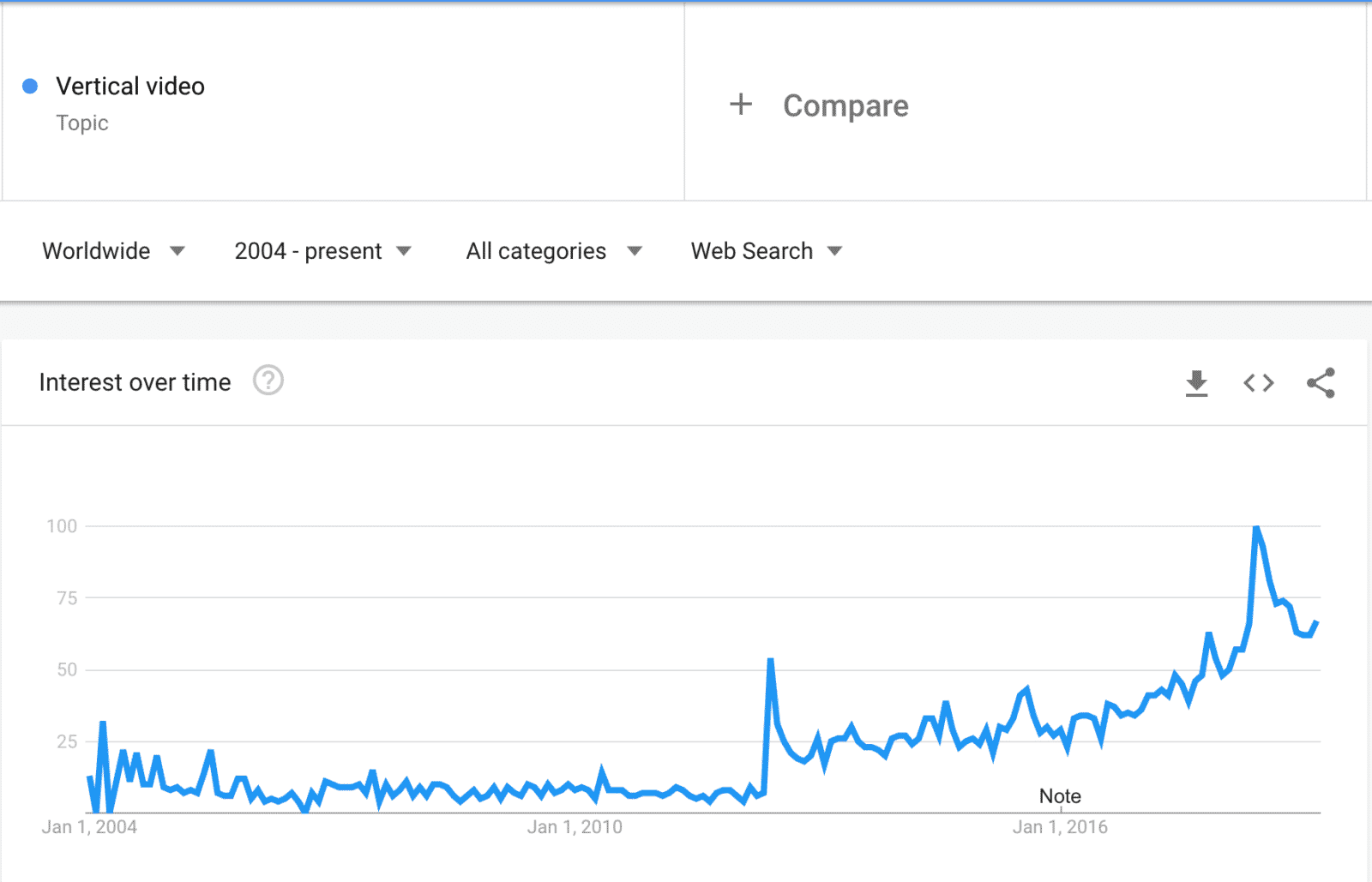 …which also happens to be the same time Snapchat started gaining traction.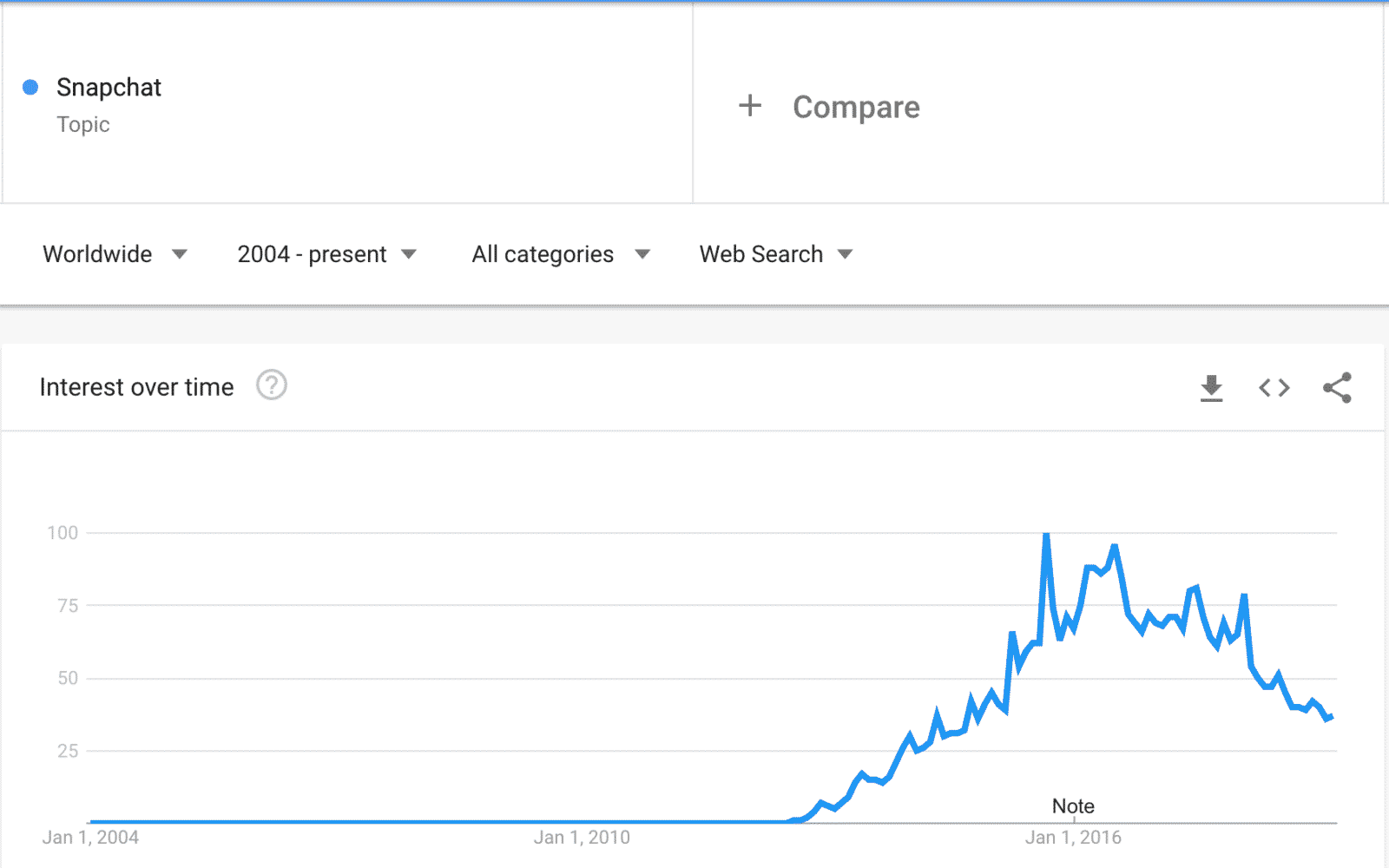 In 2016, Instagram followed suit by launching Instagram Stories, then Facebook Stories launched in 2017.
And that highest peak on the vertical video graph above? It perfectly correlates with the launch date of IGTV, Instagram's video-viewing platform.
During this time, vertical video on Instagram, Facebook, and Twitter feeds also happened. WhatsApp video status became available. Even Pinterest, already a vertically-driven platform, introduced organic video pins.
There's no more doubt: vertical video is the way to make the most out of all of these platforms. In this article, we'll cover the state of vertical video and why/how you should be using it in your video marketing.
Table of contents:
The state of mobile traffic and vertical video performance
Vertical video is made for consumption on our mobile phones. And even though we tend to turn our phones when watching Netflix on them, it turns out we'd rather hold our phones the way we're supposed to: vertically.
In fact, one study has shown that 94% of people hold their phone vertically when watching a video, even when it's intended to be watched horizontally. Another study revealed that 60% of people hold their phone vertically when browsing the web.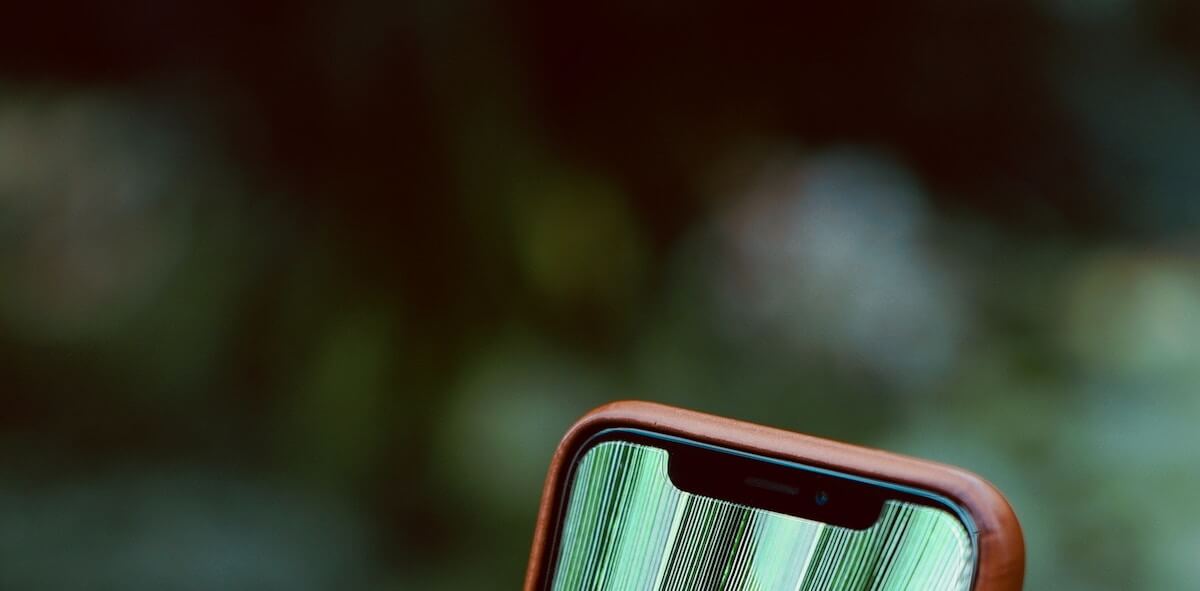 94% of people hold their phone vertically when watching a video
One thing is clear: we don't like to turn our phones into horizontal, TV-like screens.
Let's dive deeper into understanding mobile behavior and creating vertical videos that match it.
How is human behavior any different on smartphones? And what difference does this make to marketers?
Mobile traffic is at an all-time high
In 2018, more than 52% of all website traffic globally came from mobile phones. This was up from 50.3% in the year before. Mobile currently accounts for half of all web pages served.
Furthermore, mobile accounted for 78% of social media site visits in the US by Q4 of 2018.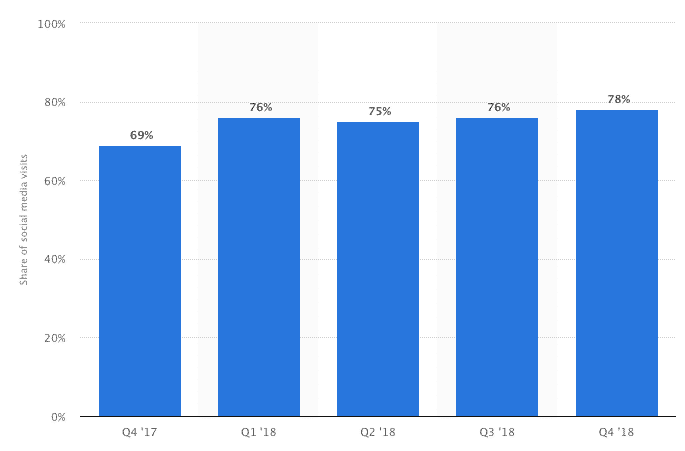 What does this mean?
First, remember that half of web browsing takes place on a palm-sized screen, which is a good thing to know for all your marketing—not just video or social media.
And secondly, you can't afford to tailor your social media strategy to desktop anymore. Almost everything on social media is happening on mobile!
Mobile video viewing is growing
According to the Q2 2018 Global Video Index Report from Ooyala, mobile and tablet video starts have exceeded 60%. Mobile video's share of all plays is even higher in some regions, such as Asia-Pacific (74%) and Latin America (65%).
Mobile and tablet video starts have exceeded 60%
Mediabrix, a mobile advertising platform, reported that vertical video ads in an experiment they conducted saw a 90% completion rate. Less than 30% of users would turn their phone sideways to view and ad, and those that do only watch about 14% of the video.
Mobile video brings results
Facebook worked with brand advertisers in North America, Latin America, and Europe to test the impact of vertical video ads against horizontal and square ads.
The ads they used only differed in the aspect ratio; creative, length, targeting, and budgeting remained the same.
The results were clear: vertical video ads drive an incremental increase in brand lift and ad recall.

Another experiment comes from Buffer, who decided to test vertical video against square video (they've previously tested square video against landscape video).
Their main takeaway? Brands must keep up with mobile-centric video trends. This was based on the specific results in their experiment:
Vertical video resulted in lower cost per click (CPC)
Vertical video resulted in lower cost per view (CPV)
Stories were less expensive for cost per thousand impressions (CPM) and CPC
In the feed, vertical video resulted in more 3-second views and 50% total watch time views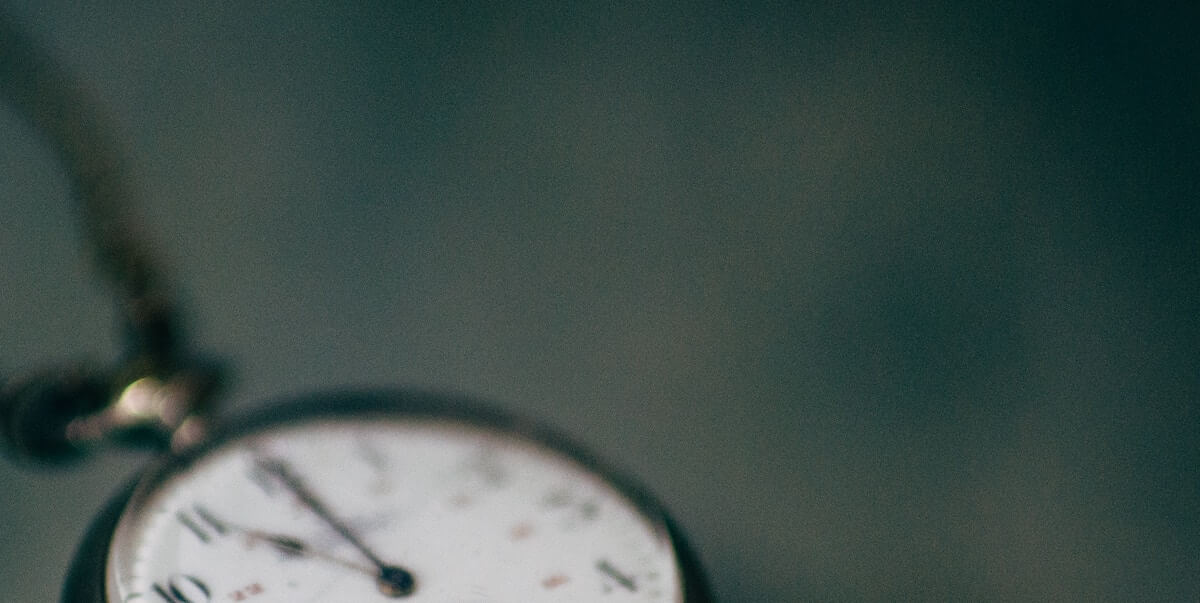 Vertical video results in more 3-sec views and 50% total watch time views
The numbers speak for themselves: vertical video is promising, both from organic and paid perspective.
Let's look at some reasons we crave vertical video.
Why does vertical video work so well?
In other words, why should you use vertical video in your social media and overall marketing strategy?
If the numbers from the previous section weren't enough to convince you, consider this.
Vertical video leaves no room for distraction
Unlike desktop browsing with multiple tabs open or scrolling through a social media feed, vertical video fills up the entire screen.
In other words, it leaves no space—not even an inch—for distraction. Aside from push notifications, nothing besides the video can take the attention away from it.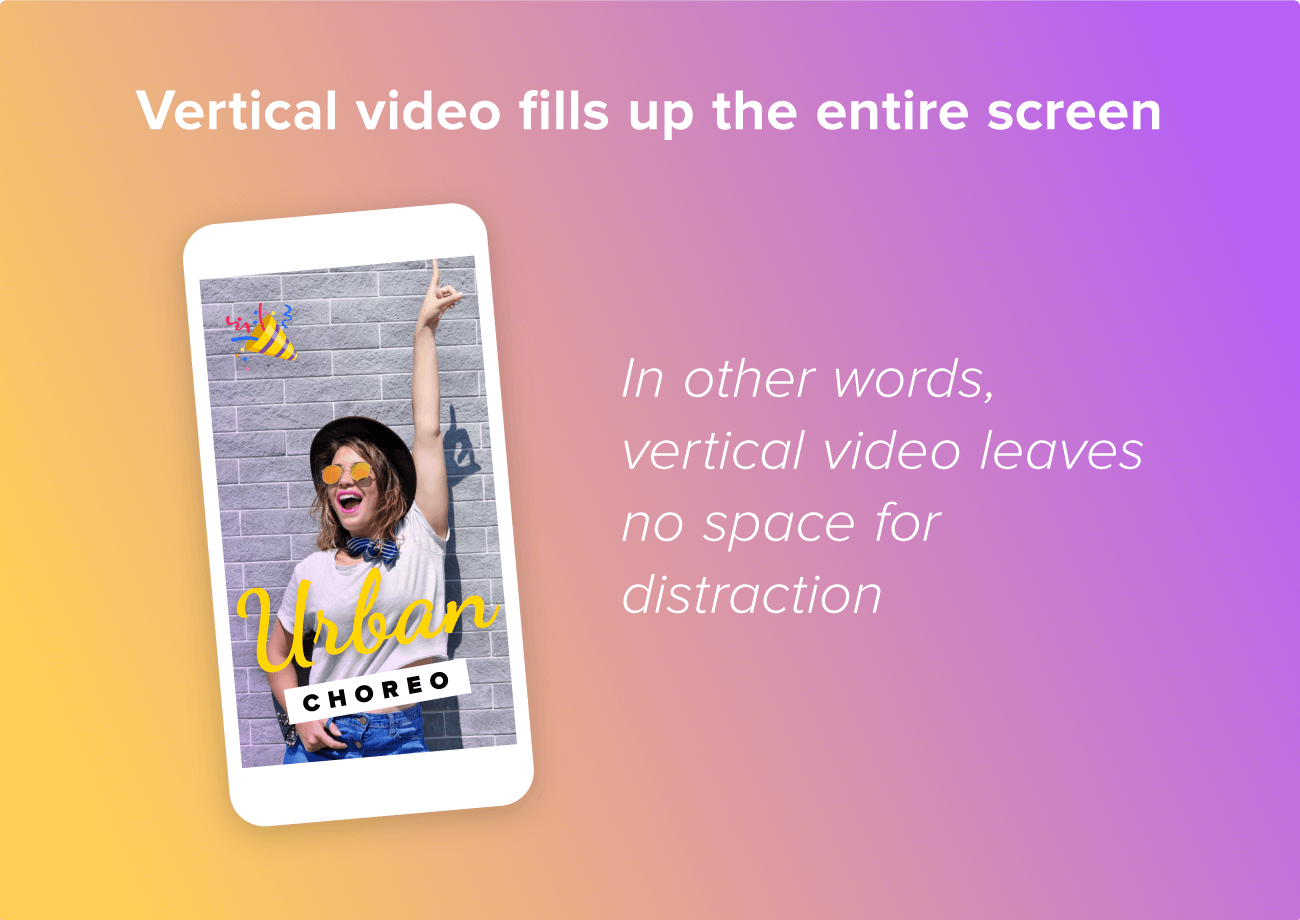 The immersiveness of vertical video is unmatched. People can watch Netflix or YouTube on their laptop and still jump between tabs. They can see the previous or next post when watching a horizontal video on Facebook.
With vertical video, there's nothing else to do than to watch the video, so your job is to create videos worth sticking around for.
Vertical video means immediacy and intimacy
Vertical video resembles a Facetime video chat. It reminds us of talking to a friend who flips their camera to show us where they are and what they're up to.
It feels personal.
As a Wired article described it, vertical video is the aspect ratio of breaking news—courtesy of bystanders—and of social media. We now see the world through a vertical frame.
This means that, by focusing on vertical video as a business, you can become closer to your viewers. You can let them into your world.
While horizontal video can often feel over-produced, vertical video is often expected to be the exact opposite. Even when shaky and off-the-cuff, it feels true to the creator.
Vertical video is second nature on smartphones
Here's a fun and important fact:
Vertical video is so powerful that it can contribute to how well a song will do on the charts.
World's most popular artists such as Ariana Grande and Selena Gomez (and many more) started releasing music videos in vertical format along with the landscape version.
So when Halsey's single "Without Me" was dethroned from No. 1 on the Billboard Hot 100 by another artist, she climbed right back to it after releasing a vertical music video, which sparked a surge in streaming.
As a Spotify marketing lead explained it in the above article, music consumption is naturally mobile, so vertical videos are an organic evolution in artists' content creation.
Vertical video feels like it's made on the actual phone, compared to the high-production landscape video, which draws viewers in deep.
Since the natural way of holding our phones is vertical anyway, this type of video lends itself to easy interactivity through likes, comments, and shares.
How to succeed with vertical video: best practices and ideas
You can still brainstorm your video ideas as you would for landscape videos.
The trick to making those ideas successful in vertical format is to focus on purposefully filling the screen.
Here are some tips how you can take advantage of the vertical screen in your videos.
Tip 1. Direct your viewers' eyes
Landscape videos naturally make viewers look from left to right. Because there's no horizon in the vertical format, the eyes will focus based on framing. This gives you a chance to direct people's eyes by utilizing the vertical space and panning up and down.
In other words, consider the benefits of the vertical frame based on the situation you're filming.
Tip 2. Use graphic elements to capture attention
As with any video, capturing and retaining attention is the key to maximizing your vertical video's impact.

Example of how you can accompany a vertical video with text
Use visual elements such as text, overlays, arrows and pointers, stop-motion, subtitles, and more to add dimension and ensure your viewer remains glued to the screen.
Tip 3. Split your screen into two or more parts
When you divide a vertical space, you can tell your story in a new way.
Arrange your frames in a grid or split the screen in half to show multiple angles of a product, multiple products, or even customer reactions to a product. You can emphasize your most important points with sizes of each frame.
Play around with this option. The opportunities are endless.
Vertical video ideas you can use right now
Video idea #1: Focus on the human story
One of the best things about vertical video is that it can capture human essence.
In other words, the top-to-bottom orientation, instead of a horizontal one, can capture and focus on human emotion and body language because it removes everything else. It fills the entire screen.
This is why National Geographic did an incredible move by publishing The Story of a Face on their IGTV. It's a deeply touching story about the youngest person to receive a face transplant in US history.
The sensitivity, emotion, stakes, and her journey were perfectly captured in the vertical format, and it's not hard to see why this is the most viewed IGTV video National Geographic has published.
How you can take the same approach: In your vertical videos, look for a human aspect, the ways you can fill the screen with meaningful movements and actions that tell the story behind your company, products, and actions.
Vertical video idea #2: Showcase expertise by going extra close
When your viewers trust you, they'll be more inclined to buy from you.
And you will build up that trust by showing them you're the true expert in what you do.
The cosmetic and makeup industries are a great example of this. With so many products, techniques, and tools, your potential customers might feel insecure about the ideal option for them.
This is where going up close and demonstrating the use of your products can bring relief and confidence about making the right purchase decision.
Morphe Cosmetics is a brand that knows this and makes the most out of it. In their Instagram Stories highlights, you can always find tutorials using their eyeshadow palettes.
Two great examples are their Bronze Tutorial and their 35F Tutorial: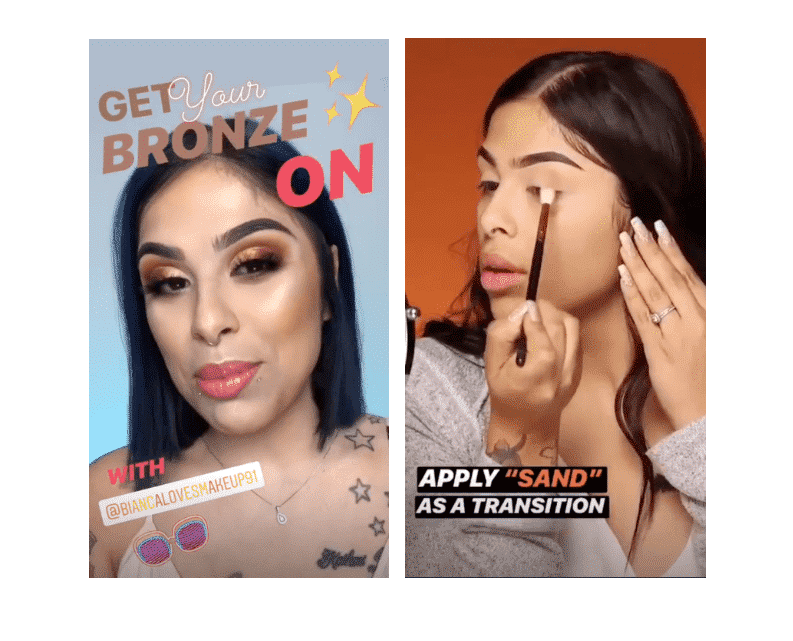 The first one feels more like on-the-go, with real-time guidance from the makeup artist, while the other one has some extra production elements such as background music and jump-cuts.
Both are successful in demonstrating the techniques up close—closer than they ever could with horizontal video!
How you can take the same approach: Demonstrate your product or a key method that it supports by positioning the camera as close as you can while keeping it a confident viewpoint. Your viewers will appreciate the level of detail they can learn and upskill from.
Vertical video idea #3: Win with simplicity
Not every video needs to be long and in-depth to convey an important message.
In fact, you can use simple elements to say more with less. From short, fast-changing scenes to on-screen text in key moments, even a few seconds can be enough to reach your goals with vertical video.
A brilliant example comes from Macmillan Cancer Support and their World's Biggest Coffee Morning headline event.
In this case, they didn't use vertical video to tell an emotional story or even to show a human face (which would be reasonable and expected for such an event).
Instead, they launched a Facebook campaign to drive engagement and acquisition of Coffee Morning Hosts that was entirely made of a stop-motion video in the Facebook feed.
The video was a cake that disappeared one slice at a time, accompanied by the "Don't miss out on this tasty treat!" text and the logos of the organization and the event.
Every inch of the screen was purposefully filled, the call-to-action below the video directed the attention to signing up, and the campaign was a huge success.
How can you take the same approach: Look for ways to simplify the message of your video. Then, use dynamics and jump-cut editing to create movement and spark action from the viewer!
Bonus: repurpose your vertical video into different formats
Why would all your hard work on vertical videos be limited to platforms that support it?
If you want to enrich your video and make it an enjoyable experience on desktops or turn it into a square video, you can easily do so with Wave.video.
Turn your vertical video into a landscape video
In your Wave.video project, select the horizontal (16:9) video format, such as the one for YouTube.
From the Add Videos & Photos option, select Uploads and upload your vertical video.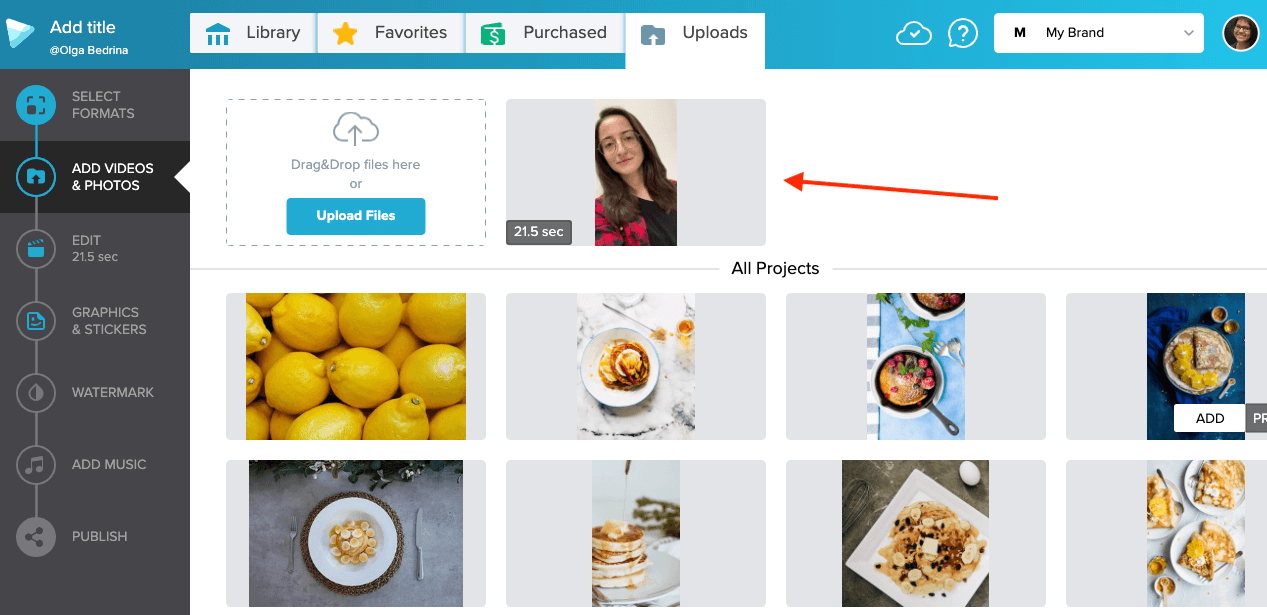 Then, in the Edit section of your project and under the Video tab, you can zoom the video in or out until you reach its desired size on your horizontal video. This is where you can also change the background color, add fading effects, trim, crop, and more.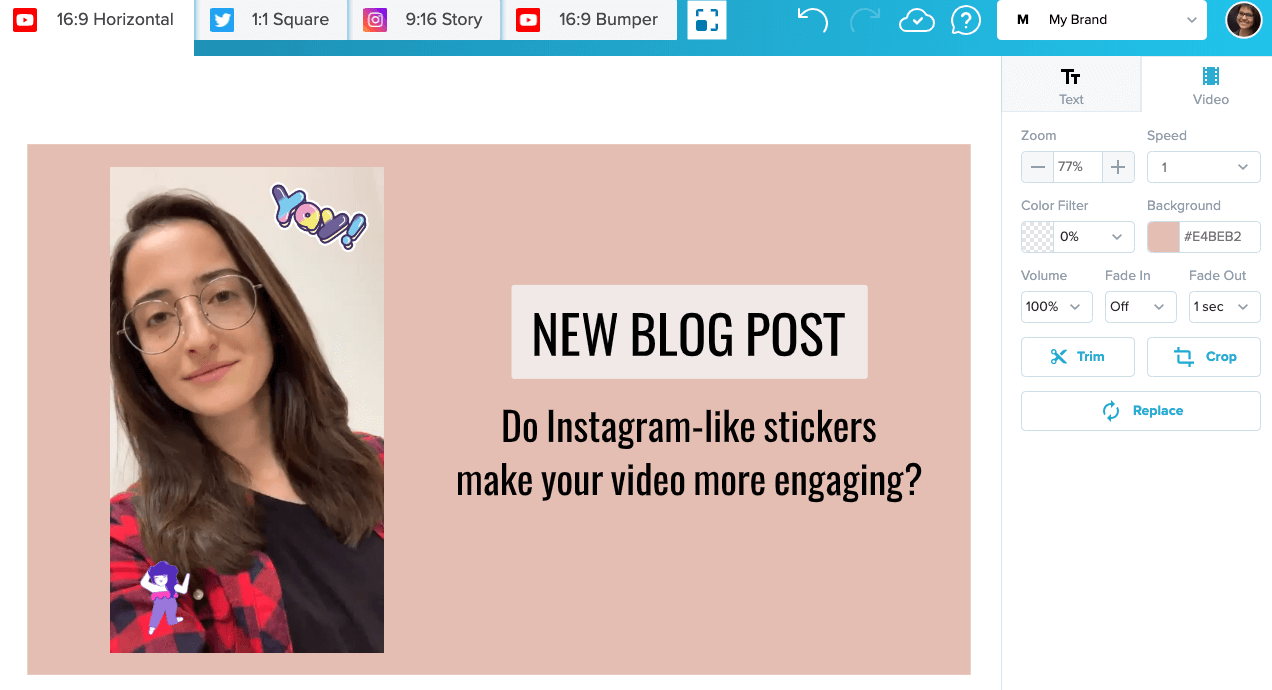 The Text tab will let you change the font, size, style, color, and alignment of your text. Text will help you enrich your vertical video with text and other elements.
Turn your vertical video into a square video
At the top bar within the same project, click Manage Formats and select Square video, such as the one for Facebook.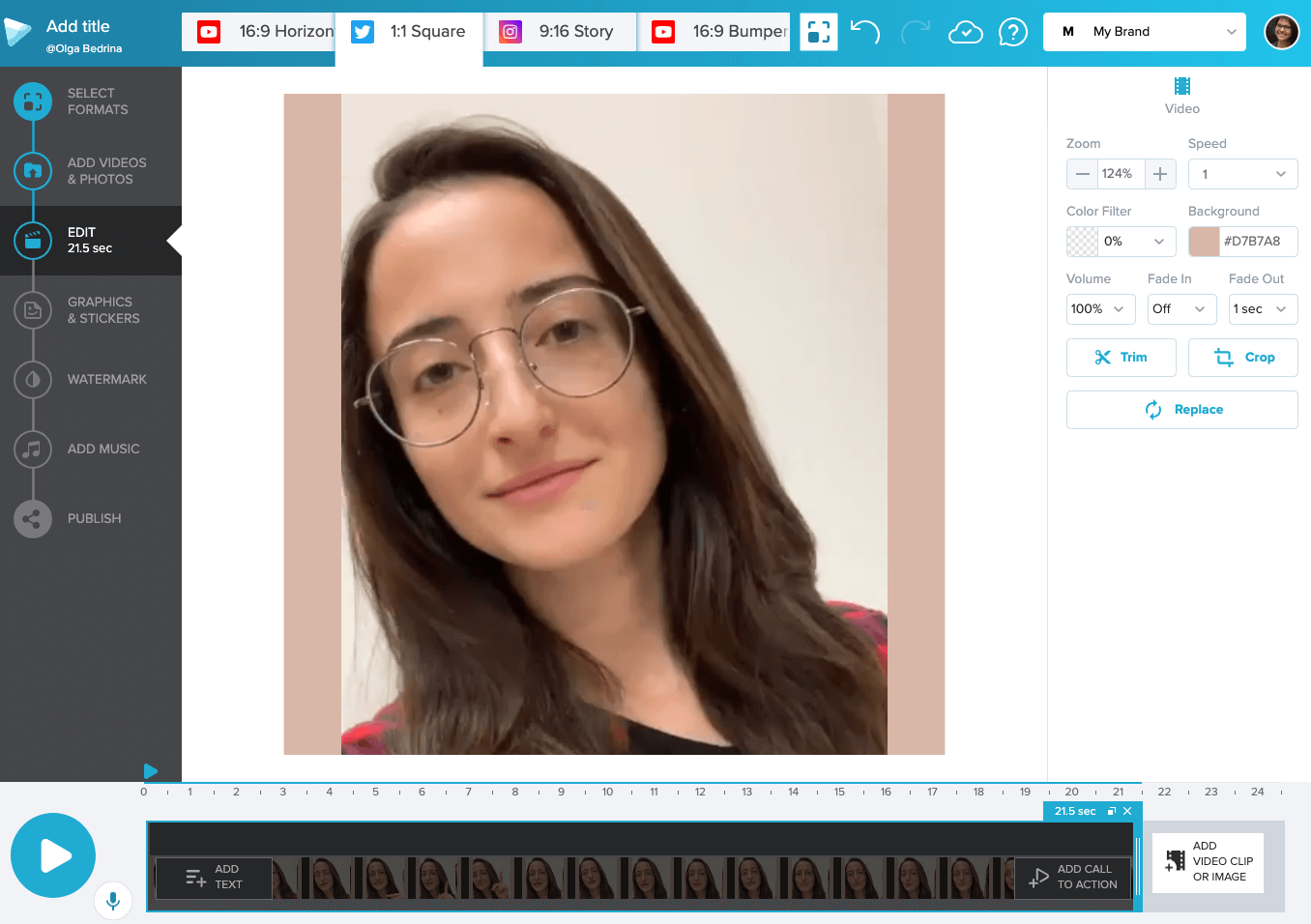 Wave.video will automatically select a square portion of your vertical video. You can drag it up and down until you find the perfect frame that will be used for the full video.
Start creating vertical videos
With this guide to support you, you can now start recording and editing vertical videos that will stop your viewers in their tracks.
Whether you choose to focus on the human story, go extra close, choose simplicity, or come up with a completely different idea, it's important to keep publishing videos and measure what works with your audience.
That way, you can hone the types of videos they resonate with and keep creating, repurposing, and reaping the rewards of vertical video. Remember you can do so easily with a free Wave.video account—you can get started within minutes!