Pinterest Video: The Ultimate Guide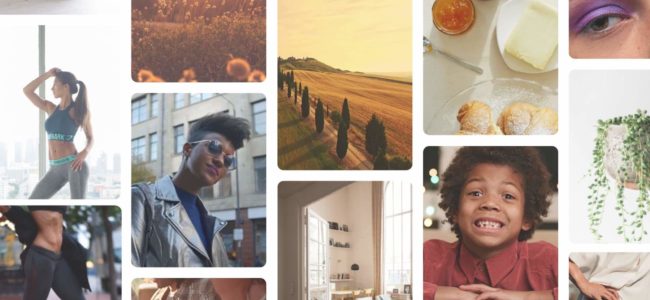 Pinterest Video: Why Use It?
It's always been possible to pin videos from the web on Pinterest. However, over time, the significance and usage of video content on Pinterest have changed dramatically.
According to Pinterest, over 200 million people around the world come to this social platform every month to discover new ideas for life, work, hobby, and everything in between.
Nowadays, Pinterest video is one of the best new instruments for discovering yet even more inspiring ideas. Moving with the time, Pinterest is actively adding new features for video content and its distribution on the platform.
In 2016, Pinterest added the ability to play videos right in the pin upon tapping on it. Also, some video Pins will play automatically in your home feed, search results, and the boards you save them to.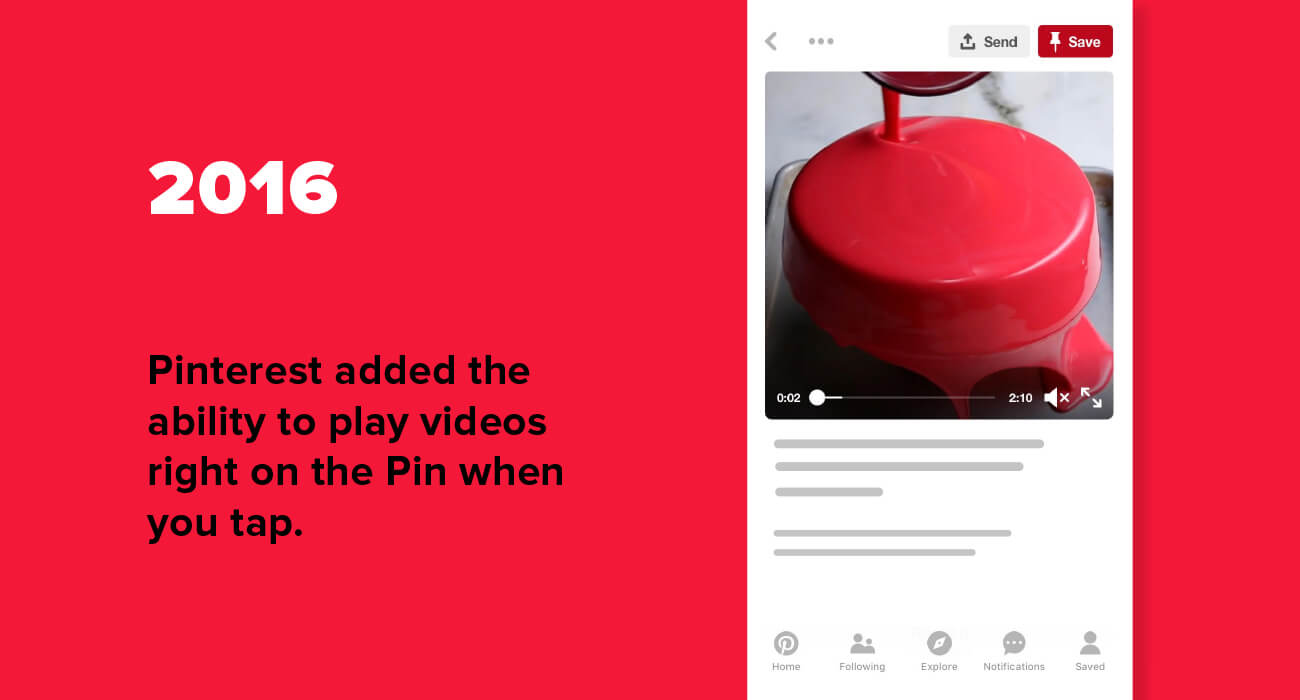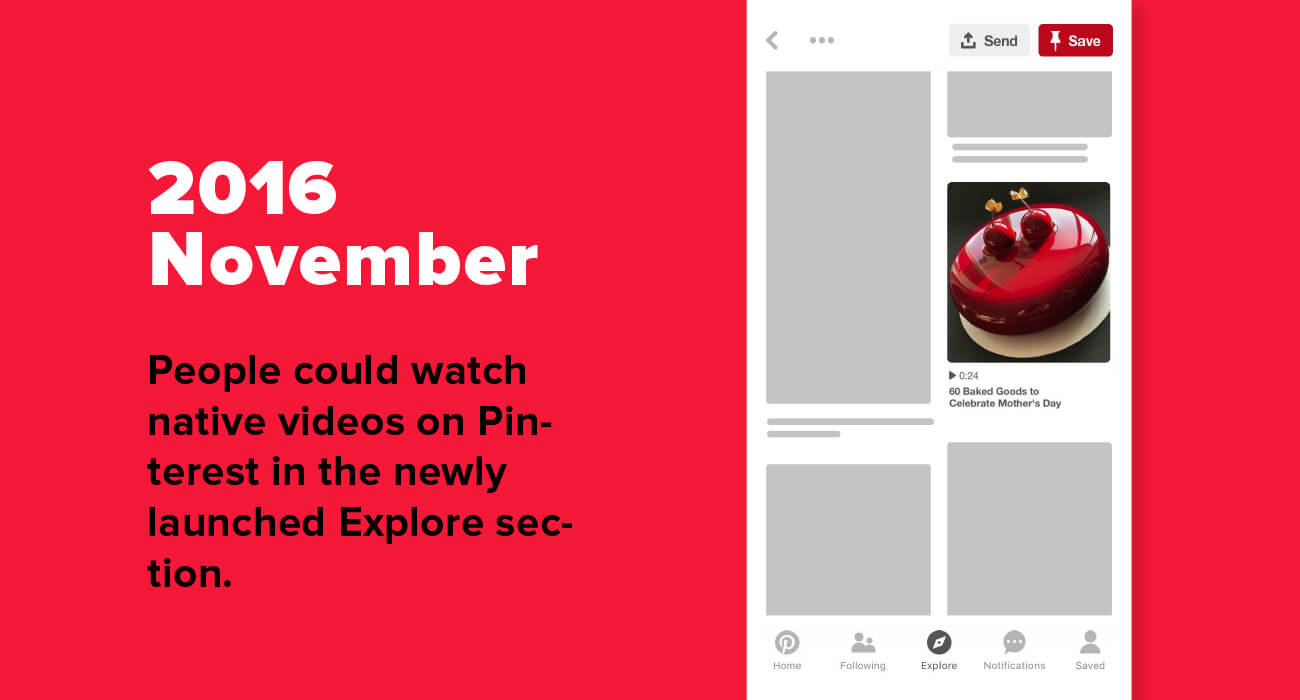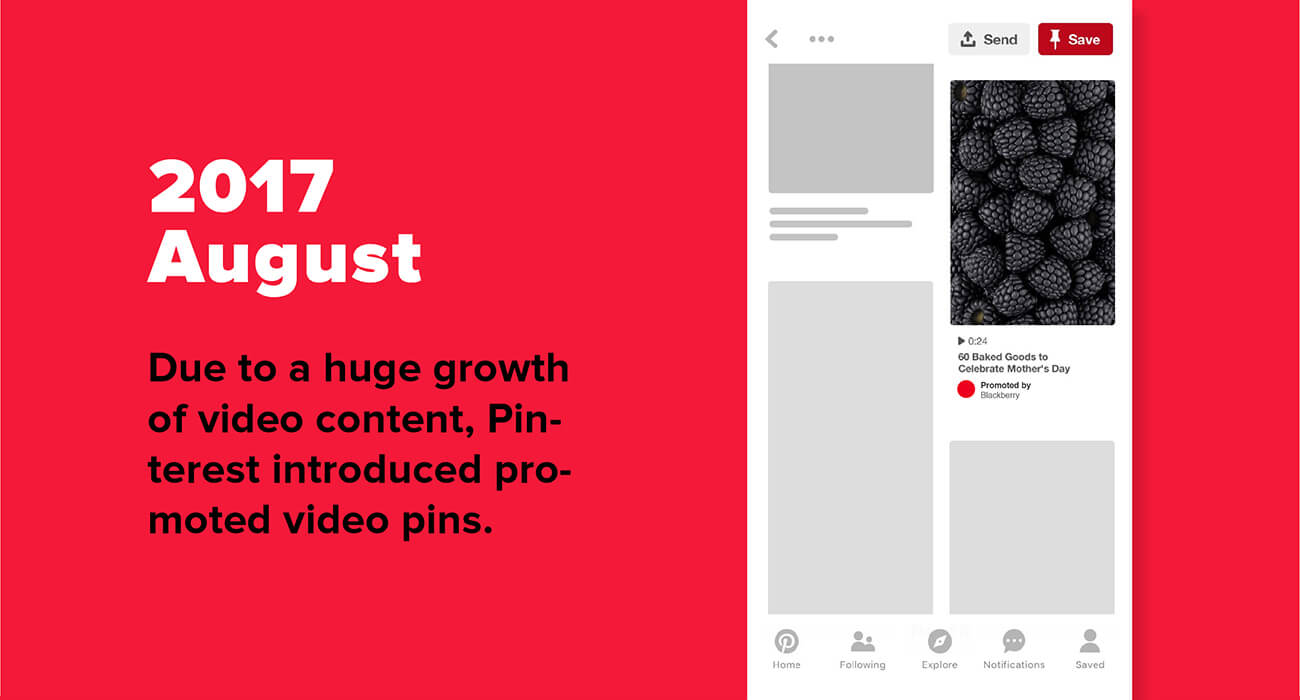 In November 2016, people could watch native videos on Pinterest in the newly launched Explore section.
In August 2017, due to a huge growth of video content, Pinterest introduced promoted video pins. This way, the platform became a place where marketers can use the power of video marketing to generate more traffic and reach their audience more effectively.
This development of the image-centric platform towards video content created many possibilities to add and use videos on Pinterest. In this article, I'll show you the best ways to prepare and upload your videos to Pinterest, as well as to optimize them to reach more Pinners around the globe.
How to Pin a Video on Pinterest
If you want to add a video on Pinterest, there are (at least) three popular ways to do it.
How to Pin a YouTube Video
First, publish your video on YouTube/Vimeo or find a video you want to share on YouTube, Vimeo or Ted. On YouTube and Vimeo, look for the "Share" button and find the Pinterest icon.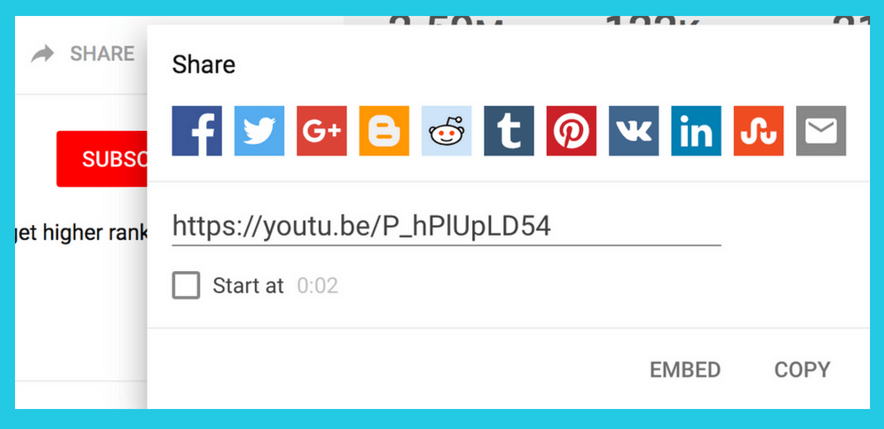 Or else, just copy/paste the URL of the video, then use "save from site" button in your mobile app or desktop Pinterest interface, choose a cover and pin it!
This method works both for the desktop and mobile versions.
How to Use the Pinterest Save Button Extension
Another way to do it is using the Pinterest Save Button extension. Add it to your browser (i.e. Google Chrome) and you will be able to pin videos from any places on the web, just clicking on the icon of the extension.
Pro tip: I've noticed there's a difference between using methods #1 and #2. Using Pinterest Save Button extension for YouTube videos can give you a visual of the video with black edges, comparing with clear cover from direct "Save from site" button on Pinterest.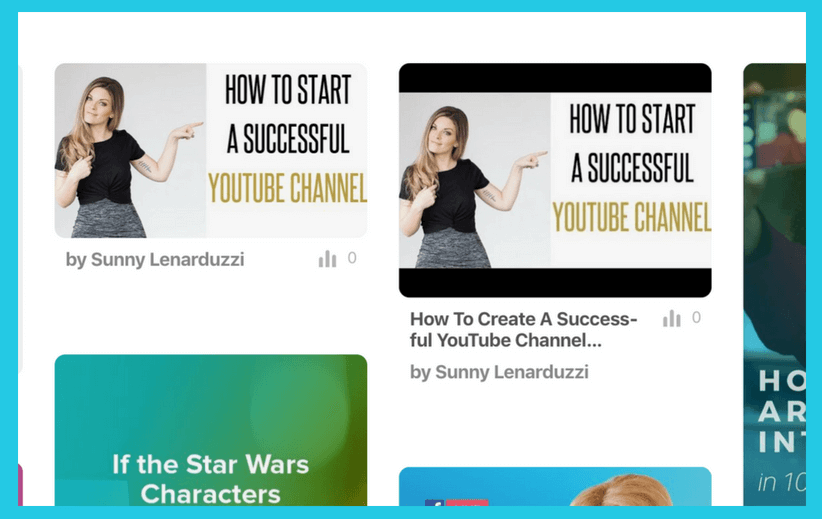 The first two methods are great for publishing any videos from the web but not natively, because according to Pinterest, "right now, only advertisers can add their own videos directly to Pinterest".
Right now, only advertisers can add their own videos directly to Pinterest
These videos are searchable, can be seen as promoted pins or on the original boards. So, it's worth trying even if we don't want to spend money on ads.
Pinterest Video Ads. A Walkthrough
Users of social media platforms like Facebook and Twitter got pretty skillful at ignoring social video ads altogether. According to our latest research, YouTube is the platform that viewers hate seeing video ads the most. Facebook and Instagram follow.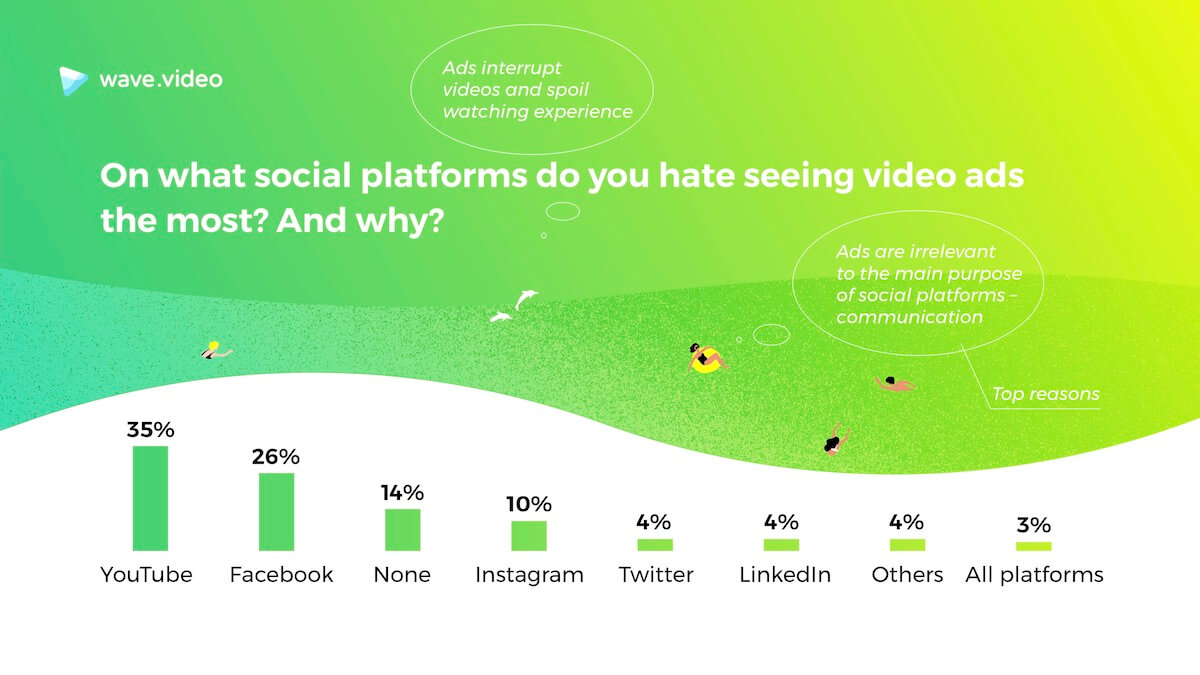 Pinterest video ads, on the other hand, are a whole new world. They provide a great opportunity for brand exposure and unconventional promotion. 
Here's how to get started with Pinterest video ads, step by step.
Step 1. Create your business account.
First and foremost, you need to create a business account on Pinterest. Follow this instruction, and you'll be all set in less than 15 seconds.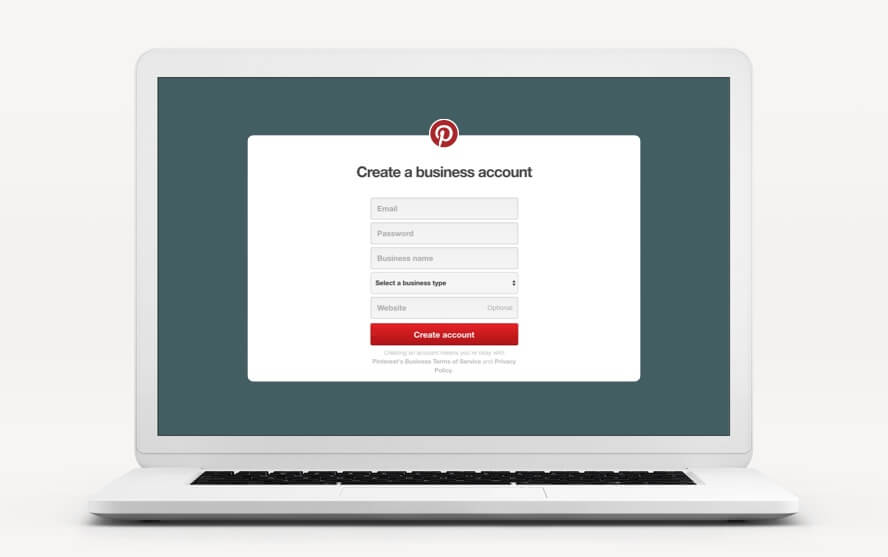 Step 2. Set up your business account.
Once you've created your new shiny business account on Pinterest, it's time to set it up. In order to be able to run video ads on Pinterest, you will need to add your billing information. Here's the link: https://ads.pinterest.com/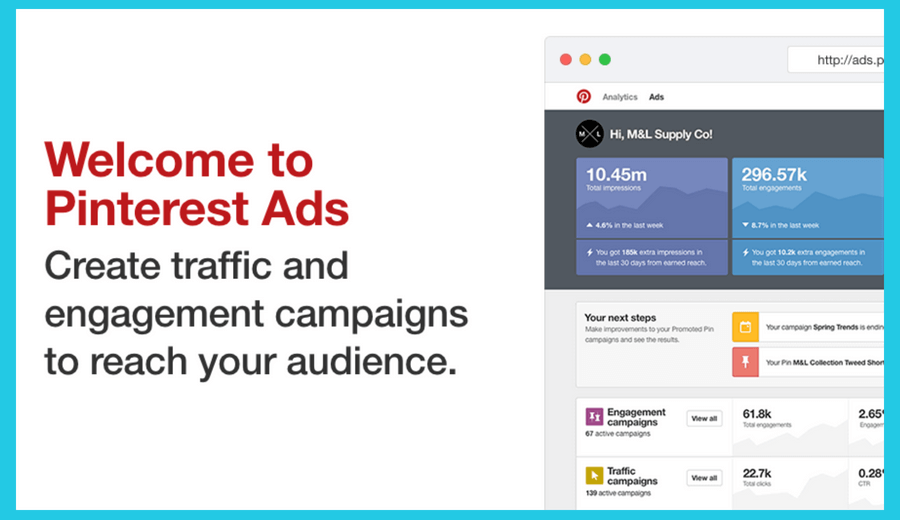 Step 3. Upload your videos
Done! Now you can publish videos using the Pinterest interface. I had some troubles with billing information, but after a few tries and messages to the Pinterest support, I was all set.
How to Upload a Video to Pinterest
In order to upload a video to Pinterest, click the plus sign in the upper right corner. If you set up your business account correctly, you should be able to see the option "Upload video" in the drop-down menu.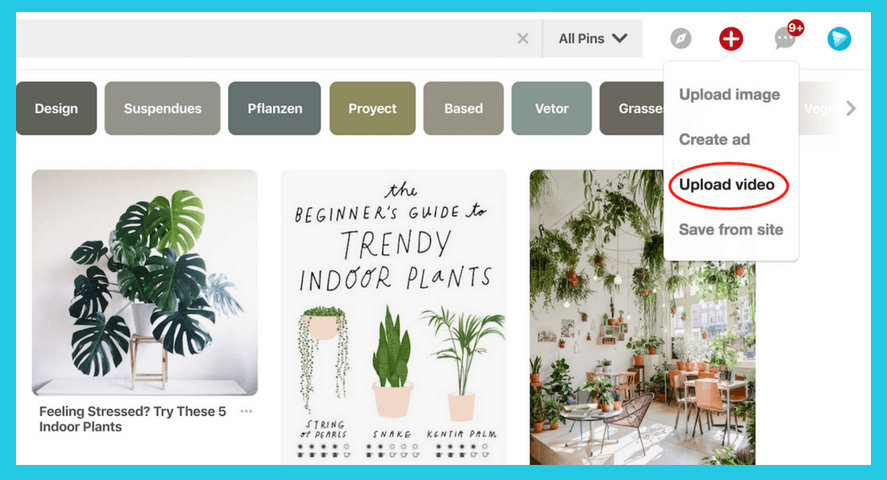 Pinterest suggests using vertical (9:16) or square (1:1) video files. You can adjust your video to both of these formats with Wave.video, my go-to tool for making social videos.
Be sure your original video in .mp4 or .mov format is up to 30 minutes long and less than 2GB in size.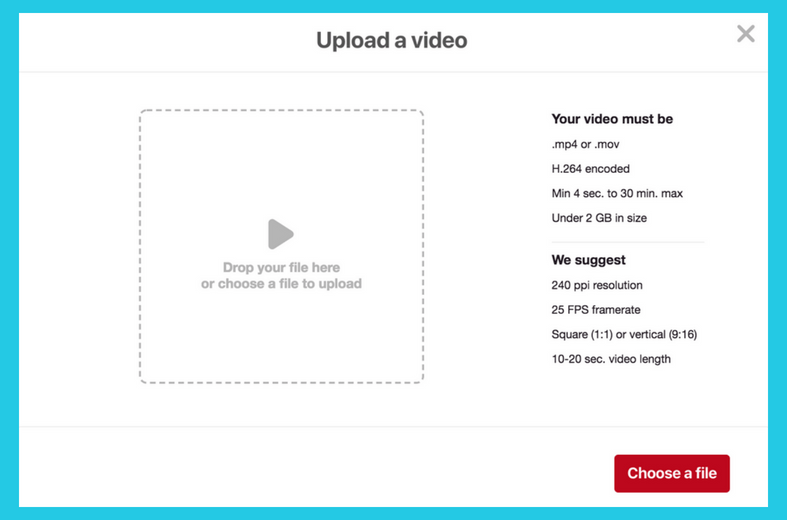 How to Use Pinterest Video Effectively
When your first videos are pinned on Instagram, let's talk a bit about how you can make them work better. Personally, for editing, I use my own system called DDD: Description, Destination, Distribution.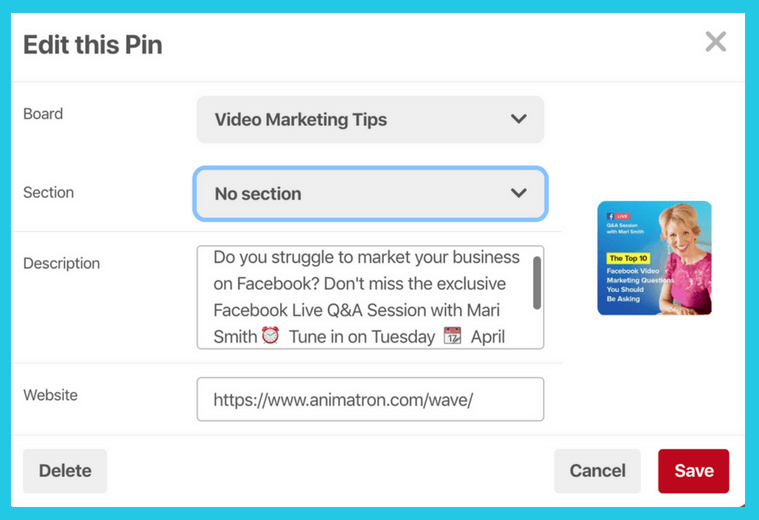 1. Description. Pay attention to the description of the video. It should contain at least 2-3 related keywords. 
2. Destination. You can always put a custom link to any videos you publish on Pinterest. Sometimes when you share a video of an influencer, it's not clear what the point of changing the link is.
However, if you have a related article on your blog, I think it's a good idea to provide people with more information on the topic. And a video shared on Pinterest does exactly that.
Pro Tip: Do you use any YouTube/Vimeo videos in your articles? I have a great strategy for you. Just share the videos on your Pinterest and put a link to your blog post afterwards.
Personally, for editing, I use my own system called DDD: Description, Destination, Distribution.
3. Distribution. Pinterest offers a bunch of great advertising opportunities for your videos. Promoted Videos are popular with Pinners and give advertisers more ways to find the right audience for every piece of content. Sometimes, spending 10-50 dollars can bring you new followers, traffic, and customers.
Pro Tip: It can be a good idea to create boards with video series of how-to or showcase videos, but don't forget to put right keywords into the description.
What Videos Work Better on Pinterest
Pinterest has a number of articles with interesting insights about their audience, new topics, and trends. If you get the right wave (using Wave.video, of course), create a compelling video and put it in front of the right audience, you will see how your creation will be traveling through thousands of Pinners bringing enormous awareness for your brand.
After reading tons of success stories and Pinterest insights, I've prepared 5 things to check in your videos before publishing:
Strong beginning. Lead with a clear hook within the first few seconds to capture people's attention. Use an eye-catching video to promote on Pinterest.
Lead with a clear hook within the first few seconds to capture people's attention. Use an eye-catching video to promote on Pinterest.
Beautiful branding. Use Wave.video to add a watermark on your video before publishing it.
Make sure your content is interesting for the broad audience. Pinterest highlights 2 main ways to engage new audience with your brand: storytelling videos and how-to content. Think twice about your goals, sometimes education materials or interesting story around your brand makes all the difference.
Storytelling videos and how-to content work best on Pinterest.
Adding music/voiceover to your videos is a great way to give your video a fresh look and feel.
Balance the text in your videos. There are many do's and don'ts on how to use text in your videos properly. 
How to Promote Your Video Pins
As I mentioned before, Pinterest has a special paid option to target your videos to the right audience. It's called "Build Brand Awareness Through Videos" and it's applicable only to native videos (uploaded using the 3d method).
This way, you have a chance to set up your campaigns using different ad group. The pricing model is cost per 1,000 impressions, which means you will be charged for every 1,000 times your video ad is shown.
From my experience, the Pinterest pricing model is not too expensive: thousands of impressions generally cost around 5-6 dollars and can bring you quite a big number of re-pins/clicks.
On Pinterest, you can get thousands of impressions and a huge number of repins and clicks for as low as $5.
Here is how to set up your Pinterest video ad campaign.
Step 1. To create a new video ad campaign, choose "Video" in the menu below.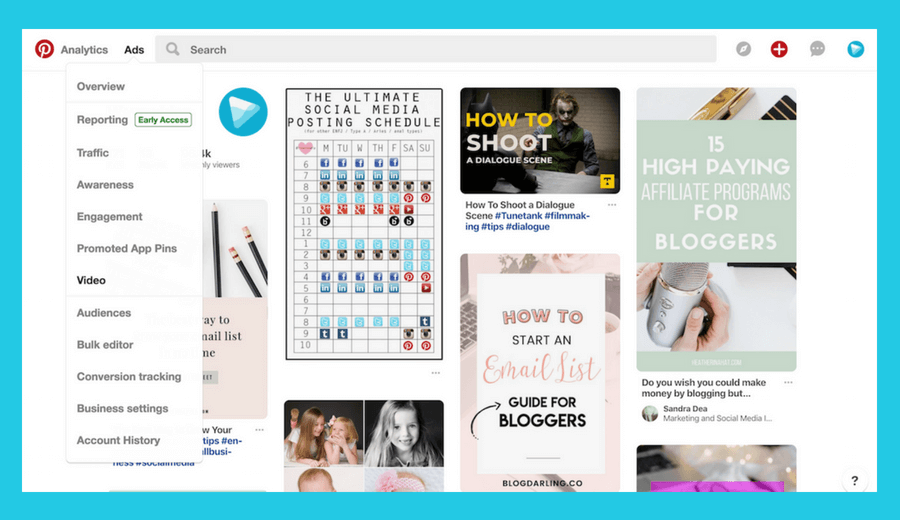 Step 2. Find the button "Create Campaign".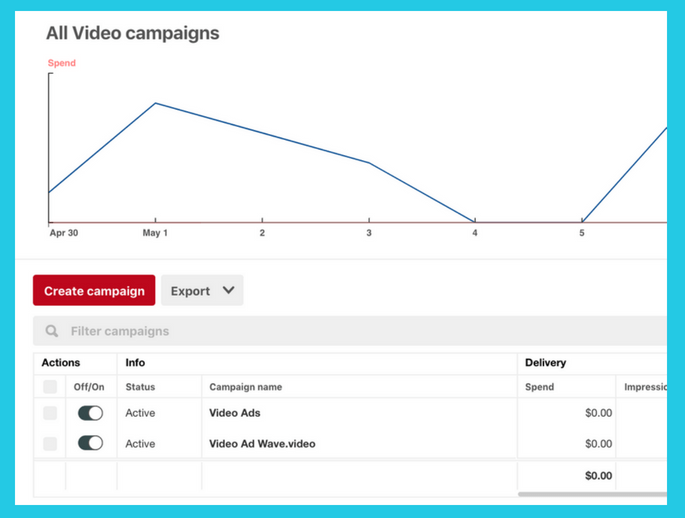 Step 3. Choose a name for your future campaign, campaign placement and a budget you want to spend.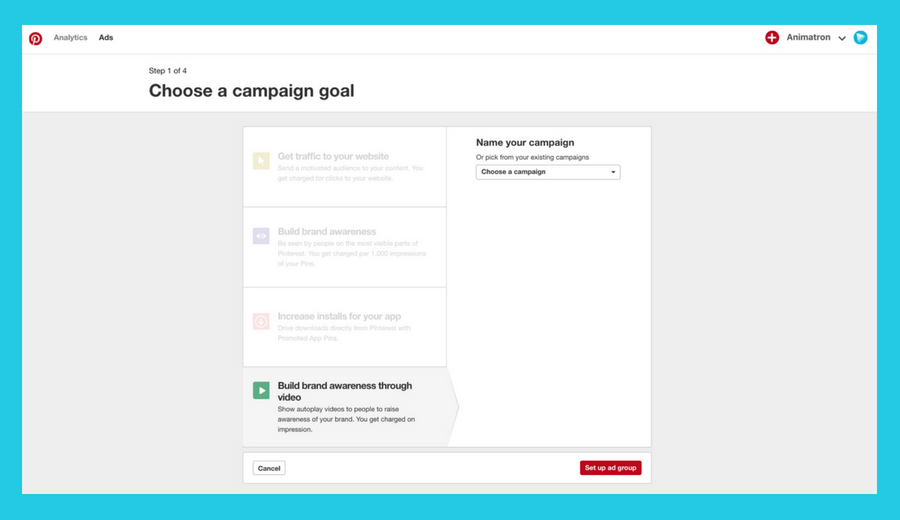 Step 4.  On the next step, choose a category and keywords suitable for your video pin.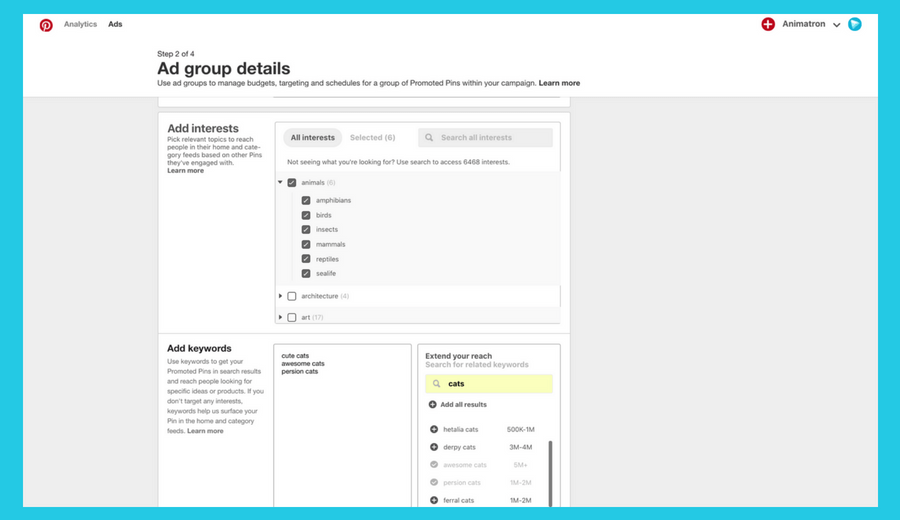 Step 5. Choose your video Pin and edit the Pin Name and the Destination URL. And you are set!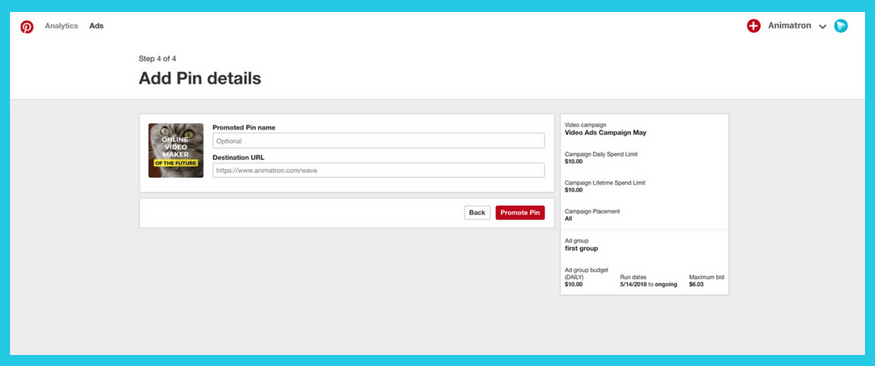 That's it! Your first video pin campaign on Pinterest is all ready. Feel free to experiment and try A/B testing with the content using different ad groups for the same campaign.
One More Thing about Pinterest Videos
There is no doubt that Pinterest is a very promising platform where your video ads can be placed. Experiments with formats, budget, audience interests can benefit your results especially if you're in the industry where your product can be well visualized.
Keep an eye on trends and Pinterest insights (Pinsights) to create videos Pinners can't pass by.
Uh oh, and for more awesome video marketing and social media tips, make sure to follow us on Pinterest!