How to Choose a Video Editor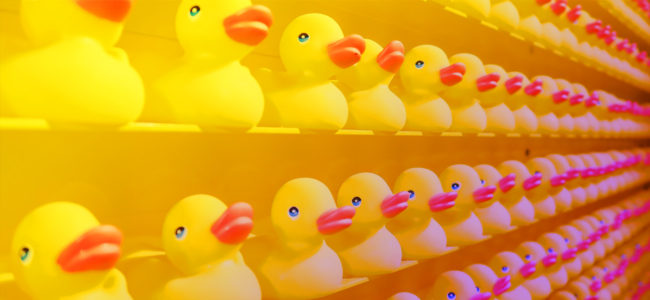 Video is literally taking over the online world. HubSpot reported that 78% of people watch online videos every week, and 55% view online videos every day. That's huge!
This might involve the bigger part of your audience. If you're not showing up through video, you're missing out—and your competitor is taking your place.
If you're still unsure about taking the video route in your marketing, one of the reasons might be that it will take you and your team months until you're skilled enough to produce great videos…
…or it's too expensive to outsource the task altogether.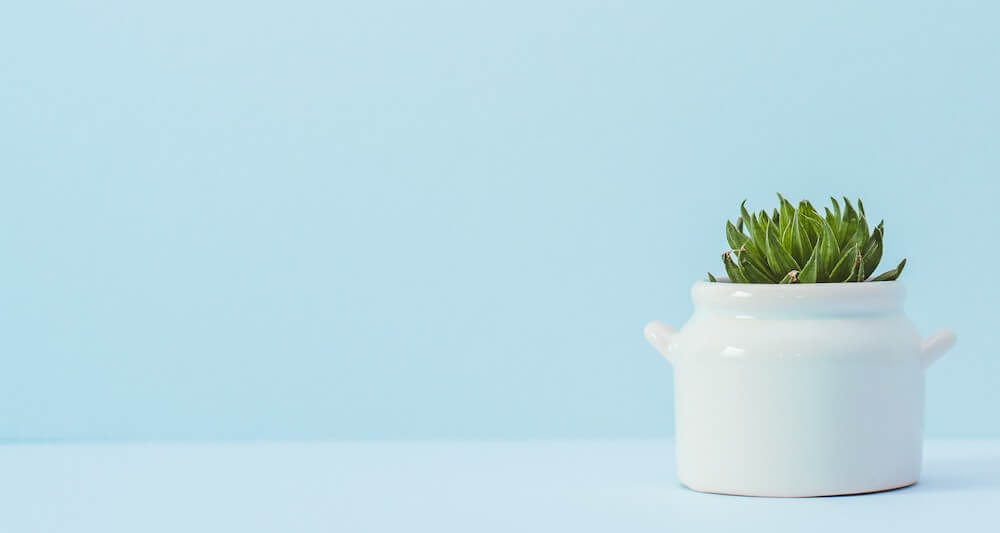 78% of people watch online videos every week, and 55% view online videos every day, according to HubSpot.
Luckily, video editing is no longer limited to professional video teams. With the right video editing tool, you can create pro-looking videos in-house without spending a lot of your valuable time or budget.
And not just that—you can ensure they're on-brand and resonating with your target audience. Keep reading to learn how to choose your ideal video editing tool.
Video Editor: the Key Approach
A video editing software—or a video editor for short—is a piece of software that will help you take raw video footage and turn it into an attention-grabbing video story.
Each video editor has features and workflows that make it unique. Some will perfectly align with how you want your videos to look like, while others might feel forced and unaligned with the look and feel of your brand.
The main thing to keep in mind is that you never have to settle for a video editor that forces you into creating video content that doesn't help you with your video marketing strategy.
As you'll notice in our list below, most video editors offer a free trial so you should try a potential video editing solution before paying for anything.
The Downloadable vs Online Video Editor
All video editors can be sorted into two major categories.
Downloadable video editors are tools that live on your computer. All the video projects you're working on are stored on your hard drive. In most cases, downloadable video editors won't let you easily switch from one computer to another or collaborate with others on the same video project.
Online video editors, however, are run inside your browser and require an Internet connection. Unlike with downloadable video editors, everything you're working on is stored on the cloud and easily shareable.
These video projects don't take up space on your hard drive, and you can log into your account on any device and continue right where you left off.
The Video Editing Features to Pay Attention to
As you'll soon notice, video editor solutions span across a wide range of price and feature ranges—both the downloadable and online versions.
So what is important to make sure you'll be able to create videos you and your audience will love?
The ability to add text to video
Text on video is important, especially since many video views on social media happen without sound. You can increase the time your viewers spend with your video by:
Adding subtitles to a conversation, a voice-over, or a talking-head video
Listing key takeaways during your video
Annotating important sections of the screen, like during a demo
Furthermore, the more control you have over the fonts, colors, and effects for the text in your video, the better!
Scene transitions
Next feature to keep an eye out is the transitions between your scenes.
More precisely, a great video editing tool will allow you to get precise about where your scenes start and end, as well as the effect that happens between two scenes. Some of your videos might require a simple cut with no effects, while others might look better with fading or swiping effects.

Scene transitions in Wave.video
Transitions are also important for the opening and closing of your video so that you can make the most of your viewer's attention and get them to take action such as clicking on a link or subscribing to your updates.
The ability to change the aspect ratio
This is a big one. As you probably noticed, video dimensions vary across social channels.
Vertical video is exploding on Instagram, square video wins with almost every metric across platforms, and YouTube is still dominated with horizontal video.

Ability to change video formats in Wave.video
Because of this, you want to make sure you can easily optimize your videos for each platform (without having to create a new video each time—that would be a silly way to waste time).
Adding filters and overlays
The best Instagram feeds (and visuals in general) have a color theme and a recognizable 'feel', right? This can be hard to maintain with video since there are many more scenes that need to be on-brand than with a still photography. Hence, the ability to add filters and overlays is going to be a nice addition to a video editor.
A great example of a color-driven feed, even with video, comes from Alex Beadon, an Instagram consultant: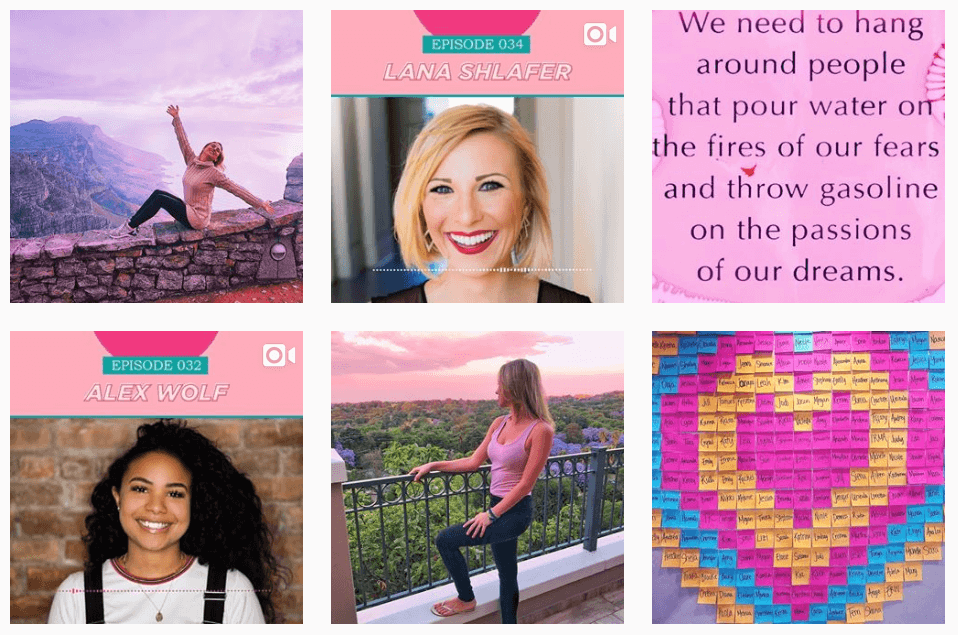 This is why video filters and overlays rock. If you want to take your visual coherence a step further and make sure your videos are polished easily recognizable in busy social media feeds, filters and color overlays are a must-have feature.
A library of stock videos and sounds
Most video types benefit from adding the right type of background music and sounds that help you tell a better story with them.
Or you might want to make a specific point with stock video footage if you don't own certain footage.
Most video types benefit from adding the right type of background music and sounds.
Because this kind of content is most often copyrighted and isn't on the cheap side, you could end up spending hundreds of dollars a year! Having a library of royalty-free videos and sounds to use is a definite plus when it comes to video editors.
An Overview of Most Popular Video Editors
If you try googling 'video editor', you'll get about 921 million results. To save you from spending hours down that rabbit hole, we've listed eight of the most popular video editing tools, including online and downloadable.
Instead of a free trial, some of them offer limited free accounts, so you never have to pay before making sure you've found the perfect video editor. Let's get started!
1) Filmora
Type: Downloadable for Mac and Windows (plus filmoraGo mobile app)
Cost: Free with watermark, starting at $44.99 for all features and no watermark
Best features: Audio mixer, screen recording, video stabilization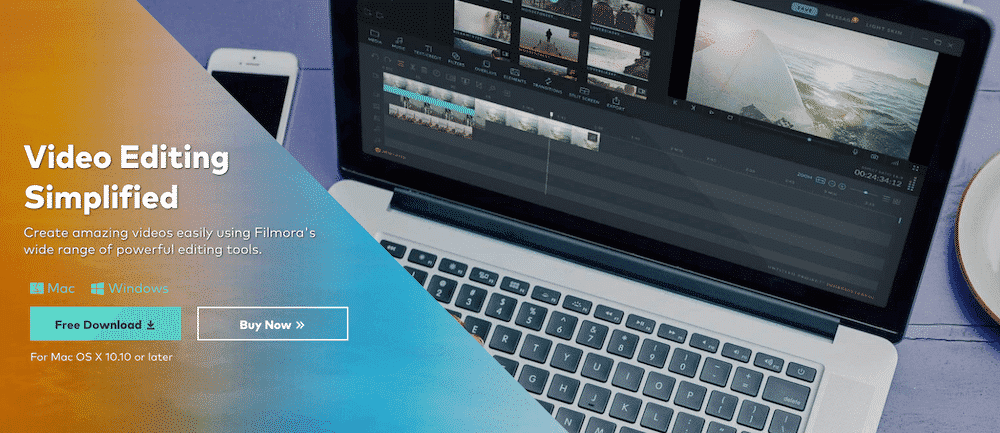 Filmora is designed to be easy and intuitive to use while providing features that will make your videos stand out. You can experiment with various titles and text options, stabilize a shaky video, and overlay graphics and filters to make sure your video looks the way you want to.
Filmora also has a store full of free and paid packs of effects, graphics, emojis, and more.
2) iMovie
Type: Downloadable for Mac (plus the iMovie iOS mobile app)
Cost: Free
Best features: Animated titles, built-in music, and sound effects, filters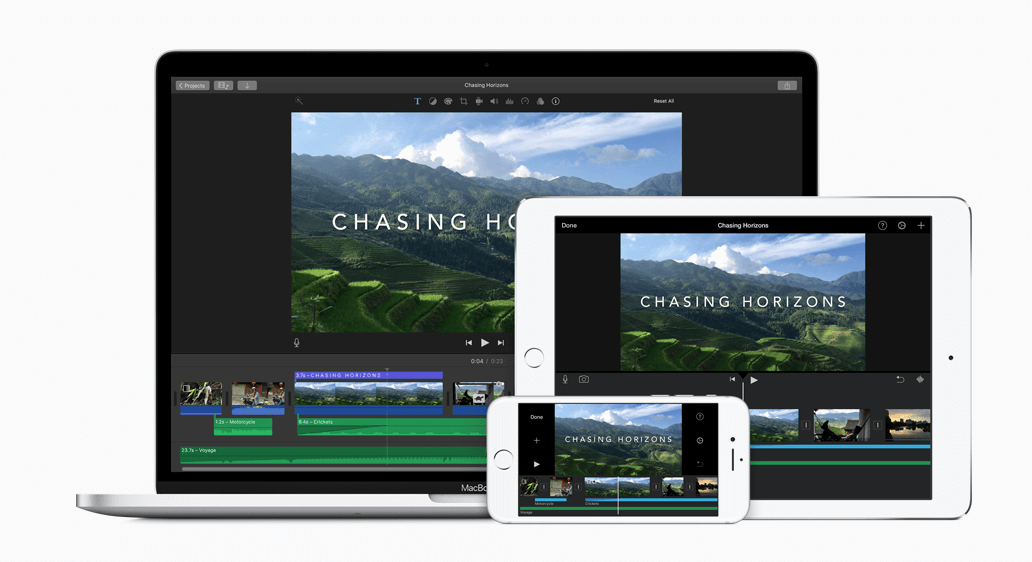 If you're on an Apple device, there's a chance you've already heard of or even used iMovie. It's Apple's proprietary free software for trimming your footage, adding titles, and exporting in top quality.
It also comes loaded with sound effects and music, and you can easily add a voice-over to your clips. Another great plus is easy switching between Mac devices thanks to iCloud!
3) Kizoa
Type: Online (plus the Kizoa iOS mobile app)
Cost: Free with limited length and resolution, starting at $29.99 for lifetime premium membership
Best features: Special effects and transitions, themed templates and collages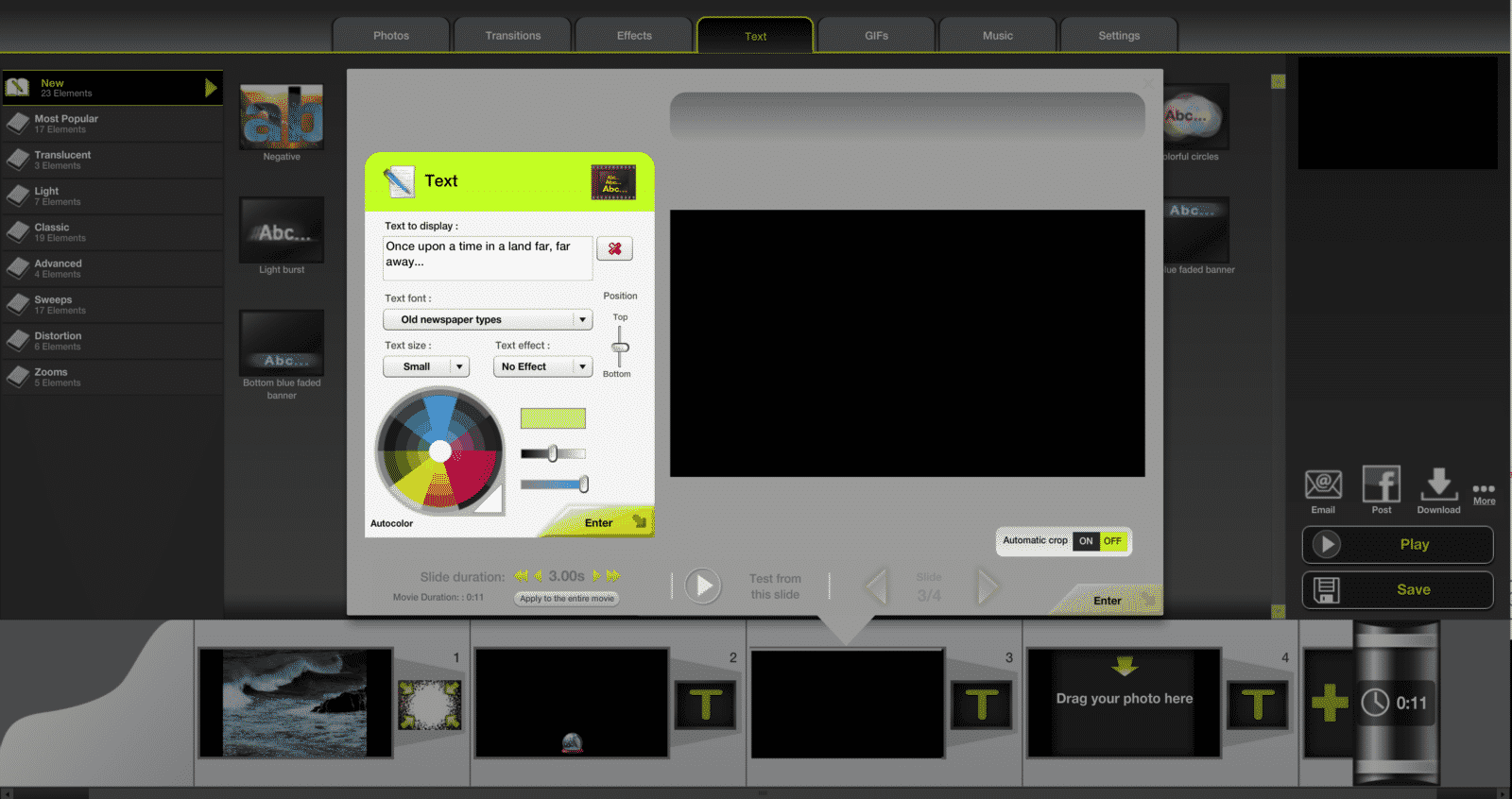 Kizoa's advantage is the dozens of templates sorted into categories that you can easily select and immediately start editing. Just like iMovie, it's a great option for beginners thanks to a simple menu to choose your transitions, effects, and music from.
Unlike the two options we mentioned so far, Kizoa is online-based so you can easily store all your video projects in your account.
4) Wave.video
Type: Online
Cost: Free with limited features and length, starting at $39/month for additional features
Best features: Access to the 200 million stock library of videos, images, and audio files, resizing tool, video filters, text effects, transitions, and stickers.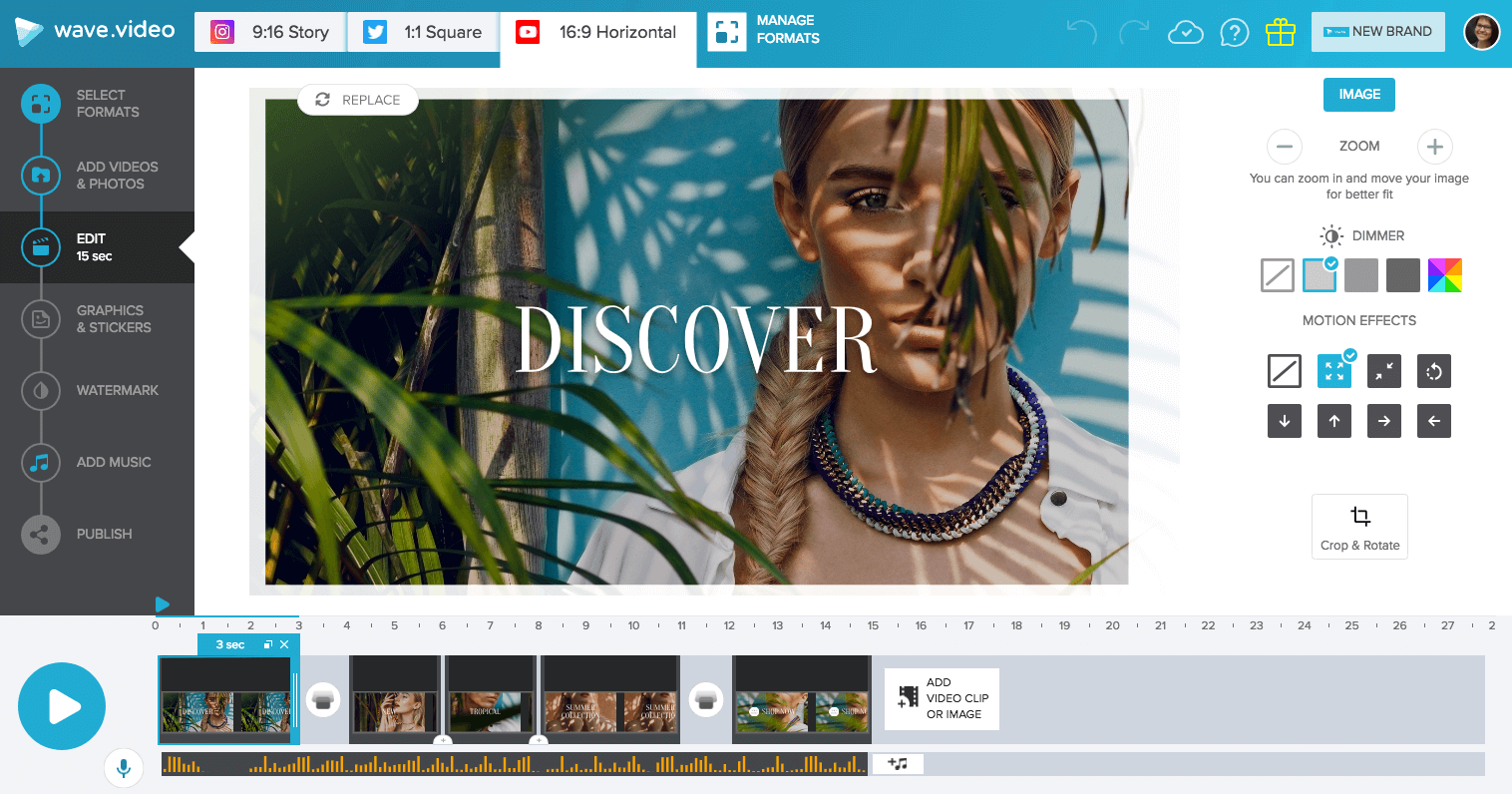 Wave.video is a great option for creating social videos, videos for blogs, landing pages, video ads, and just about anything else. Since it comes with the built-in library of royalty-free stock footage, it's easy to start creating a video even if you don't happen to have your own footage. Text animations add a unique touch to your videos.
Another cool and unique feature is the ability to add stickers to the video. Works great for social.
5) WeVideo
Type: Online
Cost: Free with limited features and length, starting at $4.99/month for additional features
Best features: Shared media libraries, template creation, branding tools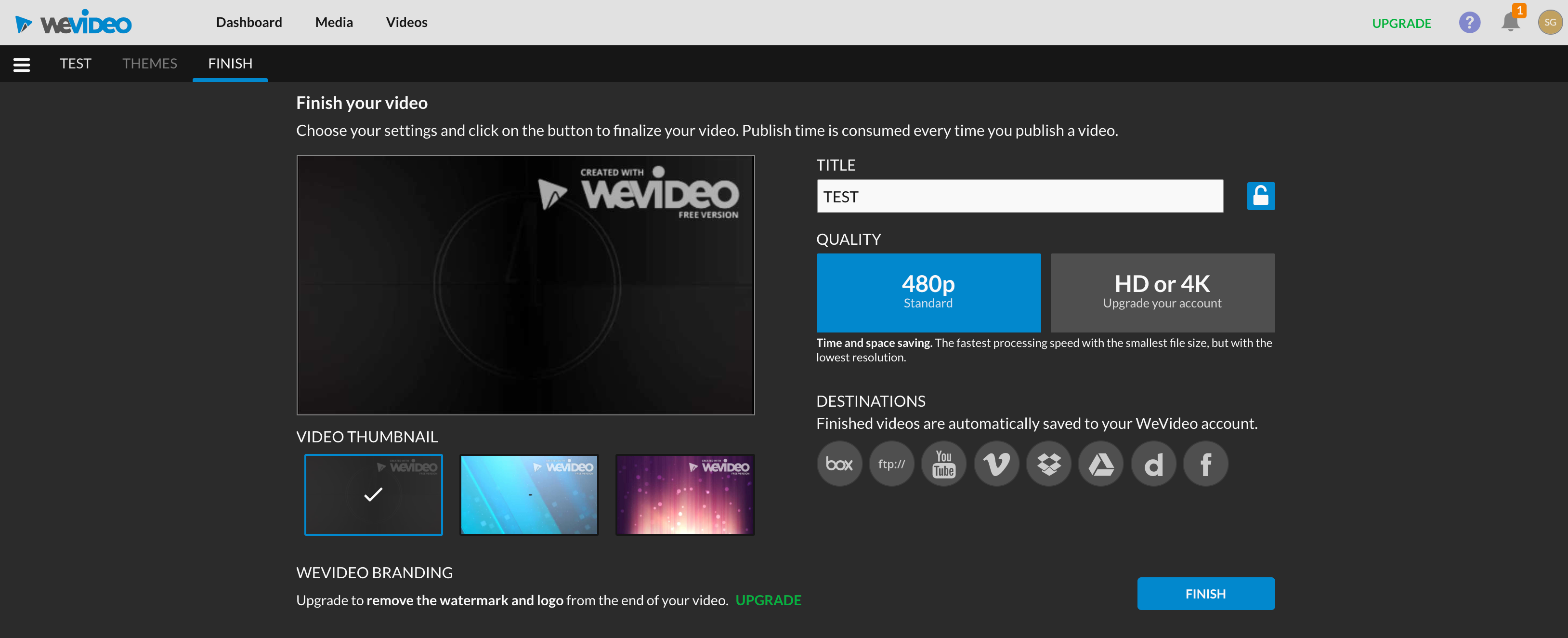 WeVideo is another online-based video editing tool. You can use shared media libraries to collaborate with your team, get them to contribute photos and video clips, and edit across devices.
Another great thing is the option to save your brand features like logo and colors and apply them to future projects quickly and easily.
6) Moovly
Type: Online
Cost: Free with limited features, starting at $24.92/month for additional features
Best features: Template videos and images, drag-and-drop editor
Want more options to work on your videos from your browser? Moovly is another one. You can create your videos by selecting a template or start completely from scratch. From there, you can easily drag and drop your clips and images, as well as use Moovly's gallery.
You can also easily turn your videos into a different aspect ratio—ideal for social media videos.
7) Adobe Premiere
Type: Pro and Rush downloadable for Mac and Windows, Rush app available on iOS
Cost: Pro starting at $20.99/month, Rush starting at $9.99/month, both have a free trial
Best features: Color grading, motion graphics, sound panel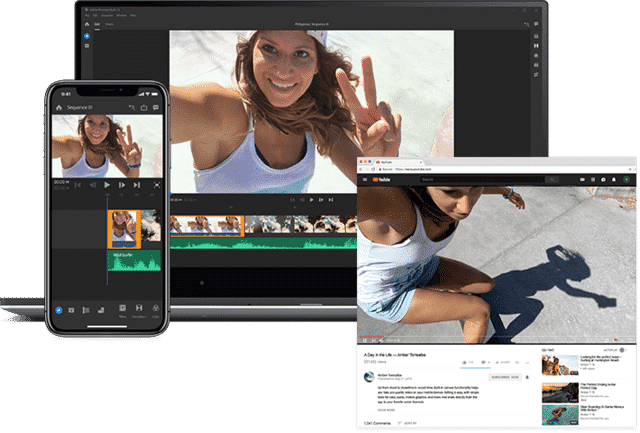 Adobe Premiere Pro is the best way to go once you're ready to spruce up your video editing and you're willing to learn more advanced editing techniques.
Premiere Rush is a simplified and slightly less powerful version of Premiere Pro, but it's perfect for drag-and-drop editing, as well as adjusting color and sound.
8) Hippo Video
Type: Online
Cost: Free with limited features and length, starting at $29/month for additional features
Best features: Blurring, voiceover, annotations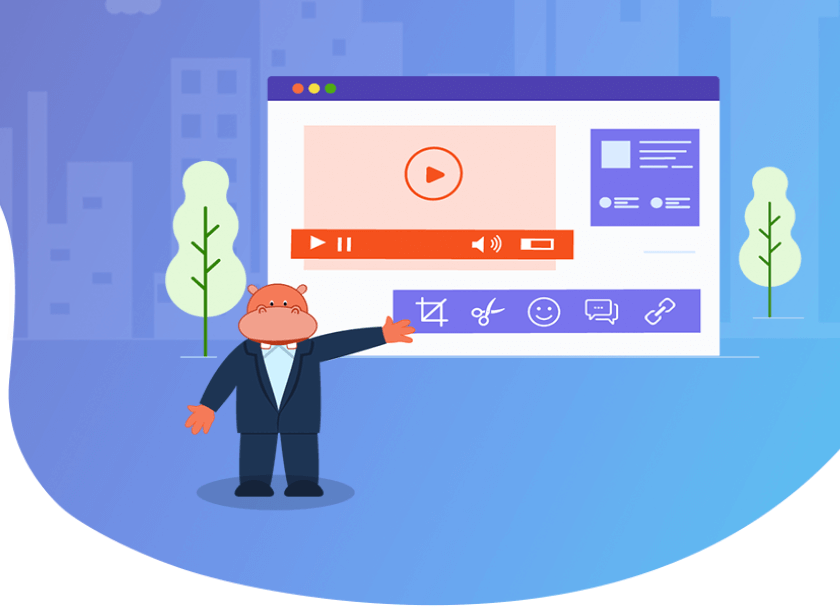 On top of standard video editing features, Hippo Video's strength comes from the ability to sort your videos into categories, add call-to-actions, and apply videos across your entire marketing strategy.
They also offer plenty of insight into how your video performed against your marketing goals through metrics such as plays, watch rate, and shares.
9) Wideo
Type: Online
Cost: Starting at $19/month, free trial available
Best features: Templates, subtitles upload, custom branding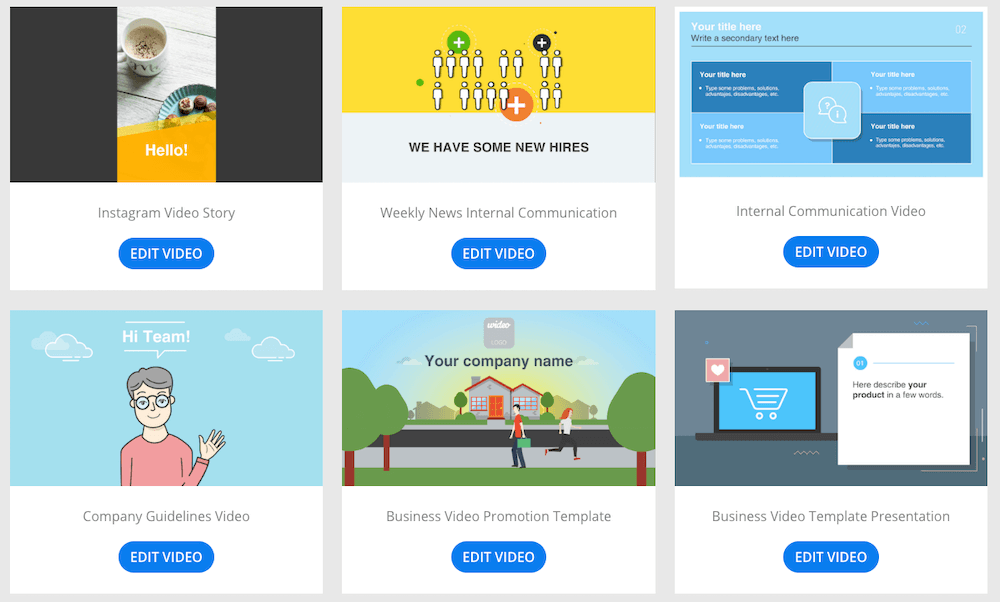 Wideo is another online-based video editing tool. Their most prominent features include an easy way to animate your videos, customizations, and simple export and sharing.
They also offer a range of video templates that are easy to optimize, and they include categories such as promo videos, e-commerce videos, tutorials, product demonstrations, and more.
Time to Choose Your Video Editor
Take these options for a test drive and take note of how intuitive, simple, or robust they are compared to what you've expected and set as your goal when it comes to video editing.
We're passionate about video editing that helps businesses easily create videos that their audience wants. Even more so, we love enabling businesses doing exactly that without pulling their hair out, spending all their money, or creating videos that look bad.