IGTV in 2020: Ideas on How to Stand Out by Dan Knowlton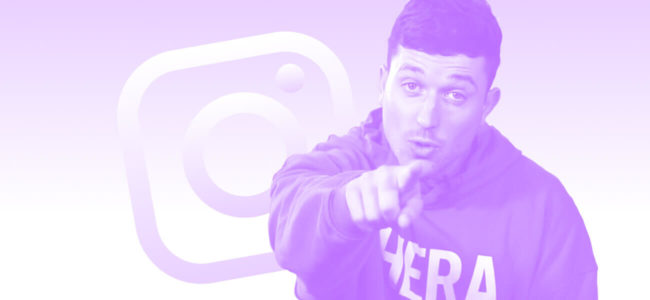 IGTV is a relatively new standalone app designed for publishing long-form video content. It was introduced to the public in June 2018, and by now, almost 7 million Instagram users have downloaded this app to their smartphones. This fact pushed marketing professionals to start exploring opportunities that IGTV provides to the business. 
The platform itself, video creators, and consumers are still in the 'test phase' trying to understand what works here and what doesn't seem like a good fit. To figure out where IGTV is heading at this point, we interviewed Dan Knowlton, Co-Founder of digital and social media marketing agency Knowlton that specializes in running creative social media campaigns that drive tangible ROI.  
Everything you need to know about IGTV in 2020 with Dan Knowlton
Join us live to learn: - What types of IGTV videos will work for businesses in 2020 - How to make video previews that nudge viewers to click on the full video - What business should not do when using IGTV in 2020 - How to get maximum exposure to your IGTV video Dan Knowlton is a UK-based Digital & Social Media Marketing expert that has grown Knowlton into a multi-award-winning agency.
Why IGTV Deserves Marketers' Attention
The best goal for utilizing IGTV now is to drive extra attention and traffic to your Instagram content. Whenever the social platform brings out a new feature, it is over-indexed. We've seen it when Stories and Instagram Live came out and captured users' attention.
Being a relatively new platform, IGTV helps to get more organic reach and engagement. It took an innovative approach to focus on long-form vertical videos and followed the modern consuming demand for watching videos from smartphones. This format has already become familiar to Instagram users because that's the way they watch Stories every day.
Although, with a longer timing coming into play, it becomes essential to not only captivate users' attention but to hold it further and engage. Like any other emerging format, it opens the door for experiments for creators.
What Video Formats Perform Best on IGTV
Video content nowadays is not just about aesthetics. With a growing demand for video content across all marketing channels, you can't afford to create tailor-made content for every platform. It does not mean you should give up on highly-produced content for the sake of cost-saving. However, it is always great to keep balance.
There are three types of videos that so far show good results on IGTV and also require a different amount of resources. By mixing and experimenting with all of these options, you can find the right formula that works for your business.
Highly-produced content for IGTV only 
Some of the brands like the popular UK news portal Ladbible put tremendous efforts into creating videos for IGTV. They write scenarios, invite actors, and organize the stage to get a video composition that fits perfectly in vertical format.  
Посмотреть эту публикацию в Instagram
Selfie-style videos
To create selfie-style videos, you only need a camera, simple lightning equipment, and a good story. Most of the famous Instagram bloggers have been widely using this technique for their Stories for a while now. That made consumers feel okay with watching these easy-made videos.
There is one famous personal trainer in the UK called James Smith. His Instagram profile contains a lot of engaging IGTV videos that sometimes receive over 1000 comments. James does nothing more but talks to a camera and shares insightful stories, provides educational information, and expresses his thoughts on a personal training industry.
Посмотреть эту публикацию в Instagram
If you doubt this technique, imagine yourself as an Instagram user who swipes through the videos and meets a very thoroughly made picture. Most likely, you think of it as an advertising and continue swiping without giving it a chance. A video that looks like a real story is more likely to be watched.   
Repurposed content
If you already create long-format horizontal videos for YouTube, Facebook, or any other channel, you can easily adjust it to the vertical format. Here is the Knowlton Agency 3-steps process of repurposing for IGTV:  
Step 1: Create a background with an aspect ratio of 9:16 using your branded colors and apply effects to make it fuzzy.
Step 2: Take the 16:9 horizontal video, place it in the middle of your background, and make it a bit bigger.
Step 3: Add a title on top of your video and subtitle underneath. Here's a tutorial on how to add text at the top or bottom of a video using Wave.video:
How to Add Text at the Top/Bottom of your video in Wave.video
Want to add text at the top/bottom of your video? In Wave.video you can do it easily! Watch this quick tutorial to learn how. First, you need to use zoom in/out feature in the Wave.video editor. Then you can choose a background color and add a text at the bottom or at the top of your video! 📌How to Edit Videos: the Complete Guide https://wave.video/blog/how-to-edit-videos/ 📌Discover our blog: https://wave.video/blog/ 🔗Follow us: https://www.instagram.com/wave.video/ https://twitter.com/wave_video https://www.facebook.com/wave.video/ https://www.facebook.com/groups/wave.video https://www.linkedin.com/company/wavevideo/ #wavevideo #tutorials Music: Ikson - Windy
Watch and Experiment
IGTV sets no boundaries on what works and what doesn't. It's always great to free your inner artist and let him test new techniques and explore emotional triggers. Here is some food for thoughts that could become a driver for your creative process.   
Get inspired by other creators

.

You can always enrich your creative concepts based on the stuff that other people are doing. It's good to throw your net wide and gain small bits of information from things that have nothing to do with your industry. Take videos that you enjoy watching and try to integrate the best ideas into your content strategy.

 



Show your personality

.

People have overused "being authentic" sort of phrases, although it doesn't mean this is not a practical approach. Once, Dan was recording a video for Knowlton's Facebook page with his Co-Founder. At the end of the shooting, they both realized that they couldn't use this material, it was just too rubbish. Luckily, they forgot to turn the camera off while discussing how bad the try was. They've posted this conversation on IGTV and received many comments from other creators since it resonated with what happens to them quite often. Showing your real problems to people who appreciate it is a great way to build an emotional connection. 

Leave behind stereotyped approaches

. Some

 say that advertising videos have to look very professional… One Christmas campaign implemented by the Knowlton agency proved that it's not a set-in-stone rule. They have created high-productive videos for the top of the funnel. However, for the remarketing videos, they gave the product to the real people (not actors) along with little guidance. These very unpolished product reviews have shown better results in terms of the resources they have required compared to the numbers they have gained.

 
Attracting Audience to IGTV
IGTV is continuously improving its search features and tries to make it easier for people to find your content. Until they execute it properly, it's good to use other channels where you already have an audience and drive traffic back to your IGTV videos:
Stories

. Make a video announcement in Stories and enrich its exposure by adding location, tagging people, or using hashtags for your regular topics.

Instagram feed

. Post up to 60-sec video-hook to your feed and encourage people to continue watching the video with your creative copy. 

Blog

. Embed videos on your blog the same way we did above to share some love with James and the Ladbible team.

Email.

Add video previews to your newsletters, check

this guide

for some inspirational ideas and technical tips on how to add videos to your emails. 
Stories and Instagram feed became the must-have distribution options since Instagram removed the IGTV icon from its interface early in January. When distributing your content, don't forget to give enough attention to the formatting. You don't want your subtitles or any other part of the visual to be chopped off once your preview video is cropped to 4:5. This guide will help you adjust your message to all Instagram video formats.
Over to You
Have you been experimenting with IGTV? Tell us more about what helped you encourage people to watch your videos in the comments below.