7 Videos to Enhance Your Video Marketing This Christmas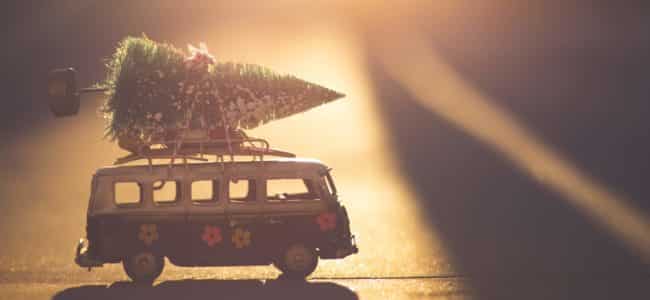 When the streets light up with a thousand candles, and you keep seeing the Coca-Cola Santa commercial all over the place, you know it's that time of the year again.
Christmas is in the air!
The holiday season in general and Christmas, in particular, is the time when most businesses slow down while the rest are busy up to their neck. If you are one of them and looking for awesome ways to engage with your audience while they are most eager to listen (and watch!), here are 7 great video templates carefully created by our marketing team.
7 Christmas Video Examples to Use This Season
All the templates have been thought through and created by our marketing team – as a gift for your this holiday season. Feel free to copy and modify the videos as you wish!
1. Christmas Carols Concert
Format: Instagram Stories Perfect for: Instagram Stories Ad
The holiday season is a wonderful time to visit a philharmony or concert hall – and invite new listeners. Explore new business opportunities by creating an amazing Instagram Stories ad. The call to action "Swipe up for your tickets" tells the viewers exactly what they need to do in order to enjoy the music.
2. Travel Destinations Commercial
Format: Landscape Perfect for: Sharing on Facebook
If you are in the tourism industry, Christmas is the time when vacations are booked, and you definitely want to get noticed. Create a short but catchy video ad for YouTube or Facebook and tell your clients all about your great seasonal offers.
3. Seasonal Sales
Format: Landscape Perfect for: YouTube ads
The holiday season is the busiest time for department stores. Tell your customers you're running a sale or have a special offer for them by creating a beautiful video ad they can't simply close. Use advanced YouTube advertising techniques to specifically target customers in your area.
4. Cookie Recipe
Format: Square Perfect for: Instagram
Personally, I love watching video recipes. I do not necessarily cook all of the meals I see but the mere possibility that one day I might actually create something THIS tasty and good-looking makes me feel happy. My platform of choice is Instagram, what with the ability to create collections and save posts.
To catch the spirit of Christmas, create a video recipe for your subscribers. Video recipes work better than plain text. Use this template or create one from scratch.
5. Inspirational Facebook cover
Format: 820 x 312 px Perfect for: Facebook page
When Facebook rolled out its new hot feature – video cover for pages – our marketing team was beyond excited. We thought everyone would now use the power of video, especially now that Facebook is putting so much emphasis on it!
It turned out we were a bit too optimistic. Creating a Facebook cover video in the right dimensions and optimal length is a daunting task that not all page admins around the vast Facebook community were able to take on.
Luckily, you don't have to dive into the depths of Adobe to create a Facebook cover video. To celebrate the holiday season with your subscribers, simply use this template.
6. Helpful Shopping Tips
Format: Landscape Perfect for: YouTube channel trailer
People love watching beautiful videos. If these videos also bring value, chances are, the video is destined to be a huge success.
During the holiday season, try to move your focus from creating solely promotional videos to the videos that your viewers will want to share. I am sure your product demo is great but people will be more likely to share – and act on – on something less commercial.
7. Holiday Traditions Around the World
Format: Landscape Perfect for: Sharing on Twitter
Another inspirational video is a collection of holiday season traditions from around the world. It is a perfect piece of content for a travel agency to be shared on Twitter and other social platforms.
Have you created any marketing videos this holiday season? Share in the comments below!