How to Compress a Video the Smart and Easy Way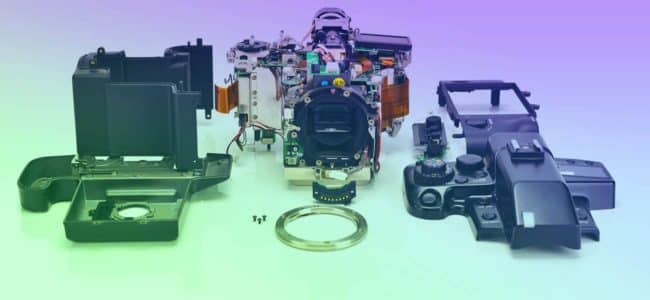 Video files get bigger and bigger and nobody is surprised when YouTube, Facebook, and Vimeo support 4K videos for everybody to watch and upload.
In addition to that, our cameras and mobile phones shoot more and more videos every day. Now, source video files can be from 10Mb to 10Gb for a minute of 1024p video! The most surprising part, though, is that the quality of the video can be almost the same.
Sounds familiar?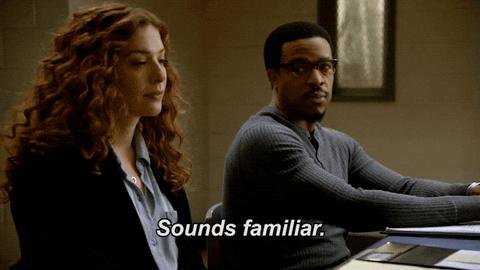 Sooner or later, you need to answer the question: how to have high-quality video and keep it as light as possible?
Here's where video compression comes into play.
Whether you want to upload your videos online or keep your family video archive intact, learning how to compress a video is vital.
Nowadays, the question how to compress a video is very important, whether you want to upload your videos online or keep your family video archive and not run out of space.
If you're new to video editing, many of the existing parameters of video can be very confusing. Moreover, compressing videos can require some extra knowledge about video formats (if you don't use Wave.video, which is optimised for people without any video editing experience).
In this article, you will find the basic vocabulary as well as everything else you need to know about video compression, compressors, and 3 free tools to compress your videos for any goal you have.
Let start with vocabulary
Here's a helpful vocabulary that will help you learn your way around the world of video compression.
Master version – uncompressed version of your final video, usually weighs a lot.
Frame rate / FPS – Number of frames per second.
Video dimensions – Width and height of the video. For videos, it measures in pixels, here are the most popular horizontal ones: 426 x 240 (240p), 640 x 360 (360p), 854 x 480 (480p), 1280 x 720 (720p), 1920 x 1080 (1080p), 2560 x 1440 (1440p) and 3840 x 2160 (2160p).
Aspect ratio – The aspect ratio of an image describes the proportional relationship between its width and its height.
Media codec – computer program used for compressing and then decompressing a video file.
Video container – file systems designed to interface between the OS (operating system) and the video data. I bet you're familiar with many of them: .avi .mp4 .mov .mkv and etc. Container can store the video data and audio streams, subtitles, video metadata, codec and more.
Video bitrate – another important metric corresponding the number of bits that are transmitted over a set length of time. In professional programs like Adobe Premiere/After effects you can even customize bitrate encoding setting (Constant BitRate, Variable BR 1 pass, VBR 2 pass, CRF) different target and maximum bitrate and see how different the final file size can be.
What is video compression?
Basically, video compression is the process of making your videos smaller by packing and reducing your media data (audio, video, meta-data).
Here are just a few parameters that you can customize in your video compression software to achieve different levels of compression:
FPS
video dimension
aspect ratio
video bitrate
audio bitrate
Technically, video compression can be of two types: lossy and lossless.
Lossy video compression
Lossy compression means that a compressed file will contain less data than the original one. It's the most efficient way to compress your video files for a smaller size.
The downside: it can cause image quality loss. If you keep using this video compression type progressively, you'll see more loss in quality (visible pixelation, motion distortion, etc.)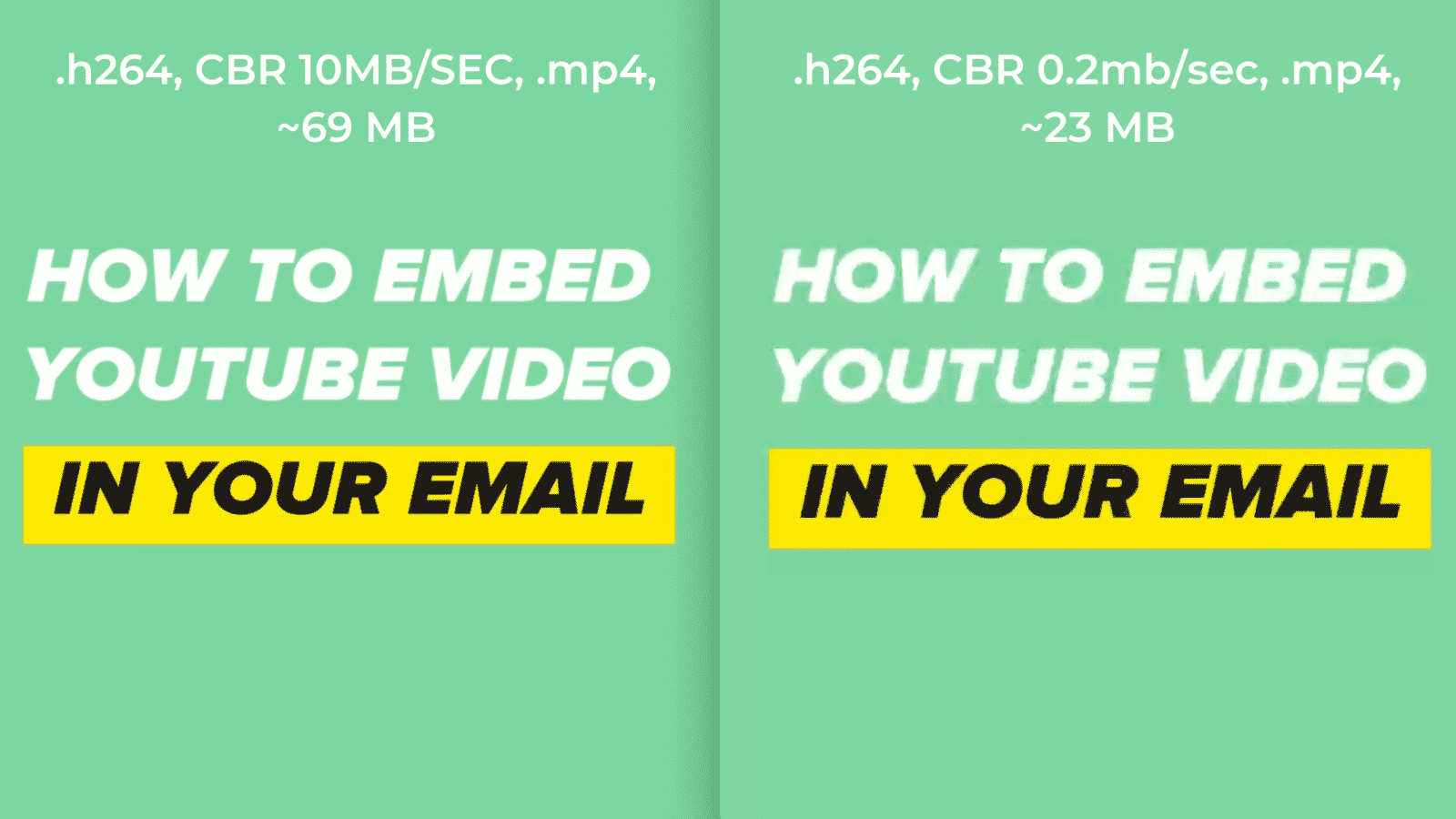 Example of a 6-minute video lossy compression with the same codec and container (.h264, .mp4) but with different data bitrate. Notice the visual loss of data but a smaller file size.
Lossless video compression
Just as it says on the tin, it's a type of video compression that reduces metadata with no loss of data. In the end, you get video files of almost the same weight.
Unlike irreversible lossy compression, when you go with lossless video compression, the original data can be reconstructed from the compressed file.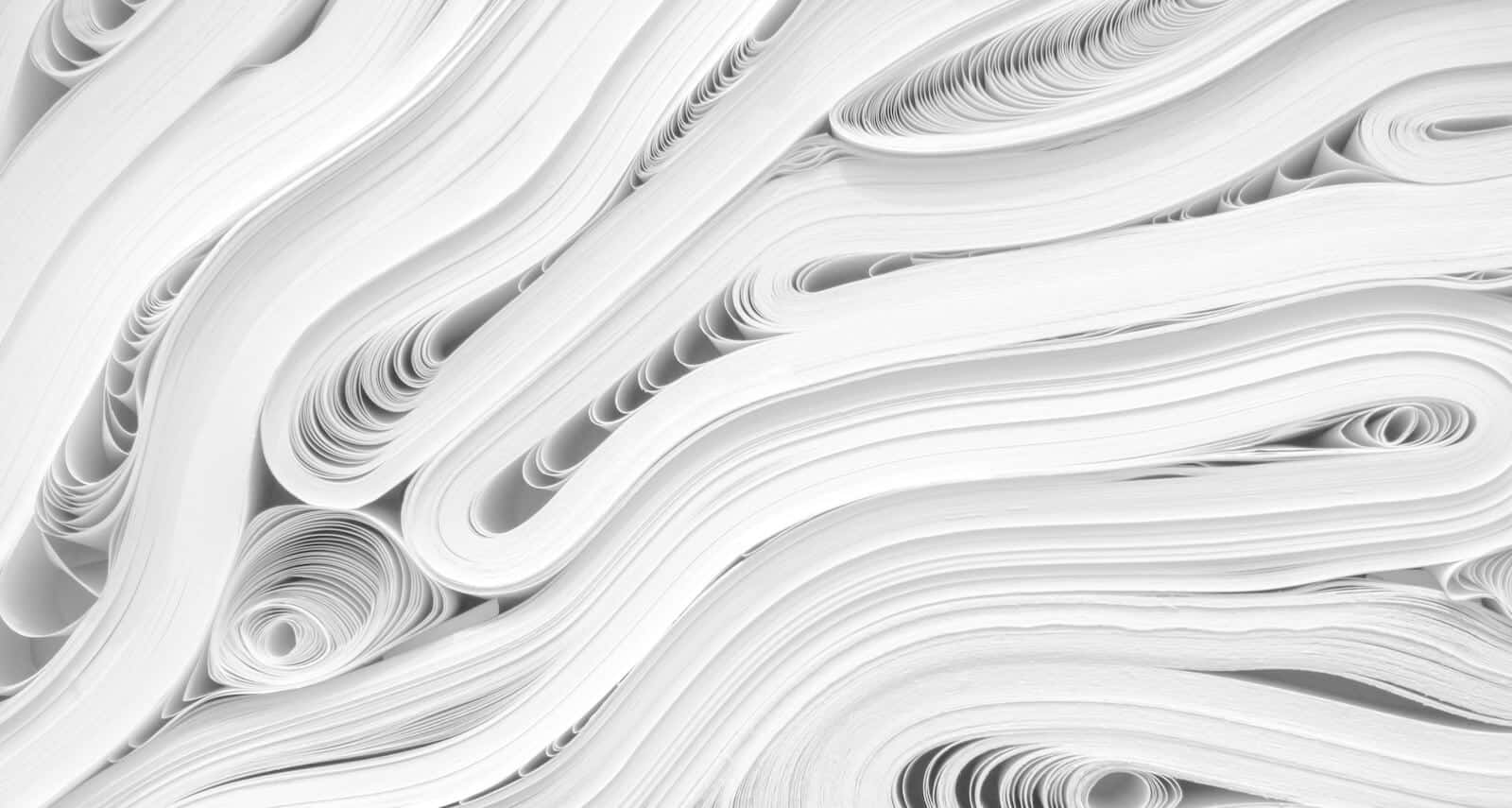 With lossless video compression, you will be able to restore the original data from the compressed file.
It's a good practice to keep your master versionMaster versionUncompressed version of your final video, usually weighs a lot of your video compressed with lossless compression.
When we speak about digital video files or so-called "video formats" that you can find in many articles, they consist of two parts: video data with codec info and a container.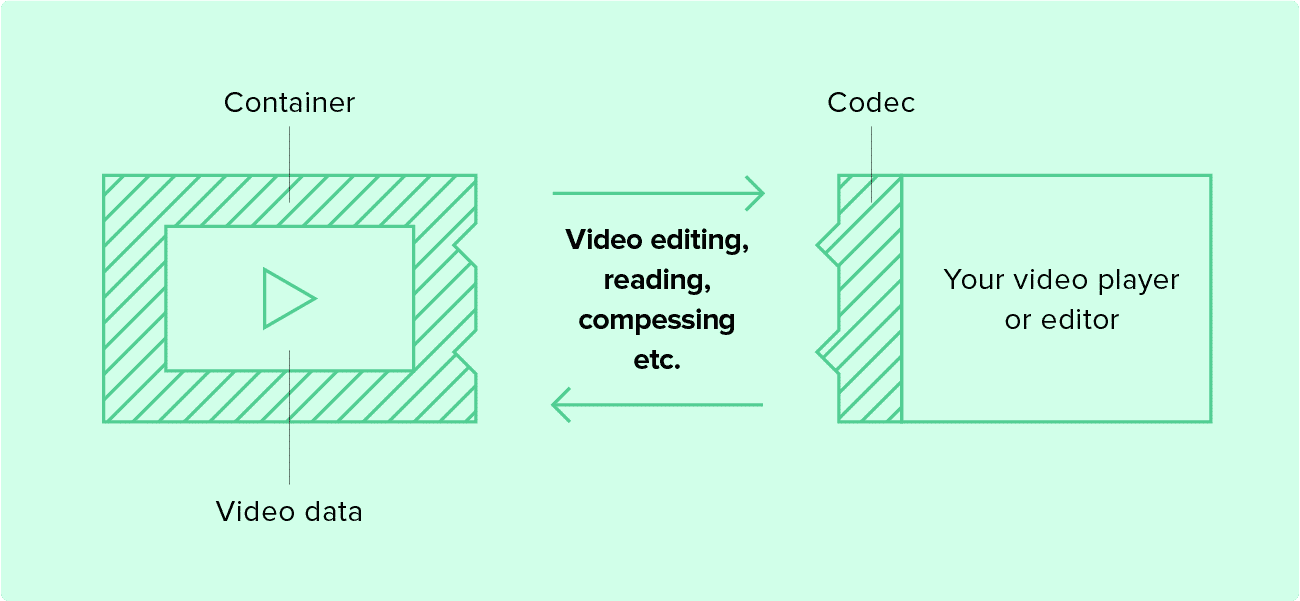 Many containers can be compatible with different video codecs. That's why sometimes your video file cannot be played on some computers until it has a suitable codec installed.
How to compress a video: best practices
For most of the cases we recommend using one of the following popular codecs:
H.264
H.265 (HEVC – High-Efficiency Video Coding)
Apple ProRes 422, 422LT
The full description and comparison of codecs you can find here.
The most popular containers to use:
.mp4
.mov (mostly using Apple codecs)
.mkv (matroska)
Other formats have many limitations, the full list of containers you can find here.
Pro tip: 
Many of online multimedia projects, including YouTube and Wave.video, use FFmpeg software as one of the most powerful collections of libraries, codecs, formats, and programs for handling video, audio, and other multimedia files and streams.
Using this technology, Wave.video offers compressed video files using .h264 codec and .mp4 container with up to 1024p resolution, 24fps, and variable optimal bitrate for obtaining the best quality with a smaller file size. And all of that online!
Feel free to use 480p or 720p resolution and variable bitrate of up to 1Mb max for the following use cases: 
if you need to email a video preview
if you want to send a video via a messenger
the idea of the video is more important than the quality
For other purposes it's always a good idea to try different parameters, compare the quality and the file size to choose the best one for your needs.
Now that we understand different types of video compression, let's move to the most important part: how to compress our video files.
3 free video compressors
Needless to say that almost all the editing programs offer video compression functionality. However, I found these 3 video compression tools to be worth using.
Quicktime (for Mac and Windows)
If you are a Mac user, this program is pre-installed on your laptop. It offers only a few video compression option but it gets the results done.
Apple is not sure whether the exact resolution and data rate of an exported movie depend on the original file.
Here's how you can compress your video in Quicktime:
Open a video file you want to compress
Go to File > Export As > Option you like
If you've chosen 1080p, try to tick "Use HEVC" option (it's a compression using codec .h265) for better result.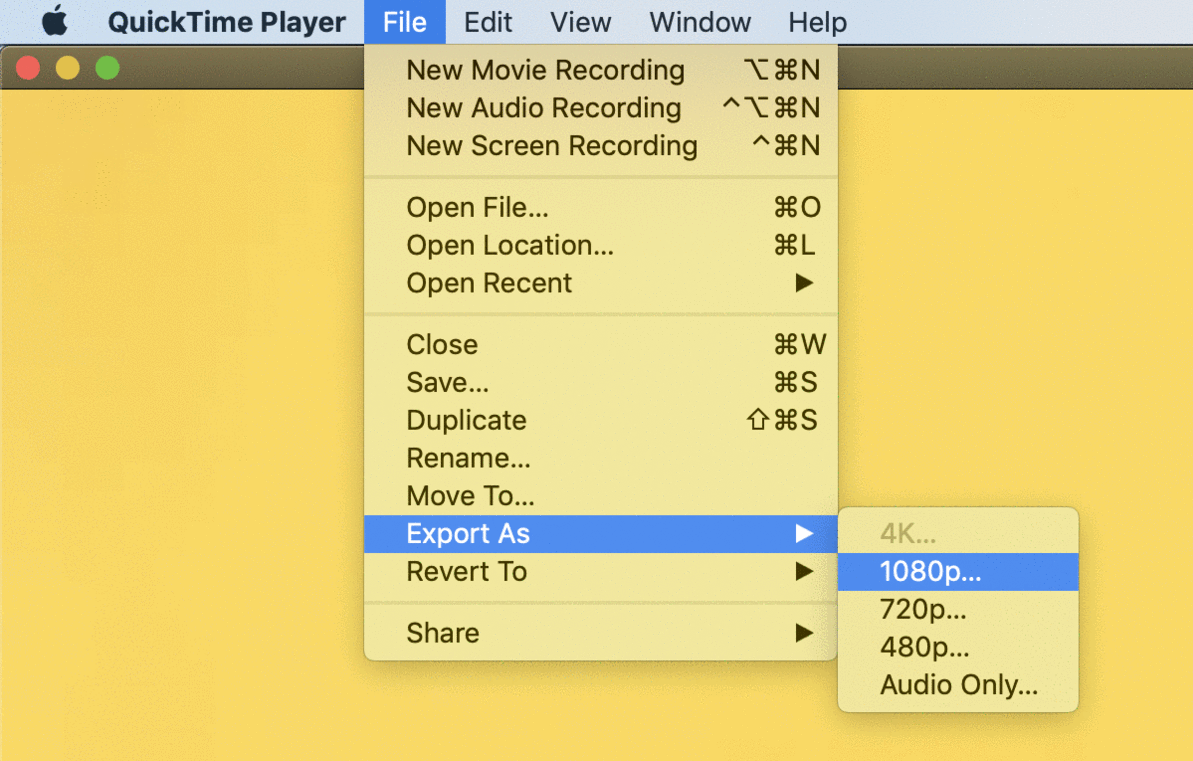 Quick explanation of the "Export As" options:
4K: QuickTime movie using H.264 or HEVC (H.265), up to 3840 x 2160 resolution.
1080p: QuickTime movie using H.264 or HEVC (H.265), up to 1920 x 1080 resolution.
720p: QuickTime movie using H.264, up to 1280 x 720 resolution.
480p: QuickTime movie using H.264, up to 640 x 480 resolution.
VLC (multiplatform)
VLC is a free player with the built-in compressor inside. Comparing to Quicktime, there are many more video compression options to choose from.
Here's how you can proceed:
Open File > Convert / Stream
Open Media
Choose profile for compression
Choose destination > Go
Handbrake (Mac, Windows, Linux)
Handbrake is cool compressing software from France, open-sourced and free on any platform.
Here's how to compress  a video using Handbrake:
Choose the video file you want to compress
Choose a compressing preset
Click the "Start" button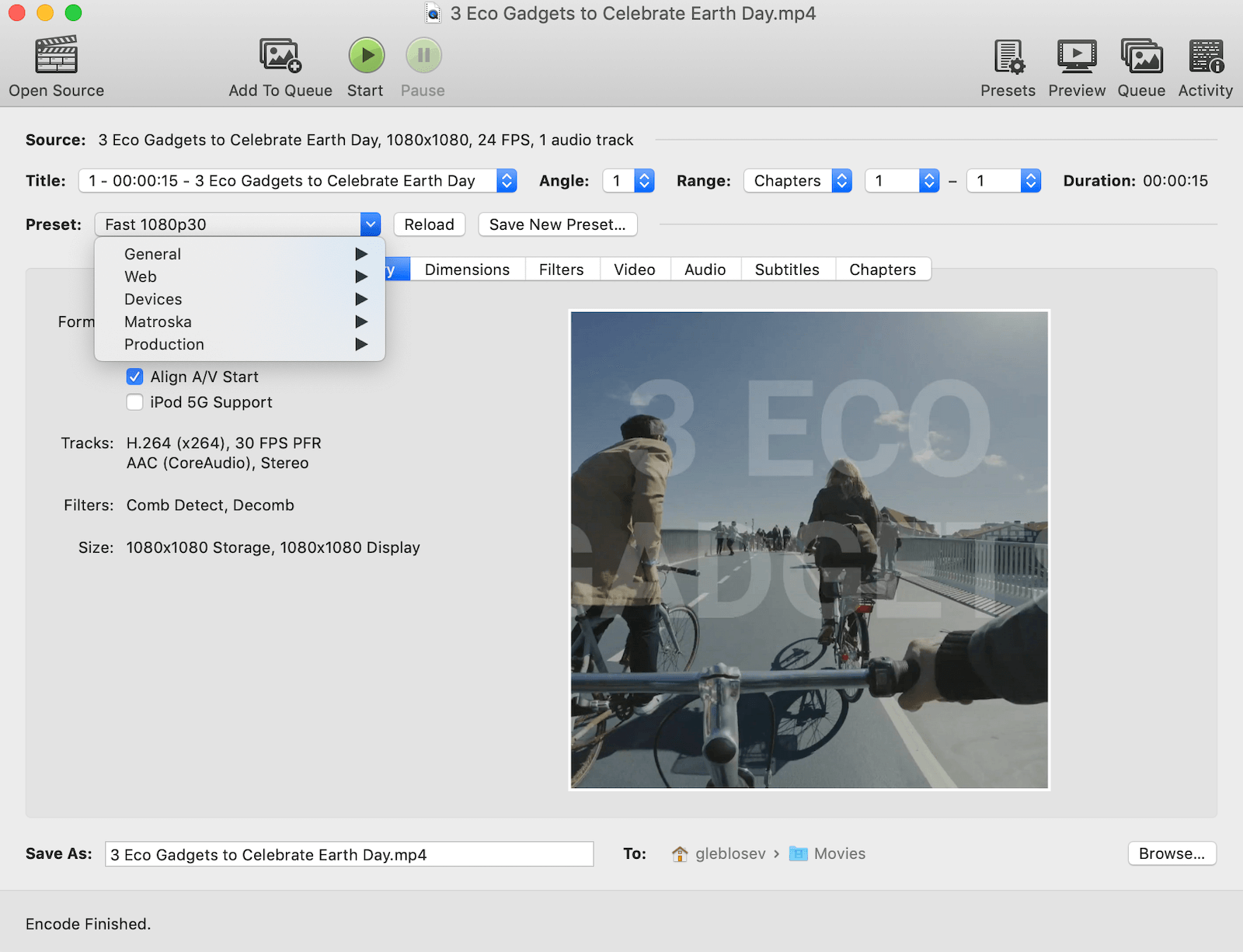 Good to know:
If you want to upload your videos online and achieve the best quality, please respect the encoding settings of the platform. For instance, here are the specs from YouTube:
Container: MP4
Codecs: H.264, AAC for Audio
Resolution and aspect ratio: 16:9
Frame rate: Content should be encoded and uploaded in the same frame rate it was recorded. Common frame rates include: 24, 25, 30, 48, 50, 60 frames per second
Bitrate:

Variable bitrate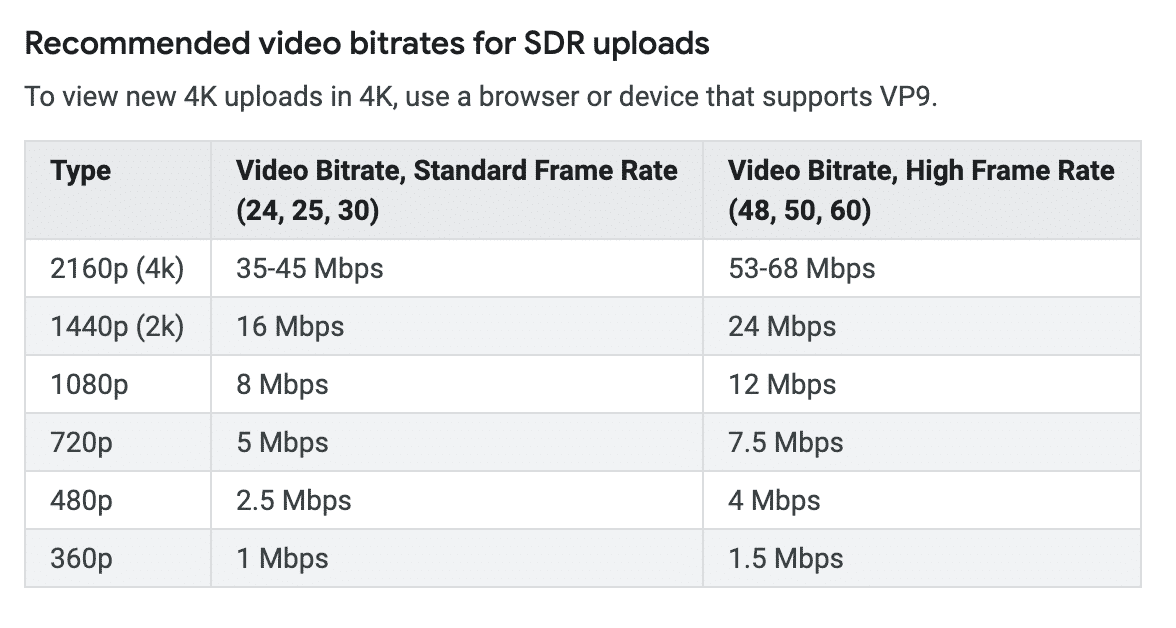 Conclusion
Now you know that compressing video files is not rocket science. Using this knowledge and highlighted tools, you can convert video files from one format to another with different level of compression depending on your goals.
What are your favorite formats, codecs, and software for compressing videos? Share in the comments below!