How to Make a GIF from Video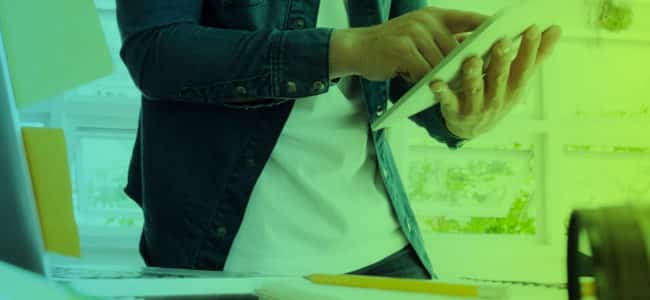 Visual content is a major asset for marketers. It gets viewers' attention right away, and it's useful for building your brand's image. But there's a super-popular type of visual content that you might not be using in your marketing yet.
I'm talking about GIFs.
What is a GIF?
GIFs – the favorite embellishment of listicles everywhere – aren't quite videos, but they aren't still images either. These animated clips are eye-catching, fun, and versatile. It's also surprisingly easy to make a GIF from videos.
This guide will walk you through the whys and the hows of making GIFs for marketing purposes (or any other purposes, really). You'll also find some real-life examples of how big brands are using GIFs to fuel their social media engagement.
Why You Should Be Using GIFs (If You're Not Already)
If you're already on the GIF bandwagon, you probably know why it's a good idea to use them – namely, they're fun, and people like them. But if you're still on the fence about using them, or if you think GIFs seem a little too juvenile for your brand, you might want to reconsider. These images have plenty of upsides for brands of every stripe, and they aren't just for teen audiences or sites like Buzzfeed.
GIFs are eye-catching. They have the same eye-pleasing, attention-diverting quality as videos. In fact, it's hard not to watch a GIF when you come across it. And unlike videos, GIFs require no commitment or effort on the viewer's part. A viewer has to consciously decide to hit the play button on a video, but with GIFs, this choice barrier doesn't exist because the animations are so short and loop continuously.
Unlike videos, GIFs require no commitment or effort on the viewer's part.
You can achieve a wide variety of effects with the eye-catching quality of GIFs. A "loud" or over-the-top gif can help you get viewers' complete attention for a few seconds. More subtle animation effects, on the other hand, help you add a little bit of extra interest to an otherwise still picture.
GIFs convey emotions better than words do. If you're trying to form an immediate emotional connection with your audience, learning how to make a GIF from video is a must. A three-second visual can convey a wide variety of emotions, from excitement to annoyance to confusion, much more quickly and accurately than words can. And since emotions are the lifeblood of marketing, it would be a waste to overlook this valuable resource.
GIFs add a human touch to your marketing. If you want to make your marketing funnier or more relatable, a GIF might be the perfect tool for the job. Most people use (or at least look at) GIFs themselves, so they enjoy seeing their favorite brands "speaking their language." And GIFs can still work for you even if you prefer a more formal tone to your marketing – no need to start adding pop-culture references to every social media post. Instead, you can add a hint of playfulness with toned-down clips that fit your brand's aesthetic.
GIFs are multipurpose. Sure, GIFs make great reaction images, but that's not the only thing you can use them for. If you want to make a GIF from video, other ideas might include:
Publishing quick, simple how-tos that don't require an entire video or lots of explanation. For instance, plenty of cooking sites put together GIF recipes, with basic instructions added as text.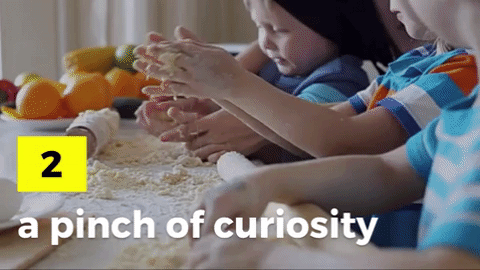 Animating data. For instance, try putting your next infographic in GIF format to make it even more magnetic.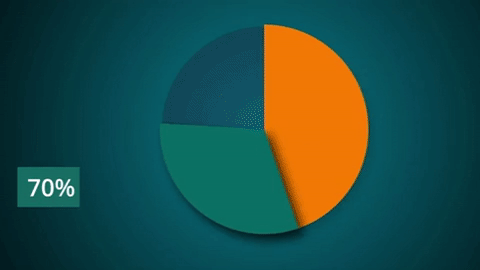 Telling a story. As the old adage says, a picture is worth a thousand words.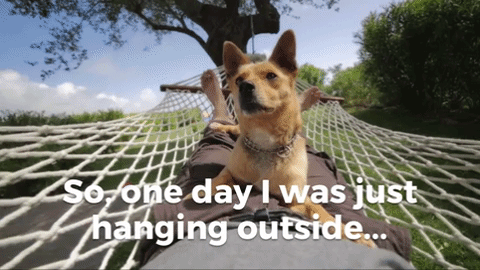 Showing off your product or service in more detail than a still image can provide.
GIFs are going to be around for a long time. As these animated clips become increasingly popular, both in people's personal communications and in businesses' marketing campaigns, it's more and more important that you add them to your toolbox. Fortunately, GIFs are no more difficult to use than still images. It's fairly easy to make a GIF from video by yourself, as I'll explain later in the article.
GIFs on Social Media: Some Examples from Major Brands
Your creativity is the only limit to how many ways you can use GIFs. Need some inspiration? Here are a few examples of how big organizations are currently using GIFs in their social media marketing. Check them out and consider which of these approaches might work for you, too.
Your creativity is the only limit to how many ways you can use GIFs. Check out these awesome examples from global brands.
Make a GIF to Share Information Visually: NASA
NASA has mastered the art of sharing information visually. Their Twitter page is full of interesting updates, facts, and data presented as GIFs or short video clips. Here's a satellite clip they posted of the recent nor'easter that hammered the northeast U.S. coast.
Spotted by @NOAASatellites' #GOES16 satellite: today's #noreaster is seen spinning off the Atlantic Northeast. This storm is slamming the East Coast with intense winds, snow, rain and hail. More: https://t.co/xEZIiarvDQ pic.twitter.com/ma6vddiSCO

— NASA (@NASA)
Nasa shared a satellite view of the nor'easter that hit the northeast U.S. in early March.
Get People's Attention with a GIF: Denny's
Restaurant chain Denny's is famous for more than just their pancakes and omelets. They've also become well known for their quirky brand personality on their blog and social media. Their use of GIFs is a great example of how to get people's attention and connect with customers through humor.
Denny's captioned this image, "In an alternate universe, eggs balance people on a spoon as a party game." Source.
Make a GIF to Show Off Your Product: Starbucks
Why is coffee chain Starbucks so successful? Part of the reason is that they're very good at creating and maintaining their brand's aesthetic. They often post GIFs on social media to show off their products and make them look great. One recent example from their Facebook page shows what goes into their popular protein box.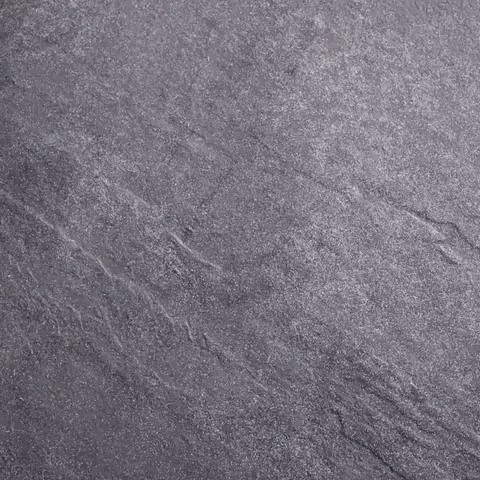 Starbucks posted this recent GIF to promote their protein box. Source.
Use GIF for Customer Support: Google
Even Google has gotten in on the fun with GIFs. Memorably, the tech giant once sent this GIF as their official response to a reporter's question:
Demonstrate How Things Work with a GIF: Nike
Nike is known for their clever and inspiring advertisements, and their social media channels are full of creative visual content. This GIF does a great job of conveying how springy their new shoes are, no words necessary.
Share a Recipe, in a GIFfy: Taste of Home
Interested in making instructional GIFs? This animated recipe from Taste of Home is a good example of how a longer GIF can act as a quick step-by-step how-to video.
GIFs are a quick and practical way to demonstrate step-by-step tasks like cooking.
How to Make a GIF from Video
There are tons of GIFs already out there on the internet, just waiting to be used. But sometimes you are just wondering how to make a GIF from video, so that it exactly matches the feeling you want to express, or you might want to repurpose some of your own awesome video content into a GIF. 
No worries – it's easy to create your own GIF from a video in minutes. You don't need to have a ton of tech knowledge to do it, either. This article will outline how to make a GIF from video with several common tools: Giphy, Animatron Studio, and Photoshop.
Pro tip: Before you start, though, be aware that GIFs can present some legal issues in certain circumstances. If a GIF contains a celebrity or any kind of copyrighted material, using it in your marketing could land you in hot water. Fair use laws make this a bit of a gray area, and while individuals may get away with using GIFs of their favorite actors or athletes, businesses are likely to come under more scrutiny.
To play it safe, it's smart to avoid using GIFs of famous people or copyrighted material. Of course, if you're making a GIF from a video you created yourself, there's no need to worry about copyright problems.
Making a GIF with Giphy
Giphy is the top GIF destination on the internet. Aside from being a massive repository of already-created GIFs, this site makes it very simple to create your own GIF. You don't even need to make an account. Here's how to do it.
Step 1. Go to https://giphy.com/ and select "Create" at the top of the screen.

Step 2. Add your video. There are a couple of ways you can do this. First, if you have the video saved on your computer, you can drag-and-drop the file straight onto the screen to upload it. Giphy limits you to a 60-second upload, so if your video is longer than that, trim it down to under a minute before uploading.
If the video you want to convert is online, you can also paste its address into the URL box. YouTube, Vimeo, and Giphy links are supported.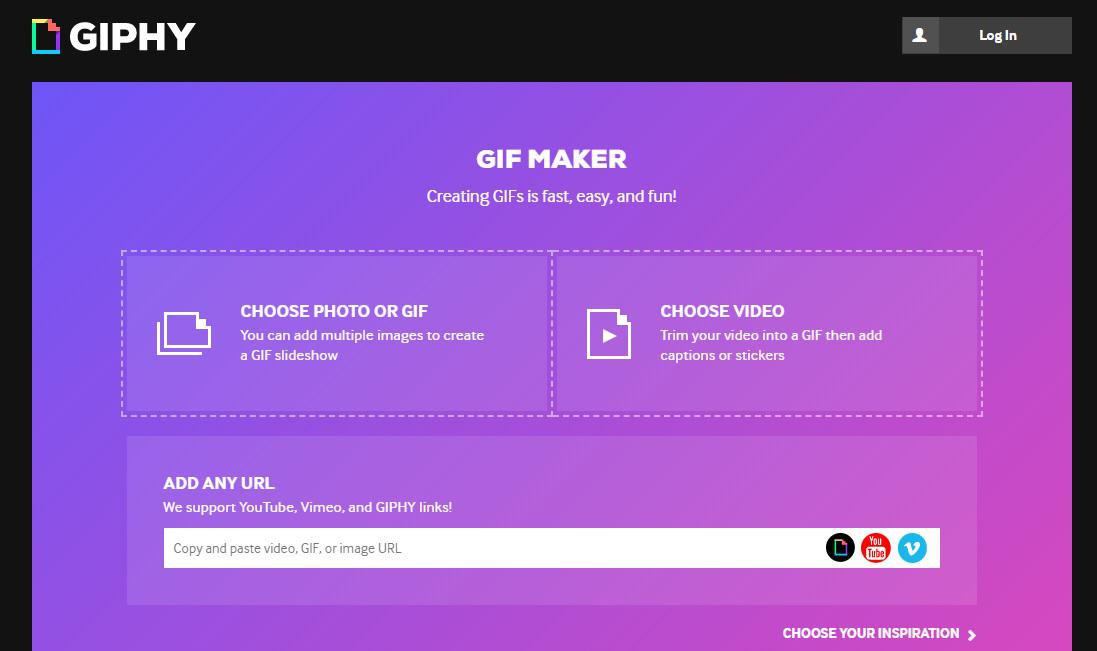 Step 3. Once your video is uploaded, use the sliders on the screen to set the starting point and duration of your GIF. Then click "Continue to Decorate."
Step 4. You can caption and decorate your GIF on the next screen. This step is optional.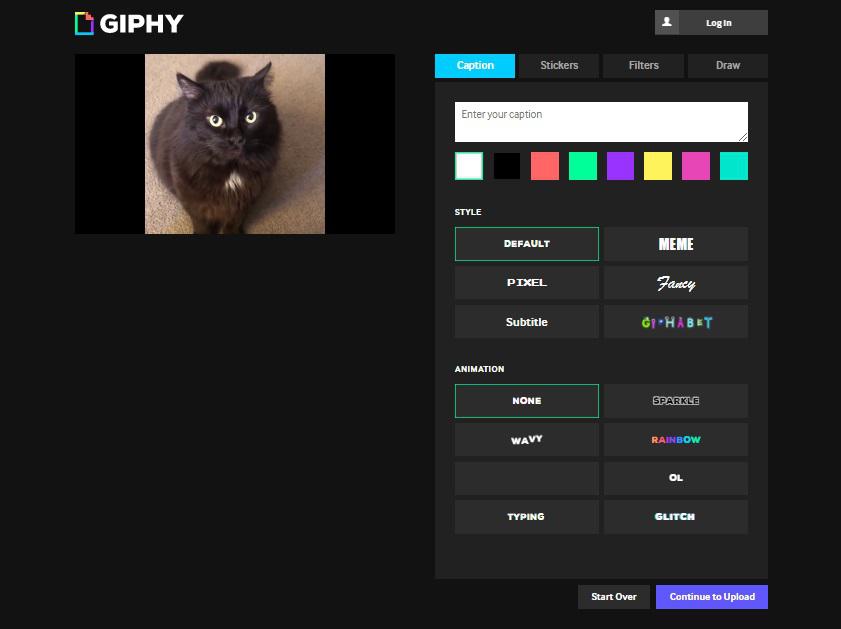 Step 5. Hit "Continue to Upload." You'll have the option to enter the source URL for your video and tag your GIF with relevant keywords.
Step 6. Hit "Upload to Giphy." You're finished! Now you'll have the option to download your GIF in a variety of sizes.
Here's a GIF I created with Giphy, just like that:
Making a GIF with Animatron Studio
Not all GIFs have to come from live-action video. In fact, sometimes a GIF made from an animated video is the ideal choice. Live-action GIFs tend to have a more casual feel, while stylized animated GIFs can be designed for a more subtle, grown-up effect. If you make an animated video with Animatron Studio, saving it as a looping GIF is simple.
Step 1. Create your animation in Animatron Studio as usual. If you're new to this tool, check out these tutorials to get started quickly and easily.
Step 2. Once you're ready to GIF your animation, click on the green button in the top left corner of the screen. Go to Project, and then click on Download GIF.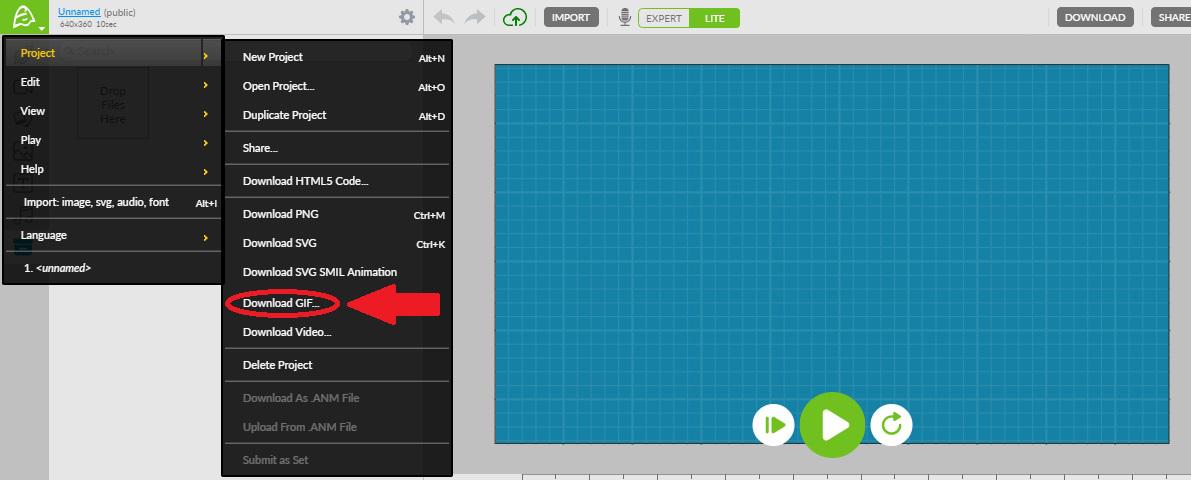 Step 3. Select the size and frames per second you want for your GIF. Don't forget to select "Make loop" so that your GIF repeats.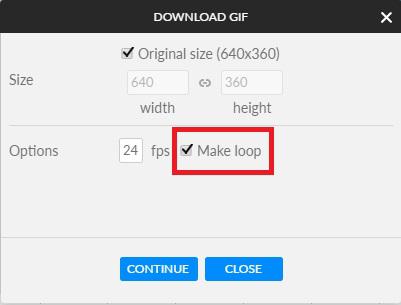 Step 4. After the tool renders your GIF, you'll be prompted to download it. You can also opt to receive a download link by email.
Making a GIF with Photoshop
Photoshop is the giant of graphics editing programs. If you already use Photoshop for other tasks, you can use it to make your GIFs, too. Here's how to easily turn a video into a GIF.
Step 1. Start by locating the video you want to use and converting its frames to layers. To do this, hit "File" and scroll down to "Import." Select "Video frames to layers."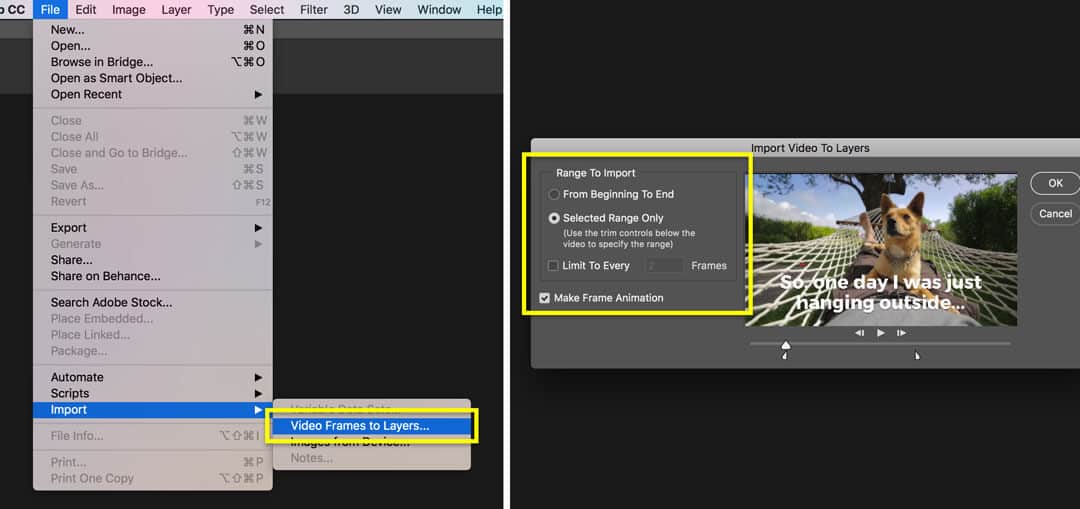 Step 2. Next, open the timeline. This can be found under "Windows" in the toolbar. After clicking "Timeline," a box will appear in the middle of the panel. Click the arrow button and select "Create frame animation."
Step 3. Make your animation loop by clicking the Repeat menu and selecting "Forever."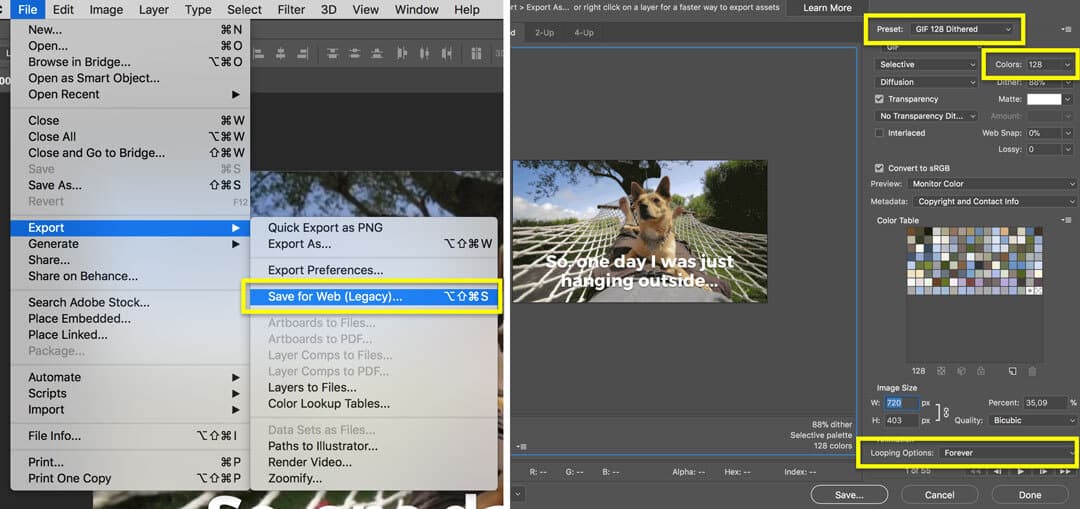 Step 4. Save your newly created GIF by going to File and then Export. Choose "Save for Web." On the Preset menu, choose "GIF 128 Dithered," and on the Colors menu, choose 256. Then select the size you want your image to be, and check that it's set to loop forever.
Wrapping Up
Making your own GIF from video is a simple and approachable process. There are a number of different tools you can use to get the job done, but they all have the same end result – an eye-catching image that you can use to get better results with your social media marketing.
With so many good reasons to start folding GIFs into your visual marketing strategy, why not get started today? If you don't have a video that you want to make a GIF from, no problem – just create one using Wave.video. With plenty of stock video and images, formats, and customization options, Wave.video is a great tool for video newbies and seasoned video marketers alike – and you'll definitely have something to GIF afterwards.