How to Organize a Video Contest and Stay Sane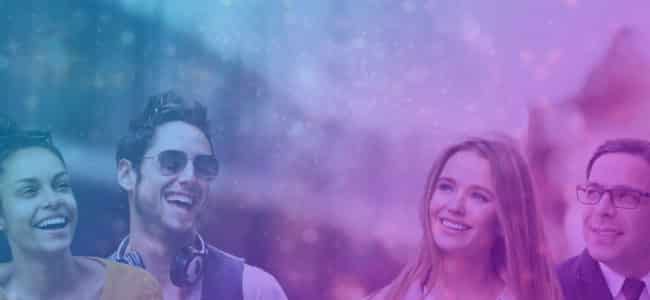 Here at Animatron, we're always seeking out new opportunities to increase brand awareness, grow our social following and encourage engagement. At times, it even seems that there is not a single marketing activity we haven't tried, but eventually, somebody comes up with a new big crazy idea and we all rush to bring it to life. In our latest endeavor, we've teamed up with a social media strategist Peg Fitzpatrick to run the first-ever social media video challenge. Based on our experience, we're going to show you the steps we took (or didn't and regretted it) to plan and successfully execute this ambitious video contest.
Set a goal
Just like everything in marketing, your contest needs to have a goal. Do you want to drive traffic to your website? Attract new users? Retain existing customers? Collect more user-generated content? Define the goal based on your current marketing objectives, and make sure that it is measurable. If your primary objective is lead generation, then set a realistic target – just say, "I want to collect 5000 leads" – and put all your effort into hitting it.
Establish the ground rules
Find some time to set out clear and concise terms and conditions before the contest starts. This will help you avoid future headaches and give the participants peace of mind. Typically, the T&Cs should cover the following topics:
How can people enter?
When does the contest start and end?
What locations are eligible to participate?
How will you announce the winners?
What prizes will they receive?
How will you deliver the prizes?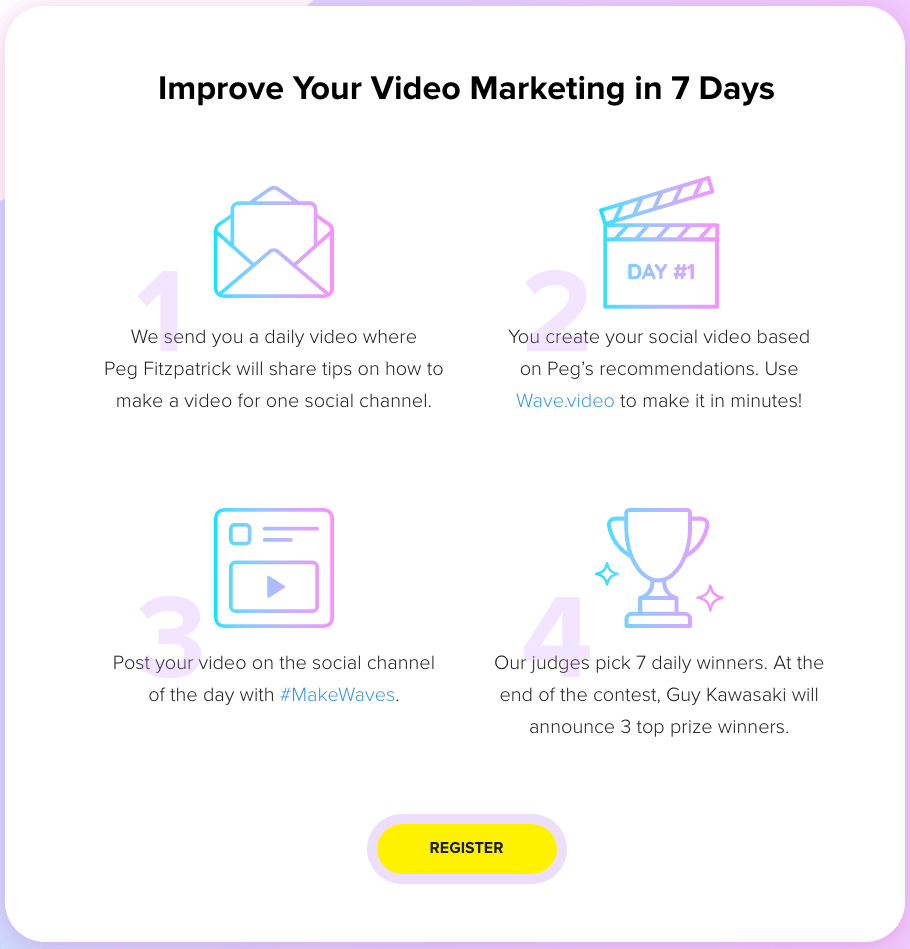 Example of the video contest rules we had for #MakeWaves Video Challenge
Select the prizes
An awesome prize is what motivates people to join. However, if 10 000 random people enter just for the sake of winning a great prize, this will hardly help your brand. Invest in a prize that is relevant to your business and appealing to your target audience. This way, you'll attract people who are truly interested in what you offer and more likely to convert into paying customers.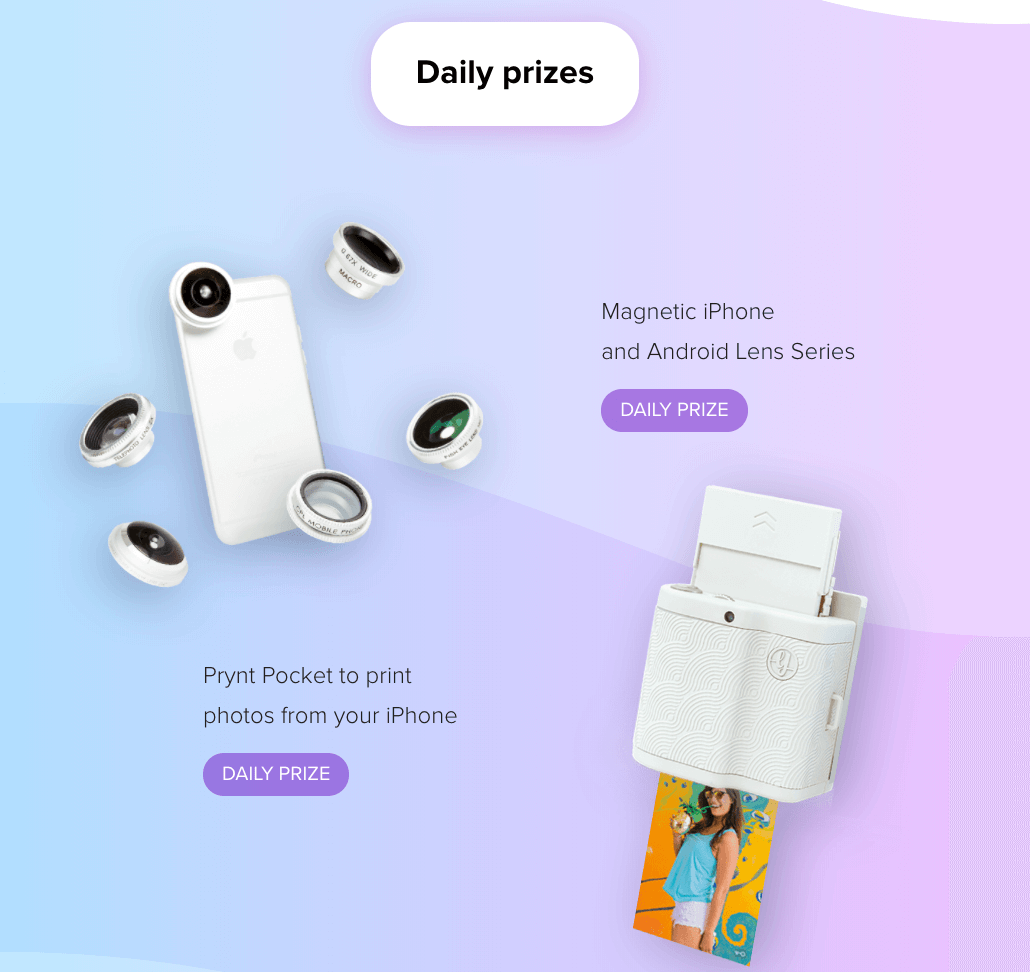 Our experience
When we were choosing prizes for the #MakeWaves Video Challenge, we focused on Wave.video target audience – digital marketers who make videos to promote their brand on social. What kind of prizes would help them become better experts and at the same time be appealing enough to make them take action? After a brainstorming session, we made a list of daily gifts that included mobile camera lenses, gimbal smartphone stabilizers, Snapchat Spectacles and other fun and useful stuff we thought digital marketers would love. We also settled on the grand prize: iPhone X. Who doesn't want the latest Apple device? If you feel that you're not ready to invest in something this expensive, consider giving away your own products or services or find sponsors who will be willing to donate their products in return for exposure.
Find sponsors
In addition to donating valuable prizes, sponsors can help you spread the word about the video contest. It's best to reach out to the companies that are similar to your product or service but aren't your direct competition. Create a dedicated document with all details about your contest, and don't forget to highlight the benefits of being a sponsor, as well as to list the requirements for becoming one.
Our experience
We contacted different marketing and video hosting platforms which user base overlapped with the #MakeWaves target audience. The result was stunning. We managed to obtain sponsorship from nine industry-leading companies including Wistia, SEMrush, Digital Marketer and AgoraPulse. All of them were happy to donate subscriptions to their services and tickets to their conferences as prizes for the video contest winners. This is how our list of giveaways expanded to whopping 24 prizes! The only thing left to do was to find enough participants.
Choose the right promotion channels
How will people learn about your video contest? There are lots of different channels you can use to promote the upcoming event. Depending on your contest's goals, you can run ads on social media, send out emails, announce the contest on your website, write a blog post, or use a combination of these channels.
If you want to draw in new customers, running social media ads is probably the best option. Use targeting to get your ads in front of relevant audiences or target people similar to your existing customers. If your goal is to engage existing clients, sending a personalized email with an invitation to join may be a great way to increase brand loyalty.
Whether you choose to promote your contest through social ads, email or both, having your promotional materials link through to a dedicated website or a landing page can help you boost traffic and increase awareness about your other offerings. Just make sure you have enough time and manpower to update and maintain your website. Otherwise, you risk losing sanity, which almost happened to us.
Our experience
MakeWaves video contest ran for an entire week with a new video making challenge every day, meaning that every day at midnight we had to roll out a new landing page with new instructions and video tutorials. If only we had known how much effort from everyone on the team this would take. By the end of the week all of us – designers, developers and marketers alike – were completely exhausted by the number of minor updates, bug fixes and other unpredicted issues we had to solve. Looking back now, we realize that there was a much easier solution that we didn't take into account – we could have hosted the entire contest on the blog.
Actionable takeaway: So here's a tip for you: if you're not willing to allocate many resources on website design – run your video contest on the blog.
Gather support from influencers and experts
Do you want to create even more buzz around your video contest? Get influencers to talk about it! Do a research and pick thought leaders in a relevant field of expertise. Keep in mind that they will represent your brand, so you only want to reach out to the experts you'll be happy to associate with.
Consider creating an influencer kit, which will help keep you and the influencers on the same page. Spell out the terms of the partnership, the dates of the contest and the due dates for the experts' contributions. You can also include some creative assets to ensure that the influencers use your branded images and videos when they share info about your contest.
Here's what we included in the #MakeWaves Challenge Partner Kit: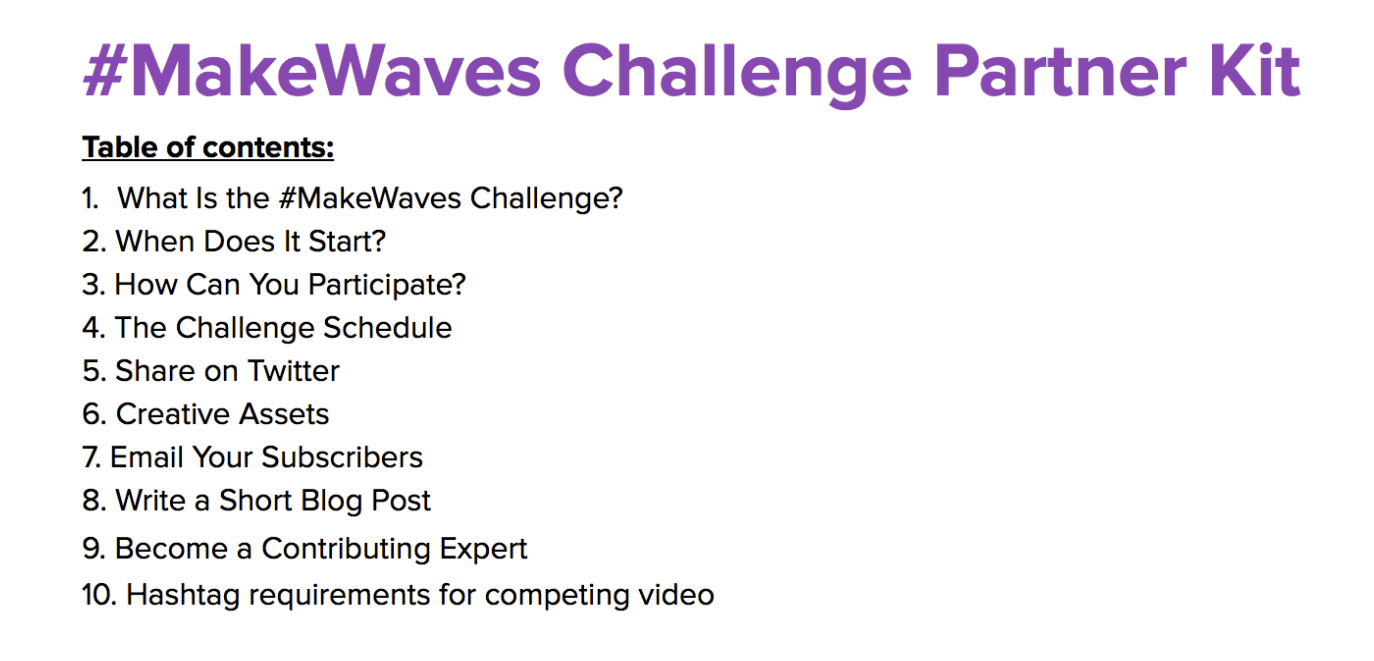 Bonus: Check out the full Partner Kit to see what else we prepared for our partners.
If, like #MakeWaves, your contest is all about video, you'll only want to feature high-quality video content that meets your brand's standards. Develop video making guidelines to help third-party experts understand what kind of content you expect to receive. This will make yours and your partners' lives so much easier.
Here're a few tips from Wave.video designers based on the videos we received from contributing experts:
Make sure that your video aligns with its goal. When shooting a tutorial, explain every step as clearly as you can, show the product and motivate users to try it out. If you're announcing winners, speak with passion and enthusiasm to give the viewers a sense of celebration and achievement.
Set up the lighting so that your face is evenly lit and there are no shadows.
Wear appropriate clothing and makeup.
Change outfits and locations if you're shooting a series of videos.
Hashtag tracking
It's very important to create a custom hashtag for your video contest. The hashtag will help you keep track of the performance of your promotional campaign, easily find participants, collect feedback and quickly respond to every contest-related question.
When choosing a hashtag, take a closer look at how often people use it across different social platforms. Pay attention to the content surrounding the hashtag – this can give you some great ideas about your contest's positioning. For example, that's how we came up with #MakeWaves slogans like "Create awesome videos and #makewaves on Social!"
Congrats #makewaves winners by https://t.co/OUhIQZ1wrB !?
Hosted by @wave_video @PegFitzpatrick
iPhone ? @irespectonline
Ticket to @Unbounce #CTAConf ?@downstagemedia @ChipMonkMedia wins ? T&C Summit@scottayres gets @SEMrush
Winners pls ? email marketing@animatron.com pic.twitter.com/PZO73oyezf

— Guy Kawasaki (@GuyKawasaki)

Start monitoring the hashtag two weeks before your social media contest begins. You can use tools like TweetDeck to track video contest entries across all social media. Look through all the posts that use your hashtag and like everyone that relates to the contest. This is a way of acknowledging the participants that you've seen and validated their entries.
Managing your video contest on social media
Social media contests, as opposed to other contest types, allow you to quickly establish a direct communication with the participants, boost their social engagement with your brand and increase following. Grasp every opportunity to start a dialog with your customers! Chat with the participants, like their posts, reply to comments, and you'll see that they'll start showing more interest in your products. Do everything to maximize their satisfaction with your brand and help them benefit. If you are a SaaS-based business like Wave.video, you can prepare coupon codes to distribute among active participants. When we offered discounts on popular Wave.video plans, the participants were very grateful for a chance to upgrade at a reduced price and get access to more feature, which would help them make videos for the contest faster and more efficiently.
Wrapping up
As you can see, there is so much to think about with video contests! If you overlook even the smallest detail, you may end up with angry customers, spreading bad word about your business. So make sure you have enough time to plan every aspect of your contest ahead. Make people happy, and they will be happy to spend more money on your products and share their great experience with others.