11 Easy Templates To Celebrate Social Media Events this June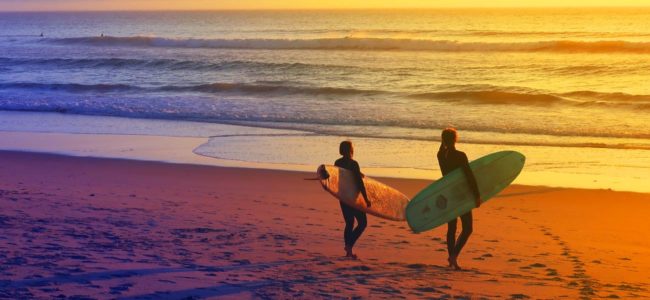 Welcome to another sweet, summer month bursting with social media goodness!
June is full of observations that allow us to reminisce on our time here on Planet Earth, the environment, and our effect on it. As such, we've highlighted days such as World Environment Day, International Surfing Day, and International Yoga Day.
Read on to find out how you can leverage these holidays to benefit you and your business this summer.
Sunday, June 2nd: Italian National Day
In Italy, parades are bustling all over the country. If you reside outside of your boot-iful city, consider creating something that includes colors of the Italian flag, or famous Italian symbols.
2nd June, Italian National Day. @AleniaAermacchi MB.339 @FrecceTricolori on the sky of Roma @ItalianAirForce pic.twitter.com/eagp17mAq6

— Leonardo Aircraft (@LDO_Aircraft) June 2, 2014
You can write a blog about your favorite Italian writers, artists, actors, food. With Wave.video's massive stock library, you can find footage of nearly anything you can think of and turn it into a marketable video!
P.S. if you need some help navigating Wave.video media library, our Knowledge Base covers that.
Monday, June 3rd: World Bicycle Day
Ahh, World Bicycle Day. A day perfect for listicle videos, fun fact articles, and slashing bike prices worldwide!
For example, take this short sentence and slap it on top of a photo of you on a bike, or any other stock image of bicycles:
Did you know that riding a bike is not only cost-efficient but satisfies your exercising needs and reduces fuel emissions released into the air?
If you own a bike, buy bikes, or have a love for them, you can dedicate time to World Bicycle Day and discuss the best locks to use gears, or simply rate the hottest bikes available on the market.

Tuesday, June 4th: National Cheese Day
Bursting at the seams, it's cheese! Brie, Camembert, Cheddar, Gouda… what's your favorite? The author is partial to Aged Gouda herself.
Create a video poll with a list of your most famous or popular items at your grocery store or a cheese seller, and let your audience drool at the choices!
Or, we suggest posting a collection of your cheeses and picking one to do a background video on How To Make (X)!
Are you a frequent consumer of cheese and dairy products and just can't contain yourself? Foodie Reviews are common and extremely consumable as "infotainment" material. We suggest adding lots of "ooohs" and "aaahs" during consuming.
Wednesday, June 5th: World Environment Day
Considering global warming and our beautiful planet earth has been the topic of many conversations in the last decade, it is only natural for us to want to celebrate, support, and raise awareness in order to save the planet we live in.
In 2019, World Environment Day is tasked with tackling air pollution. The official website says: "We can't stop breathing. But we can do something about the quality of our air."
Let's make history together on #WorldEnvironmentDay.
Let's make 2019 the year we took decisive action to #BeatAirPollution: https://t.co/cQFlbQWdXU pic.twitter.com/OeMh4928SB

— UN Environment (@UNEnvironment) May 30, 2019
If your company or branding has anything to do with the environment, air pollution, exhausts, carbon footprints… today is a good day to band together and write an official post that shows you care about the cause.
So, what do we do?
We raise awareness. Take tons of photos of your local beaches before and after a massive clean-up, or picnic.
Show the differences in carbon emissions using certain vehicles, transportation options and more.
Combine a previous post on World Bicycle Day with World Environment Day. 
The more you talk about the issues we as a human race face by occupying Earth, the more we will be heard. For example, did you know our Carbon Dioxide (CO₂) emissions have gone up from 246.95 tonnes in 1990 to 394.38 tonnes in 2016?
You can simply copy and paste that fact with the supplemental source, and provide pictures you or your company have collected surrounding CO₂ emissions' effect on Earth.

Wednesday, June 12th: World Blood Donor Day
Donating blood helps society keep those in need alive! Donate at your local blood bank today, or use the following tips to advocate or spread awareness:
Blood Drives.

Attend one, and post photos or your sticker that says, "I Donated." Encourage your audience to do the same.

Facts. If your desire is to encite urgency and to get people off their couches and into shelters or drives to donate, we suggest placing stark facts over videos or imagery that motivate. For example, the Red Cross states that every 2 seconds, someone in the United States of America is in need of blood. They also state that 1 donation of blood can save up to three lives. With these facts in mind, you'll be generating and sparking engagement that will force thousands of people to donate.
Tuesday, June 18th: International Sushi Day
Popularized by Facebook, one can truly agree that today is the best day for sushi lovers around the world.
We suggest reflecting on a couple of things for content today:
When did you first have sushi? Go back to that spot if you can, and order some adventurous meals.

Everyone loves adorning themselves with things they love, like sushi pins, stickers, notebooks, photos and more. Take this into consideration! You could create the hottest new sushi hat, shoes, or pin! 

Review your favorite sushi restaurants in an engaging blog post, vlog, or IGTV story!
Thursday, June 20th: International Surfing Day
Every day, the Surfrider Foundation works tirelessly to save the coasts of the world. Today, band together with them.
On International Surfing Day, we should pause to celebrate the beaches and waves that we all love. Visit your local beaches and pick up the trash littered on the ocean floor, the sand, and more. Encourage beach-goers to use recycling bins, or to pick up their own waste. 
While slightly less exciting than a trip to the beach, being aware of the state of the environment also helps. The Surfrider Foundation wants us to remember the urgent threats we face, such as:
Offshore oil drilling,

Water pollution. 

And, overfishing.
While we have just listed some main concerns of the Surfrider Foundation, you can take it a step further and talk about these specific issues in videos and plan to post them during the week of International Surfing Day. That way, you have content that spans a week, and you are doing your part to better the world and our oceans!

Friday, June 21st: International Yoga Day
As mentioned in our calendar, the Prime Minister of India led a beautiful yoga asana routine for more than 50,000 people. If you do not have that kind of audience, here are a couple of things you can do to celebrate today:
Insert it into your workout routine. Try some yoga asanas for yourself! Or if you teach a class online, you can try your hand at some beginner type stretches, too.
Health benefits. Are you a long-time Yogi? Why don't you record a video discussing why Yoga can be beneficial to your mind, body, and soul?
Tuesday, June 25th: Global Beatles Day
Let's ask the most controversial question in relation to The Beatles… if you had to choose, who was your favorite? Lennon, McCartney, Starr, or Harrison? Well? We're waiting!
June 25th is Global Beatles Day because back in 1967, they performed their new song, "All You Need Is Love" on BBC as part as the "first global transmission broadcast ever" as stated by RoadieTuner.com.
An idea for a video or content creation is "cool" or "unknown" facts about the Beatles. For example, did you know Ringo Starr's real name is Richard Starkey?

Saturday, June 29th: National Camera Day
Photographers all around the world will be poised and ready for this ready, set, action shot!
Think about how you can engage your audience.
What has become popular these days? Polaroid Cameras! Create a video on how to make the best Polaroid shots for their social media accounts.
Maybe create a tutorial on Polaroid Cameras? Many young millennials have found the "vintage" aesthetic to be a popular one, so if you have an older Polaroid camera lying about, we are almost 100% confident young social media lovers would enjoy watching how it "used" to work.

Sunday, June 30th: World Social Media Day
It's easy to celebrate, all you have to do is thank the Internet. Mashable was the first to create this phenomenon, and for that we are forever grateful. 2019's Social Media Day will mark 10 successful years of social media collaboration across the World Wide Web. 
Celebrate and spread cheer by publishing photos of your best performing posts, retweeting favorite blogs, or getting the word out about your social media team today.
You can also re-create use cases when you got your first iPhone and made your first Tweet. Or when you created your first MySpace profile. What about YouTube? Do you remember the first video you've ever watched?
Get people talking, get the nostalgia rolling… social media is the way of the future!

Don't forget to tune in next month for our special list of July events! Remember, this is just a list: our Free Inspirational Social Media Calendar has even MORE National, Global, and hashtag days to choose from. Don't miss out! Check it out by clicking here!