Social Media for B2B: How Does Video Fit In?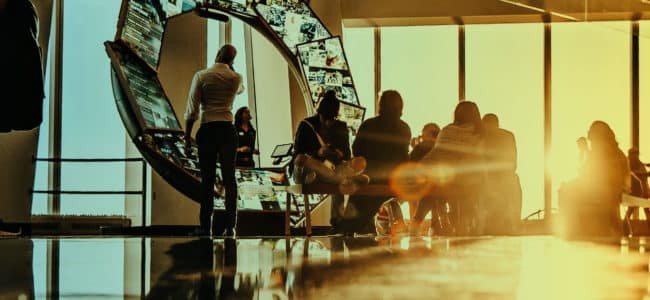 Social media and video marketing aren't just for B2C businesses. If you're a B2B business owner or marketer, getting social with your audience can bring a wide variety of benefits, from stronger branding to better customer retention. Keep reading to learn why video matters so much for social media for B2B and how you can create video content that connects with your target market.
Why Video Has a Place in B2B Social Media Marketing
Just about everybody loves video content. It's attention-getting, easy to consume, and often highly shareable. So it's not hard to see why video and social media go together like peanut butter and jelly – or why social media is an exciting frontier for video marketers.
The statistics that have been collected on video marketing are eye-opening. If you haven't started working on your social video strategy yet, the numbers will probably convince you to do so. Consider the following:
Customers actively want to watch videos. Email newsletters that contain video content get nearly 50% more opens than newsletters without video, and customers are four times more likely to prefer a product video over a written description of a product.

Even top-level executives prefer video to written content. 59% of executives would rather watch a video than read a page of text.
Social video generates an amazing 1200% more shares than images and text content combined.
More than three out of four marketers and small business owners say that video marketing has directly affected their business.
Video content makes your blog posts more valuable. In fact, posts that contain video get three times more inbound links than posts without video.
In fact, video marketing works so well on social media that it's become more of a requirement than an extra-credit move for businesses. Thanks to video's meteoric rise, customers have come to expect video content from their favorite brands. While a great video campaign can still give you an edge over your competitors, businesses of all stripes are getting on the video train just so they don't fall behind their rivals.
So, is video worth using on social media for B2B?
On the surface, video marketing might seem like a tactic that's best suited to B2C businesses. From traditional TV advertisements to viral online videos, it's easy to find examples of video marketing designed to engage consumers. But in reality, there's no reason why B2B businesses shouldn't adopt the same approach. It's true that B2B businesses cater to a narrower target market than B2C businesses do. But at the end of the day, B2B marketers are still trying to sell a product or service to other people, and that's where social video shines.
[bctt tweet="At the end of the day, B2B marketers are still trying to sell to other people."]
4 Types of Video Every Company Should Leverage
Video marketers have a lot of creative freedom. There are many different types of videos you can on social media for B2B to entertain and educate your target market, whether you're selling to the public in general or a more niche audience. Here are four major video categories that B2B businesses can use, as well as some examples of each type of video.

1. Informative Videos
Informative videos teach your audience about your product or service – what it is, how it works, and how it can benefit them. Informative videos are especially well suited for B2B social media marketing. If you're selling a solution or service that's complex or specialized, publishing informative videos will help your leads feel more confident about taking the plunge and working with you.
Depending on the goals, the demo video can be quite short or a bit longer. For instance, here's a video we created to be shown at INBOUND17. It was looped and running on the screen at our booth.
Types of informative videos you can make include:
How-to videos
Product demos
Troubleshooting videos
FAQ videos
Live AMAs
2. Behind-the-Scenes Videos
Behind-the-scenes videos give your audience a glimpse into your company and is perfect for social media for B2B. This type of video is great for building relationships and rapport with leads. People want to do business with individuals or companies they already like and trust. If you let your audience see what your business and your team are like behind the scenes, you'll build a friendly and personable public image.
This behind-the-scenes video by Purple Mattress gained over 150,000 views. Now, that's THE way to build credibility! Uh oh, and guess how many views their commercial gained? 118 million!
Try making the following types of behind-the-scenes videos:
Company culture videos
Team member interviews
"A day in the life" videos
Videos of how your products are made
3. Social Proof Videos
Social proof is incredibly important in marketing. An estimated 94% of B2B buyers do online research before they decide to make a purchase. If you can show leads that other people use and love your product or service, they'll be more likely to make a purchase themselves.
Check out this short video testimonial of one of Slack happy users. It was so engaging and sincere that it gained almost 1 million views! Not too bad for a company testimonial.
Demonstrate authentic social proof with these types of videos for B2B:
Testimonials
Case studies
User-generated content
User interviews
4. Lighthearted or Entertaining Videos
B2B videos for social media don't have to be serious all the time. Making some videos just for fun will leave people with a positive impression of your brand. Entertaining videos are also much more likely to increase your exposure by going viral.
Consider making these types of entertaining videos:
Funny or creative advertisements
Outtake reels
Emotional Connection: The Key to Great Video Marketing for B2B
No matter what product or service you're selling, who your target audience is, or what kind of videos you're making, there's one ingredient that can make or break your video marketing: emotional connection.
B2B videos, in particular, often suffer from a lack of emotional connection. It's easy for product demos, case studies, and other common types of B2B video to turn out a little dry and impersonal. This isn't inevitable, though. Even if your product or service seems technical or dull to the average person, you can create engaging marketing videos – and it's important that you do.
The issue at hand?
If your videos are boring, it's not because your product or business is boring. It's most likely because you're too focused on the rational aspects of why someone should choose your business. A logical-but-boring video might make all the right points, but it's not going to bring you the results you want. That's because people base their buying decisions more on emotion than on reason.
Best way to sell something – don't sell anything. Earn the awareness, respect, & trust of those who might buy.

— Rand Fishkin (@randfish)
The emotional component of buying isn't always obvious on the surface, especially in the B2B world. Most people don't consciously base their purchasing decisions on their feelings – in fact, they usually spend plenty of time doing research and weighing their options before buying something. Logic certainly plays a role in most purchases, and marketers shouldn't ignore it. But there are also powerful, and sometimes invisible, emotional factors at play. Before they buy something, people usually ask themselves questions like:
Will this product help me achieve a goal?
Will this purchase make me a better leader?
Will this product be easy to use, or will I get confused and give up?
Will my job be easier if I buy this?
Am I excited about this product?
Do I have anything in common with the people who already use this service?
Do I trust the company that provides this service?
These emotion-based concerns have a lot of pull, even if they aren't always at the front of a customer's mind. In fact, the perceived personal value of a product or service is twice as important to buyers as the perceived business value.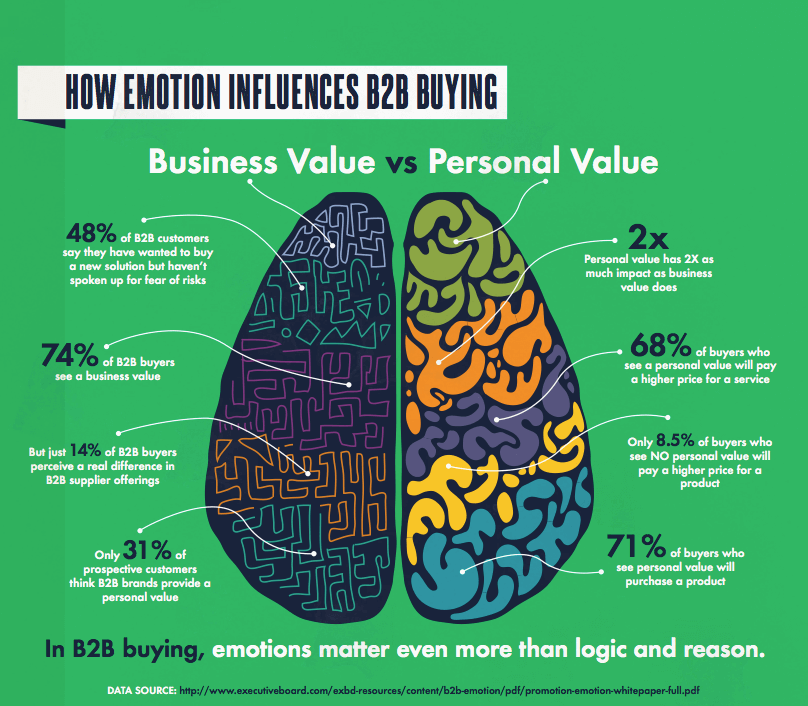 Emotions play a huge role in the B2B decision-making process. Source
You don't necessarily have to evoke positive emotions in your audience to get the reactions you want, either. Insecurity, anxiety, and frustration are all powerful drivers of behavior. The important thing is to make your audience feel like there's something important in it for them if they choose your product or service.
The takeaway here is that your video content, especially the videos you share on social media for B2B, need to tap into your audience's self-perception, wishes, and fears. Don't leave logic out of your videos altogether, but do give viewers a personal reason to choose or stay loyal to your brand. The next section discusses some ways you can make your videos more personal and authentic.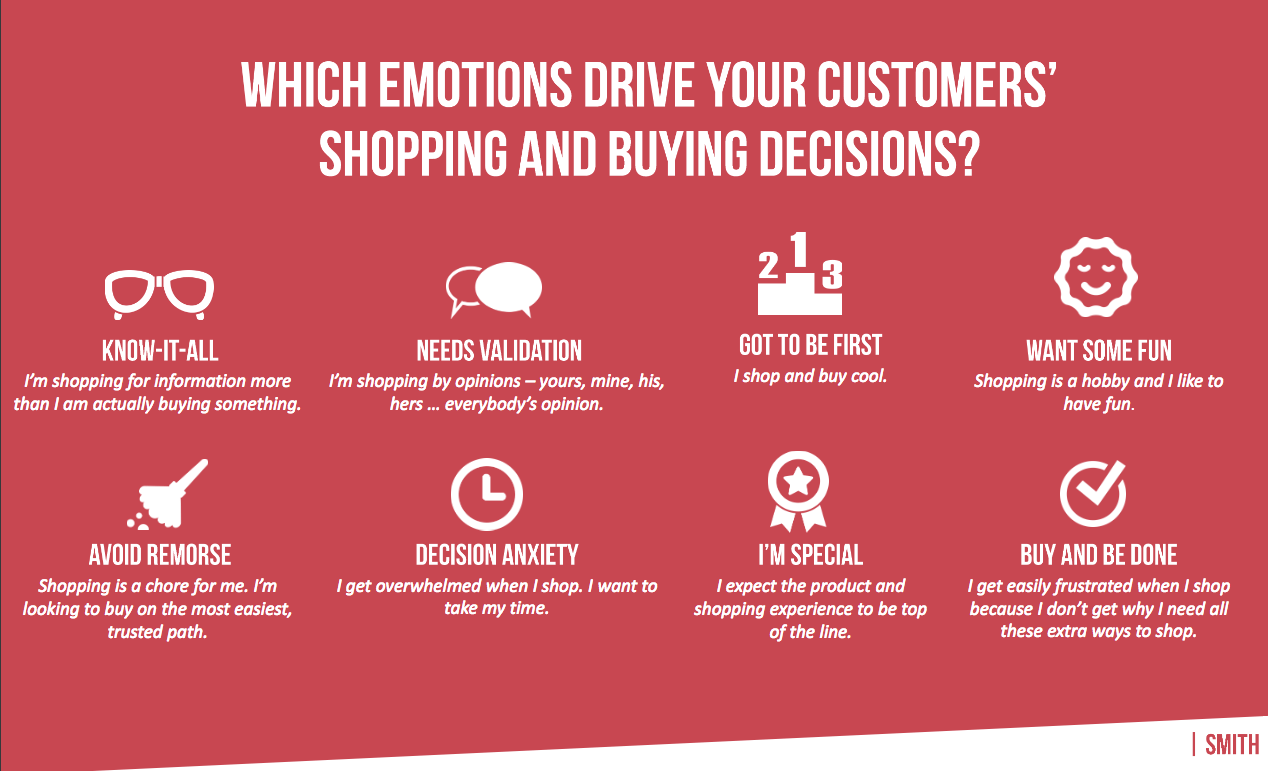 Some of the different emotions that can influence a purchasing decision. Source
6 Tips for Creating More Authentic Videos
1. Tell stories.
It's human nature to be drawn to a good story. Stories get people's attention, create emotional connections, and give you a chance to show off your brand's voice. To tap into your storytelling abilities, look for conflicts and resolutions that you can turn into videos. A few ideas include:
Testimonials and case studies that detail how your product or service solved a customer's problem
Videos that tell the story of how your team accomplished something behind the scenes
Videos about how your business got started or overcame an obstacle
2. Let your business' mission and values shine through.
It's important to be real with your audience. Younger customers, in particular, tend to care about more than just what product or service you sell – they want to know what your business stands for, what causes you support, and what your company culture is like. Personal videos that let your audience meet the team or get a glimpse at your operations can help you build trust.
3. Don't shy away from using humor when it's appropriate.
Want to create an instant connection with someone? Make them laugh. Humor is especially powerful if you're in an industry that's typically perceived as boring, since it conveys the human, relatable side of your product or service. Social media for B2B is a great place to be a little less serious. Just be careful to keep your humor light and appropriate, and stay away from controversial topics. You don't want to accidentally offend your audience.

4. Connect with your audience in real time.
If you usually rely on carefully scripted and edited videos, change things up by streaming live video occasionally instead. A live stream lets your audience connect with you in the moment, and it's a great way to get watchers engaged with your brand. Popular types of live video include:
Webinars
How-to sessions
Office or facility tours
Interviews
AMAs
Important announcements
Product reveals
Mari Smith, the Queen of Facebook, prepared a free 4-video series on how to master the art of going live on Facebook.
5. Encourage users to submit their own video content.
Your existing customers can become your best brand advocates. User-generated content (UGC) is a powerful way to build trust with your audience – much like testimonials, UGC demonstrates that your business has a history of building good relationships with customers. UGC also increases brand loyalty for the customers who create the content. After all, who wouldn't like to be featured by their favorite brand? You can get UGC by running a video contest or by asking a few of your most loyal customers if they'd be willing to make a video review for you.
Recently, we had an amazing experience with UGC. We ran a social media video contest #makewaves where we asked our users to create a video every day and share it on social.
Congrats #makewaves winners by https://t.co/OUhIQZ1wrB !?
Hosted by @wave_video @PegFitzpatrick
iPhone ? @irespectonline
Ticket to @Unbounce #CTAConf ?@downstagemedia @ChipMonkMedia wins ? T&C Summit@scottayres gets @SEMrush
Winners pls ? email marketing@animatron.com pic.twitter.com/PZO73oyezf

— Guy Kawasaki (@GuyKawasaki)
We were astonished to see so many great videos on all social platforms that our users created! Not only did the video contest help us build brand awareness and spread the word about our product but it also helped us get mentioned by such top-notch influencers as Guy Kawasaki. Wowza!
6. Produce new content regularly.
Like any other type of relationship, a business relationship needs time to grow. The best way to nurture your leads and stay in touch with current customers is to produce new video content for social media for B2B on a regular basis. This helps your audience get to know you over time.
How to Maximize Your Videos' Effectiveness
Whatever type of videos you choose to make, it's a good idea to observe a few best practices. These tips will help you get the most out of your social video campaigns for B2B.
Decide what you want to achieve. Set a goal for every new piece of video content you create. For instance, do you want to attract new customers, increase sales by a certain amount, or boost traffic on your website? Don't make videos just for the sake of making them – you'll run the risk of creating unfocused content that doesn't help your business.
Check out successful social media B2B videos and see what they're doing right. These days, there are tons of great B2B video campaigns out there. Look for some examples of good video marketing, either inside or outside your industry, and take notes. When you understand what makes for an interesting, effective social video campaign, you'll be in a good position to create one yourself. Just make sure that principles are the only thing you take from the videos. Copying someone else's campaign will get you noticed for the wrong reasons.
Know your target audience. If you want your videos to speak to your audience, you've got to know what they need. Make an effort to stay connected by interacting with your audience regularly on social media, conducting informal polls and surveys, and asking for feedback. You may want to consider creating specific videos that target different segments of your audience.
Consider video length. A general piece of advice about video marketing is, "Keep it short." But depending on your industry, you may need to produce longer-than-average videos sometimes. For instance, some kinds of how-to videos and product demos might need to be quite a bit longer than the often-quoted optimal length of two minutes. Do what works for you while keeping your videos as short as possible, and keep in mind that different video lengths will work best on different social media platforms. For instance, you can probably get away with posting longer videos on Facebook than on Twitter.
Feature real people in some of your videos. Animated videos can and should have a place in your social video strategy – they're fun, appealing, and simple to make. But if you want to create an authentic connection with your viewers, make a point of featuring real people in some of your videos, too. Testimonials, interviews, and "meet the team" videos are a few good ways to do this.
Include a transcript. You may not always be able to include a transcript with your videos, but it's a good practice to do so when you can. Transcripts make your content more accessible. They can also help with SEO, which is especially important when you post videos on your own website.
Include a call to action. Just like blog posts, all your videos should include a strong call to action at the end. After all, the point of the video is to encourage the viewer to do something. Don't forget this step – a call to action can make a surprisingly big difference in how well a video performs.
Interact with commenters. Follow up with everyone who comments on your video, even if it's just to thank them for watching. People will appreciate that you made the effort to chat with them.
Track your metrics and try new things. Keep an eye on how your videos perform. Continue using the strategies that are working for you, and don't be afraid to try new things. Social media and marketing techniques change all the time, and if you look at your social video strategy as a work in progress, you'll be able to make consistent improvements.
Wrapping Up
Video is a key part of social media marketing for B2B businesses. It helps you educate your audience about what you do, but even more importantly, it gives you a way to connect with your current and future customer base. By publishing a wide variety of human, relatable video content, you show your audience what your company is all about – and that will help you build positive and long-lasting customer relationships.
What are your thoughts on using social video as a B2B business? Tell us about your experience in the comments below!