Top 5 Things About Video We Learned from INBOUND17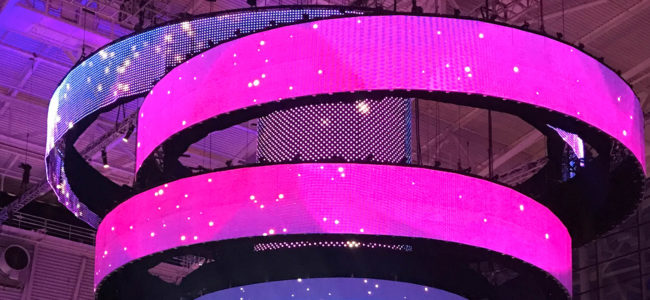 Once again HubSpot's INBOUND conference proved to be an outstanding learning and networking event. For the second year in a row, the Animatron team traveled whopping two blocks from our Boston office to partake in 4 days of educational sessions, present our recently launched video maker wave.video and meet fellow marketers from all around the world.
This year INBOUND had a record-breaking total of over 21,000 attendees from more than 100 countries and definitely lived up to its reputation as "the world's most remarkable business event". Looking back at the conference, we've summarized 5 key insights on video marketing. Here they are.
Start Obsessing over Video NOW
The video-first future that everyone's talking about is right around the corner, and you'd better start preparing today. Marcus Sheridan, founder and president of The Sales Lion, suggests that you begin by answering a question: "How much of the content on your website right now is video/visually-based content?" In a perfect world, your answer would be 80%. Keep this figure in mind, find your perfect video making tool and let your creativity soar.
Grow Your Instagram
As a next step, put more effort into growing your Instagram following. According to Peg Fitzpatrick, the author of The Art of Social Media and a social media strategist, traffic coming from Instagram is the most engaged audience you could ever get. When setting your Instagram, focus on creating a unique visual style that would keep in line with your branding. Also, try to experiment with different formats. Add variety to your feed by posting photos, videos, Boomerangs and Instagram Stories, but don't forget to stick to a schedule.
How to get Instaglam on Instagram✨ Info from session @ #INBOUND17 https://t.co/isyGWgnwvD AD @WaveVideoApp pic.twitter.com/cn0u4oDSq6

— Peg Fitzpatrick ✨ (@PegFitzpatrick)
Develop a Social Video Strategy
Developing a compelling video strategy for your brand's social channels was another major theme that ran through many of this year's sessions. Mari Smith, a renowned Facebook expert, shared a simple, yet powerful advice to craft your video strategy around your customers. Make videos that evoke emotion, capture attention and relate to your customers. After all, happy customers = higher revenue. This formula never fails.
Facebook video tip: create short snackable thumb-stopping videos. Via @MariSmith #inbound17 pic.twitter.com/vZowAoniQF

— wave.video (@wave_video)
Appeal to Human Psychology
During the session "Psychology of Video", Vidyard's VP of Marketing Tyler Lessard delved into different aspects of human visual perception and explained how marketers can capitalize on our psychology. According to the latest neurological studies, evolution made the human brain more responsive to visual stimulus than text. We process visual information 60K faster, retain it longer in our memory and have a stronger emotional response to the visuals that have a definitive story arc. That's why video is officially the most powerful marketing tool that helps you tell better stories, spark emotion, educate buyers and build trust.
Create Different Videos for Each Social Platform
According to Salma Jafri, video is the best way to actually get to your audience, and we tend to agree. In her session "How to Create Cross-Platform Social Videos (and keep your sanity)", Salma warns us not to fall into the social video creation myth, which is: One video to rule them all. Each social network is different in terms of people's behavior, algorithms, and content, and what works great on one platform simply might not work on another as-is. Before you get down to video creation, you might want to figure out how many variations of the video need to be created. This will give you some room for tweaks if the need arises.
Don't fall into the social video creation myth! Optimize your videos for each social platform. Via @salmajafri at #inbound17 pic.twitter.com/oMYX4Ch5tb

— wave.video (@wave_video)

These are the top insights about video marketing we just couldn't but share. Now it's your turn to evaluate them and implement the best ones into your marketing.
Needless to say, that's only the tip of the iceberg of all the exciting and useful things we learned at the INBOUND conference this year. Have you attended INBOUND17? What were your favorite sessions and best takeaways?