43 Most Influential Social Media Marketers You Should Be Following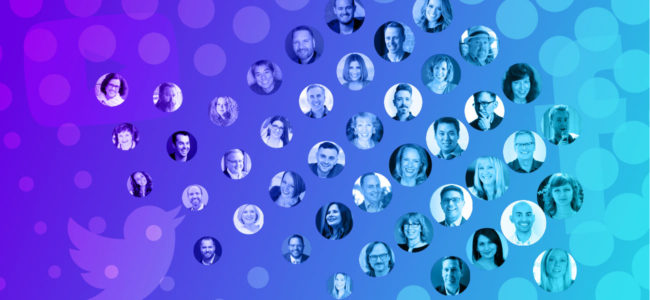 Where Should I Start?
In this vast world of social media, digital and content marketing, figuring out whom to follow is a task and a half in itself.
Just recently, a colleague or two were discussing influencers they enjoyed tracking for content purposes. However, when they turned to the internet for relative lists compiled of suggested influencers to follow, they were puzzled.
So many names were trivial and inappropriate. A handful of big-name digital marketers (who changed digital marketing forever) were never mentioned, either.
Thus, a desire for an in-depth list of real SMM influencers to follow was born. We hope you find this list useful, but if you believe we missed anybody, please mention them below!
Mari Smith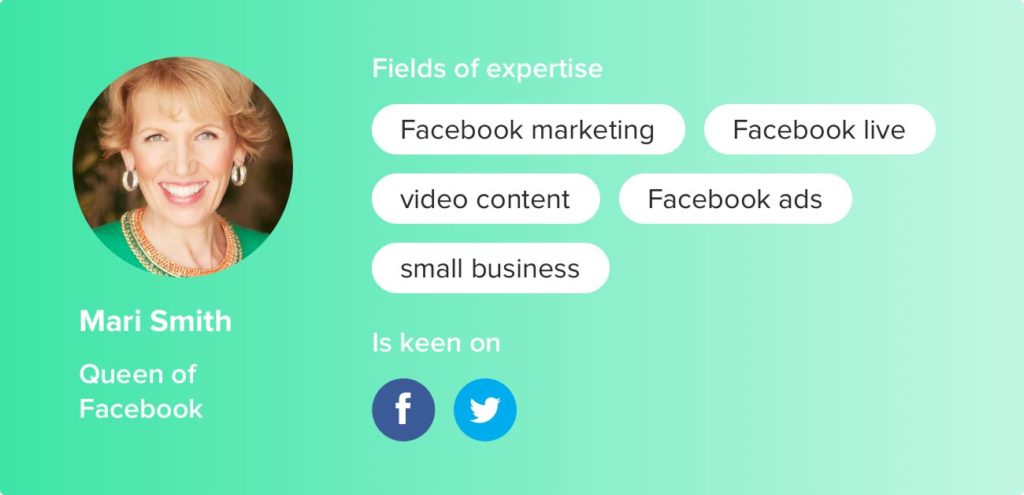 What They've Done:
Mari Smith is recognized for her Facebook marketing expertise. She is known as the "Queen of Facebook." Her background consists of over 12 years in marketing and technology.
Why you should follow them:
Mari Smith is a social media guru with 12 years of experience under her belt. She will frequently share the limelight with notable leaders, such as Guy Kawasaki (also mentioned in this list!). Mari enjoys coaching and consulting with many brands, including our own, to provide meaningful content.
Salma Jafri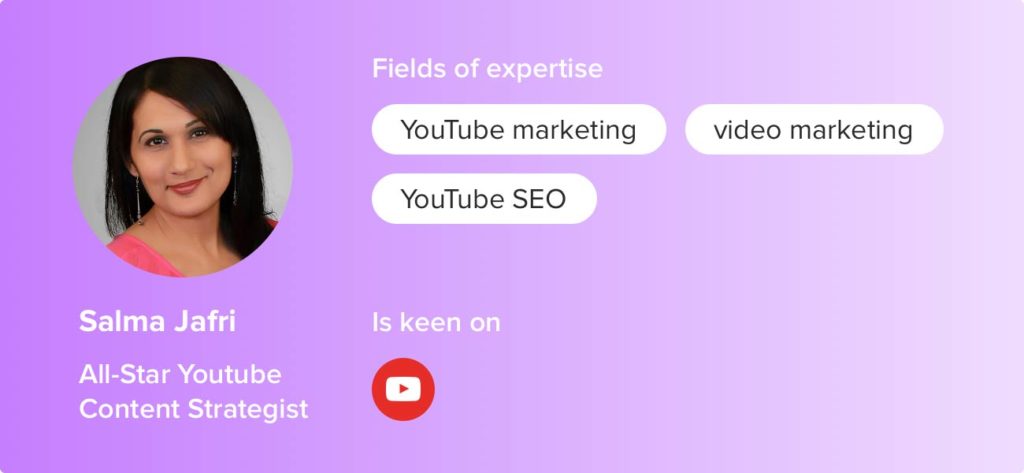 What They've Done:
Salma Jafri is a renowned content strategist. Her specializations lie in SEO writing, video content strategy, social media marketing, and analytics. She is the host of the Be the Media channel on YouTube.
Why you should follow them:
Her video blog is insightful for small business owners and entrepreneurs alike who wish to have engaging, impactful content. Her method of attack is "a series of small, consistent steps taken every day."
Twitter | YouTube | Personal Website
Donna Moritz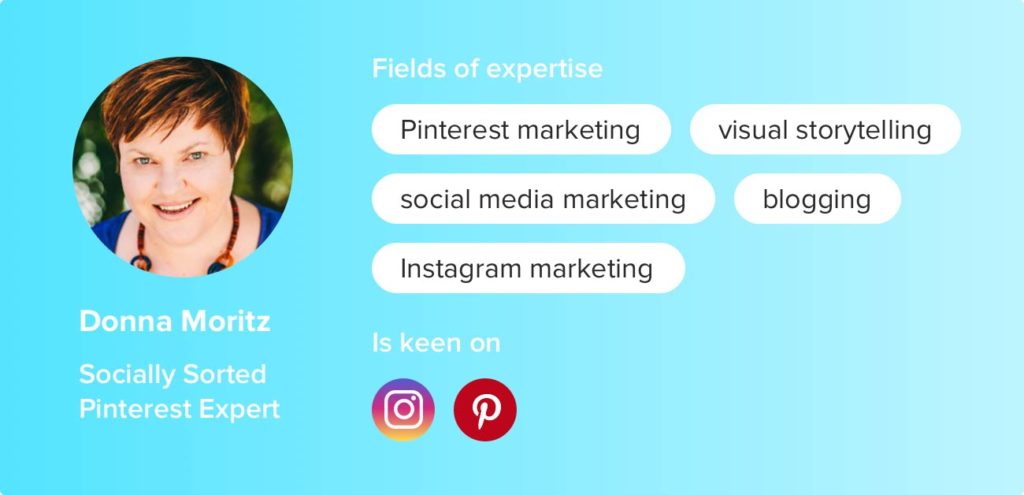 What They've Done:
Donna created a blog called Socially Sorted. It won the Best Business Blog award in Australia in 2014, and Top 10 Blog in Australia in 2015. Donna is also an international speaker at Social Media Marketing World and Content Marketing World. 
Why you should follow them:
Donna Moritz is the go-to girl for everything relating to visual storytelling and content strategy. 
She knows a thing or two about social media promotion. She provides in-depth help that will help you re-invent or create content and branding needs.
Guy Kawasaki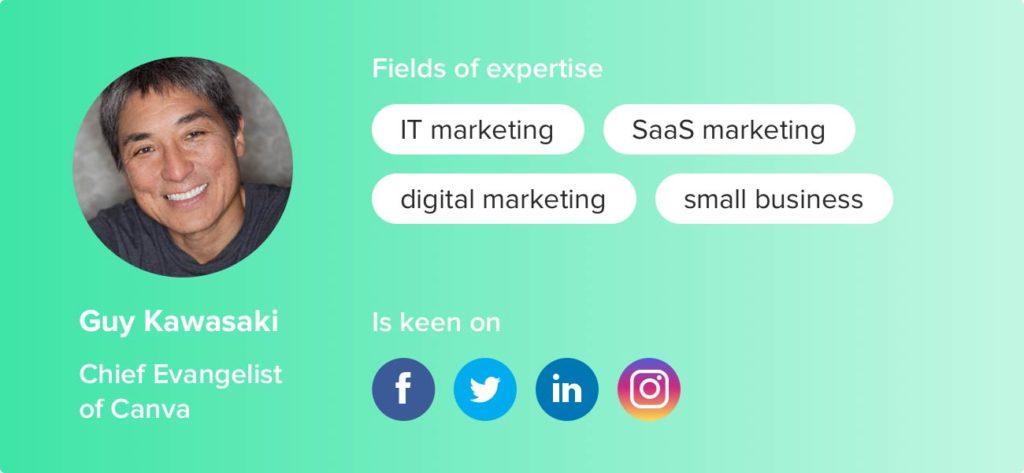 What They've Done:
Guy Kawasaki has become a household name in digital marketing. He is the chief evangelist of Canva, which is an online graphics company in Australia. He has also written 13 books and gives 50 keynote speeches per year.
Why you should follow them:
He helps big-name clients such as Apple Nike, Google, Microsoft, Audi shape their goals for innovation, evangelism (which he popularized in 1983), and of course: social media and digital marketing.
His most famous book is The Art of Social Media: Power Tips for Power Users. We highly recommend you read his book and keep yourself updated on all things Kawasaki.
Jeff Sieh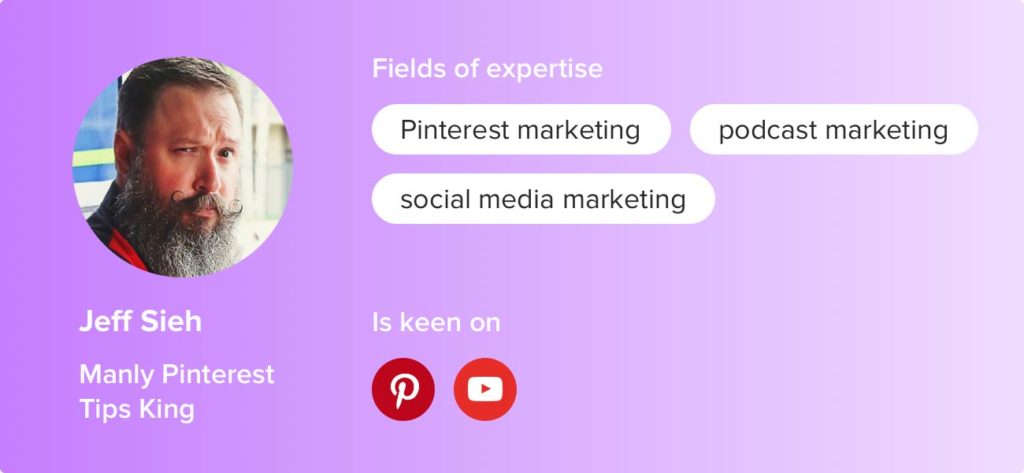 What They've Done:
Jeff Sieh is a visual marketing consultant. Jeff took a social tool called Pinterest, which garnered a reputation due to the many wedding and event planners who used the website. Jeff redefined what Pinterest could be used for. He created the blog Manly Pinterest Tips, coupled with original content he created.
Why you should follow them:
Jeff is a rule-breaker. He revolutionized a social tool to include a new audience initially excluded from it. Wood workshops, daily lumberjack activities, & grooming for men are just a few of the pins Jeff popularized on Pinterest. He is the creative director at His Design, Inc, which allows him to consult others on how he manipulates social platforms to fit his needs. As a well-rounded marketer, he includes comedy, tips, storytelling, and redefinition in his blog and his podcasts. Tune in to his Manly Monday Videos for more tips and tricks.
Lilach Bullock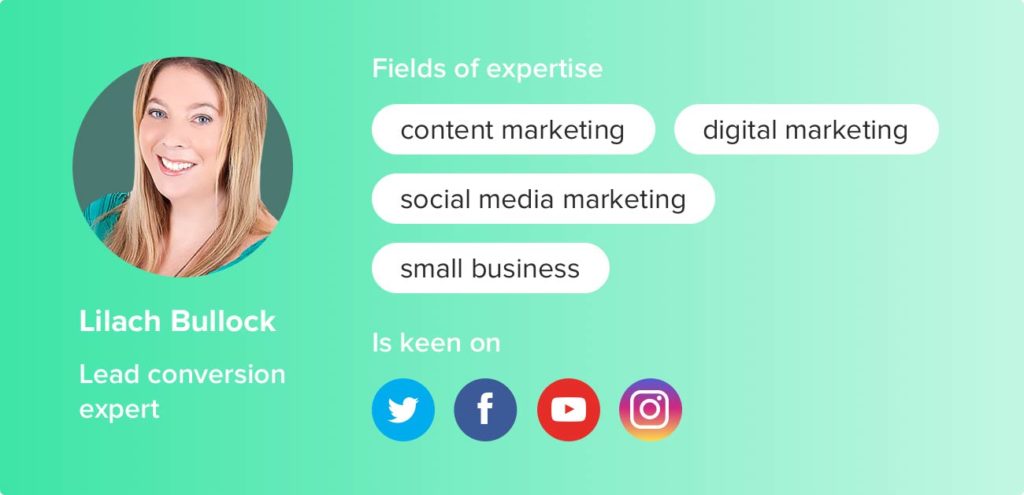 What They've Done:
Lilach Bullock is a professional speaker, a lead conversion expert, and a content marketing and social media guru. She founded Socialable.co.uk and has received awards like Top Social Influencer of Europe from Oracle, and Top Digital Marketing Influencers from Career Experts.
Why you should follow them:
Lilach has been repeatedly mentioned by many well-known blogs and companies, such as Kissmetrics, BBC Radio, Forbes, HuffPost, Wired, and even TedX Bolton. You will continuously gain from Lilach's twitter and personal feed because she's interested in helping small businesses with their content creation.
Pssst: She's also written for our Animatron Blog personally, giving us 5 Tips and Tools to Help You Manage and Grow Your YouTube Channel.
Jay Baer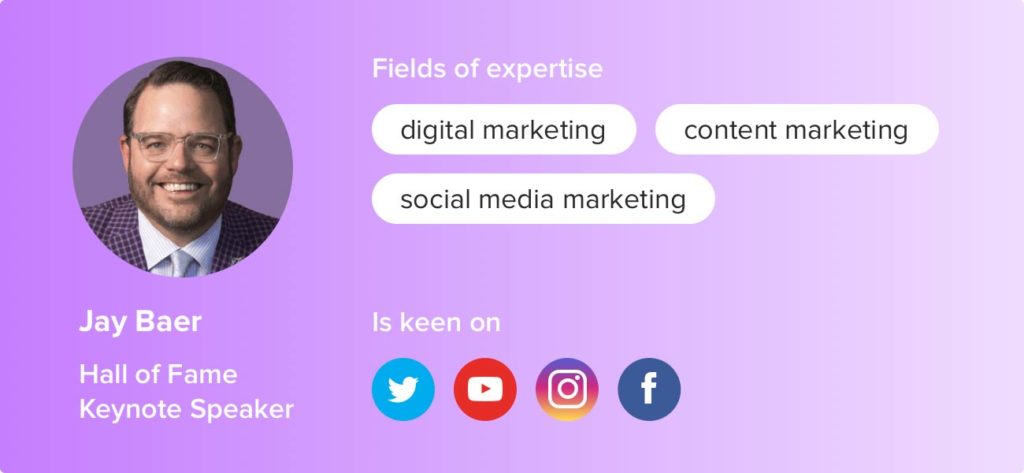 What They've Done:
Jay is a "hall of fame keynote speaker & MC," as well as a best-selling author of 6 books. He founded ConvinceandConvert, which is a tool that helps companies enhance their sales and profit.
Why you should follow them:
Jay updates his followers by sharing his projects and updated webinars to his website and Twitter. For example, he just shared his TechSmith discussion on Sept 10th, 2018 recently to clue in other small businesses on what he finds exciting and vital to his industry.
Rand Fishkin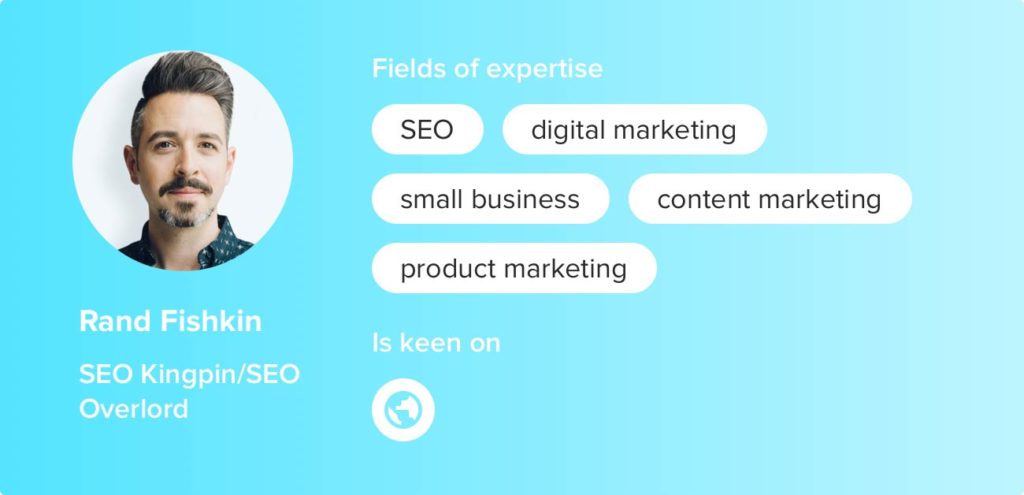 What They've Done:
Rand Fishkin is a co-founder of Moz and a permanent source of wisdom in the SEO world. He co-founded a blog called Inbound.org and co-wrote The Art of SEO. He decided to leave Moz for good about 6 months ago and is focusing his efforts on his new company, Sparktoro. The website claims to make discoverability less of an issue.
Why you should follow them:
Rand is a sought out speaker, writer, SEO wiz (formally known as The Wizard of Moz), provides helpful input on starting successful businesses, and then leaving them. His insight is uplifting and valuable, and he provides us with tools that allow us to track, analyze, seek, and discover new ways to market to our audience.
Eve Mayer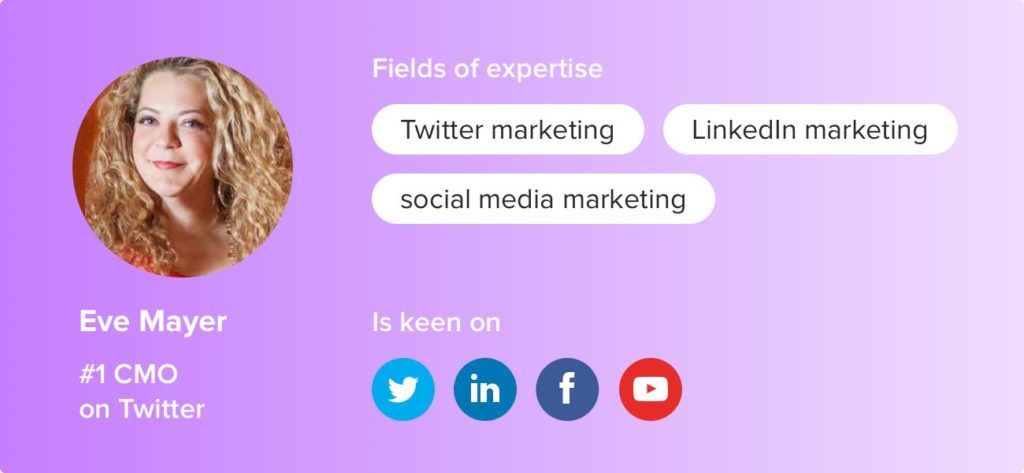 What They've Done:
Eve is praised for her writing and consulting for Forbes and CNN for over 20 years. Eve has been crowned as one of the most influential women on Forbes list and the #1 CMO on Twitter.
Why you should follow them:
Based on her social media presence since 2009, it is a no-brainer that Eve has lots of secrets to share. If you are a millennial company, she enjoys hands-on teamwork and is fond of women's empowerment movements.
Neil Patel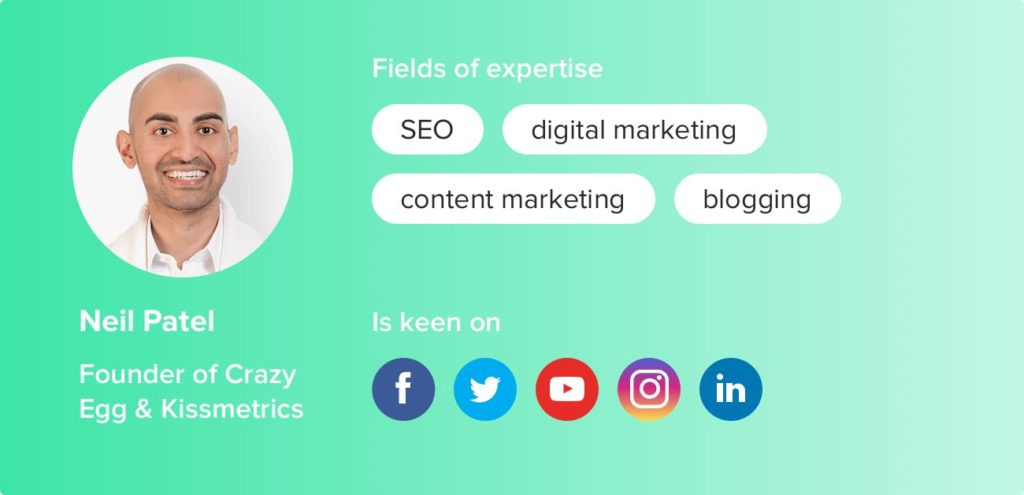 What They've Done:
Neil Patel prides himself on aiding "you" with SEO and digital marketing tools. He consults other businesses, CMOs, and CEOs on the tactics, techniques, and resources required to improve engagement. Neil provides his personal followers with links and registration opportunities to coveted webinars and conferences. He also co-founded two companies any digital marketer should be familiar with: Kissmetrics and Crazy Egg.
Why you should follow them:
Not only does he have talent in growing businesses, making them flourish, and maintaining their engagement, he is also willing to spread that knowledge. Following him means you have expert advice on SEO efforts, dominating Google, and mitigating your traffic via content creation and backlinks.
Michael A. Stelzner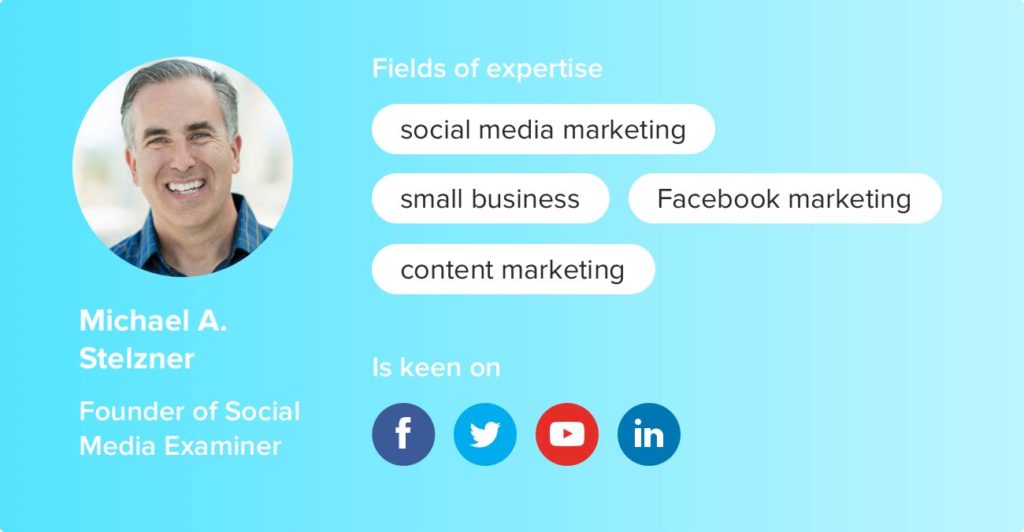 What They've Done:
Michael A. Stelzner is the creator of the "world's largest social media marketing resource," Social Media Examiner. It aids businesses in analyzing how to best implement and apply social media strategies to increase traffic, sales, and engagement.
Why you should follow them:
Michael posts dozens of tutorials on Twitter & his personal website. His advice is well-respected among digital marketers, so you can't go wrong by re-tweeting or following his footsteps.
Sue B. Zimmerman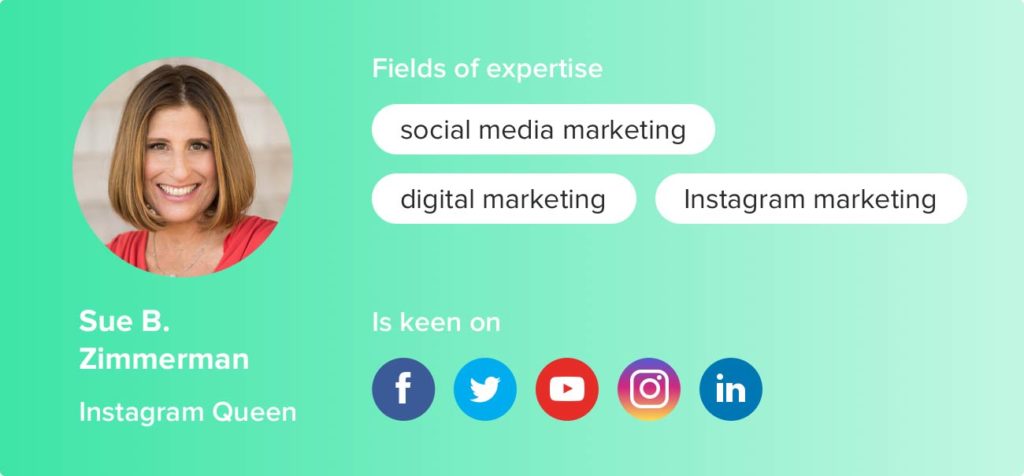 What They've Done:
Sue is known for her Instagram expertise. Sue has also been mentioned in the Huffington Post as one of the 50 Top Must-Follow Women Entrepreneurs in 2017. She's spoken at Social Media Marketing World and is one of the most popular CreativeLive instructors.
Why you should follow them:
You can find Sue attending the hottest digital marketing conferences around the world. Follow her to stay up to date on trends, and marketing topics.
Madalyn Sklar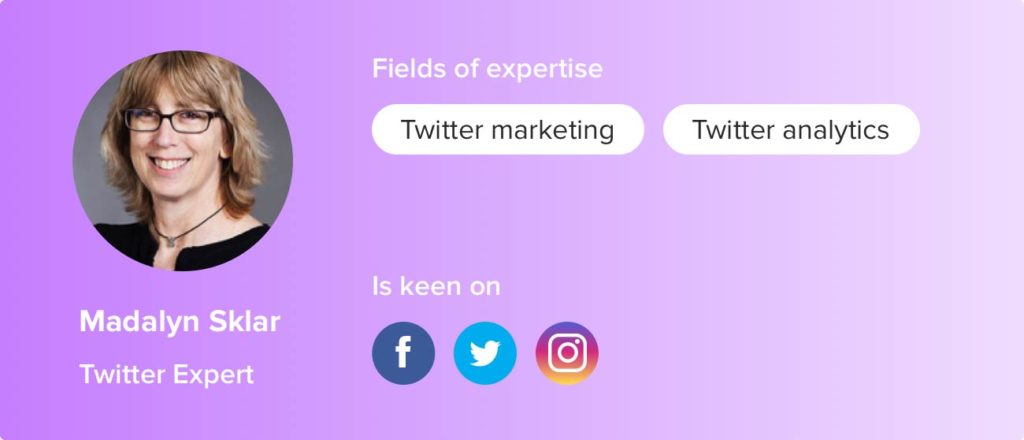 What They've Done:
Madalyn is known for her Twitter marketing expertise and is ranked as the #1 Social Media Power Influencer in Houston, Texas. She was one of the 50 entrepreneurs Huffington Post mentioned to follow as well.
Why you should follow them:
Madalyn is a go-to option for businesses who desire change in their Twitter marketing. Twitter is often a puzzle for most, so Madalyn's techniques are priceless and informative.
Mike Allton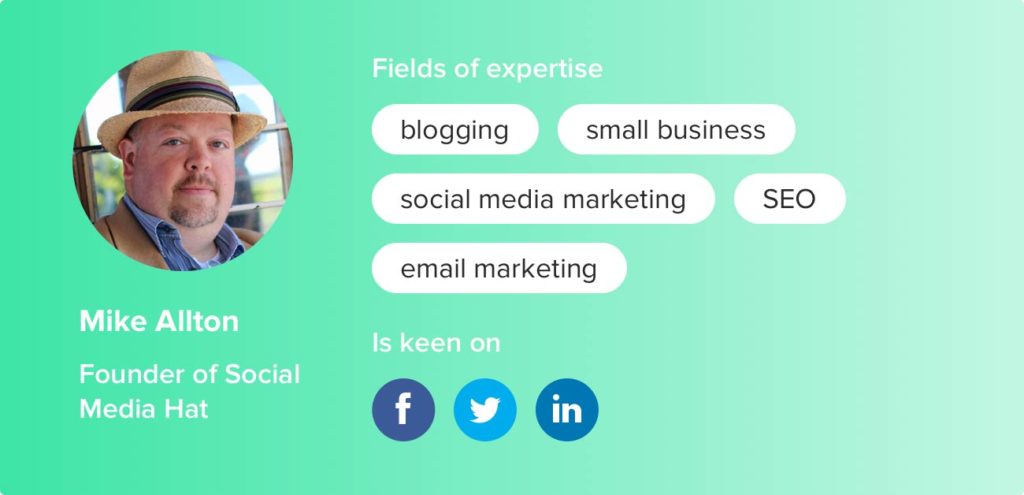 What They've Done:
Mike is the founder of The Social Media Hat, which provides entrepreneurs, small business owners and bloggers with in-depth, thorough articles rich with social media marketing advice, as well as email marketing and SEO.
Why you should follow them:
On Mike Allton's LinkedIn page, he explains he enjoys "teaching businesses the best strategies and tactics to use, and the best tools, to finally get positive results." He has a love for teaching clients how to customize their approach. Being a brand evangelist is helpful for his followers too, as he works closely with renowned social media educators and influencers.
Jeff Bullas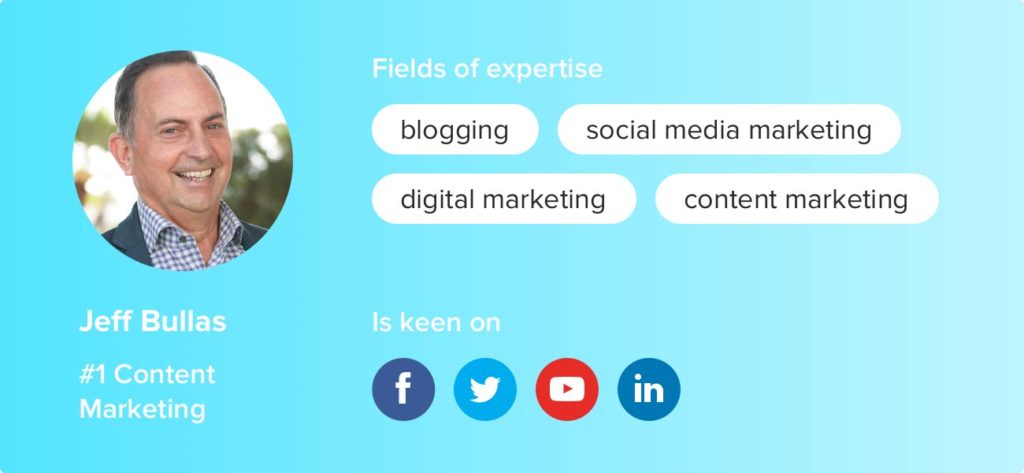 What They've Done:
Jeff Bullas has created a blog that receives 5 million visits per month. He is also ranked #1 as a Content Marketing Influencer Globally in 2018. Forbes also mentioned him in their Top 20 Influential CMOs in 2017. He's the world's #1 business blogger, awarded to him in 2015, and many more prestigious awards.
Why you should follow them:
He is down to earth and honest about his experiences. He knows what it's like to be unemployed, unsure of his financial situation and many more. He was able to cultivate and grow his audience to 600,000+ social media followers, and millions of traffic views. He started this all with $10! If there is anybody who is eager to help those struggling, it is Jeff Bullas.
Robert Rose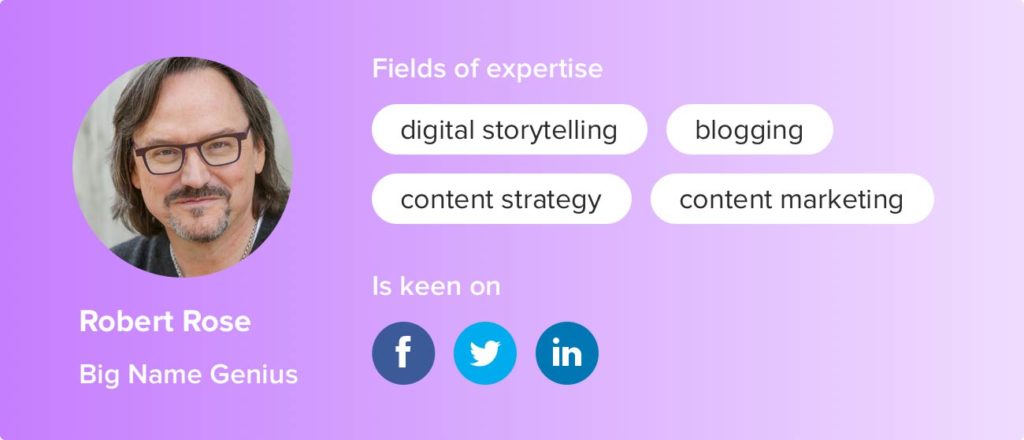 What They've Done:
Robert Rose has been on multiple big company lists, such as NASA, Dell, McCormick Spices, Hewlett Packard, Microsoft, and many more. He has over 25 years of experience in digital marketing, and 15+ years of experience in keynote speeches all around the nation. As an investor, he has a keen eye for fruitful companies.
Why you should follow them:
As an author, a board member, an investor, and a digital marketer, Robert will be able to provide excellent, informed suggestions for the growth of your business.
Aleyda Solis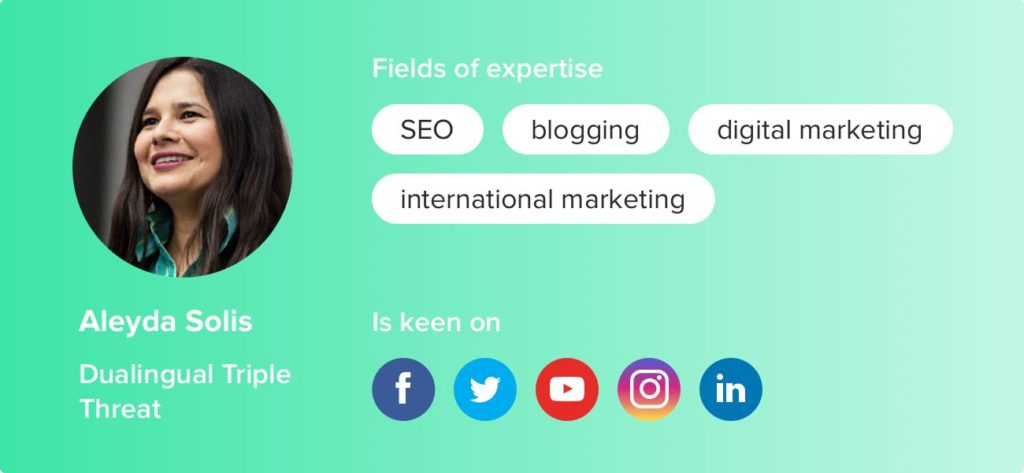 What They've Done:
Aleyda is a triple threat. She is an acclaimed SEO consultant in America and Latin-America. If you are seeking to dominate a predominantly Spanish-speaking audience, we can only suggest Aleyda. 
She has spoken in 19 different countries, and Hubspot mentioned her on their list of 59 Female Marketing and Growth Experts You Should Be Following, leaving her to be a highly desired and sought out keynote speaker.
Why you should follow them:
As we said, she's the one to follow if your interests lie in Spanish-speaking audiences. Furthermore, if you're focused on global marketing as a whole, Aleyda is someone who can help you start in the US and Latin America. 
Mark Schaefer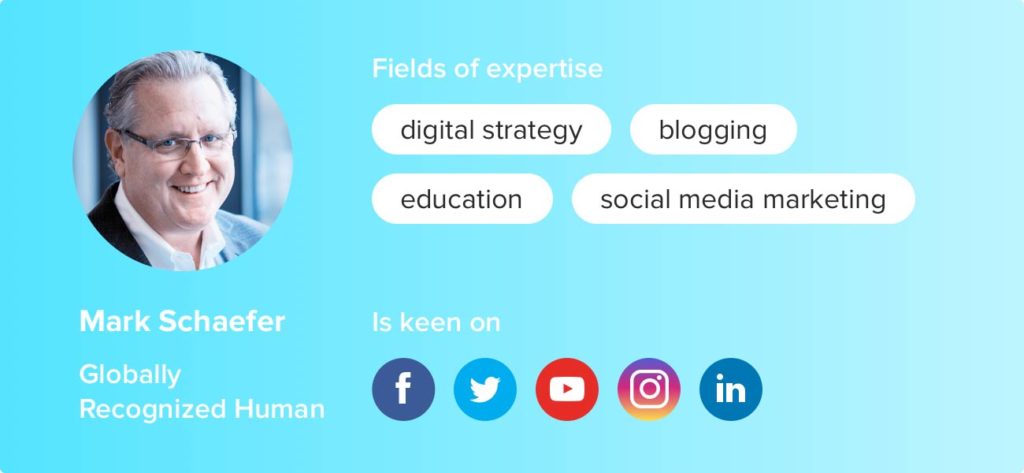 What They've Done:
Mark is a globally recognized digital strategist, keynote speaker, blogger, and educator. Marketing and social media workshops are his specialties. Mark is also the co-host of The Marketing Companion, one of the top 10 marketing podcasts on iTunes. In 2017, he was the seventh most mentioned person by CMOs on Twitter.
Why you should follow them:
He provides updates on the "world's most effective" social media marketing workshops, books, and speeches. If you follow him and subscribe to his blog, he'll give you content The Wall Street Journal, Wired, New York Times, TIME, BBC, CNN, NPR, and many more seek for. Mark is able to educate in fun, and high-energy way, instead of lecturing you to death. You can learn from him and use these tactics in your own company/with your own employees as well!
Ann Handley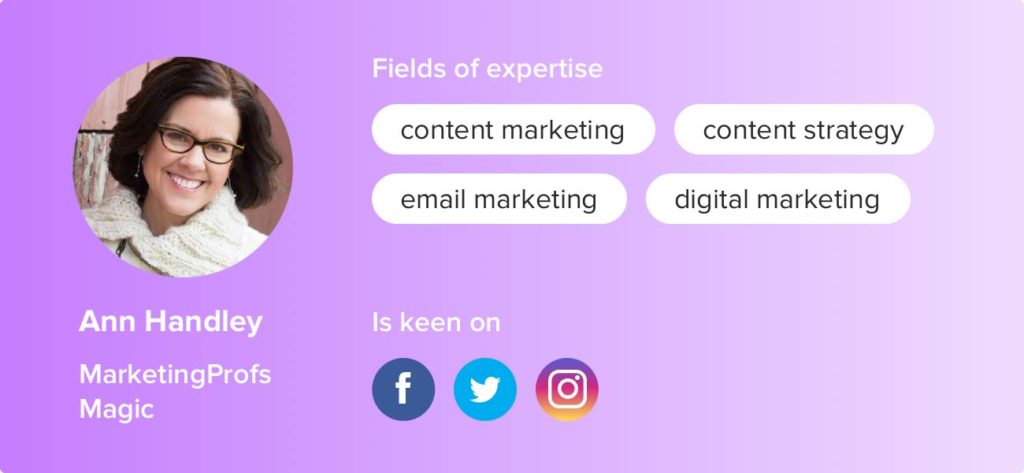 What They've Done:
Well known for her role at MarketingProfs, Ann Handley is a keynote speaker, a best-selling author, and will work marketing "magic" to ensure you get the results you need.
Why you should follow them:
Ann is a digital marketing "pioneer." She is the head of Content at MarketingProfs, which is a digital marketing blog stuffed full of juicy content ripe for the picking. If you're in dire need advice that can turn your business around, we suggest following her immediately.
Carmen Shirkey Collins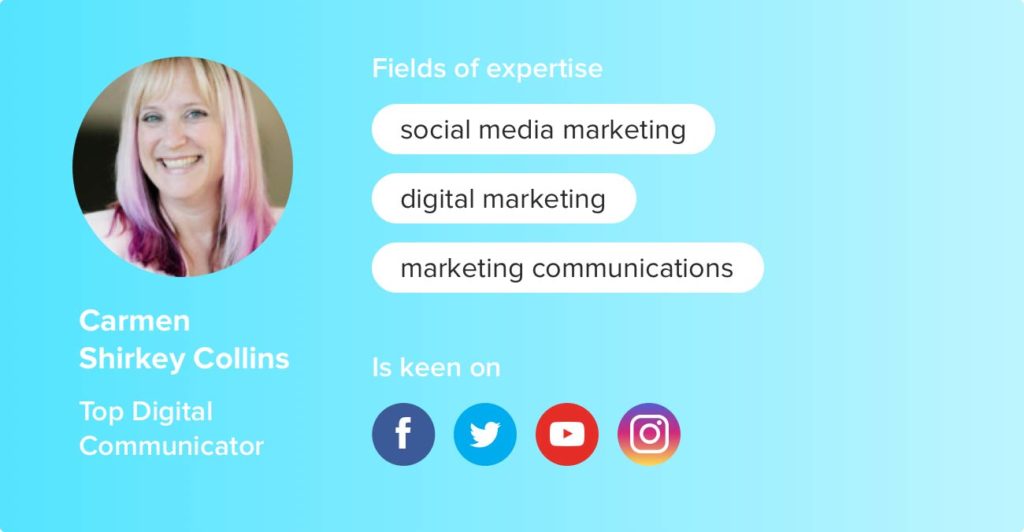 What They've Done:
Carmen is known for being named the 2017 Digital Communicator of the Year in 2017, and Social Media Professional of the Year in 2016. She has helped multiple Fortune 500 companies rise to the top with engaging content that entices audiences.
Why you should follow them:
Carmen is a social media lead for Cisco's award-winning talent brand. She manages the strategy and team building behind all the @WeAreCisco accounts, too. This gives her the ability to gauge what social audiences want to see, and what they need.
Michael Brenner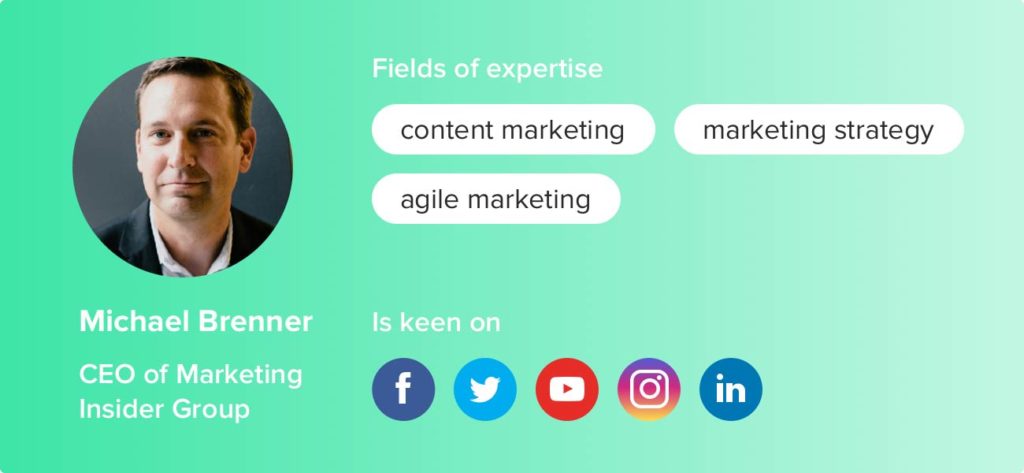 What They've Done:
Michael is the CEO of Marketing Insider Group and the author of the bestselling book, The Content Formula. Huffington Post has also commended him as one of the Top Business Speakers.
Why you should follow them:
As a keynote speaker, author, consultant, and a CMO, Michael Brenner is acutely aware of what works and what doesn't for marketing. In the past two decades, Michael has led sales and marketing for software companies like Nielsen and FullTilt. If you're looking for tech-solutions and SEO-specific content help, Michael is the one to follow.
Lee Odden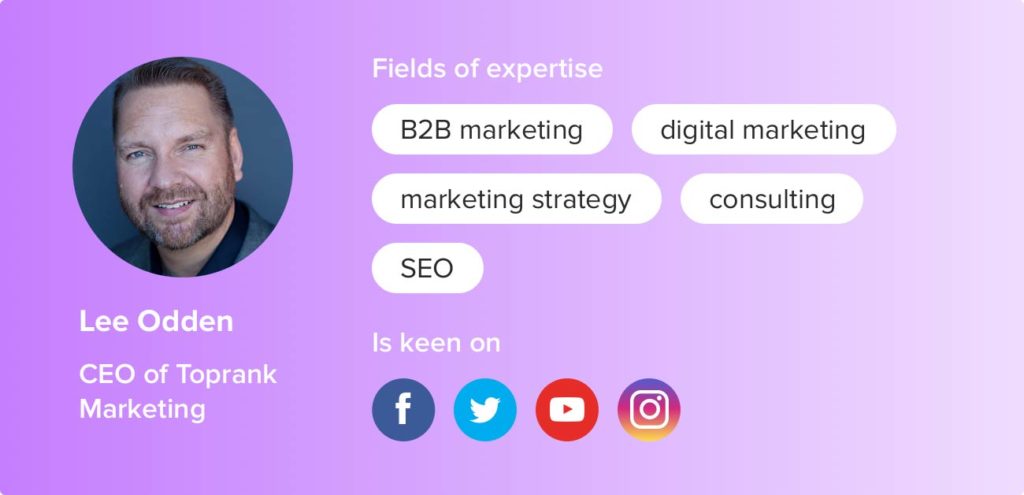 What They've Done:
Lee is the CEO of Toprank Marketing, a Minneapolis based digital marketing agency that specializes in strategic internet marketing consulting services, such as content marketing, SEO, etc. The Wall Street Journal, New York Times, The Economist, Fortune Magazine and many others have mentioned and trusted him for his advice.
Why you should follow them:
He contributes to the digital marketing and public relations industry via his Toprank Marketing Blog, Twitter, CMO.com, and mainstream social media profiles.
Larry Kim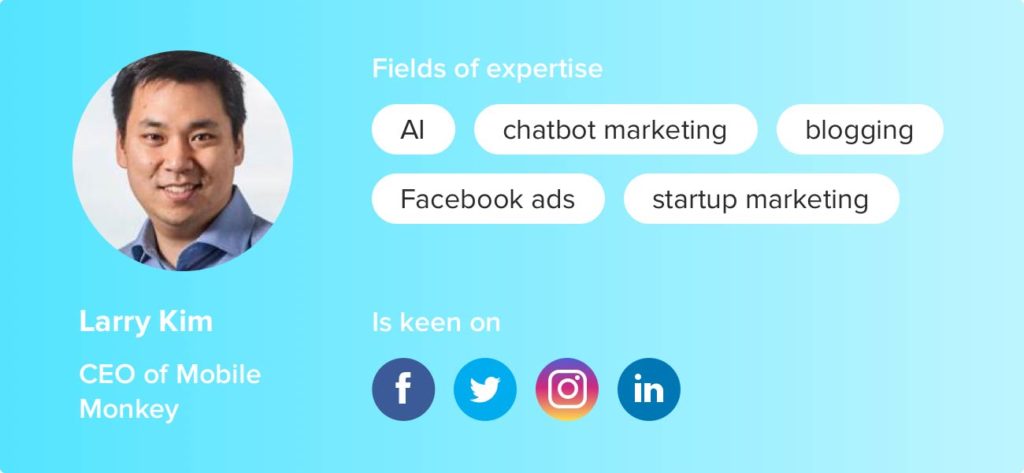 What They've Done:
He is the CEO of Mobile Monkey, an AI chatbot marketing service. He is also ranked #8 on the most popular author list on Medium. He contributes to CNBC and Inc Magazine as well.
Why you should follow them:
He aids his followers by tweeting and providing relevant tutorials about social media statistics. He also has vital interests in Facebook ads, entrepreneurship, and start-up companies.
Brian Kelley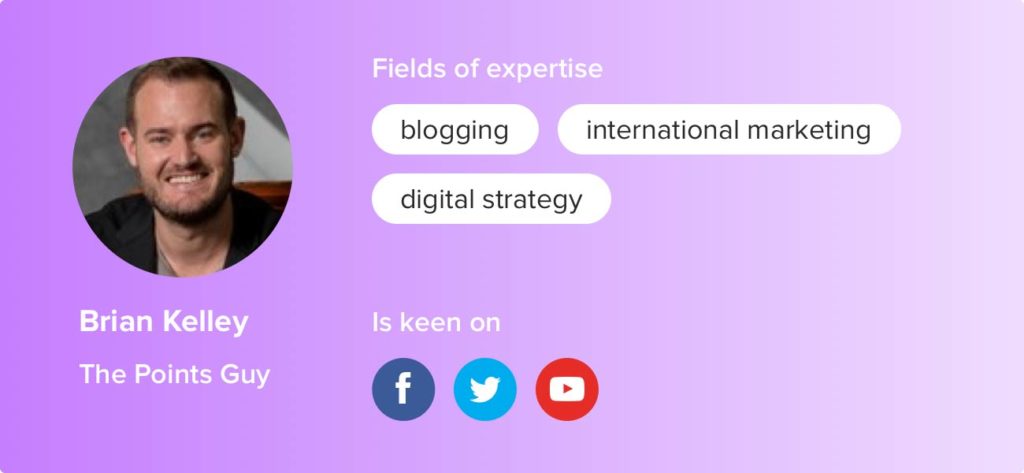 What They've Done:
He is the founder of the blog The Points Guy and is a mostly travel-related content marketer. Anything relating to flying high in the sky? Brian's your guy. He also sits on the board for Rainbow Railroad and is a global ambassador for PeaceJam.
Why you should follow them:
Not many content marketers or digital specialists are focused on air-travel or have a "keen sense of maximizing travel experiences while minimizing spending." His blog, The Points Guy, gets at least 6 million unique monthly visitors and he has more than 2.2 million followers on social media.
Brittany Berger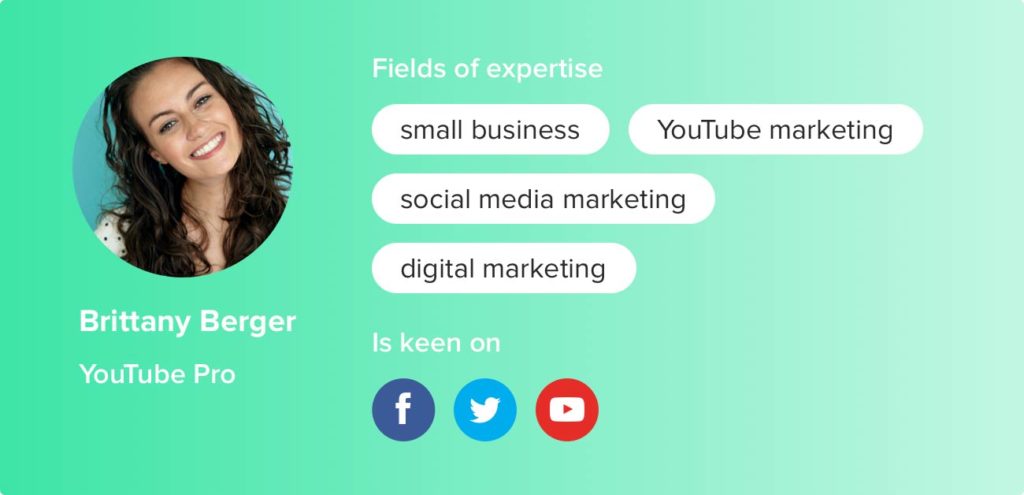 What They've Done:
Brittany Berger is a famous YouTuber who provides helpful content strategies for content creation and SEO. She hones in on small businesses and entrepreneurs especially.
Why you should follow them:
We think that Brittany is uniquely approaching content creation by providing video tutorials to her followers. Rather than tweeting a quote or posting a screen cap of analytics on Instagram, she uses a hands-on approach to teaching her clients the best possible tools and strategies that have worked for her personally.
Pam Moore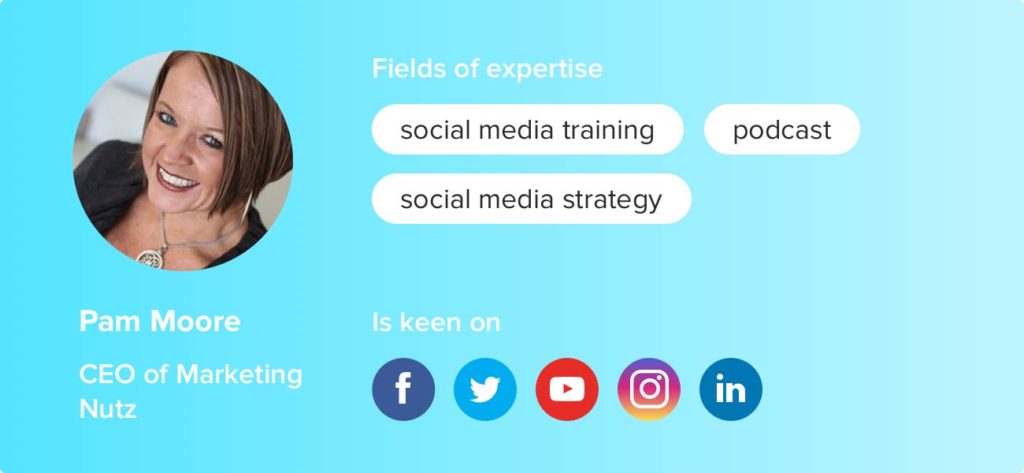 What They've Done:
Pam Moore is the CEO of Marketing Nutz, which has 1 million followers online. She provides social media training in her academy and engages people during her webinars by claiming her "half geek, half marketing, 100% social nut" tagline.
Why you should follow them:
Pam takes content marketing consulting and makes it fun. She ensures Fortune 50 brands develop the proper digital marketing and social media skills necessary for success. She often shares essential snippets of content from Inc. Magazine and Forbes, making her a desirable influencer to follow.
Ian Cleary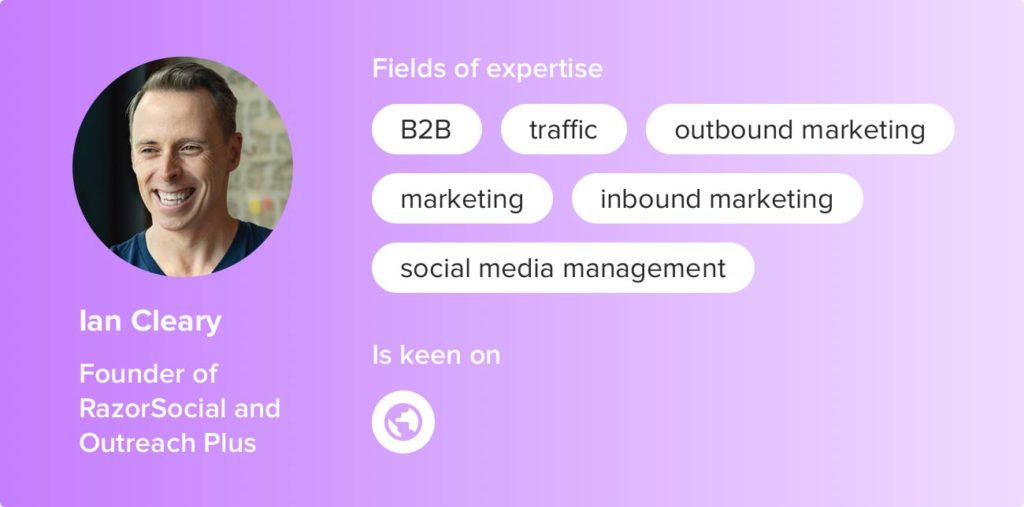 What They've Done:
Ian Clearly has founded RazorSocial and co-founded Outreach plus. RazorSocial "helps B2B businesses drive more traffic and sales through inbound and outbound marketing."
Why you should follow them:
Ian is clearly well versed in digital marketing and is a well-versed keynote speaker. If you're looking for inventive ways to market to your audience, Ian's company can significantly boost traffic.
Bernie Borges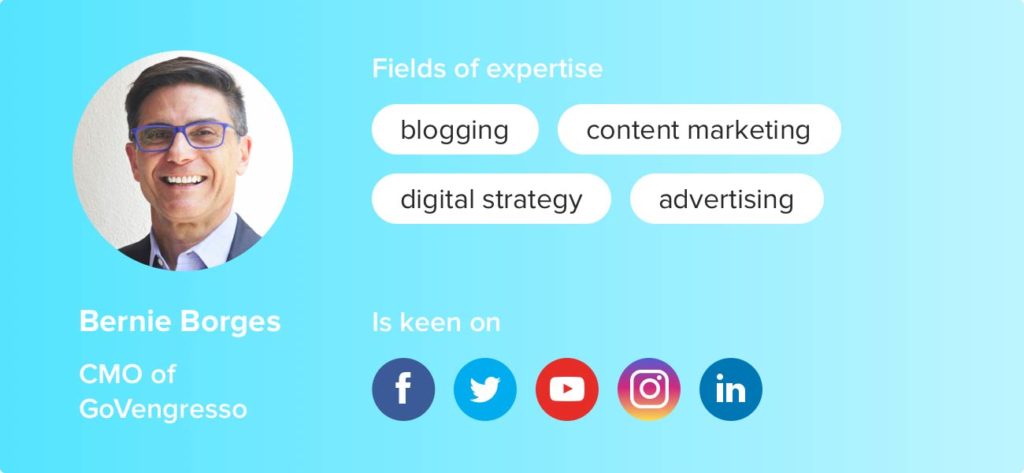 What They've Done:
CMO of GoVengreso, blogger, and renowned speaker. Specialist in digital sales and digital marketing, he is also on the advisory board of OneMob.
Why you should follow them:
If you've ever wondered how to use GoVengreso, or how to market popular blog content, Bernie posts all about that on his website and twitter feed. He also enjoys retweeting viral content, keeping you in the loop of what's trending among top influencers.
Park Howell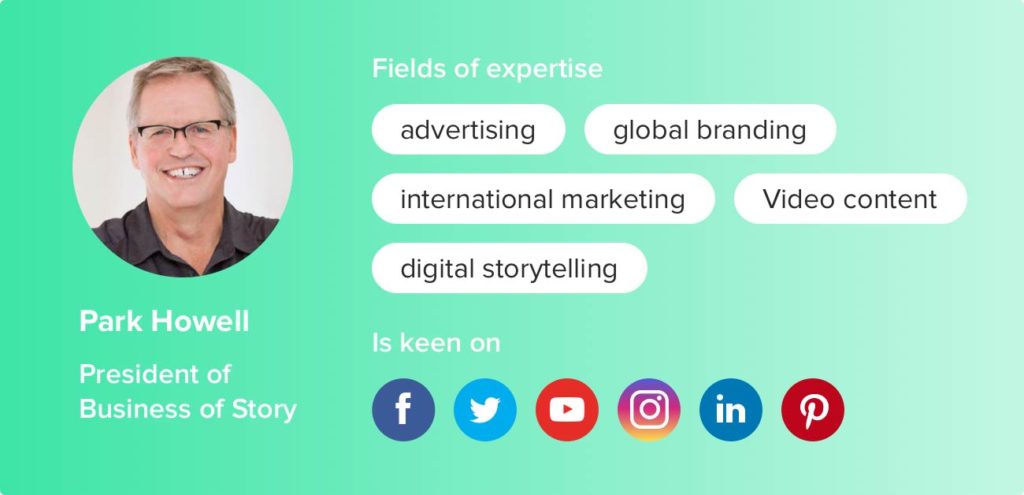 What They've Done:
He is the founder and president of Business of Story. He identifies as a Brand Story Strategist, and crafts global brands to live up to their most significant potential.
Why you should follow them:
His Twitter states that he "shares the applied science and bewitchery of the story to grow your purpose-driven brand." Following him ensures your understanding of how to market your story narrative and how to create it in the first place! A very useful influencer to follow.
Andrea Vahl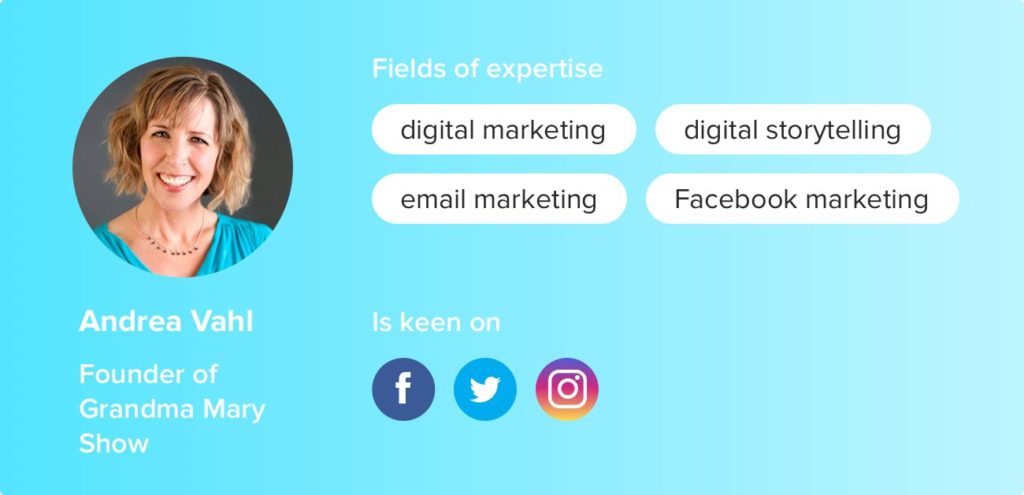 What They've Done:
She's the co-author of Facebook Marketing All-in-One for Dummies and the creator of Grandma Mary Show.
Why you should follow them:
If you're ever in need of innovative ways to promote your business on Facebook or other social media platforms Andrea Vahl's Twitter is full of helpful content she shares for free. She also discusses e-mail marketing quite a bit.
John Rampton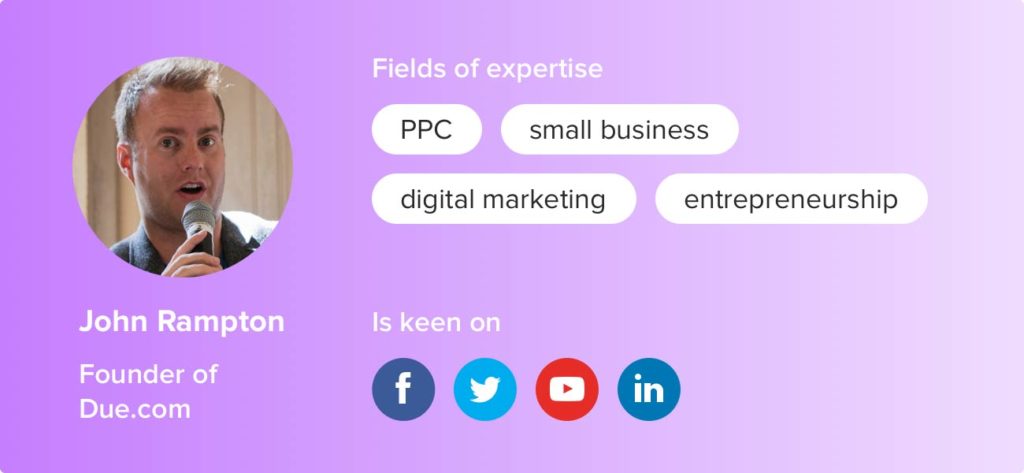 What They've Done:
Successful entrepreneur and founder of Due.com. He has been recognized as one of the 10 Most Influential PPC Experts in the World for 3 consecutive years.
Why you should follow them:
As a great connector, entrepreneur, and investor in the bay area of California, John Rampton is a "serial entrepreneur." When someone has a passion for building products and services that scale like John, you'll want to lean on him for small business advice. He is also consistently producing content Forbes finds valuable, and is ranked #2 on the Top 50 Online Influencers in the World by Entrepreneur Magazine.
Lisa Sicard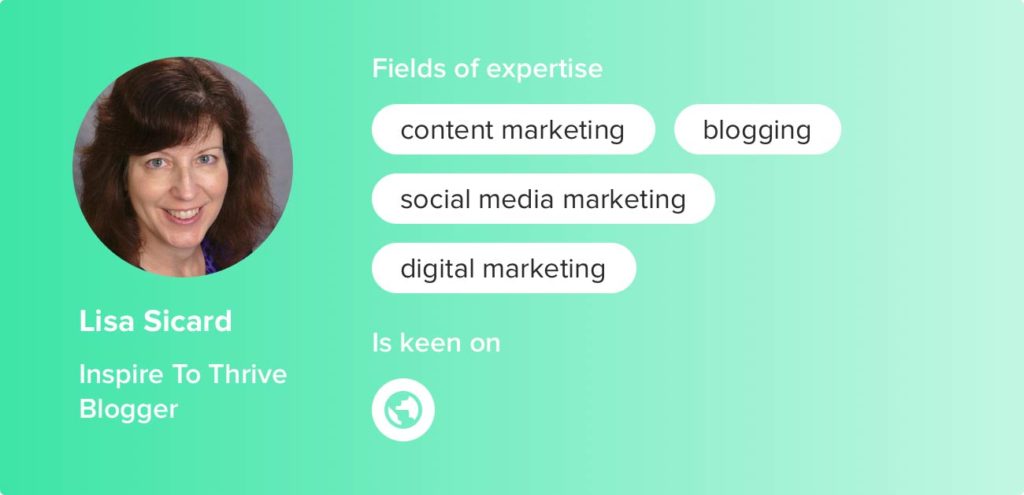 What They've Done:
Lisa runs a blog called Inspire to Thrive. She has also recently been awarded a place on the Top 10 Twitter Influencers.
Why you should follow them:
Her blog is where she discusses the latest trends in social media and provides her tips on how to promote businesses online based on experiences. If you follow her, you will be updated immediately on blog posts, her thoughts, and what she believes to be crucial tips and integral parts of a working business framework.
John Hall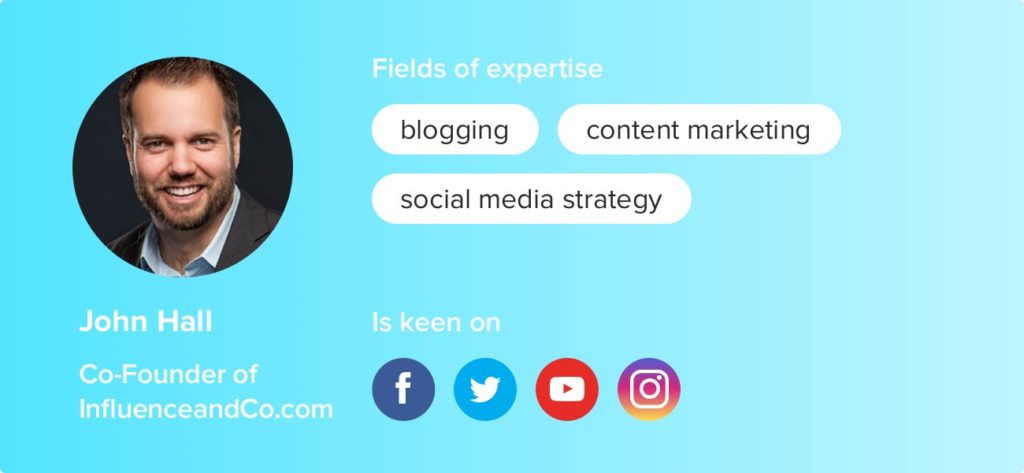 What They've Done:
He is content & digital marketing specialist. He has co-founded influenceandco.com and provides weekly blurbs on Forbes & Inc.com.
Why you should follow them:
He follows trending hashtags and retweets them, so you're always in the know of what he wants to discuss and finds prudent to mention on all social channels. He also updates his blog posts quite often and uses Twitter as a way to update his followers. Whenever John Hall is at a conference, he will summarize his most favored and notable highlights and publish them on all social media channels.
Sue Anne Dunlevie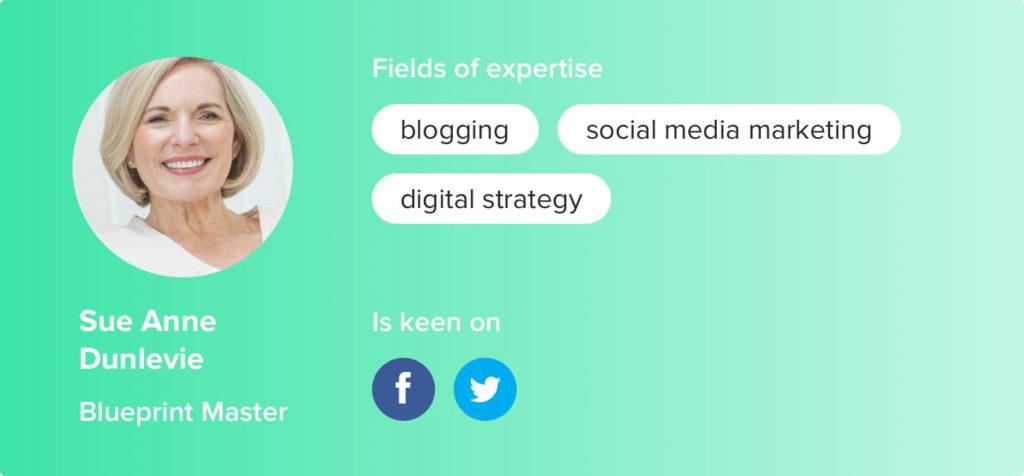 What They've Done:
Sue Anne Dunlevie is known for her free "5 Step Blueprint to Your First $1K Blogging" formula she provides on her website called Successful Blogging.
Why you should follow them:
As a leading social media & digital marketing strategist, she teaches new bloggers how to cultivate a following and rack up some profit and revenue at the same time.
Joe Pulizzi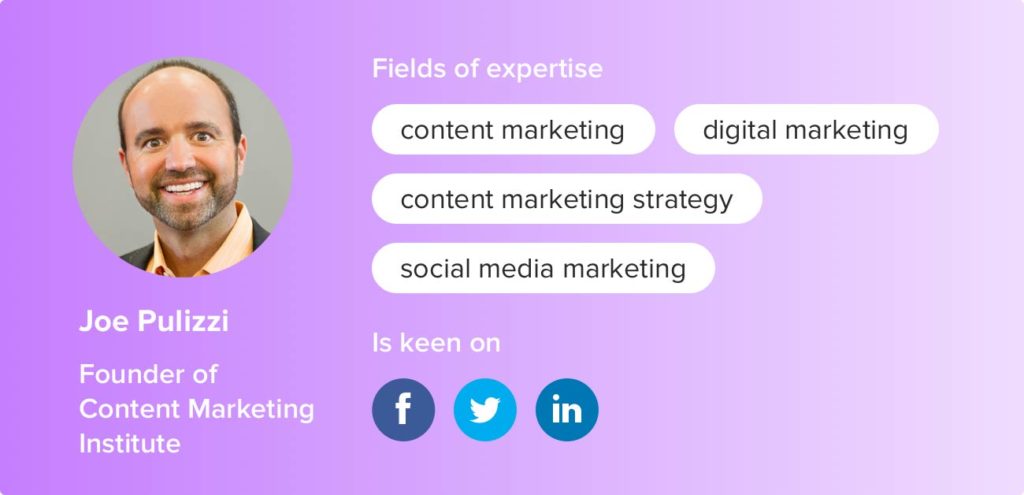 What They've Done:
Joe Pulizzi is the founder of the Content Marketing Institute. He is also a core leader behind the marketing movement and a winner of the 2014 John Caldwell Lifetime Achievement Award via the Content Council.
Why you should follow them:
Joe regularly offers advice to organizations such as HP, AT&T, Petco, LinkedIn, and so much more. He gives most of the followers of his blog, website, and twitter this advice, too. He aims to help and engage you with every post he makes.
Jasmine Star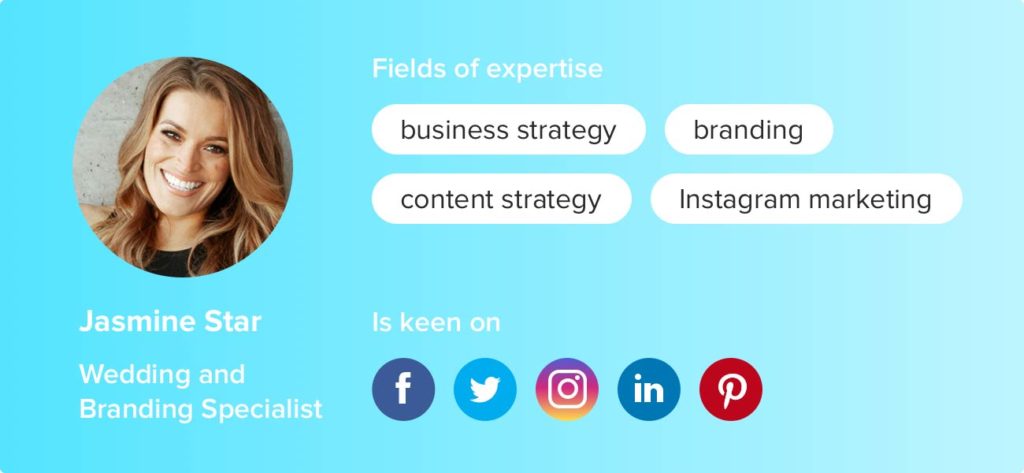 What They've Done:
Jasmine Star is a branding and marketing strategist for entrepreneurs looking to expand outside of the box. With her background as a wedding photographer and a business strategist, starting from scratch gave her the tools necessary to bloom into who she is now.
Why you should follow them:
Jasmine Star appeals to many because of her background. She too dropped everything she was "supposed" to do to pursue her dreams. Through trial and error coupled with heartbreak and loss, she transformed her story into one of success. She became one of the top 10 Wedding Photographers in the world and published multiples of her content in prestigious magazines. She can help you grow your business into your dream career!
Gary Vaynerchuk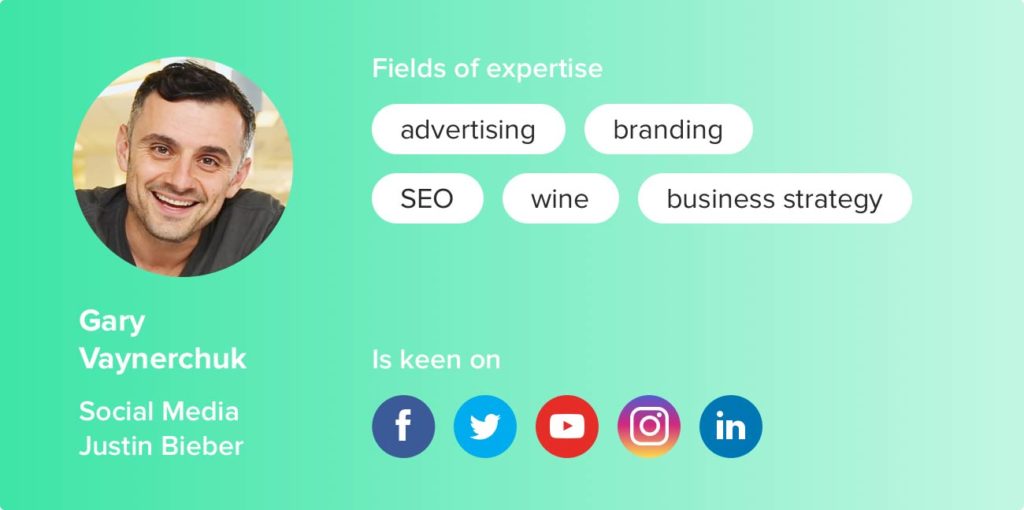 What They've Done:
He started out as a wine critic who grew his family's business to 3 to 60 million dollars. Gary Vaynerchuk is the chairman of VaynerX, which is a communications company. He is also the CEO of VaynerMedia, which is an advertising agency. They handle Fortune 100 clients across the company's 4 core locations. Gary was also an early investor in Facebook, Twitter, Tumblr, Venmo, and Uber. He has an eye for successful companies, is talked about often in DailyVee (an online documentary series about CEOs), and is on multiple boards, such as Pencils of Promise, Charity: Water, and Ad Council.
Why you should follow them:
Aside from having an impressive laundry list of accomplishments, seats at boards, and multiple keynote speaker opportunities, Gary is a social media, content marketing, digital-everything guru. He built an empire out of nothing, and his background in immigrating to America touches many other "American Dreamers."
Ann Smarty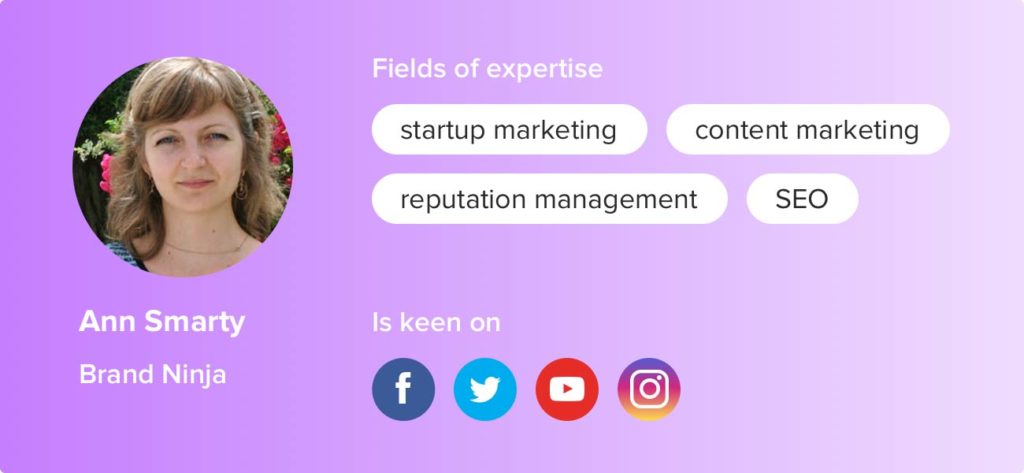 What They've Done:
She is a brand "NINJA" at Internet Marketing Ninjas, and the founder of many startups, such as MyBlogU, and ViralContentBee. She runs excellent courses such as reputation management, viral content buzz course, and Google advanced search (her most popular one.) Check out her website for more.
Why you should follow them:
She has over 10 years of online marketing consultant experience. Her ideas and content have been featured in many big-name blogs, such as Mashable, Entrepreneur, Search Engine Land, and NYTimes. She is a reputable and consistent source of engaging content, so if you lack in that department, we suggest that you follow her immediately!
She's written two blogs on our website on video marketing. They cover how to turn text into marketable videos and how to sell them. You can check them out here and here.
Tabitha Naylor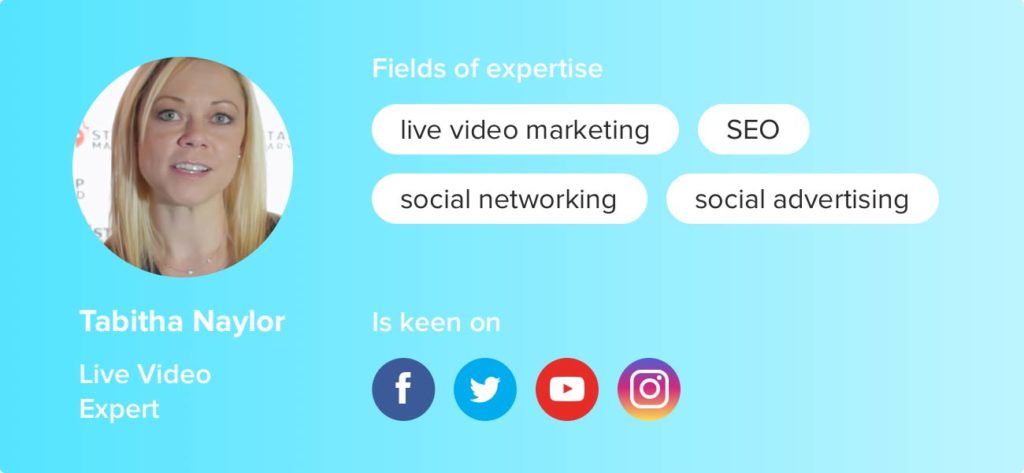 What They've Done:
Tabitha is yet another highly qualified professional. She has in-depth and technical knowledge of SEO, as well as advanced social networking certificates. 
Why you should follow them:
Tabitha is engrossed in the marketing and sales world. Tabitha spent most of her younger years analyzing and assessing advertisements, propelling her into International Business during her undergraduate education at West Virginia University.
Tabitha has written an excellent article on our blog, too! It covers the art of building relationships with live videos for small businesses.
Viveka Von Rosen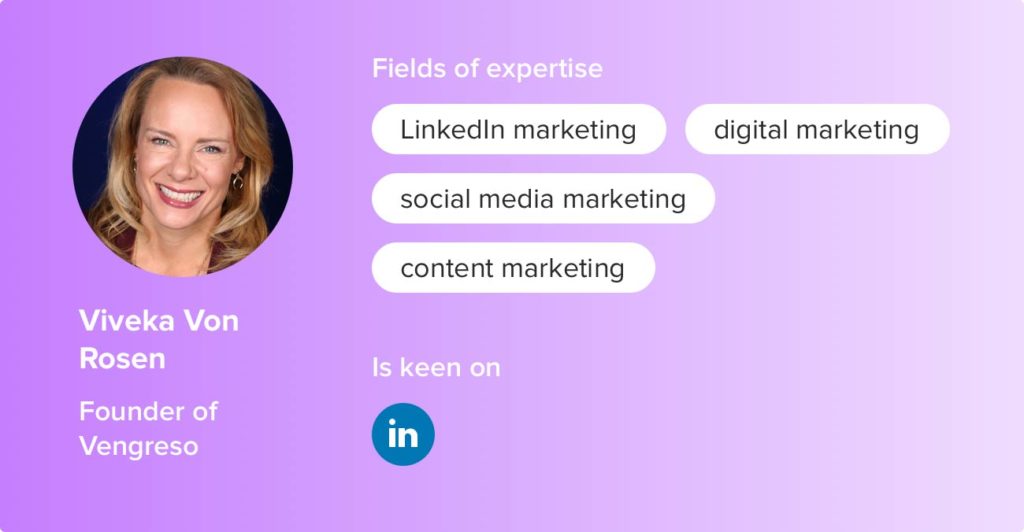 What They've Done:
Viveka is the co-founder of Vengreso and is a LinkedIn expert. She also hosts the most massive LinkedIn chat on Twitter, which includes the hashtag #LinkedInChat. Marketing Consultants, Social Media Specialists, and Content Marketers around the world look up to Viveka for advice, and you should, as well.
Why you should follow them:
Viveka is the LinkedIn expert! She teaches "8 Deadly LinkedIn Mistakes" often when on the podium at Forbes, CNN, HuffPost, Ragan, New York Times & so much more. To follow her is to get first-hand insight into what it's like to be a world-class marketer.
She's also written for us, explaining eight strategies that will help you elevate your marketing.
Chris Savage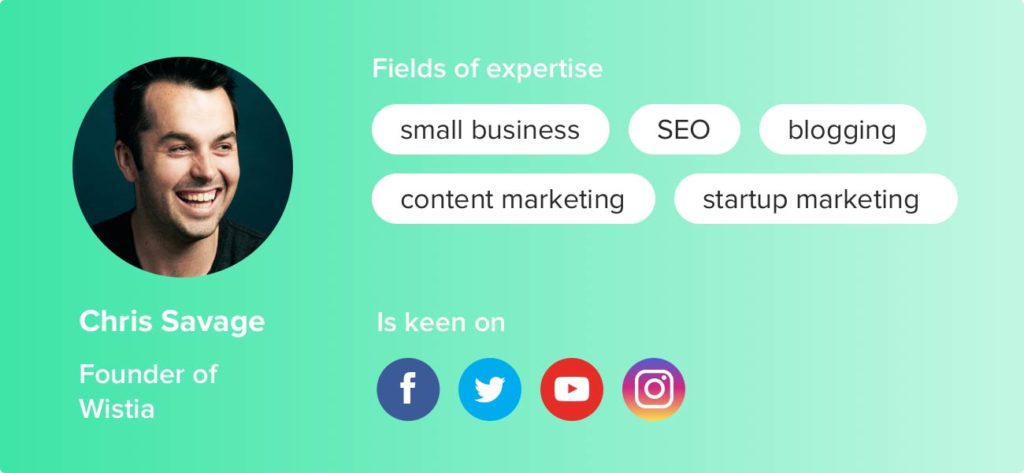 What They've Done:
Have you heard of Wistia? If you have, Chris is to blame. He is the co-founder and CEO of Wistia, a web-based video hosting platform for businesses. Wistia has seen 100% growth under Chris's tutelage, and spread to over 50 countries and has garnered 110,000 users.  
Why you should follow them:
Chris has so much to teach and has a deep well of knowledge when it comes to small businesses, aesthetics, marketing, and SEO knowledge. We're fond of his quote, "Social Media is a Sandbox." If you'd like to learn more from him, check out this blog he wrote for us here!
Andy Crestodina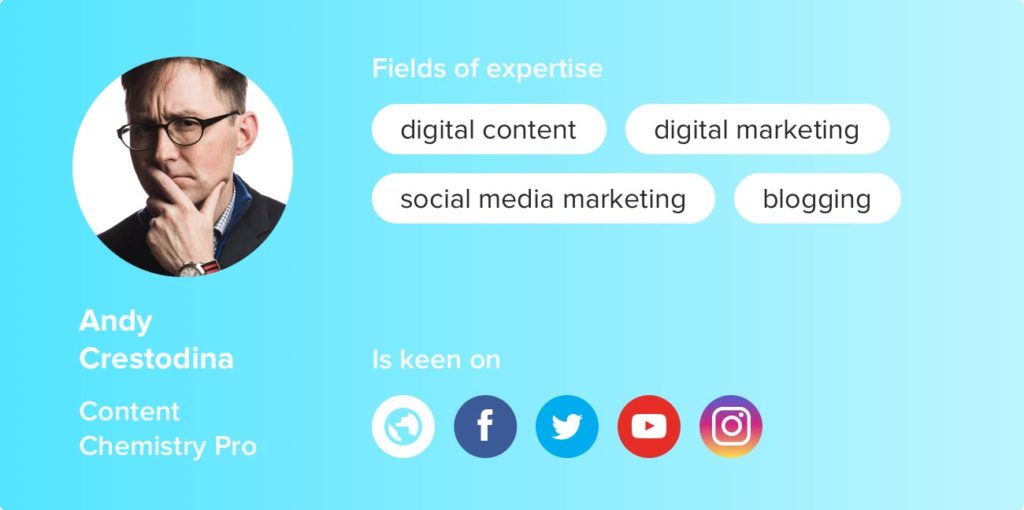 What They've Done:
Andy Crestodina has been swimming in the deep pool of digital media, digital design and content marketing since 2000. He works with Orbit Media to provide hundreds of articles that cover a variety of topics, including his book Content Chemistry.
Why you should follow them:
Andy adores helping businesses, and he helped us define "solid social media videos" in 9 steps. Andy is a well-known content marketer in the Chicago scene since he's a member of the Illinois Technology Association and the Economic Club of Chicago. Even if you're not in the Chicago area, you should follow Andy for mentorship and true, heartfelt advice on all things social media, content marketing, and digital design.
Jenn Herman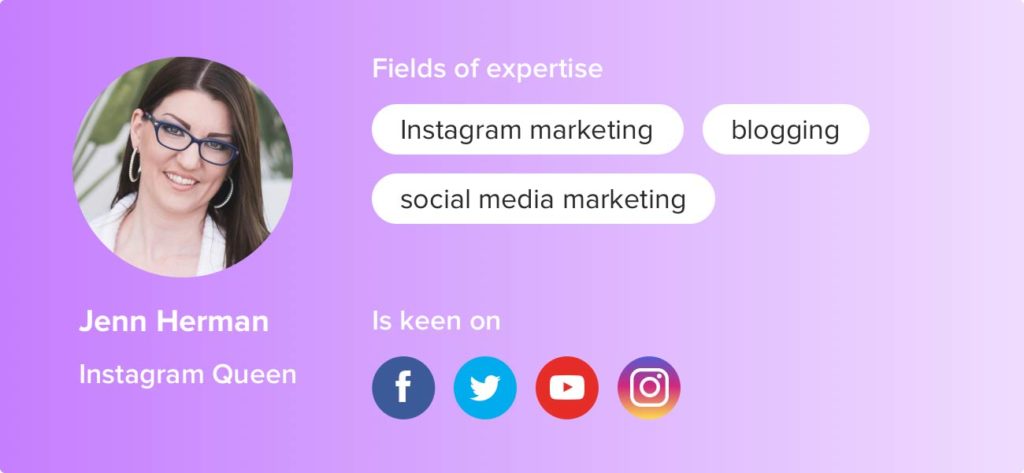 What They've Done:
Jenn is the Instagram Queen, as she's spoken at multiple social media conferences on trends, social media contests, applying said techniques, following through on your posts, and tons of useful how-to blogs. She has won prestigious awards because of her blog, "Jenn's Trends," such as being on the Top 10 Social Media Blogs three years in a row: 2014, 2015, and 2016.
Why you should follow them:
Jenn's content is refreshing, useful, and always engaging. This is why she has such success on Instagram. She collaborated with us to help our audiences create compelling videos on Instagram. She has sound advice on Twitter, her website, and Instagram. You can find her mixing her content with quality tips and tricks combined with adorable photos of her daughter to ensure you stay motivated. Jenn proves that you can be a very successful businesswoman and a fantastic parent at the same time.
This concludes our list of influencers, and we hope you found them as inspirational as we do! If you think we've overlooked someone, or wish to add someone to the list, please leave a comment below.