How to Sell Your Videos: Monetize Your Video Creation Efforts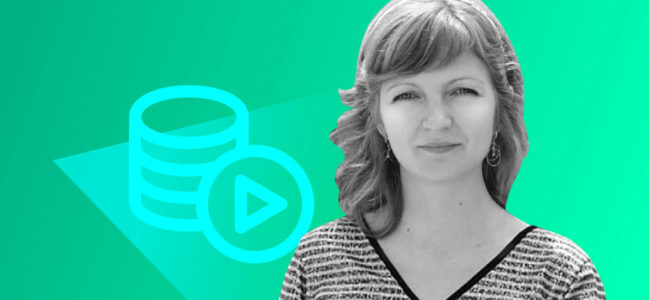 Have you been creating content but you aren't having any luck with income, in spite of seemingly huge earning potential? Are you confused about how people are making money from their videos when your account remains stubbornly empty? You wouldn't be alone in that.
Selling videos is less about doing the selling part and more about sticking with it and knowing the general idea behind it.
Everyday people post videos and never see a cent come out of it… which is fine if money isn't the objective, but frustrating if you had been hoping to eventually make a living this way. How can you change that and do better?
Selling videos is less about doing the selling part and more about sticking with it and knowing the general idea behind it. So if you are trying to start selling your videos, here is some information you should know.
Create Content Worth Selling
It is incredible how many people will make horrible, low-quality content, slap it onto a platform and then cry about it not making money.
You may think that being a famous vlogger is a lot of fun and I am sure it is. It is also a huge amount of work and takes the majority of the day working to complete tasks even before hitting it big.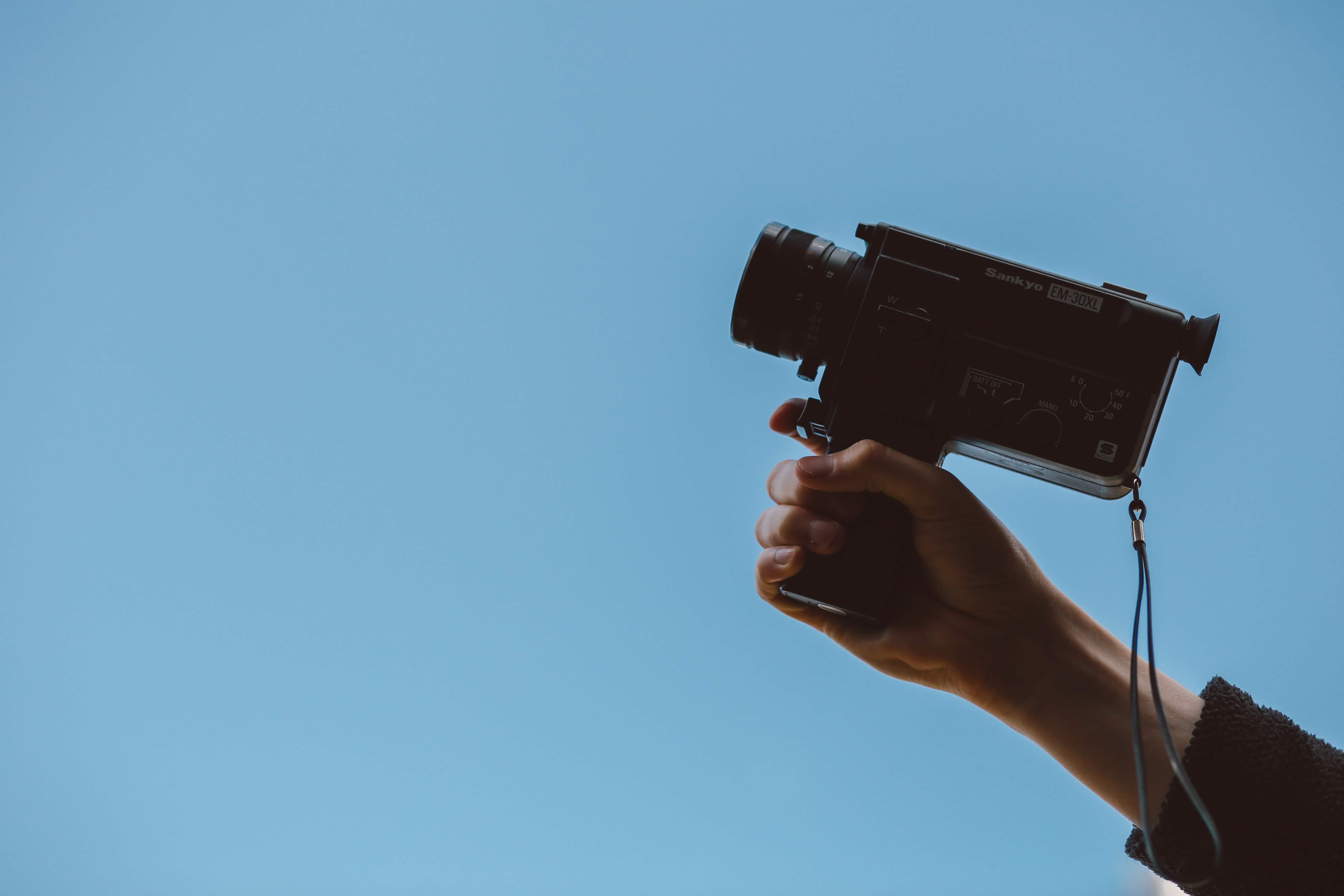 To all the content creators out there – you have to bring your A-game and be prepared to really put the work into making something worth selling.
Local Adventurer posted about their daily schedule when creating content for their YouTube videos. They start around 9:30 AM and finish around midnight… seriously. This is a common trend among content creators and it shows one thing: you have to bring your A-game and be prepared to really put the work into making something worth selling.
This means two things:
You need to get prepared to work hard

(especially if you hope to turn your video creation efforts into the major source of income)

You need to get prepared to work for free for many months and find the ways to motivate yourself

. Many video creators give up before they see any results. You need to find your own way to keep yourself moving forward. Any income building strategy requires a lot of time. Video selling is no exception.
Choose the Most Marketable Content Style
It is assumed that if you are looking to sell videos, you should already have some experience in video making. But no matter what your experience is, selling is the next step: So re-consider what you've been doing so far and what you need to be doing in the future.
What is it you want to make and how should you be presenting it? This can be tougher than it looks because presentation is everything and yet one of the hardest things to nail down.
Sure, doing a Let's Play might seem like the best way to present your review of a game. But is it possible to put in that much work to record each episode? How much time and effort is going to be balanced versus the reward? Once it is out, will you be able to compete with the huge market of people already doing it? What can you bring to the table?
In that example, you might find that it makes more sense to make short, five-minute taking reviews with edited in clips instead. Sure, others do the same thing but you are basing it around your opinion, not gameplay.
You can apply that concept to any style of video. Look at all angles before settling in on a style, because some genres just won't be sellable in an oversaturated or low demand market.
A few types to consider include:
Interviews

Screencasts

Explainer videos

Video animations, etc.
Pro tip: The latter two you can put together using tools like Animatron Studio: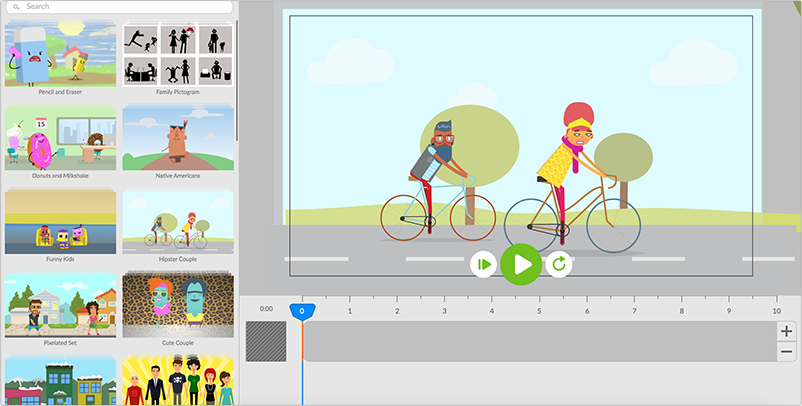 Double-Check Your Copyrights
When you create videos for pleasure to share on your personal feeds and have fun, you may not worry too much about the content you are using inside your videos. When you start selling, you are running into risks of getting noticed and making money off stolen content.
Selling means turning your video creation into a business, so treat it like one. Make sure you have the legal right to sell them.
You have to be able to show you own all commercial rights to content. You need to be advertiser-friendly. Whichever platform you end up using, your videos are meeting all the requirements and terms of service. If you have a video, say, with music from a copyrighted source, it might lose monetization value.
For your convenience, here are a few resources that will help you evaluate your content:
Take All Platforms Into Account
YouTube for Branding
Obviously, most people go to YouTube to stream their content. This platform has its own unique payment structure through Google and the best part is, it is free to use. Plus it incorporates AdSense directly onto the videos, giving you secondary means of monetization. But there are two major downsides to focusing on YouTube for video-selling:
It is the biggest market and easy to get lost in the crowd.

Their partnership program (that is required to monetize videos) is

next to impossible

to join.
On January 16, 2018, they announced new eligibility requirements for the YouTube Partner Program. Once a channel reaches 4,000 watch hours in the previous 12 months and 1,000 subscribers it will be reviewed to join the program.
That being said, being on YouTube is important for branding purposes. It's hard to imagine a video selling brand without YouTube presence: Facts.zone claims that every minute, more than 100 hours of video are uploaded to YouTube. Online video and YouTube are almost synonymous. So it's not really the matter of choice.
VOD Platforms (Uscreen and Udemy) for Selling
Uscreen
Do you want to make your own video-on-demand platform, branded app, and streaming service? That is what Uscreen is for. VOD is a growing business model for both entertainment and educational purposes.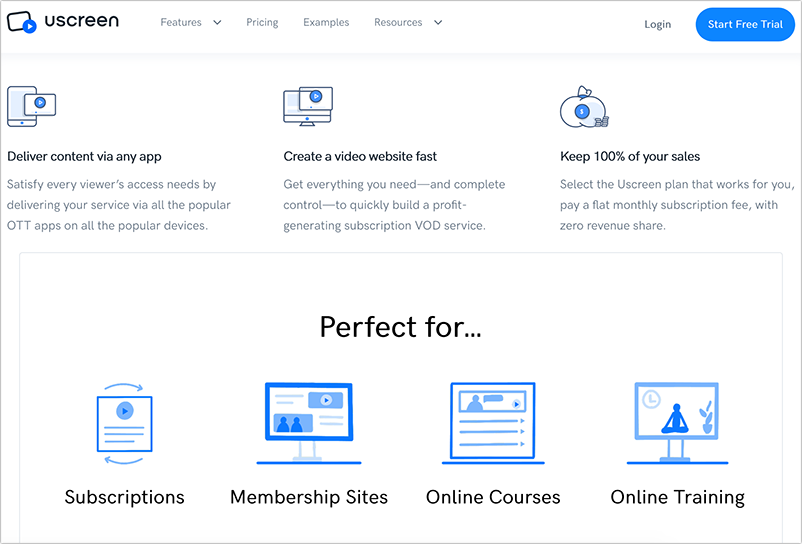 If you want to make one and capitalize on the trend, Uscreen is an affordable and easy way to do it. They start at only $199 per month.
A higher-level tier comes with branded apps that will give your students freedom to access your brand from their favorite device. The platform claims that their users see an increase by over 30% when they include OTT apps to their video selling efforts.
Uscreen gives you full freedom when it comes to how and how much you want to charge your students. It will not take any percentage of your earnings, so it's very predictable and easy to use partner for your video selling purposes.
Udemy
Unlike Uscreen, Udemy focuses only on educational videos and it takes a certain percentage of each of your sales (I don't think anyone knows how much exactly really, yes, the platform lacks transparency). On the plus side, it is free to join and start selling videos.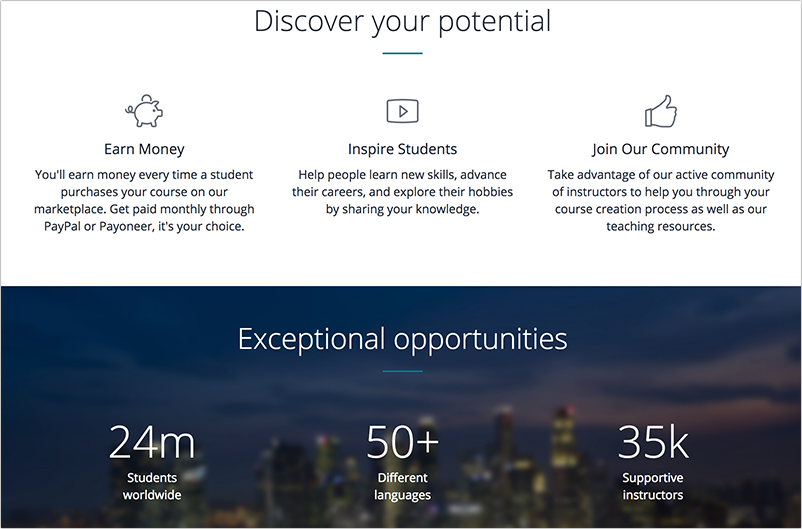 There are a lot of educational video services out there but Udemy is probably the best known one. It is easy to use and customize your content, share it and create full classes around your webinars.
You will not be able to get rid of Udemy branding or decide for yourself how much your video course really costs.
With all the above in mind, Udemy is a good fit if you are heavily into how-to content.
Amazon and iTunes for Taking it One Step Further
Amazon has two different ways to put your content online. One is Direct Video which is a streaming service through Amazon hosting. The second is by creating DVDs through their creation service and selling physical copies. You can do both. Think of it as their ebook publishing platform for videos.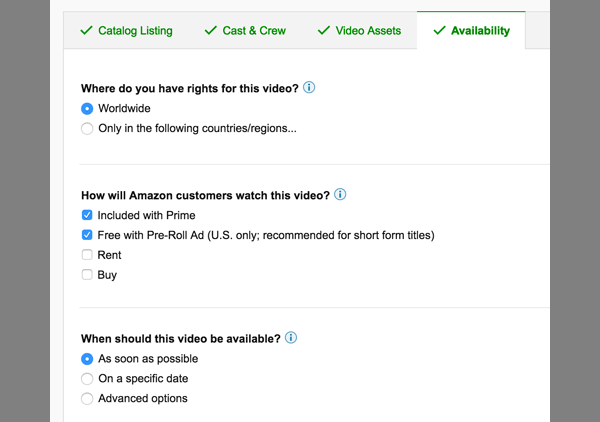 Of course iTunes is gonna be on this list. I am a little iffy on this platform myself, given the proprietary nature of Apple itself. Plus, there are a lot of rules to follow for publishing here and it is so heavily branded that you are kind of limiting your audience to Apple fans. But it works for many people who publish there every day.
More options to try:
You can use sites like

Fiverr

to sell your videos, but these are hard to turn into a steady source of income. It's more like selling your services than videos

Here are

a few other platforms for selling digital content

, including videos. I lack experience in most of them but it's worth checking if any of those look like something that may open up more marketing channels and opportunities for you.
Be Patient!
This will take time, so be patient! Many content creators report it taking anywhere from six months to a year before their videos start to make money. Keep creating, keep finding ways to improve and don't give up.
Do you have a tip to put on this list? Do you know a good platform for selling videos? Let us know in the comments!
About the author: Ann Smarty is the Brand and Community manager at InternetMarketingNinjas.com as well as the founder of Viral Content Bee. Ann has been into Internet Marketing for over a decade, she is the former Editor-in-Chief of Search Engine Journal and contributor to prominent search and social blogs including Small Biz Trends and Mashable.
Ann is also the frequent speaker at Pubcon and the host of a weekly Twitter chat #vcbuzz.