How To Craft A Video-First Content Strategy. Webinar with Salma Jafri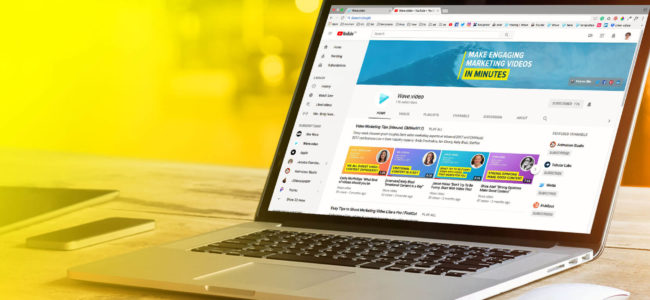 People love watching videos.
Business owners know it, marketers know it, you know it. It's unreasonable to refrain from creating the content that will attract and captivate your audience. Video is definitely THAT kind of content.
But how to elaborate a video content strategy that will work for your brand? How to engage, entertain, and educate your audience at the same time?
We partnered up with a video content strategist Salma Jafri to shed light on this topic in the first part of our webinar series: "How to Craft a Video-First Content Strategy".
How to Craft a Video-First Content Strategy with Salma Jafri
In this webinar hosted by the YouTube expert Salma Jafri, you will learn how to repurpose your videos into many different forms of content.
It's 2018: Video is the New Blogging
Can we relate video to how we used to talk about blogging 5, 10 years ago?
According to Vidyard study, businesses create 18 new videos per month, on average. That means companies, brands, and entrepreneurs create videos the way they used to create blogs.
Why is it happening? Let's look at some stats from Cisco:
Video will represent 80% of all Internet traffic by 2021;
There will be nearly 1.9 billion Internet video users by 2021;
Users will be watching 3 trillion minutes of video per month by 2021.
These numbers are truly impressive. But how do they apply to your business right now, in 2018? According to Salma, there are 3 main video trends to note for 2018:
Trend 1: Search-friendly
A study conducted by Shareaholic showed that starting from 2017, search engines retook the lead from social networks in bringing site visitors.
The key takeaway from this study is that search will be the largest and most efficient traffic driver in 2018. Therefore, it is critical for businesses to make their videos search-optimized in the first place.
Trend 2: Platform-agnostic
Social networks have different limitations and recommendations for video content, which means that you should create format- and length-specific videos for every platform. It is also important to acknowledge the platforms your audience uses the most and to focus on these platforms when promoting video content. 
Trend 3: Algorithm Preferential
Buffer study showed that out of different types of Facebook posts (photos, videos, links, text) video got the most engagement from users in 2016. In a more recent study, Socialbakers stated that Live Videos are getting the most organic reach.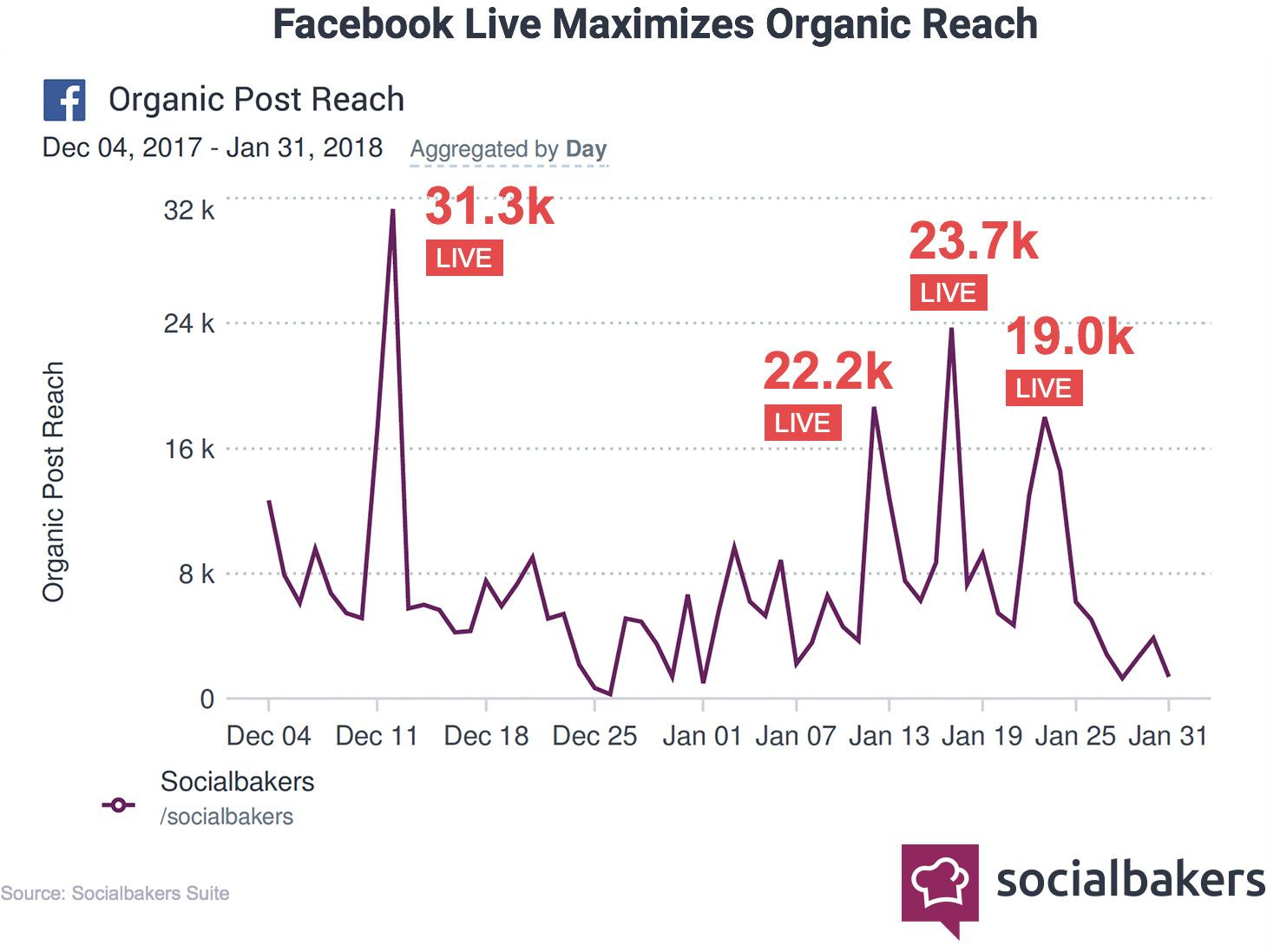 These stats are revealing that platforms' algorithms prefer video over other content and rank it higher.
How Other Forms of Communication are Derivative from Video
By starting with video, you give yourself multiple media-rich formats to work with: audio, images, text, gifs, memes, and more. As video is a very flexible type of content, it helps you reach more platforms, more formats, and more audiences.
Pro tip: in Wave.video, it only takes a few clicks to convert your video into 30+ most popular formats, including Instagram Stories, Facebook сover, Youtube bumper ads, and more.
Salma supposes that the key to a successful marketing campaign is to create regular, programmable video content that offers economies of scale across platforms and formats – and that becomes achievable when you have a strong core strategy behind your videos.
H3 (Help-Hub-Hero) Video Content Framework
H3 (Help-Hub-Hero) framework is a powerful way of segmenting marketing content, which can raise the effectiveness of your video content strategy dramatically. According to this model, content should be structured into three types:
Help content – always-on "pull" content designed for your core target;
Hub content – episodic, regularly scheduled "push" content designed for your prime prospect;
Hero content – large-scale, tent-pole events or "go big" moments designed to raise brand awareness.
H3 framework can be illustrated as a pyramid where Help content is placed at the bottom, and Hero content is at the top: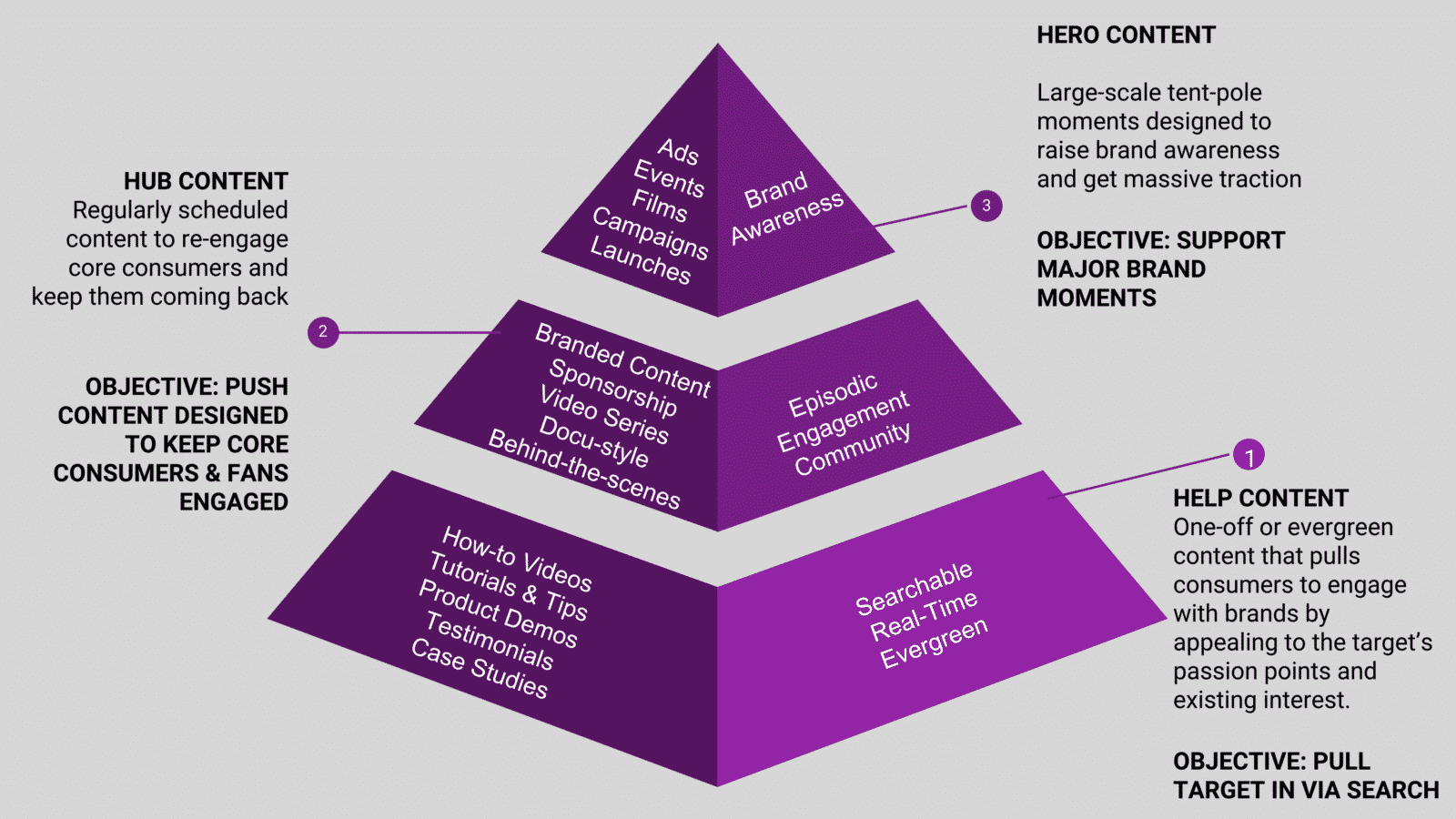 H3 Framework in Action
Help content
Where to start with creating Help content for your business? Salma has a great tip for you: use a tool like AnswerThePublic to investigate your main keywords and discover what kind of information your potential target market is searching for. Based on the results, you can come up with the most relevant and easily searchable Help content for your audience.
Here's an example of Help video content that was created by banking company Halifax in order to simplify banking jargon and to educate their target audience:
Hub content
When creating Hub content, ask yourself:
What's different and unique about our brand?
What's truly ownable for our brand?
What right does our brand have to play (and win) in this content space vs. our competition?
The answers can possibly be the next topics for your Hub content!
Take a look at the series of behind-the-scenes videos posted by Social Media Examiner in order to demonstrate to their audience (which is mostly marketers) challenges they face and to promote their upcoming marketing conference.
Two Minute Tuesday video series created by the photographer Peter McKinnon and Whiteboard Friday by Moz are other brilliant examples of Hub content. Since their video content is relevant and engaging, subscribers keep coming back to watch it on a regular basis.
Hero content
The sweet spot of Hero content is at the intersection of these two questions: What does my brand stand for? and What does my audience care about?
Check out this example of a Hero video from Dove:
Dove took their brand statement, focused on what their audience cares about, and transformed into this beautiful video. They got 68 million views on YouTube as a result – impressive, isn't it?
What happens when you create all 3 (Help, Hub, Hero)?
Brands that create all three types of content within this framework, kill THREE birds with one stone – they educate, entertain, and inspire their existing and potential audience. For instance, that's exactly what Tesco marketers are aiming for with their videos.
Tesco Help content:
Tesco Hub content:
Tesco Hero content:
Combining three types of video content in your online marketing strategy is a great idea. But it's essential to decide which platform suits best for every type of content when you create all three. This table will help you out: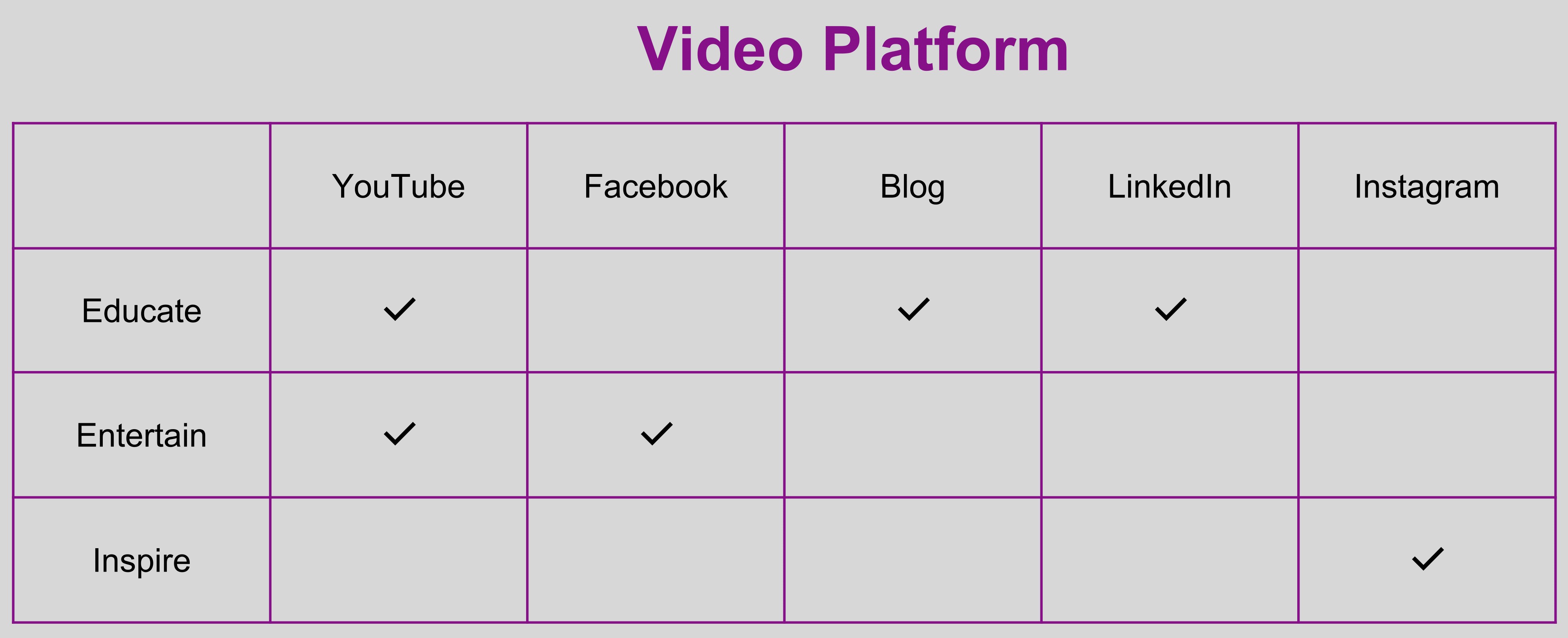 Recap
Let's summarize key takeaways from the webinar with Salma Jafri.
In order to develop a successful video marketing campaign in 2018, you should create videos that are:
Optimized for search
Platform-agnostic
Specific to each platform you intend to be on
You should define your brand's content framework:
Watch the second part of our webinar series to take your video content strategy to the next level: "Create Content at Scale: 40+ Pieces Every Week from 1 Core Idea"