How to Get People to Rewatch Your Old Video Content: Video Repurposing Tips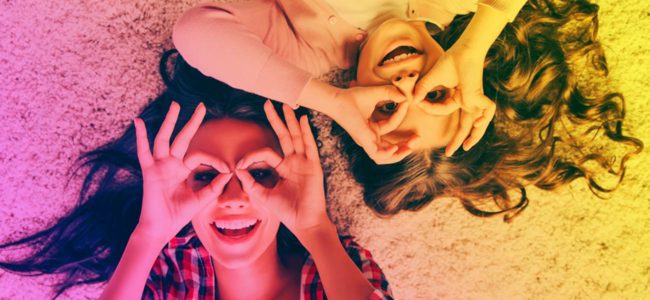 In the fast-paced realm of the world wide web, videos have established a stronghold in delivering your message in the shortest possible time. People no longer have the patience to read long drawn articles when a short and crisp video can deliver with much more brilliant results.
However, despite video's high engagement potentiality, not every video goes viral or generates you the leads you have been looking for. Add the fact that video production is not cheap, and you now have a problem.
What if your video doesn't get you the desired result?
The pattern here is that most videos will stay relevant at the time of upload, generate a buzz for a couple of days or a week, and then disappear into the oblivion of the internet. In fact, according to TubeMogul, on average, a video lives half of its life in the first six days of being published.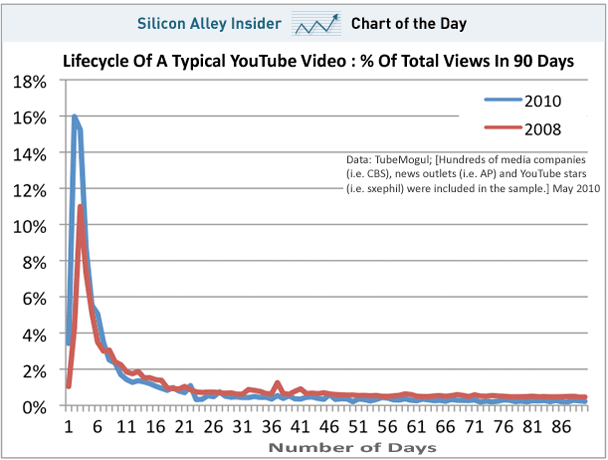 So what does one do to extract more out of the videos you've made with such hard work and the company's budget? Don't despair. We have laid down some video repurposing tips for you to revive your old video content and squeeze out more ROI from it.
Cut to Size
With various social media platforms allowing only short videos to be published, it is crucial to use videos smartly to get more attention for your content. Choose the best portions of your creation and use it to give a sneak peek to heighten interest among users.
Recently, Wave.video published an infographic with numbers showing optimal video lengths for popular video sharing platforms:
Instagram videos are ideal at 30 seconds

45-second videos work best on Twitter

Facebook audience likes 60 to 90 seconds long videos
Take this video posted by Spinnin' Records, for example. It's a 30-second video which tells the viewers about Spotify Running and generated engagement close to 95K views:
Owing to dwindling attention spans, it is important you showcase your visual content in ways that entice users to view the complete video. Short clips of your video with some catchy graphics will do the trick.
There are a plethora of tools available to help you get your video shortened for maximum impact. For Android users, Video Splitter is a great choice. It lets you split a long video into smaller bits without hampering its quality and its preview option will help you see the results before you publish.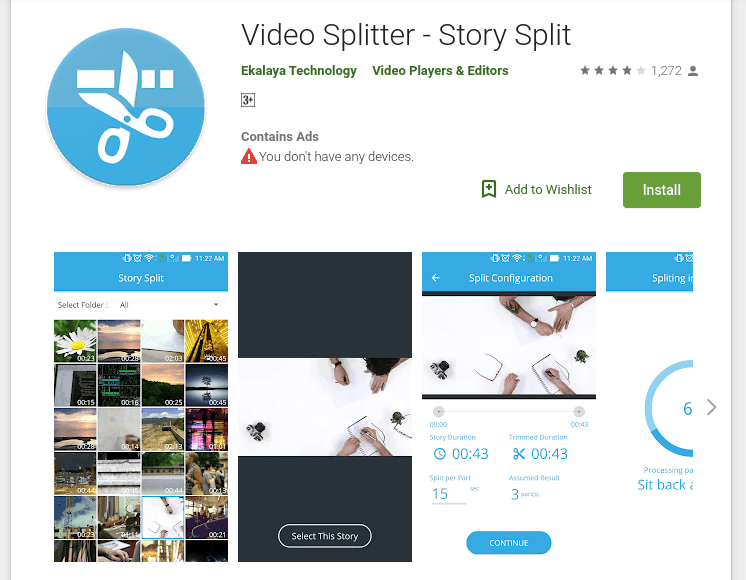 Re-Distribute on Different Platforms
A video that did not perform as expected should not keep you from trying on other platforms. While Youtube is suited best for long videos, Facebook works wonderfully for shorter lengths.
Your video campaign should keep in mind the people who will eventually see this visual content and what you want them to do after viewing.
Recreate old video titles to add a new perspective

Add a new description, better suited for the platform you're using

Use previously published

explainer videos

or tutorials  to answer queries on your FAQ page

Know the video format best suited for your chosen video sharing platform.
Embed Your Video In A New Blog Article Or Guest Post
Another way to get people to rewatch your old video content is by embedding those videos into a new article or guest post.
Having written content in your blog is required, however, embedding a video into the blog now and then will help build a connection with your readers.
See how Bold Content Video uses embedded videos in their blog to maximize the impact of their written material. Their video for Young Minds, a charity based in the UK, clocked 5.2 million views on Youtube and helped raise 74K Pounds.
Similarly, an old product review or a how-to video you did some time back can be easily integrated into the blog's content to add significant value to your work. Keep in mind the following points while using your old videos in a new blog post.

Let the readers know there's a video – Announce your video in the article title, this will create curiosity and motivate the users to check out the article.
Add related text – Make your old video stand out by adding an introduction and a summary to give readers a feel for what's to come. Like in the screenshot below, a small introduction about why changing your car's oil at home is not difficult, is followed by the tutorial video.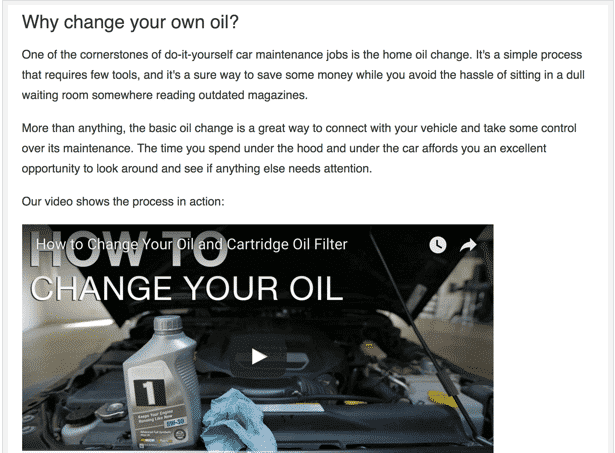 Make it relevant – Make sure that the video addition is in line with the written material. It should reinforce your point rather than depleting it.
Make Use Of YouTube's Related Videos Feature
With its smart algorithm, YouTube figures out which videos might interest you. The debate is still raging about the relevance of these 'related' videos and how they add value to your experience on YouTube. Nonetheless, it is a feature that can be used to your advantage.
By linking your old videos, one can yield better search results for the related videos. Make use of the 'End Screen' feature on Youtube to add a suggested video for your viewers. The snippet will show 5-10 seconds before a video ends, giving the user an option to view your related content.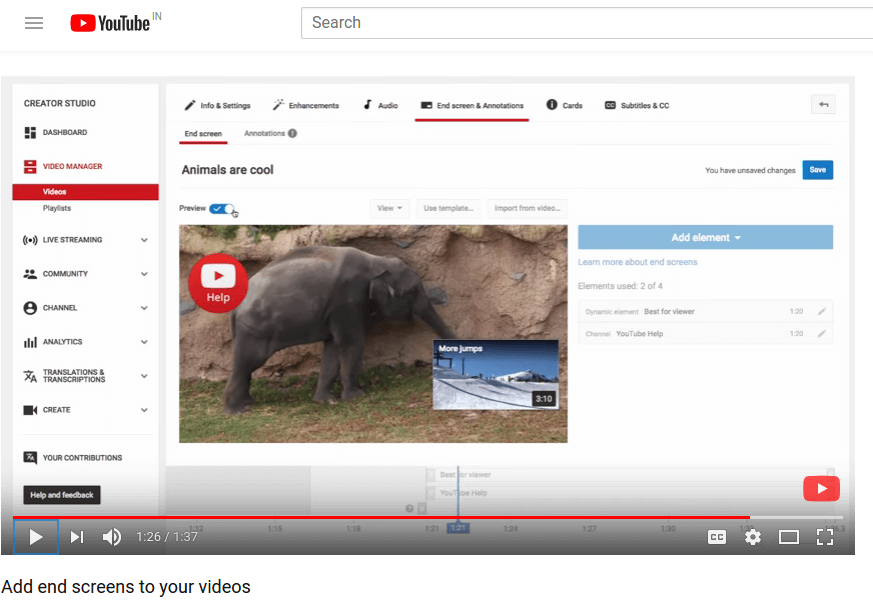 Some other tips that work great:
Playlists – A great way to give your old videos a new life.

Creating playlists

on YouTube is fairly easy. With interlinked videos, you can get rid of irrelevant related videos and instead give your users the option of seeing more related content from you. 



Transcribe your video – With captions in your video, you can make your video search engine friendly since Google indexes closed captions. So it can help you rank higher with the same old content.  
Roll Out Old Videos In Your Email Marketing Campaign Or Newsletters
Back up your claims on an email marketing campaign by showcasing your old videos. This will add immense credibility to our work. You will not only be repurposing your video content but also giving yourself a great chance of bettering your conversions.
Crackitt proved how videos can positively impact open rates for cold email pitches. An explainer video they created for NotifyFox managed to receive a whopping 40% open rate, which translated into better conversions and more customers.
If you have a regular newsletter, you can spruce up its content by adding old testimonial videos or employee engagement activities, showcasing the fun side of your organization. Videos leave a lasting impression, which along with your written content can work wonders for your marketing campaigns.  
Other Things That Work
Apart from the popular repurposing tricks you've read in this post, there are many other things that can be done to make your old videos work for you. Here are some ideas to get you started:
Use interesting snippets from your corporate video to present your brand story to the audience. You can also showcase your company culture or infrastructure aesthetics.  

Piece together different testimonial clips into a longer video, showcasing it as a positive customer experience film.

Various instructional videos can be put together to form an e-learning module.

Videos can be repurposed into a podcast or audiobooks.

Screen grabs from your videos can be used as a reference for your written content.

If you have behind-the-screen footage, you can piece it together and create a new layer of engagement for your old video.
Conclusion
After spending so much time developing great visual content, it will be a shame if it only gets to work once. Maximise your video's potential by remarketing it.
Being a cost-effective method, repurposing videos will let you smartly roll out new content with minimum effort, and help you squeeze out more ROI. So put your thinking caps on and let that old video work wonders for you!
About the author: Vaibhav Kakkar is the co-founder of DWS and RankWatch, global brands in the marketing domain.