The Perfect YouTube Channel Description – a How-To Guide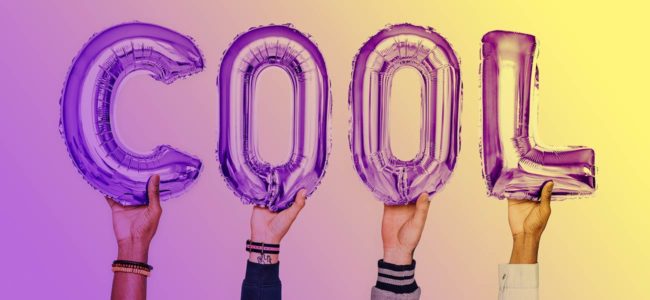 You work hard on your YouTube videos. You brainstorm great video ideas. You take the time to record, edit and optimize each one. You research and add tags, end screens, and well-thought-out video descriptions. You reply to comments and interact with your viewers.
All this can take hours on end for every single video…
…and it's easy to forget about your YouTube channel description.
How to Write a Perfect YouTube Channel Description
A YouTube channel description is a section found under the About tab of any YouTube channel. When done well, your YouTube channel description can serve you well for many months to come.
When done well, your YouTube channel description can serve you well for many months to come. But there's a chance you've created it when you just started out and never went back to update it.
Or maybe you tried to update it, but nothing felt good enough.
If that sounds like you, you're in the right place, as we're diving into all the actions to attract your ideal viewers with a channel description that stands out.
What Is a YouTube Channel Description?
A YouTube channel description is a section found under the About tab of any YouTube channel.

At the moment, it is the last tab in a row of options, along with Home, Videos, Playlists, Community, and Channels.
When you click on About, you will see the following sections:
Description (which is our main focus in this guide)
Details: business email address and location
Links: social media links and other external websites (at the time of writing this, you can add 14 links altogether)
Stats: date joined and the number of total video views on the channel
Featured and related channels, if enabled
Our main focus, the Description section, allows for up to 1,000 characters (this also includes spaces).
This means you have less than 200 words to communicate what you're all about.
If you think this is bad news and definitely not enough to write a good channel description, think again: this entire section isn't even 1,000 characters long yet, which shows there's plenty of room for writing a channel description that stands out.
Why Is a YouTube Channel Description Important?
The About tab of your YouTube channel might seem slightly hidden and, well, unimportant. For all you know, people would rather watch your channel trailer or click through a few of your videos to decide whether to subscribe or not.
However, your channel description also shows up in YouTube's search results, as well as the regular Google search results, and it's often your only chance to get the searcher to click through.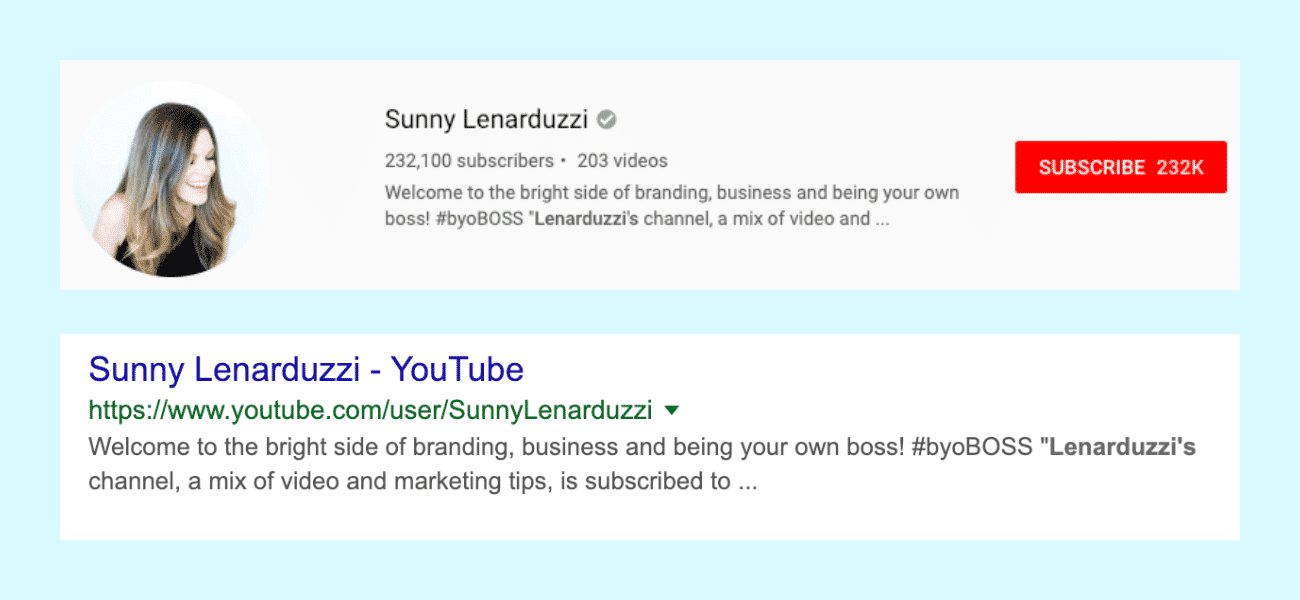 With that in mind, there are two most important reasons to focus on your YouTube channel description.
First, it's your way of quickly communicating what your content is about. Your publishing frequency, video style, key topics you focus on, and even your (or your brand's) personality can convert a casual visitor into a subscriber in seconds.
Second, YouTube is the second largest search engine after Google, and almost 2 billion logged-in users visit YouTube each month. Each time your ideal viewer is looking for content, you have a chance to be the result they're looking for and get a new subscriber!
The Key Features of a Great YouTube Channel Description
It's time for the fun part—writing (or rewriting!) your YouTube channel description.
Let's go through the most important features of your channel description, along with a template you can adjust to your personal preferences and your channel's focus.
Make the benefit of watching your videos obvious
This is an obvious and a deceptively simple feature of a good channel description; many creators still get it wrong.
The best thing you can do about describing the benefit of watching your videos is being as specific and brief as possible. Vague statements are among the most frequent mistakes we see in YouTube channel descriptions.
Here's a great example from Trena Little, a YouTube strategist: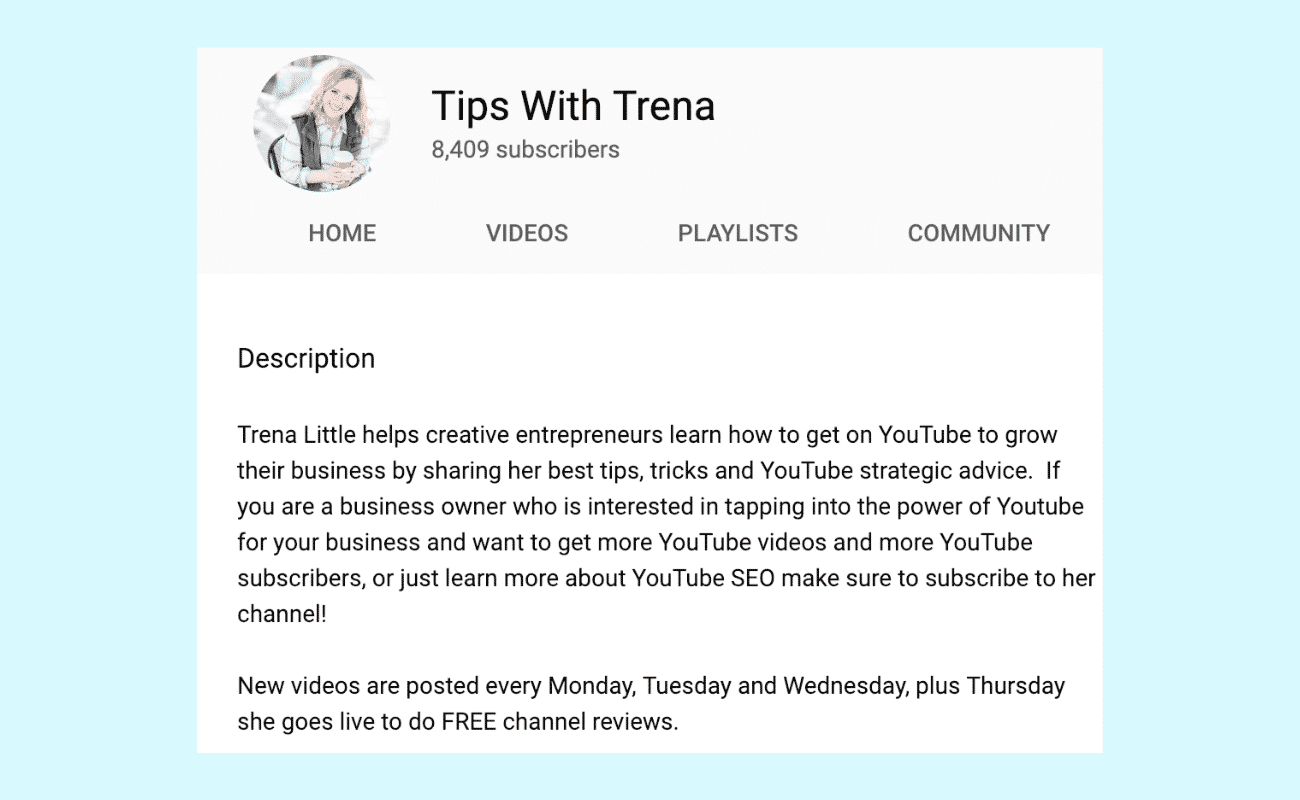 She could have said something along the lines of "helping you grow online". That would still be a true statement, but the lack of clarity would make her miss out on highly interested viewers who want to grow their YouTube presence!
Focus on the first 125 characters
There's an age-old approach to journalistic writing: state the most important facts first, then work towards those less important.
This way, the story still makes sense even if the reader dropped off halfway through.
In the context of YouTube, focusing on the first 125 characters makes even more sense because it's the part that is displayed in YouTube's search results.

This is the most impactful section of your channel description because it will be displayed in more places than any other part, so make sure you use it well.
Include keywords that your ideal viewers search for
The first point above, the one on making the benefit of watching your videos obvious, already implies that you'll be using your core keywords.
In the example of Trena Little, that includes phrases such as YouTube SEO and YouTube strategy.
However, you can dig even deeper into this by typing these keywords into YouTube's search bar and look at suggested long-tail keywords. In other words, you're looking for phrases of three or more words and identify a more specific interest.
Here are some examples:
If your channel is about weight loss, suggested searches indicate people are looking for weight loss workouts, diet, tips, motivation, meditations, exercises at home, and more
If your channel is about vocal development, people are looking for terms such as vocal lessons for beginners, for men, women, head voice, kids, and high notes
If your channel covers home renovation tips, YouTube users are searching for home renovation tips and tricks, before and afters, tools, for small spaces, on a budget, and more
In other words, use this super easy research tactic to naturally include words that your potential viewers are already using for content you create.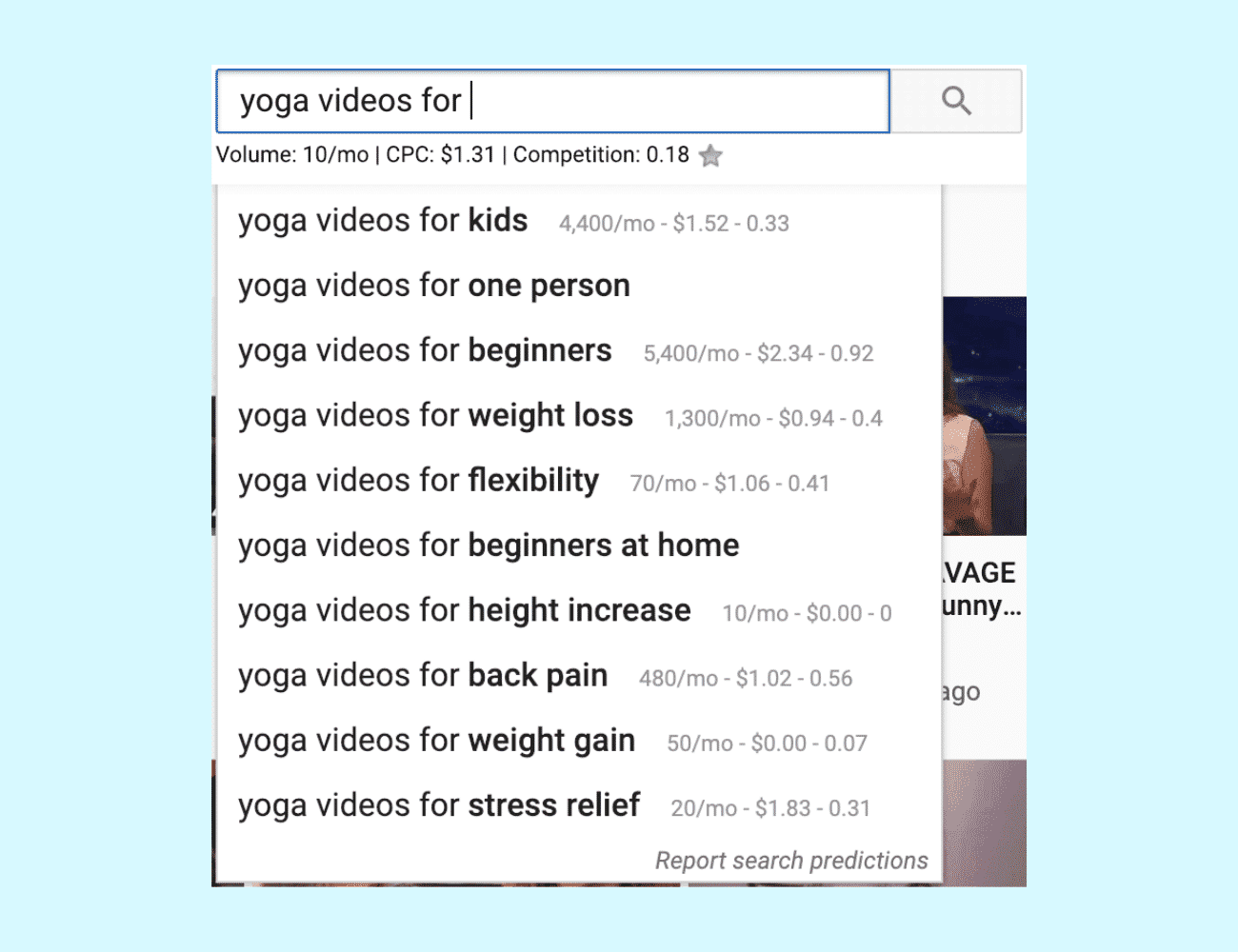 Another benefit of this technique is finding new, hyper-relevant ideas that you aren't covering on your channel yet!
Announce the type of videos you publish on your channel
This step is simple and straightforward: are you creating how-to videos? In-depth educational guides? Reviews and product demonstrations? Are you vlogging your daily life?
Simply add a list of videos you believe are the most valuable to your type of audience.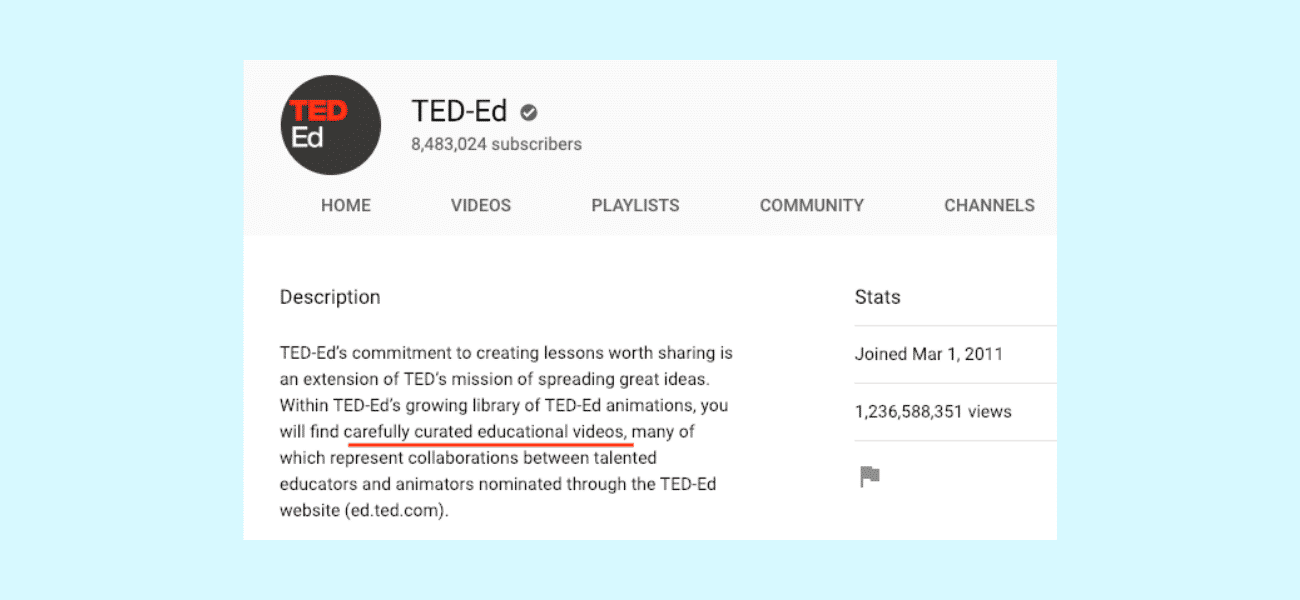 Of course, this can change and evolve as you grow your channel, and you may notice some video types land with your audience better than others. That's no problem: simply adjust your video strategy and update your channel description.
Add your channel's upload schedule
Along with the video types, the upload schedule is among the most powerful ways to keep your target viewers coming back to your channel.
Again, this is a simple step, but it requires consistency on your part (the schedule makes no sense if you don't stick to it, right?).
You can add a straightforward note such as "New videos every Wednesday", or get more elaborate and in-depth like Scotty Kilmer did on his automotive channel: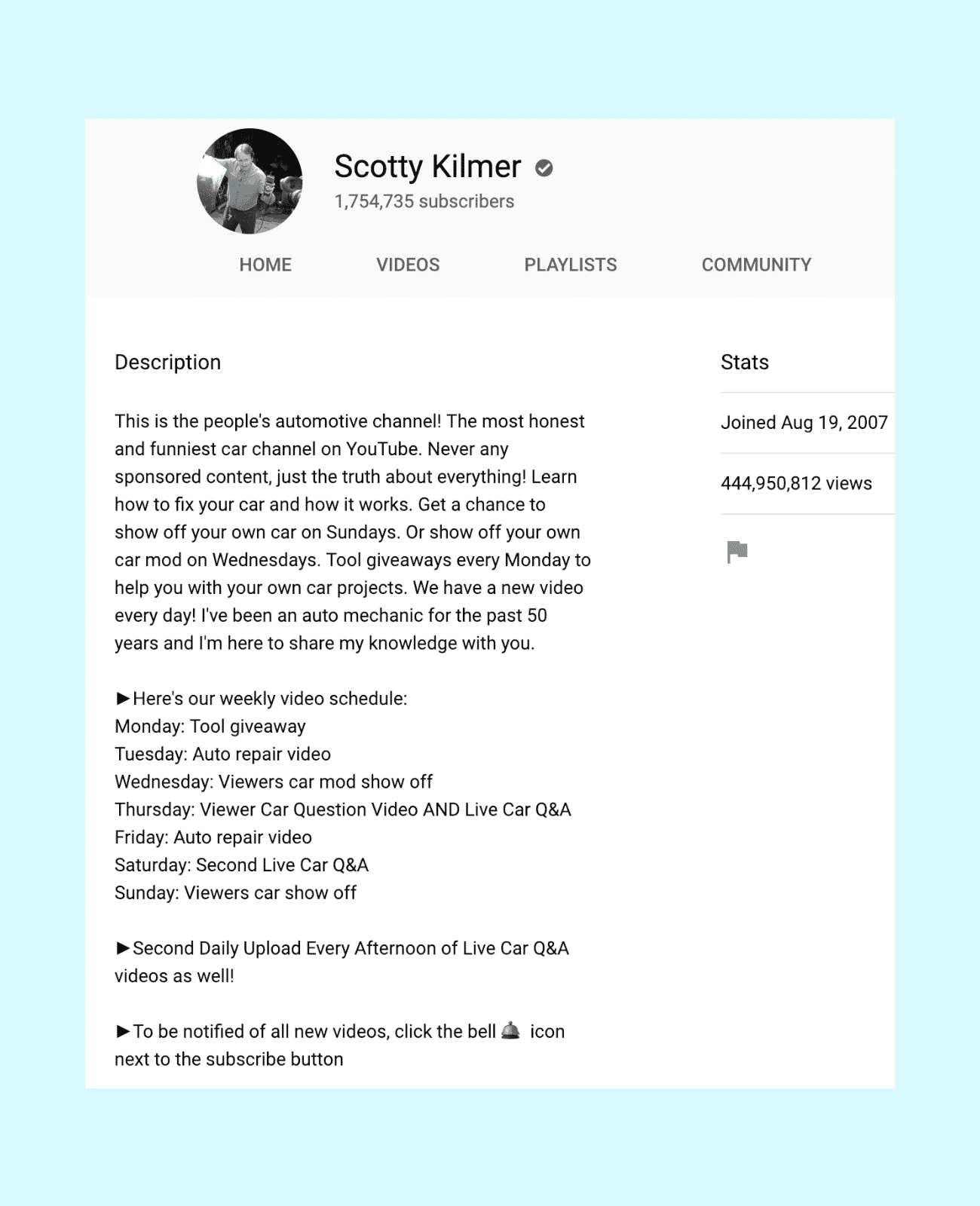 As you've probably noticed, many huge, successful channels don't have a publishing schedule, but that shouldn't stop you to aim to build a consistent schedule when first growing your channel.
It's important to stay consistent even if it means less frequent publishing.
Remember: it's more important to stay consistent even if it means less frequent publishing than to force yourself into a schedule that is unfeasible for you.
Remember your call to action
Finally, your channel description is going to perform the best if you make sure to add a nudge to your channel visitor on what to do next.
The next action you recommend is whatever is important to you: subscribing to your channel, your email list, or even suggesting topics of interest.
This can be as simple as:
"If this sounds like you, make sure to subscribe and click the notification bell so you never miss a video!"
"If you have any questions or want to request a video idea, leave a comment on any of my videos or email me at [email address]!"
"I send a special announcement and exclusive content on [topic] to my email list. Click the link below to subscribe!"
Identify what it is that matters to you at the moment when someone arrives at your channel's About page and make it obvious and easy to do.
Examples of High-Performing YouTube Channel Descriptions
We've covered some examples so far, but let's dive further in and cover more ground.
From makeup experts targeting beauty lovers to marketing pros targeting fellow marketers, all the way through to big brands, these examples will give you a creative boost no matter your industry or focus.
As you'll notice, we intentionally selected both consumer- and business-focused channels with great channel descriptions, which shows there's no excuse for a bad one. There's always a way to make it engaging, attractive, and successful!
Example 1: Kathleen Lights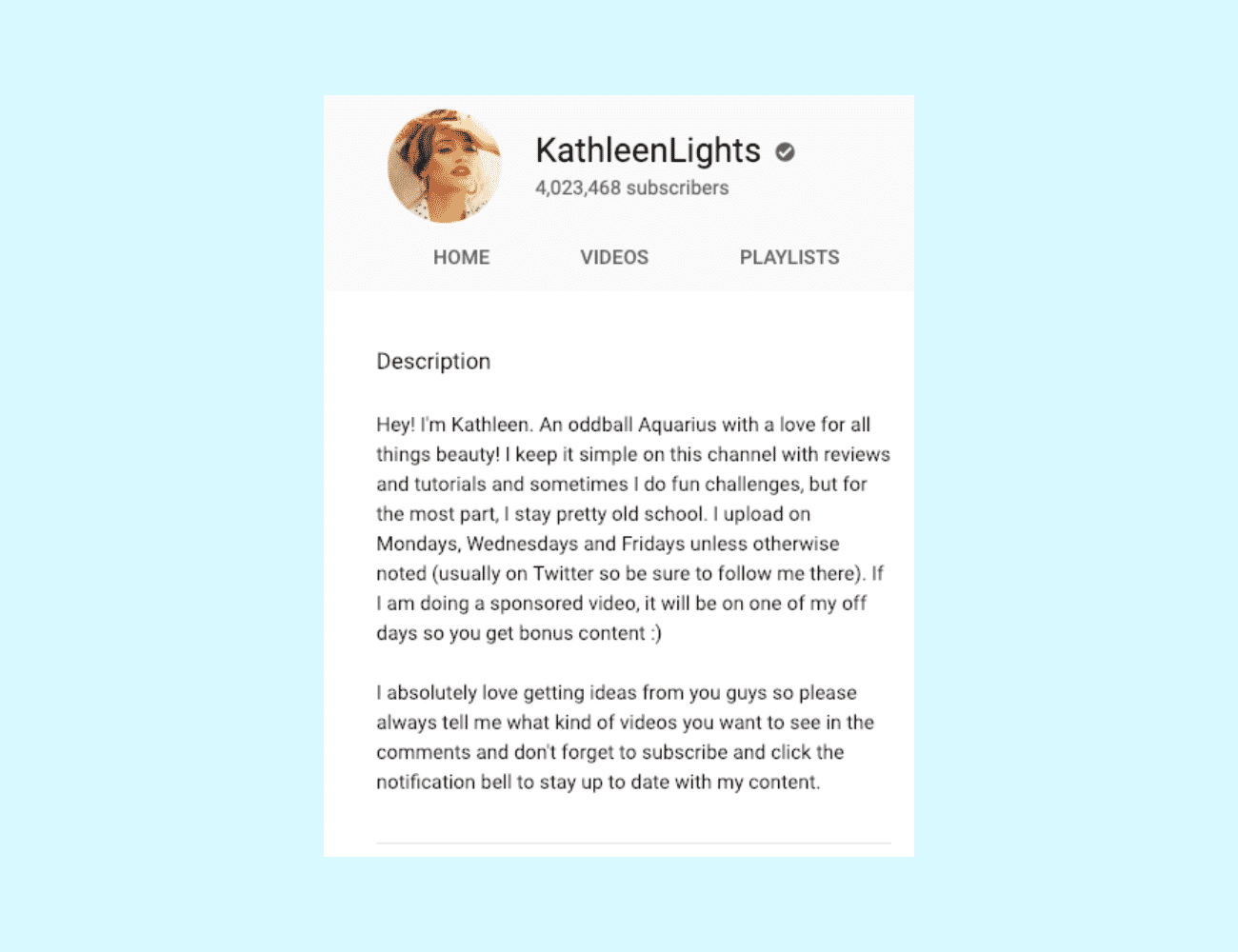 A 4-million-subscribers strong beauty YouTuber Kathleen Lights uses her channel description to showcase her personality, as well as to introduce their channel visitors to video types and her publishing schedule.
She wraps up with a call to action that invites people to subscribe and let her know of ideas they'd love to see from her. Simple and powerful!
Example 2: South Main Auto Repair
South Main Auto Repair channel is among my favorite local business marketing examples. With more than 250 thousand (!) subscribers, the auto repair shop owner Eric O. clearly knows what he's doing with his conversational channel description.
He uses it to briefly introduce his history and expertise and his ultimate goal with his videos: saving his viewers time and money when it comes to anything about cars.
Example 3: Bodybuilding
Even though Bodybuilding.com don't explicitly share details around the type of videos and posting frequency on their YouTube channel, their description is still clear and enticing to anyone that is looking to transform their body and get fit and healthy.
Take note the variety of keywords they're using: personal trainer, nutritionist, supplements, burn fat, build muscle. This is a great example of naturally including related keywords and topics!
Example 4: Brian Dean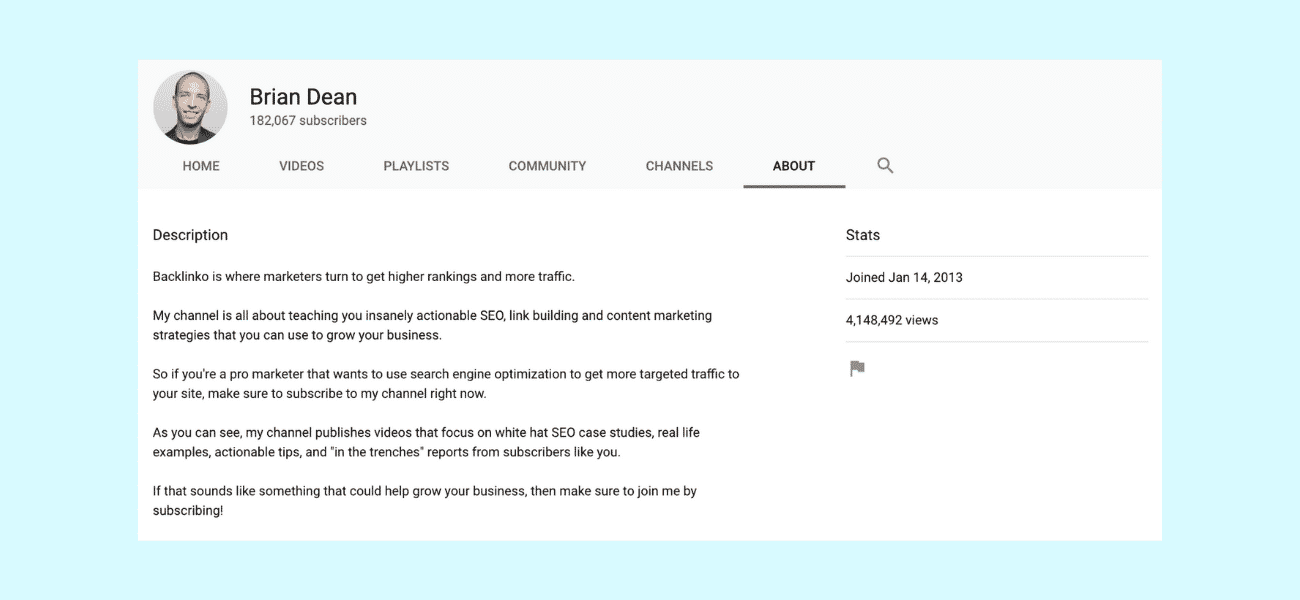 Brian Dean of Backlinko is the master of simple and straightforward writing that not only resonates with his target audience, but also ranks highly in search engines.
His YouTube channel description is no different! Along with his main topics, he added the types of videos he does (case studies, real-life examples, actionable tips), and ends with a strong call to action.
Example 5: Ross Simmonds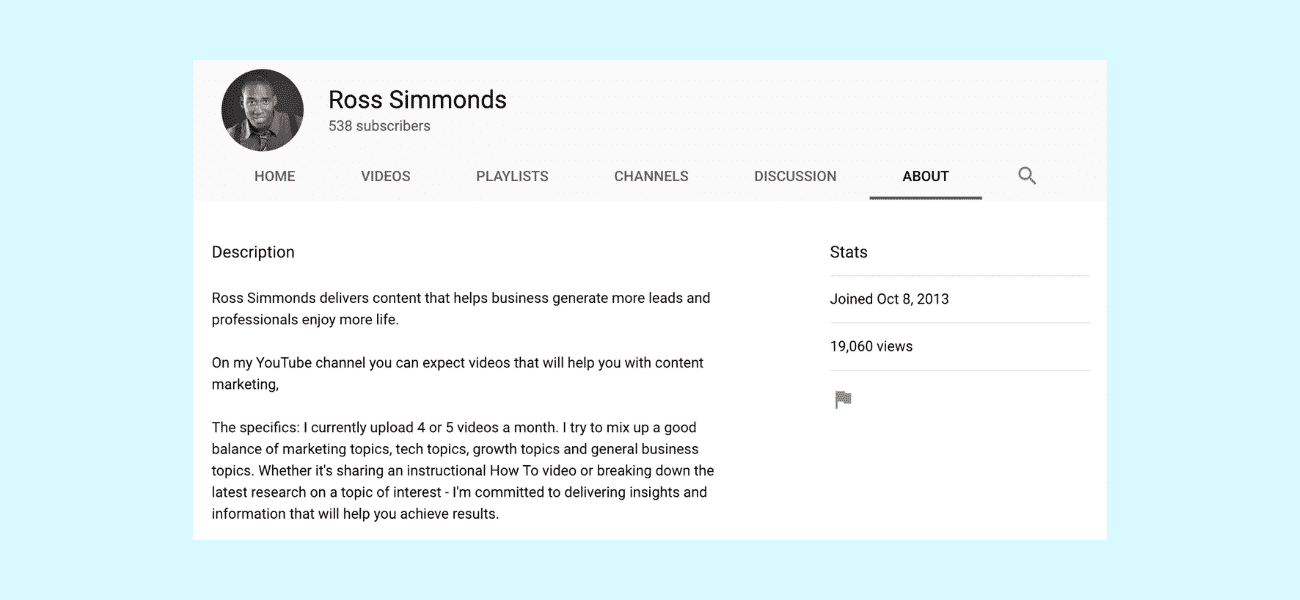 Ross Simmonds is a B2B marketing strategist with a strong personal brand and the founder of Foundation Marketing. His channel description introduces him, his main focus on the channel, as well as a loose publishing schedule with 3-4 ongoing categories he covers.
One of my favorite things about his description is the way he expressed his commitment to delivering actionable insights that bring results to the audience he cares about.
Example 6. Ahrefs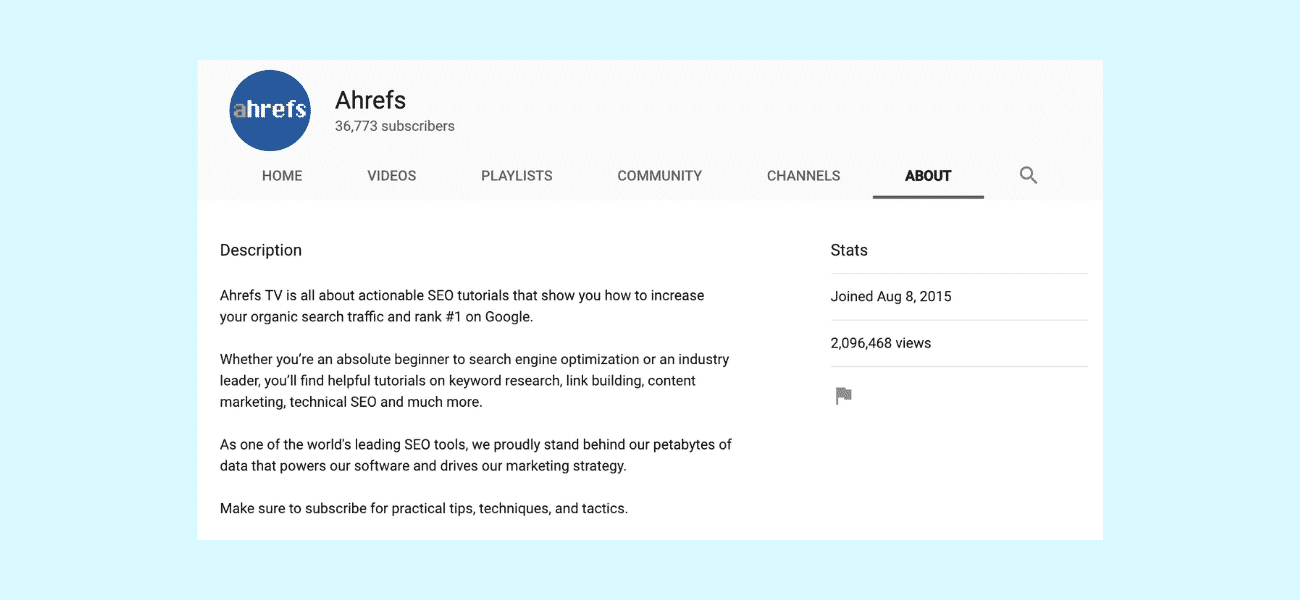 While Ahrefs, the company behind a popular SEO tool, doesn't go into specifics on their posting schedule, they've gone above and beyond to use the language of their audience and introduce them into their focus on the channel.
Their channel description radiates with confidence and ends with a strong call to action. Ahrefs also made key benefits to watching their videos obvious while keeping the description short and crisp.
More Elements That Will Make Your Channel Attract Your Ideal Audience
Now that your channel description is polished, here are two more quick tips on making your channel attractive to your target viewers.
Add channel sections. When your publishing schedule gets into full gear and you have a couple dozen videos, make sure you're making them the most visible they can be by organizing your channel into sections.
You can look at your sections as topic categories (for example: Fitness, Nutrition, Stretching, Health) or even video types (for example: 15-minute recipes, Morning workouts, Daily vlogs). As with anything, you can play around with this and test various options.
Here's a simple format that Brian Dean suggests in his YouTube positioning guide: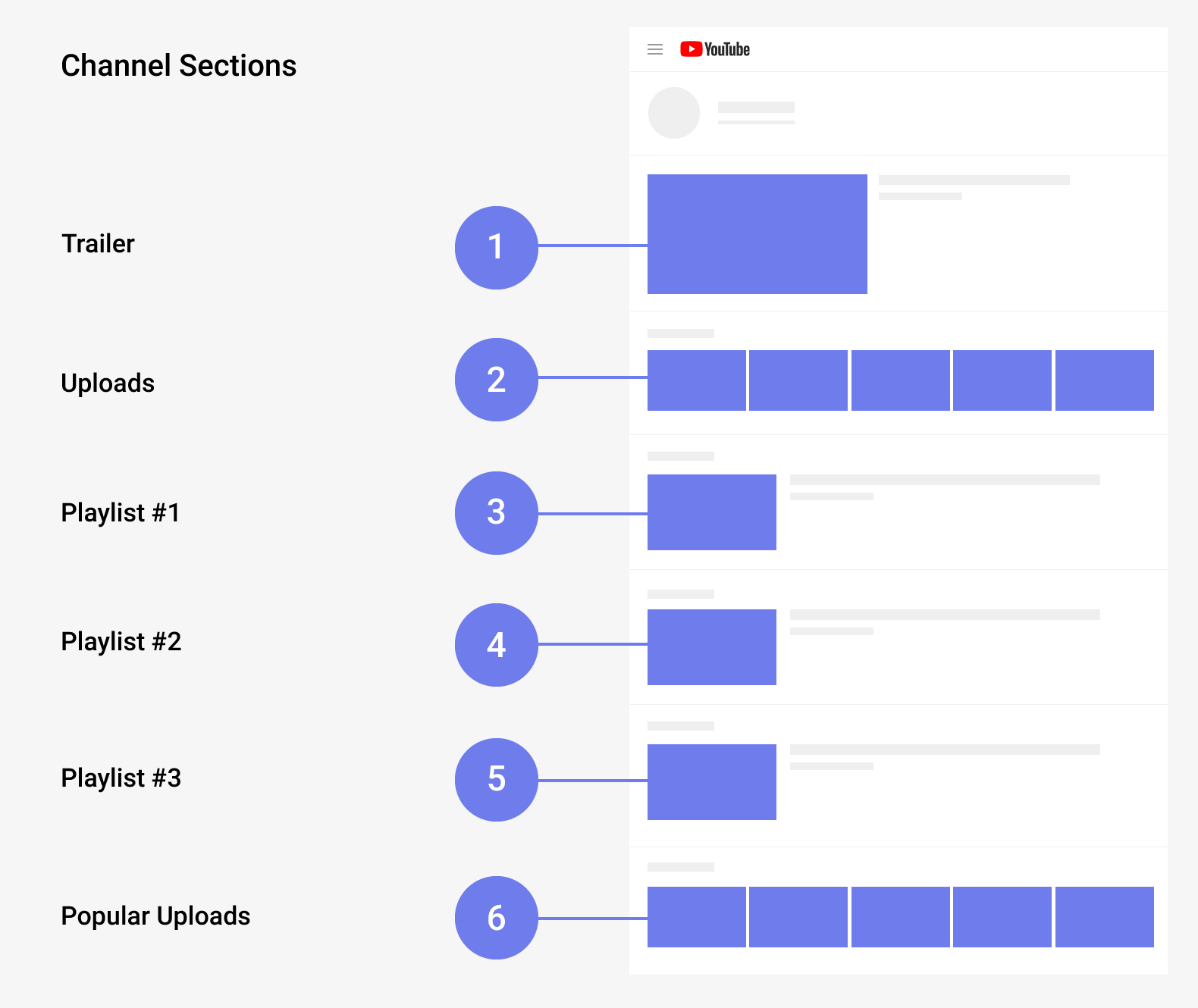 Keep a consistent look of your video thumbnails. The more videos you have, the more important it is for your video thumbnails to look coherent and spark immediate association with your channel for people who've seen any of your videos in the past. Here's a great example from Amy Landino:
An easy way to achieve this is by adding a captivating intro to each of your videos and using a screengrab of it as your thumbnail that conveys the topic and focus of the video in a split second.
You can create your video intro in Wave.video and easily add your branding, text, effects, stock footage, and much more.
Level Up Your YouTube Channel Now
Making your YouTube channel stand out is hard work—that's why many people simply never focus on it.
With the steps, examples, and templates we give you in this guide, you can now take action and maintain a channel you're proud of and make your viewers and subscribers crave new videos from you.