How to Enhance Your Videos with Wave.video Layouts [+Free Templates]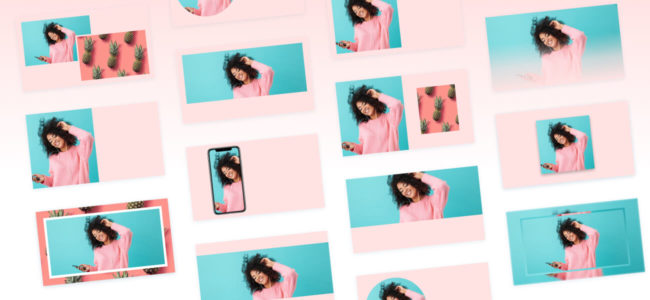 Updated on November 26th, 2020
It is no secret that video is steadily taking over the digital landscape. The competition for users' attention is more fierce than ever before.
Creators are constantly looking for new ways to enhance their videos and make them more appealing, eye-catching, and unique. And this is no easy task – especially for non-professional video creators.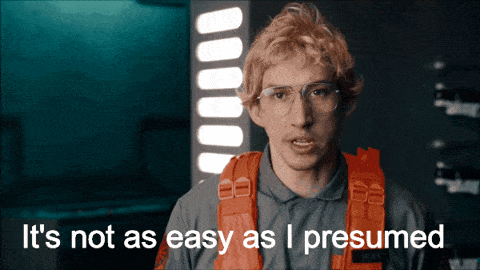 We at Wave.video understand the struggle. To help our users make their videos stand out with less effort, we introduced a brand new feature that is available in the editor – Wave.video layouts.
In this article, I will explain how exactly this feature works and describe the benefits of using layouts in your video creation process. Let's start!
What are video layouts?
To put it simply, layouts are different ways of displaying images and clips on videos. Wave.video layouts include collages, frames, color gradients, borders, and other visual elements that enhance the look and feel of your videos.
Not only layouts help add variety to your content, but also make videos more professional-looking and neat. On top of that, each Wave.video layout is optimized for multiple social media formats. It doesn't matter if you create a YouTube video, Instagram Story, or Facebook Cover – videos with layouts will look amazing on every platform.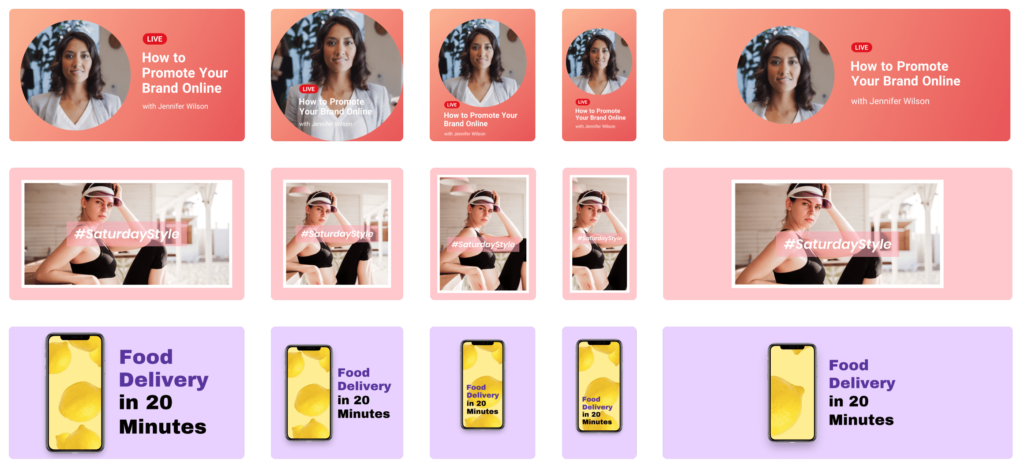 More so, layouts come in helpful when it comes to repurposing and distributing content. You can easily transform a single piece of content into multiple videos by simply changing the layout and background color. This will allow to post it multiple times without repeating yourself.
To learn more about Wave.video layouts, watch the recording of a live presentation by our Chief Visionary Officer, Kate Skavish:
How to use video layouts? 
To try out Wave.video layouts, follow these step-by-step instructions:
Step 1. First, open the editor and head over to the step Layouts.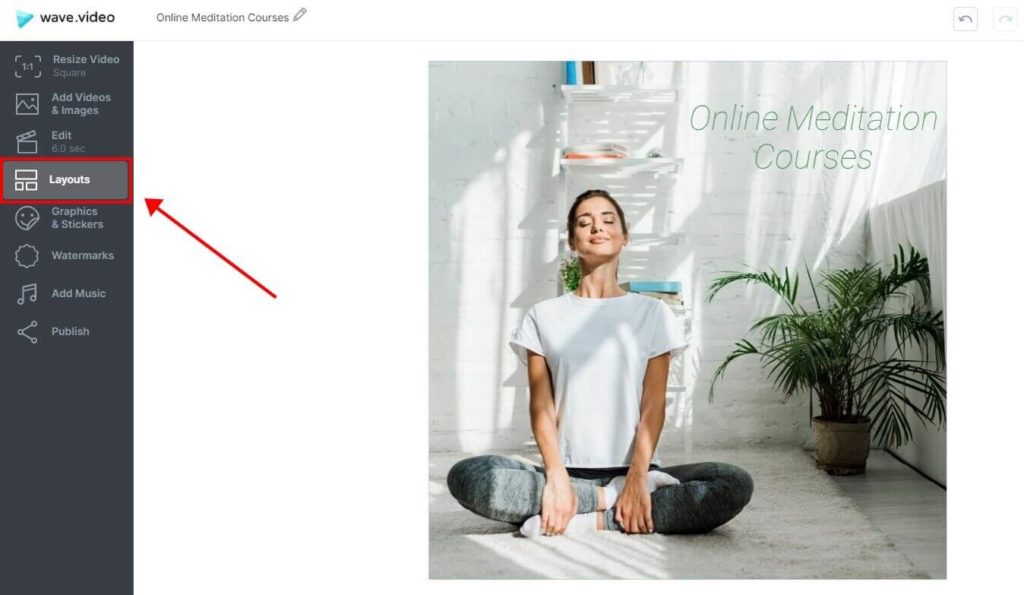 Note: If you are not a Wave.video user yet, make sure to sign up here.
Step 2. On the right-hand side of the screen, pick a layout of your choice and click on it to apply.
Step 3. Turn on or off the intro animation by ticking the box Intro Animation above the layouts menu.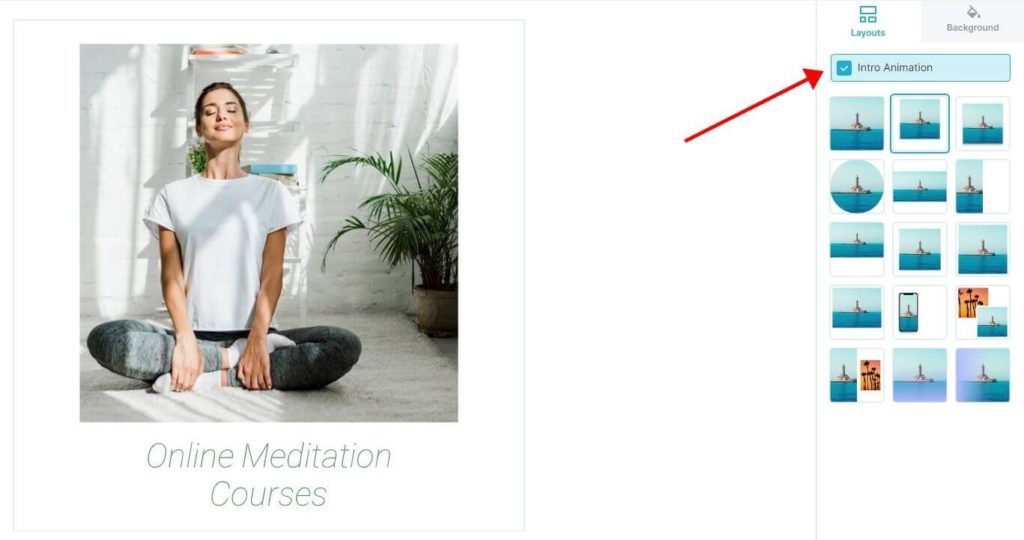 Step 4. Open the tab Background to change the color of the layout's background. You can choose the color manually or pick one from the Project Colors suggested by the video maker.
How can I enhance my videos with layouts?
As I have already mentioned, video layouts make your videos appear more refine and professional-looking. Now, let's get more specific and look at different use cases of using layouts.
Feature two visuals at once
With one of the collage layouts, you can easily feature two images or video clips on the screen at the same time. When using this layout, make sure that visuals complement each other in terms of color, style, and quality.
New: As of the latest update, Wave.video Layouts have become dynamic and even more customizable! This means you can drag and drop the visuals inside your collages anywhere on the canvas as well as zoom them in and out. Making your video collages look unique has never been easier!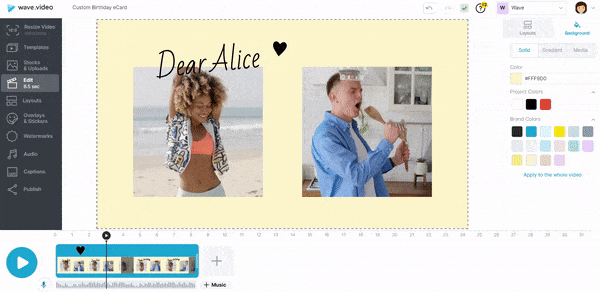 Add text to video
Adding text to video is a great way to make your video content engaging and accessible to more viewers. Video layouts allow placing text on video without obstructing key visual elements of your video.
Add a device frame
If you want to bring into focus the fact that your service or product is available on mobile devices, this layout is your go-to choice. Use it to insert photos, video clips, or screenshots into a virtual mobile phone mockup.
Easily brand your videos
Branding is an essential element of video marketing. It helps viewers identify your videos at a glance and establish familiarity with your company.
Layouts can help brand your videos and make them more recognizable. One of the easiest ways is to use your brand color as a background color of the chosen layout. 
Over to you
Are you planning to use Wave.video layouts when creating your own video masterpieces? Which ones are your favorites? Feel free to share in the comments below!