How to Promote a Podcast with Video: 3 Smart Ways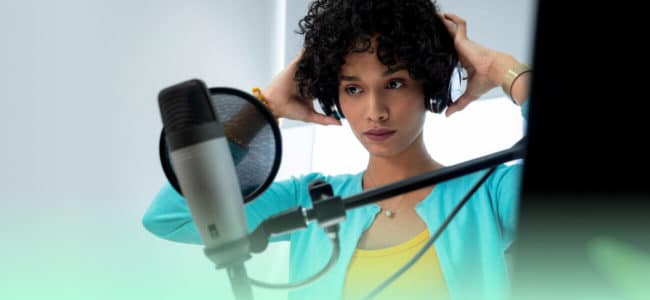 How do you promote a podcast?
Well, there's the obvious stuff, of course – submitting the show to every aggregator and directory out there, building the social media audience, networking with other podcasters in your space, leveraging your guests' audiences, and more. 
The problem? That's what everyone else is doing, for one. So, you're bound to clash and compete with all those other shows for the audience's attention. 
Now, don't get me wrong. I am not saying that you shouldn't do any of the above. Quite the contrary.  
But I recommend you consider expanding your promotion also to include less conventional, yet highly effective methods to promote your podcast too, like video. 
In this post, I'll show you what videos you could create to promote your podcast show. Let's take it from the top, then. 
Why Video?
Podcasts are huge, and I am sure you know all the stats about this already. 
You know that 22% of the US population listens to podcasts weekly. Or that those podcast listeners, on average, listen to at least seven shows each week, and subscribe to six. 
But there's some scary data there too.
Apple reports that there are 850000 active podcasts, and over 30 million episodes (Note: the data is from January 2020, so the number is likely to be much higher today.)
That's a lot to break through, isn't it?
Enter video
FACT: Video is fast becoming the most engaging marketing channel. 
Practically everyone's watching videos, for one.

Research confirms that up to

85% of all US internet users

watch video content monthly.

We're engaging with the content type for longer and longer too.

According to estimates, by next year, the average person will be spending up to

100 minutes every day

watching videos. 

Video rocks marketing.

87% of marketers

use video as a marketing tool already, and 54% want them to keep doing so. 
But how do you use video – a visual format, after all – to promote audio-only podcasts? 
Well, I do admit that the idea of promoting one with the other does seem a little odd at first.
But it's not only possible. Using video can open up incredible opportunities for reaching new audiences. 
The best part? You don't have to create any sophisticated video clips to promote your podcast. You just need to create three simple types of videos. 
3 Types of Videos that Help Promote Podcasts
#1. Episode Teasers
Videos on social media can help you tell audiences about new and upcoming shows. If you only consider starting a podcast, they are a great way to build momentum about your show. 
How, by posting short, video teasers of what's coming up. 
Drift, for example, publishes simple, 30-seconds long videos that: 
Introduce the guest, 

Present the topic, and 

Outline key takeaways from the episode. 
Here's one example:
.@GinaRPrez has 20+ years in digital advertising and in this episode of #NoFilter, she shares her thoughts on how marketers can prioritze their media budget and really deliver what clients want.

Watch the full episode in #DriftInsider pic.twitter.com/WKoL1jf2PQ

— Drift (@Drift) August 13, 2020
 Your episode teasers don't have to be complex, by all means. Drift records videos of the entire episodes, so they have plenty of visual material to play with. 
But you could just as easily use a static background with audio and some captions of the key takeaways. 
And if you want to add some dynamics to the clip, animate some of the elements on the graphic with a tool like Wave.video. 
#2. Key Episode Takeaways or Quotes
I'm sure your sour social media stream is filled with graphics showing quotes from a show, a blog post, or any other content types. 
I do see visuals like this one below in my feed all the time.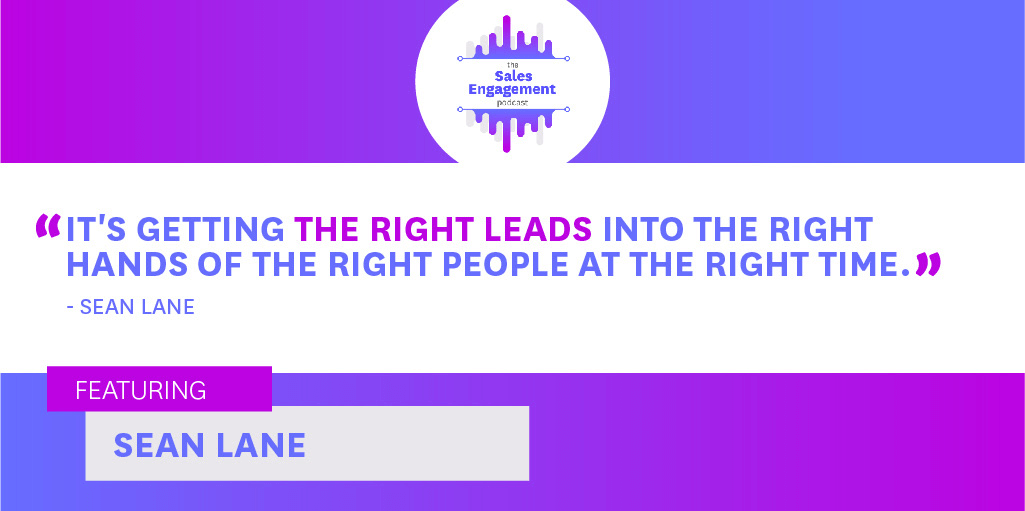 These visuals are so popular because they work. They catch the audience's attention and present snippets of content to entice them to check the main content for more. 
But imagine what would happen if you posted more than just a static visual? 
If you showed the audience snippets of the show like this, for example:
Learn how Sean Casto from PreApps accelerates the growth of apps and sustains it. https://t.co/B9F4I8Vh1L pic.twitter.com/NgpQfYnlbo

— CoSchedule (@CoSchedule) August 15, 2020
Just like with the previous content type, these clips do not have to be complex. All you need is a background (either an image or a custom graphic,) some animated elements (like the soundbars indicating sound playing in the clip above, and the text. You can create such videos with ease with Wave.video's intuitive editor. 
Here's one example of such a clip in progress in Wave.video: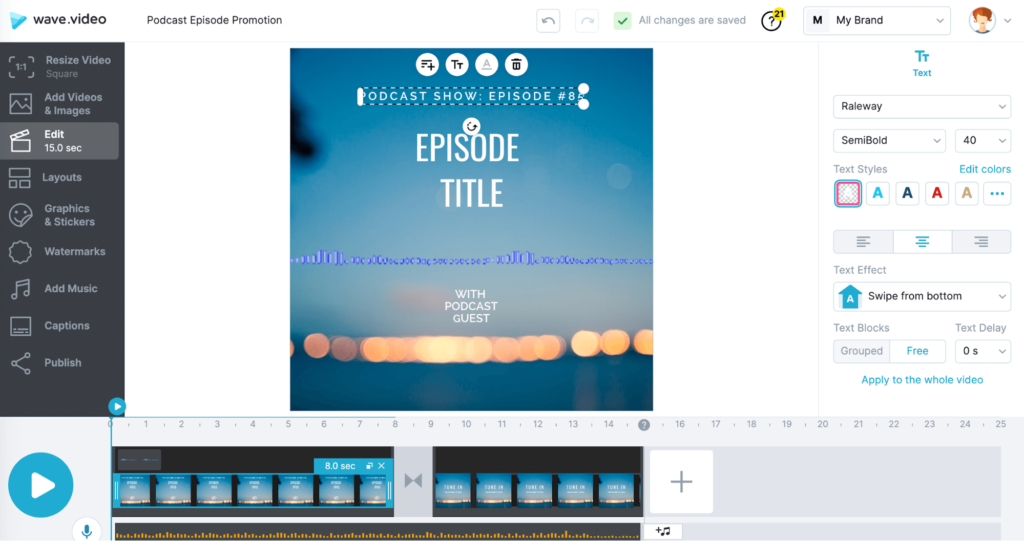 Of course, if you record the video of an interview, you can use snippets from that as the basis for your Show Takeaways video too. 
Scott Holden, the CMO of @thoughtspot, shares that when it comes to marketing, the message is everything

Tricia and Scott talk about how to get buy-in on your big ideas, what it takes to build thought leadership, & what it means to be a messaging freak:https://t.co/3uxGfujqxc pic.twitter.com/O9rjxmnapM

— Drift (@Drift) August 14, 2020
#3. Entire Episodes 
Finally, you can convert the entire podcast into a video. And once again, you can do it quickly, and without a need for any visual recording from the show. 
Here's an example of an entire podcast episode on YouTube. 
Note that the clip has no actual video at all. It is just a static background image and the audio from the episode. 
Here's another example:
Let me give you some tips for publishing your entire episodes as videos:
Don't use the episode's title for the video title. Instead, call it "Interview with…" followed by the episode's topic. Given how people search for content on YouTube, a title like this will increase your chances of them finding the video. 

Go beyond just YouTube. If possible, use a

video hosting platform

to embed those clips on your website as well. 

End the clip with a strong call to action enticing visitors to check out your show. 

Do the same in the video description, pointing viewers to the show notes and other associated content.

That's It
Use these three simple video types to promote your show, build up the buzz about upcoming episodes, and expand your reach beyond just podcasting platforms. 
About the author: Craig Hewitt is the founder of Castos.com, a podcast hosting platform and the Seriously Simple Podcasting plugin for WordPress, that help show hosts grow their audience.