How to Promote Your Travel Blog: 5 Great Ideas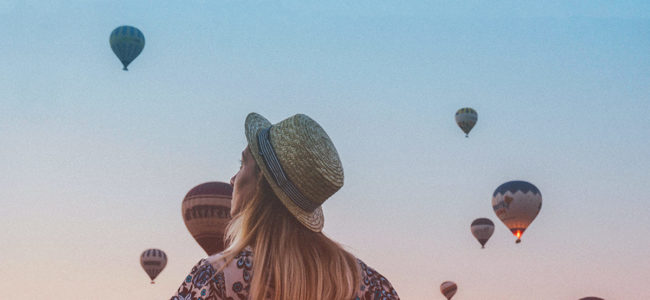 If you're a travel blogger, you know how satisfying it is to share your experiences. Photos. Stories.
But you also know how difficult it is to stand out. Pinterest is full of travel inspiration, Instagram is a picture-perfect #travelgoals world, and when you Google 'travel blog', there are about three billion results.
Ouch.
There's a good side to this: according to Expedia Group, the consumption of digital travel content sees double-digit growth each year. It means that the amount of travel content out there correlates with its popularity, too.
Getting your travel blog seen isn't impossible, but it requires you to zone in on a few highly successful strategies rather than shooting for them all and hoping something sticks.
It's easy to give up. In fact, only 21.8% of bloggers have been doing it for 5 years or more. To make sure you're among the rare ones that remain, make sure your basics are in place first:
With these essentials in place, let's focus on the six ways you can reach new audiences with your travel stories.
Create a Library of Photos
Travel blogging has an advantage over almost any other industry when it comes to promotion—it's extremely visual.
Deep nature colors, radiant streets, enticing local food… Travel photography is as breathtaking as can be.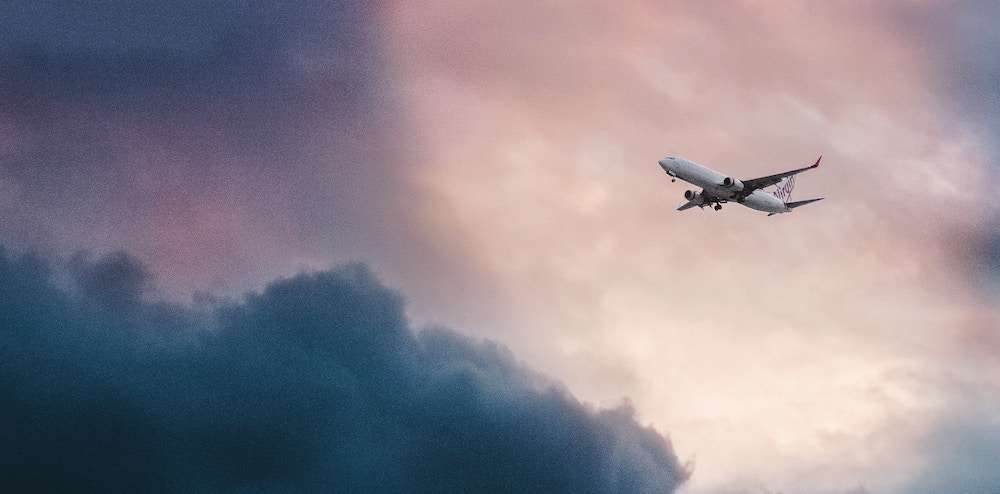 Travel photography is as breathtaking as can be.
Are you making the most out of the photos from your trips?
Chances are, you're not. Most bloggers promote their content using a rotation of a few photos from that trip and only stick to the few graphics they've originally created.
You can take a different approach and create a library of all the photos you take on a trip. Create a structure ahead of time to make it easier to add new photos when you return from a trip:
First, create a folder for each year (for example, 2019)
Then, create a folder for each trip, labeled by the month and country/city name (for example, January_London or 01_London)
Export all of your photos into their corresponding folders
An optional step is to create a 'best of' folder where you could separate the best panoramas, portraits, candids etc. to reuse them more easily later on
Then what, you ask?
This is the fun part. With so much imagery, you can create a diverse social media posting plan without ever annoying your followers with the same content—even though you'll obviously be sharing the same blog posts over a stretch of time.
Next step is to enrich the copy that will accompany your imagery. Folks from CoSchedule say that the strategy to post the same content with different copy boosted their traffic by 192%. Here's their inspiration for coming up with various ways to say what's in your blog post: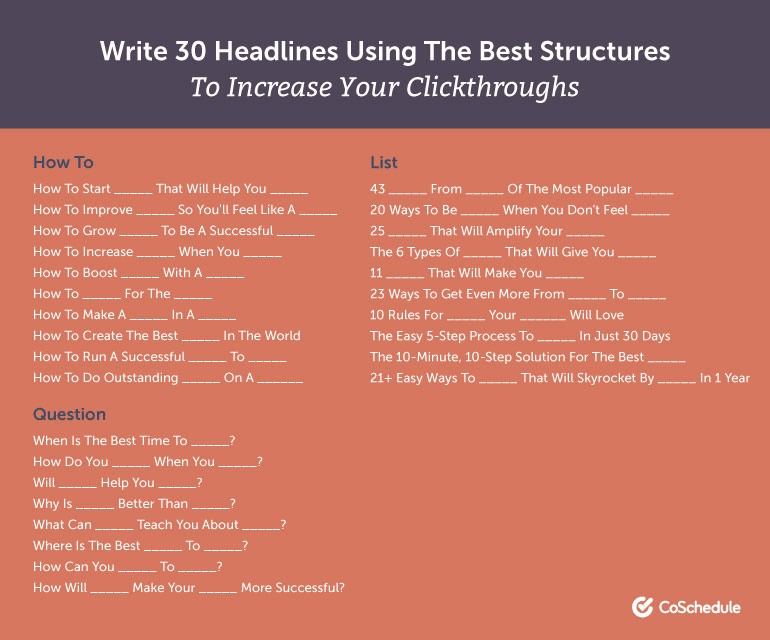 Think about it. Let's say you wrote a guide on 17 best things to do in New York City as a solo traveler. You could turn this into a variety of headlines:
The best ways to spend time in New York City
What makes New York City breathtaking for solo travelers
How to have fun in New York City
Photos that will inspire you to visit New York City solo
Thanks to your library of visuals, opportunities are endless!
Turn Your Blog Posts into Videos
If you're still hesitant to give travel video a go, we don't blame you. Even if you don't find it intimidating, it can be a challenge to remember taking videos while you're enjoying your trip.
However, you may want to change your mind. By 2021, video is expected to make up 82% of internet traffic. If you don't want to get left behind, it's time you dip your toes into travel videos.
Here's the good news: you don't need to suddenly become a video pro, buy a drone, and rededicate your whole life to video in order to make it work for you.
Phew.
Instead, you can use what you already have—even if it's only images or a couple of videos—and easily turn them into videos for any channel you can imagine.
Our favorite way to do so, of course, is with Wave.video.
In your Wave.video editor, you can upload all the images and videos you've used in your blog post so that you can place them on your editing timeline.
One of the best things about this is that in case you're missing a clip or two to make your video complete, you can hop into our library and use any of the royalty-free images and videos of cities and attractions that you maybe didn't get to take shots of.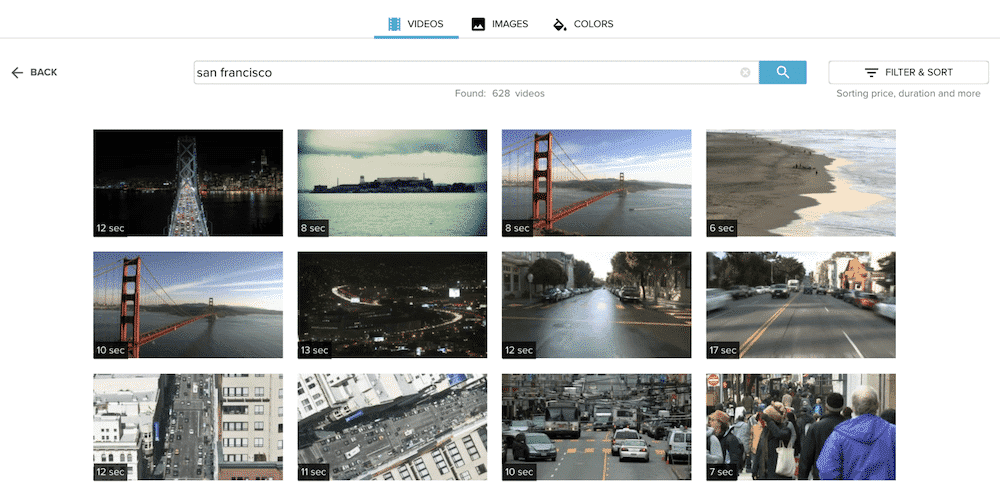 There's a bunch of travel-themed templates in our library, and you can easily turn them into different formats for places like Instagram stories or Facebook cover video.
According to Google's data from YouTube, these are the travel video categories that travelers are most likely to engage with: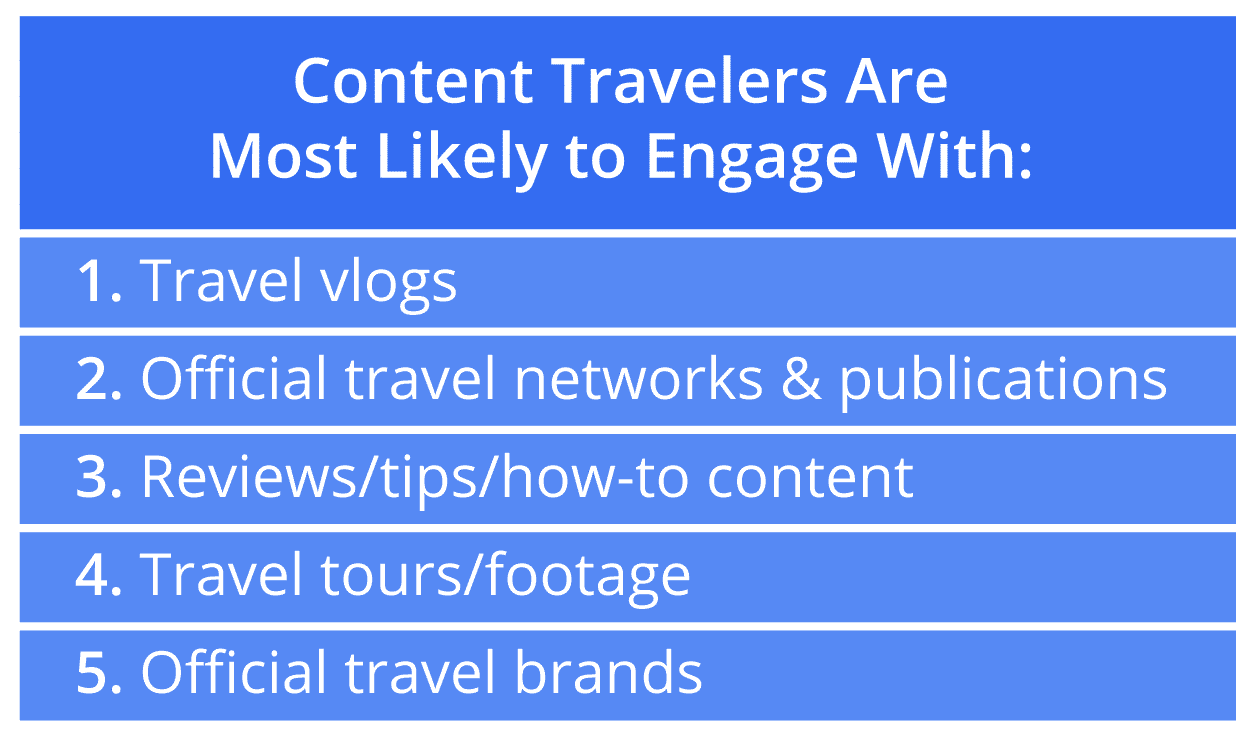 This means that you can turn any blog post into a video: any city visit, a tour you took, tips on preparing and packing, and gear reviews are just a few of many ideas you can bring to life with video.
Amplify Your Reach with Mentions and Hashtags
Now that you've nailed down your posting strategy and turned your blog posts into videos, it's time to make the most out of the two most common features of almost all social media platforms: mentions and hashtags.
With mentions, you're making it easier to get on the radar of hotels, cities, and attractions you've visited and talked about in your blog post.
If you've mentioned them in a positive light, there's a great chance they will like and share your post and increase your reach.
Even if you haven't talked about places that would typically have a social media account, you can mention official tourism boards and similar accounts whose aim is to spread the word about the city or country you've visited.
Here's a great example from the WattWhereHow blog, who tagged Tourism Ireland and Discover Ireland when they tweeted their new blog post:
Woot! New blog post just sent live – our first from our Irish adventures. https://t.co/W4OdQks9vn Who knew Ireland had awesome beaches?! @TourismIreland @DiscoverIreland #TravelTuesday #wanderlust pic.twitter.com/7e16WCrV4k

— WattWhereHow (@WattWhereHow) November 28, 2018
You can do this on Instagram, Twitter, and Facebook, where brands and influencers you mention will get notified about it and likely help you spread the word.
Hashtags are another way to get in front of people that aren't already following you, but are interested in what you have to say.
The best thing about travel hashtags specifically is that you can use specific travel blogging hashtags, hashtags about wanderlust, individual places you've visited, objects in your images and videos…
The list goes on.
In other words, you'll probably never use two identical sets of hashtags. Here are some categories and hashtags to inspire you:
General travel hashtags: #traveltuesday, #ttot, #travelskills, #wanderluster
Specific places: #maltaphotography, #japantravel, #londondiaries, #instadublin (look for those longer than just the city/country name as they are typically less cluttered)
Travel blogging: #travelbloggerlife, #travelwriting
As a rule of thumb, aim for hashtags that won't get your tweet or Instagram post buried in hundreds of others within seconds. You can check this by opening the hashtag and looking at posts in reverse-chronological order.
Bonus tip: on Instagram, as you tap on one hashtag, the app will suggest similar hashtags, so you can easily come up with dozens of related ideas quickly!
Make the Most of Travel Communities
The best thing about being a blogger in any industry is the people in it that end up creating a community.
And with something as dynamic as travel, online groups like forums and Facebook groups can grow up to tens of thousands of people bitten by a travel bug.
Keep in mind that while some groups are dedicated to travel bloggers and creators, others are focused solely on travel and helping each other out around the world, so always take your time to get to know the group or the forum, its rules and people in it before you share any of your content.
And even then, only share when appropriate and according to the rules that the owner or admin of the community has set. Be helpful and share value before anything else!
If you want an exhaustive list of 100+ places to join and share your blog, hop over to this guide on TripHappy.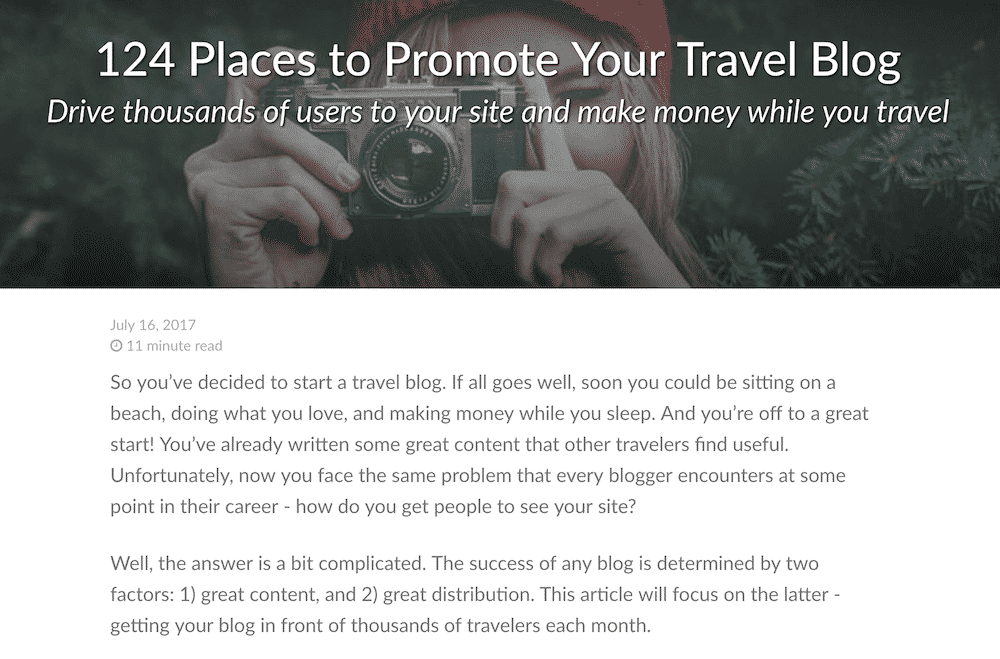 Below are some of our favorite communities.
Facebook travel groups
These groups aren't just great to get to know other travelers, but also learn about the cultures they meet as they travel and get inspired for your future trips and photos you want to take.
What's even better, some of these groups foster real-life friendships and help their members get help if they find themselves in trouble while abroad and in an unknown territory. Again: be mindful of your behavior and don't only join for the sake of promotion!
Here are some groups you can start from: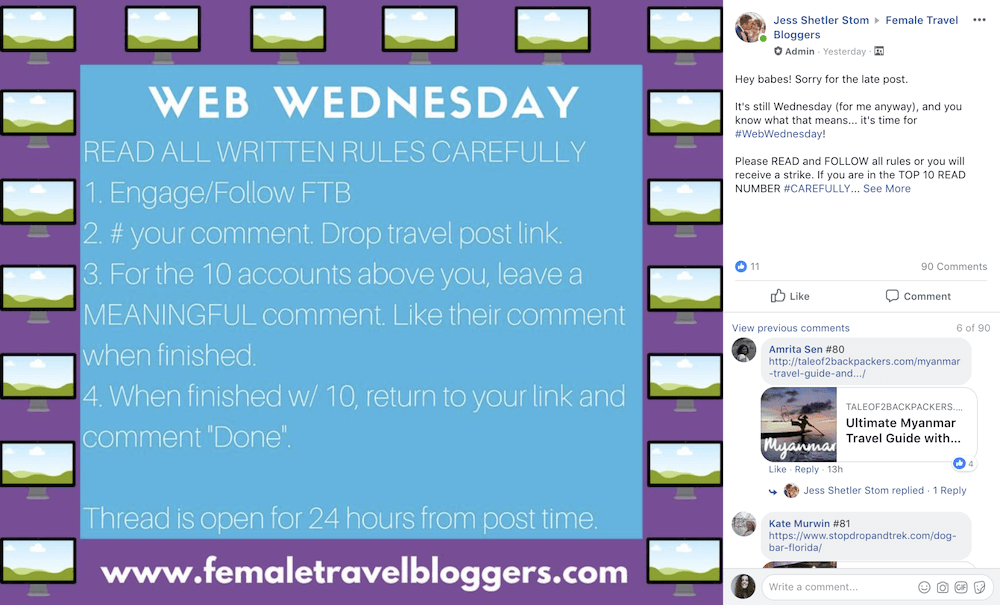 Travel forums
Just like with Facebook groups, make sure you're following the rules of forums to the T. This is particularly important for threads on Reddit, as Reddit users are notorious for calling out (and 'punishing') blatant promotion and rule-breaking.
Now that we got that out of the way (again), here are some forums for you to get inspired with:
Travel categories on Quora
Finally, there is an uncommon, but often a very successful strategy for content promotion: answering questions on Quora.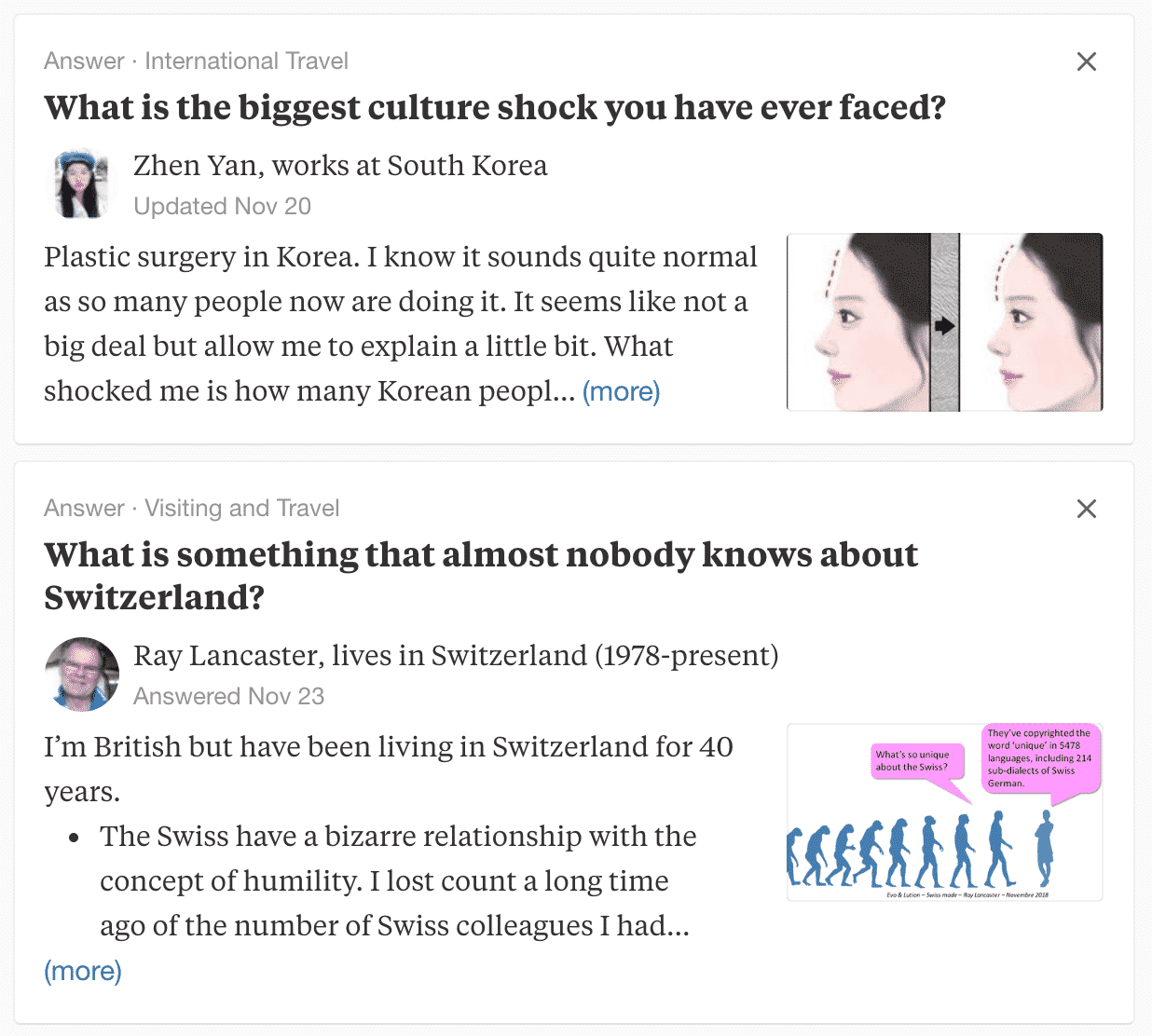 Similarly to Facebook groups and forums, this approach won't work if all you do is drop your blog post links as answers to any question you find.
If you're able to provide substantial answers that bring something new to the table, great. And if you have a blog post that you can link to below your answer, even better! This is quite an untapped area because writing quality answers to travel question requires time.
Interested in answering some questions from fellow travelers? Start here:
Guest Blog for Others in the Travel Industry
The final tip to get your name and blog out there is to share your travel stories and experiences with audiences of other travel blogs and publications.
The key is to focus on blogs and publications that align with your own niche of travel blogging. If you're focusing on traveling on a budget, it makes no sense to pitch a luxury travel publication because it won't help you bring an ideal audience to your blog.
You get the point.
You're always just a Google search away from hundreds of travel blogs and publications that accept guest posts. Here are just a few:
When applying for guest posts, make sure to emphasize what you're bringing to the table and why you're writing will fit in with the publication's regular content.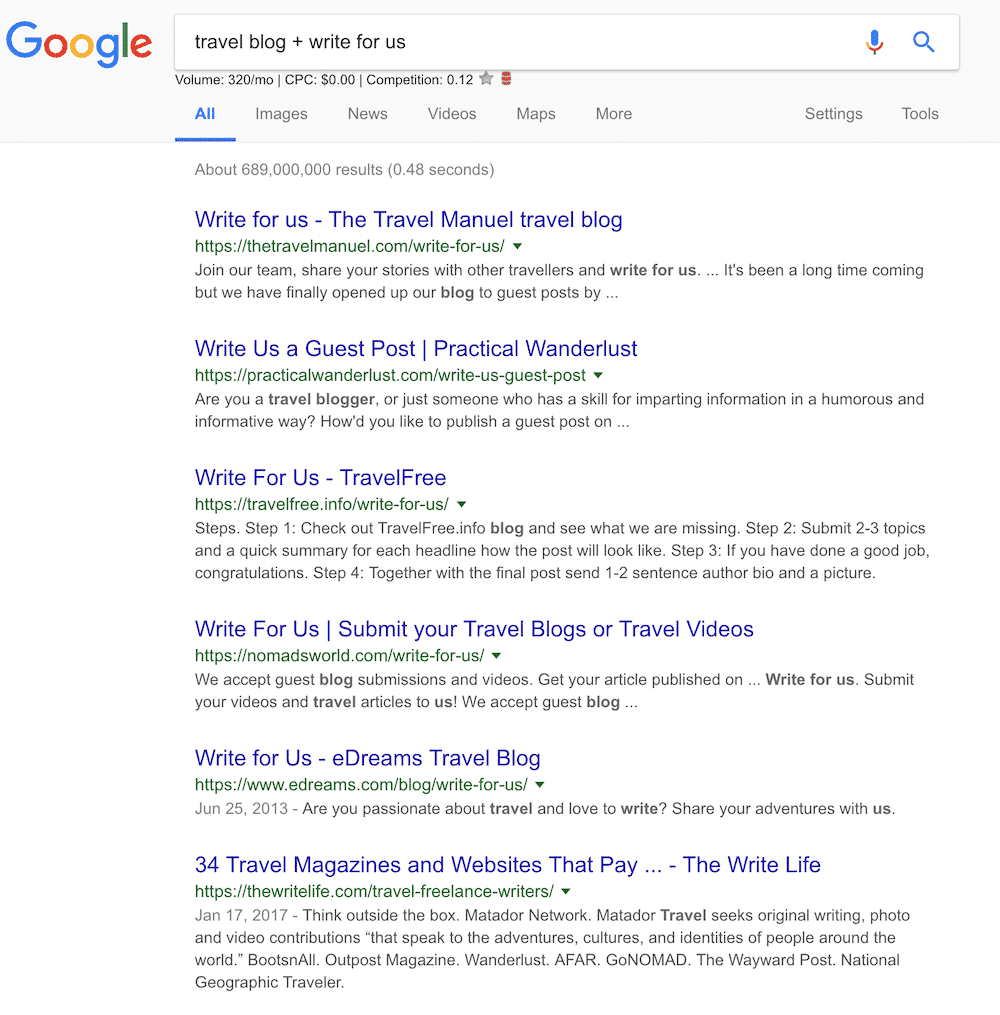 Final Thoughts on Promoting Your Travel Blog
If you've ever struggled to drive traffic to your travel blog posts, you can now finally stop panicking and dedicate the next 30 minutes to implement one of the following:
Organize a folder with photos from your last trip and select three that you'll share over the next week with headline variations
Turn one blog post into a video with Wave.video using any photos or images you have, as well as relevant stock imagery and videos, and adjust the dimensions based on your preferred social networks
Identify 2-5 companies or bloggers you've mentioned in your blog post and tag them when sharing the link to it
Join 5 travel Facebook groups and/or answer a question on Quora
Find 3 travel blogs to pitch a guest post idea to
Do you have a favorite strategy yet? Do you have any promotion ideas we haven't covered? Let us know in the comments below!