How to Share Videos Online: 8 Simple Ways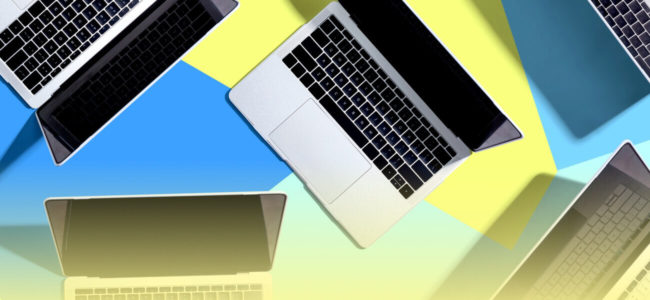 In 2020, 92% of marketers name video as one of the most important parts of their marketing strategy. Some forecasts claim that the average video viewing time per person will reach 100 minutes a day by 2021. So, while the general audience will want to share more videos with friends and family, marketers will keep exponentially growing their use of videos, and teams will need to collaborate on video production and distribution. 
And with more videos and more people working on them, here comes a question – which platform to use for sharing your videos online?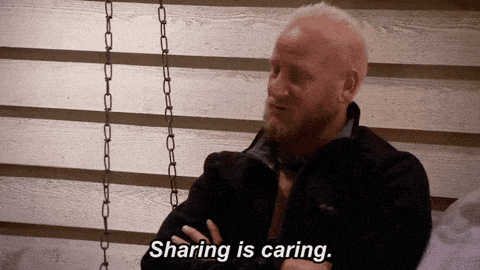 Alas, you cannot just send a video via email without having to wait for a long time to get it uploaded and then realize the video file is too large. 
So, whether you want to send a video from a family reunion to the rest of your relatives or you need to share a video for collaboration with colleagues/clients, in this day and age, you have plenty of solutions for sharing videos online. And this post will help you navigate through some of the main options. 
Sharing Videos via Video Hosting Services
Essentially, video hosting platforms allow you to upload and distribute your videos online. With so many advantages to using video hosting sites for all things video, the key benefits for video sharing come from the professional intent of such platforms. They provide the two most crucial features for video sharing (especially, if you are sharing videos for professional reasons) – security and organizational capacity.
Secure storage

: Some videos you share are intended for large audiences. Some are meant for your colleagues or clients only. Therefore, it's of paramount importance to share your videos within a secure environment. Most video hosting platforms have rigorous security features like password protection, for instance, so that you can make sure no one has access to your videos unless you meant to share it.  

Organizational management:

Professional video hosting services have what is called a "video library". This is a special space where you can streamline and organize your video content the way you see fit to avoid any confusion when you send the wrong video link or waste time looking for the right video piece. 
The best thing about video hosting platforms is that, once uploaded, your video can be viewed online without anyone having to download it. However, the download option is important if you are sharing your video for collaboration efforts. 
On top of these features, video hosting platforms allow you to make edits to your video, prepare it for any post-production efforts like sharing them with your audience via various channels, like email, social media, landing pages, etc. 
Now, without any further ado, let's take a look at some of the most popular video hosting services out there.
1. Wave.video 
Wave.video is a comprehensive video hosting service that does not only allow you to host your videos, but to create and edit them. It has a user-friendly interface and is reasonably priced if you cannot stay within the free plan limit, so it's an amazing platform for both personal and professional use.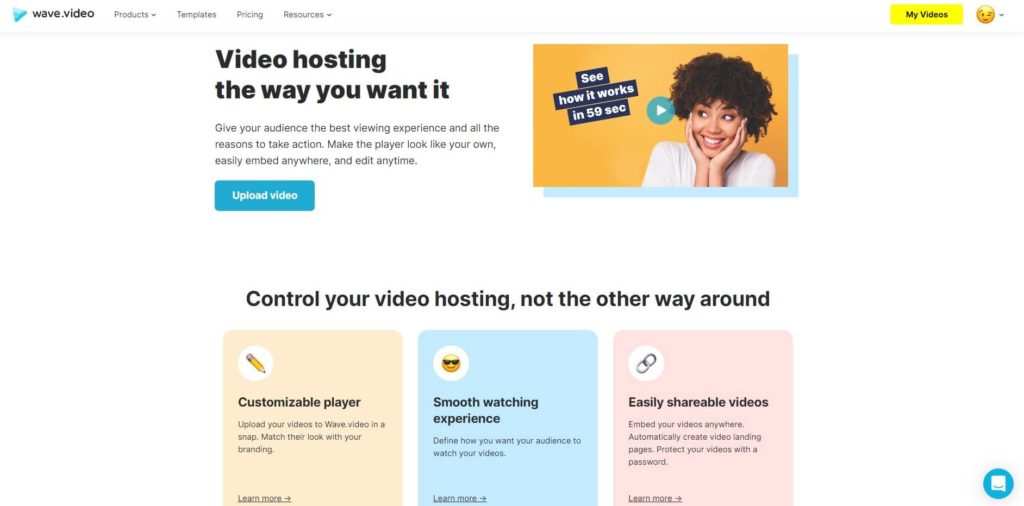 Every video hosted on Wave.video automatically gets a landing page that can be shared with friends, colleagues, or customers via a direct link. A video landing page can also have a heading, description, and clickable call-to-action. Here is an example of how it can look: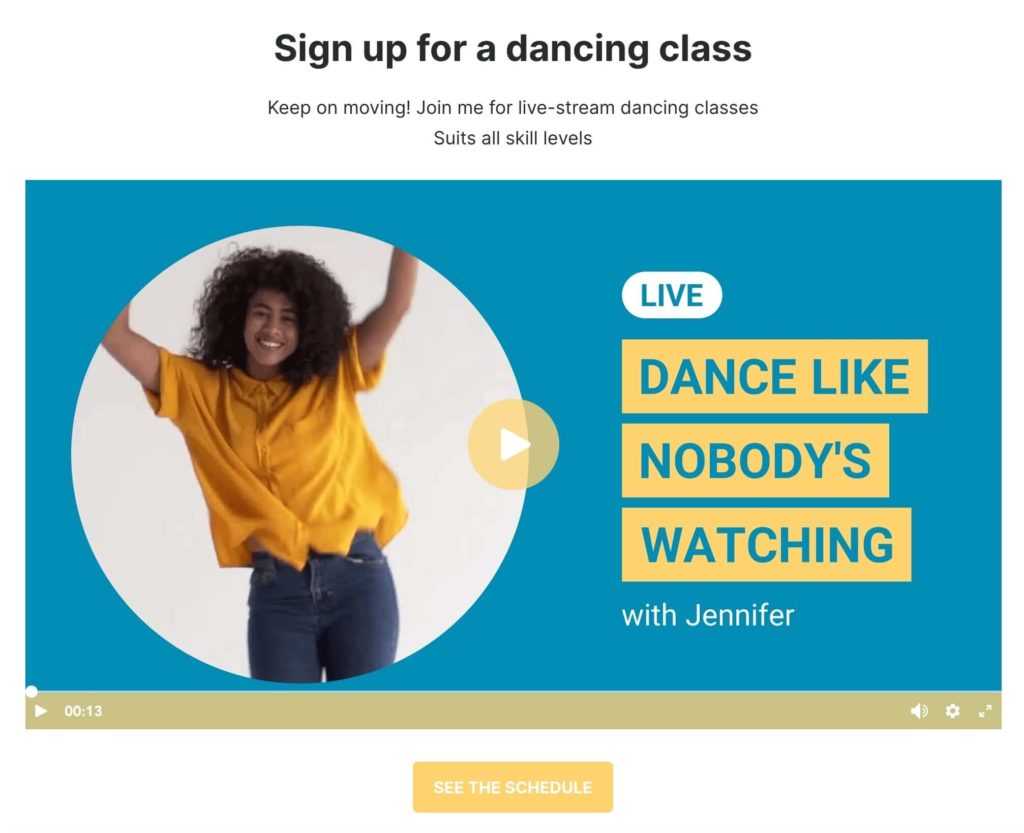 A few of the many advantages of Wave.video include a highly customizable player with full control over the viewer's experience, password protection for videos, ad-free hosting with no outbound links, affordable pricing, and the ability to update embedded videos without a need to replace them.
2. YouTube
YouTube is certainly the most popular and familiar option.  Depending on your goals, it can be a great platform for personal use, sharing videos with friends and family, and even some one-off business purposes. But if you need a video sharing platform for professional use and collaboration, look at other options we're listing in this post.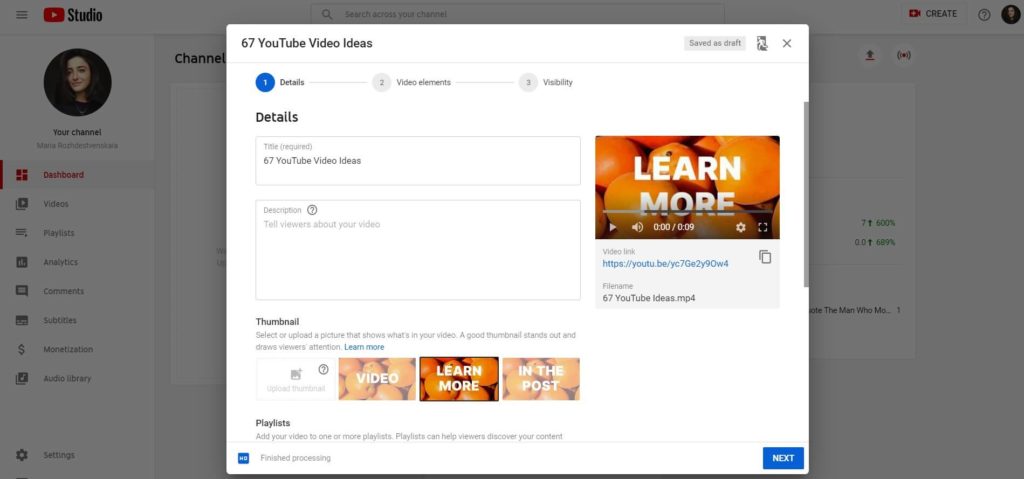 When sharing your video with YouTube, you can tweak the settings and make your video private (only available for those you invite to view, although they should have their own YouTube accounts) or unlisted (meaning, your video will not show up in search results). The video adjusts to Internet quality of the people you share it with and automatically complies with their screen size.
Unfortunately, YouTube doesn't provide many options for customizing videos' appearance. Furthermore, YouTube does not support video download, unless you use external tools that might not be as secure as you'd like them to be.
3. Vimeo
Vimeo is a great video sharing platform similar to YouTube. This is a space for creative professionals to show off their portfolios and artistic works. If you only need to share a few videos on a regular basis, this is a reasonable choice for personal use.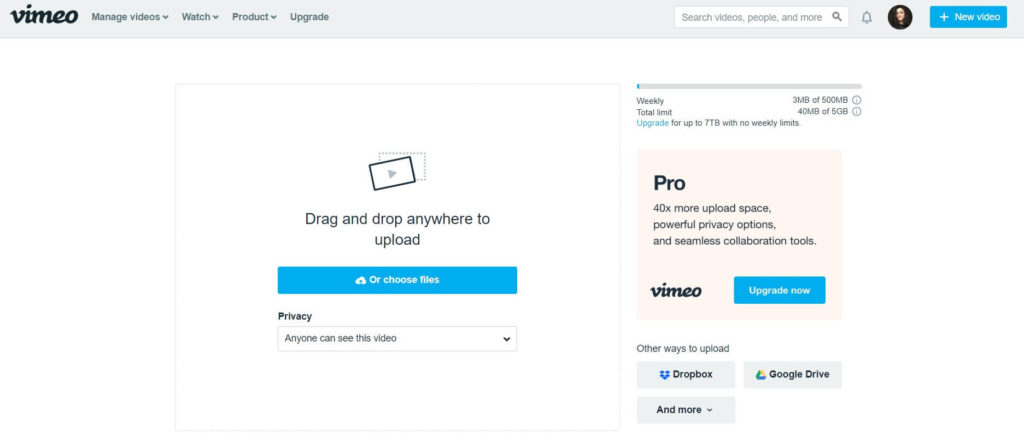 Vimeo supports superb video quality – after all, the platform was designed for the creatives to whom this really matters. The free plan has privacy settings as well as password protection so you can always control who has access to your video. Videos are cross-device compatible, can be of any length with no limits on bandwidth and file size, so long as you stay within the monthly limits.
However, keep in mind that the free version only allows you to upload 500MB of videos a week, and has a total storage of 5GB. Once you exhaust these limits, you'll have to pay anywhere from $7 up to $75 a month depending on your needs. There is another downside for businesses – very strict guidelines in regard to the basic plan. You cannot use Vimeo for free if you upload any videos that are intended for business use. Product demos, tutorials, ads – anything you may want to upload on behalf of your business should be under the Video Business plan that starts at $50 a month.
If you want to learn about more video hosting sites, you can read our pick of twelve best video hosting sites. 
Sharing Videos Using Cloud Storage Solutions
Cloud storage platforms are another solution for video sharing. The idea behind organizing your videos is similar across most of them. You can upload your video to your cloud space (or, create a folder), add your videos, and then share the file or that folder with the people you want to grant access to. You can:
make the video public (it will be indexed by search engines so that anyone surfing the web can have access to it), 

only share it with select individuals (by entering their email addresses), 

or just create a unique link you can further share around. 
Keep in mind that with most cloud storage platforms, people will need to download your video to watch it, so it's not a great option if you just want to privately share a video for a few people to take a look.
4. Dropbox 
Dropbox is probably one of the most popular cloud-based file storage services. It's very easy-to-use, given you know how to arrange things on your desktop – the interface is very similar. Basically, you upload files and start arranging them into a limitless number of folders and subfolders.

This is a great option if you need to share videos for personal use or for occasional professional purposes. Furthermore, Dropbox will also let anyone preview the uploaded video so there's no need to download it first. However, if you are working for a larger business that deals with video on a regular basis, you'll quickly exhaust the free plan's 2GB limit and will have to start paying for more storage or invite friends and get an extra 500MB (up to 16GB).
5. Google Drive
Unlike many other similar services, Google Drive actually plays your video online, so it's a great option if people you share the video with are avid Google Suite users. Indeed, Google Drive is an amazing platform, but it is closely connected with the rest of the Google software. Thus, you will need to have a Gmail account to make use of its features.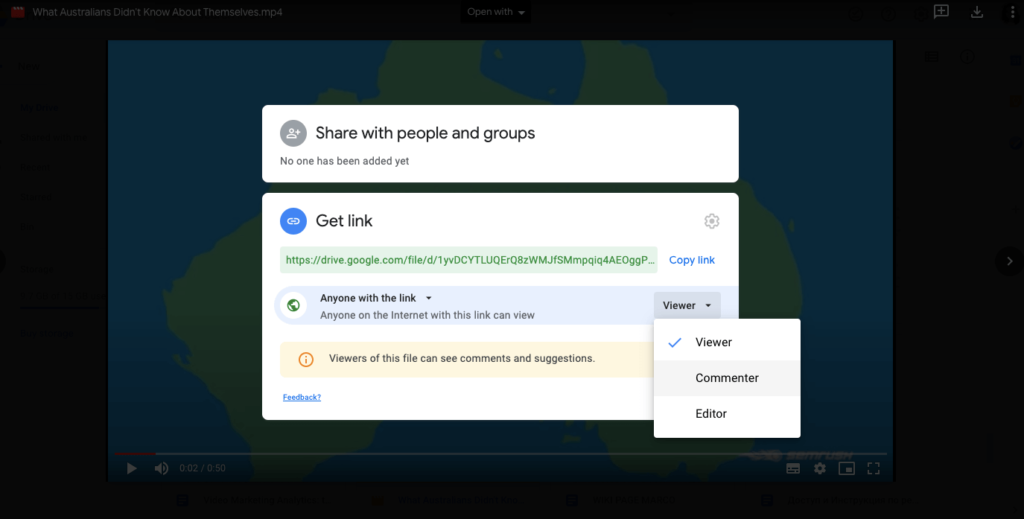 Given you are a big Google fan, you can certainly choose Google Drive as it offers 15GB of free storage and it will only cost you an extra $1.99 a month for additional 100GB.
6. WeTransfer
WeTransfer is also a very popular file sharing cloud-based solution. Essentially, all it does is let you upload your files (2GB being the maximum size per one upload) and send a link to them via email. If you pay $120 a year, the file size limit for sending one file at a time will go up to 100GB. You don't even need to create an account for using the service. This is a very intuitive platform if you want to quickly share videos with friends or clients (for instance, if you are a freelancer).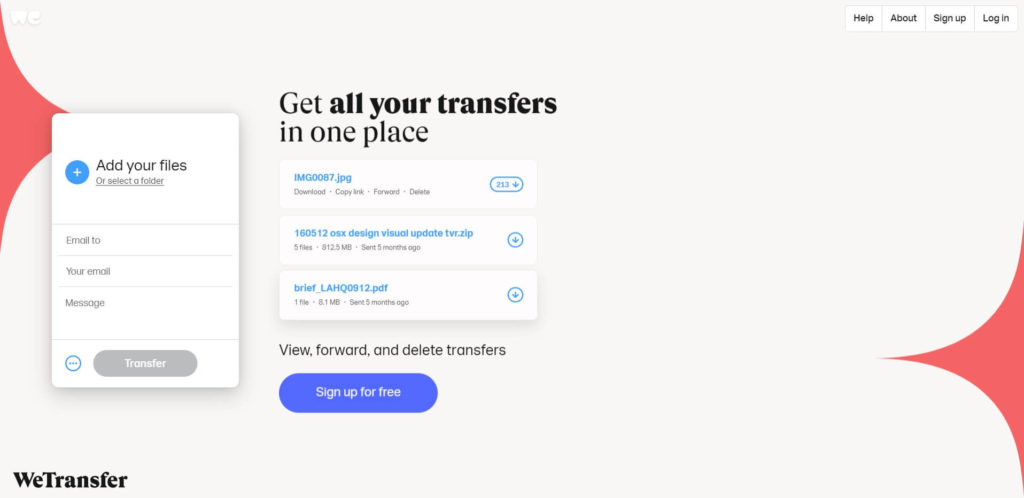 However, WeTransfer is not a great choice if you need to share videos for collaborative efforts and some back and forth with fellow colleagues or clients.  And note that the password-protection or encryption features are only available under the paid plan. 
Sharing Videos on Social Media Sites
Of course, you can skip all the platforms we mentioned above and jump straight to social media sites. But keep in mind that social media networks are great for sharing videos for personal use only, although you can indeed tweak the privacy settings. Why? Only some social media sites allow you to post videos privately, yet they only let those you share it with view the content and basically do nothing else about it. No downloads, no editing, no collaboration.
7. Facebook
The biggest advantage when it comes to Facebook is that pretty much anyone you might want to share your video with is probably a Facebook user. Moreover, you can upload videos that last a whopping 240 minutes. 
The social network has some well-thought-through privacy settings, allowing you to finetune who has access to viewing your video. You can share a video with all Facebook users, friends-only, all friends except for a few, specific friends, a custom list, or just yourself.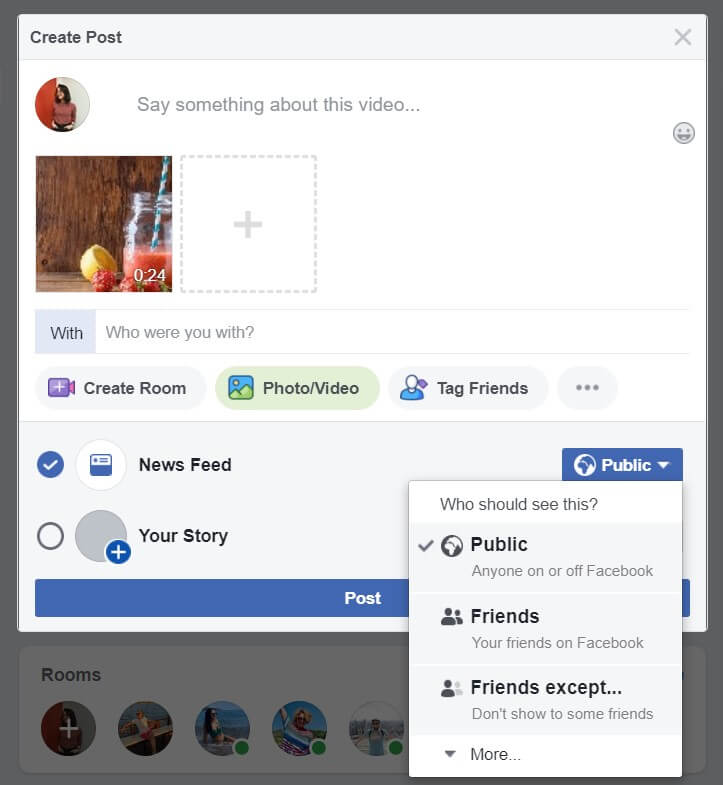 8. Instagram
Being a part of Facebook family, Instagram now also supports some privacy features. You can now create a special Close Friends list, and add Stories that are only visible to them.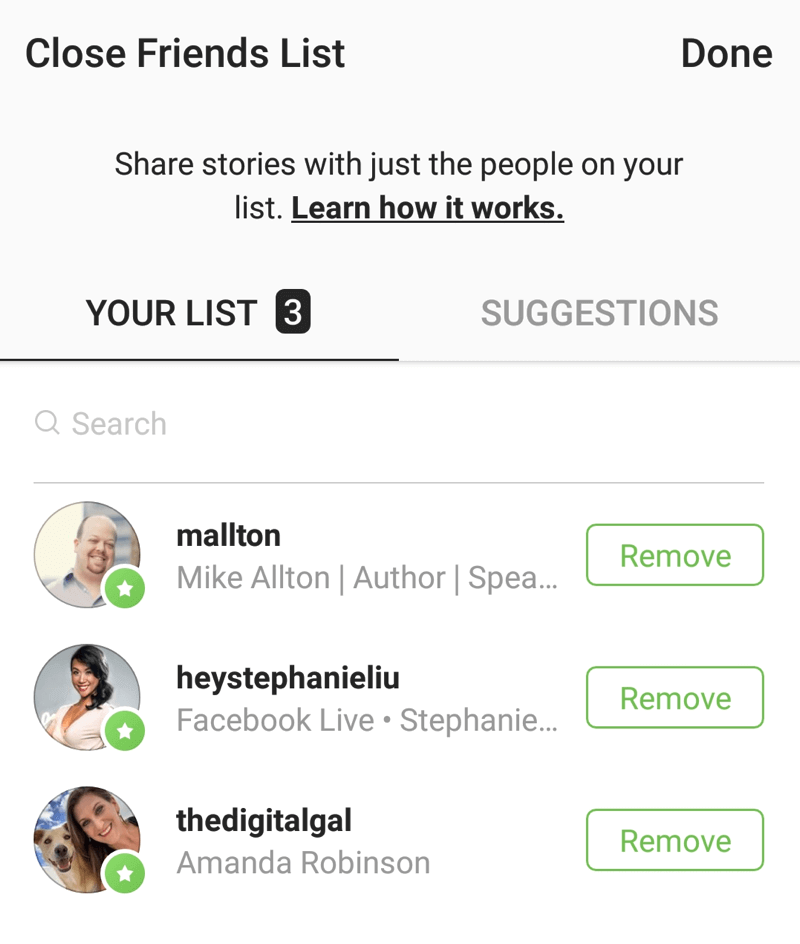 The Close Friends feature for now is only available for the Stories format, so your regular posts or IGTV are yet accessible by the general public or your followers. So, inherently this option is great only if you want to share some intimate moments with close family and friends. Clearly, this is not a feature you'd use for any business-related purposes. 
Over to you
Regardless of whether you need to share videos for personal or professional use, the platform options are incredibly vast. So, the question you should be asking is not about how to share videos online, but which platform best meets my needs. Your choice eventually has to come down to a few factors – your video sharing purpose, security/privacy preferences, average file size/bandwidth/storage limit, and the comprehensiveness of the solution you are seeking. And this post will hopefully help you pick the best option out there.