How to Write the Best Instagram Bios for Businesses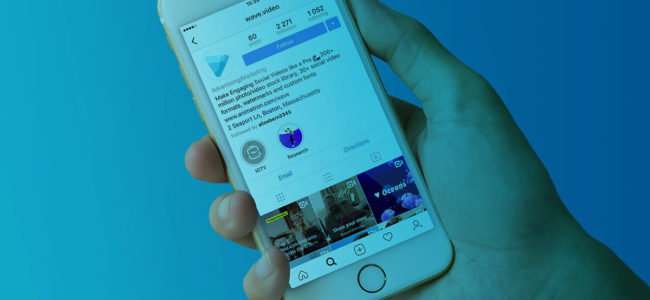 Writing an Instagram bio might seem easy to many: it's just a couple of lines, after all. However, it's not as simple.
An Instagram bio is one of the things that help you grab the audience's attention, so you definitely need to make it work. Today we want to offer you a couple of tips and tricks that could help you do so.
7 Simple Tips to Write the Best Instagram Bios | Instagram Marketing How To
An Instagram bio is one of the things that help you grab the audience's attention, so you definitely need to make it work. Today we want to offer you a couple of tips and tricks that will help you do just that.
1. Know what your bio needs to accomplish
Before you even get to writing the bio, you need to answer that question. The goals could differ a lot for influencers, bloggers, small and big businesses. Therefore, it's important to come up with your own ones at first.
Here are a couple of goals you might want to consider:
convey what your business does

educate the customers about how can they reach you, what are your working hours, etc.

show the brand's or the company's personality

inform the customers about your latest products or services

prompt the customers to take some kind of action.
Here's why this is so important: what to include in the bio depends on these goals. When you need to inform the customers about certain products, services, news, etc., you should include a related link in the bio.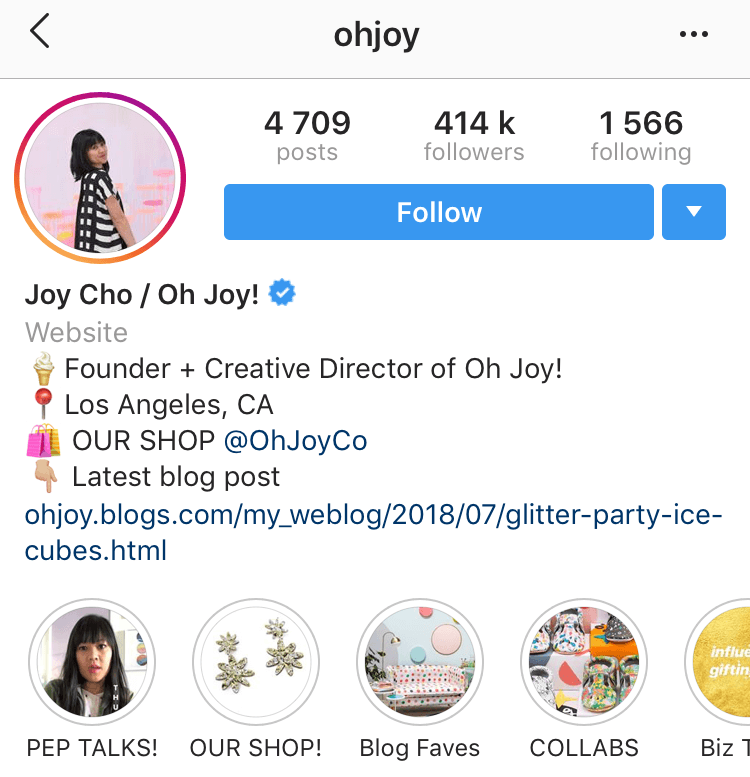 When your goal is to show your business's personality and you don't need to drive the attention to something specific, you can settle for a general link to your website or shop.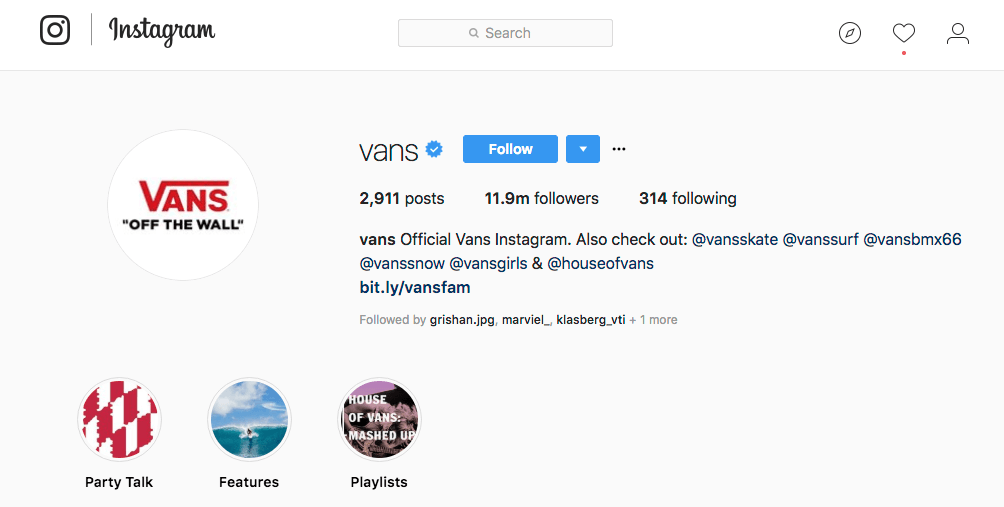 2. Pick a good photo
If you are a brand yourself, consider picking a photo with your face on it. After all, photos with faces get 38% more likes on Instagram in general, so your profile photo might have a good impact on the audience as well.
But it's not only about that. People like it when a business has a face as it looks more personal, friendly, and open that way. When picking a photo, remember that it shouldn't be too detailed, otherwise it might look too unclear. It shouldn't look too formal as well, as Instagram is all about connecting with the audience, not distancing from them.
Here's a good example of such photo: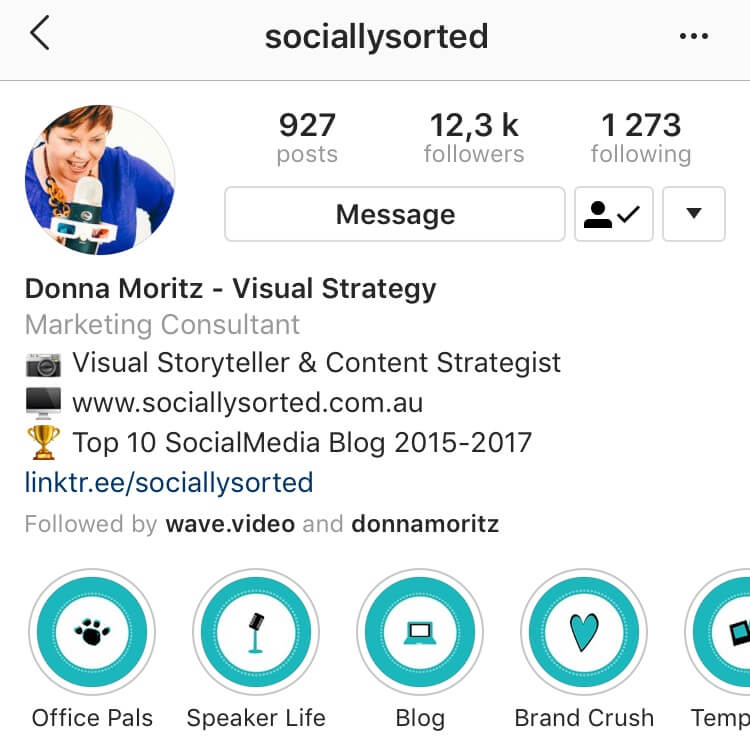 This is a great example of an Instagram picture. It demonstrates the nature of the person.
However, if your brand is not about the person, use the logo instead. Keep in mind that logo symbols look better than signatures when it comes to the Instagram bio. So if you use both signatures and symbols for your identity, try to pick a symbol only for your profile photo.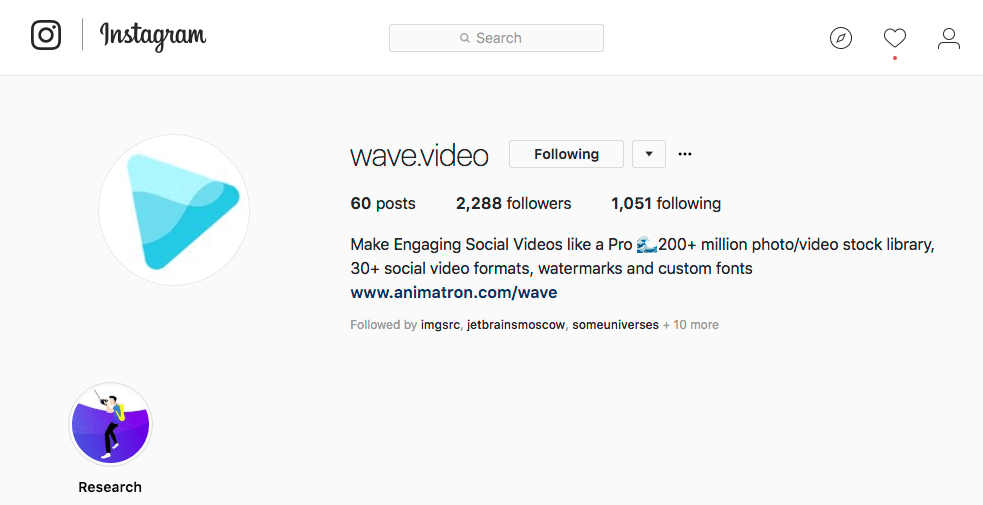 Wave.video uses a logo as their Instagram account picture
3. Write a bio that really represents your business
Should a bio be long or short? Should it include emojis or not? It all depends on your business, on its image and vision. Therefore, spend some time putting that vision into words if you haven't already.
It should also align with your overall social media strategy. How do you normally compose tweets or Facebook posts? What tone do you use?
Come up with words you want to be associated with your brand, with the emotions you want it to evoke. Check out the bios of similar brands for inspiration (but don't copy – your brand needs to have its own unique voice after all).
There are bios that are short but still align well with the brand's image.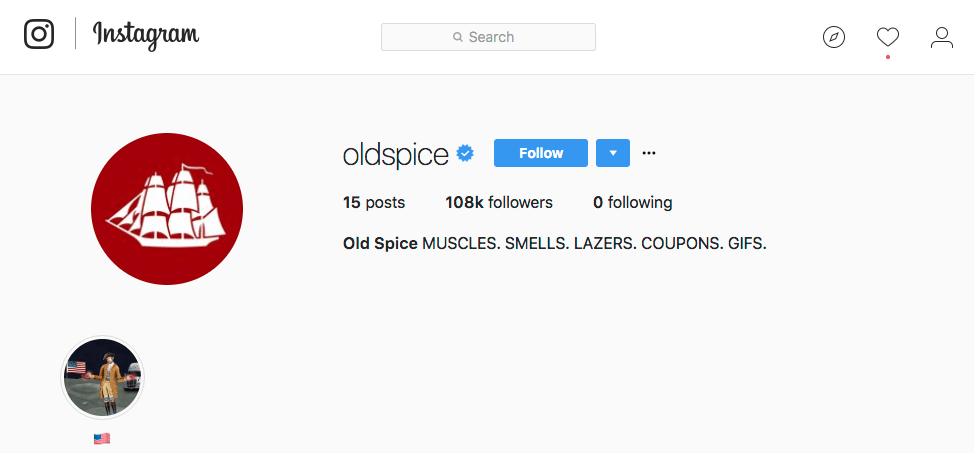 Old Spice Instagram bio is short and to the point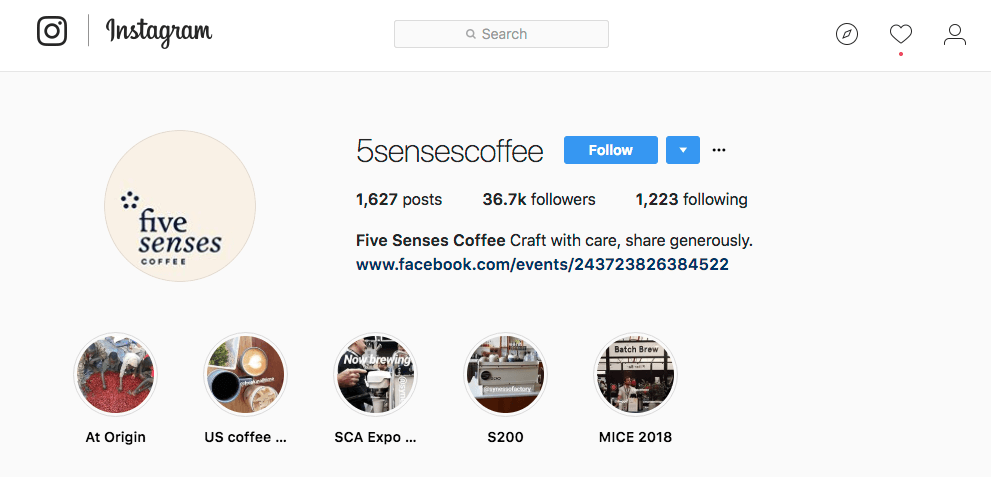 5 Senses Coffee Instagram bio is almost a motto
There are also ones that are more detailed and still work well.
Check Tim Ferriss' Instagram account bio for inspiration on writing longer Instagram bios
4. Break it up
It is easier for many to perceive the information when it comes in smaller portions. Therefore, breaking up the bio with line spacing often proves to be more effective than writing it down in one line.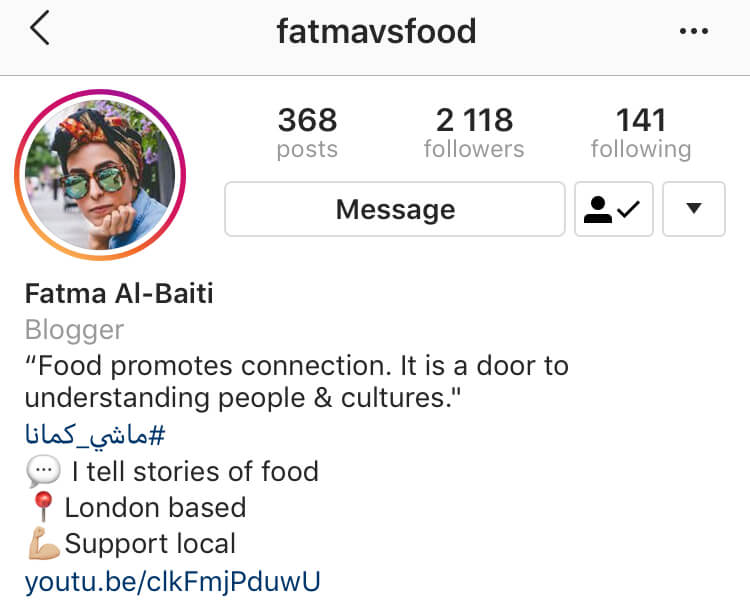 A London-based food blogger Fatma al-Baiti uses emojis to break up the lines in her Instagram bio
Pro tip: since it's impossible to use breaks when writing a bio right within Instagram, use a note-taking app like Notes on iPhone or Google Keep on Android to craft your Instagram bio.
Once you've finished writing the bio, simply copy and paste it in the Instagram bio field.
5. Consider including emojis in your bio
Did you know that 50% of the Instagram comments and captions contain emojis? People seem to like it a lot, so why not make the most out of it?
The emojis are often used to make your brand look more emotional and friendly.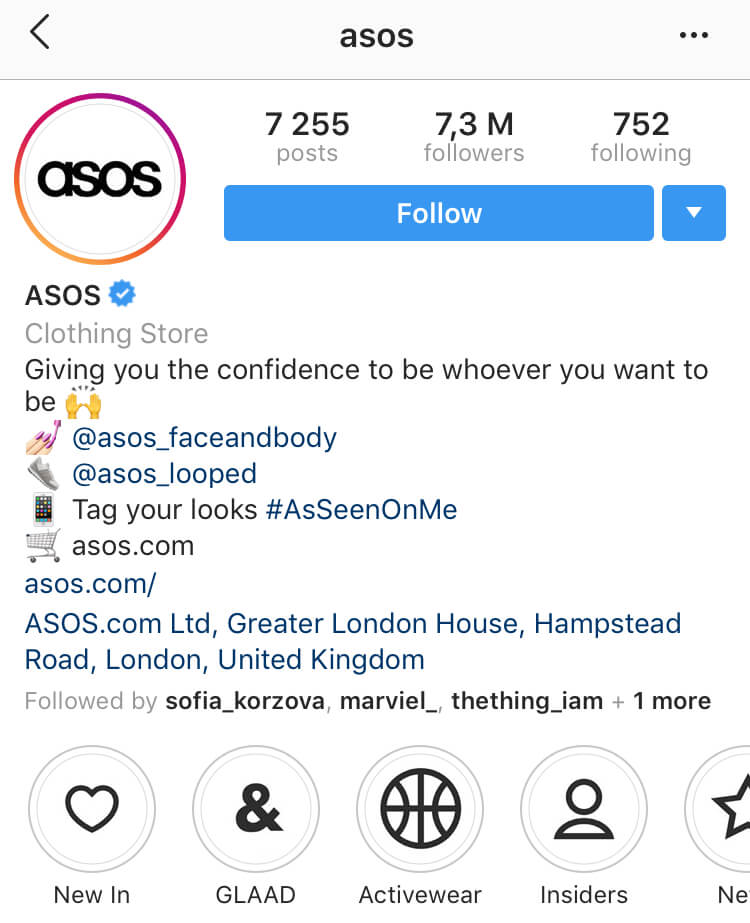 Emojis can also be used for breaking up your bio more effectively. For example, why use bullet points when you can pick emojis instead?
Be careful with it, though. It's important to not simply include emojis in your posts but to do this appropriately. Not all people actually interpret emojis in the same way you do and there's also an emoji slang you need to consider.
6. Use branded hashtags
7 out of 10 Instagram hashtags are branded. Therefore, why don't add to the number?
If you have or want to have a branded hashtag for your business, include it in your bio. This will give your audience the opportunity to share their content for you or to share their opinions about your products or services.
Such hashtags are also a great tool for collecting the feedback from your audience, be it reviews, photos of your products, and so on.

7. Make a link part of your bio
Since the link in bio is the only clickable link Instagram allows you to have, make sure you make it count.
The link comes right after the bio, so naturally, you might want to attract your visitors' attention to it with an extra symbol. These are a couple of the most popular emojis used in this case:👇 ⬇️
To put extra emphasis on the link, use several pointing or arrow emojis in a row: ⬇️ ⬇️ ⬇️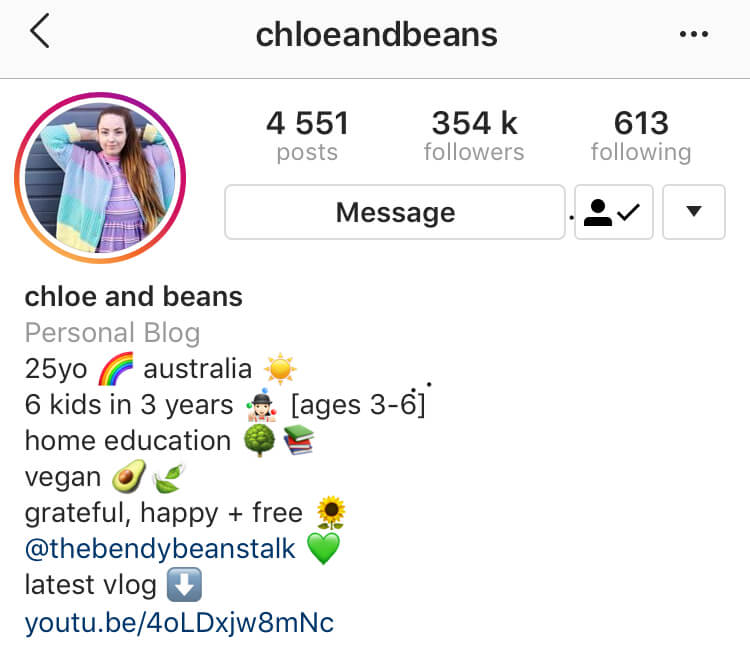 An Australian blogger Chloe attracts visitors' attention to her latest YouTube video with an emoji
Conclusion
The Instagram bio might be only 150 characters long but it doesn't make it less important. It's the opportunity to tell the audience who you are, how can they connect with you, and which of your products or services they should check out. It could also help you drive back more traffic to your website.
Therefore, it's important to invest time into crafting a good bio for your Instagram account. Keep in mind that the definition of «good» isn't overly specific here. You can write a serious bio, a funny one, a short yet impressive one, or the one that barely fits the 150-character limit. Just write something that really represents your business and keep our tips in mind to achieve better results.
It's important to invest time into crafting a good bio for your Instagram account
Do you believe the Instagram bio is important? Do you maybe have some tips to share with us too? In this case, please do so in the comments below.
About the author: Charles Ebert is a career mentor, content coordinator for edubirdies.org, motivational speaker & human resources consultant with over 10 years of experience in HR sector. Apart from career mentoring, he loves photography and football. Find him on Linkedin, Twitter, Facebook & Google+.