14 Easy and Creative Instagram Poll Ideas for Your Stories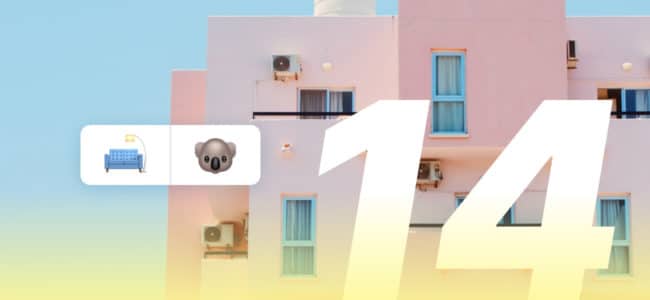 Instagram Polls. Compared to the many features of the social media platform, polls have been a quantum leap with regard to engaging the audience.
Instagram rolled out polls in 2017. Fast forward to today, they have become an integral part of the platform's "Stories" feature.
But what are Instagram Polls, and do you even need to count on them for improving your audience engagement? It's time to find out!
What is an Instagram Poll?
As HubSpot research reveals, stories centered around Quiz or Poll stickers are among the most popular Instagram formats.
An Instagram Poll is an interactive sticker that you can use in your Instagram Stories to ask questions with options to vote.
After you have shared your poll, your followers vote, and you can see real-time results. Apart from analyzing the votes, you can also see all who voted and what option they picked.
But just like any other story, stories with polls also disappear after 24 hours. And so do their results.
Instagram Story Polls – Why Do They Matter?
Whether you have a personal Instagram account or one for your business, adding polls to your stories can help in many ways:
Increase interaction: Instagram polls help increase interactions with your followers by spiking their interest in your otherwise not-so-happening content. Go ahead, create a poll, and make the most of that improved proximity with your followers. You can thank us later.
Know your audience better: Polls help you discover your audience's interests, which is fab when you're about to launch a new product or service and want to get the hang of the market. Starting a poll on Instagram will help you discover what your audience expects from your new product/service.
Receive real-time feedback: Apart from helping you understand the market better, polls also work great when you want to receive real-time feedback on any topic. Instant feedback is way better than those surveys that customers often tend to skip.
Boost the audience engagement: Polls are excellent at increasing your audience's engagement level. And the more attention your Instagram story draws, the greater are its chances of reaching more viewers.
How to create an Instagram Story poll?
Adding a poll to your Instagram Story is as easy as it gets.
Step #1: Open Instagram
Step #2: Create a new Story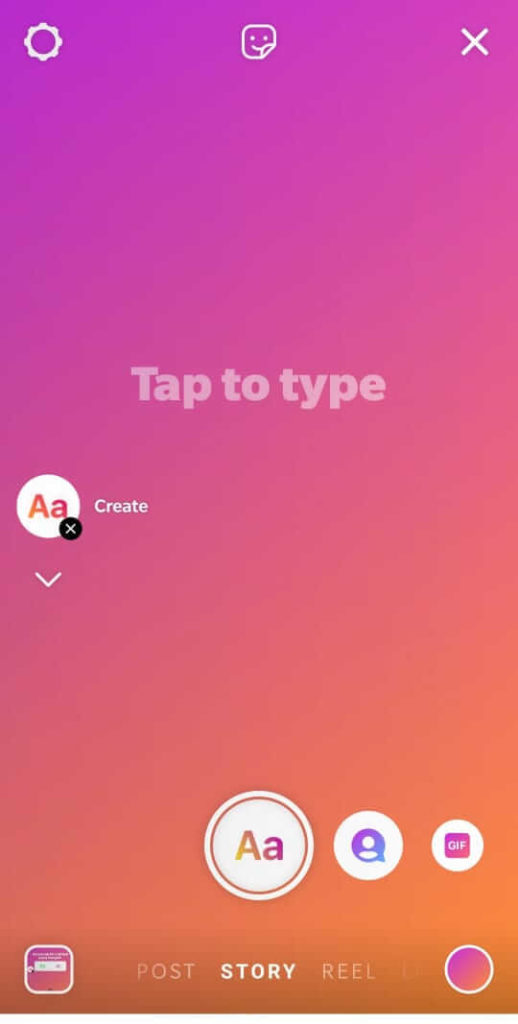 Step #3: Tap the sticker icon at the top of the screen and select the "Poll" sticker from the options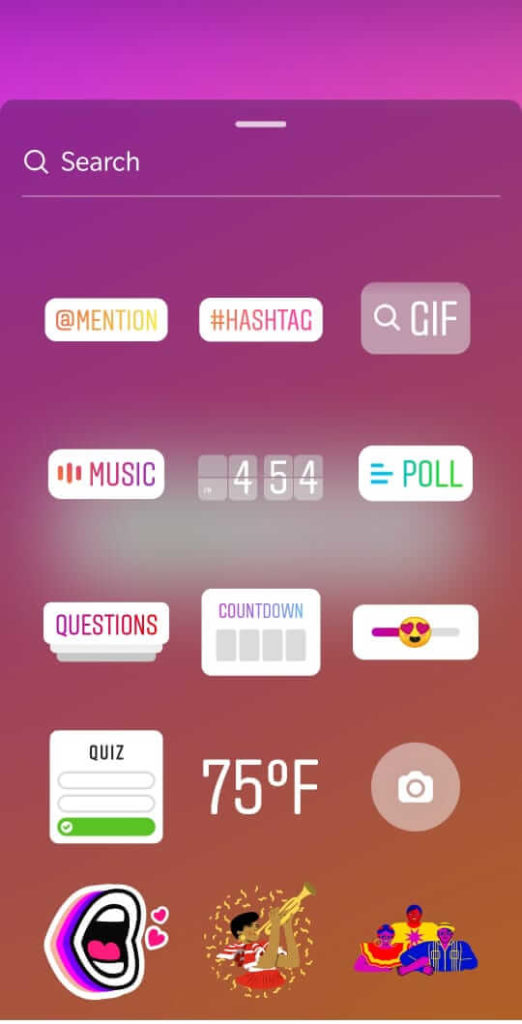 Step #4: Write your question for the poll
Step #5: Edit the "YES" and "NO" option if you want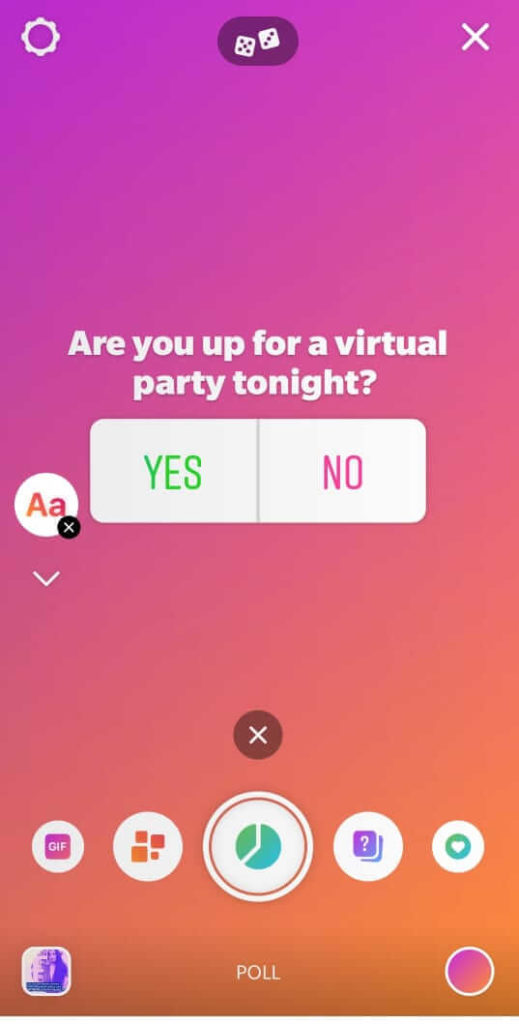 Step #6: You can also hold and drag the picture to resize and reposition the poll
Step #7: Once done, tap "Your Story" or "Send To >"
And that's it! Now, wait for the results to come in and see what your audience thinks about the poll.
Pro Tip: While you can always create Instagram poll stories on the native platform, use Wave.video to customize them and make them more stunning and impactful.
14 Easy and Creative Instagram Poll Ideas for Your Stories
Using polls in your Instagram Stories may be easy. But you may quickly run out of creativity.
If that's the case, we have got you covered with these easy and creative Instagram Story Poll ideas.
Observe, remember, implement.
1. The "Quiz" Poll
Who doesn't like a little workout for their brain while scrolling through their favorite brand on Insta?
Conduct random quizzes and ask easy questions (or difficult ones if your audience takes them well). And if you can run a quiz featuring your brand, that'd be even better.
Well-known skin and hair care brand Palmer's often uses poll quizzes in its stories to strengthen its connection with its followers. See how: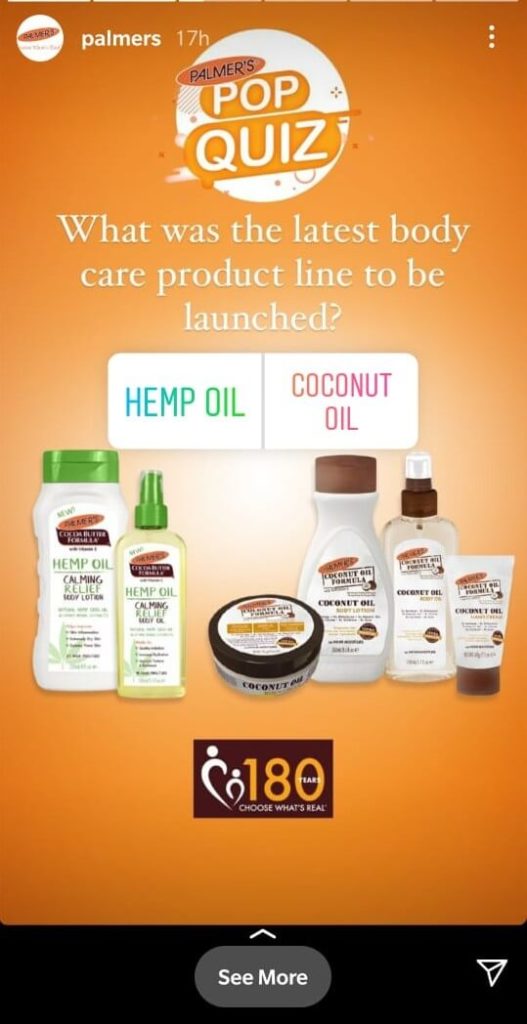 2. The Gauge the "Interest" Poll
When it comes to gauging their audience's interest, businesses often find themselves in a quandary.
So, why not directly ask your potential customers? Also, why go over the agony of those skipped surveys?
Take advantage of Instagram story polls and get quick product reviews in real-time.
From giving them the options to pick one style/type over another to asking them if they use a particular product, there are several ways to ascertain your potential customers' interest before you go ahead with a decision that impacts them.
One of the most loved cosmetic brands, Benefit Cosmetics, uses this approach to find out an outlet that lets its followers exhibit their likes and dislikes.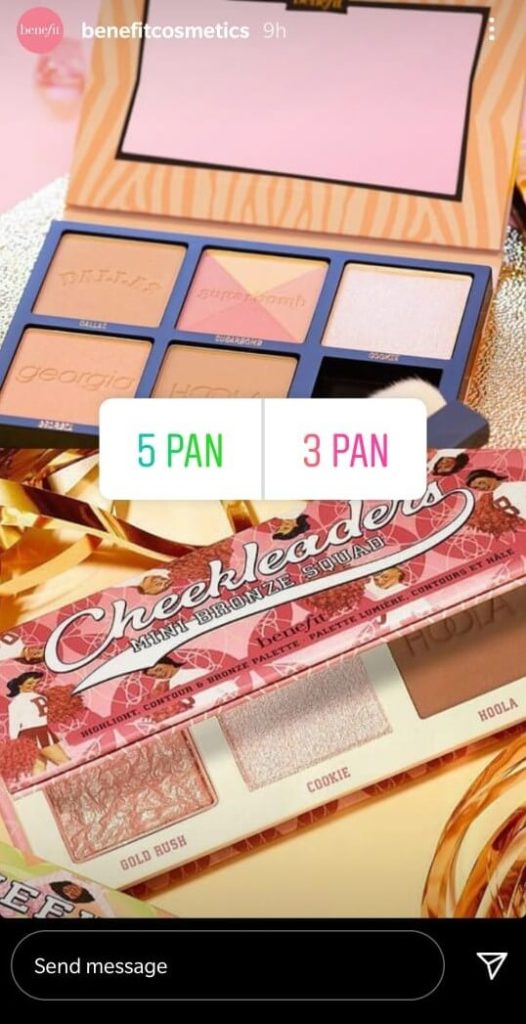 3. The Navigate to the "Website" Poll
Alright, you may have been doing this already, but driving website traffic through Instagram polls is trickier than it seems. You have to be on point and make it look more professional and in sync with your Instagram stories.
No matter whether you want to take your audience to a blog, a product page, or a sign-up form, Instagram poll stories are a superb way to do that.
9GAG does it wonderfully by employing the ever-useful "swipe up" option.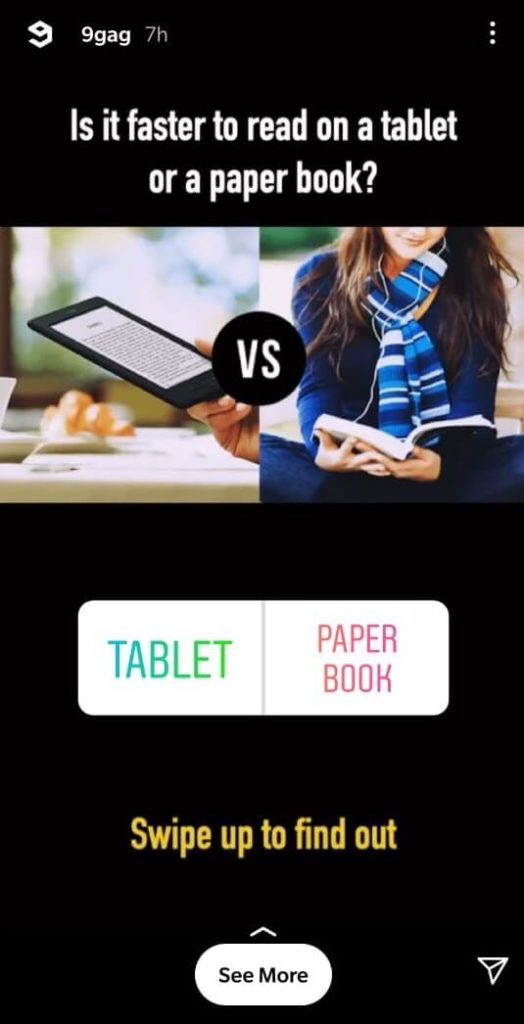 4. The "Suspense" Poll
Jazz up those old, boring stories by bringing in some suspense factor. Whether you're planning to launch a new product and want to build hype around it or you want to test your followers' love for your brand – building suspense in a story wouldn't fail you.
Sephora uses this strategy to further improve its audience engagement on Instagram with a little bit of suspense and leaves them asking for more.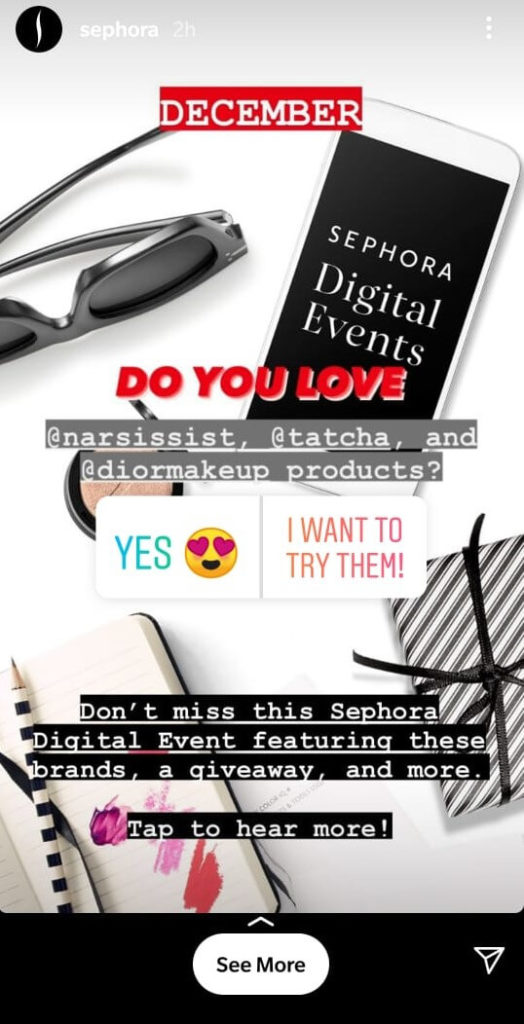 5. The Simple "Interaction" Poll
You don't always need a reason to use a poll. Sometimes, it could simply be a mode to connect with your followers. From behind-the-scene peeks to usual conversations, you can enhance your stories' influence with polls that are meant just for fun, as Gymaholic does in the story below: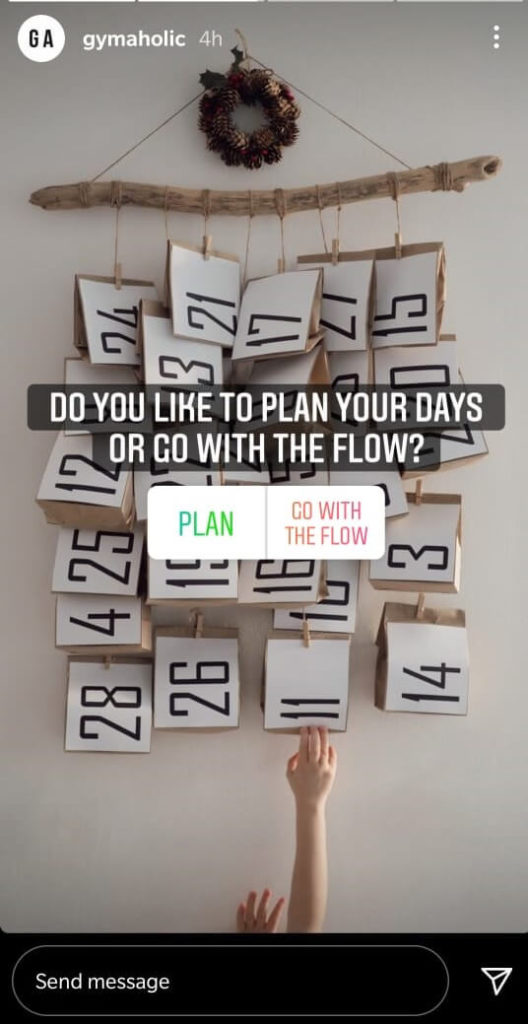 6. The "On-Trend" Poll
Showing your followers that you're keeping up with the trends has never been as important as now. Whether it's a movement, an upcoming event, or even a festival, centering your poll stories around trending topics is all the rage.
The renowned fashion brand, Forever21, uses this Instagram poll idea to boost its sales with winter-fashion based stories.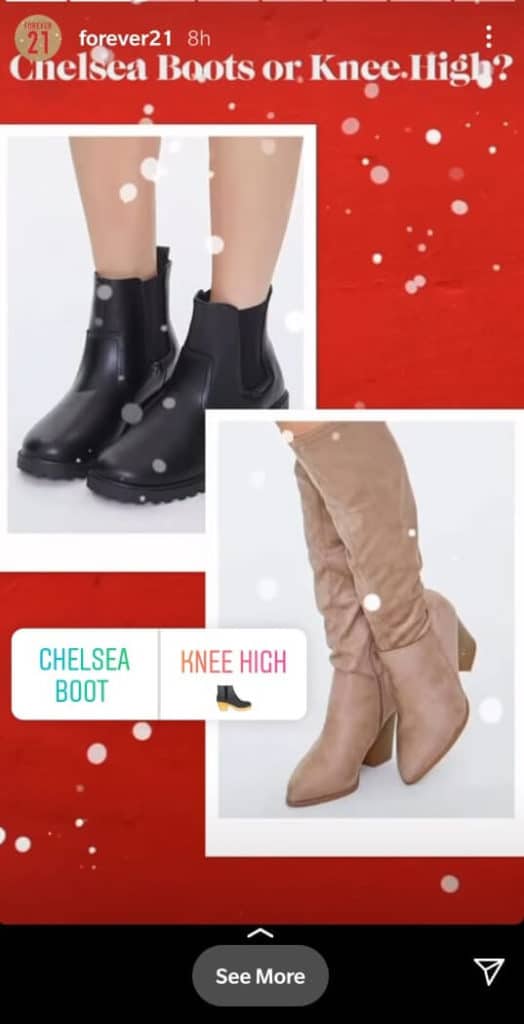 7. The "Social Responsibility" Poll
On Instagram, brands are often seen as influencers. If you want to be perceived as a positive influencer and show that you care about the world you're a part of, create polls that reflect your social responsibility values. Whether it's sustainability or a cause you endorse, talk about it through your poll-based Instagram stories, and inspire your followers to do their bit.
This International Day of Persons with Disabilities (IDPD), POPSUGAR shared a remarkable poll story on Instagram that mentioned five actors with disabilities. A splendid initiative to bring disabled actors into the limelight, here's a sneak peek into the content the brand shared: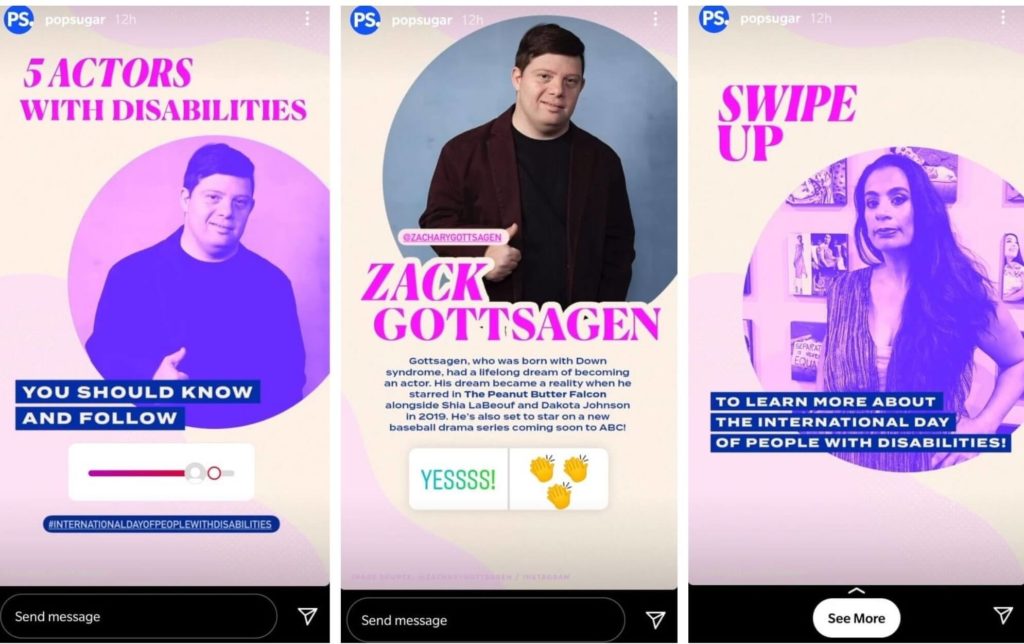 8. The "Brand Promotion" Poll
Hey, I know almost everything that you do on Instagram is for your brand, but this strategy focuses explicitly on the need to promote your brand. Use stories and polls to help your usual content stand out and promote your brand while you're at it.
See what Subway does here?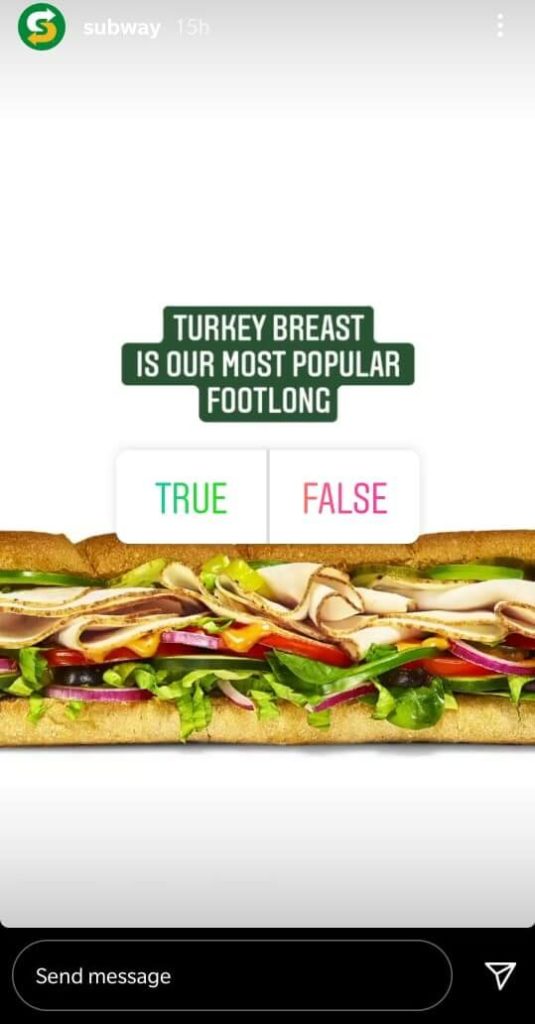 You can also promote your other social media profiles if you like. That's a great way to take your Insta followers to other channels and build your visibility across the web.
9. The "Idea Generating" Poll
Ever wondered what do your customers want to see next? Well, stop wondering and start asking.
Ask your Instagram followers what they want to learn about your brand or products, and use your responses to generate engaging content that relates to their needs.
Check out how celebrity baker Matt Adlard uses this proven strategy to attract his followers by asking them if they'd like a live Christmas bake.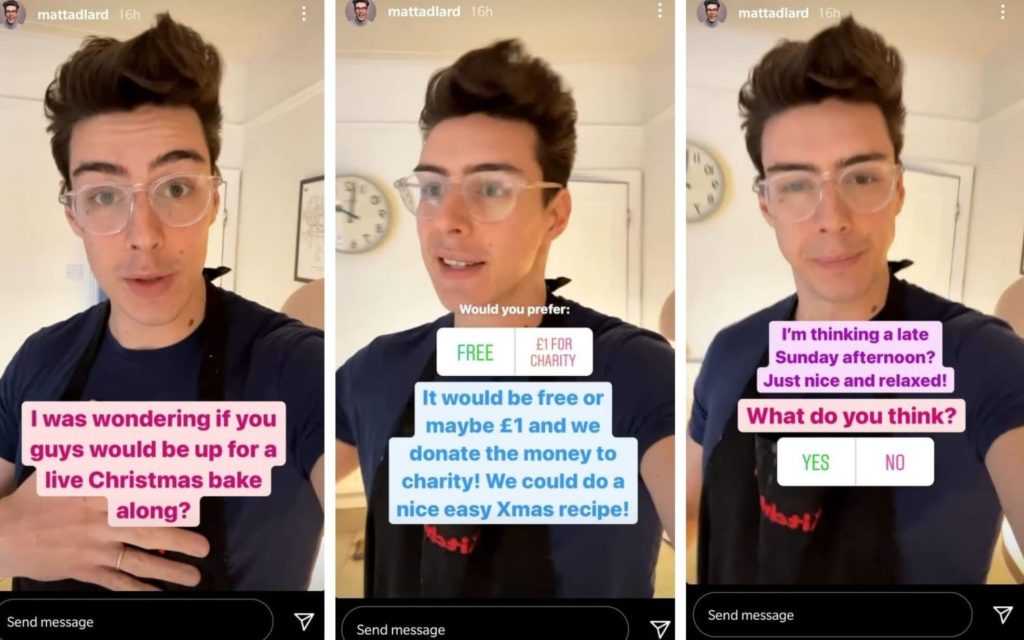 10. The "Soft Sell" Poll
CTAs aren't always the right calls when you have the option to soft sell. Post a poll to garner more interest in your product/service and then take your audience to the products/services as recommendations.
Walmart frequently creates stories that use polls to know if its followers are interested in a particular product type and then suggest products when they swipe up to see more. An excellent way to promote your products and boost your sales.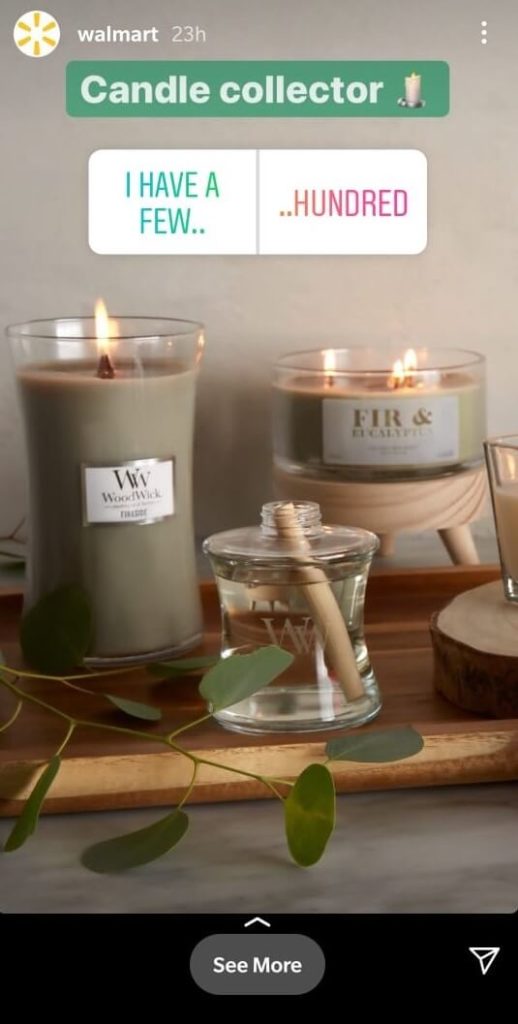 11. The "Educate" Your Audience Poll
There's no company that has shared it all with their customers. You always have the opportunity to share your knowledge with your audience. And when you use polls to do that, the impact is even more significant.
HubSpot is a pro at this. A big part of its Instagram stories focuses on educating customers, and the brand seamlessly integrates polls while doing that.
Here's how the marketing software company uses polls to educate its followers about the dreadful "customer churn":
12. The Social Media "Care" Poll
Building a connection with your audience on Instagram requires more than usual posts. It calls for stories that show that you care about the virtual family that you've created. So, it's crucial to run a few polls that help you show you care.
Take Samsung Mobile as an example. Look below to find out how the brand talked about making kids ready for their first mobile using a poll.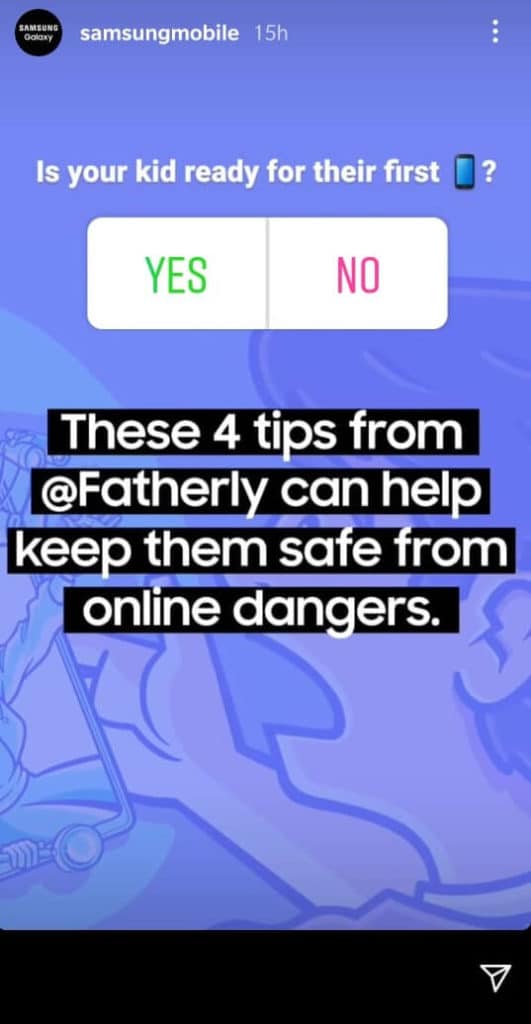 13. The "Judgement" Poll
Have you ever thought about turning the tables and letting your followers judge a contest? Well, with one of the most creative Instagram poll ideas, you can.
Get creative with your stories and ask your audience to be the judge of a competition. When they know their opinions matter, they'll not swipe past your stories. So, let polls work their charm.
For inspiration, check what Ikea USA did here.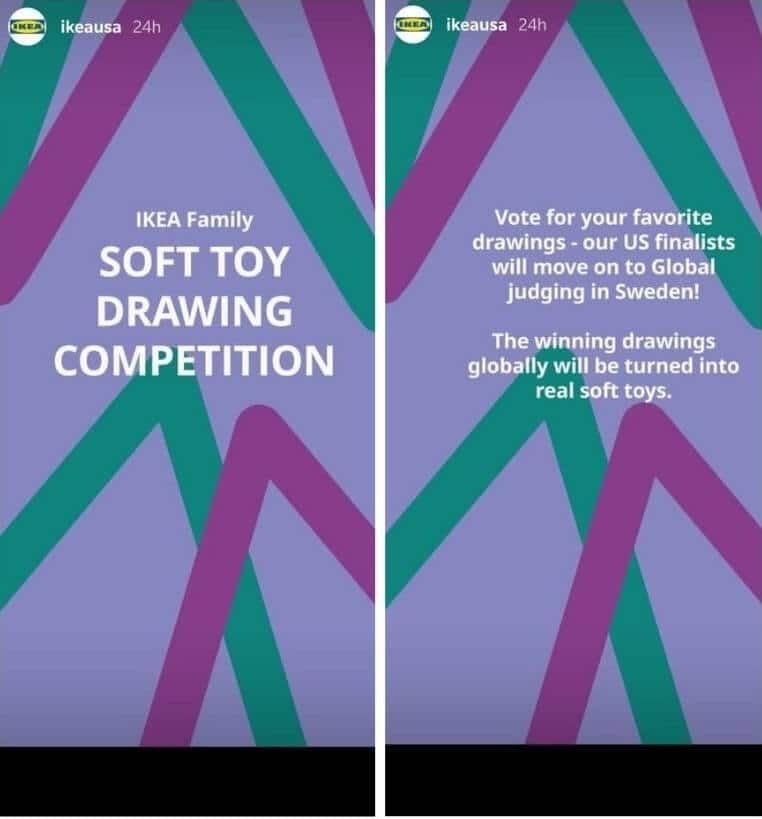 The global furniture retail chain recently launched a "Soft Toy Drawing Competition" and then asked its Instagram followers to vote for their favorite drawings, which included some of the cutest entries ever.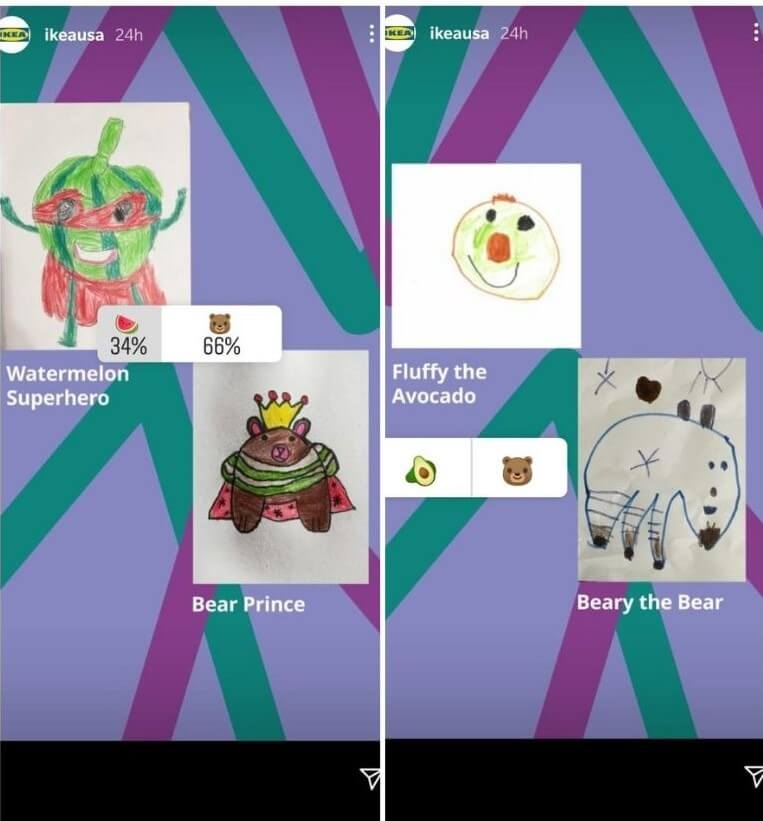 14. The "User-Generated-Content" Poll
What if polls can help you tap into the world of user-generated content? Can you do that? Can an Instagram story poll idea help you hit home with your marketing efforts? Sure, you can.
Turn your Instagram followers into brand advocates by using polls, just like HubSpot did in the example below.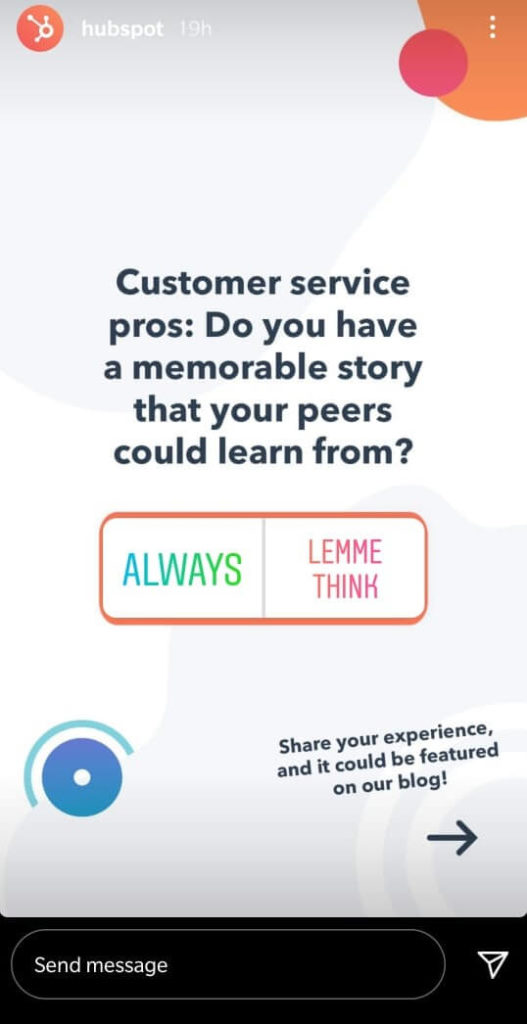 The brand encouraged its audience to share their experiences and get a chance to be featured on its blog. Now, that's a win-win.
Over to you
While there are several ways to enhance the impact of Instagram Stories, Polls help you leverage the stories feature better than the rest.
However, what type of polls stories should you run depends on your marketing goals and the brand's messaging.
Have you used any of these poll ideas on Instagram Stories? What is your go-to question for your audience? Tell us in the comments, and don't forget to check 12 Cool Examples of How Brands Use Instagram Stories to Promote Their Businesses for some more Insta-inspiration.