11 Video Collage Ideas to Make Your Content Stand Out [+ Free Templates]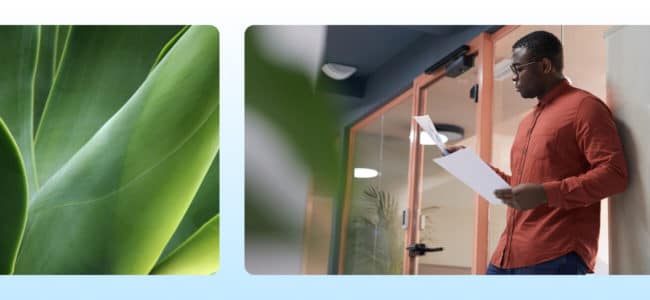 According to Google's recent research, 79% of people say video streaming platforms make them happy.
This fact is definitely inspiring for marketers who're planning to leverage videos in their marketing campaigns.
But how to impress the audience when you only have a few seconds to grab their attention and convey your key concept? The answer is: create video collages.
One can easily turn regular videos into exciting and viral-ready digital assets with some fantastic video collages. Plus, they make a great tool to convey your message if a single video doesn't serve the purpose.
One Frame + More Than One Video = Awesomeness Overloaded
Luckily, making video collages is a simple task when you're armed with the right tools. With a variety of templates, some of these tools work brilliantly to help you merge videos and create, what we call, a stunning collage.
While we can't wave a magic wand to make that perfect video collage you need, we can do the next best thing: tell you how to make video collages in a few simple steps using Wave.video and the templates that come along.
But before we get knee-deep into that, let's discuss what is a video collage actually and understand what all can it do for you.
What is a video collage?
Okay, I admit it's a no-brainer, but let's talk about it for clarity's sake.
A video collage is a combination of videos and/or photos with background music. You can create it using pre-defined templates or layouts, that we'll share in this article. And making a video collage is a cinch with Wave.video.
So, what all can it do for you? Let's find out.
5 reasons to make video collages
Video collages are more than just a fantastic display of video art. And they deserve one of the top spots in your video marketing strategy as they help in the following ways and more:
Convey more visual information in one frame
If you're even a little into the world of photo editing, the chances are that you may have used a photo collage maker to show multiple pictures on canvas.
But most of the design tools on the market don't support videos. So, we thought, why not create one for our customers? I mean, a video collage maker is your best companion when you want to convey more visual information in a single frame. Because sometimes, you need more than just a video to tell the whole story.
Add to the visual interest
When it comes to improving the visual interest, two elements are usually better than one. It is why a video collage is a great way to show your content when there's a lot to share, and you want to spike the interest of the viewers without making them feel bored.
Get your creative juices flowing
We're all busy. And we don't always have enough time to display our creative skills when it comes to video making and editing. This is where a good video collage maker like Wave.video helps you. It lets you place your videos, images, and GIFs in templates.
With a superb choice of graphics, stickers, and music options, it also gives you the freedom you need to display your creativity. You save time. And the results are incredible.
Video collages offer excellent branding opportunities for recognizable videos by helping them attract attention with cool layouts.
Social media and videos are inseparable. Almost all the brands and social-media-savvy celebs are posting videos to connect with their audiences. So, how do you ensure your videos stick out from the sea of videos that are there?
By juxtaposing video clips, images and GIFs.
Video collages offer excellent branding opportunities for recognizable videos by helping them attract attention with cool layouts.
Make certain tasks pretty easy

Want to capture multiple perspectives or angles (think of sports videos)? Check.
Want to create great transformation videos by comparing before and after shots? Check.
Want to make easy-to-follow tutorials without overboarding your audience with a series of steps? Well, check that too.
Video collages are perfect for tasks like these and for the times when you want to create some remarkable fan media or seasonal mood boards.
One tool, multiple uses. Amazing is the word you might be looking for.
How to make video collages with Wave.video 
Given its versatility, Wave.video is often the first choice of video marketers looking to create a video collage in a few minutes.
You can either upload video clips or pick a template from the gallery to get started.
Step 1. Log in
Create your Wave.video account or log in if you already have it. Once logged in, click on the "New Video" tab to begin your project.
Step 2. Start your creation
Next, upload a video, pick a template, or choose a blank video to start from scratch. You can also explore the Wave.video's free stock footage library to select the videos or images that best match your requirements.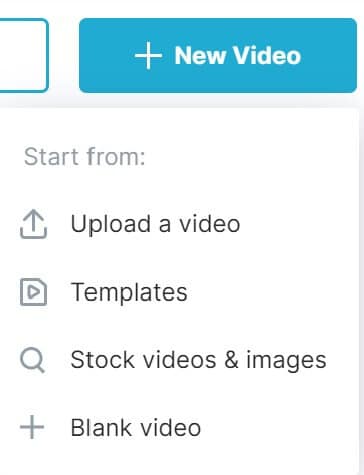 Step 3. Pick a layout for your video collage
Work on the uploaded video or selected template to create your video collage.
You can resize the video, play with the colors and texts, add videos and images, experiment with graphics and stickers, remove the Wave.video watermark (with an upgraded version) and add some groove with the music you like.
There's also an option to add captions. Check more on that here – Make Your Video Content Accessible: 12 Best Sites For Captioning Videos
When the only thing you want is an eye-catching video collage for any stage of your video funnel, Wave.video puts you in complete control with its simple drag and drop interface.
Video collage inspiration: 11 free templates to get you going
Want some inspiration on creating stunning video collages? Wave.video has got you covered with a wide range of free templates.
Take a look at some of the best ones below:
1. Side by side collage
Use this template if you want to highlight two features of the same thing to make the viewers' perception more saturated.
For instance, on this video the visual image yoga is given through its two key concepts: peace of mind and strength of the body.
This video collage with side by side images, videos, or GIFs also works perfectly for
comparison videos
reaction videos
who wore it best videos
collaborative videos and alike.
Quite naturally, with two striking elements on one screen, a side by side video collage ensures that you're on your way to better traction.
2. Overlapping collage
To represent a passage of time or show a product at various angles, overlapping layers work the best. This collage is also great for creating a product portfolio.
3. Video over a video background collage
Use a video over a video background to create a collage that leaves more impact than a plain old video. With the animated background, you can set a certain mood that will compliment the whole message. Like on this video:
4. Video with still image collage
Relationships often lie at the heart of what we do. From professional to personal, most of us want our relationships to evolve and flourish. And an eCard is an excellent way to do that.
If you wish to create an eCard for your loyal patrons or you want to surprise your loved one, this template could be your best bet.
5. A collage of a video and animated text
Creating that awesome intro and outro for your video isn't a dream. Use this template, and you're halfway there. It's also an excellent choice for those who want that perfect intro for their live event recording.
6. Two animated images collage
Another interesting option for comparison videos. This template features a circle in the center that's perfect for introducing your video. You can also use this collage with animated images for creating poll videos.
7. Video in a shape collage
Say goodbye to those dull and dreary video templates with this video in a shape collage template from Wave.video. With absolute creative freedom at your disposal, you can change the size and the position of the shape to create a fun video collage that's truly customizable.
8. Videos inside devices collage
Fancy a video inside a device frame? Put it inside a laptop or a smartphone and give your simple video a trendy makeover.
Wave.video layouts offer three different options for video in a smartphone collage along with a layout featuring a laptop mask.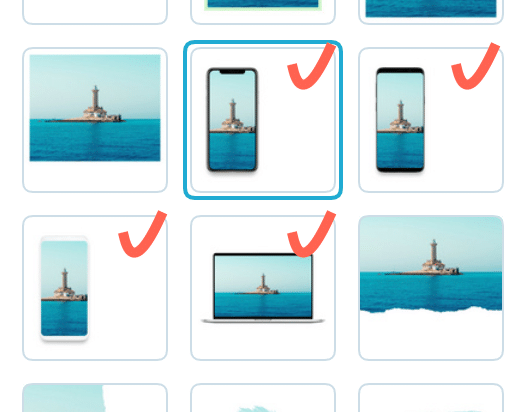 9. Thumbnail video in a video collage
Looking for a template for a tutorial, screencast, or a recorded video call? Well, then this video thumbnail in a video collage is the one you need.
10. Video inside a shape mask collage
Given that the world of videos is expanding like crazy, you need several choices to give your videos an overhaul. And nothing gives your videos an artistic appeal as much as this template with a "brush" effect. Integrate your footage inside a shape with a brush effect, and you won't help but notice how it gives an exciting twist to your video content.
11. Video with stickers collage
Don't let your viewers lose interest as they watch your videos. Show some sticker love, and your compelling video collage may save your customer from churning.
Wave .video's sticker collection recently welcomed a variety of shapes and graphics. And yes, you can even upload your PNG files and use them as stickers. Excellent enough?
Here's your dose of inspiration if you want to enhance your video with stickers:
Over to you
Ready to turn your videos into a stunning video collage? With a host of layouts, transitions, and graphics at your fingertips, Wave.video makes video collage creation fun and easy.
So, which Wave.video template did you like the most?
Leave a comment below and let us know!